AdYouNeed Review: Ad Management Platform [Pros & Cons]
In today's post, we'll be looking at AdYouNeed Review. One of the best Ad management platforms for your ads campaign.
Most marketers today prefer to work smarter than harder. This is why tools such as AdYouNeed are becoming popular.
Creating and managing social media advertisements is very time-consuming.
AdYouNeed automates the entire process allowing you to create powerful ads without using up a lot of your time and resources.
AdYouNeed provides you with an easier, faster and smarter way to create and manage social media ads.
If you have just stumbled across this tool and are wondering whether it's worth using, in this AdYouNeed review, we will explore all you need to know.
Let's start by defining what it is.
What is AdYouNeed?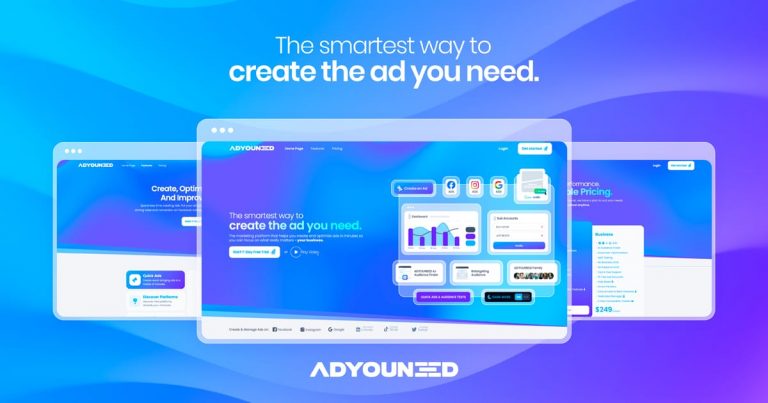 AdYouNeed was made for social media managers and marketing agencies interested in simplifying the ad creation and management process.
This tool is designed to create and optimize search and social media ads.
If you have tried creating a social media ad from scratch, you can testify how tedious the process usually is.
But, with AdYouNeed, the process is automated through the tool's smart creation capabilities. As a result, you can create a highly converting ad within minutes.
It's not just useful in creating social media ads. This tool can also automate search ads. All you have to do is add a link to your business website.
With an AdYouNeed subscription, you gain access to a dashboard comprising a breakdown of all your ad campaigns.
AdYouNeed also features an audience AI finder. One of the most complicated tasks associated with ad creation is knowing who your target audience is.
This step often involves a lot of research and time. However, using this tool's AI finder, this no longer won't be a problem for you.
It's also worth mentioning that this tool can create over 100 split tests to help you determine which ad campaigns will perform best when executed.
This tool is also integrated with Canva. You are, therefore, assured of creating well-designed ads for your brand.
How AdYouNeed Works?
After signing up, you will be directed to the AdYouNeed dashboard. The first thing that will draw your attention is how simple this tool's interface is.
Compared to Google's official ad platform, Ad Manager, it is quite easy to navigate, even if you lack ad creation skills and experience.
From your AdYouNeed dashboard, you can connect it to Ad Manager and start creating or managing advertisements.
When using this tool, the first step towards creating ads is selecting a platform of your choice.
This can be through Google, Instagram or Facebook. What follows is for you to choose your objectives regarding leads, conversion traffic and other things.
For instance, if the goal of your ad is to boost traffic, through this tool, you can tweak your potential audience through details such as gender, interests, location and age.
Basically, every feature on the AdYouNeed dashboard is self-explanatory. Because of this, it should take you very little time to create an ad.
Also, this tool takes away the technical aspects of creating ads. This results in a much better experience when using AdYouNeeds than Google's ad manager.
Due to how easy it is for you to use this tool, it's safe to say that AdYouNeed was made for all online entrepreneurs out there.
Whether you are a freelancer, digital marketing agency or business owner that wants to create quick ads, you should use AdYouNeed.
Whether you have some background in ad creation or management doesn't matter. This tool will simplify everything for you.
AdYouNeed Review: Features
AdYouNeed is packed with tons of useful features. They include;
#1. Quick Ads
The fact that AdYouNeed allows you to create ads in minutes is a feature that we can't overlook. Most Ad Managers, including the one provided by Google, are known to be very complex.
Even with the technical skills needed, using such ad managers should take some time to create an ad.
AdYouNeed is here to change that by allowing you to create ads faster. First, this tool doesn't need a learning curve.
You should grasp everything in your first attempt. This is thanks to the easy-to-use interface. Secondly, the entire process has been simplified.
So, even if you have no prior knowledge of ad creation, you shouldn't encounter any obstacles.
And just because this tool creates ads faster, it doesn't mean that it compromises quality. The ads created using this platform are of high quality.
One may even think a professional digital marketing agency has created the ads.
#2. Discover Platforms
For businesses that have only been relying on one platform, this tool will introduce you to a new marketing approach.
AdYouNeed can help you create quick ads on Google, Facebook and Instagram. Google ads have been around for years. They can drive quality traffic to your site and increase leads.
However, when you complement Google ads with social media advertising, you will see twice an increase in traffic, leads and conversion.
Undoubtedly, many people use Google's search engine to find content. But social media these days has become prevalent.
Most of your clients, both new and existing, are on social media.
AdYouNeed allows you to explore these new platforms.
By enabling you to create quick ads on Google, Instagram and the biggest social media platform, Facebook, you can reach a bigger audience and gain more traffic, leads and conversions.
One thing you have to take note of is that AdYouNeed doesn't just introduce you to new platforms.
It also helps you get the most out of them. This tool tests ads on these new platforms to predict the performance of ad campaigns before implementing them.
This strategy can optimize your advertisements and bring a return on investment.
#3. Gain Visibility
The goal of any advertising strategy is to boost brand visibility. AdYouNeed helps you achieve this goal in several ways.
First, it opens your business up to new platforms, which we have discussed earlier.
When you run ads simultaneously on Facebook, Instagram and Google, you are assured of getting your business on the map.
The other way AdYouNeed promotes brand visibility is through reports and data analysis.
On the AdYouNeed dashboard, there are charts and graphs containing varying information about your marketing campaigns.
From there, you can gauge results on which ads are outperforming others. You can adjust your marketing budget and focus on performing ads using these insights.
#4. Automated Audience
In every advertising campaign, audience research plays a pivotal role. It should take weeks and a lot of money to find out who your target audience is.
But with AdYouNeed, this tool uses artificial intelligence to discover your target audience.
And surprisingly, that can be done just by feeding the AI with two interests your potential audience may have towards your brand or product/service.
When you do that, AdYouNeed automates the audience search process, and in five days, it will test more than eight audiences and bring you the best performing match.
That's how quick and easy you can find out who should be your target audience for ad campaigns.
#5. Save and Collaborate
Even though ad creation using this tool has been simplified, there are times when you may be busy and want to work in bits.
Fortunately, with AdYouNeed, you need not start afresh next time. You can save an ad and continue creating it later.
There is a save as a draft feature that comes in very handy for marketing freelancers and busy business owners.
AdYouNeed also understands that it's not everyone who is a solopreneur. For individuals working together, there is a collaboration feature that allows you to work on creating and managing ads together.
This feature comprises customization tools that allow the team leader to determine access levels and set permissions.
So, if you work as a group, you can still enjoy all the features and benefits of AdYouNeed.
Pros and Cons
Before deciding whether AdYouNeed is right for your advertisement needs, you should evaluate the pros and cons.
Pros
1. Simple Interface
Ad managers have a rap for being too technical and complex for newbies. With AdYouNeed, the dashboard features a simple interface.
All the features are clearly laid out on the dashboard alongside the charts and graphs for you to analyze ad performance.
Even if you have never used an ad manager before, you will have an easy time creating ads with AdYouNeed.
2. Features an AI Audience Finder
For an ad to be successful, you must display it to your potential clients. Finding potential clients often takes up a lot of time if done manually.
But thanks to the AI audience finder, you should find your ideal audience in days. Something that would have taken you weeks or months.
All that is needed from you is to provide target interests.
3. It Does Split Tests
Split tests help eliminate the uncertainty associated with some of your ad campaigns. It shows you which ads get better results.
As a result, you don't have to rely on guesswork. Split testing does a marvellous job at increasing ad engagement.
Split testing can be expensive and time-consuming. The good news is, you don't have to worry about that when you are using AdYouNeed.
4. It is Integrated with Canva
Visuals are very important in ads. The developers of this tool were aware of that, and that's why they integrated Canva. You can use this other tool to create captivating ads that boost conversions.
5. Quality Support
Despite being easy to use and powerful, this tool also comes with quality customer support. You can always contact their support team if you run into any issues.
Other benefits of this tool include;
Availability of a dark mode to reduce eye strain.• Around the clock access to charts and graphs portraying ad performance.• You can invite other users to your account and work on a project.
Cons
Overlapping Text
An issue that AdYouNeed users have frequently reported is overlapping text. This makes it very hard to read, sometimes.
The UI Color Needs to be Improved
We understand that AdYouNeed developers prefer a simple interface. But that UI color needs to be worked on.
AdYouNeed Alternatives
AdYouNeed isn't the only ad manager in the market. Here are other alternatives you can also consider.
WordStream:
It works just like AdYouNeed, but it has some slight differences. First, this pay per click software is the first to provide paid social management.
This is something that can benefit your business significantly.
Secondly, besides facilitating Facebook and Google Adwords management, you can also run your Bing ads using WordStream.
Smartly.io:
This tool also automates the ad creation process on behalf of businesses. Smartly provides you with a demo to try it out first.
It also takes advertising beyond Facebook and Instagram platforms. You can create Pinterest and Snapchat ads.
Adespresso:
When it comes to creating and managing Facebook ads, very few tools can beat Adespresso. It shares similar features with AdYouNeed, such as split testing and quick ads.
AdYouNeed Pricing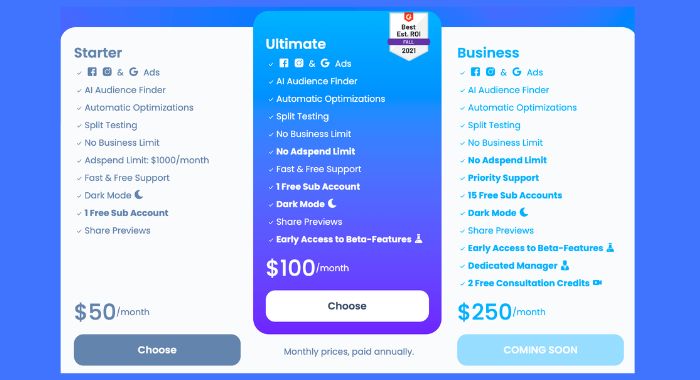 AdYouNeed has a 7-day cancellation policy on its three subscriptions. Here is an overview of their pricing plan.
Starter Package – $50/Month
This package entails an ad spend limit of $1000 per month. You get one free sub-account, an AI finder, split test and automated optimizations.
Ultimate Package – $100/Month
You also get one free sub-account, split testing, automatic optimizations, and an AI audience finder. However, this package comes with an unlimited ad spend limit. Plus, you are guaranteed early access to Beta-features.
Business Package – $250/Month
This contains everything you may need to run stress-free ad campaigns. You get all the above benefits, a dedicated manager, 15 free sub-accounts, and priority support.
Hey, but before you rush to make a subscription, you need to hear more about the AdYouNeed lifetime deal.
AdYouNeed Lifetime Deal
This lifetime deal is totally worth it, especially when you consider the subscription rates. The lifetime deal is divided into three;
Single – For a one-time purchase of $69, you get all the above features, unlimited spend and one sub-account.
Double – For $138, you also get the above features, an unlimited spend and five sub-accounts.
Multiple – This one goes for $207, and you get all AdYouNeed features and ten sub-accounts.
Also Read:
Conclusion
AdYouNeed is the easiest, quickest and smartest ad manager. This tool allows you to create ads for several platforms.
It is integrated with a graphic design tool to ensure your ads are appealing and gives you insight into ad performance.
With such a tool at your disposal, your business should benefit from agency-quality advertisements.
Best part? It comes with 7 days free trial that you can use to test out the platform.
If it is something you like, you can go ahead with and if not you can just cancel your account. This way, you'll have nothing to lose.
That's it on AdYouNeed Review
Get Started with AdYouNeed Here
Looking for the perfect alternative with more affordability? Try Adcreative.ai