Affiliate Marketing with Sales Funnel (A Simple Guide)
How does affiliate marketing with sales funnels work?
Is it different from doing affiliate marketing via blogging, YouTube, or paid ads?
Well, in this guide we are going to take deep dive into just NOT how affiliate marketing with funnels works…
But we shall look at:
The full definition and meaning of an affiliate sales funnel
How to build and set up an effective affiliate marketing sales funnel
How a typical affiliate marketing funnel works
Tools you need to get an affiliate funnel up and running
Disturbing questions related to marketing with funnels
Plus, a ton more strategies on how to make money using funnels as an affiliate marketer.
At the end of this piece – you should be able to tell the differences and be fully armed to the chest on how to launch your own affiliate funnel.
Now, without wasting further time…
First, let us get into the definition of an affiliate purchase funnel:
What Is an Affiliate Marketing Sales Funnel?
An affiliate marketing sales funnel is a series of steps (or a step-by-step process) designed to guide and take your visitors from the awareness stage (top of the funnel) down to the buying stage (bottom of the funnel) of your affiliate offer.
Just like a salesman.
But a virtual one…
…Is how an affiliate funnel work in helping you drive traffic and promote products as an affiliate.
As an affiliate, your job is to find lucrative offers and products people are dying to have, apply as an affiliate to promote these products, then devise a strategy on how to drive traffic to your unique link and get people to buy these products.
Finally, you make money. Rinse and repeat.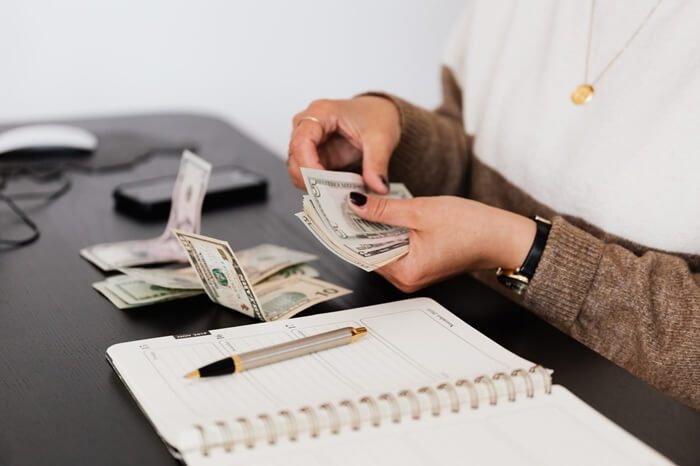 That is an affiliate marketing funnel defined in layman's language.
However, it does not end there.
There are backend systems and affiliate tools you need to put in place to help define your customer path.
Take them by hand -> Without distraction -> Present them the best product to make their life easier.
Through your helpful recommendation of course!
And having them blessing God for your sake. ?
That said:
For your affiliate marketing funnel to become a profitable one… Your landing page, copy, follow-up sequences, traffic sources need to be on point. We shall go deeper on these pretty soon.
Before that, lets highlight the importance of using sales funnels in affiliate marketing.
The Importance of Creating an Affiliate Marketing Sales Funnel
First,
what is the importance of modern-world sales funnel?
As we learned earlier that a sales funnel serves as a guide/map for the journey that a potential customer or a total stranger takes to become your customer.
Till they just NOT become a customer but a repeat one at that.
A fan. A follower. An evangelist.
This is to say that the principal benefits of a modern-day sales funnel are not far-fetched. Likewise, that of an affiliate funnel.
First, you cannot optimize what you cannot visualize. This is huge.
Let me explain:
An affiliate marketing sales funnel provides an insightful framework through which you can easily monitor and analyze your visitor's journey and identify the areas that need improvements.
With a well-structured affiliate sales pipeline in place – you will have the power to spot where your sales funnel leaks and get it improved.
You visualize each step your referrals take to buy an affiliate product from your link.
Realizing which areas impact your affiliate conversions the most lets you home in on those areas and optimize your funnel.
Do you get the point?
In conclusion:
The ultimate bottom line on the importance of affiliate marketing sales funnels to easily spot and differentiate between a traffic problem from a copy problem, from product problem, etc.
Affiliate Marketing Conversion Funnel Stages
A typical affiliate marketing sales funnel involves four stages.
During each stage, the prospect whom your affiliate offer is targeted towards makes a buying decision based on his or her perception of the funnel elements:
Your brand (you matter the most)
The affiliate product/offer
Your copy
Your marketing medium or traffic source
While different affiliates have their own way of structuring and managing their affiliate offers to attract and entice visitors to buy via their links – the psychology behind the affiliate conversion funnel processes is in four stages.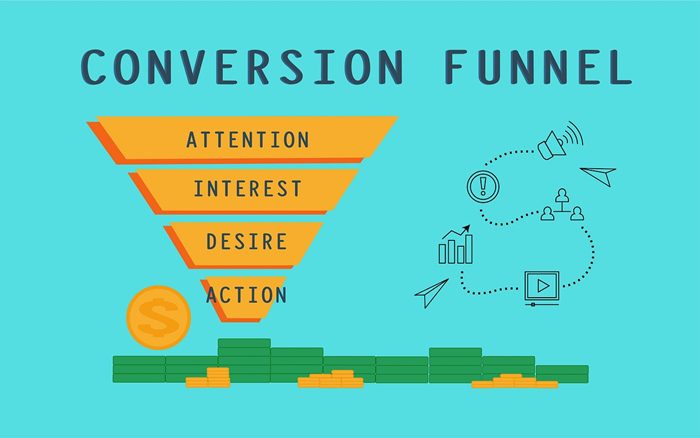 Stage #1. Awareness
As the name sounds – this is a stage your target audience discovers your affiliate offer.
I call this the early journey.
Where customers become familiar with the product you are promoting, your brand, and your content via your traffic source.
It could be from ads, social media, blog posts, webinars, etc.
These are usually the top of the sales funnel where they need to be educated and funneled into the next phase.
Stage #2. Interest
This is your visitors expressing an interest in an affiliate product you promote.
The interest stage. The second stage of your affiliate marketing funnel.
They have shown interest by clicking through your ad or content and start browsing and navigating through your web page.
Your copy or content should get them hooked, educated, providing them the right solution to solve the problem that brought them into your funnel in the first place.
Stage #3. Desire
They have discovered your affiliate promotion via ads, blog posts, YouTube, or social media. Check.✅
Your campaign caught their interest, and they are now reading and browsing through. Check.✅
Now is the Desire state.
A stage where they begin to see the light in what you promote.
You cannot let them escape at this point. This is a point where you must hit them emotionally with your copy.
Forget about what product you are promoting and emphasize more on what's in for them.
More on product's benefits — not features — to make your prospective customers want the same great results.
Stage #4. Action
A stranger discovers your product.
They get educated on how it can help them live a better life.
They get interested and envisions how their life could be transformed with the product.
"What's next" you ask?
They the product of course. But not without you (or your sales funnel) playing its part.
The action stage is where the sale is made. And you must make sure every single one your visitors who made it through the initial (awareness) step to the Desire step, buys the product via your affiliate link.
Action stage. The bottom of the funnel.
You know, all the other three steps are useless…
…If your nurturing and marketing efforts could not get someone to bring out his wallet and add a product to their shopping carts, type in their payment information, and click "Buy Now."
This is the reason why you should never, ever take the short-term route in doing an affiliate marketing business.
Employ follow-up systems to help you convert indecisive prospects.
We are humans with different needs, reasons, and objections not to buy.
Relationships, nurturing with a no-brainer incentive are ways captivate prospects and get them to take the final ACTION within your marketing funnel.
Building an Optimized Affiliate Marketing Sales Funnel
Aside from making sure your backend system, marketing messages and tech aspects are not bad – there are three front-end processes you can take to build your affiliate funnel.
Or we can call it a three-page process in designing your affiliate funnel.
Like this:

The Opt-in page
The Thank you page
And the main Affiliate offer page
Do not be deceived with its simplicity. As simple it may look, there is a psychology that goes behind that.
Creating these individual pages should not really be the focus here. As there are tons of amazing page builders and best sales funnel builders in the market today that comes with a prebuilt template allowing you to knock out a complete affiliate funnel in minutes.
Especially when leading platforms like ClickFunnels provides marketers lots of DFY affiliate pages.
That said:
Your core focus should plug in all of the sales funnel stages together, grabbing the buyer's attention and getting them to the checkout phase or lets say the getting them to the affiliate page to purchase.
As an affiliate you have control over just two pages:
The Opt-in and the Thank you page.
The Opt-in page
The opt-in page is where you send traffic to.
Alternatively, you can call this a bridge page/funnel or a squeeze page/funnel. The goal is to get visitors to give you their email.
And "giving up" an email address is not an easy decision people are willing to make. Unless something is up for grab.
And yes. You need to give a lead magnet irresistible and valuable enough that they will not have to think it twice to submit their contact details.
It could be:
Free reports
eBooks
Videos
Checklist
Cheatsheets
Case-study
The aim here is to offer your prospects incredible value, in form of a solution to problems they are struggling with.
Like the opt-in below for reversing Type 2 Diabetes: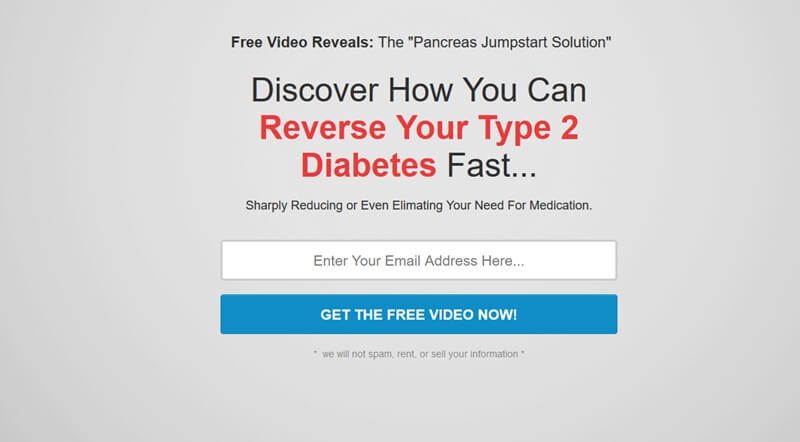 Which obviously complements the affiliate offer you sell.
At the same time, you are establishing yourself as an authority and building relationships with these leads.
The Thank you page
The "Thank you" page is as simple as it sounds. A Thank you page. Saying Thank you.
More than that my friend.
This is a page where the relationship really starts. Some affiliates do away with the Thank you page while some see it as an avenue to build more connection with their leads before sending them off to an affiliate product.
Whichever works.
But from my experience, the Thank you page works great when dealing with a cold audience. It could be a Thank you page with a text copy or video scripts.
Like this: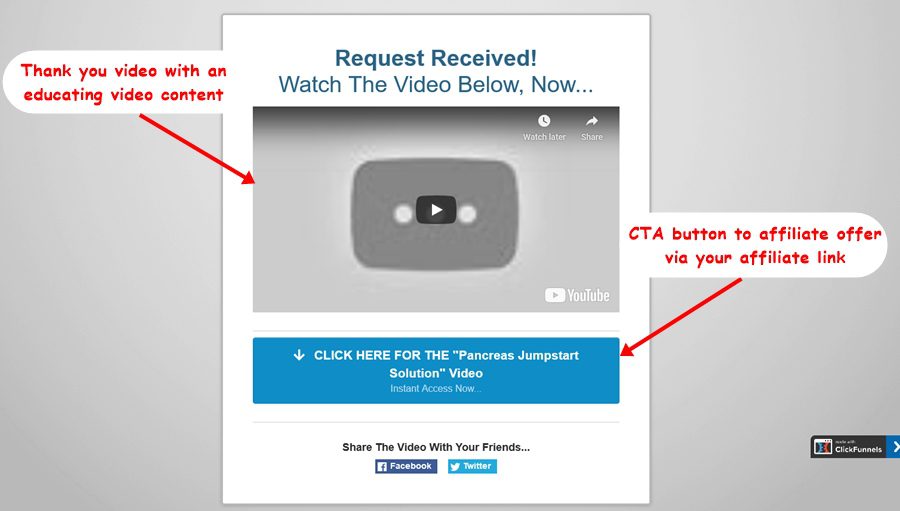 Acknowledging them for opting in and same time educating them, with a CTA button (with your affiliate link) to the next step.
To buy the BIG problem solver.
Finally, the Affiliate offer
This the sales page of the affiliate product you promote and sending traffic to. The affiliate vendors' page.
We affiliates have no authority or control over this page. This is why I so much advocate seeking the long-term road when doing affiliate marketing.
Without a doubt, there are % of prospects who are likely not buying the product when they land on the affiliate offer page the first time.
There are also % of those who will not click through your affiliate link after they opt-in.
Sad to hear, right?
Well, the good news here is that you got their contact details to nurture, re-engage and remarket to them.
Over, over, and over again.
This could only be possible when you're building a list.
Frequently Asked Questions on Affiliate Marketing Funnels
What is an affiliate marketing funnel?
An affiliate marketing funnel illustrates the journey or routes your affiliate referrals take from first becoming aware of you the product you are promoting to the stage of making a purchase via your link.
What is an affiliate bridge page?
An affiliate bridge page is a page that separates your prospects from the affiliate offer page. Also called an affiliate bridge funnel.
The aim is to pre-frame your visitors into the right mindset to be ready to click through your link and make a purchase.
What is an affiliate landing page?
An affiliate landing page is a page dedicated to helping affiliates maximize their affiliate conversions. It can be provided by vendors to individual affiliates.
Or built by the affiliates themselves to promote the products.
How do I drive traffic to my affiliate funnel?
Traffic sources are unlimited. A ton of ways.
Driving traffic to your affiliate funnel all has to do with what platform or channel you're more comfortable with.
Blogging/SEO (organic/free)
YouTube videos (organic/free)
Facebook profile or group (organic/free)
Instagram organic/influencer marketing (free and paid)
Facebook ads (paid)
YouTube ads (paid)
Google ads (paid)
Solo ads (paid)
Those are all platforms and channels through which you can drive traffic to your affiliate funnel and link.
They all work!
You must pick and stick with a platform you think you can be comfortable with.
Organic requires patience, more work, more content, and less budget upfront.
Paid requires more money, paid ads expertise. The results come faster.
I always recommend getting a copy of Russell Brunson Traffic Secrets. The best book on traffic designed to help people learn about the steps they can take to begin generating a lot more traffic.
Not just for affiliates.
But for anyone who sells anything online.
Learn more about Traffic Secrets here.
What is the best affiliate marketing funnel builder?
Like I said earlier, there are tons of sales funnel software out there.
However, from my experience, the best, easy to use, with tons of plug-and-play template is ClickFunnels.
Free 14 days at https:clickfunnels.com/signup-free/
What is the difference between an affiliate funnel and an affiliate marketing blog?
An affiliate funnel defines the path that a consumer takes before purchasing a product or service via your link.
An affiliate marketing blog is a site focused on educating readers and promoting products as an affiliate through written content. Such as reviews, how-tos, and comparison articles.
An example of an affiliate review:
Example of a comparison affiliate post:
Example of an affiliate how-to post:
How do I create an affiliate funnel without a website?
While having an affiliate marketing website or blog is a way to build a sustainable long-term affiliate business, establish credibility, and build a massive brand reputation – it's not really essential to make money online.
There are other mediums.
Though I recommend it. That is that way I've been doing mine over the years.
But yes! You can create an affiliate business without a website. There are affiliate experts who built a 7-figure business without an affiliate site.
They did it via other methods. Paid ads, YouTube.
To create an affiliate funnel without a website – just sign up to ClickFunnels, use the pre-built templates, and customize your affiliate funnel.
What is the best email marketing software autoresponder for affiliate marketing?
In my opinion, GetResponse has so far caught my attention in the world of affiliate marketing.
It is an all-in-one email marketing software for online marketers and businesses with tons of features. Plus, it reasonably priced. Although there are other autoresponders for affiliate marketing – but I highly recommend GetResponse.
Try GetResponse for free at https://getresponse.com/free-trial/
Conclusion
The affiliate marketing funnel is not a complicated one. All you need is the right systems, tools, and strategies.
Remember, your audience's frustrations and challenges are integral to the affiliate products and services you promote.
Put your audience's needs in mind first.
Knowing their deepest worries, pains, sadness, anger, fear, remorse, hope, and desire is a step to having greater success than 90% of affiliate marketers in this space. This is what most people starting out in the affiliate marketing industry miss.
These elements will determine how you speak to them in your affiliate campaign.
Other things follow.
Learn More
About the Author
Khris Steven is a content marketer and the founder of Khrisdigital.com. He blogs about sales funnels, marketing tools, and trends, and how business owners can make more from their business by serving and impacting lives.