27+ Affiliate Marketing Statistics in 2023 and Beyond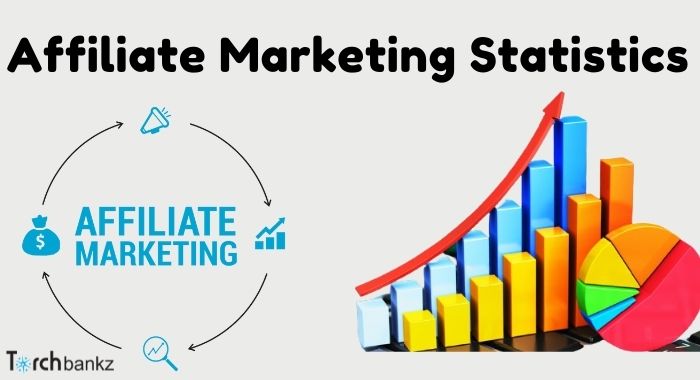 The affiliate marketing industry is said to be worth over $12 billion globally and forecasts predict more increase in industry size.
There's a fast rise in the number of companies adopting affiliate marketing as a marketing strategy and at the same time, the number of affiliates knows no bounds.
In short, there's no better time to get yourself involved in the affiliate marketing industry. Whether as an affiliate marketer, program manager, or business owner; there's profit to be made.
We dug deep to find the latest affiliate marketing statistics to give marketers and business owners a peek into the current state of affiliate marketing and where to pivot.
Without further ado, let's get started – from the beginning.
What is Affiliate Marketing?
In simple terms, affiliate marketing is a sales and marketing model in which businesses reward their affiliates or partners based on sales generated from their referrals. 
This concept has been in existence since the inception of buying and selling, and what we're experiencing today is its peak in the business universe.
For companies, affiliate marketing is a strategy to get new customers without spending on advertising. Instead, you pay your affiliate marketers commission per each sale they make on your behalf.
Every company that has an affiliate program, does have an affiliate manager. The affiliate manager recruits and manages affiliate marketers. They handle the paying of affiliate marketers and assisting them to generate more sales for the company.
While some solo entrepreneurs and founders handle this themselves, it's best to hire a VA to take care of this task.
As an affiliate marketer, you get paid commissions whenever you refer a new customer to a company. 
So, affiliate marketing is mutually beneficial to all participants.
With this cleared, let the drum roll.
General Affiliate Marketing Statistics
Here are some general affiliate marketing figures to hit the ground running:
1. Fashion is the most popular affiliate marketing category.
According to statistics from AM Navigator, the fashion niche takes the lion's share of the total number of affiliate programs with 23.37%. 
The other sectors in the top 5 are Sports and Outdoors (18.16%), Health and Beauty (13.81%), Travel (10.74), and Home and Garden (8.7%)
For affiliate marketers, this tells a lot about the booming industry to get into and products to promote.
However, it's wise to note that this isn't a recent stat and there are no recent research on the largest affiliate marketing industry in 2021.
But one thing is for sure, the Software-as-a-service (SaaS) shouldn't be overlooked. It's probably the largest and booming affiliate marketing industry at the moment.
2. Annual affiliate marketing spending will hit the $8.2 billion mark in the next two years
It is no longer news that the affiliate marketing industry is skyrocketing, especially with how the world is switching to working from home and its importance in creating highly efficient data lead strategies. 
As a result of this, agencies and corporations are investing in the industry. The big guys like Amazon and Aliexpress pay hundreds of millions of dollars to affiliate marketers every month and are even willing to spend more.
And at this rate, the net spending will amount to $8.2 billion by 2022. 
3. Affiliate marketing contributes up to 15% of the overall digital media advertising revenue.
One of the biggest winners of affiliate marketing's rise to prominence is digital media advertising. 
The unique setup of affiliate marketing has greatly influenced the efficiency and popularity of digital media like search engines, mobile apps, websites, ebooks, social media, blogs, and so on. 
Today, affiliate marketing is responsible for roughly 15% of returns in digital media advertising. 
4. Google search statistics suggest that "affiliate marketing" inquiries grew by 44% in less than a year.
Affiliate marketing is generating quite the traction today. So much that Google recorded a whopping 44% increase in searches for the term "affiliate marketing" between December 2017 and June 2018, which is less than a year. 
Also, Americans search for this same term about  49,500 times every month. 
According to the Google Trends graph, it shows that there's a massive surge in search inquiries in 2021 and a sudden drop recently.
A possible interpretation for the sudden drop in search inquiries could be that a large percentage of internet users are now familiar with affiliate marketing.
Coupled with other statistics above, it's crystal clear that the affiliate marketing industry is booming.
5. 81% of marketers and 84% of publishers currently use affiliate marketing
Today, almost every marketer and publisher is smart enough to deploy affiliate marketing for branding, marketing, and revenue generation. 
This figure is expected to increase in the nearest future, and why not? Affiliate marketing will revolutionize digital marketing as we know it, and more brands and publishers will join the train in no time.
Affiliate management tools like Tapaffiliate, FirstPromoter, Post Affiliate Pro, have made it super easy for small businesses and brands to create their affiliate program and also recruit affiliate marketers (publishers).
Thanks to these tools, more businesses can now afford to host their affiliate programs without having to depend on a third-party company like JvZoo.
At the same time, publishers now have thousands of affiliate programs to select from and promote without having to depend on only Amazon. It's a win-win for brands and publishers.
6. Affiliate marketing efforts generate between 15%–30% of total sales for brands.
This is another stat that highlights the growing supremacy of affiliate marketing and why most brands are going all out for affiliate programs. 
Official sources record that brands get 30% sales from their affiliate marketing efforts, almost the same as SEO marketing.
Affiliate Marketing Statistics for Publishers and Marketers
7. Most affiliate marketers would rather promote 1–10 products.
According to recent statistics, most brand affiliates prefer to promote between 1 – 10 products. 
This could be because of a preference to focus all available marketing tools on a few products rather than many. 
Going down the spectrum, 23.18% of affiliate marketers prefer to promote 11–20 products, 14.19% to 21–50 products, while only 7.53% would instead promote over 300 products.
Reasons for this aren't far-fetched. As marketers say, the money is in the niche. This doesn't just apply when looking for business ideas, it also applies to affiliate marketing.
Focusing your resources on promoting 1-10 products will help you become an expert in that niche and also make your marketing more targeted compared to promoting 20+ products.
8. 76% of publishers feel affiliate marketing's simple lucrative potential is its best perk
It is common knowledge to publishers that affiliate marketing is an easy avenue for generating passive income – and that's precisely why they choose it. 
They understand that affiliate marketing is pretty simple – all they have to do is design and optimize opt-in pages, websites, and a few other tools to start earning money without lifting a finger afterward. 
About 65% of them also agree that it serves as an extra stream of income. This makes it a better monetization method compared to ads.
9. More than 50% of affiliate-referred traffic comes from mobile devices.
According to official statistics, over 2 billion of the world population own and operate internet-enabled smartphones. 
This number of users combined with the ease of internet access via mobile devices has generated quite the traffic for affiliate programs, and Call Hippo places this figure at over 50%. 
This particular stat is the reason many brands and affiliate marketers make their websites and blogs mobile-friendly. 
10. 40% of marketing experts consider affiliate marketing as the most desired digital skill 
Affiliate marketing is on the lips of everyone, including marketing professionals. 
According to BloggingX, close to half of all marketing experts at conferences, seminars, workshops, and other professional events recommend affiliate marketing as an in-demand digital skill to learn. 
In fact, affiliate marketing was the most desired skill in 2015, and this learning desire has not waned till today. 
11. 94% of publishers and brands deploy multiple affiliate marketing networks
Recent statistics by Affise have discovered that almost every publisher in the marketing scheme uses multiple affiliate marketing programs. 
Why stick with one when you can do more, right? Affiliate marketing is one of the most efficient marketing and sales generation strategies today, so it's a no-brainer for publishers to use multiple affiliate networks to boost their income. 
JvZoo, Clickbanks, Amazon Associates, Shareasale, Warriorplus, Partnerstack, Paykickstart, are some of the popular affiliate networks to consider joining.
12. Over 80% of brands use affiliate marketing.
This shouldn't come as a surprise, really. Affiliate marketing has shown to be a high income-generating technique over the years, so almost every brand, including start-ups, is starting to join the trend. 
And although Rakuten says that 80% of brands deploy affiliate marketing today, you can expect this figure to increase in the next few years. 
13. Trends show 74% of US online shoppers check multiple affiliate websites before deciding on a purchase.
Thanks to Cybercash Worldwide, we now know that affiliate marketing influences the buying decisions of almost 80% of all online customers in the United States. 
In other words, almost everyone that pays for a product or service online in the US checks multiple affiliate websites before doing so to find the best price. 
In this case, affiliate marketing also provides social proof, which is very important for every online brand or store.
And this is why a media company like NerdWallet is said to be worth over $500 million. And this valuation is a few years old, I wonder what they are worth currently!
Affiliate Marketing Industry Statistics
14. Male affiliates dominate the affiliate marketing scene.
According to statistics, the affiliate marketing industry is packed with more men than women. 
Some think this is because men prefer the concept of passive income more than their counterparts, but obviously, that can't be the reason. The specifics to this revelation are 54.23% male and 42.97% female affiliate marketers.
With more stay-at-home women learning the trade, we can expect the gender gap to close up in the next few years.
15. 32% of affiliate marketers are aged between 35-44.
This is the highest percentage of affiliate marketers in the industry. The rates of other age groups are 25-34 (28%), 45-54 (22%), 55-64 (9%), and 18-24 (5%). Only 3% of affiliate marketers are aged 65 or above (3%).
16. ShareASale holds the largest stake (55%) of the global affiliate marketing industry. 
Affiliate marketing juggernaut ShareASale is the largest shareholder in the affiliate marketing scene, with an unmatched 55% share. 
This is expected, as ShareASale is known to support real-time tracking, merchant and affiliate quality control and also ensures timely payment of earned commissions. 
Rakuten Linkshare (40%) and Avangate (31%) are the second and third largest shareholders. 
What to do with this stat? Time to create a ShareaSale account, I guess.
17. The affiliate industry is responsible for a total of 16% of online purchases.
According to Forbes, affiliate marketing generates 16% of eCommerce sales. This figure might not look like much, but when you check the influence of other drivers of e-commerce transactions, you'll realize that it's quite impressive. 
The only technique with a higher rate than affiliate marketing is social media marketing since paid searches and email marketing generate almost the same sales rates.
And this only proves that customers are always looking for a third-party validation before buying a product and it's on this mechanism that affiliate marketing continues to thrive.
Affiliate marketers create a review about a product, doubting prospects check it out, and based on the review make their decision (and get the product using the publisher's affiliate link).
18. Groupon is one of the most successful companies built on affiliate marketing strategies.
Groupon, an American eCommerce platform, changed its fortune to become a global success, thanks to the affiliate marketing industry. 
All it had to do was focus on using affiliate marketers to promote its products and services, and it went from being a failure in 2009 to one of the top names in eCommerce. And now, Groupon has crossed a billion dollar valuation.
19. Awin affiliates earned over $700 million in 2018
About 1,000,000 Awin affiliate marketers made earnings in the range of approximately $734 million in 2018. 
That is, by all means, a significant figure, and it is only the beginning of something massive. 
20. Nearly 65% of affiliate marketers generate traffic by blogging.
Blogging isn't necessary for affiliate marketers, but its obvious perks have made it a go-to for most. 
Content marketing via blogging is highly efficient for marketing campaigns, costs way less than the alternative, and generates more than double the leads compared to ads. 
Affiliate marketers have recorded a whopping 240% increase in revenue, thanks to their blogging efforts. It is, therefore, no surprise that about 64.48% of all affiliate marketers own blogs and websites for all sorts of content creation. 
Personally, I promote affiliate products using my blogs and can also testify about how viable it is. If you're not sure where to start from, check out my guide on starting an affiliate marketing blog.
21. America owns the biggest share (39%) of the global affiliate marketing industry.
With top affiliate marketing networks like ShareASale, Amazon, CJ Affiliate, and eBay having primary operations and facilities in the United States, it only fits that the region holds the largest percentage of the affiliate industry. 
The others in the top 3 are the United Kingdom (15%) and Germany (11%). And this explains why the United States has one of the best market audiences to sell to.
22. Just under 68% of affiliate marketers connect with customers on social media.
Social media was expected to drive the efficiency and popularity of affiliate marketing, and so far, it has not disappointed. 
Thanks to platforms like Twitter, Instagram, Facebook, and TikTok, affiliate marketers now promote products and services to target audiences via creative content (photos and videos) and trends (hashtags, challenges, and ad campaigns). 
Current statistics claim that about 67.32% of all affiliate marketers currently use social media for their affiliate marketing efforts. Still, it is expected that this figure will significantly increase in years to come. 
23. AI and voice search are among the most prominent affiliate marketing trends.
Over the years, we've seen the rise of affiliate marketing trends like modification of ad saturation, long-tail keywords, localized and flexible advertising, B2B advertising, and video content. 
However, artificial intelligence and voice search, pioneered by technological advances, prove to be the most influential today. 
These affiliate marketing tech upgrades are highly efficient and user-friendly, and their widespread popularity is quite inevitable. 
24. There were 11,400 affiliate marketing programs in the United States at the end of 2018
ShareASale and CJ Affiliate, two of the biggest affiliate networks in the United States, have about 7,300 affiliate programs combined. 
When you add other affiliate networks to the mix, the overall figure sums up to about 11,400, according to AM Navigator.
25. About 0.67% of Youtube videos incorporate at least one affiliate URL.
Video content is one of the significant drivers of affiliate marketing, and YouTube, as we all know, is the home of all video content. 
Vloggers are starting to use this unique opportunity to work as affiliate marketers, and although the current percentage is less than 1%, it's sure to increase as time goes on.
As it is now, youtube is a viable channel to promote affiliate products as you can easily connect with your audience and convince them to take action.
Affiliate Marketing Revenue & Earnings Statistics
26. Elite affiliate marketers make up to six figures annually from the business.
Everyone understands that affiliate marketing is a highly lucrative venture, but most don't understand just how profitable it is. 
Well, according to reports, top affiliate agents and marketers like John Chow, Shawn Collins, and Mark Ling earn six figures annually from their affiliate programs. 
Even the so-called lower-tier affiliate marketers earn tidy profits running into hundreds of thousands from affiliate marketing. The potential knows no bound.
27. 35% of affiliates earn over $20,000
The affiliate marketing industry is a highly lucrative one, and 35% of all affiliates earning over $20,000 annually proves that. 
The best part is a significant portion of these affiliates make close to $100,000 or more! So, no better time to join the industry than now.
28. 9% of affiliate marketers today earn more than $50,000 a year.
According to Investopedia, almost 10% of affiliate marketers earn more than $50,000 annually. 
And with the growing popularity of this efficient marketing technique, it is projected that this figure will increase in years to come.
Affiliate Marketing Statistics Infographic
Here's an infographic that summarizes the current state of affiliate marketing. Affiliate marketing statistics in one picture:
Conclusion – What's the Future of Affiliate Marketing
The statistics and facts highlighted above show that affiliate marketing is already a big-time industry. 
However, its potential for diversity and importance to digital marketing suggests that this is only the tip of the iceberg.
The affiliate marketing industry is not going down anytime soon. It works on a social principle that people believe what others say about a product.
And going forward, companies will record more sales from affiliate marketers and influencers than their in-house marketing efforts.
Influencers will be the new driving force for sales and referrals. Interestingly, this will also level the playground for small businesses and giants.
So, no better time to get into the industry other than NOW!!!
Related Articles: