List of BEST Article Generator Software [SEO Optimized]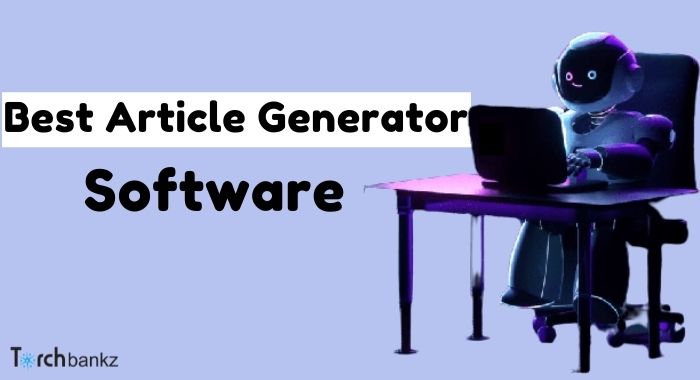 Looking for the best SEO article generator software to conquer your writer's block and meet your content needs?
Don't worry, this is exactly where you need to be!
Being a writer myself, I'm sure there's no need to tell you how stressful writing can be… right?
I mean, you won't be here looking for the best AI article generator software if it were easy, would you?
The truth is, at times you'll feel really motivated to write and sometimes you don't!
Creating content is no child's play, and you definitely need it for your business to thrive. Be it in any niche.
For years, content creators have struggled and spent endless hours behind their desktops crafting one article after another.
However, thanks to technological advancements, those days are long gone.
Introducing article generator software, these are programs that you can either download or use online, and they can create unique articles for you.
This service is facilitated by smart technologies and algorithms that create content based on the topic you have indicated.
Have you ever found yourself staring at your computer or a blank page trying to write but just not able to find the right words?
Yea, it happens to writers a lot. Which is why we're looking into the best AI article generator software to meet your writing needs and at the same time get rids of writer's block.
So irrespective of your niche, you'll find this SEO article generator software really helpful for your copywriting.
And I'm not just talking about any 'Copy' I'm talking about copywriting that CONVERTS.
So if you're no so busy, let's explore the list together.
Best AI Article Generators Compared
But we delve in further to explain the list, let's have a cursory look into what article generator software is, their benefits, and what you should really expect from them. 
What Are Article Generator Software?
Article generator software comprises of GPT-2 machine learning framework and artificial intelligence, popularly known as AI to create content faster and more efficiently than a human writer would.
Unlike writing an article by yourself which can take hours, article generator software chunks out unique and interesting pieces in a matter of seconds.
All you need to do is feed the software with a topic, some keywords so that it understands the context you want in an article, click on a button, and within seconds, you will have content ready to be posted on your blogs or websites.
Referred to many freelancers and online entrepreneurs as automatic article writers, article generator software come with a huge database of already written content.
When you provide it with a topic, it dives into its database and finds similar articles which it spins to create readable and unique content.
And you will be surprised at how articles from generator software feature that element of human touch. Your readers won't even know that your articles have been written by software.
Because all software is developed by human beings, you can be assured that not all are created equal. And that's where this guide comes in handy.
Undeniably, some article generator software are way better than others.
To help you make the right choice, we have compiled a list of this best article generator software.
The software listed below have proven to be effective at creating SEO-friendly articles which have that essential human-like quality touch.
But before we head into the reviews, let's see some of the advantages or benefits of using these software.
Benefits of Using Article Generator Software
Obviously, if you are researching this, you are interested in trying out the services of an article generator.
But, other than getting content, what are the reasons why you should consider using article generator software?
#1. More Efficient
Using an article generator software will help you achieve more productivity in a shorter duration and even spend way less than other methods of sourcing content.
Even though this software will never outsmart human capabilities, in some ways it is more reliable and systematic.
This added level of efficiency can help you complete your content objectives easily and it makes you more organized.
#2. Saves Cost
Most people are usually reluctant to believe that an article generator will save you more money than hiring writers.
But, the honest truth is this software costs way less than paying an expert blogger to generate content for you.
If you have a busy schedule, quite often, you will find yourself busy and have no time to write articles.
When you outsource, it means that you have to spend more. With an article generator software on your laptop, you just need to make a subscription either monthly or annually and get access to an automatic article writer 24/7.
It has no added costs, no delays, and most importantly no excuses.
#3. Saves Time and Stress
Are you a blogger or do you create content from time to time? Then you can testify to how time-consuming and stressful this process usually is.
First, you have to interfere with your schedule and set time aside to write content.
Next, you have to engage in thorough research and we haven't mentioned even the part where you convert ideas into an actual article.
Article generators are software that use technology to create content.
This is a process that happens in seconds. So you save a lot of stress and time that you would have used in writing an article by yourself.
#4. Eliminates Writer's Block
It is normal for a writer to undergo a period of mental blockage where it seems impossible to come up with new ideas.
Everyone experiences this every once in a while and there are several remedies that can help such as taking a break.
The problem is that the digital industry is very competitive.
You simply can't take a break because you are worried about your traffic going down or missing out on potential readers or clients.
With article generators, you will never have to deal with writers' block because you won't even be heavily involved in the content creation process, the software is going to do it for you.
#. 5 Article Generators Provide You with SEO Friendly Content
The developers of article generators know the uses people have for such software one of them is to create articles.
These articles need to be SEO friendly so that they can help with increasing the blog's visibility in the search engine result pages.
The articles created by content generators are packed with not only the keywords and topic you provided, but they also feature LSI keywords.
This makes it easier for search engines to understand your context better and make it available to target users.
By now, you should be familiar with what an article generator is and the benefits it can provide you with.
11 Best AI Article Generator Software
Below is our reviewed and ranked best SEO article generator software you can use to generate content that Google loves for your blogging business.
So, let's head straight to our first best content generator.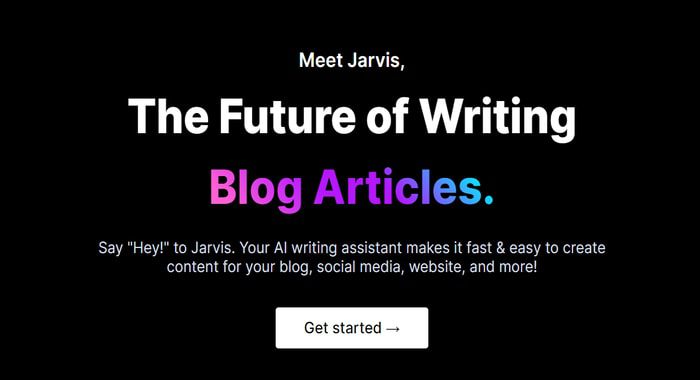 When Jarvis, previously known as conversion.ai was first launched in the article generator software industry, it hit the market by storm.
Initially, a lot of freelancers were skeptical about using it.
However, for those who gave it a try, testified on how a great article generator it is. Amongst many content creators, they consider Jarvis to be the best article generator software.
There are many reasons why you should use Jarvis. The first one is that it allows you to generate high-quality content in the shortest time frames.
Being a top-notch software, this AI doesn't make grammatical mistakes when generating content and it is 100% reliable.
With Jarvis, you can increase revenue by using it to craft engaging blogs, web pages, and advertisements.
It is one of the few article generators that creates unique and persuasive content.
Using the software might be confusing at first but there are tons of tutorials that will help you understand the software's interface.
Jarvis AI Recent Update
Does the above sound like the ideal article generator for you? Well, you will be blown away by Jarvis AI's recent update.
This generator didn't just rebrand its name but it also rolled out a newer and more efficient update.
This update can write sales letters, Facebook ads, blog posts, and many more types of content five times faster.
In the update, you can write long-form content using the Jarvis assistant. You just have to launch the assistant and key in a quick description of what you would like in the article.
And in a couple of seconds, the content will be ready. And as if that's not enough, Jarvis only creates unique articles that are free of plagiarism.
From the beginning, the Jarvis AI was always under the training and guidance of skilled copywriters.
The recent update features more copywriting skills such as LinkedIn bios, YouTube video scripts, and even social media posts.
In summary, Jarvis can write literally anything that you instruct it to. And it doesn't compromise when it comes to producing quality content.
Jarvis AI Key Features
Jarvis allows team member access. Therefore, if you work as a group of bloggers or you own an agency, with Jarvis, you can utilize the team member feature. In this option, all the members of your team can have access to various contents and folders so that you can work on multiple projects.
It contains a grammar checker that ensures the articles are readable and easily understandable. The software is also designed to create plagiarism-free articles.
This article generator can translate content perfectly into 11 different languages. The developers of Jarvis picked languages that they considered as commonly used all over the world.
There is a feature known as the sentence expander module found in Jarvis. It will lengthen short sentences.
Jarvis AI is programmed to follow the AIDA approach of creating content. Therefore, any content generated will first draw attention, then create interest, evoke desire, and finally, call to action.
In their new update, there is a new feature known as Boss Mode. It simplifies the entire process of using the AI. For instance, you can key in the command; Jarvis, write an article for me. In seconds, you will have unique content displayed on your dashboard.
Jarvis Pricing
Being a reputable article generator, Jarvis gives its users a free trial where you can generate up to 10,000 words of content for free.
From there, you can subscribe and they do have a 7-day refund policy.
There is a starter package that goes for $29 a month. It gives you access to all copywriting skills, but the amount of content you can generate in a month is only 20k words.
There is a Pro package that costs $109 a month. There is no limit on the number of words you can generate and you can access the long-form assistant and write long articles.
The final package is the Pro + Boss Mode, it's $119 a month and you get all the Pro package benefits plus the Boss Mode feature.
For an article generator that was developed after 5 years of research, it shouldn't come as a surprise that this is an exceptional software.
Incorporating the use of deep learning models, Article Forge can generate quality content fast.
And one of the reasons why it's so popular is the AI's ability to craft articles that read as if it has been written by a human.
Article Forge Recent Update
Last year in December, Article Forge released their most recent update which is the Forge v2.6.
This update has made Article Forge even more efficient at creating articles. It boasts of added features such as a newer and user-friendly interface.
Secondly, the software has been tweaked to create articles with better flow and structure whilst minimizing repetition.
Therefore quality is now guaranteed. The other essential feature in the Article Forge recent update is the enhanced LSI learning model.
This generator is now capable of finding more meaningful LSI keywords and adding them naturally in the article.
Article Forge Key Features
It supports multiple languages. This means that as an ambitious blogger you can stay on top of international search engines.
The deep LSI learning model makes it one of the few article generators that can research, identify and incorporate LSI keywords that match the context of your topic. As a result, that article can help with your SEO efforts.
Users of Article Forge have the freedom to integrate the software with WordPress so that they can publish directly.
According to the software developers, their article generator has the ability to create unique articles that will pass any duplicacy test.
The software automatically adds links, videos, images, and even titles to your content. This ensures your articles are interesting.
Article Forge Pricing
There are two packages available at Article Forge. The yearly plan costs $27 per month, and the monthly plan costs $57 a month.
However, before you subscribe you can always use the 5-day free trial. And should you subscribe and not be pleased with the services of Article Forge, you can qualify for a refund provided you haven't generated more than 10 articles.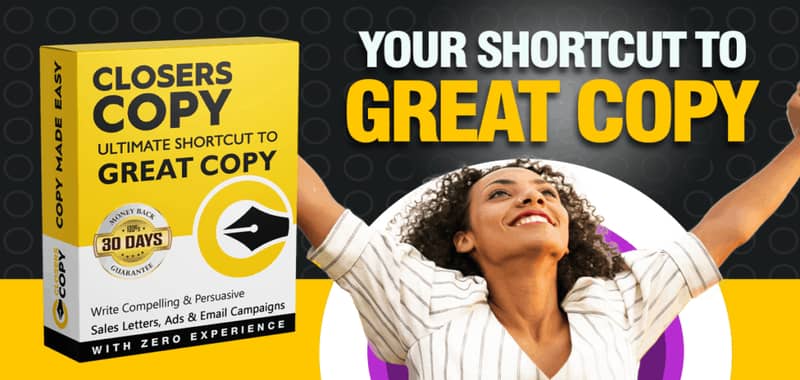 When it comes to generating articles for your blog, Closers Copy is an incredible copywriting software that lets you do that with eases.
Unlike other article generator software on the list, this one is really SEO optimized and lets you write content that Google really loves and would like to rank.
It is a multi-purpose tool and is suitable for inexperienced users that require to master copywriting.
Closer Copy features an ever-growing copy templates library, which delivers maximum performance. It has more lookup, which expands to avoid repetition of words.
This software comes packaged with other features, like 1000+ power words lookup, step-by-step copy wizard, guidance, & advice.
In case you are a blogger like me, advertising, sales, or digital marketing, you should consider this software to deliver maximum performance.
Closers copy also comes with unique features.
CloserCopy Key Features
Closers Copy is an incredible editor that offers full-text editing. It features several proven templates and emotional analyses that help you hit the right tone with your audiences.

Templates use applicable formulas hence you can easily create a persuasive copy.
Closercopy comes with an AI wizard that helps you write a full article in minutes.

Closercopy AI understands 24 languages. This includes Bulgarian, Chinese, Czech, Danish, Dutch, English, Estonian, Finnish, French, German, Greek, Hungarian, Italian, Japanese, Latvian, Lithuanian, Polish, Portuguese, Portuguese (BR), Romanian, Russian, Slovak, Slovenian, Spanish, Swedish
Pricing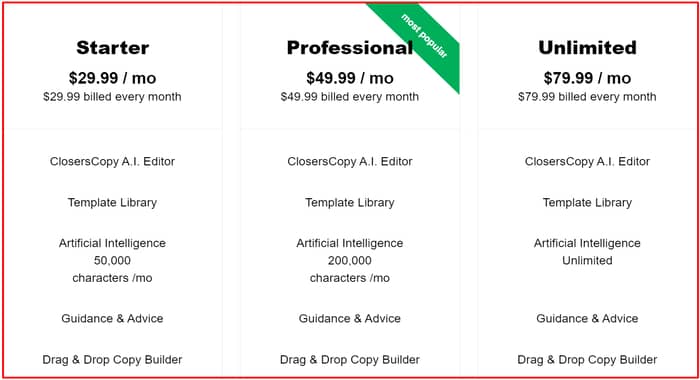 Currently, they have three monthly plans on this platform. That is the Starter plan, which goes for $29.99/month, and the Professional one that costs $49.99 per month.
Then finally, the unlimited plan goes for $79.99 per month.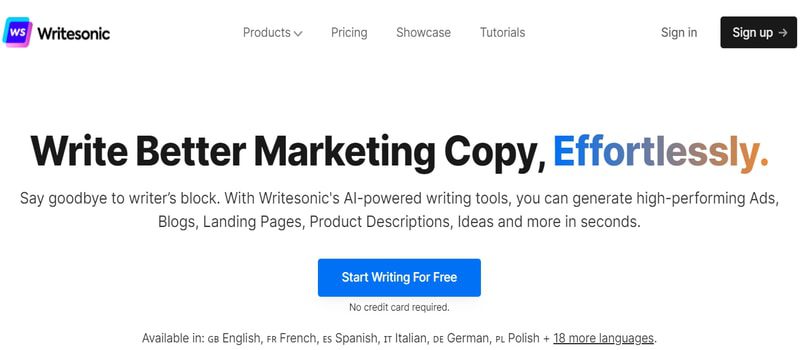 This is another popular article generator that is used by freelance bloggers, marketing agencies, and even big organizations.
They love it because you can create different types of content ranging from product descriptions to landing pages. It is very easy to use.
Just feed the software a couple of descriptions and it will do the rest. It features that human touch in its articles.
WriterSonic Key Features
It comes equipped with tools such as sentence expander, content rephraser, readability checker, and a grammar fixer which help make your content flawless.
You can create a wide range of content using WriterSonic, examples including sales emails, landing pages, digital ads, product descriptions, and many more.
This software also follows the AIDA approach of content creation and Pain-Agitate Solution. Therefore, all articles this software writes for you will be interesting and create a call to action.
With WriterSonic, running a multilingual blog shouldn't be a hassle because it can create content in at least 20 languages.
It produces summaries, outlines, and blog intros.
WriterSonic Pricing
This software works on the principle of credits. First-time users get 10 credits which they can use as the free trial.
If you love the features of the article generator, you can subscribe to the following packages; Starter that goes for $11.60 and comes with 75 credits to be used alongside advanced and basic features.
There is the Professional option that costs $39.60. You get unlimited access to basic features. However, you only get 150 credits for the advanced features.
Finally, there is the Business Package that costs $199.60. It contains unlimited credits for basic features and advanced features have 1200 credits.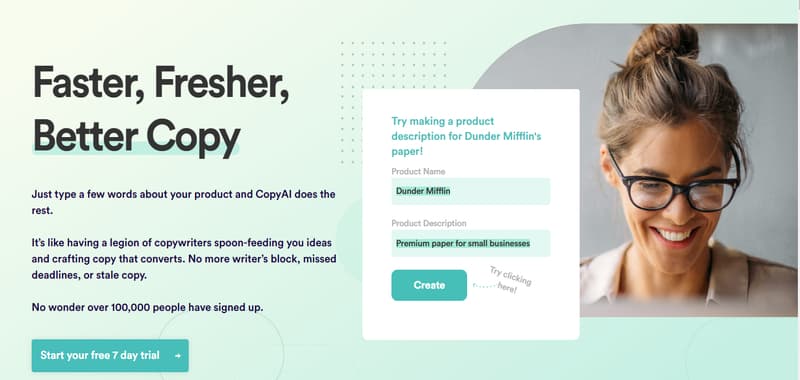 Copy.ai uses GPT-3 by OpenAi to generate article content for your blog. Although it offers many options for users after creating an account.
It mainly focuses on blog content, digital ad copy, sales copy, e-commerce product descriptions, social media posts, and website copies.
Using the content generated, you can increase your conversion and ultimately your blog revenue.
Rather than hiring a human article writer, using this ai article generating software will save you the time and frustration you'll encounter working with freelance article writers. 
It features a smooth onboarding experience with their homepage having all the crucial information that users need.
Thus, one doesn't have to scroll down to find what they are looking for. On the homepage, you'll learn of the site's free trial, writer's block, and there's a visual component that explains how to use this service.
For a great experience, copy.ai uses OAuth that support signing in from Facebook and Google. If you hate remembering passwords, you'll be revealed with this feature.
Once you select the copy you want to write, you then describe your product, and the tool will generate a copy for you.
As simple as that. Some of the copies users can create include; blog intros, eCommerce copy, website copy, digital ad copy and social media content.
Key Features
Below are some of the key features of Copy.ai
Various Copy Writing Formats– there are several templates on this site that you can use to generate different copies.
Tailored Copies- it can generate copies that include specific promotions and demographics.
Chrome Extensions- which make the site easy to use. You mustn't create another password as you can use Facebook or Google to sign up.
Pricing Plans
You're given a free trial for seven days that do not need you to have creditcard. It includes 100 runs per day and 24/7 customer support via email.
After that, if you like the program, you can upgrade to a solo version, which costs $49 per month.
It gives you access to unlimited runs, all copy.ai's tools, and new features. You also get round-the-clock email support.
If you are a small business, this offer is perfect for you. However, larger teams can pay to get a custom subscription starting from $119.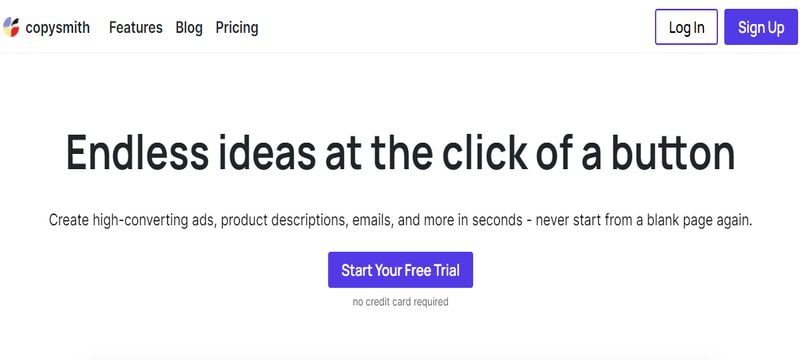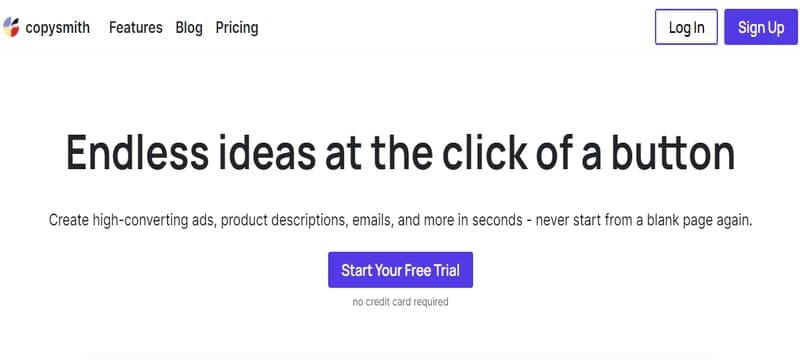 CopySmith was created by Jasmin Wang who created it to help write killer sales copies.
She invented it after struggling to create content for her eCommerce site while still managing other areas of her business.
This tool can be used by entrepreneurs, content writers, and many others to write content for their websites. It's powered by GPT-3, which is among the most powerful Artificial Intelligence models.
You can use CopySmith to create taglines, SE Metatag, content rewriter, product descriptions, blog posts, etc.
After logging in to CopySmith, you'll see various templates to choose from. Select your preferred content template to see your available options.
Choose an option that you like and let this service generate a copy for you. Also, note that one can favorite the option they like by clicking the heart button on that option.
This will then let CopySmith know the tone and structure of the content you like. If you need to write a product description, blog posts, or any other marketing content, you'll find this tool useful.
Key Features
Below are the key features of CopySmith and what to expect when you use the platform.
CopySmith offers more than 20 marketing templates, including LinkedIn, Instagram, and Google templates, among others. You can easily try out these templates even when you don't have experience in marketing or copywriting.
Users can use CopySmith to generate interesting blog posts. Just by inputting a little information about the content you want, this tool generates the requested copy.
With copysmith, you can be rest assured about the article generated for your blog. The service generates your copy word for word. As such, their content is original and passes plagiarism checkers like Copyscape.
You can download copysmith chrome extension that allows users to log in to CopySmith quickly and conveniently from any webpage using any device. And as such, you can easily share your generated copy on the sites you want. 
Pricing Plans
There are various pricing packages on this site covering all budget sizes.
You can choose the starter plan, which goes for $19 per month, or the professional plan, the early adopter plan, or the enterprise plan that cost $59, and $499 per month, respectively.
Note that you get a discount on all these plans if you're paying annually.
The starter plan is best for those writing short content. You're given 50 credits per month. With a professional plan, your credits per month increase up to 250.
It is best for all types of content and comes with prioritized customer service and input on the roadmap of a new product.
The early adopter plan includes everything on the professional plan only that credits are increased to 1000 every month.
Those who opt for an enterprise plan get 1000 credits each month and a custom domain that allows them to share the content output.
You're also offered an account manager and prioritized customer service.
Shortly AI is the hidden gem of article generators. It's not very popular amongst content creators but for the few who use it, they love every feature of this software.
As a writing assistant, Shortly AI helps you create content fast and easily. With this software, writer's block remains to be a thing of the past and you will no longer have to fear the dreaded cursor.
To come up with content, you just have to key in a couple of keywords and wait for unique articles to be generated.
Shortly AI Key Features
One of the key features of this software is the list of powerful commands that you can use to create content. They are; rewrite, expand and shorten. As a writer, you have probably come across instances where you want to do either of the following three things. But fatigue and writer's block can come in between you and your creativity. Shortly Ai makes the above tasks simple and easy.
This software uses Open AI GPT-3 which is a powerful language model that has been trained to write quality content.
It generates original content.
Coming up with content has never been this fast and easy as long as you use Shortly AI.
The software features no limits on the number of words you can generate. This is a feature that makes it a favorite.
Shortly AI Pricing
Shortly AI's pricing plans are quite straightforward. There is the monthly plan that goes for $79 a month and the annual plan that will cost you $65 a month.
Both packages give you access to regular updates, article generation services, and access to powerful commands that will improve your writing speed.
The only difference is that the annual package has a $14 discount.
Despite entering the article generator industry later than most of the software mentioned in this review, GrowthBar has proven to be an efficient tool to use in creating content.
An area it succeeds exceptionally in is generating SEO-optimized posts. GrowthBar isn't going to create some random plain text for you.
It's going to perform keyword research competitor analysis and also look for backlinks. And once the post is published it's going to help you monitor the rankings of your article.
GrowthBar was made for bloggers that need help with SEO.
GrowthBar AI Key Features
You get an analysis of various functions that will ensure your article is SEO optimized. Examples include reports on SEO difficulty, search volumes for certain keywords, and competitor analysis.
You can add it as a Chrome extension.
Creating content with GrowthBar is easy, all you need to provide is a keyword.
This software utilizes Open AI GPT-3 Technology. That's why the articles it generates read as if they have been written by a human.
It has a fast article generation speed.
GrowthBar Pricing
Similar to other software on this list, GrowthBar is available on a five-day free trial duration.
In this period, you can create content but you will have limited access to certain features. The standard plan that is worth $29 allows you to create 5 articles in a month.
There is a Pro plan that allows you to create 20 articles in a month for $79. There is a package for agencies and team members which costs $129 a month and has a limit of getting 50 articles from GrowthBar.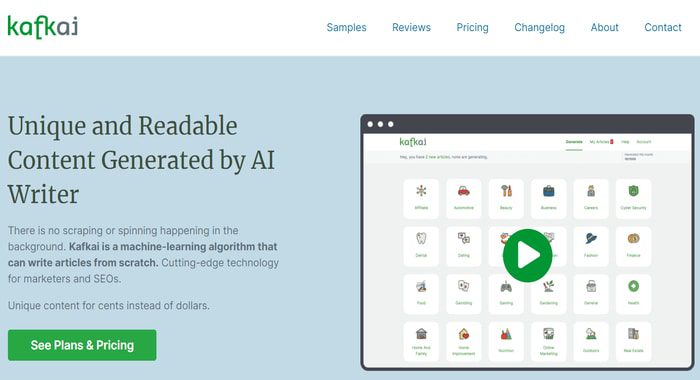 To date, it remains to be a mystery how most people underestimate Kafkai. Could it be because of its funny name?
Did you know that Kafkai was based on Elon Musk's Open AI project? Yes, this software is attributed to Elon's brilliant mind.
Kafkai can generate unique and human-like articles in just a few seconds. It uses GPT-2 machine learning model to create engaging and interesting posts.
This software is perfect for all online entrepreneurs as it is easy to use and fast.
Kafkai Key Features
There is one interesting feature about this software and that is the three modules it offers its clients. There is one untrained module that can be used to write general content. This module is ideal if you want to experiment and customize how the AI produces content. The other modules are designed to generate niche articles. These don't provide a lot of wiggle room but they are well-trained.
It supports and generates content in six different languages.
The software has got a WordPress plugin that you can install and streamline your publishing abilities.
Kafkai only generates unique and original articles.
The number of niches in which Kafkai can write for you is more than 20. Therefore whether you want an article on marketing, travel, health, or technology, this software has got you covered.
Kafkai Pricing
Using its free trial that is available for three days, you can instruct Kafkai to write 25 articles for you.
From there, you can choose from the following; writer package that lets you write 10 articles a day for $29 per month.
Newsroom option that generates 25 articles a day for $49 per month. There is the printing press package that allows 100 articles in a day for $129 in a month.
The final package is Industrial Printer that gives you the freedom to generate 500 articles per day for $199 per month.
In these packages, there are monthly limits on the number of articles you can generate, for instance, Printing Press is limited to a thousand articles per month, and Writer is limited to only a hundred articles per month.
Snazzy.ai is a new ai article generator software powered by GPT-3. It is primarily used to create content for ads, landing pages, product descriptions, etc.
Businesses and websites can use it to generate ideas quickly. Simply by providing your business's name, some keywords, target audience, and description of your product or service, this tool can create a compelling copy for you.
Its descriptions, paragraphs, and content are said to be accurate. But, you can still modify before using them directly on your website.
Key Features
Let's have a look at the features of Snazzy.ai
Created by OpenAi which uses smart language to produces human-like content using deep machine learning. It is accurate and free of errors.
Snazzy gives users customized, professional, and relatable content using this smart technology.
The platform includes various templates for creating product descriptions, blog ideas, headers, selling points, ads, and taglines, among others. Templates will create content depending on the information you provide when onboarding. It uses information like keywords and descriptions to generate a copy for you.
Snazzy AI comes with extra tools added to the platform for a better user experience. Content Extender turns simple sentences or bullet points into complex creative content.
Pricing Plans
The company offers very competitive pricing. You can try generating a maximum of 5 templates per day with the free version.
If you are a casual user, that should be enough. However, if you need more templates, you'll pay $49 per month to be upgraded.
The paid plan also includes access to new features and same-day support. Let us outline these plans further.
Starter plan- $0/month
Limited support
Five templates per day
Access to all content templates
Growth Plan- $50/month
Access new features early
Same-day support
Unlimited content generation
Access all content templates
#11. Zyro AI Content Generator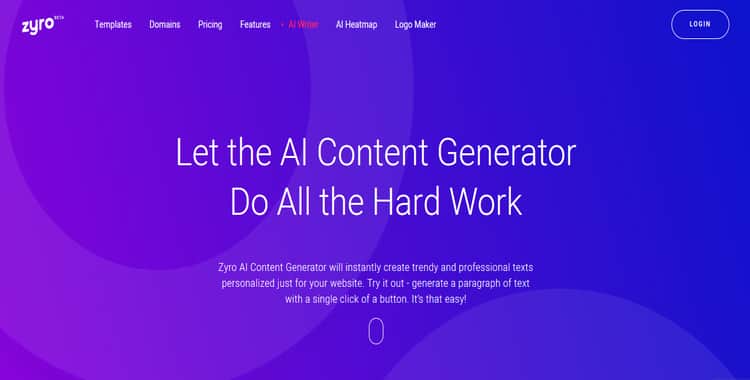 This software is primarily a website builder featuring AI content generators powers. You can use it to create a business page, a blog, and an online store with the drag and drop feature.
The Zyro AI content generator is slightly different from the rest of the article generator software. This ai content tool focuses on generating content for the new website you're building.
After gaining access to the software, you'll need to choose a category that matches your business niche. And if you seem not to find your business niche, don't worry.
All you need to do is choose 'Go Wild'. Then come up with few sentences that perfectly describe your brand product or services.
After that, click continue to generate text in a couple of minutes or click generate again to get more content options for your website.
The AI bot reads a lot of text in the various business niche then train itself to write something better or very similar to it in other to serve you appropriately.
What's The Best Article Generator Software?
The majority of the article generator software listed are quite outstanding and still new. This means you can expect new features being roll out.
However, you do need to understand that the article generated from this software won't be 100% perfect, you'll still need to revise and add a little of your own tone to it.
Based on the list above we found:

To be our overall best pick for the best article generator software you can use for your blog or any other project that needed content to complete.
Most comes with a free trial, you can sign up with a few just to test them out and see how best they perform before going for your final pick.
That's it on the best ai article generator software, let me know what you think about these tools using the comment section.