AliDropship Custom Store Review – Live Example [2023]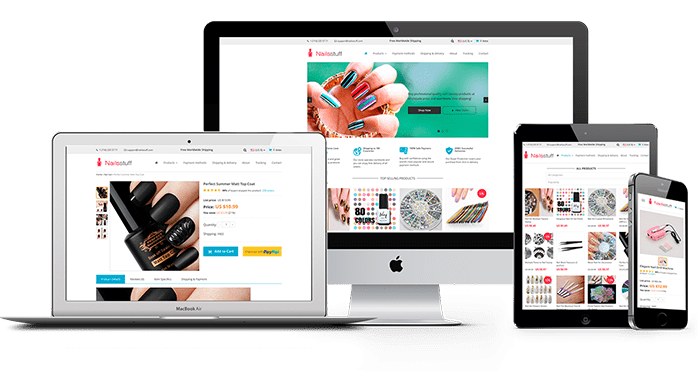 In today's post, we'll be looking into the AliDropship Custom Store review to see what the store package actually offers and if it's worth it. This goes for both the package price and potential profit to be made.
To even make this juicier, I'll be sharing a real-life example, just so you get everything you need before making your final decision about the AliDropship custom store.
The truth is, dropshipping has proven to be a good and passive way to earn extra income online. But starting one isn't going to guarantee your success in the dropshipping business.
As a matter of fact, I've seen dropshipping stores close up just because they can't keep up and the cost of running the business is recurring. Thus, making it difficult to sustain.
In order to be successful in any dropshipping business, you have to take into account the products, suppliers, promotional tools, and most especially the platform you choose to sell with.
This is because the quality of your supplier invariably determines the quality of your products and how well your store is wonderfully designed determines to some extent the conversion of your store.
So you might want to take these two seriously.
In this Alidropship Custom store review, I will answer most of the questions merchants have been asking about Alidropship custom store. Whether it's worth a trial or not.
So if you're interested, let's dissect this together and know exactly what it is you need to do.
What is AliDropship Custom Dropshipping Store?
The AliDropship custom store also known as Turnkey dropshipping store – is an online store where you go to buy a product. But this time around it's ready-made.
Specifically built for dropshipping and exclusively created for you.
It's a ready-made dropshipping store developed by high skills designers and programmers with other technical specialists – who are responsible for developing it from scratch.
The custom dropshipping store is a perfect solution for those wanting to make dropshipping business as another source of income – but have limited time.
Also, it's perfect for those that have no prior knowledge about building a website but want to start a dropshipping business.
Having the store is the fastest way to start your dropshipping business with AliExpress. This is because your store will be directly linked with AliEpress with the help of the Alidropship Plugin.
The store gives you time to focus on other things or the most important which is marketing your product.
Based on AliDropship statistics we've seen a rise in the custom dropshipping stores in countries with most activities with dropshipping.
Is the AliDropship Custom store worth the Price?
Of course, people are very sensitive when it comes to the payment of money.
Well, who wouldn't be?
At least you need to be sure if what you are buying is worth the price.
These and more are what to expect when you order the custom dropshipping store with at least 50 already imported products from AliExpress ready to start selling.
This, however, is based on the package plan you choose. The custom store package includes:
#1: Basic plan ($299)
The basic plan comes with the entire features except for promo video and social media promo tool. It comes with just the Facebook page as social media account for branding stores and 50 already imported products to start selling immediately.
It's usually ready within 10-13 business days.
#2: Advanced plan ($499)
The advance plan also comes with the entire features except for promo video and social media promo tool. A Facebook page, Twitter, G+ and an Instagram account is created and integrated into your store.
This plan comes with 100 products already imported from Aliexpress and ready to start selling which is usually delivered around 13-18 business days.
#3: Ultimate plan ($899)
The ultimate plan includes the entire features with 200 already imported products from AliExpress ready to start selling. However, this usually takes around 18-23 business days.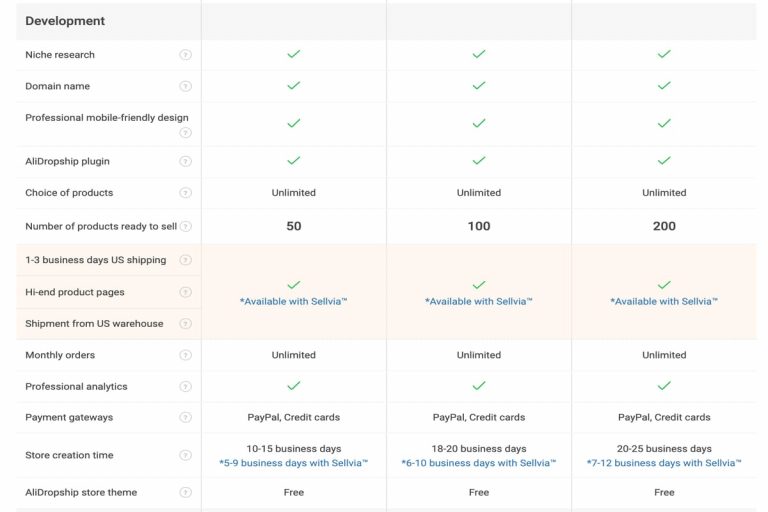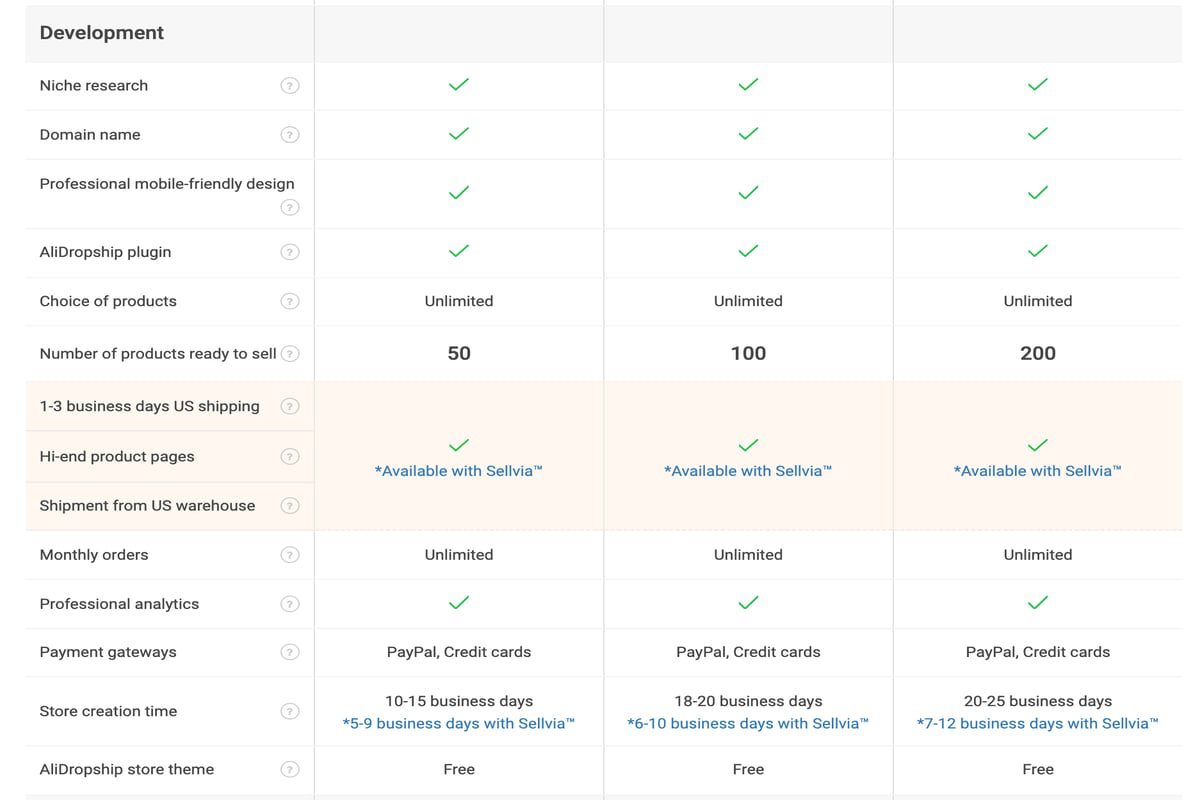 Based on the above pricing let's find out if what you'll be paying will be worth the price before making your final purchase of the store.
So let's break it down and see if it is worth the price:
#1. One-Time Payment
It's very important to know that a one-time payment is only needed. You won't be charged any regular fee for your store, it's 100% yours.
Furthermore, no percentage of your sale will be required of you, it's all yours to keep. And finally, you won't be charged any fees for processing your payment through any specialized service.

However, the only inevitable additional cost you have to pay is for your hosting. What this means is that you have to pay some hosting provider to keep your website connect to the internet.
Now, compare to the popular Shopify. Their basic plan is $29 using that for a year is going to cost you $348. This is without the use of their plugin and subsequent years.
#2.Automated Dropshipping Solution
if you are into drop shipping then you will know the importance of automated tools. These are tools that will save you the stress of searching for products all day on Aliexpress.
And not just that, getting to edit the products manually and manage your order fulfilment. This very can be very stressful and the worst part is losing your time.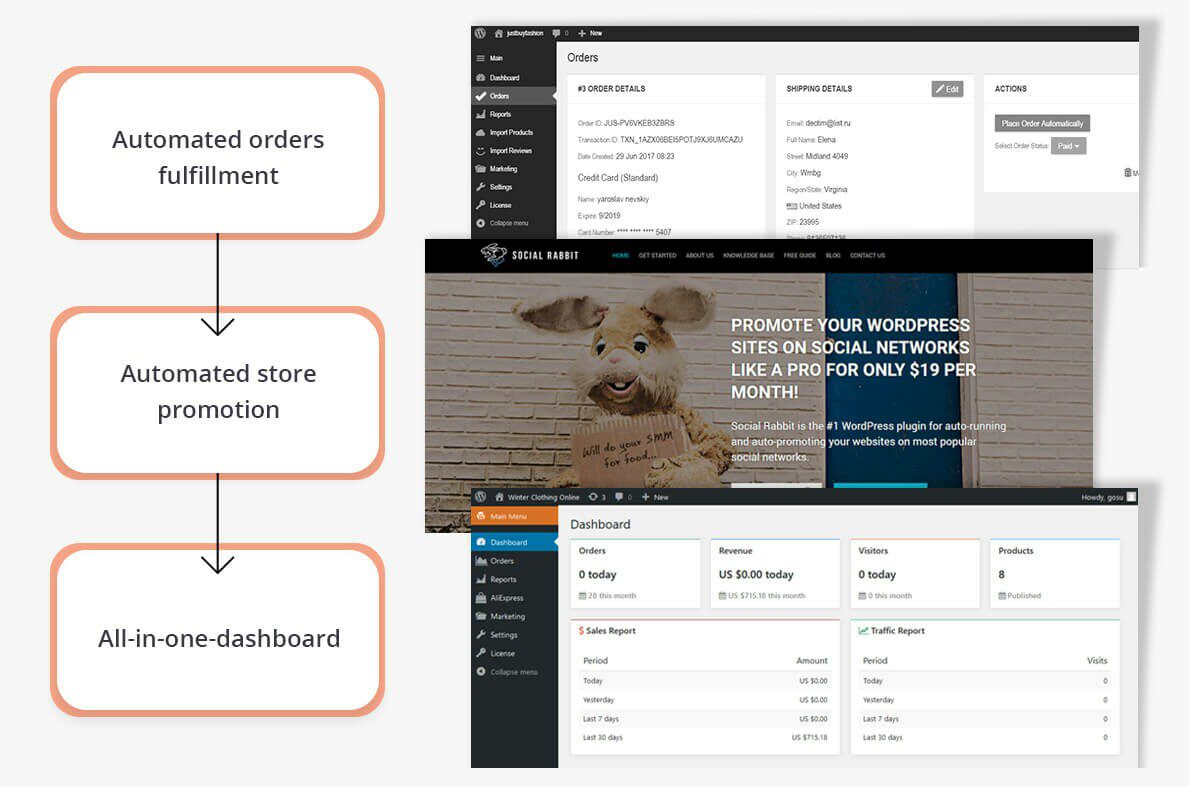 The Alidropship custom store gives you an all-in-one dashboard to monitor all your sales, stats and activities.
The store makes dropshipping easier for you by automating the most challenging part of the dropshipping business. The part like:
Placing order on AliExpress
Running different social media account for promotion
Order tracking
Price editing
ePacket shipping filter
Product updates
#3. Store Customization
The custom store comes with a carefully designed theme and the store is created with your specific requirements. The store themes are professionally designed themes by Alidropship specialists.
You should also know that the themes are tested for the ability to generate more sales and bring higher profits to your business.
You get to choose any theme that suits your taste or make your store look nice. Also, as part of the package, they provide custom design elements, such as logo, header images, and favicon.
#4. All-Inclusive WebStore
The custom store is an all-inclusive store. Basically what you get is a complete E-commerce solution.
It comes with a full-functioning website with already imported products ready to start selling almost immediately. Additionally, you also get a shopping cart that enables a seamless purchase procedure.
Interestingly, it also comes with a range of marketing tools integrated with the website.
It allows the owner access to various marketing and promotional options such as product review, discount coupons, emails for abandoned carts recovery etc.
Other unique feature includes:
Up to 12% AliExpress cashback
100% ownership
Comes with optimized themes for dropshipping
Fully automated with AliExpress
Product niche research for your store
Comes with a free domain
Optimized website for mobile users
Promo video marketing
Branded social media pages
At least 50 already imported products with edited pictures and description.
On-site SEO and social networks accounts
All-in-one dashboard – to monitor your sales, orders, stats, and activities
Integrated Google Analytics
Integrated payment gateways like 2Checkout, Stripe, PayU, PayPal etc.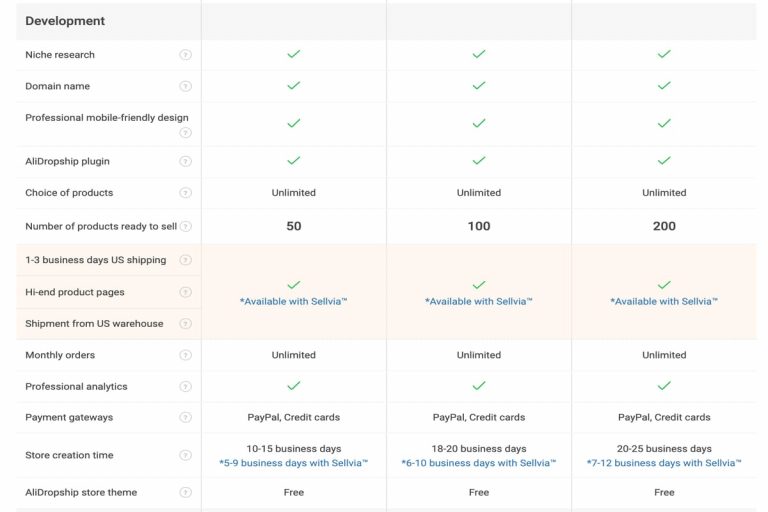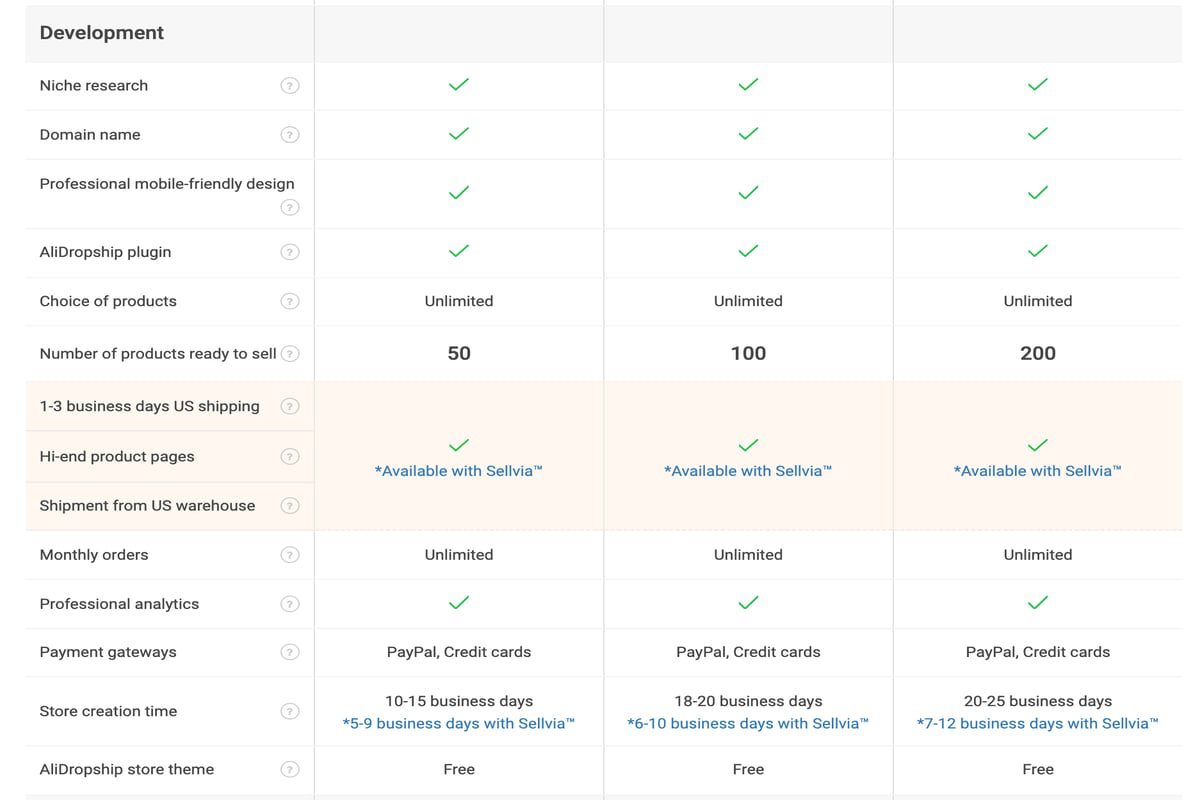 #5. Niche Selection For your Dropshipping Business
If you are like me, then you will know how confusing niche research can be for your dropshipping business. People often say it better to sell a product you have a passion for.
But however, you should also know that while passion is a great factor for business success, there are still some important factors you can't but look into. Factors like:
Current trends
Niche's Potential for SEO
The Niche popularity
Niche supplier
promotional suitability
Seasonal constraints etc.
Niche selection can be a tricky part in dropshipping. This is because it's very important to choose a niche that is competitive, market-friendly and exciting to you personally.
The Alidropship analysts help all buyer of the custom store to carefully choose a niche for their dropshipping business.
That's, of course, you don't have a niche already. They carefully do so by taking into consideration all the numerous factors in choosing a dropshipping niche that will prove to be successful for your business.
#6. Marketing and Promotion
Finally, your store is prepared for promotion on social media – knowing that social media is a great source of traffic to generate sales for any e-commerce business.
Accounts will be created for your store on most of the popular social media networks to promote your store. This will also be done to raise awareness and interact with potential customers.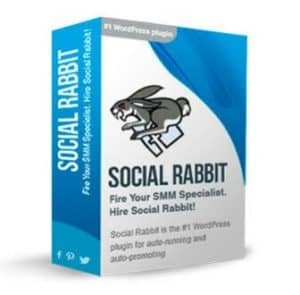 The good part is, the social networks account will be run automatically through the Social Rabbit plugin installed on your store.
The AliDropship ultimate package Includes all the feature that's not included in the two other plan. It includes all the social media pages and a promo video to promote your product and equally the Social media promo tool.

However, there's a new package too, bigger than the ultimate plan… the SUPREME PACKAGE! I've written a detailed review on it. You can check it out here!

Perhaps you've heard about the AliDropship Premium store also? You can also read the Premium Store Full Review here…!
#7. Unlimited Products
Depending on the AliDropship custom-made store you've to choose, the store usually comes with 50, 100, or 200 already imported products to your website.
Now, these products are all ready to start selling immediately, so far your payment gateway is already integrated.
So where it's more interesting is the fact that you can easily import unlimited products to your website from AliExpress.
All you need to do is click and import. With these, you can easily create lots of product categories on your website and sell as much as you want without paying an extra fee to add products.
However, you'd need to install the AliDropship free chrome extension to order to be able to do this seamlessly.
#8. Auto-Import & Fulfil Orders
Alongside the readymade store, you'll gain access to, the AliDropship custom store also comes with the ability to auto-import and fulfill any order automatically on AliExpress.
With just a click of a button, you can easily import any product from AliExpress and add it to your store catalog.
The same thing also goes with product fulfillment. After customers start placing orders on your custom-made store, you can easily fulfill them automatically on AliExpress with just a click of a button.
Your AliDropship custom-made store is directly linked with your AliExpress account. So long as you're logged in on AliExpress with the same browser as your store, you'll be able to fulfill orders automatically.
The only manual activity required from your end is to confirm and make payments on AliExpress.
#9. Payment Gateways
The custom store supports most of the popular payment gateways, like PayPal, 2Checkout, Stripe, PayU, etc. Thus, allowing your customer to be able to use any of the convenient and secure payment methods.
In case your country's payment gateway is not inclusive or you want to add additional systems, you can notify your project manager. But this might cost an additional fee
#10. Are there any Future Charges?
Ordering a custom store from Alidropship gives the buyer 100% ownership of the website. You don't have to pay any monthly fee or commission fee on your product profits buyers are in total control of the store.

The only future payment you have to pay will be for your hosting platform.
This is to keep your website running and you don't have to keep your website hosted with Alidropship if you want. However, if you are curious about their hosting plan you can check it here.
So once the custom store is created it's yours to keep 100% and you can do whatever it is you want with the store. You can even sell the entire store if that's what you want.
Get Your Store !
AliDropship Custom Store Review and Real Life Example
In other to make this AliDropship custom store review unbiased I'm going to share my experience with one of the AliDropship custom stores I've gotten for clients and myself.
After making payment for the custom store, we receive an email with a short questionnaire from AliDropship.
This we had to fill because they need it to understand the kind of dropshipping website they are going to create for us.
If it's going to be a niche store or a general store where you can sell any kind of product. All these are taken into consideration before finally creating the store.
I also got an email as per my store payment gateway. For this I sent my PayPal email address then also added a stripe payment gateway personally after getting access to the website.
The whole store creation took about TWO WEEKS, for that, I wish it was much faster. But other than that I found the whole process very easy as a result of the AliDropship Premium Products I got alongside the custom store.
Because everything I did with my ad campaign was literally copied and pasted. I tested 2 of the winning products from the package, One outperformed the other and I was able to make sales the first day running the ads.
Initially, I was getting like an order per day until I stopped the campaign then start with another targeting interest.
Within the first 3weeks of promoting the store which is around November 2020 to December 2020, I was able to generate around $1900 product sales.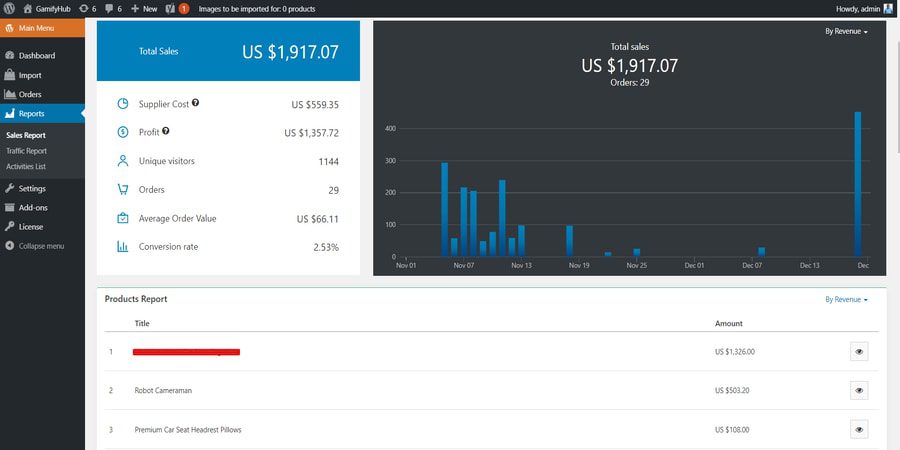 The ad campaign was actually a crash campaign because the whole idea back then was to test the premium products I got for my ad campaign. Below is an image of one of the recent order from my website.
What is AliDropship Premium Products?
The premium products is one of the subscription-based services rendered by AliDropship whereby users of the premium products are provided access to one or two winning products once every week.
Your subscription also includes access to the existing list of previous curated products catalogue without limitation.
These premium products are products tested by the AliDropship team themselves on their custom dropshipping store examples and other established websites.
Products that went through the test and research and come as a winner are the ones added to the list of winning products called premium products by AliDropship.
Now, what makes this a very unique service by AliDropship as opposed to other competition offering winning products is that they also show you how to promote the product automatically.
If you happen to be using any AliDropship store custom store package or the AliDropship plugin, you can launch the product advert directly from your WordPress admin dashboard.
Everything is done for you from product banners to video and retargeting images and also test copies needed to promote the products.
So even if you don't know your way around Facebook ads, then this is the perfect solution for you. As everything is completely done for you.
Winning Product + The Perfect Advert!
Read my full review to learn more on how the AliDropship Premium Products Works…
Sellvia US-BASED Suppliers
The Sellvia package is a recent product by the AliDropship company. It's an ideal solution for dropshippers that are looking to target the US market.
This package allows you to ship your products within 1-3 days across the united states using their US-based fulfillment center.
With Sellvia, you can expect the following:
Enjoy 24 hours order processing time
1-3 days delivery across the United States
200+ best sellers in stock and growing
keys for up to 10 stores where you can use the Sellva add-on.
Other than the fast shipping, Sellvia products come with professionally designed product pages and a ready-to-go marketing campaign. And apperently, this can be added to your custom dropshipping store.
But comes with an additional fee after the first 30 days free trial. To find more information about Sellvia I'll suggest you read my in-depth Sellvia Review.
How Do I Get The Custom Store?
Ordering the custom dropshipping store is quite simple. However, first thing first, you need to place an order. After that, the rest is fun. Here is the breakdown, as soon as you place the order:
You Get a Personal Project Manager
The project manager will be in charge of coordinating your store project and will be answerable directly to you.
He/she will give you access to their Basecamp – this is a special platform where you can monitor the progress of your store. Furthermore, you will be given a questionnaire to fill to learn about your requests and preferences.
Your project manager will be there for you all the time to answer all questions or receive your comments about the progress of the project.
You get to discuss exactly what your preference should look like. The result of your store will be in the proportion of the details you provided for the specialists.
They want to know exactly what you want to see in your store so as to provide you with the best service they can.
You also get to follow every process of the project and leave your feedback. This way both teams are on the same track. If you want any extra customization be added to your store, this is where you can easily do that.
Access Your Store As Soon As it Ready
As soon as the store is ready your project manager will provide you with guidance and instructions on how to manage the store and also promote it.
Immediately they provided you with the access details to the store, you can run and amend it the way you want. In addition to this, you also get to enjoy lifelong support from Alidropship at no additional cost.
AliDropship Custom Store Bonus Package (Free Dropshipping Course)
This is the bonus that comes with the AliDropship custom dropshipping store. When you order a store, you'll also be granted access to the valued packed dropshipping course by AliDropship.
Which is particularly good for those that are new to the business model. The course covers the basics of dropshipping and emphasizes how to use Facebook to market your dropshipping store.
Let's have a preview of what the course looks like:
#1: Introduction: Dropshipping Basics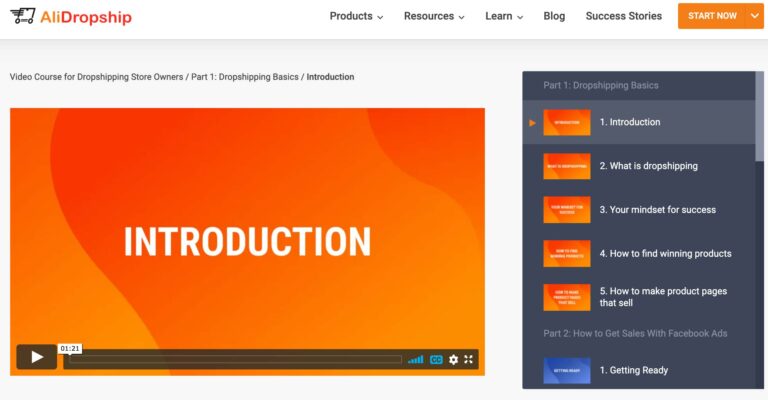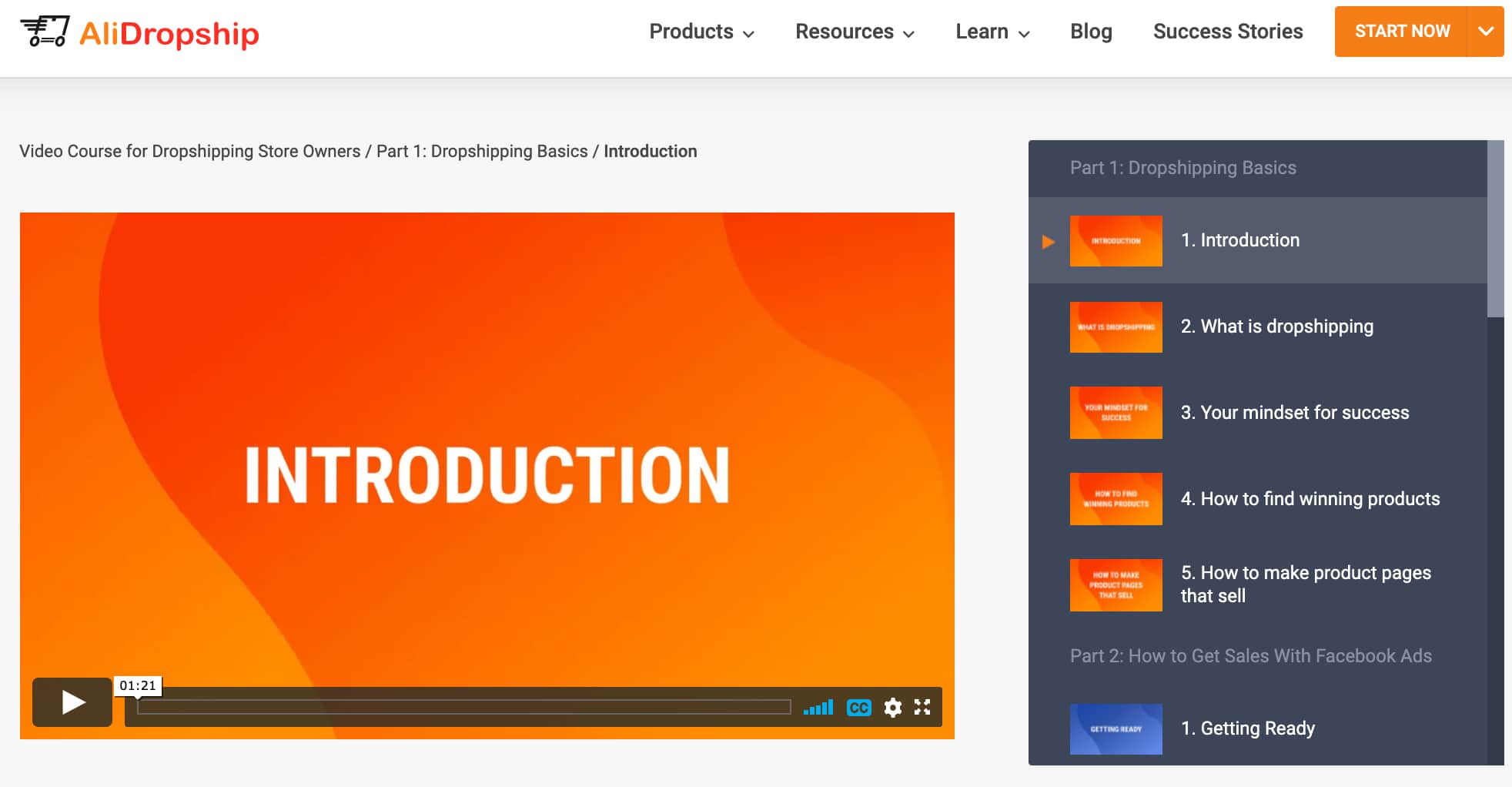 This focuses on dropshipping for beginners and setting your mindset straight for success. The latter modules explain how you can source for additional winning products for your dropshipping store.
And finally, how to optimize your product page for more sales and increase your conversion rate for your dropshipping store.
#2: How To Get Sales With Facebook Ads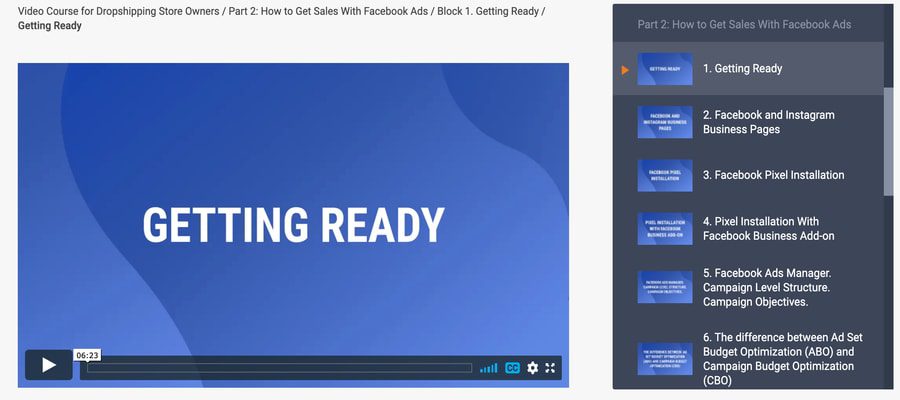 This part focuses extensively on Facebook Ads since Facebook is a huge marketing resource for eCommerce as a whole.
Using this lesson, you will be able to set up your Facebook ad manager and create your ad like a pro!
It includes basic processes like setting up your pixel code and understanding common terms like "Ad Set Budget optimization and Campaign Budget optimization.
You'll also find an advanced Facebook marketing tutorial where you get to scale your product marketing to even get more sales.
This is some cool stuff you shouldn't miss out if you're having little experience with dropshipping.
#3: Managing Your Store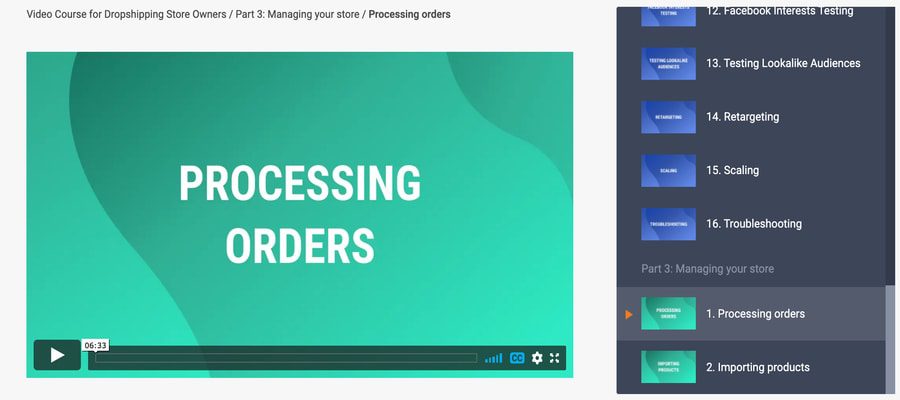 The final part focuses on managing your store and how you can process your orders and import more products once you start generating sales.
I believe this alone will cut weeks of learning and instead of paying for an additional drop shipping course out there.
However, getting the AliDropship custom dropshipping store gets you the course for free which I believe is a win-win.
AliDropship Custom store Review: Pros and Cons
Below are some of the benefits or features i really like when it comes to the AliDropship custom store.
Lifelong support and free updates
Newbie friendly
High-profit scalability
Automated plugins
Direct link to AliExpress
100% ownership
Not all is sunshine and rainbows when it comes to AliDropship, these are a few of their shortcomings.
Additional cost for special request
Long time in creating the store (Around 15 days)
Get Your Store !
My AliDropship Custom Store Discount Coupon
I understand $299, $499, or $899 may be much depending on the package you want to choose when you're tight on budget. which is why I request a discount coupon with the AliDropship team.
So instead of paying $899 for the ultimate package, you can save $134 and pay $764 instead. The discount is just for you if you've decided to go along with the AliDropship custom dropshipping store.
Based on my experience, anyone ready to put in the time and effort should be able to get a better result than I did.
So if you're interested, you can use my coupon OLUSOLADAVID15 and save 15% on your order.
Before you check out, at the right-hand side of the checkout page, you'll see a coupon box below the price of what you're buying on AliDropship.
So once you're there enter the coupon code OLUSOLADAVID15 to save 15%.
Conclusion
Basically, if you look at it, the price is still worth it based on everything you are going to get along with the store. Shopify is a great platform too, but their price has caused many dropshipping businesses to close down due to the recurring fee per month.
The one-time fee for ordering the Alidropship custom store will give you the freedom to plan your business into details without being bothered about your monthly recurring fee.
Finally, the custom store is of great help for those just stepping into the drop shipping world. So, what's your view on the AliDropship Custom store review?
Let me know what you think in the comment section.
Get 15% Discount Coupon on your order… Use OLUSOLADAVID15 as your coupon!
Learn More