AliDropship Custom Store Vs Premium Store Vs Established Store
In today's post, I'll do a thorough comparison between the AliDropship custom Store vs Premium store and the Established stores by the popular AliDropship. 
Chances are you want to get either of the AliDropship custom store or the premium store but not sure which one is the right one. 
Dropshipping has drastically reduced the barrier-entry to running and starting a full-fledged e-commerce business. 
Now, you can easily test a product to see if it's profitable without risking too much or buying the product itself. 
And lately, AliDropship is making this more doable by providing clients or interested users with the means to start with less of a hassle via their ready-made dropshipping stores.
Creating your Dropshipping website yourself takes time most especially when you're not skilled with WordPress.
The Turnkey store from AliDropship however, reduced all these stress by giving you access to a ready-made store.
AliDropship offers three types of turnkey dropshipping solution and each of them comes with its own unique features. 
So, in this post, I'll walk you through these features and help you make an informed decision after you must have known how they all work. 
Let's get to it. 
AliDropship Custom Store Vs Premium Store Vs Established Stores 
Before we begin, I think it's proper we understand the primary purpose of AliDropship and the role they play in the dropshipping industry. 
What Is AliDropship & How It's Works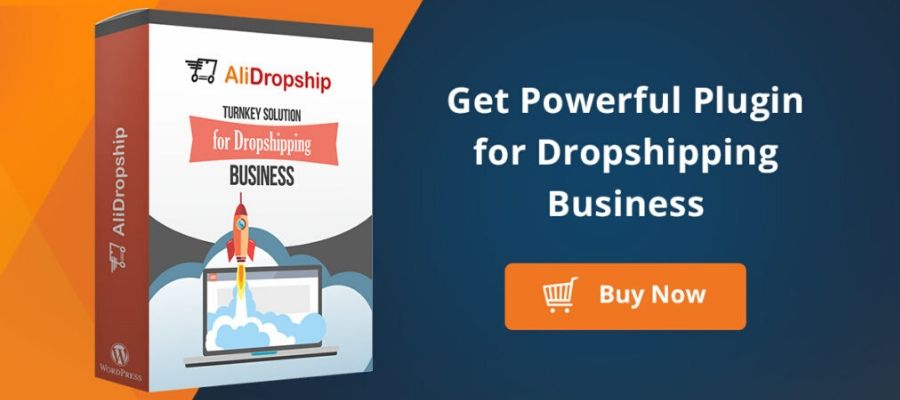 AliDropship is an eCommerce dropshipping plugin specifically created for WordPress content management system.
What the plugin does is that it allows you to create an eCommerce store on WordPress and automatically link or connect your site to AliExpress. 
This means with a click you can easily import a product you like on AliExpress to your website. The same thing also goes for fulfilling your orders. 
After promoting your products, if you have ordered from customers that need to be fulfilled, you can simply forward them automatically to the seller on AliExpress.
And all this can be done with a push of a button.
The AliDropship plugin also comes with a set of add-ons built to optimize your dropshipping business in several areas you can think of. 
In summary, the AliDropship plugin is the foundation or tool used in creating all the available "done-for-you" dropshipping stores on the platform.
Think of it as more of the foundation at which your eCommerce dropshipping website is built upon. 
The only difference is that the "done-for-you" store or turnkey website differs in;
Customization

Product catalogue 

Marketing services

Integration 

Available add-ons 

And many others. 
So right now, we'll be looking at each one of the stores and how it works. 
#1: AliDropship Custom Stores 
The AliDropship custom store is a turnkey dropshipping website that is built upon request from the AliDropship team. This is a customized dropshipping website that is built from the scratch for users that are in need of it. 
Basically, once you've purchased the store, you'll be assigned a manager that will discuss the details with you. 
Part of the details includes your preferred niche, store customization, domain name, payment gateway etc. 
The website will be built specifically to your specification and taste. So yes, there's plenty of room for customization with the AliDropship custom store. 
The custom store, however, comes in packages and I'll be listing them below; 
Basic Package ($299)

Advanced Package ($499)

Ultimate Package ($899)

Supreme Package ($2899)
Basic Package ($299)
 The basic plan is the least plan of all the custom dropshipping websites by AliDropship. It has limited features compared to the rest of the custom store plan. Let's explore the features, shall we?
Product Niche research

(.com) Domain name

Professional design

Responsive Website

AliDropship plugin

Choice of products

50 Ready To Sell Products

Unlimited Monthly Orders

Order Tracking

Credit Card & PayPal Payment Gateways

12-15 business day website delivery (For creating the website)

Free Store Theme

Meta Data & Google Indexing SEO

Facebook Social Account
These are all that you're going to get when it comes to the AliDropship custom store basic plan.
Advanced Package ($499)
The Advanced custom store plan is the next plan after the basic plan and this includes 100 ready to sell products. Plus additional marketing features and tools to grow your business. 
Let's explore the features: 
100 Product Catalogue 

15-20 business day website delivery 

Meta Data and Google Indexing SEO

Social Media Accounts (Facebook, Twitter, Instagram) 

And Everything On The Previous Plan
Ultimate Package ($899)
The ultimate plan includes everything on the two previous plans and it's perfect for someone looking to start a hands-off eCommerce business. 
The store is customized for completely new and almost everything needed to be successful is added to the website. Let's see how it differs from the previous plan. 
200 Product Catalogue 

20-25 Business Day Website Delivery

SEO Package Includes; (Meta Data, G Indexing, Home-page Article) 

Social Media Accounts Includes FB, Twitter, Instagram, YouTube) 

Plus everything else on the previous plan. 
Supreme Package ($2899)
The AliDropship supreme package is the highest plan of the custom dropshipping store as it includes way more interesting features compared to the rest of the custom store plans. 
It's an all-in-one custom dropshipping store tailored to start generating income immediately. It comes with thorough niche research and optimized marketing features for profits. 
Basically, every single thing needed to be successful in dropshipping is included in this website, owners only need to promote the store with the promotional template that comes with it to start generating profits. 
Let's see how it differs from the rest of the custom stores: 
It includes every other feature from the previous plan 

Platinum hosting for one year (Valued @ $220/yr)

500 Product Catalogue 

Social media tool for promotion 

Email sub integration 

Lead gen Pop-Up

Abandoned cart recovery

Promo banners 

Additional Customer reviews page

3-in-1 sales booster

4 Email promo set up 

150 quality SEO backlinks to your website

30 Social Media Post Per Account

8 Ready ads for Instagram and Facebook
Quite expensive but comes with the right tool needed for the success of your dropshipping website. 
General Features of the Custom Dropshipping Store
Below are features of the AliDropship custom store and why you might want to look into it;
With the custom dropshipping store, you'll get access to full customization of the website exactly the way you want it. The store will be created to meet your standard depending on your country of location. 
With the custom store, what you'll have is full ownership of your website with an assistant manager ready to work with you for a month. This is basically like having a dreamed website without having to go through any of the stress. 
Also part of the feature is that you get to have an extensive product niche research for your website. The niche research is carried by the AliDropship expert team with quite a number of experience in the dropshipping business model. 
#2: AliDropship Premium Stores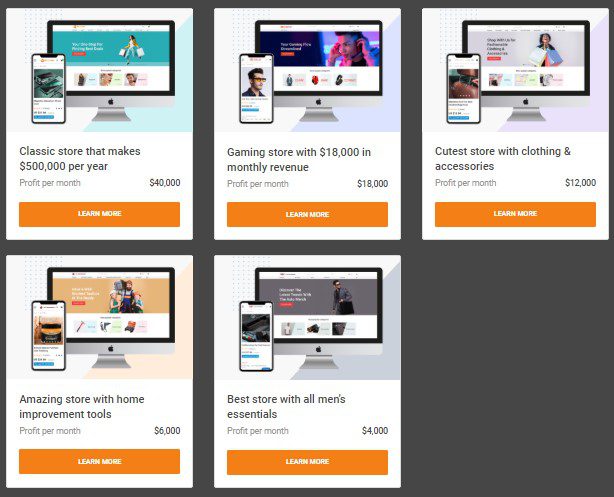 The AliDropship premium stores are copies of one of the successful dropshipping stores by AliDropship. AliDropship themselves run several drop shipping store directly linked with AliExpress. 
And copies of these stores are what they made available as the premium dropshipping stores.
The premium store includes the exact theme, winning products, customization and basically everything available on the real dropshipping website. 
Getting the AliDropship premium store you don't have to do any customization again on the website because everything seems to be done for you.   
However, the only task you'll perform is installing the website on your domain name and hosting. 
And a free domain name and hosting on Bluehost can get the job done easily with Bluehost pre-installed WordPress. 
All the available premium stores cost a one-time fee of $300 with optional packages like the installation fee and marketing package. 
Features of the Premium Dropshipping Store
Let's explore some of the features of premium dropshipping stores and see what it's bringing to the table. 
Since the premium store is an exact copy of the top-performing dropshipping website of the AliDropship team. All product you'll be getting is winning and top-performing products already that you can easily promote. 
All that is required is the website installation and payment integration and after that, what you have is a full pledge working dropshipping website. 
And if you still don't want to install it yourself you can choose to get the installation package and the theme has it installed for you. 
The marketing package includes the ads copies that you can use to promote your store across several social media platform. This, however, comes with the marketing package or can be gotten from the AliDropship marketing services. 
#3: AliDropship Established Stores
The AliDropship established a store on the other hands are real-life successful dropshipping stores. These stores are created and run by AliDropship themselves to the stage where they generate passive income every month. 
They are also built upon strong SEO optimization and paid ads, but once it starts generating passive income, they list it up for sale.
Compared to the rest of the done for you dropshipping, the AliDropship is quite expensive.
However, it does come with a lot, social media accounts with followers already and ads material that can be used to promote the store.
Features of Established 
The established store is a working store already so buy it is just a transfer of ownership. Think of it as a standard investment in a ready-made business. Or more like buying an entire company. 
Cons of the Established Store

The store is quite expensive and I believe the price can be used to buy smaller dropshipping stores like the premium store or the custom store specifically built for you. 
Conclusion
The AliDropship turnkey store comes in various packages tailored to meet specific preference and needs. 
The premium dropshipping store seems like a nice option for those just getting started and needed a quick ready store plus short on budget. 
However, the premium dropshipping store might require a bit of WordPress experience for the installation. But if you happen to have less experience, the installation package that comes with it will also be very helpful. 
The customs store on the other hand is tailored for those that really know what they want and need an expert to create the store for them.
Finally, the Established store by AliDropship is seriously expensive and I'll say you know what you're doing before going for it. 
My point is, it's preferable you get your own store at a smaller price then use your remaining funds to promote the website. 
Store like the premium dropshipping store comes in handy and will do good in profit if you're committed to it and do good by it. 
Now, let me hear from you. Which one would you pick between the AliDropship custom store vs Premium store vs Established stores? 
Let me hear your pick in the comment section. 
Learn More