AliDropship Vs AliDropship Woo [See The Real Difference]
Thinking of starting your WordPress dropshipping but confused about what to use among the two plugins AliDropship vs AliDropship Woo.
Trust me, I know that feeling.
The two plugins are the most popular dropshipping plugin out there. And while starting a business and before choosing your tools, thorough and careful research is always necessary.
In this article, I'll compare the Alidropship Plugin vs Alidropship Woo in other to pinpoint the differences between the two plugins.
And at the same time, for you to make the best decision for your business.
The two plugins were created and developed by Alidropship to manage the majority process of the dropshipping business.
The default plugin is Alidropship plugin while the WooCommerce version was later created for the convenience of its users
AliDropship Plugin vs AliDropship Woo
Before we go in-depth on our comparison between the two plugins, it's important we cover the basics. And also highlight the initial purpose of both plugins. Thus, understanding the basic functionalities of the two plugins.
The two plugins actually handle the most important aspect of running your dropshipping business like;
Order fulfilment
Auto Product Import
Product Image
Tracking Order
Product Description
Etc…
But if you really can't pinpoint their point of difference it can affect your store and to change to the alternative can be really time-consuming.
The change to either of the plugin when you've already set up your store will require you delete all the products and start all over again.
So to avoid such stress, take your time to know how they work and choose the one that's exactly what you need to avoid story that touches the heart:).
Let's get started.
What is AliDropship Plugin? (Original Plugin)
AliDropship plugin is the first version of the dropshipping plugin. It was created to work on any WordPress dropshipping website that has no WooCommerce installed on it.
Simply put, It's a WordPress dropshipping plugin that is only compatible with its built-in-themes or website themes created by AliDropship.
In addition, what makes the Alidropship plugin a popular and unique one owes to the fact that it's not just a plugin.
It's more like a standalone plugin solution that helps you create an online store without any additional development on any WordPress platform.
Also, it's specifically built to make creating a dropshipping website easier most especially for newbies and those having little experience with WordPress.
NOTE: The Original AliDropship plugin only works on a WordPress with no WooCommerce plugin installed on it.

If you have WordPress site having the WooCommerce plugin installed already,  you'll have to delete the WooCommerce plugin to be able to use the original AliDropship plugin.
What is AliDropship Woo? (WooCommerce Version)
AliDropship Woo is the second version of the original AliDropship plugin which is a WooCommerce dropshipping plugin. This version of the plugin only works on a WordPress site that has the WooCommerce plugin installed already.
However, just like the original plugin, they are both created to seamlessly import products directly from AliExpress.
This, however, unlike the original plugin can use any WooCommerce theme as your store theme. And yet still comes with its own built-in-themes.
Note: After creating your dropshipping website, you'll need to install the WooCommerce plugin first before you can now install the AliDropship Woo.

It only works on a WooCommerce enable WordPress sites.
Initial Purpose of Both AliDropship Plugins
Both of the plugins are created to handle the routines tied to the dropshipping business. Even though they might be different in terms of functionality they still handle the same purpose.
And as a result, the plugin helps to automate these process by performing the most important tasks of the dropshipping business.
Thus, making your dropshipping journey quite a pleasant one.
Both of The Plugins Can Easily Do The Following:
Seamlessly import products from AliExpress
Update product info
Import product reviews from AliExpress
Order processing
Auto use of price markup formula
Auto send tracking number
And many more…
As you can see, these are what takes the majority of the time in any dropshipping business and they are completely automated.
Since we now know the basic purpose of the plugins I think it's better we take a look at their functionality difference.
What Are The Differences Between AliDropship Plugin & AliDropship Woo?
We're going to take a look at both plugins in various aspect by breaking it down into smaller categories.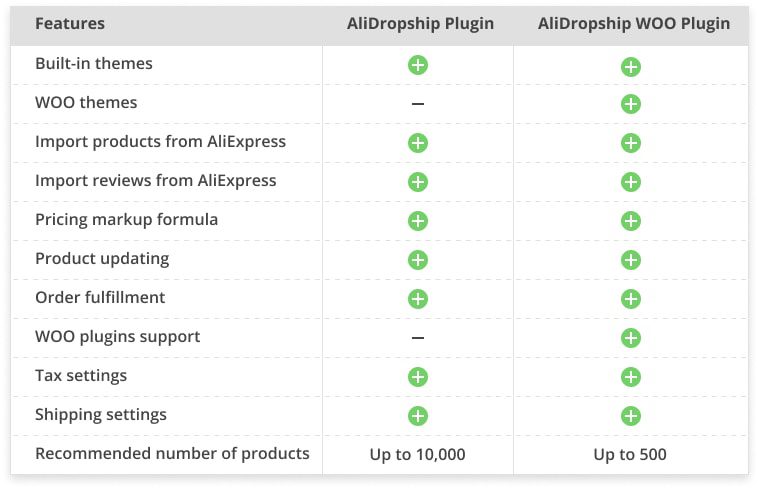 This will allow you to know the difference as well as the similarities between the two plugins.
#1: Store Solution
The Alidropship default plugin is an all-inclusive solution that helps you create an online store without any additional development or installation needed.
The plugin has an extended range of additional features. For example, it has its own built-in-themes, and a convenient dashboard for you to monitor your store stats.
This feature was added to make it a perfect choice for people just getting started with little or no experience before in the dropshipping business.
While Alidropship Woo, on the other hand, is only limited to the necessary features of performing the core dropshipping functions.
Reason being that, WooCommerce is a huge platform for online stores on its own. And hardly will you not see needed features to aid your business.
WooCommerce offers a solution for full website customization.
All the additional features of the default Alidropship plugin that are not inclusive in the Woo version can be easily sourced and installed as a plugin using the WooCommerce platform.
So, as you can see, both of the plugins are carefully created to meet all users need.
I believe the WooCommerce version of the plugin is created for users with prior experience of WordPress and WooCommerce, while the original Alidropship plugin is for users with less experience or just getting started.
#2: Themes & Customization
The Alidropship default plugin is only compatible or supports the built-in-themes, which includes:
Andy Wahol
Da Vinci
Michaelangelo and
Rembrandt
Dali
These plugins are beautiful and carefully designed based on the example of the most successful stores in the global e-commerce practice.
While Alidropship Woo, on the other hand, also comes with any built-in-themes. It also gives you access to hundreds and thousands of different WooCommerce themes you can easily install and use for your website.
This, in turn, means you have full access to customizing your website if you sure know what you're doing. I've written an article with over 20 free and premium dropshipping themes for WordPress/WooCommerce.
However, I think it's also very important that you know that the various available WooCommerce theme are created by people of different background and location.
So there's no guarantee that all the WooCommerce theme available in the theme section of your WordPress site will be responsive on your website.
Rather take your time to choose a theme that will be both desktop and mobile responsive on your website for the sake of your customers.
So if you're obsessed with store customization the WooCommerce version will give you the opportunity to do just that.
#3: Product Capacity
Another important aspect where the difference between AliDropship and the AliDropship Woo is very pronounce is the area of product capacity.
If you plan to have more than 500 products to thousands of products on your website, the AliDropship Woo version is not recommended.
The AliDropship Woo version is recommended for products less than 500 to avoid issues with high CPU server usage on your website.
And to also reduce heavy database load created by multiple WooCommerce queries on your site.
The original AliDropship plugin, on the other hand, allows you to have up to 10,000 products on your website.
#4: Payment Gateways
Using the Alidropship default plugin gives you access to Alidropship list of supported payment gateway across the globe.
Which includes the following:
PayPal – Supported Country ( 200Plus)
Stripe – 25 Countries
Payssion – 190 Countries
2Checkout – 200Plus Countries
PayU – (Poland)
Instamojo – (India)
PayU Latam – (Mexico, Panama, Colombia, Brazil, Peru, Chile, Argentina
Rave by Flutterwave – ( Nigeria, Kenya, Ghana, South Africa, United States)
PayU biz – (India)
BlueSnap – 237 countries
Pagadito – 9 countries
Paylike – 37 Countries
DusuPay – ( Nigeria, Kenya, Cameroun, Rwanda, Uganda Ghana, Tanzania, South Africa)
PayPlug – 15 Countries
Pin Payment – (Australia)
PayTabs – 17 Countries
Pagseguro –
PayU money
In addition, you can check the entire country list and more comprehensive list of the Payment gateways here.
The plugin uses the majority of the popular payment gateway out there. So, you can rest assured that you will find the one that meets your need.
But, when it comes to Alidropship Woo it's a whole lot different scenario.
The WooCommerce platform virtually supports all the payment gateway out there and invariably giving you access to its entire payment gateway plugins.
With this, you will be able to download and integrate any payment gateway suitable for your targeting location and countries of your choice.
#4: Marketing Tools
This is actually one of the main difference between the two plugins. The default Alidropship plugin includes the following marketing tools:
Abandoned Cart
Email List
Cross-sell
Discounts
Alidropship team try as much as possible to create a perfect solution for anyone with no experience using the default plugin. They also provide marketing services for your dropshipping store.
In this case, you can easily continue your dropshipping journey with the plugin and be successful about it.
But, acquiring the Alidropship Woo doesn't come with the above marketing tools. Why? Because you will have access to unlimited marketing tools via the WooCommerce platform.
Both free and premium plugins.
So, in the actual sense using the WooCommerce version expose you to even more marketing tools for your dropshipping business.
#5: Shipping Options
There is also a minor difference when it comes to shipping options. The default Alidropship plugin allows you to take advantage of the free and low-cost shipping options offered by AliExpress sellers.
To do this, the plugin has a section where you can easily enable or disable the shipping option and select the country you want to ship to.
The options include:
Free shipping
Super Savings shipping
Standard shipping
Expedited shipping.
The plugin automatically applies your options to all deliveries arranged to any country in the world.
Using Alidropship Woo, on the other hand, means you need to deal with the shipping zones, by individually assigning these setting for every separate region based on the country.
For other order tracking both plugins allows you to track your order and auto-send them to your customers.
Who Should Use The Default AliDropship Plugin?
Well …it depends, anybody can actually use it but I'll suggest you go for if you think you fall into this category:
This is going to be your first online store
You have no experience with WordPress or WooCommerce.
You need a full solution package that will contain all the necessary features without installing an additional plugin
Confuse about choosing one.
If you think you belong to the above category, then it's probably best you stick with the default Alidropship Plugin. It's easy, to begin with.
Who should Use the AliDropship Woo plugin?
Basically, if you think you don't fall in the above category then it's probably best you stick with WooCommerce plugin instead.
You should use the WooCommerce version if you belong to this category:
You have a deep understanding of WooCommerce already
Have a blog, website, or an online store before
Programmer or IT person
Love customization
For site compatibility, you have to choose the one that best works for your website. If you're going to be using the AliDropship Woo, make sure WooCommerce is already installed on your WordPress site.

And if you're going with the Original AliDropship plugin make sure there's no WooCommerce installed on the site already.

Also keep in mind that, you can only have between 100 to 500 products on the AliDropship Woo dropshipping store. While the original AliDropship plugin allows up to 10,000 products conveniently.
In Conclusion
Its better you use the Alidropship plugin if you are familiar with WooCommerce Plugin already. Otherwise, the Default Alidropship plugin is recommended.
This is because you don't need any prior knowledge to use the default plugin. It's an all in one complete solution for any dropshipping business.
Ready to optimize your drop shipping business? which one is it going to be…

… or
That's it on AliDropship vs AliDropship Woo!
Now which would you prefer or which one is best working for your dropshipping business that you're likely to recommend?
Let me hear your thought on this using the comment box!
Learn More