AliDropship Plugin Vs Custom Store: Which one is better?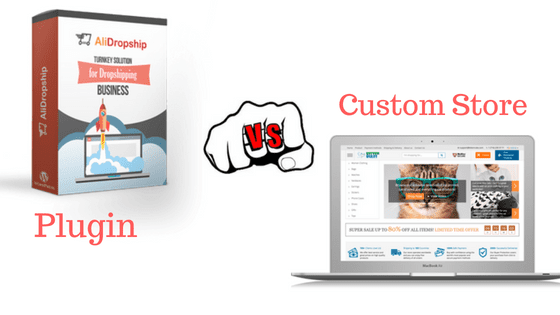 Dropshipping business is one of a kind when it comes to making money online. This business model is total newbie friendly that you can set up your dropshipping website under a few minutes and ready to start selling even if you're hearing it for the first time.
The only hiccup that could cause a delay, which of course is nothing, if you use this tool, will be you coming up with a product to sell. It can be tricky when trying to choose a product to sell.
The truth is, finding a product to sell is really not difficult if you look inward and of course validate the profitability of the product. What's even better with drop shipping is that everything is now made super easier with the advent of AliDropship Plugun and the AliDropship Custom store!
You don't need to know any coding to run your dropshipping website, you just need to follow the plugin template and run with it. Everything is automated and the best part is, there's no limit to the amount of income you can make.
You could start making a few hundred bucks in the first month and over 5k in the subsequent month even of up 50K. There really is no limit to the amount of money you can make.
In fact, you can sell the entire products on AliExpress if you want to, just make sure your store is powered by AliDropship and you're definitely on your way to success. There's literally no better dropshipping software to automate your dropshipping business than this plugin.
But most of the question I receive lately is which one should I buy? The AliDropship plugin or order the AliDropship custom dropshipping store. Have you ever felt this way, or you probably don't know the difference between the AliDropship plugin and the AliDropship custom store?
Well, if you don't, there's nothing to be shy of. When you're done I'm sure you'll be spur by the knowledge gained here to take the right decision. The AliDropship plugin or the custom dropshipping store, let's have a look at it.
AliDropship plugin Vs AliDropship Custom Store
First, I'll break down everything about the WordPress dropshipping plugin "AliDropship plugin" then the turnkey dropshipping store also known as the custom store.
When it comes to dropshipping, AliDropship offers two major options. They can either build a professionally designed webstore for you or you buy their plugin and build your dropshipping website yourself.
The system is completely built to meet all your needs whether you're a complete professional or a total newbie they have everything to meet your exact need. Now let's take a look at what they offer.
Everything about AliDropship Plugin
The Alidropship plugin is a premium WordPress dropshipping plugin that integrates your WordPress site with AliExpress allowing you to sell AliExpress products directly on your website.
The plugin allows seamless integration with AliExpress which allows you to import products directly into your website. The plugin is more like a single package that will cost you $89.00 to acquire. Once you've acquired it, you can then start building your website.
Below are the features of the plugin:
Search and Import product from AliExpress
Synchronized update with AliExpress
Price automation
Automatic order fulfilment
ePacket shipping filter for fast product delivery
Automatic tracking of orders
Easily customize products from Aliexpress with few clicks and publish them on your website immediately
Built-in-themes optimize for dropshipping
Import unlimited products from AliExpress
Sell products with different variations like size, color etc.
The plugin comes in WooCommerce version
Built-in image editor to edit product image from AliExpress
Marketing tools like discount coupons, products review, abandoned cart etc. to boost sale on your website
Live statistics to monitor traffics on your website
Popular payment gateways integration to receive payment from customers
Automatically manage inventory on AliExpress from your website
Make up to 12% extra commission with AliExpress affiliate program
Life-long free support and regular updates
Here's a complete AliDropship plugin review in case you need to learn more!
The above list and more are the basic features you should expect with the AliDropship plugin. But mind you, getting the plugin is just the first step.
To really hit the ground with your dropshipping business you need to create a good standard WordPress site. It's after you've set up your website that you can then install the AliDroship plugin to start selling AliExpress product.
However, you can also sell your personal products too alongside AliExpress products on your website if you want.
The plugin comes in two versions, and both versions are included in the default AliDropship plugin. They include the:
WordPress Version: this version of the plugin helps you transform your ready WordPress site into an online store that's ready to list products from AliExpress. This version doesn't require the WooCommerce plugin to build your online store.
WooCommerce Version: This particular one is known as AliDropship Woo. It allows you to build your dropshipping website on the pre-installed WooCommerce plugin for WordPress.
Which of the Plugin Should You Install?
As I said, they're both built to meet your exact needs. If you have little experience with WordPress and dropshipping itself, then I'll say you go for the WordPress version.
But if you know what you're doing and you're ready to customize your website to any length the WooCommerce version is the perfect match for you. It allows you a total freedom so far you know what you're doing.
There are countless of people who bought the Alidropship plugin and still ended up ordering the custom dropshipping store.
Why? Because at first, it can be overwhelming for you to create the website if you have little experience with WordPress or website development. But tweaking around your dashboard over-time will get you used to it.
Below are the cost and breakdown of what you'll literally do after the purchase of the plugin. They include:
Get a domain name and hosting account with SSL certificate installed. This is usually around $70. ( BlueHost offers free domain name & free SSL Certificate)
Install WordPress from your hosting account cPanel
Get the AliDropship plugin $89.00 and install on your WordPress site
Install a free theme from the AliDropship theme archive
Customize your website using your theme template
Integrate your payment gateway
Import products from AliExpress
Install other add-ons (free & paid) to boost sale on your website. (Optional)
Edit every single product description for SEO optimization
Promote => receive => and fulfil order on AliExpress
With this, you'll have a full functional dropshipping website with help of the plugin.
However, things could be overwhelming or daunting at first while setting up your site especially if you're just getting into the game. After a while tweaking around the dashboard will make you experienced.
Pros of AliDropship plugin
Let's take a look at some of the pros of the AliDropship plugin over the custom dropshipping store.
Lower fee compare to AliDropship custom store
Easy to use with WordPress experience
Customize your store exactly to your own taste.
Cons of AliDropship Plugin
Requires minimal WordPress skill and experience
Importing over 50 products and editing products descriptions for SEO could really be boring and time-consuming
Everything about AliDropship Custom Store
The AliDropship custom store is the full package when it comes to dropshipping. Think of the plugin as a car engine while the custom store as the whole car.
The custom store, also known as the turnkey store for dropshipping is a ready-made drop shipping website built from the scratch with at least 50 products imported from AliExpress that's ready to start selling immediately.
One of the benefits of the AliDropship custom store is that you can start making profits immediately when it's up and running.
What makes the whole package unique is they go as far as researching a product niche for your dropshipping store.
Let's take a look at the feature of AliDropship Custom store:
Included in it is everything you need to start an e-commerce business
100% ownership with no future charges
It includes a perfectly optimized theme for drop shipping
Marketing tools and every other thing needed to promote your store
Integrated with the popular payment gateways
Fully automated business with AliExpress
Product niche research
Mobile optimized website
Free domain name
Hot and carefully selected products for your store
Promo video for marketing
On-site optimization for search engines
Stylishly designed website with custom logo, header image, icon, favicon and every other thing to make your site looks professional
AliDropship plugin for WordPress or WooCommercce
Branded social media pages created and connected to your store
Social media promo automated tool
To learn more read the AliDropship custom store review here
These and more are what to expect when you order the custom dropshipping store with at least 50 already imported products from AliExpress ready to start selling. This, however, is based on the package plan you choose. The custom store package includes:
Basic plan ($299)
Advanced plan ($399)
Ultimate plan ($899)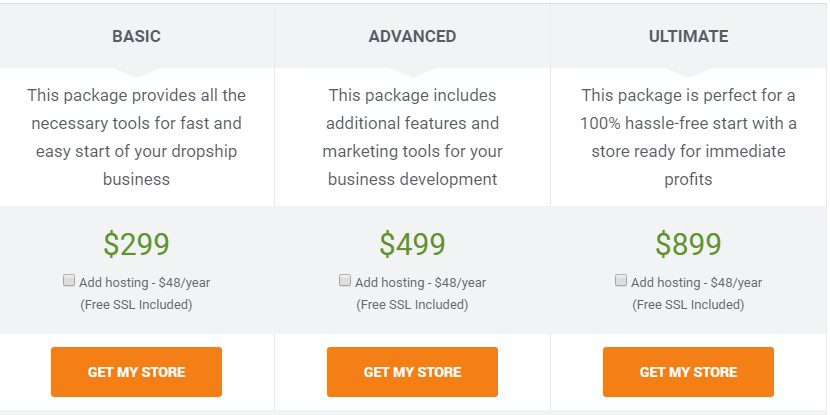 #1: Basic plan
The basic plan comes with the entire features except for promo video and social media promo tool. It comes with just the Facebook page as social media account for branding store and 50 already imported products to start selling immediately.
It's usually ready within 10-13 business days.
#2: Advanced plan
The advance plan also comes with the entire features except for promo video and social media promo tool. A Facebook page, Twitter, G+ and an Instagram account is created and integrated into your store.
This plan comes with 100 products already imported from Aliexpress and ready to start selling which is usually delivered around 13-18 business days.
#3: Ultimate plan
The ultimate plan includes the entire features with 200 already imported products from AliExpress ready to start selling. However, this usually takes around 18-23 business days.
Ordering the AliDropship Custom Store
Getting your custom dropshipping store is quite simple. Below are the simple steps involved once you've placed your order.
You Get a Personal Project manager – the manager is going to be in charge of your project. You'll be given a questionnaire to fill in other to learn about your request and preference
Detailed Discussion – you give them exactly what it is you want, in other for them to be able to provide you with their best service. However, you should now your store will be in proportion of the details provided by you.
Monitor The Entire Process – you can always keep track of what's going on with your store. Follow every single process of the project and leave your comments along the way
Access Your Store – immediately your store is ready your project manager will provide you will all the necessary details you need to manage and run your webstore.
Pros of AliDropship Custom Store
Let's take a look at why you might want to prefer the AliDropship custom store over the initial WordPress plugin.
Save time and stress
You don't have to have any experience
Save you the stress of searching for a product niche
At least 50 imported product with new product descriptions written for SEO
Profit scalability
Cons of AliDropship custom store
High price compared to $89.00 of the initial plugin price
That's everything about the AliDropship custom store I hope you now have a full grasp of everything.
In conclusion
To round its up, I think it's obvious what you getting from either of the two. You'll save yourself some cash if you decided to go for the plugin instead of the custom store.
But, you should be prepared to build your own dropshipping website and customize it to the level it needs to start selling.
If you're just getting started and you think you have the cash at hand, I'll recommend you go for the AliDropship custom store.
Having enough experience with web development and WordPress then should go for the WordPress plugin itself.
However, if things turned out to be harder than you expect, you can easily upgrade your purchase of the plugin to order the custom store minus the amount you've paid for the plugin.
It's a win-win case nobody is on the losing side. To upgrade, you can follow this simple procedure:
Copy your plugin license number from your email sent to you after the purchase of the plugin
Next, head over to the custom store page
Then select you're preferred package and click the "Get My Store" button.
Upon checkout, at the coupon box copy and paste your plugin license key on the coupon box and click the apply coupon. The initial plugin price will be deducted from the custom store price and they'll start building your website for.
There you have it!
So, which one is it going to be, the AliDropship plugin or the Custom store? Let me know what you think in the comment box!