AliDropship Woo Plugin Review: WooCommerce Plugin?
In this AliDropship Woo review, you'll find answers to several questions you've had about the WooCommerce version of the AliDropship plugin.
And as well as the difference between Alidropship and Alidropship woo!
We often hear that drop shipping business is one the easiest and hassle-free business you can start right away! Well, I don't intend to argue that, because in the actual sense it's kind of easy.
The fact that you don't need a huge capital to start, or for the fact that you don't need to own a product inventory of your own.
All you need to do is receive orders from your customer and forward them to your supplier. The supplier then takes it over from there. I bet you know all this already!
But however cool as it may sound, there is still some routine tied to drop shipping that is never easy. A routine like, manually importing products from AliExpress and re-editing them before you upload them.
This could practically take weeks.
Or better still, Imagine you get to know that your product is out of stock from your supplier! And this is right after you receive an order for the product.
How do you intend to manage such challenges?
Well, the best thing to do in that kind of situation is to source for another supplier immediately.
But my point here is, with the help of the plugin you won't have experienced such challenges in the first place.
So, whats this WooCommerce dropshipping plugin we are talking about? What are the features, pros, and cons and how can it assist or scale-up my dropshipping business?
Just keep reading and see as we unveil everything in the Alidropship Woo review.
AliDropship Woo Plugin Review: The WooCommerce Version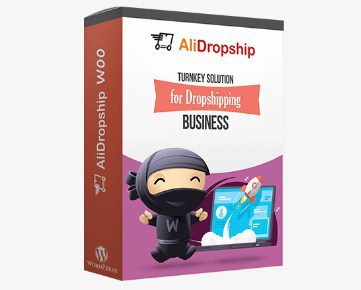 The Alidropship Woo is a WooCommerce dropshipping plugin created as an alternative to the default Alidropship Plugin.
It is specifically built for WooCommerce-based online stores to seamlessly import products directly from AliExpress.
Additionally, the WooCommerce plugin can easily download products images and description. It can also spot products on AliExpress with an ePacket delivery option.
As soon as your website receive a new order. The plugin visits AliExpress and fills in all your customer order data automatically.
You just need to click the 'Pay Now' button to confirm your purchase.
Currently, the market analysis about the Alidropship Woo Plugin is that the plugin is the most advanced solution for WooCommerce dropshipping.
And 86% of AliDropship users can't be wrong!
The plugin has all the needed features to successfully create and run a Woo based dropshipping store. It also works perfectly with the Dropship.Me plugin for sourcing of winning products.
What is WooCommerce and how does it work?
WooCommerce is an open-source eCommerce WordPress solution launched on Sept 27, 2011. The platform is designed for both small and large-sized online businesses.
In recent research by 'Builtwith'. It is said that over 39% of online stores worldwide are built and powered by WooCommerce. Thus, making WooCommerce a number one solution for building online stores.
One of the reasons why WooCommerce is a popular platform for online stores is owing to its convenience and flexibility. The platform allows you to add a wide range of additional themes and plugins to customize your website.
It offers a countless number of useful plugins that cover various aspects of your dropshipping store:
Pricing and checkout
Payment gateways
Abandoned cart
Discounts
Design etc.
This means you get to choose any additional features for your dropshipping business and make your store truly stand-out.
Alidropship Woo Review: What are the Features?
With most of the plugin features your dropshipping business can be easily scalable. Also allowing your business to grow in matters of time when properly planned. Thanks to AliDropship Woo you can easily do the following:
The plugin allows you to automatically set your entire product price using a simple markup price formula.
It uses a simple math expression. Wherein the price listed in your store is dependent on the actual cost of products in AliExpress.
In addition, whenever there is a change of price in AliExpress the plugin automatically updates your price too. So you won't manually need to re-edit it again
The plugin allows you to set different criteria for the kind of products you want. It then visits AliExpress search and adds them to your store automatically.
With these features, you can increase your customer experience by providing a faster delivery service through the help of the ePacket option.
When you receive an order in your store, you don't have to enter all your customer data manually.
The plugin automatically visits AliExpress and fills in all the order data (product details, customer's address, etc.) to your supplier. You just need to click 'Pay-Now' to confirm the purchase.
With the auto-update system; you don't have to worry if a product is out of stock from your supplier's without you knowing.
The plugin is synchronized with AliExpress, allowing it to easily get fresh data from your supplier. Thereby updating your store automatically.
AliDropship Google Chrome Extention –
With the plugin chrome extension, you can easily import products in bulk or one by one and also choose several shipping methods.
Additionally, it also helps you to filter the product properly and let you know products with ePacket shipping option. So as to be able to fast track your AliExpress shipping time and boost your business.
Automated Order Tracking –
The plugin also helps you check your orders for tracking updates and automatically send email updates to your customer. With this, you don't have to invest in additional email marketing tools
Automatically Edit Product Image and Description –
You can also change product images (resize, apply filter, stickers and remove watermarks etc.), descriptions and other details with just a few clicks while importing them.
The also gives you the ability to import reviews directly from AliExpress automatically. Not alone is this going to boost your conversion rate, it's also going to give your store and products more social proof.
It gives you the option of choosing from various WooCommerce themes for Dropshipping available on WordPress. It also has a free WooCommerce dropshipping plugin created by AliDropship.
Lifetime support and Update
The plugin comes with lifetime support and free update once you've purchased it for the one-time fee of $89. You don't have to worry about recurring fee.
With just your one-time purchase, you'll gain access to all its features and support for a lifetime.
AliDropship Plugin vs AliDropship Woo – what are the clear differences
Chances are you've heard about the default Alidropship Plugin and its great features. Most times people are often confused as to which to buy.
This is because they don't know the clear difference between the default plugin (AliDropship) and the WooCommerce plugin AliDropship Woo. As part of the AliDropship Woo review, we'll be exploring the differences of both plugins.
The difference between AliDropship and AliDropship Woo:
The default AliDropship plugin comes with both versions of the plugin; the regular version and the WooCommerce version.
If you, therefore, go for the default AliDropship plugin you won't have to buy them separately (WooCommerce inclusive)
Furthermore, the major difference between the two is the additional features that come with the default AliDropship plugin, most especially the AliDroship marketing tools. This includes:
Abandoned cart
Email list
Cross-sell
Discounts
AliDropship Woo, on the other hand, does not include the additional features. This is because they can easily be accessed using WooCommerce.
Or better still, your options for customizing your WooCommerce –based store is actually unlimited because of its flexibility.
Using WooCommerce gives you the choice to freely choose and install any additional WooCommerce plugins you may need to fix your specific goals.
Which Version Should You Use?
Both versions work perfectly fine, but it all depends on your skills and preferences.
One of the reasons while you should choose the AliDropship Woo, might include:
You having a deep understanding of WooCommerce already
You already have a WooCommerce store and you want to easily add products to it from AliExpress
Wanting to enjoy the great functionalities WooCommerce offers for running an online store
On the other hand, you can choose the default AliDropship plugin if:
If you are on the fence and don't know which one to start with.
Maybe you are new to drop shipping and eCommerce as a whole.
You want to build a brand new online store from scratch.
You need a full solution package that contains all the necessary features. So you won't have to search, install and pay any additional fee for new plugins.
Installing The AliDropship Woo Plugin
Upon your purchase, you will be redirected to the download page where you can download your plugin. You will also receive an email with the download links and your license key.
Now, you need to install the plugin. In your WordPress dashboard go to >> Plugins and click 'Add New' then >> 'Upload Plugin'. After this, choose the file to upload and click 'Install now'
Once the plugin is installed you can now activate it.
After this, go to 'Appearance' click >> 'Themes' and then >> 'Add New Theme'. The plugin supports standard Woo themes. You may also check the AliDropship theme page to see from the variety of Woo themes they offer and download if you want.

Click 'Activate' after installing the theme.
Finally, go to AliDropship Woo to enter your license key. You should probably know that your personal license key is valid for one domain name only. If you have the intention of creating another store you can only deactivate the license key from the current store and activate it on the new one.

Enter your license key and click 'Activate'
In conclusion
To sum it up, AliDropship Woo is the best choice for your dropshipping business. If you are familiar with WooCommerce functionalities.
The interface is user-friendly and very easy to use. What could cost you weeks will only cost you a matter of minutes. And there is no limit to the number of products you can automatically import with the plugin.
The plugin also comes with a 45 days money-back guarantee and cost a one-time fee of $89.
However, if you are just trying out drop shipping and have little or no experience with WooCommerce. The default version of the plugin (AliDropship) will be your best choice because it comes with both versions.
They practically have the same functionality but differ in some features. And all the features the AliDropship Woo lacks can be gotten through the WooCommerce platform.
Probably for free or not, depending on the plugin.
P.S: you could also order a custom store from AliDropship if you lack the skills and time to create one. I've written a detailed review of the custom store, you can also check it out.
That's it about the AliDropship woo review. What do you think about the plugin, do you prefer the WooCommerce version or the Default WordPress Plugin?
let me know what you think using the comment box!