AliExpress Dropshipping Center [Unlock Winning Products]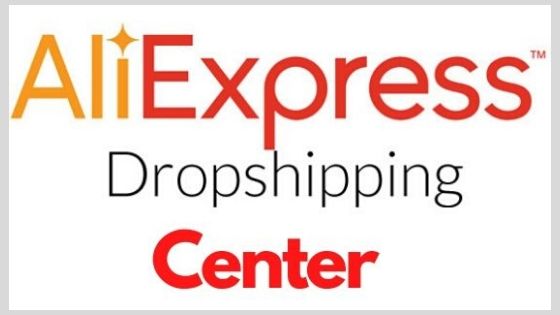 Today we'll discuss everything about the AliExpress dropshipping center and how this tool can turn around your Shopify dropshipping business.
We all know AliExpress to be one of the best suppliers based when it comes to dropshipping cheap and hot products online.
However, we do also know that the website encompasses millions of products from different suppliers among which are good and bad suppliers.
So choosing the right supplier at times could be a difficult task if you're not using some of this dropshipping software.
Some of these suppliers could be bad in terms of logistics and some can even be selling low inferior products which could be bad for your dropshipping business.
It's in line of this that the AliExpress dropshipping center was created to assist drop shippers to make most of their dropshipping business.
While AliExpress at the same time enjoys bulk orders from dropshippers sourcing products on the platform.
So it's a win-win situation.
AliExpress Dropshipper Center
In this post, I'll walk you through how you can activate the AliExpress dropshipping center and get access to the best products and suppliers on AliExpress.
Let's get started, shall we?
What's the AliExpress Dropshipping Center?
Overview of AliExpress Dropshipping Center
Benefits of Joining the AliExpress Dropshipper Center
How to Activate the Dropshipping Center for Your Aliexpress Account
How to Use the AliExpress D.C For Your Dropshipping Business
Conclusion
What is the AliExpress Dropshipper Center?
The AliExpress dropshipping center is a platform created by AliExpress exclusively for dropshippers sourcing for products on AliExpress.
This tool allows you to easily find winning products by keywords, pictures, categories, prices range, shipping condition, video availability and so much more selection criteria that you can't find on the normal AliExpress website.
Even amazing is the fact that they've selected some of the top-performing tools or apps for you to do easy product synchronizations to your online store.
These tools include ShopMaster and Dsers.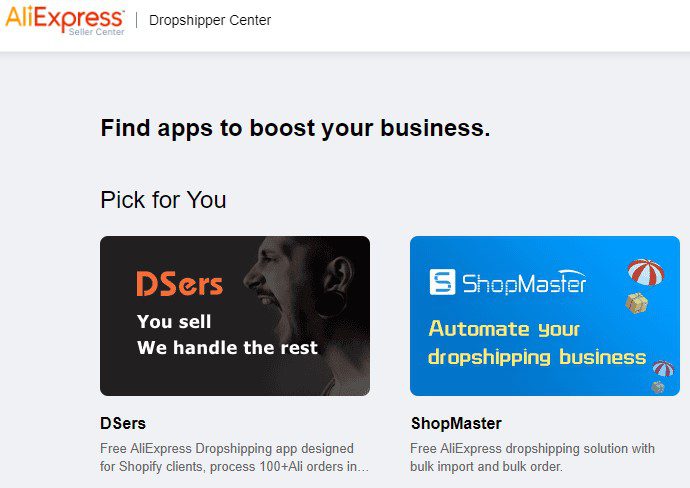 AliExpress Dropshipping Center Overview
So, basically this tool by AliExpress revolves around these three features, which are:
Hot Products
Suppliers
Product Analysis
They've included everything that makes a product a winner at your beck and call. This way, you can choose from their winning product catalogue and analysis the product.
Then finally, choose from the top-rated supplier and have your products supplied in no time. Quite interesting isn't?
#1: Hot Products 
Personally, if you'd asked me, I'd say this is quite an amazing tool!  And the best part is… it's a free tool. You don't have to pay to access the data available on the tool.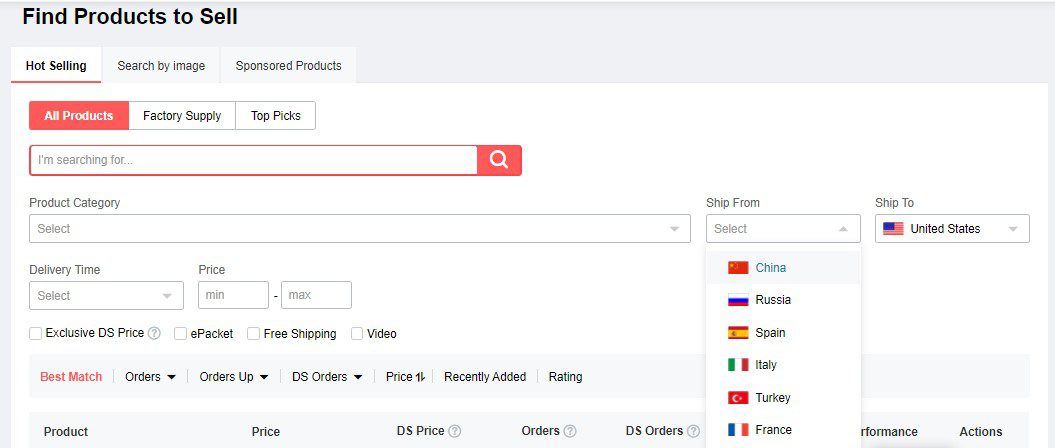 From here, you can easily search for winning product using as many filters as you want. Let's highlight them, then we talk about it.
You can source for winning products on the AliExpress dropshipping center via the following means:
Image Search
Category
Sponsored products
Location
Delivery Time
ePacket
Free Shipping
With the above filters, you can easily search for any products of your choice and get the best deal of the product you're looking for.
Perhaps you have an image of a winning product you come across through Facebook ads, you can easily upload it and use it to find the best pick of the product on AliExpress.
You could also choose to find these products using category. If your store happens to be a niche store, searching through your store category will be a great way to start.
These are top sponsored products that are doing well across the AliExpress website. And for sellers to be promoting their products means the products are really selling.
The location filter allows you to find products based on supplier location.
For example, let's say you're selling to France and you want your customer to enjoy faster shipping rate, you can choose to source from a supplier having a warehouse in France.
This way, you'll pay less for shipping and your customer will receive their product faster at the same time.
This feature allows you to search for products that can be delivered less than 10, 20, 30 and 40days. Having access to such information will let you plan your business better.
#2: Suppliers
This tool gives you access to aggregates of suppliers based on their ranking and reliability. This information will protect you from falling into the wrong hands.
If you want to know how reliable a supplier is, you just need to grab their product link and analyse it with product analysis tab. You'll gain access to every data about the store.
#3: Product Analysis
The product Analysis feature lets you analyze any product before buying it.
It provides you with a link to supplier stores and shows you an overview of their sales volume. This will let you know how many order they are making per day as well as their overall sales volume.
You also know how reliable the store owner is when it comes to product logistics as you can see from the image below.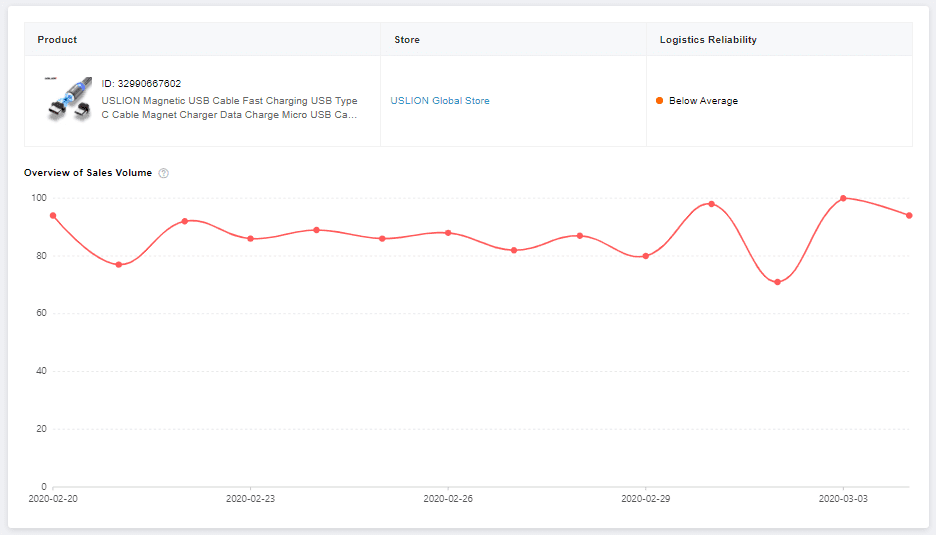 Benefits of Joining the AliExpress Dropshipper Center
Let's take a look at few of the benefits you'll enjoy while using the AliExpress dropshipping center for running your dropshipping business.
I: Auto Importation of Products
Are you using ShopMaster with your Shopify or WooCommerce store? If you are, then you can easily connect your ShopMaster with AliExpress and enjoy easy importation of products straight from the dropshipping center.
While using ShopMaster, it also allows you to specify which of the country warehouse you prefer to import from.
II: Auto Fulfillment
Same ShopMaster, been the first integrated tool with AliExpress dropshipping center equally allows you to fulfill orders in bulk.
This doesn't include using any chrome extension you can easily do everything from your ShopMaster account and have your order fulfilled on AliExpress easy-peasy.
III: Auto Update
ShopMaster sync directly with the dropshipping center and monitor all price and product inventory.
This way, once you have your product imported to your store, you don't have to keep coming back because you'll be notified via your ShopMaster dashboard.
IV: Product Recommendation
Over time, AliExpress will start populating your dropshipper center based on your orders and fulfillment history.
This way, you'll enjoy more complementary winning products to what you have been provided with before.
V: Tracking Numbers
Finally, ShopMaster allows you to enjoy auto-syncing with the AliExpress dropshipping center. All your order tracking will be sync automatically without lifting a finger.
How to Activate Your AliExpress Dropshipping Center Account
This is actually easy to do, however, some accounts are activated automatically if they noticed you've been processing a quite amount of orders on AliExpress.
But if you're just getting started, then you'll need to activate the account yourself. To do that head over to the AliExpress Dropshipper Sign-Up Page.
Once on the page, you'll see a bunch of write-ups about data service authorization, you just need to scroll down or read it if you want.
Then click I've read and agreed to the terms of the General Agreement of the AliExpress dropshipping project at the bottom of the page to proceed.
After that, you'll need to submit and login to the dropshipping center.
Once you've logged in, you can start using the AliExpress dropshipping center to source for winning and quality dropshipping products for free.
How to Use the (ADC) For Your Dropshipping Business
You can do this in two ways; you can explore the AliExpress dropshipping platform and source for products manually.
Or use an already integrated tool with the platform which is ShopMaster.
ShopMaster is a ready-made solution for dropshippers who dropship across multiple platforms like Shopify, eBay, Wish and WooCommerce.
It allows you to import products easily from the AliExpress dropshipping center directly to your online store.
Once your account is set up, you just need to head over to your dashboard and connect your store.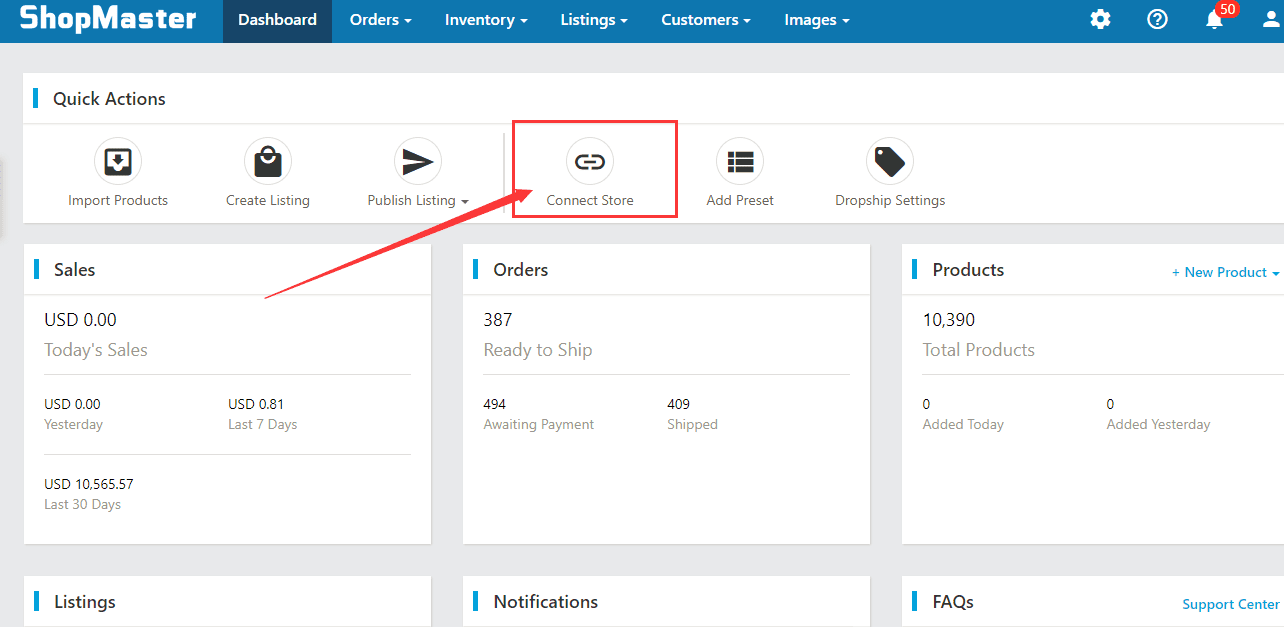 You have the ability to connect eBay, Shopify, Wish, WooCommerce as well as the AliExpress dropshipping center itself.
After your store is set-up, you can browse across the winning products using several filters to find what you need.
And equally, when you start making sales you can also use the ShopMaster tool to fulfil your order automatically.
Conclusion
So that's basically everything you need to know about the AliExpress dropshipping center and how you can activate it.
This is a nice tool you can use to gain access to quality products alongside tools like Ecomhunt. The best part is, they're totally free.
If you're just getting started with Dropshipping and you're really tight on budget. This great tool by AliExpress alongside a ShopMaster account might just be what you need to get started.
So what do you think about the AliExpress dropshipping center? Let's hear your thought on this.
Read More: