10 Best AliExpress Dropshipping Plugins For WordPress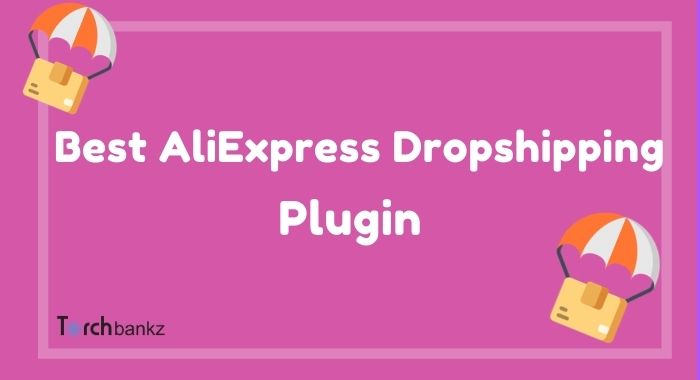 Today, we'll be exploring these 10 best AliExpress dropshipping plugins for WordPress and WooCommerce.
Among all popular eCommerce platforms, WooCommerce is one of the best dropshipping store builders.
With WooCommerce, you can build a store on WordPress, which is cheaper and affordable than many other eCommerce platforms.
But as soon as your store is ready, finding suppliers for your dropshipping products and adding them to your store is the next step.
Aliexpress is the preferred and popular marketplace to source dropshipping products.
It has thousands of suppliers and millions of products that you can easily dropship from to your dropshipping store.
You will agree with me that manually adding Aliexpress products to your store sounds overwhelming, and it truly is.
But thanks to AliExpress dropshipping plugins, with few clicks, you can import products from Aliexpress to your store.
Interestingly, many of these plugins also make it easy to fulfill orders with a few clicks automatically.
There are lots of these plugins in the industry, but we have researched and reviewed the 10 best Aliexpress dropshipping plugins for WooCommerce.
Without any further ado, let's get to it.
What Are The Best AliExpress Dropshipping Plugins?
Here are my top picks for the best AliExpress dropshipping plugins for both WordPress and WooCommerce.
#1. AliDropship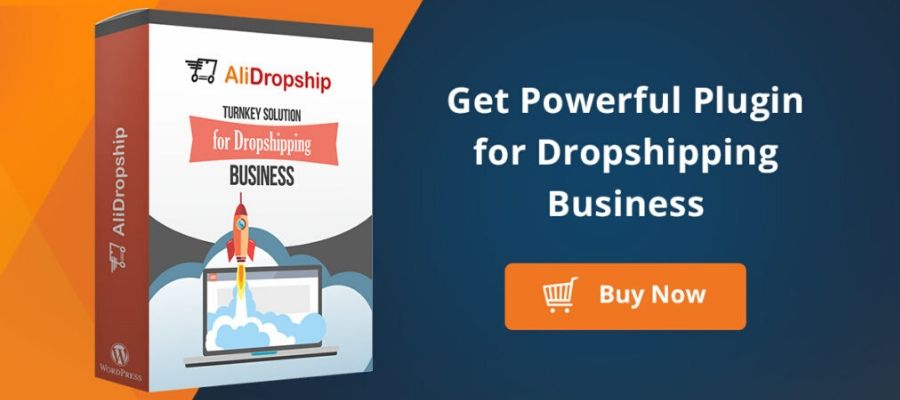 the AliDropship plugin is one of the WordPress plugins that is designed mainly for AliExpress product dropshipping.
AliDropship is perfect for online entrepreneurs and aspiring business owners who desire to get a holistic online store for a lifetime payment at an affordable price.
AliDropship has two great plugins and includes the AliDropship plugin and the AliDropship WooCommerce plugin, meant explicitly for AliExpress and the WooCommerce dropshipping.
Features of AliDropship
Below are the unique features of the AliDropship plugin and what you can expect when using this AliExpress dropshipping plugin for your business.
1. AliExpress Products Import
One of the striking features of the AliDropship WooCommerce plugin is its ability to import unlimited numbers of products from the mother store, AliExpress, into your store in a single click.
It exposes you to over 50,000+ products database of the top-selling items in AliExpress.
2. Import AliExpress Product Reviews
The plugin can also import all AliExpress product reviews into your site, thereby providing social proof that encourages customers to buy.
3. Automate Email marketing
Alidropship collects emails from your prospective customers in a bid to help automate and strengthen your email marketing.
4. Support Popular Payment Gateways
Equally, the AliDropship plugin supports popular payment gateway processors such as PayPal, Stripe, PayU, 2Co, and others.
This will give your customers several payment options, and as such, they will have the luxury of choice. More payment gateways to choose from leads to higher conversion.
5. Free Live Support & Update.
You get access to free life-long support and updates (if any) for all solutions.
Pros
You have the full and absolute ownership of your online market store.
Varieties of payment processors.
One-time payment.
Consistent updates.
Pricing
The AliDropship WooCommerce Plugin costs $89, a lifetime purchase which means you don't resubscribe or renew it after purchase.
Download Plugin
#2. Spocket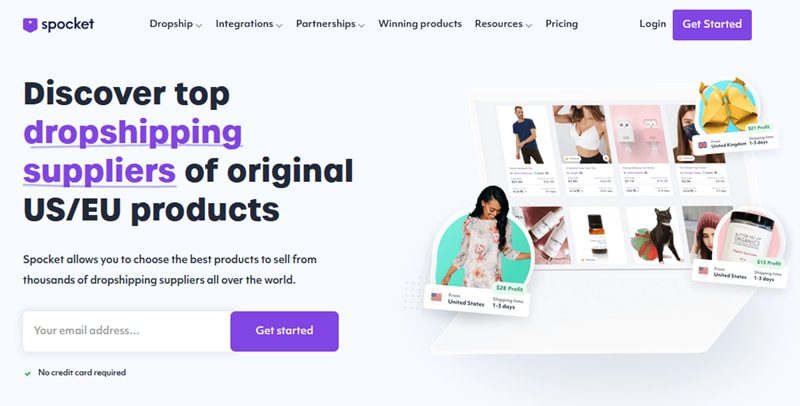 Spocket dropshipping platform is one of the best plugins in the Woo-plugin industry.
It offers smooth and reliable integration with Shopify and WooCommerce. With Spocket + WooCommerce, you can start a dropshipping business with little or no knowledge about the business.
In the same vein, it offers an extensive marketplace with countless listed products.
All sourced goods from Spocket will come with pre-negotiated discounts just to help you make a decent commission per sale.
Key Features Spocket
Let's have a look at Spocket's unique features and what makes it one of the best AliExpress dropshipping plugins to drive your dropshipping stores.
1. Faster Delivery
Since most of its major suppliers are the USA and European Union-based, products on Spocket are often shipped faster.
They usually reach their respective owners within a short period of 3 to 5 days.
2. Customer Support
Spocket offers extensive customer support to online marketplace visitors through its live chat and email.
This will enable your customers to make any complaint or enquire about a particular product and receive an instant response or guidance as they shop.
3. Branded Invoicing
It also has a customizable invoice feature which will go a long way in branding your business.
Equally, with the Spocket plugin, you can send a personalized message to your customers to ask for their experience using the store.
4. Specified Suppliers
With this plugin, you can buy products from different suppliers present in Europe and the USA.
Instead of limiting your suppliers to products that are only available on AliExpress, Spocket enables suppliers from New Zealand and Australia.
5. Pre-negotiated Discount
Products sourced from Spocket are often with pre-negotiated discounts, and this is to ensure that its users earn higher margins on every sale they make.
Pros
Inventory maintenance is not required;
It offers a decent discount of 30 to 40 percent per products;
There is a free of cost credit card registration and trial usage;
Orders are automatically reflected on your online store application;
Availability of product samples for speedy delivery.
Pricing:
There are two license keys available on the Spocket Woo plugin, and the minimum purchase price is $29.
Download Plugin
#3. Dropified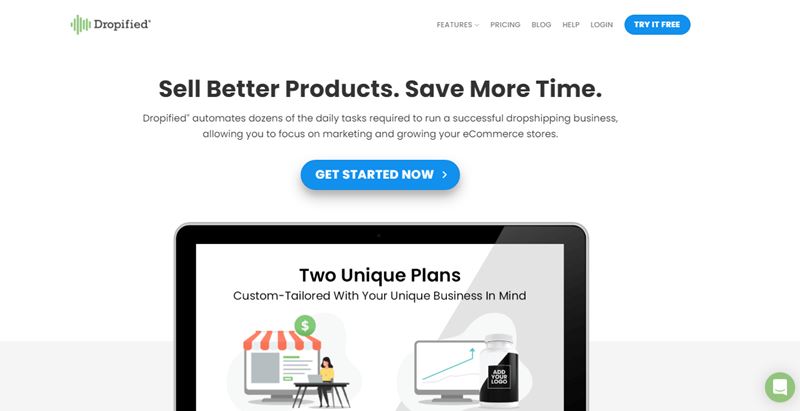 Just like AliDropship, Dropified helps you import products from Aliexpress into your dropshipping store.
Regardless of your eCommerce platform, Dropified provides easy integration with popular eCommerce software in the industry.
To get a glimpse, Dropified supports Shopify, WooCommerce, CommerceHQ, and GrooveKart.
Besides Aliexpress, Dropified also supports eBay. That is, you can source your products on eBay and import them into your dropshipping store.
Key Features of Dropified
Dropified features; let's see how it stands out compared to the rest of the AliExpress dropshipping plugins for WooCommerce.
1. Faster Global Shipping
Without any doubt, Dropified is one of the significant dropshipping outlets that encourage faster shipping and product delivery globally.
All its products are often delivered within days of the purchase and not werks.
2. Big Margins
The WooCommerce plugin also offers big margins of discount up to 300 percent on any USA-made top and high-quality products.
3. Advanced Product Research
In Dropified, an automatic product research tool is designed to help its users find lucrative yet profitable products for their business.
4. Bulk Edit of imported Items
On the Dropified Woo plugin, users can edit the imported products in bulk and they can at the same time review the imported products to their satisfaction.
5. One-click Products Import
With this WooCommerce plugin, you can import bulk items with a single click from any marketplace into your website.
Pros:
It increases credibility and conversion rate by importing products that sellers already review from AliExpress.
Products can be instantly added from AliExpress, eBay, and other popular online platforms.
It allows its users to automatically place and send orders to suppliers for instant shipment and fulfillment services.
Dropified offers two months of online store training to further help its users run their online businesses into profitable ventures.
pricing
There are three different pricing on Dropified, and they are as follows:
Import Plan: This is the least plan and costs $17 per month when billed monthly and $14 per month (when billed annually). It allows you to import products to your Online store from Aliexpress and eBay. It also offers product editing features.
Private-label OnDemand plan: This costs $97 per month (monthly billing) and $83 when billed annually. It offers all features in the Import plan plus the private-label feature.
Dropified Black: This is the highest subscription plan on Dropified, and it has numerous fantastic features that the other two are lacking.
It costs $297 per month when billed monthly and $250 when billed annually.
Download Plugin
#4. DropshipMe


DropshipMe is a dropshipping solution built especially for WordPress. It makes it easy to import products into your WordPress store (WooCommerce).
Offering over 50,000 hand-picked dropshipping products, there are lots of options to choose from.
As expected, DropshipMe sources products from Aliexpress. Besides WooCommerce, DropshipMe is also compatible with AliDropship.
Key Features
Below are the unique features of DropshipMe and how it stands out compared to the rest of the tool.
1. No Registration
DropshipMe is very easy to access as there is no registration of any sort needed before you access the platform.
2. Free Resources
The platform also offers varieties of learning resources and other free guides to help its users become conversant in the dropshipping industry.
3. US-Based Suppliers
If you are determined to sell high-quality and top-notch products from US-Based clients, DropshipMe offers several credible names.
4. Product Research Not required
Another top feature of DropshipMe is that it saves you the time, energy, and stress of carrying out product research.
5. Availability of In-built Markup
This WooCommerce plugin also has an in-built recommended pricing markup feature that helps its users determine the ideal and perfect amount to sell products.
Pros:
It has a Shopify tutorial designed purposely to help its users set up their online stores easily.
It also has a self-help Facebook group where its subscribers can quickly resolve their problems or queries.
DropshipMe offers extensive guides on e-commerce setup, plus other nuances of online marketplaces.
It is affordable for aspiring and wannabe business owners with or without experience in dropshipping.
It equally has a long-read blog that its subscribers can follow to get an update on the latest happenings or events in the dropshipping realm.
Pricing
There is a basic product package where a subscriber can import 50 goods for $0 but get to more advanced items; the user needs a one-time payment to get the following:
110 imported products for $29;
700 imported products for $119; and
One thousand five hundred products for $199.
Download Plugin
#5. ShopMaster
ShopMaster is yet another efficient dropshipping plugin that helps its users to import products of all kinds from Amazon, 1688, eBay, AliExpress, Banggood, and any other leading platforms down to their e-commerce store without any stress.
Equally, ShopMaster users can customize their product descriptions, titles, pictures, and variants easily.
They can also set competitive prices for their products, monitor inventory, price and automatically update them to their store.
Be that as it may, this Woo plugin also has a variation mapping feature that allows users to add or merge multiple sources to a product gotten from different suppliers into a single listing.
That is to say, ShopMaster can group numerous items into one variation in a bid to boost sales.
Features of ShopMaster
Let's have a look at ShopMaster's Unique features. Outstanding or NOT? Let's check it out…
1. One-click Products Import
One of the significant features of ShopMaster is that you can import tons of products right from AliExpress down to your store with just a single click.
2. Bulk Import
To make the one-click products import feature easier, it has a unique feature tool that can be used to import over 100 products down to your store at a time.
3. Bulk Edit
In the same vein, you can edit up to 300 products' titles, descriptions, and more and publish them all at a time.
4. Auto Order
You don't have to place orders again manually. ShopMaster redirects every sale you make to the supplier to fulfill.
5. Bulk Order
As your dropshipping store keeps growing with more orders to fulfill per day, ShopMaster makes it possible to place bulk orders in a few clicks automatically. And each order gets to the various supplier to fulfill on your behalf.
Pros:
Hot selling products management system;
Auto Fulfillment;
Auto-synchronize tracking numbers;
Highly patronized products from Banggood, AliExpress, CJDropshipping;
Ability to connect AliExpress, CJDropshipping, Banggood, and Gogomall API to enhance more features.
Pricing
ShopMaster offers a freemium subscription with limited features.
However, if you care to have full access to all of the fantastic features available on this platform, then you will have to subscribe to any of the following licensing keys;
Basic plan: it can be bought at the rate of $19.90 per month;
Business plan: available for engaging users at an affordable price of $39.90 per month; and
Enterprise plan: can be obtained at the rate 5 $79.90 per month.
Download Plugin
#6. Ali2Woo
The Ali2Woo plugin has been regarded as one of the best AliExpress plugins suitable for all sorts of WooCommerce businesses.
Anyone can handle it — whether professional or aspiring online marketer — as it is effortless to install and offers 24-hour full-fledge sales automation.
With the Ali2Woo plugin, you can import volumes of products from AliExpress down to your online store with a single click.
At the same time, you can set your product price margin as much as possible to make enormous profits.
Key Features of Ali2Woo
Ali2Woo is quite similar to AliDropship, hence they only share a few differences in features. Let's see what Ali2Woo has got.
1. Seamless Products Import From AliExpress
Ali2Woo plugin allows its subscribers to import products from AliExpress directly to their e-commerce store seamlessly.
This function can be done via the plugin or through the user's chrome extension.
2. Price and Inventory Automation
Ali2Woo also allows its users to set prices for all of their products. It's also automated to notify the user whenever a particular product is sold out, increases or decreases in price, or when it is entirely out of stock.
3. ePacket Product Filter
It makes it possible to quickly spot any product with an ePacket shipping option, thereby helping the subscribers increase their shipping time.
4. AliExpress Affiliate
With this WooCommerce plugin, your chances of earning more money through the AliExpress affiliate program are very high.
5. Fulfil and Track Order
It enhances the safe delivery of the ordered products and keeps a tab of them till they get to their prospective owners.
Pros
Cashback System;
Integrated with AliExpress;
AliExpress Affiliate;
Translation and multi-currency option;
Imported reviews from AliExpress.
Pricing
There are three different plans available on Ali2Woo, and the minimum subscription is $25 per month.
The Base plan – $25
The Starter plan – $40
The Advanced plan – $70
Note that the Advanced plan houses the full features of Ali2Woo, and as such, it should be your priority if you wish to enjoy all of the plugin functionalities.
#7. Ezusy
Ezusy is a unique dropshipping auto app that allows users, amongst other things, to seamlessly add products from Aliexpress into their WooCommerce store easily with just a few clicks of buttons.
This plugin also has an Epacket feature capable of filtering products down to a specific taste or the most profitable and desirable ones.
Key Features of Ezusy
1. Search and Import
One of the significant features of Ezusy is the presence of the search and import feature, which makes everything on the plugin very easy to use.
It also has numerous filters you can use in the course of searching for a particular product.
2. Products Description and Image Editor
The automation app has an in-built product description and image editor, which is very useful in making any changes necessary to the product description and image.
For instance, if the image is carrying your supplier's logo or mark, you can either brush it or crop it over.
3. Pricing Rules
The product automation pricing feature is another beautiful advantage of this app. Ezusy users can automatically set a specific price for any products they import directly into their online store.
4. One-click Order Fulfillment
With a click, you can auto fulfill the orders from Ezusy dashboard.
5. Price and Inventory Auto-Updates
Ezusy also has a price and inventory auto-updates feature, thereby saving its users the time and stress of updating the price and inventory now and then.
Pros
Import variation;
Free shipping;
Customizable feature;
Presence of coupon code on products;
Products with four-star ratings.
Pricing
The Ezusy AliExpress WooCommerce plugin has four flexible pricing plans, and they are Free, Basic, Pro, and Unlimited.
The Basic plan costs $9.90 per month, the Pro costs $19.90, and the Unlimited plan costs $29.90 per month.
Download Plugin
#8. WooDropship
As its name implies, WooDropship is a WooCommerce dropshipping plugin built for WordPress and WooCommerce and very similar to AliDropship.
WooDropship is very easy to use and it also has a product image and description editor just like the other top Woo plugins.
Interestingly. WooDropship offers a lifetime deal that allows you to pay a $49 fee and get access to the plugin forever.
Let's get into its features.
Key Features
Below are the key features of WooDropship.
1. Products Customization
This feature allows its subscribers to edit their product titles, variants, pricing, and descriptions to meet their needs and align with the look of their online store.
2. Product Imports
Importing any kind of items from AliExpress using this Woocommerce plugin is easy. It doesn't require any special knowledge.
3. Built-in Image Editor
Another advantage of using the WooDropship plugin is the availability of the built-in image editor.
This feature is vital for users as you might want to edit images to your taste after importing.
4. Automation
The plugin has automated updates functionality for pricing, inventory, and variants.
WooDropship will automatically remove any variants that are no longer on AliExpress from your online store.
It will remove any out-of-stock products, and it'll, at the same time, regulate the pricing of the items as they increase or decrease in value.
4. Customizable Pricing Rules
You can use this WooCommerce plugin to set your own desired pricing rules.
You can set the amount of profit you will like to make on every item you import to your store from the AliExpress marketplace.
Pros
Automated inventory updates;
Simple Product Import;
Automated Order Fulfillment;
Automated Price Updates
WooDropship Pricing
WooDropship has four different plans with the free trial plan inclusive, and the subscribers can choose either to go for the monthly subscription plan or the lifetime usage.
The Free Plan costs $0 for 7-days only;
The Monthly Plan cost $19.99 per month;
The Lifetime Subscription Plan costs $97 per lifetime.
Download Plugin
#9. WooShark
WooShark plugin is another Woocommerce plugin that works perfectly with multiple suppliers such as AliExpress, Etsy, Amazon, etc.
It is a unique and relatively simple plugin built so that people with little or no knowledge about WordPress will be able to operate it.
Key Features of WooShark
Let's see what makes WooShark some of the best AliExpress dropshipping plugin for WordPress.
1. Automation Price calculator
There is the availability of automated price calculators on the WooShark plugin, making things easier and less complicated for newcomers.
2. Import Reviews
The plugin can be used to import positive reviews from AliExpress, thereby making people patronize your items.
3. Importation of Items in Bulk
You can use this plugin to import over 100 items from AliExpress, Etsy, and the likes into your store.
4. Stock Price Synchronization
WooShark is capable of synchronizing the price and the stock for the unique understanding of the items.
5. Wide Range of Suppliers.
Many suppliers such as AliExpress, Amazon, eBay, Etsy, and more to choose from.
Pros
Little impact on the memory usage;
Minimal impact on the e-commerce store page speed;
No Javascript issue with this plugin;
No PHP warning, errors, or notices;
Compatible with the latest PHP 7.4.8.
Download Plugin
#10. Dropshix
Dropshix is also a fantastic WooCommerce dropshipping plugin with several jaw-dropping features.
It is simply designed and, as such, very easy for wannabe online marketers to access and use.
Besides Aliexpress, Dropshix makes it possible to import products Amazon, Banggood, and Aihara.
Key Features
Below are the key features of Dropshix and what to expect while using the plugin.
1. Cloud Monitoring System
This Woocommerce plugin uses the cloud server to monitor its consumer's products and prices 24/7.
2. Chrome Extension
There is the availability of chrome extension on this platform, thereby making all types of transactions or tasks on your website practical, faster, and accurate.
3. Multiple Marketplaces Source
You can never run out of options for fresh, new, and high-selling items as the plugin hav several marketplace sources that supply it with products.
4. Automatic Ordering Tool
With a few clicks on its buttons, all your orders will be placed to your desired marketplace store, accurate and straightforward as to how your prospective customer ordered them.
5. Track Shipping Status
This plugin is also capable of putting your customers on notice regarding the status of their ordered items as it has an in-built tool that tracks the parcel movement.
Pros
Seamlessly products importation;
Monitor the generated profits in Real-Time;
Import reviews and feedbacks;
Re-Queue all kinds of Broken Items;
Shipping Tracker.
Pricing
To start with, Dropshix has a free plan with limited features.
In addition to that, it has three paid plans; Basic, VIP, and VVIP.
The Basic plan costs $12.49 per month, the VIP plan costs $19.99 per month, and the VVIP plan costs $59.99 per month.
Download Plugin
Conclusion
There you have it; the 10 best Aliexpress dropshipping plugins to automate your dropshipping business and scale.
Absolutely, all plugins have good quality features to grow your business.
But among all features, AliDropship edges out as the best Aliexpress dropshipping plugin for WooCommerce stores.
Not only because AliDropship has become a household name in the dropshipping industry, but because of the features and ease of use it offers.
It is at the top of the game when it comes to automation and scaling your dropshipping business.
It also offers premium WooCommerce support which comes in handy for newbies just getting started with dropshipping.
Anyway, you can't go wrong with Spocket and Dropified too. Both also offer competitive features.
But if you're looking for the best Aliexpress dropshipping plugin, AliDropship should be the first to consider.