AliPlugin Review – Can It Make You Money With AliExpress?
So you want to make money online, and you're thinking of looking into AliExpress affiliate Program. Of course, there is no better way to do that without the use of AliPlugin.
Hence the AliPlugin Review!
But, seriously wait! Can this stuff still make you money, or you just want to embark on another journey of no financial returns?
Well, before we begin let me quickly jog your memory with this e-commerce statistic.
According to this report on online shopping and e-commerce sales from 2014 to 2021. Shows how e-commerce sales worldwide amounted to 2.3 trillion US dollars in 2017.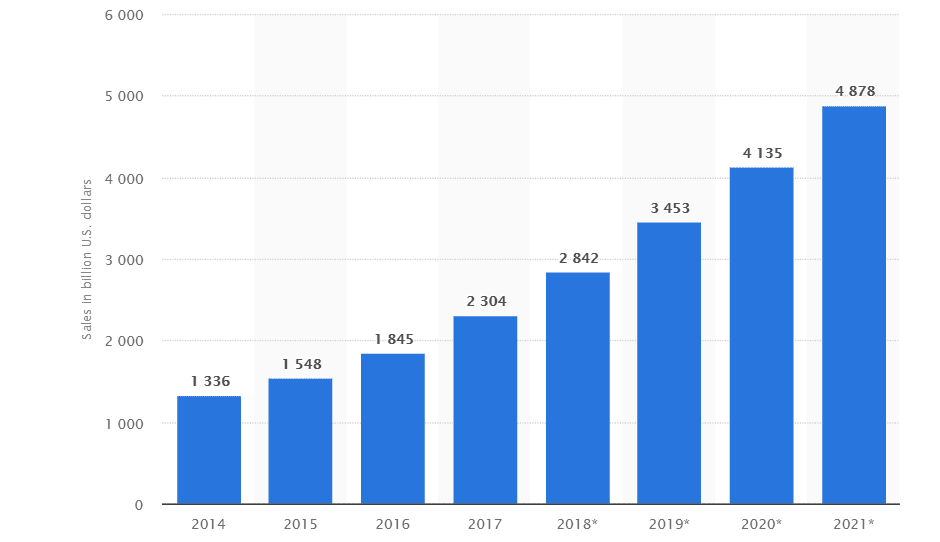 The same is also projected to grow to 4.88 trillion US dollars in 2021. While 19% of the previous sale occurred in China alone. If I'm correct I believe sellers on AliExpress are located in China.
So I believe it's safe to say you can still make money big with AliExpress. The e-commerce niche is a fast growing online business that is not yet saturated.
Being an affiliate with AliExpress is just another way to earn money online via e-commerce while dropshipping is another fast-growing niche.
So you've decided to become an AliExpress affiliate but you need all the help you can get for a quick success. Trust me there's no better tool than AliPlugin.
Am I saying AliPlugin is 100% perfect? No! Like every other product out there, it also has its own Pros & Con.
What is AliPlugin & how does it help Your Business?
AliPlugin is a WordPress plugin that helps you transform your WordPress site into an affiliate online store for AliExpress. The plugin allows you to add over thousands of different products from AliExpress to your own WordPress site.
The plugin works by putting your unique affiliate id on all links back to AliExpress. With this, you will be able to earn a commission on all sales referred to AliExpress.
The plugin makes affiliate marketing with AliExpress super easy. It focuses on the affiliate aspect with AliExpress while it leaves you with marketing and driving of traffic to your online store.
What is the Range of Income you make with the help of AliPlugin?
Since most of the job is done by the plugin your only responsibility is to drive targeted traffic to your business. The more the traffic the more your commission.
However, AliExpress made its affiliate marketing lucrative because of its fierce competition with top stores like Amazon. As an affiliate with AliExpress you can earn up to 50% commission on some products but usually rare.
The easiest and popular commission ranges are usually within 4 to 8% commission on each product.
To get a potential earning for your website, normally the conversion ratio on AliExpress is usually 3.5% of all traffic. That is to say, 3.5% of visitors to AliExpress will end up buying a product.
Now, the average order size is $140, with this, if you can generate a traffic of 100 people to the website you might as well end up earning $41 on your traffic. Not bad is it?
A target of 500 unique visitors per day will go a long way, but you can definitely do better.
AliPlugin Features and Integration with AliExpress
The features of AliPlugin are one reason the plugin standout while making your affiliate journey with AliExpress an easy one.
Below are some of the features of AliPlugin:
Easily Transform Your WordPress Site to an Online Store
The plugin helps you transform your website into a professional looking e-commerce store. This is especially good for those that have little experience with creating a website of their own.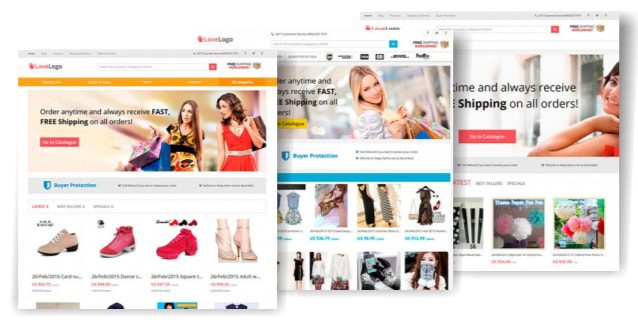 AliPlugin offers several designed e-commerce themes that can change the look of your website within few minutes. These themes allow your website to look exactly like AliExpress and giving you more chance to make more money.
Like I said early all the hard work is done by the plugin you just need to generate traffic to your website. 
Seamlessly Import Product Directly From AliExpress
One of your job as AliExpress affiliate is to promote their product. And in other to be successful at this, you need as many products as possible listed on your website.
But imagine adding all this product manually one by one. This is probably going to take forever.
This is where the AliPlugin comes in, it allows you to easily search for products on AliExpress either niche or generic products using your desired keyword.
Once you found these products, the plugin helps you import them to your own website with just a single click. The best part is you can add as many products as possible.
The Skye is your limit while using AliPlugin.
Auto Translation & Updates
While using AliPlugin, you don't need to worry about some products you want to promote on AliExpress that's written in Chinese language.
The plugin uses a special module you can connect that will allow you to translate product title and descriptions into more than 40 different languages with one click.
With this, you can easily sell to any country using your desired language translation.
The auto-update functionality allows you keep abreast of what's going on AliExpress right on your own website. Whenever there is a new product, change of price or probably some products are out of stock the plugin will notify you appropriately.
Live Stats of Your Traffic
With this feature, you can easily monitor the progress of your business. From here you can see how many orders are completed, views on your websites and how many redirections to AliExpress each product is having.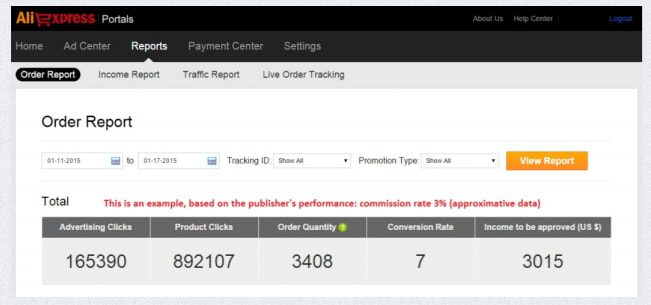 With the live stats, you can have a real-time statistics of how your website is performing with AliExpress in terms of commission.
Pros & Cons
AliPlugin just like every other service has its own good and less favored sides. Let's take a look at them.
Pros
High Commission: the plugin gives you a better chance of earning high commission with AliExpress.
Built-in Store: with the help of AliPlugin you can easily build your own e-commerce website under a few minutes, even if you lack a prior experience.
Responsive Design: the theme that comes with AliPlugin are highly responsive for both desktop and mobile device which is good for an online shopping experience.
SEO Optimized: with the help of the plugin you can easily rank for a product search on search engines. These, however, gives you the chance of having more traffic.
Cons
Poor Support: No support from AliExpress and the support form AliPartnership is less than average.
How to Install and Setup AliPlugin by AliPartnership
Installing the Plugin only take about few minutes to install and set up. In fact, you don't need to be techy or know HTML or be a WordPress expert to install the plugin.
After you've successfully installed your WordPress go to the Plugin section and click on "Add New button".
From there, "click upload plugin" and find the AliPlugin archive on your computer.
Next, click "install now"
After the plugin has been successfully installed and activated you will see it on the left side of your WordPress dashboard.
Click on the plugin to configure it. Go to the configuration where you need to enter your App Key and tracking ID gotten from the official AliExpress portal.
Choose your theme and start enjoying your affiliate online store.
AliPlugin Review Conclusion
If you want an additional source of income that could make you more money on autopilot then I'll suggest you give the plugin a try.
However, you've got to be patient for you to start seeing results. The best part I like about the plugin is it SEO enhancement. This feature allows you to rank for some certain keyword on search engine result.
If you can generate as low as 100 traffic a day from search engine result, you might as well be earning $41 every day. Which is not bad for a $47 investment.
My advice to most of my readers is that they should be patient. There's nothing like a business is not working. People just don't have enough patience to actually wait and see results. They want the fastest way to make money.
Over to you now, Can you make money with this plugin? Yes!
Having experience or question you will like to share, please don't hesitate to use the comment box.