AliShark Vs Ecomhunt [Review]: Best Hot Products Tool?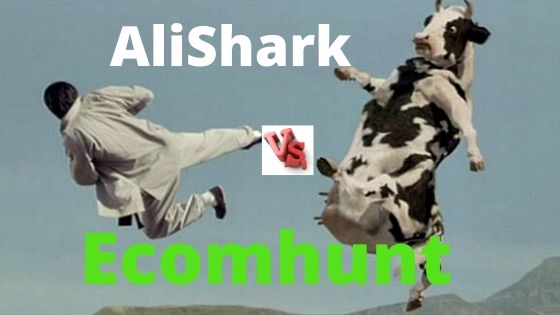 In today's AliShark review and Ecomhunt, we shall be looking at both their strength and weakness and how it could be of advantage to your dropshipping business.
Dropshipping is quite a business, but without the right combination, you might run at loss in the business even as easy it is to start one.
There are so many things to be considered in this business model. Things like your choice of products and how you promote the products.
You could be promoting your products the right way, but if the product is a bad one then you're wasting money on adverts.
The perfect combo, however, is going to be the right product plus the perfect advert!
Getting these two RIGHT means your business is on the right path and you can be sure of making profits from it.
How can you be sure of these winning products without wasting your time on product research and other time-consuming routines?
The right answer to this is the sole reason for the comparison between Alishark vs Ecomhunt.
In the end, we'll be able to see the right tool for the task as well as their functionality and features as regards their service.
AliShark Vs Ecomhunt [Review]
Before we go ahead, below is the summary of what we'll be looking at and equally a jump link to give you a head start.
AliShark review
Features of AliShark
AliShark Pricing
What is Ecomhunt
Features of Ecomhunt
Ecomhunt Pricing
AliShark vs Ecomhunt [Difference]
Final Thought
AliShark Review
AliShark is a winning product spy tool just like their competition Ecomhunt but they place more emphasis on AliExpress unlike the rest of the winning product tools.
This hot product tool lets you in on everything you need to know about a product before you add it to your dropshipping website.
It lets you know the total orders number of a product, top-selling countries of the product and other drop shippers currently making money off the product.
AliShark includes all the data you can lay hands on about a product on AliExpress on a daily basis. This helps in giving you foresight of how profitable the product can be.
Features of AliShark
Let's go over the features of AliShark and see how it stand out compared to other tools and how it can really help your business.
#1: Live Stats
As one of the features on AliShark, you get to see the daily orders of product live from your dashboard. This helps you to know how products are being ordered on AliExpress on an hourly basis.
With such information, you'll be able to know products that are doing well and you yourself can per-take from the goodies.
#2: Product Info
This feature allows you to see if a product has a video on the AliExpress page or it's being dropshipped already.
You'll also get to know the following about the product:
ePacket
Pricing
Reviews
The total amount of orders
Quick view on sales
Top countries it's being sold in
Top dropshippers that are making money off this product
Sales history over the last 2-6 months
Shopify stores and other online stores that are selling the product
This feature includes every tiny little detail you need to know about a particular product before you can go ahead and promote it.
#3: Product Trends
The product trend feature allows you to see the history of sales and "adds to wishlist" over the last 2-6 months.
Thus, allowing you to predict trends and see when you could make a lot of money running ads to it compared to when it won't work because it's out of season.
#4: Niches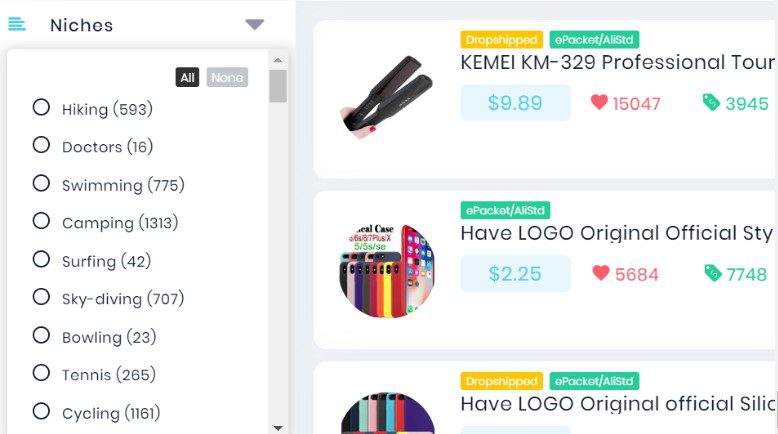 If you're planning on selling niche products, AliShark also has list of niches that are regularly updated with winning products.
This is basically good for beginners that don't really know what to start with. From the list of niches, you can choose one that you feel connected too and import products to your store.
#5: Advanced Filter
The advanced filter option allows you to find products based on categories, countries, niches, price filter etc.
This feature can help you lay hold on warm products, that is, potential winning products and be one of the few selling it before it went viral.
Features like this can help keep you ahead of your competition.
AliShark Pricing
AliShark comes in one pricing plan of $20/month. However, to get started it offers one dollar ($1) 2days trial to test out the platform.
After the trial, you'll then be subscribed to the $20 per month subscription fee. This plan includes all the features available on AliShark without any restriction or hidden charges.
What is EcomHunt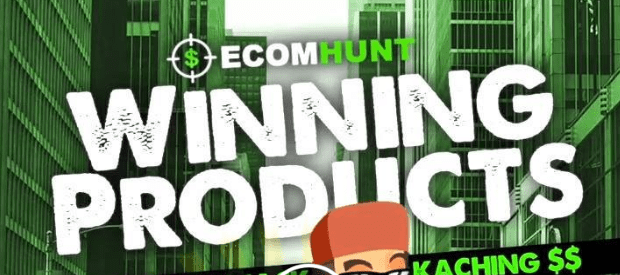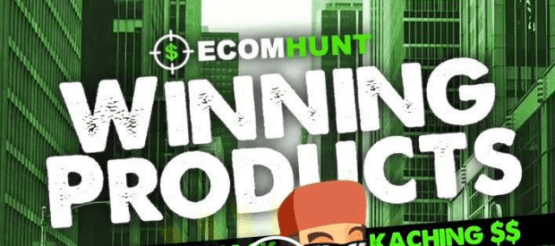 Ecomhunt on the hand is a curation of winning products every day. What this means is that they research winning products on a daily basis and upload it on their platforms for users to gain access.
What's interesting about this are the data alongside the products. They also provide Facebook ads cover, image and videos at which you can use to run your Facebook ads successfully.
Equally interesting is Facebook insight and targeting they provide for your Facebook ads campaign. This will allow you to target the right audience that is likely to take action on your product.
From the dashboard, you'll see various products available and been released on a daily basis. Once you see a product you'll like to add to your store.
Simply click on "show me the money" and it will bring out every related data pertaining to the product.  From Facebook targeting to advert videos, links to suppliers and stores already selling the products etc.
Features of EcomHunt
let's go over the features of Ecomhunt as compared to AliShark and see if it standout in any way and if proven useful for your dropshipping business.
#1: Hot & Winning Products
The hardest part is finding the products that people actually want to buy, and this part is already done by EcomHunt (Review).
Being a pro member you will access to the winning products and not just that, how you can easily sell them through Facebook marketing.
Using the data that comes with the products, you will be able to set up a Facebook ads campaign that targets the actual audience that wants to buy the products.
What could be easier than this? That's why EcomHunt is one of the top notches.
#2: Webinars & Tutorials
This is one of the cool features of EcomHunt and why it's a bit different from AliShark. They took time in putting their users through the whole processing by providing webinars and tutorials for them.
Since more and more people are trying to make more money and most of them have little or no knowledge about dropshipping. Having access to the EcomHunt tutorials and webinars will prove to be very helpful.
However, the downside to this is that most of the webinar and tutorial are only available for the pro members. Being a free member means your access to this will be limited.
But the value acquired is actually more, compared to the paid price. So it's a win-win situation because it's totally worth it.
#3: Product Profits & Analytics
This feature let you know how much you'll be making on a product. It shows the profit margin and how much you'll be getting the product from AliExpress and the average price the product is being sold.
With the profit stats provided by EcomHunt, you will be able to plan your business, how much you should invest in Facebook ads and your potential return.
The product analytic on the other hand will let you know how well the product is doing generally. This in terms of social media and user experience.
In terms of social media, you'll be provided with the total numbers of shares, likes, comment the product is having.
Finally, as per user experience, you'll be provided with reviews, ratings, votes, and total numbers of orders the product is having over time.
Literary all the work is done. What users' needs to do is pick the product of their choice and promote it.
#4: AdHunter Chrome Extention
This is an amazing tool by Ecomhunt! The chrome extension is available for both free member and pro member.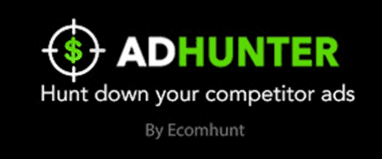 What it does is that it allows you to find active competitive ads on Facebook while you can then use the template to re-run your Facebook ads.
It shows you the traffic amount, the targeted location of the ad and how long it has been running.
The chrome extension is absolutely free, but to use it, you need to be an active user of EcomHunt either pro or free member.
Additionally, besides the AdHunter extension, EcomHunt also provides Facebook ad information alongside their winning product every day.
This includes links to Facebook ads for the product, Facebook ad interest and targeting and few other information about the product.
#5: Links to Supplier
This feature allows you to get links to the actual supplier of the product on AliExpress.
While from there you can easily import the product either using Alidropship Plugin for WordPress or simply import straight to your  Shopify store using Ecomhunt one-click import button.
Additionally, you will be giving links to stores already selling these products and with this, you will have access to additional winning products you find on the stores.
To do this, simply browse through their top-selling products and you will have access to other winning products.
This is actually killing two birds with one stone.
Ecomhunt Pricing
EcomHunt comes with two membership plan which is the free and Pro plan. The free membership plan gives you access to 2 products on a daily basis but with very limited data.
Other daily updated products will be released to the free members after the third day.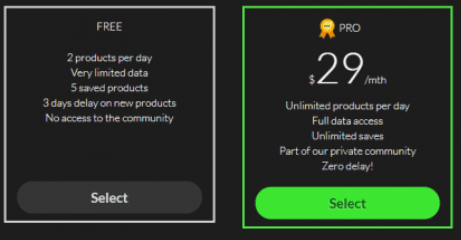 Free members will have to upgrade if they want access to the full product data being released on a daily basis.
However, the Pro membership plan on the other hands gives you access to all there is about EcomHunt. You'll get access to full product data like links to stores already selling the products, ads video, targeting, Facebook ads etc.
But it going to cost you $29/month but presently you can get it for $20/month which of course is going be limited very soon.
AliShark Vs Ecomhunt [Difference]
As you can see from the features above, there are some features that are present in Ecomhunt but not available on AliShark.
A good example is the Adhunter used for hunting ads on Facebook, features like this is not available on AliShark. However, in terms of data AliShark is really in-depth with all the products provided on their platform.
Another noticeable difference is in their membership plan. There's no free plan on AliShark, just the paid plan of $20/month and the $1 trial of 2days.
Ecomhunt on the other hands come with a free trial and a paid plan of $20/month just like AliShark. This will allow you to test the platform and be sure you want to invest in it before being committed.
Finally, materials and training! Ecomhunt provides it users with courses on how to be successful in their dropshipping business.
They have several courses around Facebook ads and choosing the perfect product for your website. This, however, is not available on AliShark.
Final Thought
looking at it, they've both got something cool as regards winning products but personally, I like the fact that there is a free plan available on Ecomhunt and I'm currently using it.
AliShark also has a 2days trial for just a dollar, so you can equally test the platform within two days and see how it works, which I feel is very limited.
Equally, looking at features, you'll see Ecomhunt outperforms AliShark as they've got more features on the platform compared to AliShark.
So, it really depends on your budget and what you want for your business. That's it on AliShark review and Ecomhunt.
Which one is it going to be…
Or
Let me know what you think in the comment box!
Learn More