10 Best Article Rewriter & Article Spinner Tools for 2023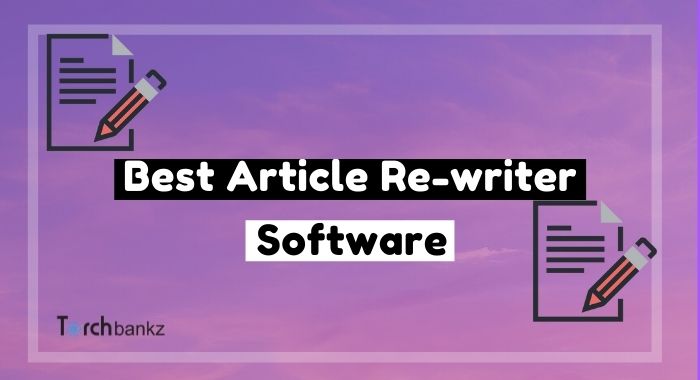 Are you looking for the best article rewriter software or best article spinner tools for your content creation?
If you do, we've reviewed and ranked the best for you below.
Being a blogger myself, I understand how stressful creating content can be, most especially when you have to create them on a daily basis.
This is why tools like this come in handy for content recreation and spinning.
So if you're a blogger or any kind of content creator, tools like this article rewriter software can really help scale your business.
However, with many of them popping up every day it's becoming difficult to spot the good ones from the bad ones.
But not today, because we've taken our time and review and choose selected few that can get the job done for you. Let go through them, shall we?
List of the Best Article Rewriter Software
We've highlighted the top list below in case you want to check them out immediately.
The Best Spinner 4.0 – (The Best Article Rewriter Software, Bonus Included)
Spin Rewriter – (5 Days Free Trial and 60% Annual Discount)
Jarvis AI – (Best AI Article Rewriter Software in The Market)
Word AI – ( Comes with 42% Annual Discount)
Clever Spinner – (3 Days Free Trial and 11% Discount)
QuillBot – (Free Plan Included)
Spinner Chief 6 – (Both Web and Desktop based Article Re-writer)
Chimp Rewriter – (Comes with 14 Days Free Trial and Downloadable Version)
Content Professor – (Free Plan Included)
SmallSEOTools – (Free Article Rewriter Software)
Spinbot – (Free Article Rewriter Software)
Best Article Rewriter and Spinner Tools Compared
| Software | Free Trial | Pricing | Discount | Money-Back |
| --- | --- | --- | --- | --- |
| The Best Spinner 4.0 | N/A | $67/Year | N/A | 30-Days |
| Spin Rewriter | 5 Days | $77/Year | 60% Off | 30-Days |
| Jarvis AI | 10k Words | $29/Month | 11% Off | 30-Days |
| Word AI | 3 Days | $57/Year | 42% Off | N/A |
| Chimp Rewriter | 5 Days | $99/Year | N/A | 60-Days |
| Spinner Chief 6 | Free Plan | $88/Year | 57% Off | 30-Days |
| QuillBot | Free Plan | $39/Year | 32% Off | 3 – Days |
| Clever Spinner | 3 Days | $9.99/Month | 2month | 7 – Days |
| Content Professor | Free Plan | $19.95 | N/A | 60-Days |
| SmallSEOTools | Free Plan | $0.00 | N/A | N/A |
| Spinbot | Free Plan | $0.00 | N/A | N/A |
Before we go straight to the outline, let's try and understand what these articles' rewriter tools are and what they are not.
What Is Article Rewriter Software?
Article re-writer software is web applications that help you create a multi-version of the same text but the same meaning.
While trying to avoid copy and paste text or you don't want to write the same text over and over again you can use the article rewriter tool to create new content.
To use them, you simply need to copy the text you want to rewrite and paste it in the provided box in the tool.
The software then helps you regenerate a new content. They are best used for paraphrasing text that's already written. And they help against plagiarism.   
Most of the spinner software above has a free trial, so you may consider signing up on several so that you can gauge which is perfect for you.

Anyway, if you prefer to dive straight in and generate readable and unique content that sounds like it is human-written, we recommend :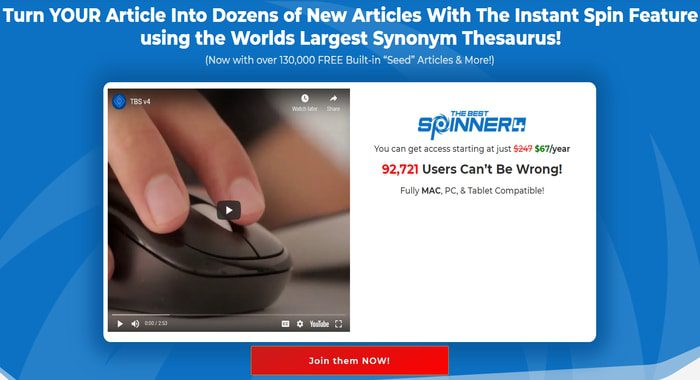 There have been three versions of this tool before. What this tells you is that the developers of this tool keep on upgrading their rewriter from time to time.
And this fourth version is their best invention by far. With at least 100,000 clients, TBS has got tons of positive reviews.
Users are satisfied with how fast and efficient this tool is at spinning articles.
If you opt for TBS4 article rewriter software, you can make use of their library that contains 130,000 seed articles whenever you don't have original content to spin.
And what makes this tool unique is how it supports multilingual article spinning.
Key Features of the Best Spinner 4.0
TBS4 boasts of a direct publishing option that saves effort and time.
The software comes with an English thesaurus that receives updates from the tool's users. What this does is it informs the article rewriter on popular catch-phrases and lingos that aren't available in traditional dictionaries.
TBS4 offers you an article builder. You can also head to their library and choose from 130,000 seed articles to rewrite.
It features a text-to-speech module which is ideal for Vloggers.
You can spin content into 14 different languages. As a blogger, TBS4 can allow you to reach a wider audience even on a multinational level.
You can spin 100 different versions from one piece of content.
TBS4 also provides deep spinning which gives you exceptionally unique content.
The Best Spinner Pricing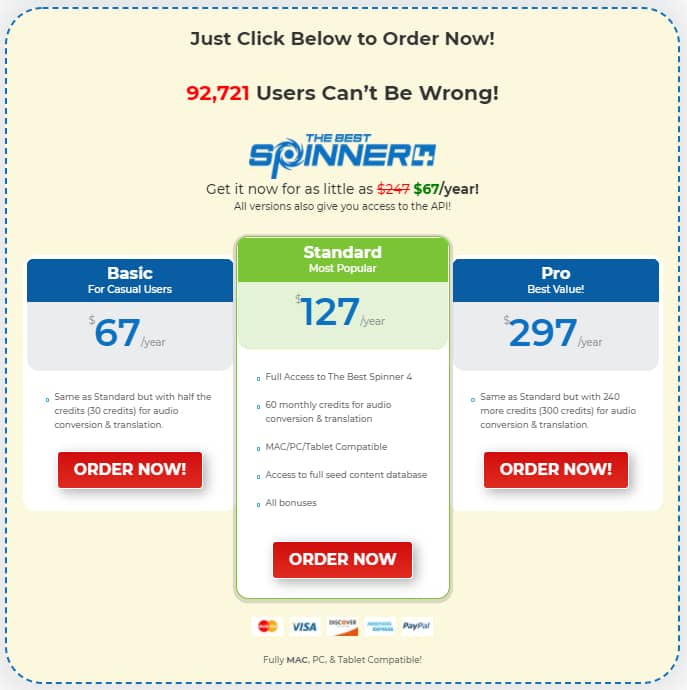 Does this sound like the article rewriter tool that will put you at the top of your content game? You can get the Basic package that costs $67 a year, which doesn't have any bonuses, and every month, you receive 30 audio conversion credits.
TBS4 has got a standard package that costs $127 a year.
Similar to the basic package, it has got zero bonuses but the credits for the monthly audio conversions are doubled. And then there is the Pro package that costs $247 a year.
This includes all bonuses and the audio conversion is extended to 300 credits.
This is one of the few tools that guarantee your content won't lose meaning after spinning it.
For years, many content creators have struggled with getting readable and quality text from article spinning software.
Spin Rewriter is here to change that and offer you spun content without compromising on meaning.
Developed by Aaron Sutar in 2011, Spin Rewriter has helped more than 200,000 bloggers and even students to rewrite content.
This software integrates ENL and neural network technology to give you meaningful and unique information. From one article, Spin Rewriter is capable of giving you hundreds of different versions.
It is user-friendly software. Just copy the text and paste it into the editor.
Click on the rewrite and it will spin your content into a plagiarism-free article. You can choose the format that suits your preferences and generate more content from that piece.
Key Features of Spin Rewriter
One of the key features that makes Spin Rewriter a great article spinner is the integration of ENL Technology. This stands for Emulated Natural Language Technology. ENL ensures that content doesn't lose its actual meaning. This technology doesn't just rewrite articles, it familiarizes itself with the context used in an article and transfers the meaning to the new piece.
You can get even a thousand variations from just one article. Very few spinners boast of such capabilities.
Spin rewriter allows bulk article spinning. That is you can spin several articles at a go. Just paste several articles to the editor and click on rewrite.
This tool keeps you in charge of the rewriting process. If you wish, you can spin paragraph after paragraph as well as sentences. You can also have the original content on the side for comparison purposes.
Not only will you get rewriting services from Spin Rewriter. You have access to a spelling and grammar check. This is crucial in ensuring you generate quality content.
Users of Spin Rewriter are provided with an HTML version of the spun article. This can come in handy when copy and pasting on WordPress blogs.
Spin Rewriter features stock photo Integration which you can use to add images in between paragraphs.
Spin Rewriter Pricing
To enjoy all the above features, you can choose the monthly package that costs $47 a month. There is the yearly plan which goes for only $77.
This package comes with a 5-day free trial as well as 6 bonuses that you will learn about when you subscribe.
Finally, there is a $ 497-lifetime deal, where you get unlimited access to this rewriter tool.
If you go through Spin Rewriter terms and conditions, you will see that they offer your money back after 30 days, if you aren't pleased with the rewriting tool.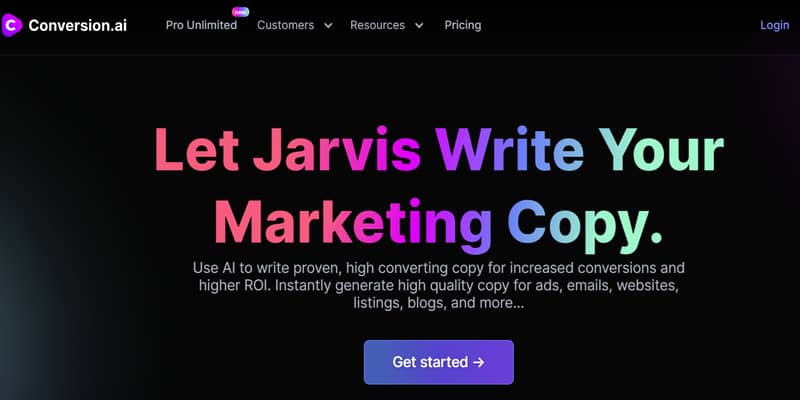 Jarvis AI is web-based quality software that helps marketers and copywriters ensure their audience converts after being exposed to the content on their website.
Simply put, it's a tool that uses artificial intelligence to create content and also rewriter article for your business or project. With Jarvis AI, you can regenerate or spin highly engaging copy for your ads campaigns: Facebook, Email, YouTube, or Natives Ads.
Not just that, it also has the ability to create amazing sales copy for your sales page, landing page, or squeeze pages.
With tools like this, you need not waste money on any expensive copywriter for your business.
The company was founded in 2016 and has already been used by top brands all over the internet.
Being used personally myself, I believe with Jarvis AI you can solve the following problem for your content creation:
Get rid of writer's block
Uniquely rewrite old content
Generate amazing email content for newsletters
Create eye-catching content titles
Generate scripts for your video contents
Save time and cost at the same time
And many others…
Jarvis AI Pricing
Early adopters can take advantage of the limited-time pricing. For 20000 words, your copies will be generated at $29 every month.
Note that Jarvis usually counts all the words generated towards the monthly quotas.
If you generate only 500 words, for example, per day with this basic plan, you'll not even reach that monthly limit.
However, the more words you generate, the more money you'll pay.
Additionally, you can increase your word count with 5000 for an extra $10 if you've surpassed your limit.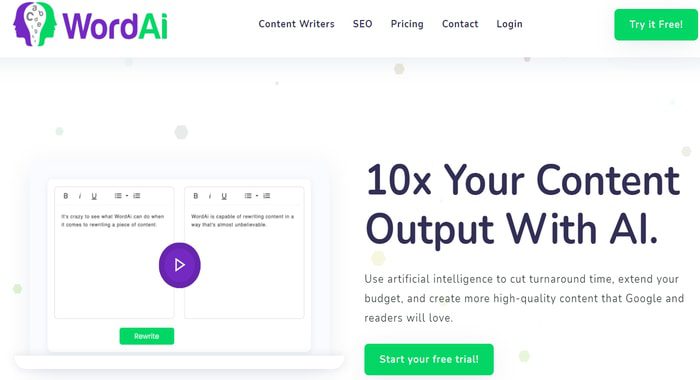 This AI is programmed to create human-quality content at a faster and more affordable rate. Word AI is popular because of its user-friendly interface.
Let's face it, a lot of people interested in article rewriting software often have no time to bypass complex interfaces.
Word AI ensures you get the best experience through its easy-to-use interface. And as if that's not enough, the AI first grasps the context of a paragraph before rewriting it.
Key features of Word AI
Currently, Word AI has released its 4th version that is faster and more intelligent than its predecessors. You can get your article rewritten in seconds.
The AI is smart enough to understand the concept of the text before it rewrites it.
You can get a thousand spun articles within a couple of seconds.
The software comprises of a perfect tense tool that checks and corrects the spelling and grammar of the spun content.
It supports four different languages. If you need multilingual content, Word AI can really help you with that.
Word AI Pricing
Similar to most of the article spinner software in this list, Word Ai has a 3-day free trial.
Should you like it after that duration, you can pay $49.95 per month or $24.95 a month for the yearly plan.
You can also get a customized package if you are working with a team or need faster spinning speeds.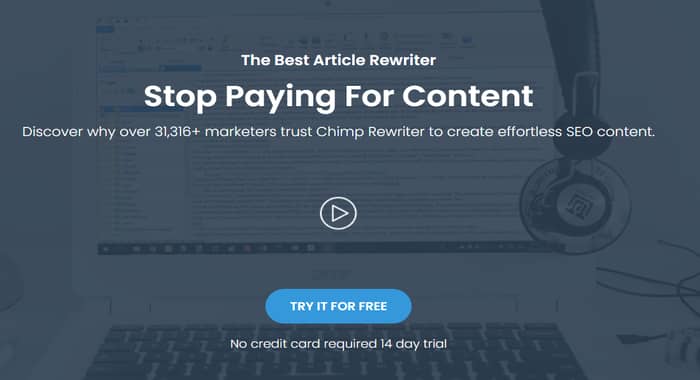 Being a favorite to more than 30k digital content creators, Chimp Rewriter is an exceptional tool that will provide you with quality spinning.
The software is integrated with AI and ENL technology to give you meaningful rewrites. It is a desktop-based software that works on both Mac and Microsoft.
Key Features of Chimp Rewriter
It's a desktop-based software but can be integrated with the likes of Ultimate Demon, RankWyz, and WP Robot.
The content is spun with the help of AI and ENL technology and you can expect nothing short of quality.
It supports several languages and if you have got readers or an audience from various locations, Chimp Rewriter has got you covered.
Chimp Rewriter gives its users the option to scour the internet, find different articles, combine and spin them to generate a captivating article.
You can use the software to add videos and pictures.
Chimp Rewriter Pricing
They have a longer trial duration which goes for 14 days. When that duration expires, you can opt for the $15 monthly package or the yearly plan for $99.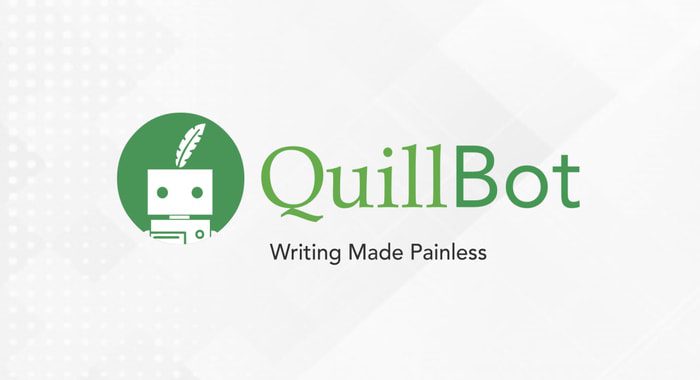 Free rewriting tools aren't the most favorite out there because most of them don't always offer quality content.
However, once you give QuillBot a try, you will be amazed by its usefulness. You will be surprised at the quality that can be spun using QuillBot.
This is one of the few reasons why it is listed alongside other premium rewriting tools. Although it comes with a paid plan too but QuillBot happens to be a really affordable article paraphrasing tool.
Key Features of QuillBot
The first and most interesting feature is that QuillBot comes with 7 different article spinning models. To gauge which suits your content needs best, you should try them both.
You can also regulate the level of content spinning by using the Word Flipper feature.
This software comprises of a synonym dictionary which ensures all the synonyms used fit the context.
With QuillBot, you get an article rewriter as well as a citation generator and grammar check. These tools play a crucial role in writing informative pieces.
To make your work easier, QuillBot has built an extension for Chrome browser. When installed, you can easily use it.
It's free. Not very many free article rewriter tools can spin content that is meaningful and readable. QuillBot belongs to this category and it has a great reputation, feel free to look at the reviews posted online.
QuillBot Pricing
As discussed earlier, you don't have to pay to use this tool. But, the free plan has certain restrictions, for instance, you are limited to only 400 characters.
This can't be of much help to an individual interested in rewriting a lot of content.
If that's the case, you can opt for a premium plan that has a ten-thousand-character limit per day. it can be paid yearly at a rate of $3.33 per month, semi-annually for $4.99 a month, and monthly for $7.95.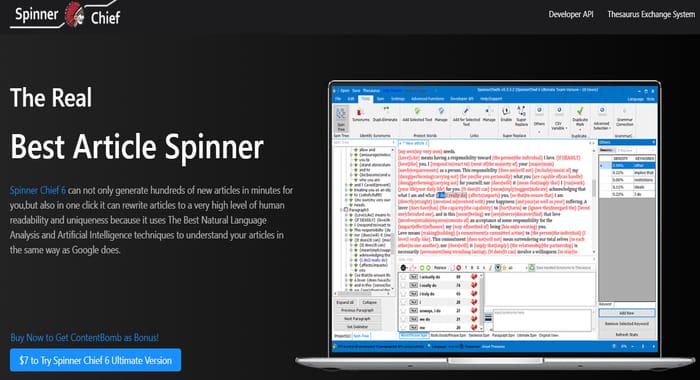 On our list of best article rewriter tools, this tool stands out as the one that gives its users advanced article spinning services.
Available on both Mac and Windows as well as on web browsers, it generates content that reads as if it has been jotted down by a human being.
This is made possible using the software's AI and Natural Language Analysis.
Key Features
To show you how advanced their rewriter technology is, this software comprises of Emulated Natural Language, Statistical Replacement, AI, and Part-Of-Speech technologies when generating content.
You can spin content into 20 different languages when using this tool.
It also supports bulk article spinning. And you can spin content at a paragraph and sentence level.
Another excellent feature is the cloud-based thesaurus that is updated by users and contains the most recent catch phrases commonly used.
It gives you access to a grammar checker.
Spinner Chief Pricing
It is available for both personal team users. If you opt for personal use, there is a free version that gives you access to basic rewriting services.
We have the Elite package that you can pay $88 once and use it for the rest of your life. It comes with some advanced features.
The Ultimate comes with all features and has got various payment plans. You can pick the one-time payment that costs $138, an annual plan
#8. Clever Spinner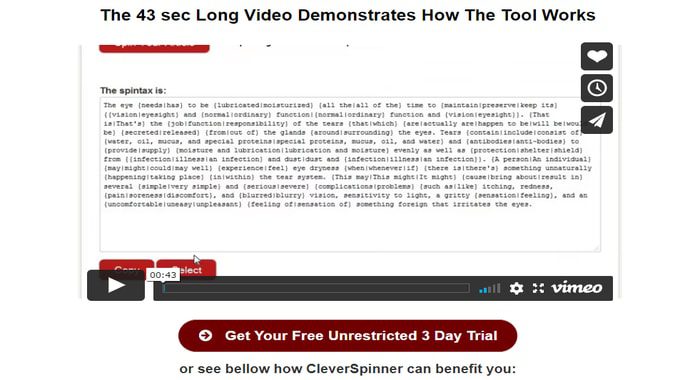 If you are interested in an article rewriter tool but you are on a budget, Clever Spinner is the ideal software for you.
Using Natural Language Processing and AI tech, Clever Spinner gives you quality content at a faster rate.
For those who are skeptical about subscribing to any packages, Clever Spinner has a 3-day free trial that gives you a taste of the software. With less than 10 bucks you can get started with this article paraphrasing tool.
Key Features of Clever Spinner
Unlike other article rewriter tools, Clever Spinner is web-based. And be as it may, it is very fast and the content created is unique.
Clever Spinner allows users to rewrite content at word and phrase level and this contributes to getting quality rewritten articles.
You can be assured of Clever Spinner generating the ideal synonyms that will match the context of the message. This is thanks to the software's AI.
It produces readable content that is free of grammatical errors.
The software is capable of understanding complicated sentences and converts them into simpler words without losing meaning.
You can rewrite several articles at once.
The speed at which Clever Spinner generates articles is extremely fast.
Clever Spinner Pricing
Remember when we said that this is the most affordable article rewriter on the internet? It goes for $9.90 a month.
There is also a 3-day trial period which you can use to give this tool a try. Though cheap, Clever Spinner does not negotiate on quality.
for $48 a year, a $25 monthly subscription.
#9. Content Professor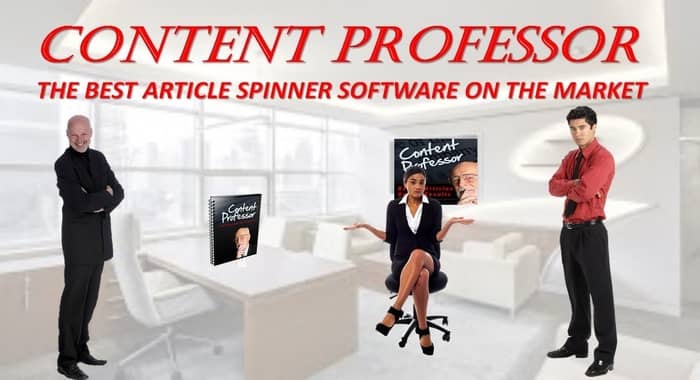 This may not be the most popular article rewriter on the internet but you will be surprised at how great it is at spinning articles.
Content Professor is ideal for novice content creators because it is very user-friendly.
Before you even paste content to be rewritten, Content professor shares with you a 5 step tutorial on how to use the software.
And if that's not enough, you can read their manual that covers anything you need to know about the software.
Key Features of Content Professor
It will rewrite content for you and it will also check spelling as well as provide you with a plagiarism report. With these two additional tools, you won't have to worry about posting mediocre content.
Content Professor has a library with more than a hundred thousand articles that you can spin to create unique copies.
It supports four languages; German, French, Spanish, and English.
With this software, you don't have to worry about synonyms that don't blend with context. That is made possible using an advanced synonym algorithm.
It is user friendly and has a simple interface.
You get access to three nested spinning levels.
Content Professor Pricing
Another reason why you are going to love content professor if you are just getting started is the forever free plan.
This plan gives you at least 200 spin credits in a month, three nested spinning levels, a maximum of five articles download limit from their library, and a limit of 5000 words per spin.
If you prefer to use this tool without limits, there is a Pro package that goes for $19.95 a month.
#10. SmallSEOTools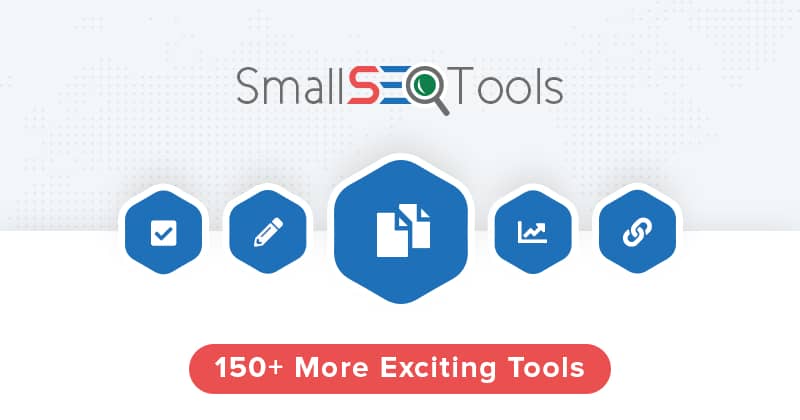 Though it's quite popular SmallSEOTools is a free article rewriter and as you may already know, most people usually shy away from such.
However, if you don't have the money for a premium rewriter tool, you can always give this a try. SmallSEOTools gives you readable spun content. The platform is fairly easy to use.
Key Features of SmallSEOTools
You don't only get an article rewriter but you also get access to a plagiarism checker and a bunch of other tools that can assist you in content creation.
Another key feature is that it allows users to upload content either from Google Drive or Dropbox.
You don't have to pay for anything.
On a daily basis, you are allowed to spin up to 2000 words.
SmallSEOTools Pricing
It is 100% free. Though reliable, content spun via this software often requires you to re-check and make grammatical errors. If you have got the time to engage in such, this is a good article rewriter.
#11. Spinbot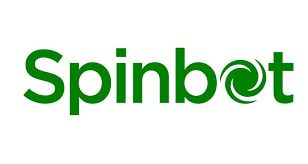 For those of you who may be under a strict budget and can't pay for premium article rewriters, other than SmallSEOTools this is another great free article spinner.
The first thing that attracts most bloggers and students to this site is the fact that's its free. Also, you get a ten-thousand-character limit per day.
It may be useful when you don't have a lot of articles that need spinning. And finally, even though the content isn't perfect, it does feature that human touch.
Key Features of Spinbot
There is no need of signing up. If you require the content to be spun, visit their website, paste an article and wait for a rewrite.
You are allowed to spin ten thousand characters per day.
Content rewritten using Spinbot is close to what you can get when being a piece is crafted by a human.
There is an Ignore option where you can prevent certain words from being rewritten.
Spinbot Pricing
It's available to use for free, but there is a limit on the words you can spin and there are some annoying ads.
You can increase the word limit and enjoy an ad-free site by paying for the premium package. It will cost you $10 a month, $50 semi-annually, and $75 for a year.
Who Can Use These Article Spinner Software?
Article spinning tools were created for anyone who needs content to be rewritten. The first lot that can enjoy the abilities of content rewriters are SEO experts.
For articles to be posted online, they must be plagiarism-free. Duplicate content can land you in trouble when Google algorithms find out and this can affect your search engine rankings.
Using the above tools, SEO professionals can create new and plagiarism-free articles from only one piece. They can then edit and use it elsewhere.
The other group that loves article rewriters are students. Plagiarism isn't tolerated in all institutions especially those of higher learning.
However, using article spinner software, one can easily spin projects or assignments without getting caught.
How Do You Use an Article Rewriter Software for Content Spinning?
It is a simple article rewriter software and can be used even when you are a newbie.
 As a matter of fact, most use the same principle where you just paste a text, click on rewrite or spin and get a fresh article which you can import to your website or save it on your computer.
Though the process may differ from one software to another, here is an overview of how to use article rewriting tools for content spinning.
Step 1 – Depending on the article rewriter tool, you may have to download and install it. Or launch it on a browser if it's web-based.
Step 2 – Sign up and subscribe. It's always a good idea to use the free trial if it's available.
Step 3 – Copy and paste the article to the software. Some article rewriters allow you to import the .zip file. Some tools also have article seeds that you can use.
Step 4 – Play around with the software's features. This includes choosing the spintax format, level of spinning, and which keywords shouldn't be rewritten.
Step 5 – Initiate the spinning process and wait for the content to be generated. You can copy and paste the new content wherever you see fit.
The Bottom Line
Filtering through the many article rewriter tools by yourself can be time-consuming and expensive, especially if you subscribe to the software and discover that it is ineffective.
To prevent you from experiencing such, above we have listed the top 10 article spinners and article rewriters software for your content creation.
Most of the spinner software above has a free trial, so you may consider signing up on several so that you can gauge which is perfect for you.
Anyway, if you prefer to dive straight in and generate readable and unique content that sounds like it is human-written, we recommend :