How to Automate Your Dropshipping Business with WordPress
In this article, I will write on how you can automate your drop shipping business with WordPress or WooCommerce site.
I believe you'd want to have a full-fledged automated dropshipping business that makes you passive income with less effort from your side?
I mean who wouldn't want that! There are few ways to automate your dropshipping business and that's what I'm about to show just now.
Just stay with me as we dish it out together.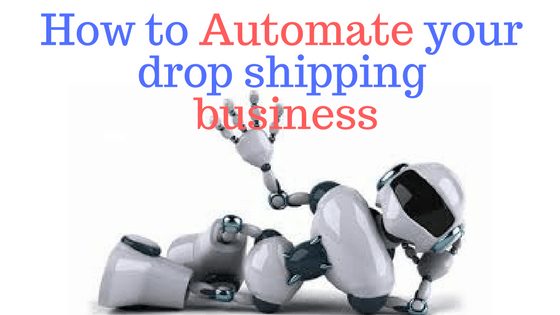 Is Automated Drop shipping Necessary?
You probably must have heard that drop shipping is an easy business. Well, I couldn't defer. The fact that you don't need much capital to set-up or own an inventory of your own makes it pretty easy.
All you have to do is receive an order from your customer and forward them to your supplier. Then, the supplier makes it his/her responsibility to have the product shipped to your customer. I'm sure you know all this already!
But trust me, as easy as that may sound, there are still some routines that cannot be overlooked. For example, while adding products to your website. You need to manually enter all the product descriptions, images, price and lots more.
Now imagine having over 100 products on your website. This could take you weeks to fix.
Additionally, you also have to inform the supplier every time you receive an order from your store by placing the order on your customer behalf. Imagine receiving over 200 orders per day!
Not just that, what will you do when over 50% of the products listed on your website is out of stock from your supplier and you've received an order for them? Thinking about this make me feel dizzy?.
Drop shipping can be tricky at times, most especially when you don't have the proper tool. This is where automation comes in and here is what you need to know. The more your business grows the more you are bound to encounter more of this problem, so the earlier the better.
How to Automate Your Drop shipping Business
Like you already know that dropshipping has multiple facets attached to it for its successful running. If you are a one-man team then your best shot is to automate it.
Down below are what needs to be automated in your dropshipping business for the success of your business. And also for maximum profit within a short period of time:
Product selection
Importation and edition of product name and description
Price setting
Social media promotion
Info update
Order fulfillment
Mere looking at the list, you may think to yourself and said this nothing I can't handle. My advice is to wait until you start.
Now, that you've seen what and where should be automated you now need to know how to automate them with the right plugins and tools.
Product Selection
The idea about dropshipping is great because it gives you the opportunity to sell as many products as possible. Even when you don't own these products, you can add whatever you like and even renew your product offer from time to time.
Thereby, increasing the chance of your customer making a purchase on your store.
But, imagine going through thousands of products, searching and checking for products that match your store criteria! This could take days or weeks especially if you are planning on selling multiple products.
Additionally, it's even going to take a longer time to add these products to your dropshipping store. Every single one of them one by one.
Using the Alidropship plugin for both WordPress and WooCommerce can really make the whole process easy. All you need to do is set the parameters for the products you need, and the plugin automatically searches AliExpress for the product that matches your criteria.
Furthermore, you can then automatically upload the chosen items to your store. Everything will be done within a few clicks and you won't have to do anything manually.
Importation and edition of product name and description
With the help of Alidropship Chrome extension, you can easily import and edit product info without doing it manually.
While browsing AliExpress with the chrome extension, there is a white box inside the red bar with 'Import' and 'Edit' buttons on the Alidropship chrome extension that allows you to add product immediately to your store or edit the product description before publishing it.
When you click the 'Edit' button, there will be a pop up that will allow you to amend the following:
General product data(permalinks, title etc)
Price
Variation
Description
Image gallery
If you don't want to publish the product immediately, probably, you want to rewrite it to your need. You can click the "Add to import list" button. The product will not be visible to your customers.
But, if you like the product description the way it is – click the 'Publish' button and the product will be visible in your store.
Price Setting
Price settings is another sensitive part of drop shipping. While you are just getting started with dropshiping, you can easily edit and increase your price.
But the moment you have more products on your dropshiping store you could easily lose track of the price. Since you know your profit is the difference between your selling price and how much you buy it from your supplier.
The best way to automate this by using the Alidropship plugin to increase all the price at once. The plugin makes use of a special mark up formula that guarantees profits on each product.
Meanwhile, you can choose to use the formula for all your products or for just some specific categories.
Social Media Promotion
Social media plays a very important role in any e-commerce business.
Not alone can they generate massive traffic, they can also generate more conversion rate for products if used properly.
So, how can you do this?
Through social media promotional channels, of course! Channels like Facebook, Instagram, Pinterest, and Twitter.
However, running all the social network accounts that needed to be updated daily when you've got your hands full of other important things can really be much of a task.
Now, this is where the social media automation tool comes in. The Social Rabbit Plugin. The plugin helps in driving free and stable organic traffic from social media to your store.
The Social rabbit plugin covers four major networks for creating awareness for your store: Facebook, Twitter, Instagram, and Pinterest.
Another good thing about the plugin is that it can easily grow the numbers of your followers steadily. Leaving you with strong social networks.
All you need to do is install the plugin. It works for both WordPress & WooCommerce. Once installed it automatically promotes your store.  You can read the Social Rabbit Plugin review here.
Winning Products 
Another important aspect of dropshipping is knowing the right product to sell. Trust me, a beautiful website is not enough to make you money.
The kind of products you sell plays an important role in the success of your dropshipping business. But how do you know these products? You'll need to search for these profitable products manually which will take a while.
But what if it's done for you?
You just need to copy and paste, in fact, you don't need to do that, you just need to click a single button and these winning products will appear on your site automatically.
For this, I can gladly recommend Dropship Me it's a complimentary plugin that works with the AliDropship Plugin. It function is to provide you access to winning products only.
For starters, you'll be giving access to 50 Free Products and your subsequent products will be on a fee. With the dropship-me plugin, you won't have to rewrite your product descriptions, everything is done for you.
This will drastically save you time and give you time for other important stuff for your business without spending much.
Info Update
Automating your info update from your supplier will save you the stress of constantly checking your supplier products if any changes have been made.
Like I said earlier, Some situation may arise where your products may be out of stock from your supplier. Or there's a slight increase in the product price from the supplier.
The Alidropship plugin is directly linked to AliExpress. Therefore any changes made from the supplier's side automatically reflect in your store.
So you won't have manually re-edit your products whenever there is a change from the supplier.
Mind you, in case any product is out of stock from your supplier. There is no need to panic all you have to do is look for the same product from another supplier.
You don't have to re-edit the product just the link to place the order from the new supplier.
Order fulfillment
One of the pros of dropshiping is the ability to scale up real quick. Most especially when done the proper way.
The moment your dropshiping business start growing your daily orders will also increase. Therefore putting you at risk of mixing up multiple orders if not automated.
The Alidropship plugin will transmit all your customer info to the supplier without you manually doing it yourself.
Additionally, when the supplier ship the product the plugin automatically check for tracking Id that will be sent to your customers.
In conclusion
Automating your dropshiping business has the potential of growing your business real quick.
Not just that, it also saves you from some typical drop shipping challenges that could easily mar your business.
P. S: The Alidropship plugin, Dropship Me, Social rabbit plugin and chrome extension all work with both WordPress and WooCommerce websites. All you need do is get the plugins and installed them.
Learn More