Automatic Script Review: Copywriting Software [Worth Buying?]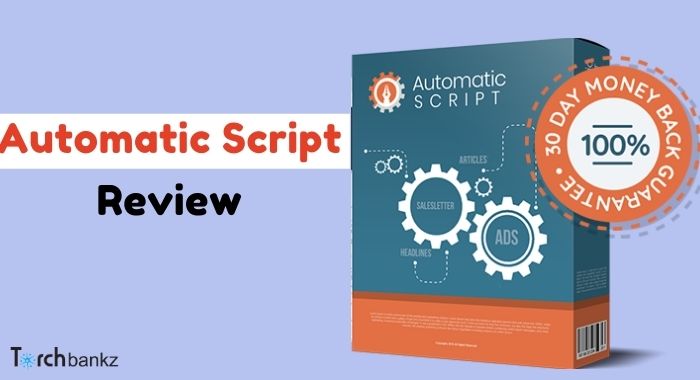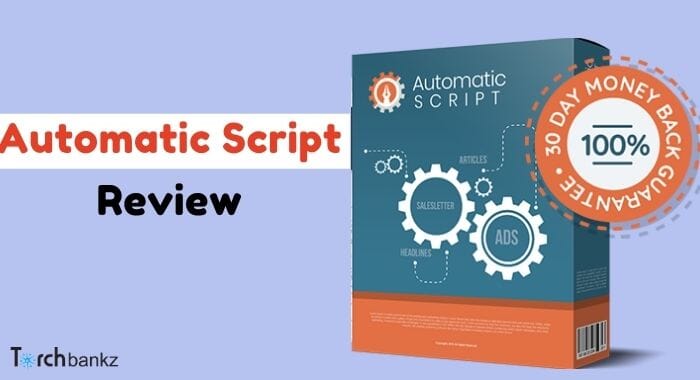 I'll try as much as possible to make this the most in-depth automatic script review out there. I'll cover everything you need to know about the software and if eventually, it's going to be worth your time and effort.
I'm sure I don't need to emphasize the importance of good sales copy for your online business. The truth is, if you want to increase your sales and make more money with your business, then you really need to invest in copywriting.
According to CopyBlogger, on average, 8 out of 10 people will read your headline copy, while only 2 out of 10 will read the rest of the content.
And having the ability to keep them engaged with your content is the whole idea behind writing a good copy. This is because the more your message is clear the more engaged they will be and the more money you'll make.
So in an actual sense, copywriting simply involves rearranging words in a particular way to influence readers to take a specific action.
The copywriting process begins with an idea, which is later researched, planned, and put down on paper to be proofread, edit and then publicize.
While the above might seem easy to some people it's a whole lot of stress for other people and the more reason why AI copywriting software comes in handy and hence Automatic Script review.
Automatic Script is among the most powerful copywriting software available. This tool generates marketing scripts automatically.
It comes with many features that increase its functionality. And since copywriting software tools aren't exactly cheap, knowing about the type of tool you're paying for first will be extremely useful.
If you're not sure whether investing in this software tool is right for you, read this article to help you make an informed decision.
This Automatic Script review will talk about the features, pricing, pros and cons, and all the fundamental things you should know about this software tool. And in turn, help you make a wise choice.
Let's get started, shall we?
What is Automatic Script?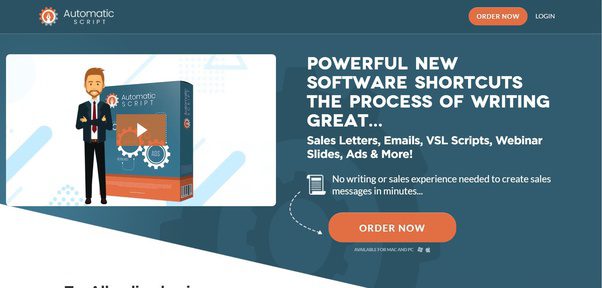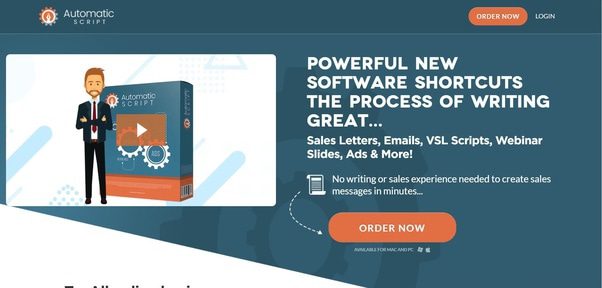 Automatic Script is a SAAS-based software that helps users create sales messages. It leverages the minds of the best copywriters to create incredible sales copy, which increases your lead conversion and ultimately sales.
Using Automated Script, you can take advantage of sales writing formulas that have been developed by the greatest copywriters of all time to create;
Letters,
Headlines
Full-blown email series
Video sales
Facebook Ads
Call to Action,
Testimonials,
Email subject lines, etc.
What makes this software unique is that it can be used by all businesses regardless of their niche, products, or services they are selling.
Even if you're giving something away for free and you want help getting someone to take an action, this software tool can work for you.
Automatic Script, like the name suggests, automates the writing process, giving you action-driving sales copy that would have otherwise cost you a lot of money and time in trial-and-error.
You no longer have to stare at blank pages wondering what to write with this tool.
Instead, users get access to many copywriting scripts that have been developed on this platform without wasting time or spending too much money.
By helping businesses create impressive sales letters, this software helps them make more sales on their digital and/or physical products.
Plus, it is simple to use. Therefore, even non-tech savvy individuals can easily navigate through it and create the best sales copy for their products.
Note that copywriting isn't just something you read about and expect to perfect it.
It needs years of practice to become an excellent copywriter. Now, unless you trust your experience, your next option is to hire a professional copywriter.
However, this will cost you thousands of dollars. Thankfully, Automatic Script can save you much time and money.
Thus, whether you write sales letters occasionally or regularly, you can benefit from the incredible features offered on this platform.
Who Owns Automatic Script?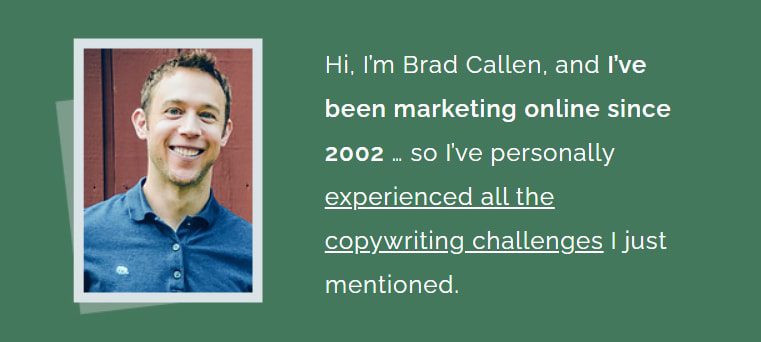 Automatic Script is owned by Brad Callen who is a brilliant marketer. He is well-known in the internet marketing industry.
Brad has designed a ton of products, including SEO Elite, Keyword Cloud, Affiliate Elite, Directory Submitter, etc.
His software tools get good reviews and ratings. Callen has been marketing since 2002. Therefore, he has experienced all the copywriting challenges that businesses face.
Note that the copywriting process can be a pain for entrepreneurs. While you want a great sales copy, you may only have limited options, which come with several drawbacks.
These challenges inspired Brad to teach himself copywriting, which is not easy and quite impossible. Not only does it take a lot of time and money, but it also requires lots of trial and error.
Thankfully, Brad has already done this so that individuals can access the best copywriting scripts quickly and affordably.
He put much effort into learning and reviewing information from books and courses. While it took so much time, effort, and frustration, he finally became great at copywriting.
With this skill set, Callen has helped some of today's most profitable businesses in all sorts of markets. He has sold almost everything, including video courses, physical products, ebooks, Software as a service (SaaS), etc.
All of these helped him gather the knowledge that he used to create effective, faster, cheaper software solutions. Therefore, businesses no longer need to hire a copywriter or learn about this process.
Why Do You Need Automatic Scripts?
What's the difference between products that have sold millions of dollars and those that have failed? Well, if you answered "overall quality of the product" you couldn't be more wrong.
The quality of the product alone doesn't influence the success or failure of a business. Some entrepreneurs have designed high-quality products that only made a few sales.
What many individuals do not understand is that persuading your potential customers to buy is what matters most when selling.
If you're unable to explain how your product benefits your target customer better than your competitor, you'll likely lose to your competition in the marketing game.
Unfortunately, this has led to the failure of many businesses. But, those who can write effective sales copy, can build a stable platform for the success of their business.
Excellent copywriting skills are not debatable if you want to make monetary success. And while some people may opt for the conventional way, where they do everything by themselves, here is why we encourage you to purchase Automated Scripts.
Save Time and Stress of Writing Copies Yourself
If you're an experienced copywriter, then you can easily write a sales copy by yourself. But if you are not, then you'll need to learn how to do it and this is far from easy.
You'll need to devote your time and money to learning this skill.
Therefore, if you're not motivated or do not have enough money to invest in learning how to be an excellent copywriter or if you are not confident enough about yourself, this approach may not be useful for you.
One can also decide to invest in different copywriting books to learn about the art of copywriting. But, this also comes with its challenges.
One is that reading a book is hard and requires a significant amount of time. You may need weeks or even months to study and practice the content in those books.
Again, it'll cost you a lot of money while investing in these courses and books. Lastly, it's not possible to read about copywriting and expect to be great at it just like that.
Trust me! It needs lots of practice. You need to write different sales copies for the world to see and observe whether anyone takes the action you intend them to take.
And all these take time. But, with Automated Scripts, you'll save yourself this hustle.
Save Cost of Hiring a Professional
Another option is to hire an expert copywriter, which also comes with some drawbacks. For instance, many copywriters, although they're good at the selling process, can't apply the same techniques to sell your unique product.
As a result, many of them under-deliver or over-compromise.
Additionally, with this approach, most copywriters don't know your product, service, or e-course better than you do.
Therefore, you'll be hiring a person who does not know full information about your product. So expecting results from such a sales copy will be limited as it'll be written by a person who doesn't know the ins and outs of the product.
Also, professional copywriters charge expensively for their services. Even the entry ones will cost you 1-2 thousand dollars for a video script or a sales letter.
Averages copywriters charge between 5-7 thousand dollars while the expert ones cost up to 15 thousand dollars and up for a single sales copy.
If you've not budgeted for this, this option may not be a suitable one for you. Now, if the copy the expert writes for you converts well and makes you more money than you'd invested, then hiring one may be worth it.
But, note that you're not guaranteed success all the time even with the best copywriter. And worse is that you need to deposit at least 50% of the total charges upfront with most of these experts before they even begin writing for you.
Generally, this is a gamble. You may lose or you may win.
But when you've spent so much money on a professional and they end up failing, you go back to the drawing board.
This can lead to more frustration and make the situation worse than it was in the beginning.
How Does Automatic Script Work?
What is good about Automatic Script is that you can download the scripts written by the world's greatest copywriters on this platform.
As such, you can create a persuasive copy within a short time using proven formulas that are available on this software tool.
Automatic Script uses modern technology to help individuals create effective sales copies and other content by making a few button clicks.
The software integrates the brains of great copywriters like Michel Thornton, Bob Stone, John Carlton, Ray Edwards, John Caples, David Frye, Clayton Makepeace, Perry Belcher, and many others.
So, let's talk about how to use this software by the Doodly team.
Step 1: Choosing What You Want to Create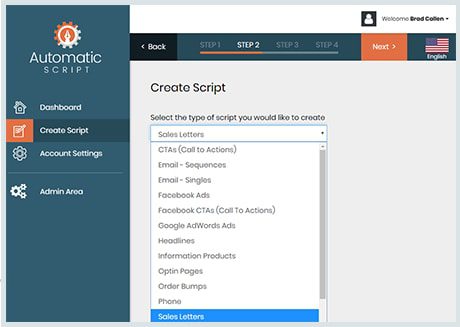 Individuals need to first choose the type of script they want to create. You should decide whether you want to create a headline, an email series, a long-form sales letter, etc.
Step 2: Choosing the Formula to Use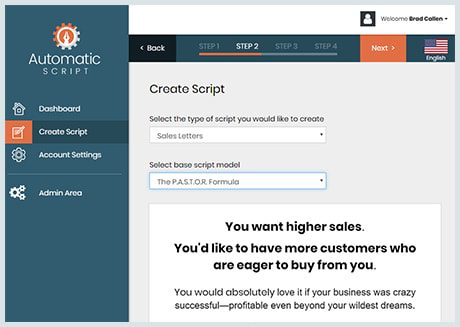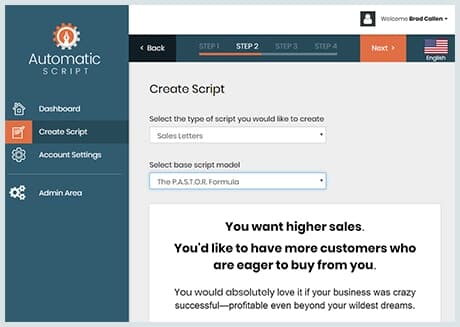 Here you need to decide what formula you'll be using on your script. We advise that you opt for formulas that have been developed after years of trial-and-error with legends.
For instance, you can choose Michel Fortin's formula, who's known for writing the first sales letter that made a revenue of 1 million dollars in one day.
Step 3: Fill in a Series of Questions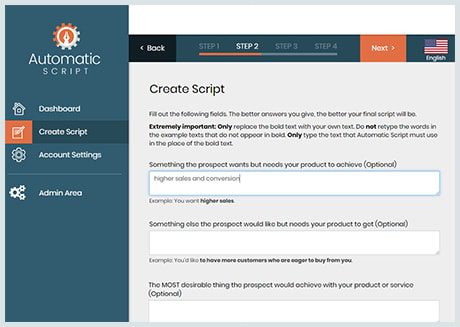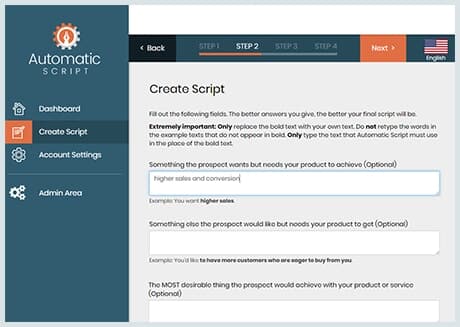 Automatic Script will then take you through a series of questions that require you to fill in the blanks.
Some of the things you'll answer include the name of your product, its price, the age of your target customer, etc.
Don't worry as these are straightforward questions that don't need any special knowledge to answer.
Step 4: Click a Button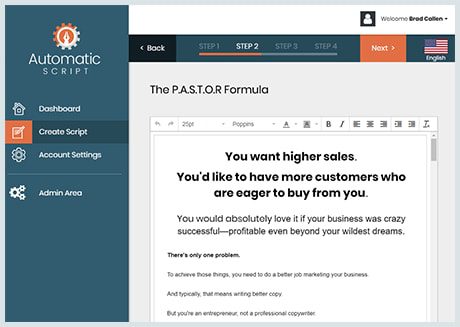 This is the final step that only requires that you click a button and your script will pop out. You can then edit and review the script generated or choose to download it immediately to your device.
The copy is downloadable in three different formats; PDF, PowerPoint, and Word document.
What Type of Sales Copy Can You Create with Automatic Script?
Individuals can use Automatic Script to create various contents and letters for multiple projects online. With just a few clicks on the software, you can create the following copies within a short period:
Facebook Advertisement
Call to Action
Singular Email
Opt-in Pages
Testimonials
Email Sequences
Webinar Promotions
Video Scripts
Webinar Outlines
Opt-in Bumps
Headlines
Phone Scripts
Info Products
Google AdWords
Sales letters
Facebook Call to Actions
Automatic Script Pricing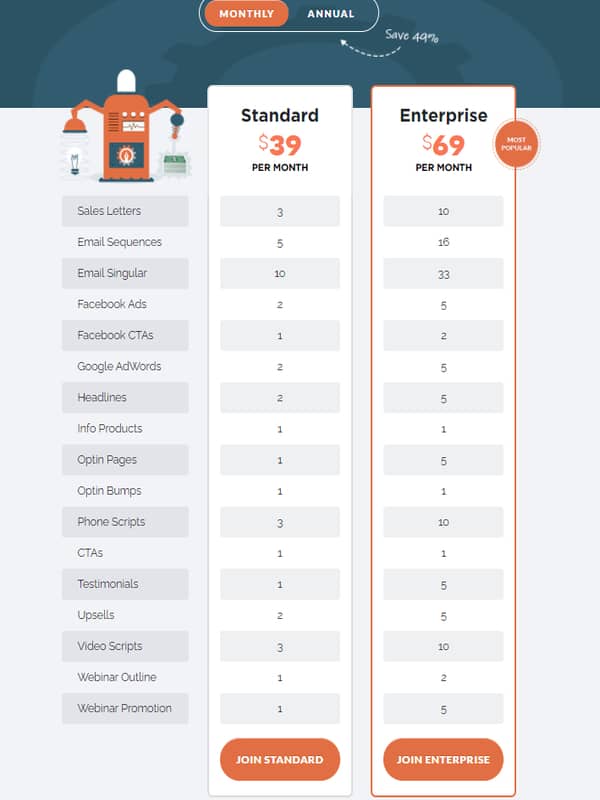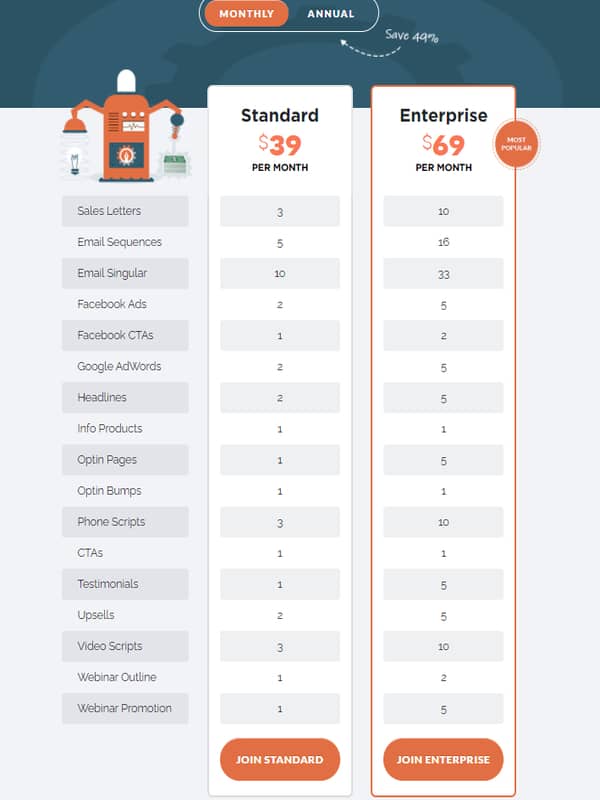 This software offers both monthly and yearly pricing options. It has two subscription levels:
Standard Plan
This version of the software costs $39 per month when one pays monthly or $20 per month for an annual subscription. Some of the features you can access with this subscription include:
10 email singular
2 upsells
1 webinar outline
5 email sequences
3 sales letters
1 testimonial
1 info product
3 phone scripts
1 webinar promotion
2 headlines
Enterprise Plan
The other version of Automatic Script is the Enterprise plan which costs $69 when paid monthly and $40 per month when you choose to pay yearly. This payment gives you access to:
2 webinar outline
5 upsells
Five testimonials
5 webinar promotion
1 CTA
10 phone scripts
1 Opt-in bump
5 Opt-in pages
1 info product
Five Facebook CTA
5 Facebook Ads
Five headlines
5 Google AdWords
10 sales letters
16 email sequences
10 video scripts
33 email singular
1 opt-in bump
2 Google Adwords
1 Facebook CTA
1 opt-in page
2 Facebook Ads
Automatic Scripts Review: Pros & Cons
Pros
Easy to use, even for beginners
You can quickly write copies for yourself effectively as you know our products
It's affordable and makes copywriting fast
A wide range of copywriting templates hence you can find the type you want. Plus, individuals can make their own script templates.
You can request scripts that are not displayed on the dashboard
Training is available on how to use this software tool and you can also pay for monthly coaching
Individuals can generate several scripts from a single input
Excellent level of helpful guides to help you navigate on this platform
Cons
Can be costly, especially for small businesses. But investing one-time isn't a bad idea either.
There's a chance that your script can sound much like the other marketers rather than sounding unique. However, you can solve this by knowing what you want to use the copy for. This can help you to be effective and make your voice stand out.
Pricing tiers are based on the number of scripts one will use in the database.
FAQs About Automatic Script
I have compiled a list of frequently asked questions about Automatic Script. They include;
What Is Automatic Script?
Automatic Script is a software tool designed to help create content automatically, especially product introductions, sales landing pages, and such content. It helps copywriters, bloggers, and content creators to write impressive and well-organized content automatically.

It is created by Brand Callen, the developer of Doodly & To only, a whiteboard animation software. Apart from creating sellable sales copies and informative content, it also makes it easier and quicker for individuals to use it since copies are created automatically.

Therefore, you'll not need to invest lots of money in hiring a professional copywriter nor will you waste time trying to learn about copywriting. If you are a blogger, a business owner, or a marker who wants to create sales content within a short period, purchasing this tool can be an excellent investment.

Even a professional writer can still use this tool since it creates copies automatically. All businesses, whether online or offline, can use this tool to maximize their profits.
Is There Automatic Script Lifetime Deal?
Yes. The platform offers a one-time purchase offer that is found on their website. This offer is for the Standard plan and costs $67.

But you can also purchase the Enterprise plan for an additional one-time fee of $97, meaning the total amount you'll pay for a lifetime deal of this plan is $164.

Also note that while you can opt-out of the Standard license, the Enterprise one is not a stand-alone purchase. Therefore, you can only purchase its upgrade once you get the Standard license. Unfortunately, there are no discounts or coupon promo codes.
Is Automatic Script Good?
Yes. When it comes to creating automatic sales content, you'll find this software useful.

It can create sales content for selling any product or service, anywhere in the world. If you're selling online, you only need to invest a small amount of money in this software since it's worth it. After purchasing it, you'll no longer need a copywriter.

This software isn't a scam. Many people have been using it in the past years without major complaints. Plus, if you're worried, you can relax since the company gives a 30-day money-back guarantee. Therefore, if you're unsatisfied with the results of this software, you can ask for a refund within the first 30 days and you'll have nothing to lose.

What makes Automatic Script unique from other related software tools is that it makes things easier and faster. It features an impressive and quality script template that allows you to create amazing sales copies within a short period.
How Much Is Automatic Script?
Automatic Script features two pricing versions; Standard and Enterprise. Both these plans are covered by the 30-day money-back guarantee.

The Standard version costs $39 per month while the Enterprise subscription charges $69 per month. The difference between these models is how many scripts a user can have at a given time.

With the Enterprise model, you get 3 times more capacity in some categories. But because one can download a copy, delete and make a new one, many people don't see the need for investing in the Enterprise package.
Automatic Script Review: Final Thoughts
We hope that you found this Automatic Script review useful. But, at the end of the day, it's your decision to make. You can choose to gamble with a c-level professional copywriter who'll charge you thousands of dollars with no guarantee that the copy that will be written will be profitable to you.
They could write a sales copy, which could potentially fail. Also, you can opt to purchase various copywriting books and courses, read, study, put that information into practice and learn from your mistakes.
Now, both these options cost time and money. And worse is that they don't guarantee the success of a sales script. The cost of doing everything manually isn't cheap and hiring an expert is also not an excellent alternative.
Therefore, other than wasting your time and money with these two options, why not invest in the Automatic script software? If you have something to sell online or you're trying to give something away for free to get money or subscribers, this software tool can help you generate an effective lead copy that'll simplify things for you.
You just need to invest a small amount into this scripting software and take advantage of the talent and years of experience from great copywriters in the world. In return, this will save you time, money and give you incredible results.
Read More: