11 Best Email Marketing Software for Shopify [2023 Updated]
Looking for the best email marketing software for your Shopify store? Don't worry, we've listed the best and top-rated tools among them.
I'm sure you'd agree with me that each penny spent on your marketing strategies should be worth it, and one of the best strategies is through email marketing.
Email marketing is generally an effective way to ensure that businesses can reach their customers, build their reputation, and develop their customer base.
It usually presents more opportunities for your online business and also drives better returns on investment.
With this type of marketing, your online business can create a deeper relationship with a wider target audience at fraction cost.
From past research, who understood existing customers usually offer bigger orders and more frequent purchases when compared to new customers.
You will also find out that converting existing customers is much cheaper than getting new customers.
Which is why email marketing cannot be overemphasized.
However, to use this marketing strategy, particularly on the Shopify platform, you should have a good email marketing app installed on your Shopify store.
And i'll be listing our best pick for your Shopify store…
Stayed stunned:)
What Makes A Great Email Marketing Tool For Shopify?
Any Shopify email marketing tools you'll be using should be easily integrated with your online store. It should also have documentation on how to use it with Shopify.
Automating your entire email marketing process should be easy and equally one of the primary functionality of the email app. You should be able to create autoresponder easily and set email sequence for your customers or funnel emails.
The entire process should be simple and easy even for a complete newbie. This tool shouldn't take your time but instead, create more time for you.
Pre-Built Customizable Template:
It's very important that your Shopify email marketing app should a sleek and also include professional template you can easily customize and re-use for your campaigns.
Ecommerce Integration Features:
Any email marketing software you'll be integrating with your Shopify store should have e-commerce features.
A good example is GetResponse Autofunnel giving you the ability to sell your product directly from funnel campaign.
Best Email Marketing Software For Shopify Summary: Perhaps you in a hurry to know the best app right now and make your decision before reading this whole post. I've got you! The declared winner and best email marketing tool is GetResponse. This is the most rich-featured, complex, and advanced all-in-one solution for ecommerce and digital-based products. It houses incredible features I never imagined and BEATS the rest of the email marketing tools hands-down.
11 Best Email Marketing Tools For Shopify
Below is our top and best 11 email marketing software for Shopify:
#1: GetResponse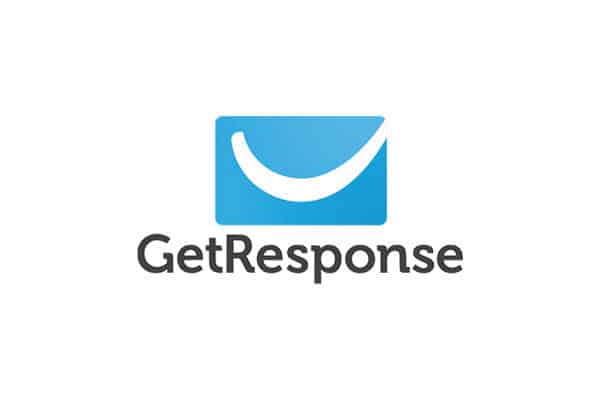 GetResponse is a comprehensive marketing application that assists you in creating content, boosting sales, and also increasing traffic to your store.
Customizable template scenarios usually do the work for you; this means there's no need for coding because everything is done for you already.
The primary design of GetReponse is to drive more sales to your Shopify store with their astonishing features. Everything you need to grow your online store and be successful is included in the getresponse app.
The key features of GetResponse Include:
You can easily connect your online shop to GetResponse and easily add your product inventory in your GetResponse account.
This feature allows you to promote your products directly in your landing pages and from emails which invariably allows you to sell more product.
With GetResponse you can easily connect with
Shopify,
WooCommerce,
Esty,
Magento and
Bigcommerce for email integration and sell more with email marketing
Marketing automation
This feature allows users to build scalable workflows, depending on customer journeys.
The action-based autoresponders support the creation of messages which are triggered by the actions of relevant recipients and personalized one-to-one responses.
Additionally, GetResponse offers users advanced segmentation tools that allow them to divide all their contacts into different subgroups and customize emails appropriately.
You can easily populate your GetResponse product library straight from your existing Shopify store. And also sell directly from emails and your GetResponse account.
This feature allows you to sync your Shopify store with your GetResponse account. Thus, increasing your product sales through the power of email marketing.
Get Payment Straight From Emails
GetResponse allows you to integrate your payment gateways and get paid straight from emails and landing pages created from within your GetResponse account.
Boost Your Sales with Sales Funnel
Sales funnel is one of the best ways to increase your sales by selling any kind of products. The Sales Funnel feature in GetResponse is called Autofunnel.
This is a tool that allows you to create funnels for your customer and end up getting more than the intended value.
You can easily create upsell and downsell using the autofunnel features in GetResponse and make most of your sales.
GetReponse offers robust reporting capabilities. You will find a few simple reports on the dashboard, and they provide you with a brief description of marketing success through raw data and pie charts.
The Email Analytics segment gives further details, with bar and line graphs for clicks, opens, complaints, bounces, and unsubscribes.
Moreover, for every report, a user can view the subscribers who performed any given action within their email contacts.
GetResponse Pricing:
1,000 subscribers: $15/month
5,000 subscribers: $45/month
10,000 subscribers: $65/month
==>> Get Started With GetResponse!
#2: Omnisend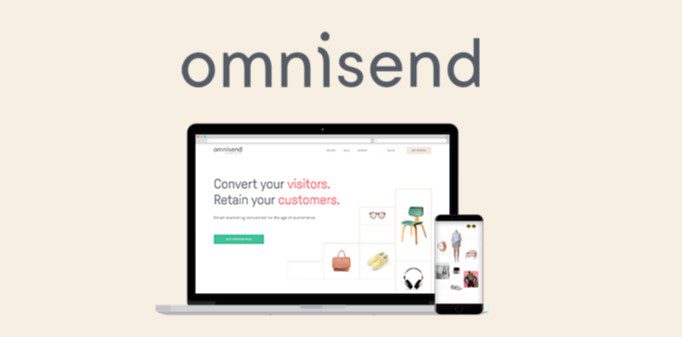 Omnisend is an omnichannel marketing platform designed for high-growth eCommerce establishments. Thus, making it one of the best email marketing tool for Shopify.
With customer segmentation features, and also a variety of channels to reach the customers, and advanced automation workflows. The Omnisend app is a complete, all-inclusive solution for all eCommerce marketers who've outgrown the standard email marketing tools.
The email marketing software works with all eCommerce platforms. This includes Shopify Plus, Shopify, Bigcommerce, WooCommerce, and Magento, among others.
Features of Omnisend
This feature can boost the effectiveness of your email marketing by merging it with other channels to create an omnichannel client experience.
Additionally, you can add SMS, push notifications, WhatsApp, Facebook Messenger, Instagram, or Google audiences to reach all your customers at the right place and at the right time.
The email marketing automation feature allows you to send relevantly, anticipated, and contextualized messages at the appropriate time.
The feature also enables you to use inbuilt automation templates and then watch your sales grow.
Drag-and-drop Content Editor
The drag-and-drop Content Editor feature is intuitive and offers you all the necessary tools you require to create a state-of-the-art newsletter that is a breeze.
Also interesting, is that you can boost your performance using the one-click Product Picker, beautiful email templates, unique Discount Coupons, and interactive CTR boosters.
This feature allows you to select how you can turn your site visitors into regular subscribers with various types of signup forms. These forms are fully customizable and mobile-friendly.
Equally, you can also grow your list using customizable landing pages, non-intrusive Signup boxes, a new Wheel of Fortune. And as well as exit and welcome intent Popups.
Omnisend application helps you with different actionable reports that highlight the forms with the most collected data, the highly appealing aspects of newsletters, and the best campaigns.
Apart from being on your dashboard display, these reports can also be sent to your email to help you view the metrics of your performance when it's convenient for you.
Omnisend Pricing:
Less than 2,000 subscribers & Up-to 24,000 emails/month: $30 per month
Less than 5,000 subscribers & Up-to 60,000 emails/month: $60 per month
Less than 10,000 subscribers & Up-to 120,000 emails/month: $102 per month
==>> Get Started With Omnisend!
#3: ActiveCampaign
ActiveCampaign combines email marketing, targeted messaging tools, sales, automation, and CRM tools into a user-friendly and integrated platform to streamline the user experience.
With this platform, you can easily create engaging emails, utilize social media marketing, discover more about your email contacts, and also apply some marketing automation technologies that were previously unreachable for small establishments.
The main features of ActiveCampaign include:
This feature connects your marketing strategy to the behavior of a contact, which allows you to respond to what they're doing on your business website and change your marketing efforts to suit their interests.
It enables ActiveCampaign to know what individual contact is doing on your business website, and you can use this information to segment all your contacts and also alter your marketing.
ActiveCampaign provides intelligence-driven automation that allows the users to update contact data, initiate campaigns, and also reach out to various sales leads with a little training.
This automation tool is a drag-and-drop feature with some drop-down menus that simplify campaign-building.
This feature enables you to test email body content, sender information, and subject lines to help you identify what works well with your target audience.
You can easily define how many email contacts should get every version of the set test and later send the winning one to the rest of your email contacts.
Intuitive automation builder
This feature is an intuitive drag-and-drop flowchart tool that you can use to create powerful automation easily and quickly with minimal training.
The ActiveCampaign platform goes out of the way to facilitate the work you're trying to accomplish.
The ActiveCampaign platform offers you the ability to build unlimited lead scores with some unlimited rules to give you the control and flexibility to prioritize your company leads along with the criterion that's important to your business.
You can use these lead scores to start automation so that you can automatically distribute a particular lead to the sales team when they obtain a threshold score.
ActiveCampaign Pricing:
1,000 emails per month: $29/month
5,000 emails per month: $89/month
10,000 emails per month: $139/month
==>>> Get Started With ActiveCampaign
#4: ConvertKit
ConvertKit refers to an email marketing application primarily meant for bloggers and individuals who sell their products through online stores.
But not individuals who would like to target some multiple audiences.
This platform is not suitable for people who do not have technical knowledge because there are some options in the email editor, which require you to insert code snippets.
It offers resources that help bloggers grow their businesses, such as automated workflows, handy widgets, helpful support, and incisive reporting.
The main features of ConvertKit platform include:
The automation rules build some distinct workflows that develop personalized customer journeys.
You can link actions, conditions, and events with a click, as well as the subsequent steps that guide subscribers to a projected conversion.
ConvertKit offers some customizable opt-in forms that direct subscribers to the desired calls of action that are relevant, immediate, and personal.
Segments and tags assist users in managing and manipulating subscribers from one list.
The automated emails can be customized utilizing drag-and-drop sequence builders specifically designed to build a list of subscribers.
The homepage dashboard displays subscriber data, and this feature provides you with subscriber data and a comprehensive opt-in conversion tally on the homepage dashboard screen.
ConvertKit Pricing
1,000 contacts: $29/month
5,000 contacts: $79/month
10,000 contacts: $119/month
==>> Get Started With ConvertKit
#5: Constant Contact
Constant Contact is an effective email marketing and marketing automation solution that assists businesses in becoming more proficient.
Most especially when it comes to using social media and email advertising to obtain, convert, and also retain customers.
The application includes a wide range of email templates with some drag-and-drop elements and also multiple methods of uploading contacts.
Furthermore, users of Constant Contact enjoy unlimited access to social media features, inbuilt event management tools, and various resources to help businesses succeed in their marketing efforts.
The key features of the Constant Contact platform include:
Constant Contact provides you with a wide array of ready-made templates that suit your needs. You can easily edit and style this template to send your information to your email contacts.
With the Constant Contact platform, you can easily add images to all your emails due to the lightweight library function. Again, you can access numerous free pictures in the Constant Contact library.
If you usually send out emails on a regular basis, and you would like every individual who signs up to your business newsletter to get a specific email on a particular day.
Then this great feature will help you set up the series of emails that'll automatically sent more efficiently.
This feature makes your marketing efforts easy, and you can see an easy to read and engaging report customized to suit your marketing efforts to help you get measurable results in a short time.
If you regularly run events, this feature will make your work easier. In a few clicks, you can set up your event, and the Constant Contact app will take care of the tracking registrations and receive the payments as well.
Constant Contact Pricing:
500 contacts: $20/month
5,000 contacts: $65/month
10,000 contacts: $95/month
==>> Get Started With Constant Contact
#7: Sendinblue
SendinBlue is a powerful email marketing app that empowers businesses to build and develop relationships utilizing sophisticated transactional emails.
Not just that, but even SMS messages, email campaigns, and complex marketing automation workflows.
It also includes advanced email features, which allow users to know when the recipients have opened the sent emails and proactively adjust the content to increase engagement.
SendinBlue is loaded with features to optimize your processes. It has integrated marketing automation that you can use to personalize your workflows and leverage your contact management.
A feature called "send time optimization" helps you increase open rates by using algorithms to pick the right time in sending emails.
Additionally, you can build a dynamic list from a set of predetermined filters where contacts are automatically updated every 24 hours.
Features
The marketing automation feature enables you to create and send compelling SMS and email messages to your email contacts when they're most likely to act.
Both experts and novices can create multi-channel and multi-step campaigns in a few minutes.
SendinBlue makes it pretty easy to expand your target audience and also merit more conversions with advanced contact tools.
The feature allows you to collect email addresses, push out easily customizable forms, and even embed it on your business website.
This feature enables you to build an active list that's based on a pre-determined set of filters, such as your search criteria.
The list will be automatically updated every 24 hours. This fantastic feature is essential when using your existing records by building new listings from your segmenting contacts.
SendinBlue app offers a wide range of automation workflow templates that you can utilize to enhance your workflow and boost the user experience.
You can combine the marketing automation feature with SendinBlue's SMS and email and platforms, and other services as well.
SendinBlue optimizes the open and click-through rates of your email by utilizing an algorithmic feature to pick the best time to send or deliver your messages based on your selected date.
It uses your contacts' the historic open-times or the past campaign performance of a special contact list to establish the best send time.
SendinBlue Pricing:
9,000 emails a month: $0
40,000 emails a month: $25/month
60,000 emails a month: $39/month
==>> Get Started With SendinBlue
#8: AWeber
AWeber is one of the best applications for email marketing that continues to impress many with its rich feature set and superior autoresponders.
It provides businesses with a way to automate the entire process of delivering personalized and professionally designed targeted messages and emails to their customers as well as send some follow-up emails depending on the schedule.
This feature usually makes it pretty easy for many businesses to build relationships with prospects or even maintain and boost bonds with existing clients.
The key features of AWeber include:
This feature enables the users of AWeber to segment data depending on the contents of some fields in their database and the activities of the user activity such as links clicked, web pages visited, and emails opened.
You can then apply this segmentation information to target further and also improve your marketing strategies and plans.
The AWeber application lets users compare variations in some aspects of the emails to find out which performs better or worse.
This feature allows users to automate the entire email marketing process easily.
For instance, when a subscriber clicks a particular link, then AWeber will be set to apply a tag to that specific subscriber automatically.
The tags can then get utilized when deciding which emails to send, to whom, and also when they are submitted.
AWeber software offers over 700 mobile-responsive email newsletter templates.
The emails of AWeber will automatically resize depending on the gadget the subscriber is viewing the message from, whether it's a smartphone, tablet, laptop, or desktop.
Aweber Pricing
500 subscriber's $19/month
2,500 subscriber's $29/month
5,000 Subscribers $49/month
25,000 subscriber's $149/month
#9: Sendx
SendX is a feature-rich and intuitive email marketing application.
It's a simple app ideal for the busy marketer and business owner to help them perform their email marketing practices with maximum efficiency.
The software comes with incredibly reliable capabilities such as Email Newsletter Campaigns, Premium Email Templates, Email Drip Campaigns, Lead Capture Forms, and Pop-Ups, as well as simple rule-based Automation.
With the extremely easy-to-use tools, SendX enables SMBs, B2Cs, E-Learning, Professional Bloggers, and Course Creators to own their target audience and also enhance the growth of their online businesses with confidence.
Features
This feature allows you to create your email list utilizing highly converting landing pages, email popup forms, and inline forms to own your target audience.
The Email sequence feature enables you to automate your marketing efforts with a fantastic rule-based interface that lets you send the right messages to the right users at the right time.
You only need to set it, and SendX will handle the remaining work for you.
SendX marketing automation is mainly managed through its inbuilt automation builder, and that's where you get to build and configure the automation sequences of your campaign.
The builder also includes a drag-and-drop interface that's smooth and straightforward.
SendX platform provides tools for importing contacts, creating your mailing list, and organizing the contact information when it comes to the management of all the connections.
Building marketing campaigns
Using the SendX platform to create your marketing campaigns enables you to take advantage of the unlimited email sends it offers. You're free to launch as many emails as possible.
#10: Drip
Drip refers to a visual email marketing application that supports the building of campaigns and process automation.
This cloud-based solution is usually equipped with a lot of actions and trigger points to help users customize their email marketing workflows.
It supports different types of email campaigns to suit different promotional and marketing needs of teams, businesses, and individuals.
This variability allows them to send personal communications and targeted emails to a group of subscribers.
With Drip, users can connect with their favorite applications and solutions through the software's API or its pre-built third-party integrations.
This enables them to extend the functionality of the web-based program and to gain insights that empower their business.
Features
With the Drip platform, you do not need any manual response to triggers. This application comes with assorted triggers and relevant responses in the automation builder, saving you a lot of time.
Drip allows website owners to gain more leads via different email capturing techniques. These methods include embedded forms, widgets, hosted forms, and triggered popups, making mailing lists to get populated easily.
Building an email campaign using the Drip platform is an interactive and exciting process. The software comes with a visual workflow builder feature that allows users to meticulously create their customer journey, with corresponding actions and triggers.
Drip enables its users to send some emails to specific subscribers that suit a particular profile using the targeted campaign feature.
The targeted campaigns are drip campaigns, one-off emails, and email blasts, which increase the chances of customer retention.
Drip integrates with multiple solutions and applications that extend the software's usability.
The connectivity feature allows the users to seamlessly transfer their information from one application to another and gain more subscriber insights.
Drip Pricing:
2,500 contacts: $49/month
5,000 contacts: $99/month
10,000 emails per month: $184/month
#11: Klaviyo
Klaviyo is a cloud-based marketing solution that is centralized and easy-to-use.
It allows eCommerce marketers to efficiently and effectively personalize, monitor, target, and also enhance their marketing campaigns. Which includes Facebook and email campaigns.
Klaviyo makes it pretty easy to segment without depending on conventional tools like pulls in data and spreadsheets from current eCommerce platforms.
This simple-to-use and powerful marketing system include site tracking, segmentation, autoresponders, custom activity fields, 360-degree customer profiles, drag-and-drop email designs, 1-click integrations, and ROI-based reporting features.
Features
The amazing segmentation features allow the right message to get delivered to the appropriate customers at the best time.
That eliminates guesswork and assists organizations in targeting customers based on the actual data and the segments update in real-time as well.
This feature automatically qualifies, and score leads depending on demographics and prospects online behaviors, which includes frequency. You can assign your weights to determine the prioritization of lead scores.
The Klaviyo platform comes with inbuilt templates and flows inside the application. You can quickly implement something basic or even customize the models and see results in your online business.
Klaviyo offers an individual user tracking feature that allows you to see your customer's journeys throughout the whole process.
This feature allows you to view different profiles as well how often a customer opened an email, visited a site, made a purchase, and how much the investment was worth, among other things.
This feature allows you to automate pieces of your client's business. For instance, you can create a map showing a series of emails that follow-up with individuals who abandon carts in your client's store, indicating the number of emails, whenever they go out, the people who see them, and the split test mails.
Klaviyo Pricing:
1,000 subscribers: $30/month
5,000 subscribers: $100/month
10,000 subscribers: $175/month
Best Email Marketing Tool For Shopify: Conclusion
As you can see there's quite a list of tools you can easily use for your Shopify email marketing. However, the one you're going to choose is going to depend on what you want for your business based on budget and preferences.
Overall we find GetResponse to be the best email marketing platform for Shopify as it comes in handy with features that can really set you apart from your competition.
While the runner-up platforms we've discovered to be equally good is Ominsend and ActiveCampaign.
If you think there's a better tool please let me hear about it in the comment section.
Learn More