How to Choose Supplier on AliExpress for Dropshipping
Like I often say. Suppliers, determine the success of your business. The quality of the product you are selling is literally the quality of your supplier.  So you should always take precaution while selecting your dropshipping suppliers on AliExpress.
I've received several questions on this topic and that's the more reason why I'm writing this article. On how to choose a supplierr on Aliexpress for your business. Also, to avoid the early mistake most drop shippers make when getting started.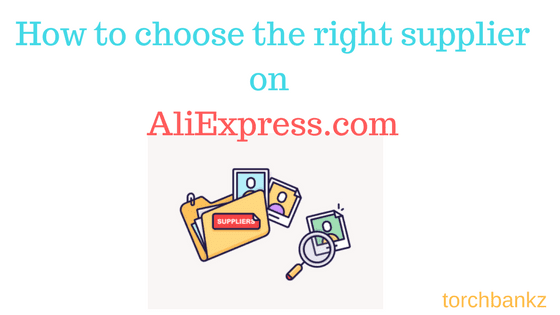 The fact is, as big as AliExpress is, it is clustered with so many suppliers.  So one might not be able to know the good from the bad. But the good thing is AliExpress has put in more effort to eradicate the level of scam on their site. And as such you will hardly hear of scam issues on the site. But however, it is still necessary to take precaution when choosing your supplier. For detailed info on this, you can visit the AliExpress buyer Protection Page.
Choosing the right supplier on AliExpress might be daunting at first, especially if you are just getting started. But following this blueprint will lead you in the right way and prove to be a success for your business. In this article, I will be listing out the tips for choosing the right supplier on AliExpress.
Read Also: How to start a dropshipping business in Nigeria
How to Choose a Supplier on AliExpress 
Be on the look for sellers' guarantees
It is very important to look out for seller guarantees when choosing a seller on AliExpress. This is done to protect you from counterfeit products. When buying the product, make sure you look for the "Guaranteed Genuine" tag.

After ordering the product, if it is found to be counterfeit, you will get your full refund and shipping cost (if included).
Avoid going for the lowest price
  I'm not saying suppliers with low prices are not reliable but before you order the product, compare the product price with other sellers. Then check the product price range. If the market price of a product is $20- $23 among competitive sellers of the same kind of product. Then a different seller offers the same product for $10 then something must be fishy.
At the same time, sellers offering a significantly low price for their products might be doing so to gain a ground in the market. This is probably because they are new. But at the same time, you might not want to be the first buyer.
Another thing you can do is to check the AliExpress supplier's reviews. Check for negative remarks about their quality – this will help you determine if the supplier is reliable or not.
Suppliers on AliExpress are always competing – offering their products on very tight margins. Thus, products with the higher price are normally considered to be of better quality.
Choose Suppliers with Positive Feedback
The two most important things to find out while looking for drop shipping suppliers on AliExpress are –their feedback score and positive feedback rate. The feedback score indicates the supplier sales volume while the feedback rate indicates the total feedback rate the supplier has received.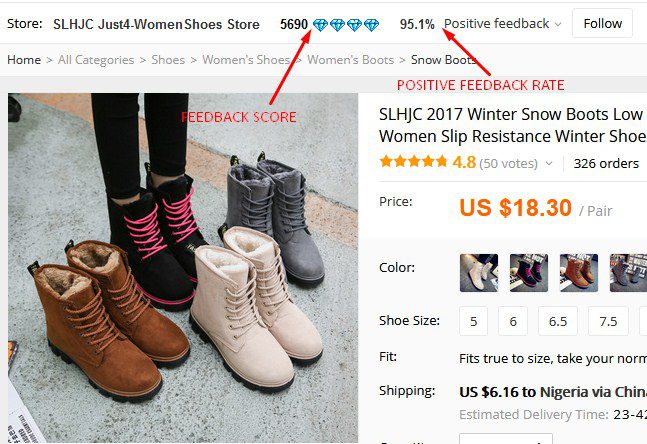 While choosing your supplier, you should always aim for suppliers with 95% positive feedback rate and at least 2000 feedback score. Suppliers with these feedbacks are considered reputable suppliers on AliExpress.com
However, this does not mean that suppliers with less than 2000 feedback score or less than 95% feedback rate cannot be trusted, think of it as safety measures. Also take note of the number of years the supplier's store has been in business.
Another thing to know is this –if you see a product below the above feedbacks. Before you leave, check the supplier's other products and check the positive feedback rates and score for that product. So if it is still no good you can consider checking another supplier.
Avoid supplier selling popular brands products
For the sake of your business, it is highly imperative that you avoid selling or working with suppliers selling popular brand name products. This is to protect you from selling counterfeit products.
Genuine designer products are rarely found on AliExpress so it will be wisdom for you to avoid working with those kinds of suppliers. (just to be on the safer side) And to avoid the legal trouble of selling copyrighted products.
Read Also: How to run a Facebook ad in Nigeria
Contact the supplier before you order the products
It is very important to contact or initiate a communication with the supplier before purchasing the products. This also helps to clear doubt since they are the ones sending the products.
While contacting them it will be good, if you can ask them every detailed question you can think of, like shipping and delivery question.
Pay attention to the responsiveness of the suppliers
Now, this is very important, let's say one of your customers' filed a complaint about the failed delivery of his/her product. Trust me in this kind of situation, you will need absolute attention from your supplier. Eventually, if the supplier is not responsive, this might hurt your business. So it is very important to put this into consideration.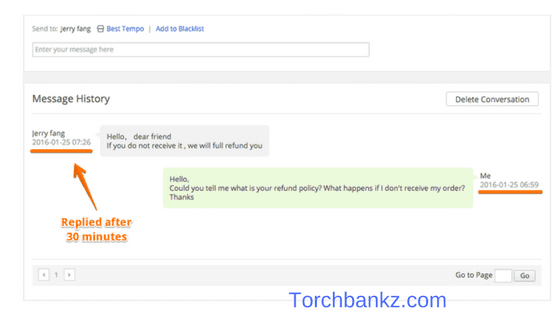 In order to protect yourself from this kind of scenario always to check the suppliers' responsiveness before importing the products to your customers. Simply send a message to them, check the duration between each response and put that into consideration.
Validate suppliers through sample products
If your cash allows it, this can be the best way to check a supplier before working with them. This will allow you to check the product quality, delivery time, product packaging and thus, reliability of the supplier. With these facts, you will be able to put yourself in your customers' shoes.
If you have enough cash, you can order 2 or 3 similar products from different suppliers and check their qualities. Then choose the right one.
The good thing about AliExpress.com is that there are numerous suppliers on AliExpress if one doesn't work out well you can easily find another one.
Buyer's Protection Programme
The buyer's protection programme was put in place to settle dispute between buyers and sellers on AliExpress.com
AliExpress guarantees a full refund of customer payment if he/she does not receive the order. Also, a partial payment will be paid if the item received by the customer is not as described on AliExpress. If the item did not arrive within the stipulated period or the product was a different thing entirely a partial payment will also be paid
If any of the above occurred, the first to do is to contact the supplier. Should in case you are not satisfied with the supplier suggestion you can then proceed to AliExpress by opening a dispute and they will mediate between both parties to resolve the issue. You can learn more about AliExpress buyer protection here.
P.S AliExpress offers a dropshipping plugin that can perfectly help your business. If you already have a WordPress e-commerce website or if you want to order for a new one, the AliDropship can do all that for you.
With the help of "AliDropship Plugin". You can easily import product descriptions and photos from your supplier to your store with just a single click. Then when a product is purchased on your store, the plugin will contact your supplier automatically and the product will be shipped to your customers' address. You can learn more here.
What are your thoughts on this? You can let me know by writing in the comment box. Also if you find this interesting, subscribe to receive our blog Newsletter.
Want to Learn More?