ClickFunnels Affiliate BootCamp Review – Is it Really Free?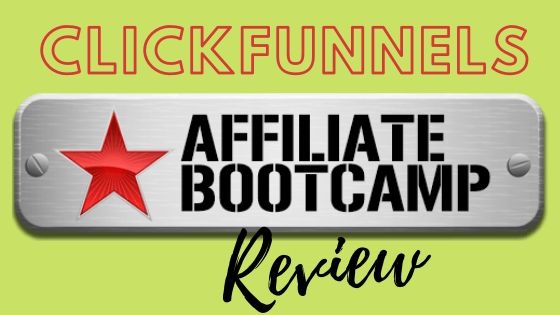 I believe you know one or two things about affiliate marketing already? Else, I won't find you here checking out the Clickfunnels affiliate BootCamp review.
Its true affiliate marketing is one of the best ways to make passive income online. It gives you the privilege to make money while you sleep.
Which of course is the dream of everybody.
Most celebrated internet marketers we now have today started off as an affiliate marketer. This is because the business model is quite easy compared to other online businesses.
It requires little to nothing to start a full-fledged affiliate marketing business. Because you won't have to buy any products or invest in product inventory.
All you need to do is promote other people's products and earn a commission on every sale you referred to the merchant or owner of the product.
Sounds easy right?
I bet we all feel that way until we actually start ourselves. Trust me, it's easier said than done! However, if you're just starting out with affiliate marketing, it's not that difficult as it may seem. Really…!
The only difference between a successful affiliate marketer and not so much success is having access to what works and what doesn't.
This is practically what lead to the Clickfunnel Affiliate BootCamp and hence the review! Here's what we should know, the Clickfunnels affiliate Bootcamp isn't just for affiliate marketers.
It's basically meant for all internet marketers seeking to transform their business or take it to the next level via sales funnels. You'll be equipped with tips and strategy at which you can use to promote any business.
Be it affiliate marketing, your personal products or even your services. You'll be able to master sales funnel and turnaround your business world.
In this Clickfunnels affiliate Bootcamp review, we're going to see the In and Out of the Affiliate Bootcamp training. You also get to know if it's actually free or not.
What's The Clickfunnels Affiliate BootCamp All About?

The Clickfunnels Affiliate Bootcamp is set up to turn every participant into a super Clickfunnels affiliate via the 100Days actionable plan.
This was pioneered by Russell Brunson who of course is the brain behind the Clickfunnels software with the primary motive of making affiliates make money promoting Clickfunnels.
It all started when Russel Brunson reached out to the top affiliate marketers promoting Clickfunnels from the early days.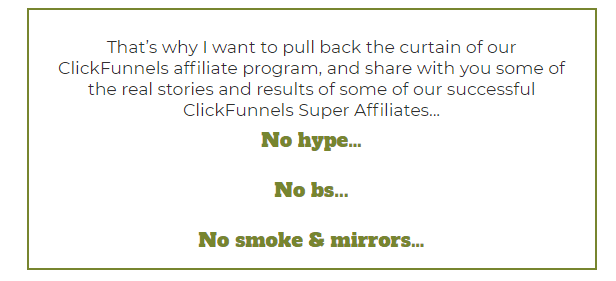 He did this with the mindset of finding out what the super affiliates were doing to be successful in their affiliate business while others are not.
This lead to the question he asked them:
If you had to feed your family with nothing but your affiliate commissions…

And you had only 100 days to turn this hobby into a full-time career…

If you were starting pretty much from the scratch, with

No Large list to email
Nor product of your own…
No influencer connection
And no online reputation established just yet…

What would you do (Over the next 100 days)    
The above question got a response from 15 of the top affiliate promoting Clickfunnels. This response wasn't just a quick one. But a detailed and actionable plan that can be achieved.
Some of the top affiliates shared how they started from debts, while some had to quit the job they hate. And finally, some just to feed their family.
It didn't stop there, Russell Brunson had to further invite them for an interview with their actionable plan. This, however, led to the Clickfunnels affiliate Bootcamp.
So, these top Clickfunnels affiliates marketers are the 15 coaches of the Clickfunnels affiliate Bootcamp. Where they share their 100Days actionable plan from zero to millions with the participant.
Overview of Clickfunnels Software & Affiliate Program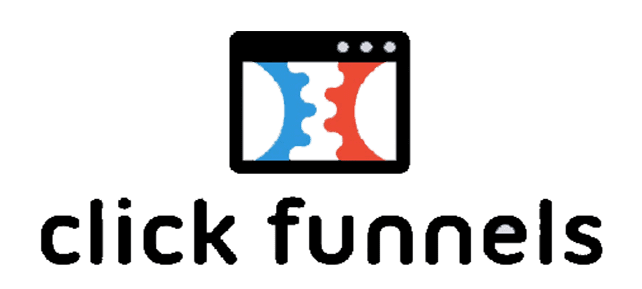 Since the Clickfunnels affiliate Bootcamp lay more emphasis on promoting Clickfunnels software. I think It'll be fair enough to talk about the software and their affiliate program.
The Clickfunnels affiliate program is quite unique as it gives the affiliates more advantage to make money via the platform.
The software itself was created way back 2014 by Russell Brunson and his team. And ever since then, Russell Brunson has turned it into a 6figure a year business. He was even featured on Forbes!
It has also created hundreds of millionaires via their sales funnels and affiliate marketing program. Basically, the Clickfunnels software is a drag and drop website builder that allows you to easily create:
Landing pages
Webinars
Squeeze pages
Membership sites
And limitless sales funnel you could ever imagine…
The Clickfunnels software has two pricing plan which is the BASIC and ETISON plan. The BASIC plan cost $97/month, while the ETISON plan costs $297/month.
The highest plan being the ETISON gives you the ability to start your own affiliate program to promote your business. The tool for this is referred to as the BACKPACK.
And finally, you also get to replace your email service with Actionetics MD. All these practically gives you the ability to market and sell your product without involving any developer.
The Clickfunnels affiliate program on the hand is quite unique like I said and has one of the best payout systems.
The affiliate program payout 40% recurring commissions for every active member you referred to use the software. You get to earn the 40% recurring commissions as long as they remain on the platform.
Also interesting about this, is that you can win prizes in the affiliate program. You could win a $500/month towards your own dream car.
This is after you've must have hit your 100 active referrals on Clickfunnels.
Furthermore, there's also 5%, 2-tier commission you get to earn if you can also refer affiliate marketers to promote the software. This commission is also a lifetime commission as long as the referral is active.
On top of that, there are still other products you can promote around Clickfunnels that's still going to earn you a 40% commission. Amongst these are the DotCom Secrets, Expert Secrets, and many others.
What makes Clickfunnels affiliate program so unique is its sticky cookie features. This sticky cookie gives you the ability to earn a commission on your referral future purchases.
This means you get to earn a commission on your referral if they buy another product on the Clickfunnels ecosystem. Be it 100years after!
Gain Access Now!
Who Should Join the Clickfunnels Affiliate BootCamp?
One of the uniqueness of the affiliate Bootcamp is that the training is not limited to affiliate marketers trying to promote Clickfunnels.
The training cut across all field on internet marketing. It doesn't necessarily mean you have to promote clickfunnels as an affiliate. You could use the same training to market your own products on any niche.
It could be on real estate or selling of informational products the list is just endless. Plus, it also going to give you an edge if you decide to join the Clickfunnels affiliate program.
So, basically, if you're just getting started with affiliate and internet marketing, you'll need to join the Clickfunnels affiliate Bootcamp.
It's a step by step training meant for both beginners and successful internet marketer seeking to take their business to the next level.
The top 15 affiliate marketer will be holding each student by hand through the course of the training in achieving the 100Days actionable plan to transform their life.
The tips and strategy taught are completely out of this world and it's a new approach to internet marketing as a whole.
Is the Clickfunnel Affiliate BootCamp Really Free?
So, here is the truth. The Clickfunnels Affiliate Bootcamp is actually free. But your access to the training will be limited after 96hours.
The deal here is that you can watch the interviews of the 15 top affiliate marketers while they share their 100Days actionable plan on how you can become a top super affiliate just like them within 96hours.
That makes it a total of 4Days to go through the training and if for any reason you missed it, the training is gone. This is because access to it is not a lifetime.
The interviews are only available for 48hours for the first day, the subsequent are 24hour. And after that, they are gone for life. The interviews are spread over the cause of 4days.
This means you have to block out time to immerse yourself in the interview in other to make most of it.
I feel the motive behind this is to make all participants go through the training and implement what they've learnt from the training.
However, if you wish to gain unlimited access to the interviews and much other training for a lifetime. Then you'll need to sign up for the One Funnel Away Challenge.
Who Are the Coaches of the Clickfunnels Affiliate BootCamp?
Let's talk about the top affiliate that's going to be sharing their experience with you and how you can replicate their plan:
#1. Russell Brunson –
Russell Brunson who of course is the Co-founder of the Clickfunnels software started the BootCamp with the introduction. He started off preparing the mindset of every participant and explaining the overview of sales funnels.
#2. Steve J. Larsen –
The second coach who happens to be Steve Larsen explains how you can create an irresistible offer. These are offers that'll make it impossible for your potential customer to say NO!
He does this by walking every participant through a step by step guide.
#3. Dave Gambrill –
Dave explains how you can cultivate a community of happy buyers that are going to stay with you month after month. Which will invariably allow you to grow a monthly recurring income even while you sleep.
#4. Racheal Pederson –
Racheal Pedersen walks the students through how they can use the power of building genuine relationships to find the right buyer.
#5. Jim Edwards –
He talked about how participants of the Clickfunnels affiliate Bootcamp can dominate the affiliate leaderboard. This could be any affiliate programs and how they can become the #1 top producing super affiliate.
#6. Greg Jeffries –
Greg explained the simple process he uses to find pockets of low-cost, low competition traffic searching for a solution. Then how to monetize them.
#7. Jacob Caris –
Jacob Caris simplifies the process of becoming a super affiliate when you have tons of other commitments to attend to. He explained how you can be successful at this even if you have almost no time in your day.
#8. Dana Derricks –
The super Dana Derricks talks about the "Dream 100" method that can make you a Clickfunnels super affiliates. Which is without spending money on adverts.
#9. Joe Marfoglio –
Joe explained how you can correctly set up your YouTube Channel as an affiliate and create strategic high converting videos.
#10. Spencer Mecham –
Spencer will walk you through how you can leverage the hot traffic already searching for a solution. He makes this so simple by breaking it a step at a time.
#11. Marley Baird –
Marley Baird also explained why YouTube is the number one best way to generate leads and equally gain affiliate sales.
#12. JR Rivas –
JR Rivas lay emphasis on Facebook. He made an explanatory video on how to build value with your audience on your Facebook profile page.
#13. Josh Rhodes –
Josh also talks about how you can create an offer that's irresistible for customers to say NO! He breaks it down bit by bit and how you can be a master of this.
#14. Tyler S. Clark –
Tyler Clark will walk you through a step by step guide on the 11 actionable steps that got him from 0 to 106 paying affiliates in 100Days.
This isn't just a mere say, he's going to break this down with a practical example that makes it realistic and attainable.
#15. Billy Gene –
Billy Gene explains why you should create a free offer to earn your customer trust and retain them as an affiliate. He'll also show you how to demonstrate your map and guide your audience straight to their destination.
#16. Peng Joon –
Finally, the last coach Peng Joon. He's going to show you how to create a powerful "leverage" and build your email list for free as a super affiliate.
Having gone through the training myself I believe the BootCamp is far worth more than $1000 not alone making it free for the public.
Again, thinking about it, they made it easy for you to promote Clickfunnels as an affiliate so it's a win-win case for both students and clickfunnels.
Both parties get paid when either makes money. So, it fair enough for them to restrict access to the boot camp after the 4th day because it's worth more than free videos.
Final Thought on Clickfunnels Affiliate BootCamp Review
Personally, I believe you should just sign-up already and go through the course since it's only free. There's no further obligation from your side.
You don't have to buy or pay for anything. All that's required of you is the commitment to register, show up and implement what you've learned.
Once you've registered, you'll get access to the 15 videos from the top super affiliate. They will be spread across the 4days.
The first day comes with 48hrs access while the rest are limited for 24hrs. With this, you just have to plan your time and dedicate a few hours a day for watching the videos.
This will allow you to make most of the training and easily implement it.
So, there you have it on Clickfunnels affiliate Bootcamp review!
If you have any further question, please use the comment section!
Learn More