Clickfunnels vs Shopify: The Idea Platform for Quick Sales?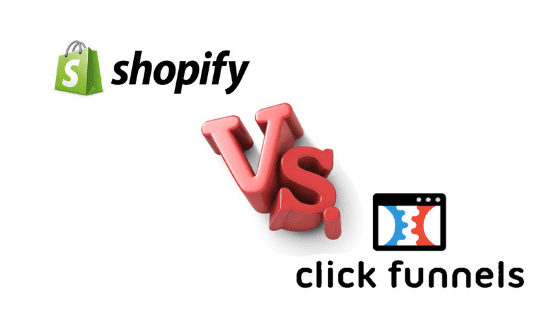 The main reason for starting that e-commerce store either with Shopify or Clickfunnels is for you to generate more sales. Which invariably is to make more money right?
However, starting one is not so easy, there are many things to consider before you finally decided to launch your online store.
These things could be your marketing channel, winning or hot products and most importantly how to retain your customer.
Trust me, achieving all these goes beyond selling hundreds of products or having a beautiful online store. There are many functionalities you need on your store for you to successfully achieve this.
Hence the Clickfunnels vs Shopify review!
I understand that it may seem a bit confusing while choosing the right platform to sell your products. But you have nothing to worry about. As I'll be making this simple and straight forward.
At the end of this post, you'll understand what both platforms have got to offer since they are both wonderful platform.
You'll also understand which of their strong points should you use to your own advantage.
They have different strength and weakness and this is exactly what we've come to explore. So, in the end, you'll be able to make the right decision for your business based on what each platform brought to the table.
Clickfunnels Vs Shopify: Platform Overview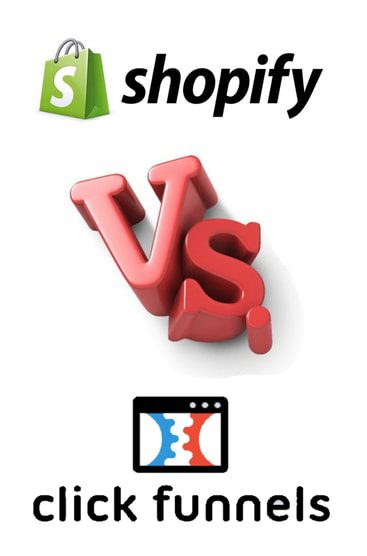 You should understand that these platforms can both be used by a complete newbie and even a tech savvy. This is because they are both website builders you can use to create any website without having to learn any sort of coding.
Shopify is basically meant to create an e-commerce website with their hundreds of template at your disposal both free and paid.
While Clickfunnles is more sophisticated in terms of building any sort of website with sales funnel to radically market your products or services.
Shopify helps you to create a beautiful online store, which is good for any person that wants to sell several products online.
This platform brings back the Traditional brick and mortar store feelings online. That is, when people visit your store they will have access to various products.
This could, however, increase their shopping cart as a result of more products to shop.
Nevertheless, this could also stop them from making a purchase at the time if they found more products to buy with the hope of coming to buy when they have more money.
But overall, you'll have access to everything you need to set up an online store. From beautiful store themes to app you can further integrate to your online store.
Clickfunnels, on the other hand, is overly about selling and marketing. So, basically, Clickfunnels is built to help users of their platform make most of their business as quickly as possible via several sales funnels.
They virtually have a sales funnel for any kind of business. Be it selling your actual products online or running a dropshipping business to affiliate marketing.
What is a Sales Funnel?
A funnel is the sales process that you lead your potential customers through to learn more about your product(s) and ultimately decide whether or not to opt-in to what you are offering.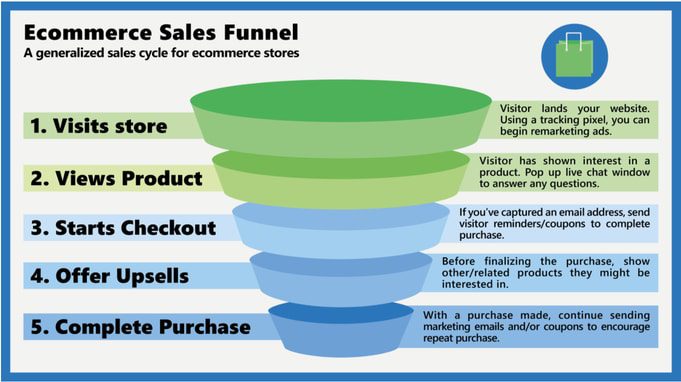 It's a powerful tool for driving objectives, like:
Purchasing your product
Signing up for your store newsletter
Joining a membership site
Here's an Example of Using ClickFunnels to Sell Your Product
Clickfunnels doesn't build you a typical online store like the popular Shopify. Instead, it's a sales funnel software that built you a single products page with several products at the back end to compliment your customer.
This is after they've must have purchased the first product which is usually cheap and attractive. The other products now serve as a complementary product to the first product through upsells and downsell.
Let's say you're using "the free plus shipping offer" that allows them to get a product for free but only pay for the shipping fee.
When a customer lands on your product page, they are likely to make a purchase instantly because of the offer you're selling to them.
This could be "pay for shipping only or a "massive discount" whichever of the two, immediately they make a purchase they will be upsold with a complementary product usually a high ticket product and further downsell with other product.
Even if they don't buy the upsell, you must have captured their emails in the first instance. And this will be used to remarket them with the high ticket product when they go through your email sequence.
Clickfunnels Overview & Features
Let's take a look at the features of Clickfunnels and how it can aid your e-commerce business for making more profits.
Clickfunnels being a drag and drop website builder makes it easy to build any form of websites. You don't have to know a single code to successfully use this platform.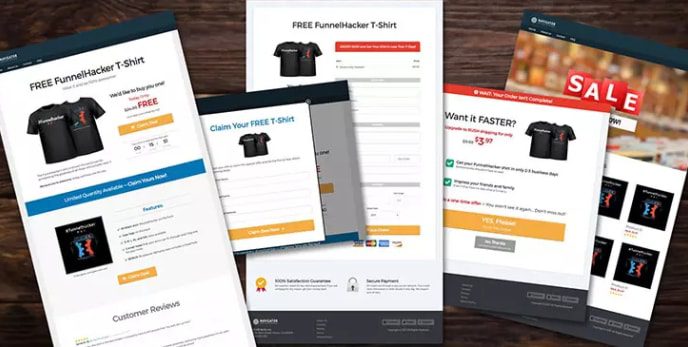 Shopify on the hands also has templates but some of these templates still require editing that has to do with CSS and HTML for including some functionalities or removing a certain feature.
Clickfunnel made everything easy as you can easily replicate any of their sales funnels for e-commerce to easily sell your products.
Best part? These funnels can be used to sell any kind of products be it physical products or digital products.
They equally have a template for sales pages, squeeze pages and every other thing you might need to successfully sell your products online.
Clickfunnels allows you to add several third-party apps to enhance your product marketing. From email integration to payment gateway etc.
You could also integrate Google spreadsheet as a means of integrating your store with AliExpress for your dropshipping business.
This is possible through the help of Zapier. It integrates your Clickfunnels account with Google spreadsheet or any third party app you want to use with Clickfunnels.
The Google spreadsheets on the other hand help in collecting orders automatically for dropshipping
Clickfunnels helps you to modify, change or make any effect such as colours, text and the likes to your funnels.
Which is advisable because it allows you to understand each funnel, thereby giving you an idea on what work and what doesn't.
A/B split testing is simply the process of comparing two versions of a web page and testing them to see which convert the best.
Clickfunnels gives you the ability to easily do this and helps you make most of your adverts for better conversion and more sales.
One of the strongest features of Clickfunnels is the ability to easily capture emails of potential customers.
This made sense for selling physical products because you can always introduce a similar product to what they've gotten before. Which can invariably turn them into an ever paying customers.
They have an inbuilt email automation software called Actionetics. You can basically do any sort of stunts other autoresponders does.
You can write an email in a series and automate the whole process. This way, people opting into your campaigns can receive messages as though you're talking to them directly.
This unique feature allows other marketers to market your product on your behalf and in turn earn a commission for it. This is simply having your own affiliate program for your products.
This simple feature can allow you to generate an income passively without any work from your side. Those interested in promoting your product will be the one to do the marketing.
This actually stands Clickfunnels out, as the option is not common and not a feature you can easily find on other platforms.
Shopify Overview & Features.
Shopify is equally a website builder with ranges of Apps and themes to beautify your online store. You could give your store any kind of functionality from thousands of apps available from the Shopify app marketplace.
Themes selection.
Shopify has hundreds of both free and paid theme on their platform that Merchants can easily use to create their online store. Most of the themes are flexible, giving you the ability to customize them.
You can also add your own functionality via CSS and HTML if you are the tech-savvy type. Plus, they also stand out and are both mobile and desktop responsive.
This will allow your store to stand-out on both mobile and desktop version, which invariably give your customer a great user's experience.
Payment gateways
Shopify beats payment restriction as it allows or supports hundreds of payment options around the world. The payment options available on Shopify is quite more than that available on Clickfunnels.
This makes it easy for all Shopify merchants to easily receive payment irrespective of their country and location. This option includes Visa, American Express and various other popular payment gateways like PayPal and the rest.
Another interesting part about their payment option is that its design to include taxes option while receiving payment and also offer your products for free shipping.
Shopify's Apps Store
Shopify has an app's store that provides you with free and paid apps for running your store successfully. There's virtually every app for any kind of functionality you want on your store.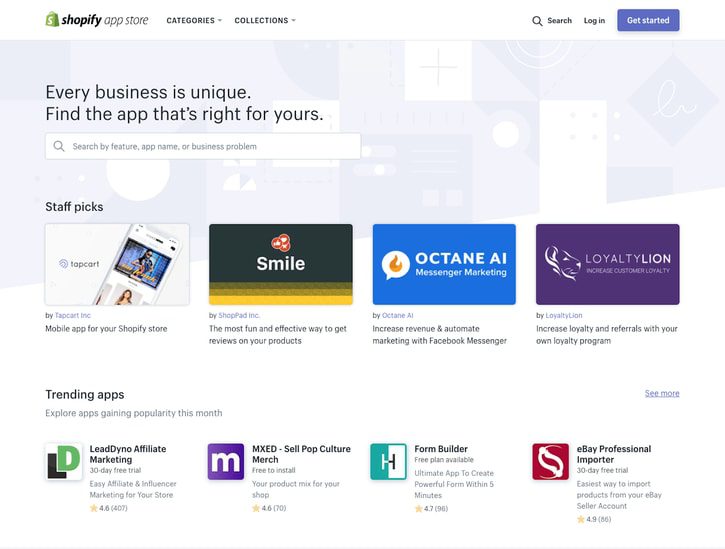 From opt-in integration to Google analytics and email marketing campaigns. The app market is loaded with ranges of apps to use to enhance your e-commerce store.
Shopify also provides two major apps for merchant using Shopify. The first app allows merchant to manage their business on any mobile device. While the second one allows them to receive payment.
Dropshipping features.
Shopify has good numbers of apps which helps you to integrate suppliers or sellers' goods on your online store.
Popular among these is Oberlo + AliExpres. The Oberlo app allows you to integrate your Shopify store with AliExpress. This way, you can easily fulfil orders from your Shopify dashboard automatically.
So you don't have to worry about trying to sell physical products. In fact, I think Shopify is best known for dropshipping compared to other website builders out there.
Another popular app on this is Spocket. This app also allows you to run a dropshipping business of 2-5 days shipping delivery around the US and EU.
Blog functionality.
This features allows you to create content for your products and market them through content marketing. The blog features allow you to generate additional traffic to your product via SEO and social media.
This is another unique feature that's available on the Shopify platform and even most users are not taking advantage of it.
Though, it could be time-consuming coming up with articles and optimizing them for SEO. But it usually payoff on the long run if done properly.
So, with Shopify, you can create a blog page for your online store and create contents to generate free organic traffics at no additional cost.
Clickfunnels Vs Shopify: The Pricing plan
Let's take a look at the pricing plan of both platform:
ClickFunnels Pricing Plan
Clickfunnel basically has two plan and both of the plans comes with a 14days free trial that allows you to opt-out any time. These plans include:
The basic plan:
this plan cost $97 per month with limited features compared to the other plan. However, even with this plan, you can still gain access to the following:
20 different funnels
A/B split testing
Email Integration
20,000 unique visitor
100 pages
Unlimited contact
3 Custom domains
Click-Pops
Click-Optin
Upsell and Downsell pages
Share funnels
Advanced Funnels
Auto webinar funnels
The Etison Suite Plan:
this plan covers everything in the previous plan as unlimited and also gives you access to every other feature on Clickfunnels.
You get access to Clickfunnels inbuilt actionestics and the affiliate marketing tool for further marketing of your products via Affiliate programs.
Shopify Pricing Plan
Shopify just like Clickfunnels gives you a 14 days' trial to test out the platform. This is irrespective of the plan you choose. They all come with a 14 days' free trial.
This plan includes:
(Basic Shopify) $29/month
(Shopify) $79/month
(Advanced Shopify) $299/month.
Shopify Plus $2000/month
Clickfunnels vs Shopify: Pro and Cons
Clickfunnels is a far marketing tool compare to Shopify. It gives you a detailed plan on how to sell a product quick. And also how to upsell them with higher ticket products via Sales Funnel.
This makes it easy for a complete newbie to set up and make money quick. Since everything is done in a ready-made funnel template. They just need some few tweaking and editing to your taste.
The A/B Split testing option gives you the ability to easily test out different products to see what's trending on the market.
However, Shopify, on the other hand, is specifically built for e-commerce. But selling your products via sales funnels on Shopify won't come as easy as Clickfunnels.
But Shopify is going to give you a beautify store with varieties of products for your customer to choose from. You can also add the blogging functionality to your store and blog about your product.
This will allow you to generate tons of free traffic to your store via SEO if done correctly. Hence, increase your store conversion.
In Conclusion
If you're on for an e-commerce store with lots of product, then the Shopify platform will be your go-to. And as such, you can take advantage of their 14 days' free trial to get started.
However, if you want to sell one or two products via the sales funnel. Which of course, will give you the ability to lure your potential customers with baits. Then upsell and down sell them with high ticket products.
Your best platform for this is ClickFunnels. You can equally take advantage of their 14 days' free trial to test out the platform.
Over to you now!
What's your thought on the Clickfunnels vs Shopify review? Which of the platform do you think is best for your business goal?
Let me know what you think using the comment box!
Learn More: