ClosersCopy Review: AI Copywriting Tool [Pros & Con]
Today we'll be exploring Closerscopy review and see what they have to offer when it comes to copywriting.
If you need to market your product or want to write a catchy headline and persuasive message for your sales copy, you can rely on the help of AI copywriting software.
Copywriting is a skill that requires years of training. It's why most companies outsource an expert copywriter.
However, this is not only expensive, but you'll also have to deal with back and forth communication with the copywriter, which can be frustrating.
Thankfully copywriting tools were created to simplify things. With them, you can automatically generate copies within seconds, and they are cheaper than working with a freelancer.
Now, ClosersCopy is one of those copywriting software tools available. Hence our Closerscopy review. It uses artificial intelligence to write unique compelling sales copies within a short time.
As such, it helps boost your conversion rates, and ultimately make you more sales.
Users only need to answer a few questions about their company, product, and target audience, and the service will generate marketing content that suits their needs.
This ClosersCopy review talks about all the fundamental things of this software to help you make an informed choice.
Let's go through this, shall we?
What Is ClosersCopy?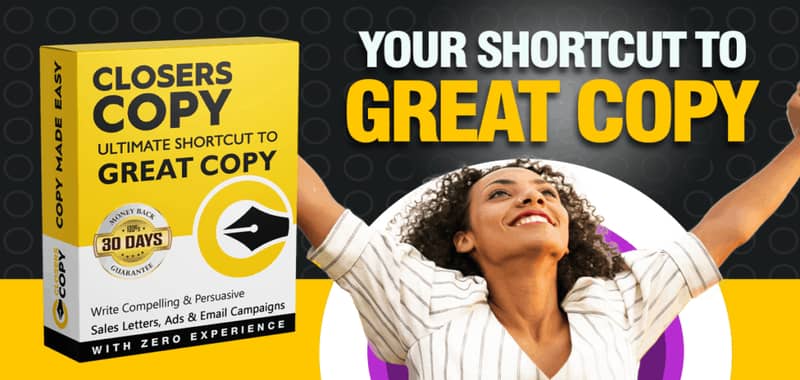 ClosersCopy is a copywriting software featuring a huge library of templates, which one can use to write content for their website and business.
This service can be used by both beginners and expert copywriters to write copies for Facebook Ads, Google Ads, and sales letters, among many others.
Therefore, it will help turn readers into real customers.
Writing a copy using this service is very simple. Once you have selected the template that you want to use, you only need to replace the highlighted text with the message you want, and that is it.
If you find yourself brainstorming for ideas on what to write, or your budget is too tight to hire a freelance copywriter, this tool can help solve your problem.
And it caters to everyone despite their level of copywriting skills.
It can help you increase your conversion rates and traffic while saving you the cost of hiring an expert copywriter.
The platform was created by Nico Engler, an expert copywriter. He wanted to help businesses write compelling copies within a short time and without hiring a professional copywriter.
So he built this platform all by himself to help enterprises achieve this. While he has some team members, the company isn't a huge one.
Plus, it receives all his attention since he doesn't run other businesses.
ClosersCopy targets various people, including:
Businesses owners and marketers who want to sell their products. The service helps them write a persuasive copy that will improve their sales while helping them connect to their audience.
Copywriting enthusiasts. Whether you are a new or expert copywriter, you'll benefit from this tool as it'll make your writing easier and fun.
The available tools and templates will help you write faster, saving you a lot of time.
What Powers Closerscopy?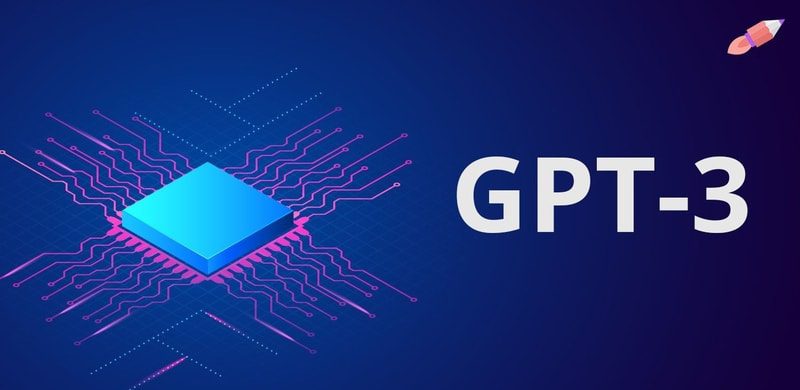 Closerscopy uses the latest machine learning technologies and language models like GPT-3 to enhance your copy and accelerate your writing process.
GPT-3 is a copywriting software created by OpenAI an AI research laboratory based in San Francisco. The AI breakthrough was embraced because of its potential to automate tasks, which could be useful for companies.
The GPT-3 artificial intelligence can respond to any text you type into a computer with another piece of appropriate information that is relevant to the context.
So basically when you typed in a full English sentence to a search box, take, for example, you're most likely to get back some response in a human-like sentence that is highly relevant.
The software itself (GPT-3) is the third generation language prediction software model in the GPT-n series (Successor to GTP-2).
They are all created by OpenAI which was introduced in May 2020 and has been generating high-quality texts since July of the same year, exceeding any expectations for artificial intelligence at this time.
GPT-3 automatically learns from data, how people write sentences by taking into account what words they use most often so it can more accurately predict which word will follow another.
What's even better about this technology is that its ongoing technological research and users should expect even better results.
Soonest, the GPT-3 might be replaced with GPT-4 which will invariably produce a better result.
ClosersCopy Review: Features
ClosersCopy features are designed to help you come up with words that sell in various situations.
While there are many tools in this service, keep in mind that you'll need to input some information to help the service create the best results possible.
Let's explore some features of this service,
#1. SEO Audit
The SEO feature is extremely important if you are using ClosersCopy for your blog like I do. This feature helps by analysis existing content on the internet based on your target keyword.
This tool scrapes the internet then guide you to write a best version that is sure to rank. ClosersCopy make this possible by using what's ranking already as template to write what Google will love.
These features work through a scoring mechanism that lets you know how well you're on track.
With the score of 0-100, you should be able to know when your content might rank well on search engine or not.
#2. Artificial Intelligence
ClosersCopy comes with an artificial intelligence editor for editing your copies. With this technology, you are assured of unique highly engaging content that looks like it's been written by a human.
The AI editor will not only help you in word selection, but it'll also write content for your advert, sales page, and other marketing material.
What many people love about AI copywriting tools is that they make writing quick, short, and easy. The editor will highlight the unnecessary words and ask you if you want to eliminate them.
This is especially useful for those writing in a creative style since AI suggestions, while helpful, are not always right.
#3. LongForm Editor
ClosersCopy's long-form content editor was basically designed for bloggers, marketers and content creators to write content more efficiently without wasting time and money on copywriters.
Using the long-form content features, you'll be able to write content that feeds the search engines and most importantly do it within few minutes depending on how long you want your content to be.
And trust me, this can easily take your content creation to the next level, because there's no limit to the number of words you can write with the long-form content feature.
First thing first, It's highly important to know that these AI's are not perfect, you need to feed it perfect information.
How well you feed it determines the type of content creation you should expect to generate from the AI machine At times, the grammar may be off-key which is not always so but with a few editing, you'll get it back on track.
Below is a full video on how to use the ClosersCopy longform editor.
I'll suggest you watch this over and over just to have a clear insight on how to use the AI software to generate longform content for your business.
#4. Drag and Drop Builders
Compared to many copywriting tools, this site has the most user-friendly builders. ClosersCopy features a smooth drag and drop copy builder.
This allows you to drag and drop elements on the copy, which simplifies writing. Users can mix and match headlines then drag and drop them into their page to use on their sales copy.
However, when configuring this builder, you'll need to provide some basic information for better results. Some things the builder will ask include your problem, desired outcome, and solution.
Let us look at an example. The problem could be unexpected weight gain, the desired outcome could be weight loss and the solution could be weight loss supplements, exercise, or diet.
It covers many niches, hence can create a tone that your audience can relate to. It'll then generate copy ideas depending on the information you give.
However, they may not be perfect. But you can choose one that you like and make some edits for it to read well.
#5. Drafts
The ClosersCopy draft features work just like long-form but are more effective and it generates content a lot faster than the long-form feature.
Using this functionality, you'll have to create an outline first with the proper headings. Take for example, the content title should be written in H1 while subheadings should be written in H2 and H3 respectively.
Once you have your outline, the draft feature will use it to generate longform content for you while putting into account the content title and the outline headings provided for the draft.
By watching the Video above, you'll be able to see how you can generate contents fast within 2 minutes.
However, you might need to add two or three words under each heading provided for the AI to have more data to work it.
If the topic you want to write about is not popular you might want to feed the AI with enough data for it to understand exactly what you want it to write.
The more accurate your text, the more accurate the content that will be provided.
#6. Template Library
The service features various templates for writing different marketing content. You can use it to write Facebook Ads, Google Ads, email subjects, social media posts, sales pages, and landing pages among others.
But note that these are just templates, which means that individuals can use the copy created by ClosersCopy for anything they like.
The company is always adding new templates regularly. Therefore, expect more of different types.
#7. Step-by-Step Copy Wizard
The setup wizard is among the reasons why many people love this site. It gives users guidance as well as suggestions.
When you're working on copy, this platform gives you various suggestions for the words that you can use, how you can format your copy, etc.
Plus, it automatically highlights the mistakes you make, hence you'll know which parts of your copy need improvement.
Also, this copy wizard guides you through how to use the site and its features, making it easy for beginners.
#8. 18000+ Copy Examples
Sometimes you might be stuck on what to write or how to use this service. Thankfully, the company offers various examples that you can check for ideas and inspiration.
The database features over 18000 copy examples for Facebook and Google. This not only helps you save time but also boosts your creativity.
#9. Copy Emotion Analysis
Emotions play a huge role in persuading potential customers. You can, therefore, use this tool to learn about the emotions that your copy conveys.
It also helps you ensure that the tone used matches the intended message. Also, you can expand your vocabulary use and avoid repeating words by using the Thesaurus Lookup.
We should also talk about the one-click headline generator. It allows users to write catchy headlines by generating multiple headlines with a single click.
#10. Content Sentence Analysis
This tool helps break down complex sentences into simple ones. As such, you can see which sentences your audience can easily perceive.
Additionally, ClosersCopy also includes keyword analysis that lets you analyze the keywords to use and effectively distribute them in your copy.
#11. Copy Spam Analysis
Deliverability is always an issue with marketing, especially email marketing. Thankfully, ClosersCopy helps users analyze whether your content will be regarded as spam.
It does this by evaluating your tone and some "danger" words such as "make money", which are flagged by email service providers like Yahoo and Google.
ClosersCopy Pricing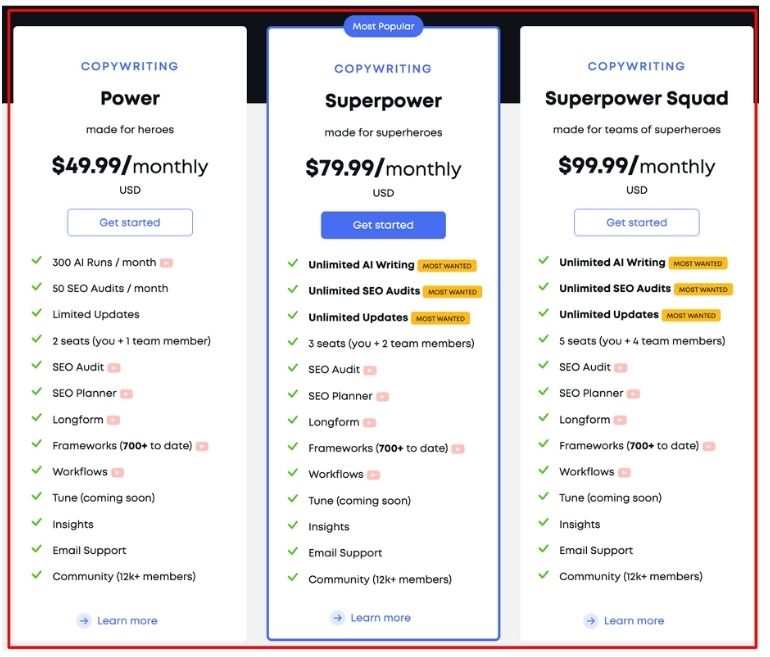 Pricing tiers on this service are affordable. Let's review different plans to help you understand the one that is most suitable for you.
Power Plan
For $49.99 per month, you get:
Downloads
Guidance and Advice
Artificial Intelligence Editor
Thesaurus Lookup
Template Library
Drag and Drop Copy Builder
Step by Step Copy Wizard
300 AI Runs/month
50 SEO Audit/month
Limited Update
2 seats (You plus a team member
Superpower Plan
It costs $79.99 per month and includes everything from the power plan with an addition of;
Unlimited AI writing
Unlimited SEO Audit/month
Unlimited Update
3 seats (You plus 2 team members)
Superpower Squad Plan
It costs $99.99 per month and includes everything from the power plan with an addition of;
5 seats (You plus 4 team members)
ClosersCopy Lifetime Deal
If you don't want the monthly subscription, you can opt for the Lifetime deal that you are given at a discounted cost.
This allows you unlimited access to this software. However, note that this is only for a limited time. Currently, at the time of writing this post, the lifetime deal is still available.
I'll suggest you quickly check here to see if the lifetime offer is still on…
The Closerscopy lifetime deal comes in 3 packages:
Power: $397/one-time Zero monthly fees!
Superpower: $497/one-time Zero monthly fees. No upsells, ever!
Superpower Squad: $697/one-time Zero monthly fees. No upsells, ever!
The unlimited gives you access to everything on the software while the professional plan comes with few limitations. You can check the two price comparisons here!
Should You Get the Closerscopy?
This actually depends on what you want with your business and how willing you're to scale it without investing too much time and energy. This tool isn't for everybody.
But if you're the type selling services or products and you know leads are crucial for the success of your business. Then you definitely need to check it out. It comes with a free trial which is a perfect opportunity to test how it works.
Closercopy will save you:
Time
Stress
And most importantly money!
Getting it is going to create more time for you to focus on other pressing areas of your business without being bothered by paying a high recurring fee to copywriters.
Copywriters are well-paid online entrepreneurs. This is just to let you know how expensive outsourcing your copy to a third party can be.
However, the Closercopy can be gotten for a one-time payment of $697 which is limited at the time of writing this content.
But if you have the time and talent of writing proven copies that sell without having to hire copywriters, I'll say you're better off with the software.
And if not, I'll suggest you go through its features and see the in-and-out of the software. Plus, if it's probably going to worth your investment
Closerscopy Review: Pros and Cons
Let's have a look at some of the good side and bad this software for you to know what to expect when you start using it.
Pros
Comes with intuitive UI and editor
Templates
Uses drag-and-drop copy builder
It uses AI (GPT-3) deep learning skills
One-click copy analyses
Can be used for different niche
Super easy to use
Totally worth the price and affordable
Cons
AI is not perfect
Output can be more
Is There a ClosersCopy Lifetime Deal?
Yes. ClosersCopy offers a one-time deal that costs $697, paid in USD. This offer doesn't come with any upsells or monthly fees.
However, it is for a limited time. If you don't have a budget for this, you can check their monthly tiers, which offer various tools and impressive features.
You can opt for the $49/month plan or $79/month plan, as we've reviewed above.
ClosersCopy Review: FAQ
This closerscopy review will be incomplete if we fail to highlight some of the frequently asked questions about the software.
Is ClosersCopy free?
No, Closerscopy is not free and it doesn't have a free trial. Its entry price starts from $49 a month with a 14-day money-back guarantee.
What is ClosersCopy?
Closerscopy is an Artificial Intelligence driven software that allows writers and marketers to create content automatically with the help of GPT-3 AI.
How do you use ClosersCopy?
To use ClosersCopy, you need to create a project then documents where your contents will be generated by the AI.
What Exactly Will ClosersCopy Do for Me?
ClosersCopy can be used by both amateur and expert copywriters.

For beginners, the site offers plenty of ad copy examples, many powerful words to choose from, and AI features to expand, shorten or rewrite your sentences.

As such, you can create a compelling and engaging copy that can boost your leads and revenue.

For expert copywriters, they can benefit from the features mentioned above as well as copy sentence, emotion, keyword, grammatical and spam analysis.

It also allows users to store their projects in the cloud and includes features for team members.

The service can be used by anyone to generate effective marketing content for their businesses and websites.
Do I Need Prior Knowledge to Get Started?
Not exactly. The platform features an intuitive and easy-to-use dashboard. As such, anyone can easily use it to create their sales copy.

Plus, they have a step-by-step wizard that helps you with the writing process. And also, their customer support team is always on standby to help you answer any questions you might have.

To use this service, make sure that you're logged in to it, choose a new project on the dashboard, and then click the "new document" button to create a document, then name it. After, click "open" to start writing and editing the copy.
Does ClosersCopy Offer a Money-Back Guarantee?
Yes. To increase their customers' trust, the company offers a 14-day money-back guarantee.
If you feel that this service hasn't delivered to your expectations, you can always contact them for a refund as per their terms.
However, make sure that you do so within 14 days of your first purchase.
Closercopy Review: Conclusion
ClosersCopy is undoubtedly one of the best copywriting tools available today. It has various impressive features that will help make your copywriting process simple.
Plus, users are given some suggestions to help them write effective and persuasive content.
This site also allows individuals to sell marketing services that can earn them more than $100 per hour. However, we should mention that you still are required to give some input.
Note that, although rare, AI technology can make mistakes. Thus you should check the suggestions to ensure that they are relevant.
Additionally, the service doesn't offer location configuration, which means you cannot tailor your message to an audience of a specific location.
Other than that, ClosersCopy is an excellent service that can cater to all your copywriting needs under one roof.
That's it on ClosersCopy review, do let me know what you think about this tool in the comment section below.