ClosersCopy vs Automatic Script: Which is the Best Tool?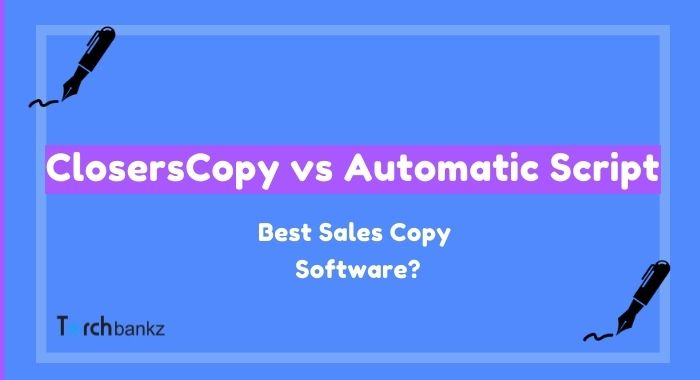 In today's post, we're going to be looking at Closerscopy vs Automatic Script, two of the popular automated sales copy content generator software.
If you are researching ClosersCopy vs Automatic Script already, it shows you are definitely aware of the importance of a good sales copy.
And, you also understand the benefits of investing in robust sales copywriting software.
This is why we aren't going to dwell so much on why you need an AI copywriting software, but we are going to dedicate our entire review to comparing ClosersCopy vs Automatic Script.
In the end, you will know the similarities, differences as well as which among the two is best for you.
So let's get on with it.
What is ClosersCopy?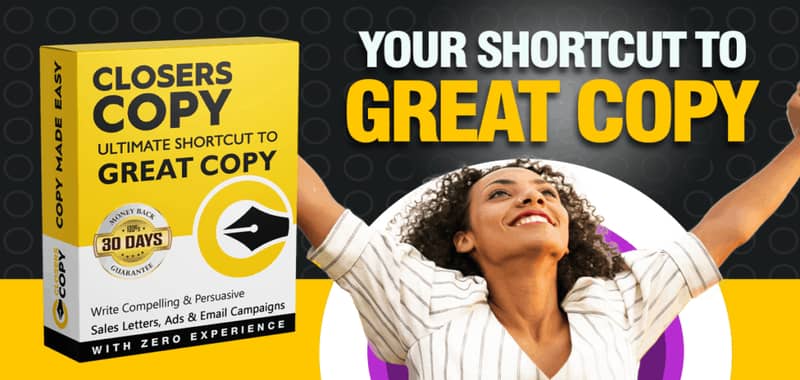 Started from scratch by Nico Engler, ClosersCopy has grown to become one of the most powerful article writing tools.
With ClosersCopy, you don't need to outsource writing services as it can write content for you in seconds.
Because it was launched by an individual, at the beginning ClosersCopy wasn't such a great article writing software.
However, a couple of years later, it is amongst the best. This tool has and continues to get regular updates that make it better by adding more features.
ClosersCopy uses GPT-3 artificial intelligence which was developed by a research company known as OpenAI.
The GPT-3 AI was built to automate tasks. That is, you can key in a couple of commands and the AI generates information related to what you have created.
Nico and his team of skilled copywriters and developers, incorporated this AI in their software and trained it to generate a wide range of copies for you ranging from blog posts to ads and much more.
Other than generating content, ClosersCopy also incorporates various communication and advertising models such as AIDA in creating content for you.
As a result, you can be assured of receiving high-quality copies that are relevant to your niche and current trends.
Even though ClosersCopy isn't human, it can write posts that read as if they were written by one.
The team at ClosersCopy constantly monitors the AI to ensure it performs as expected.
We've written an in-depth ClosersCopy review here in case you'll like to know more about ClosersCopy and how it really works.
Features of ClosersCopy
ClosersCopy comes with many features and tools that make article generation easier. Here are some of the main features of this AI writing software;
Compete – This is a new feature introduced by ClosersCopy. And what it does is it scours the internet for headlines and blog posts that match your entries. This really helps with research.
Headline Generator – People who don't make content can't understand how hard coming up with a headline is. If you are familiar with this challenge then you will enjoy the ClosersCopy headline generator.
Longform Writing Assistant – One of the key features of this article writing software is the long-form writing assistant. Using this feature, you can write content at the click of a button. This feature allows you to choose from various article lengths and how creative the post can be.
Popular Frameworks and Ability to Customize Your Own Frameworks – Very few article generators are trained on how to use frameworks such as PAS and AIDA. ClosersCopy doesn't just feature these models but you can also customize a framework that suits your niche and brand.
A Step by Step Copy Wizard – Nico gets that not everyone is skilled at using an AI. And that's why ClosersCopy features a copy wizard that guides you on using all the features of this software.
Access to a Template Library – There are tons of templates that ClosersCopy makes available to you. If you are interested in a sales letter or a blog post, you just have to navigate to one and start creating content.
Content Analysis Tool – A good online entrepreneur knows that before content is posted, it must be analyzed. ClosersCopy features many tools that you can use to analyze sentences, voice, keyword density and you even get an emotional score.
What is Automatic Script?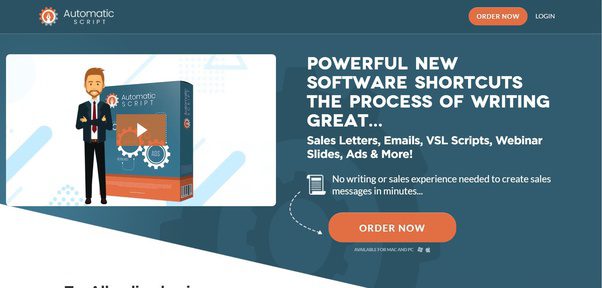 Created by Brad Callen, a professional who has been creating marketing tools since 2002, Automatic Script is another excellent sales copy generator.
You can use it to generate letters, testimonials, CTA's, Facebook ads, video sales, and headliners amongst others.
Even though it doesn't have as many templates as ClosersCopy, the content generated features a wide range of writing formulas which will ensure the final output brings you more leads.
Automatic Script was created for everyone who is in the online industry and wants content that will urge readers to take action.
Are you struggling with ideas? Have you been staring at a blank page for hours with no clue on what to write?
Automatic Scrip will chip in and save your day. It has an intuitive interface, and that makes it even more ideal for entrepreneurs who do not have time to struggle with using an Ai writing tool.
This software was designed to create quality marketing copies that will drive more leads to your website. Most online businesses struggle with getting leads.
Yours doesn't have to be included in that list as long as you have got Automatic Script on your hands.
We've also written an in-depth Automatic Script Review here in case you'll like to more about this software and how it really works.
Automatic Script Features
Automatic Script creates content faster than any human would ever do. And this saves a lot of time when you have a lot of ongoing projects.
It incorporates various writing formulas to give you exceptional marketing copies.
The user interface is very easy to use. And after going through a couple of tutorials it shouldn't be hard for you to generate content.
Automatic Script integrates the minds of renowned copywriters such as David Frye, Ray Edwards, and Bob Stone.
ClosersCopy vs Automatic Script [Similarities]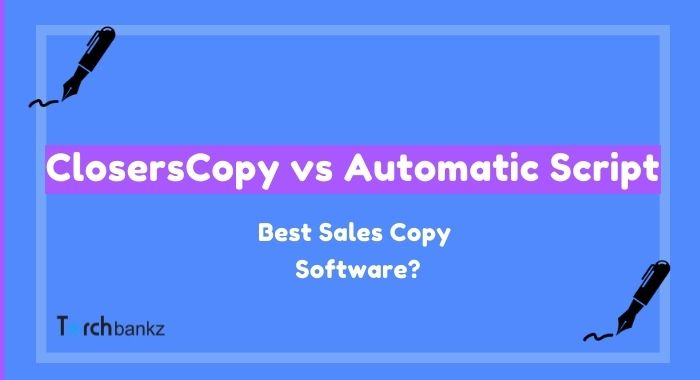 Both being AI content writing software, it shouldn't come as a surprise that they have got several similarities.
Below are some of the things that Automatic Script and ClosersCopy share.
If you are running an online business, you can't operate without sales letters. This is a marketing tool that is in the form of a letter and its role is to promote certain services or goods.
Because of their nature, sales letters have to be persuasive and should urge the reader to take action.
Using Automatic Script and ClosersCopy, you can create an impressive sales letter for your business and use it to promote your goods or services.
Another feature that ClosersCopy and Automatic Script share is the option where you can use both software to create titles.
Coming up with an attention-grabbing title isn't as easy as most people think. Fortunately, these two writing tools allow you to come up with awesome headlines for various topics.
It's worth noting that this feature is available in the basic plans of the two article generators.
When you compare the cost of hiring a digital marketer to be in charge of your email marketing campaigns, and subscribing to either of these tools, the latter is more affordable and it generates content for you faster.
Emails have been the mode of communication for most businesses for years. They are even more useful when you are enhancing your online presence.
Video scripts come in very handy when you are either promoting your brand or business. Nowadays, most people prefer to consume content through videos.
And without a script, you can't create a good video. Automatic Script and ClosersCopy can generate video scripts for you in seconds.
Thus allowing you to make interesting videos for your audience or readers.
Advertisements are very important in making your business more known to potential customers. And in every advertisement strategy or campaign, you must create and share ads copies.
A lot of online entrepreneurs struggle with creating ads copies because they require a lot of creativity and skill.
As article generators, ClosersCopy and Automatic Script have been trained to search the internet and generate ads copies that best communicate what your brand is all about.
With either of these software's, you don't have to struggle coming up with the content for your ads copies.
You just have to give a brief description of the context of your ad, and then either of the two software will come up with compelling ads copies for your business.
ClosersCopy vs Automatic Script [Difference]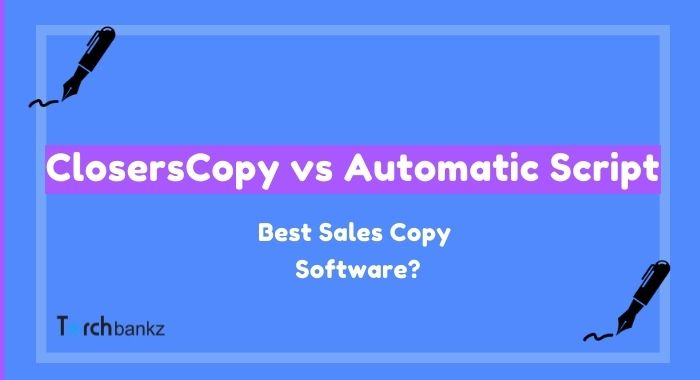 Even though there are a bunch of similarities, as mentioned earlier, there are several differences between these two article generators.
If you compare the two closely together, ClosersCopy has got more features than Automatic Script.

Below, are some of the features that are available in ClosersCopy but you won't find them in Automatic Script.
To provide you with long-form content of up to 3000 characters, ClosersCopy uses an AI known as Megatron to be your assistant.
This tool is quite amazing because it can generate long posts for you and you have the freedom to choose the context as well as how creative the article can be.
Unfortunately, Automatic Script doesn't offer long-form content. They don't have an AI for that as well. If your writing needs require long articles, you should choose ClosersCopy.
Automatic Script will write the following types of articles for you; webinar outlines, headlines, Facebook ads, video scripts, email sequences, testimonials, and many more.
The only thing that it can't generate for you is a blog post. Very few online businesses can survive without blogging.
And if yours belongs in that category, then you may use Automatic Script. However, if blog posts are an essential part of your content needs then your best option, in this case, is ClosersCopy.
Not only does it write blog posts but using the Megatron feature, you can write very long articles.
Because Automatic Script doesn't focus much on blogs and long-form content, the articles it writes are not SEO optimized.
Therefore, if you are a blogger or website owner interested in improving your search engine rankings, then you should opt for ClosersCopy.
This software gives you content analysis tools that check your keyword density and sentences. Thus delivering quality SEO-optimized content.
When it comes to languages you can generate content with, it is essential that you choose a tool that supports multiple languages.
The benefit of this is that should the time come when you want to reach out to a bigger audience, on an international level, you will still be able to communicate.
Businesses that operate internationally will benefit significantly from ClosersCopy multilingual sales AI support.
This software can generate sales copies in 24 different languages. Automatic Script only supports Spanish and English.
Agencies or freelancers that work as a team can enjoy the ClosersCopy collaboration option. This allows you to set up your team and provide each member a project to work on.
It's simple and quite efficient. Unfortunately, this is a feature that is not available in Automatic Script.
ClosersCopy runs on a robust Sales AI that is trained to create copies from over 50 templates. The articles it can write for you are unique and will appeal to your readers.
Automatic Script is more of a professional copywriting software that focuses on creating sales messages.
The difference here is that ClosersCopy is an artificial intelligence tool and it's, therefore, smarter than ordinary software.
ClosersCopy vs Automatic [Pricing]
ClosersCopy has got a very flexible pricing plan that comes with a 14-day money-back guarantee and an option to save more than 30% when you are billed annually.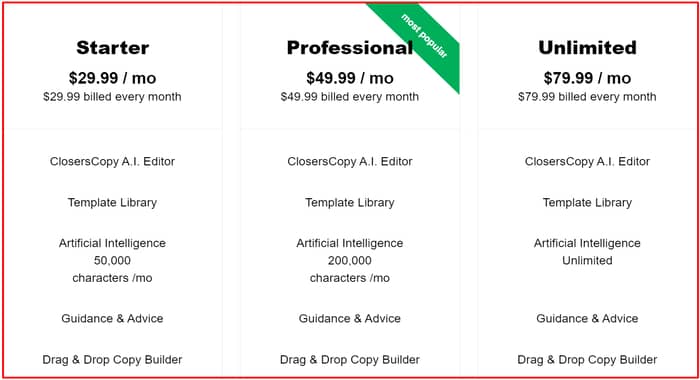 The packages include;
Starter plan for $29.99 a month. This gives you the basic article generation tools such as access to more than 40 templates. It however doesn't have the team feature and you are limited to 50,000 characters per month.
Professional plan for $49.99 a month. You get all the above features plus a higher limit of 400,000 characters.
Unlimited plan for $79.99 a month. Just from what the name suggests there is no limit to any of the features and characters worth of content you can generate. You also get the team collaboration feature.
Automatic Script has only two plans, the Standard that goes for $39 and the Enterprise that goes for $69.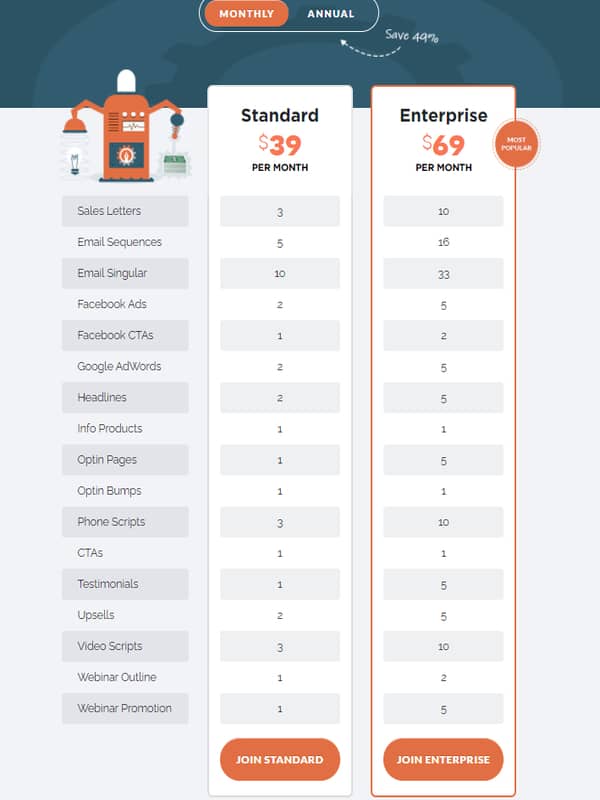 Similar to the above, you can save money when you subscribe to be billed annually.
The standard package gives you the following abilities;
to create 10 email singulars,
3 sales letters,
2 upsells,
2 headliners,
5 email sequences.
The Enterprise plan allows you to generate:
16 email sequences,
10 video scripts,
5 Facebook ads,
Five opt-in pages,
5 upsells,
33 email singulars amongst others.
When you look at these two pricing plans, Automatic Script packages limit you on how many sales copies you can create.
And that isn't very ideal, because you may need more CTA's than video scripts. ClosersCopy gives its users more freedom on how to use the character limit.
Don't forget that ClosersCopy gives you more features even with their lower packages.
ClosersCopy vs Automatic Script: Conclusion
After reading the above, it's evident that ClosersCopy is more robust than Automatic Script. Although both of them seem to be amazing sales copy machines.
But Closerscopy seems to be more affordable and has got many features and its AI is trained to create SEO optimized articles.
With such a powerful tool, you will never have to struggle with writing content or incur high fees when outsourcing content creation services.
So that's it on Closerscopy vs Automatic script,
which of the two appeal to you the most? Let's hear from you by using the comment section.
Learn More: