Closerscopy Vs Rytr: Which AI Copywriting Tool is Better?
In today's post, we are going to compare Closerscopy vs Rytr.
We will have a critical look at Closerscopy and as well, compare it with one of the most popular copywriting tools- Rytr.
These tools happen to be two of the best AI copywriting software as a result of the unique copy they generate.
Both Closerscopy and Rytr have made the whole copywriting journey a walk in the park.
You can create different forms of content from diverse niches.
Considering how near-similar they work, it might be quite difficult to choose which copywriting tools to go for.
That is why we have this review. We will compare the two tools- their features, pricing and other things you need to know about them.
It will help you have a better understanding of which of them is better for your business.
What is Rytr?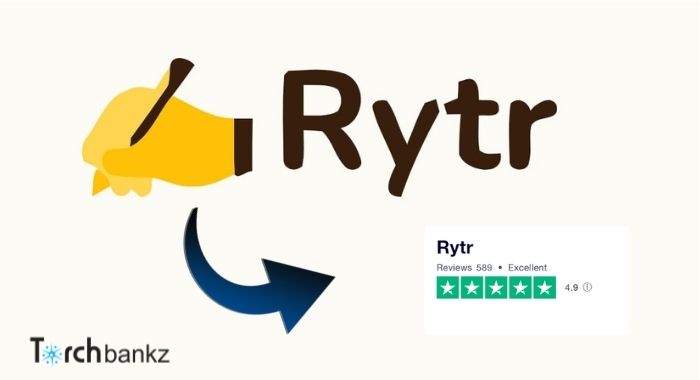 Rytr is an AI copywriting tool that helps you simplify your writing process.
It is an AI writing assistant that is designed to create engaging and quality content within a short period.
Rytr is based on GPT-3 technology which makes the tool write like a human. It gives your content a human feel.
With Rytr, you never have to bother about writer's block or lack of content ideas.
It can write different forms of content such as emails, Marketing Ads, Blog posts, Social Media posts, Business idea pitches and a lot more.
Apart from the fact that Rytr creates high-quality content, it also edits content that has been written before.
You can reword, shorten or paraphrase your content with this AI software.
It also has an extensive formatting option that can help polish your content and make it look more presentable.
Rytr is an all-in-one writing tool.
Right on the platform, you have the SEO analyser that helps you optimize your content with the right SEO analytics, the plagiarism checker that ensures that you have unique and authentic content and an editor that keeps the grammar in check.
More importantly, it makes use of the AIDA framework to generate its marketing copy.
This AI software also works with popular social media platforms such as Facebook, Twitter, Instagram and LinkedIn.
Rytr Features
Below are some of the features of Rytr that make it one of the most popularly used copywriting tools.
#1. Multiple Tones and Languages
Rytr has over 30 languages and 20 tones. Closerscopy allows you to translate your copy easily into about 30 languages.
Some of which are; French, Italian, Russian, Spanish, Sweden, Japanese and others.
The diversity in language will help you to write a copy that is addressed to any nationality or region.
This AI copywriting tool also helps you to write in different tomes that can appeal to your target readers.
Your writing tone could be compassionate, formal, funny, enthusiastic, urgent and a lot more. It will create a level of connection between your content and the readers.
The tool requires that you select any of the tones you want your content to portray. Then, it generates the content that way.
#2. Editor Mode
The Editor Mode is another important feature of Rytr.
With the editor mode, you can rest assured that you would have no challenges with grammatical errors or sentence structure.
It is a very good alternative to Grammarly.
With the Editor mode, you can curate content. It will help you restructure old content to make it better than it used to be.
You could also use it to edit errors and mistakes from content.
The editor mode also helps you to customize your content and also refine it. It could add more sentences to your content to make it more descriptive.
This feature has a Grammar corrector where you can paste your incorrect texts and then they are corrected.
It also has a rich-text editor that gives the content a polished outcome.
#3. High-Quality Content
Rytr produces content that is of high quality. There are no filler words and the content is unique to you.
In as much as it produces the content within a short time, it still ensures that the content comes out with good quality.
The high-quality content it generates is a result of the real-time writing being done. The real-time feature provides feedback on the quality of every writing done.
Rytr has a plagiarism checker that helps you confirm the authenticity and uniqueness of any content generated by the writing tool.
One other feature that makes its content high-quality is the SEO meta description it creates.
The Meta description of any content contributes largely to the ranking of such a website.
To leverage this feature, simply select SEO meta description from the AI use case. Thereafter, paste the content you want to generate a meta description for.
There, you have it.
Rytr suggests content that is on top search in search engines. It also suggests answers to these queries so that you can include them in your content.
ClosersCopy Vs Rytr (Similarities)
Seeing that both Closerscopy and Rytr are widely used copywriting tools, they have a few similarities.
Here are some of the features common with both tools –
#1. Search Engine Optimization (SEO)
Both ClosersCopy and Rytr allow you to write SEO content.
Even though they don't use the same SEO tools, they do at least help with the optimization of content for search engine result pages.
ClosersCopy offers you content analysis tools and Rytr has an SEO meta description that assists you with keeping your content SEO-focused.
With both these tools, you can make your content friendlier to search engines and this can boost your rankings on Google and other search engines.
The tools also help in restructuring old content to make it Search Engine Optimized.
Therefore, if you are looking for a tool that will assist you with SEO, any of these tools is recommended.
#2. AI Software (GPT-3)
Closerscopy and Rytr make use of the GPT-3 language. According to MIT Technology Review, GPT-3 is the only language that can create exceptional human-like text.
And if you have used any software that features this language model, then you will be able to testify to the claims published in Technology Review.
Both Rytr and ClosersCopy run on Open AI's language generator known as GPT-3.
On the two platforms, these AI's have been trained to understand commands and create content that looks just like that of a human.
This is one of the features that make the content high-quality.
Therefore, if you are concerned about giving your content a human feel, any of these tools are recommended.
#3. Plagiarism Checker
One of the things an average content writer is concerned about is the authenticity of the content.
You don't want to write content that can be seen in 1001 other places.
Rytr and Closerscopy generate content in a matter of seconds and one might begin to worry if the content created would be unique.
Closerscopy and Rytr come with an in-built plagiarism checker.
Closerscopy has its content analysis tool which checks the authenticity of the content.
Rytr has a direct plagiarism checker powered by Copyscape. That means you do not need to subscribe to an external plagiarism checker after buying these tools.
This will save you additional costs.
With this, if you are very concerned about how to check the authenticity of your content, Rytr and Closerscopy are the way to go.
#4. Premium Community
When there is the presence of a community for a particular tool, it says a lot about that tool.
It gives the feeling that such a tool is reputable. In a community, you meet with different people who also do the same or similar things that you do.
Apart from the fact that it builds networking, it is another good way of learning more about the platform from those who used it for a longer time.
This is a feature that is present in both Rytr and Closerscopy. Closerscopy has a strong Facebook community and Rytr has a community on Facebook and Linkedin.
This does not mean that the tools are not available on other social media platforms. But the only member communities are on those two platforms.
#5. Multilingual Copies
As a copywriter, one thing you want to establish between you and your reader is comprehension.
The target audience for your products/ services may be Non-English speakers. You should endeavour to write in a language they can understand.
That is why the multilingual feature comes to play in an AI copywriting tool.
Closerscopy supports generating content in about 24 languages while Rytr supports about 35 languages.
With this feature, you can write to address the audience in different parts of the continent.
Rytr and Closerscopy support languages that are spoken by a larger population. They do not cover the languages of some unpopular regions.
#6. Team Collaboration
This feature is present in both Rytr and Closerscopy. You and your team members can work on different projects at the same time using the same account.
However, with Rytr, it might lead to an additional cost.
All your team members can operate on the same account but for each additional team member you add, it costs you $19/month or $19/year on Rytr Unlimited.
While on the rytr saver plan, it costs you $9/month or $90/year.
It saves you $10 for each member if you are operating on the Rytr Unlimited plan (which costs $29/month).
You will simply go to the Team icon on the rytr dashboard and follow the process.
Closerscopy is still much easier with this feature. No additional costs for any other user.
#7. Tutorial
If you have never used any AI copywriting tool, it might not be easy navigating your way through them.
Even if you have prior knowledge of using some of these tools, you might not know the extra benefits embedded in each platform if there is no manual to tell you about them.
That is why both Closerscopy and Rytr made provisions for tutorials.
The tutorials show you how their platforms work, how you can use the different writing tools and who the platform is recommended for.
Therefore, you can rest assured that whichever of the two platforms you choose to opt for, you will be properly guided on how to make the best use.
#8. Money Back Guarantee
Having a money-back guarantee on a platform you are signing up on; builds more trust and eases out any worries.
This is because you know that if the tool does not proffer the required service, you can easily have your money back.
Closerscopy offers a 14-day money-back guarantee. If you are not satisfied with the tool, your money will be refunded as soon as you lodge your complaints.
Rytr also offers a 60-day money-back guarantee.
Therefore, if you want a copywriting tool that you can get your money back if you are not satisfied with it, Closerscopy and Rytr fit into that.
What is ClosersCopy?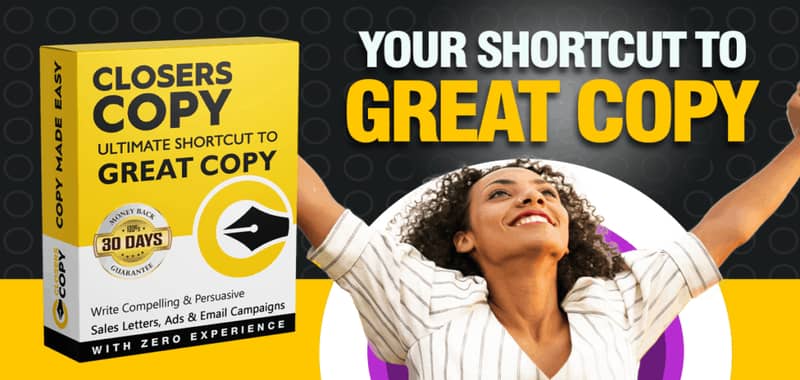 ClosersCopy stands out as a sales copywriting tool that is powered by artificial intelligence.
Unlike other content generator software, this one is more geared towards sales page writing and that makes it perfect for marketers.
This includes eCommerce store owners, digital ads agencies, and many other online businesses that can benefit from feature-packed marketing and writing software.
It is one of the easiest platforms to use when you need content.
The dashboard provides you with tools that you can use to create folders and then generate articles whilst saving them in these folders.
For a content creator that appreciates an organized design, you will love ClosersCopy layout and ease of use.
Here is our in-depth Closerscopy review in case you'd like to learn more.
Features of ClosersCopy
Below are the outstanding features of ClosersCopy and what to expect while using the platform to generate content.
#1. Compete
Just from what the name suggests this is a feature that allows you to compete with other high-ranking websites and blogs.
This newly introduced feature researches keywords and provides you with top-ranking websites.
You can then extract the outline on that post and use it on your document.
Using this feature, you shouldn't struggle much with getting Google algorithms to notice your new post.
#2. Compose
This is another feature, though useful, it has received mixed reactions amongst content creators.
Using the compose feature, you can type in a keyword and it will give you heading suggestions.
At times, this feature may not give you headings that suit your context and this in some way, limits your control.
#3. Longform
Bloggers love this feature the most as it generates long posts for them.
To get the most out of ClosersCopy long-form assistant, you will have to enter the article description and let it generate the content for you.
At times, the content isn't usually flawless, and you may have to direct the AI by adding more lines.
#4. Marketing Communication Frameworks
To ensure content is convincing, ClosersCopy uses frameworks such as BAB, PAS, and AIDA.
#5. Multi-Language Support
ClosersCopy also allows you to write or translate copies fluently in Swedish, Spanish, Russian, Italian, French, and German amongst others.
#6. Wizard Tool
Because not everyone is conversant with writing sales copies, ClosersCopy gives you access to a step-by-step wizard that guides you through the entire process.
#7. Content Sentiment Analysis Tool
At the end of writing and editing an article, it should have a tone that suits your potential readers.
Using ClosersCopy content sentiment analysis, you can know whether the copy sounds friendly, passionate, professional, or funny.
This will determine the type of emotion that post will evoke amongst your readers.
ClosersCopy Vs Rytr (Differences)
Now that we have seen the similarities between Closerscopy and Rytr, does that mean they are both the same tools?
We will now look at the differences between both tools.
#1. Pricing
Closerscopy has three pricing plans just like Rytr.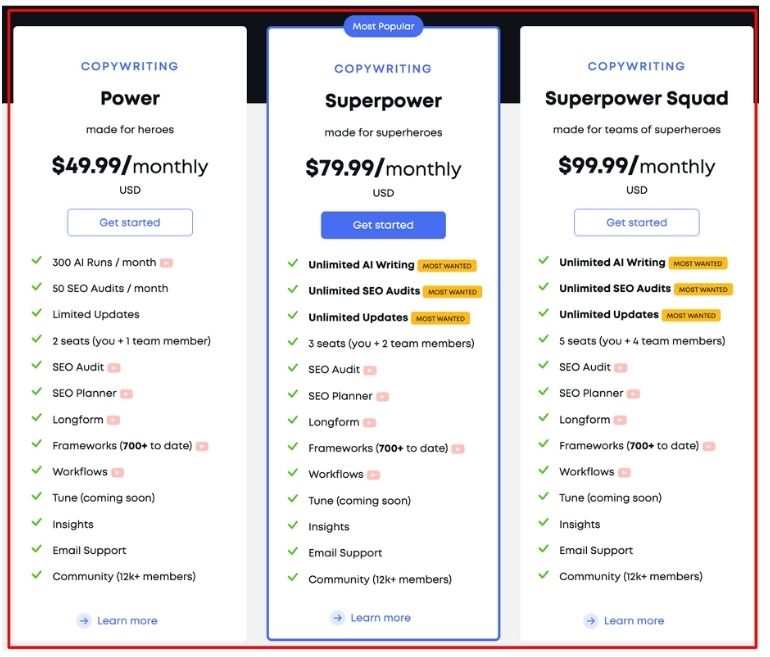 The Pricing plans for Closerscopy include;
Copywriting Power- $49.99 monthly
Copywriting Superpower- $79.99 monthly
Copywriting Superpower squad – $99.99 monthly
The Copywriting Power gives you access to the template library, AI editor, more than 18,000 copy examples, drag-and-drop copy builder, and a limit of 50 SEO audits in a month.
In the Superpower package, you get features such as a 200,000-character limit, a template library, and an AI editor.
While in the ClosersCopy, superpower plan that goes for $99.99, all the features of the other plans are present.
The only difference is the unlimited word count.
Rytr pricing plans include;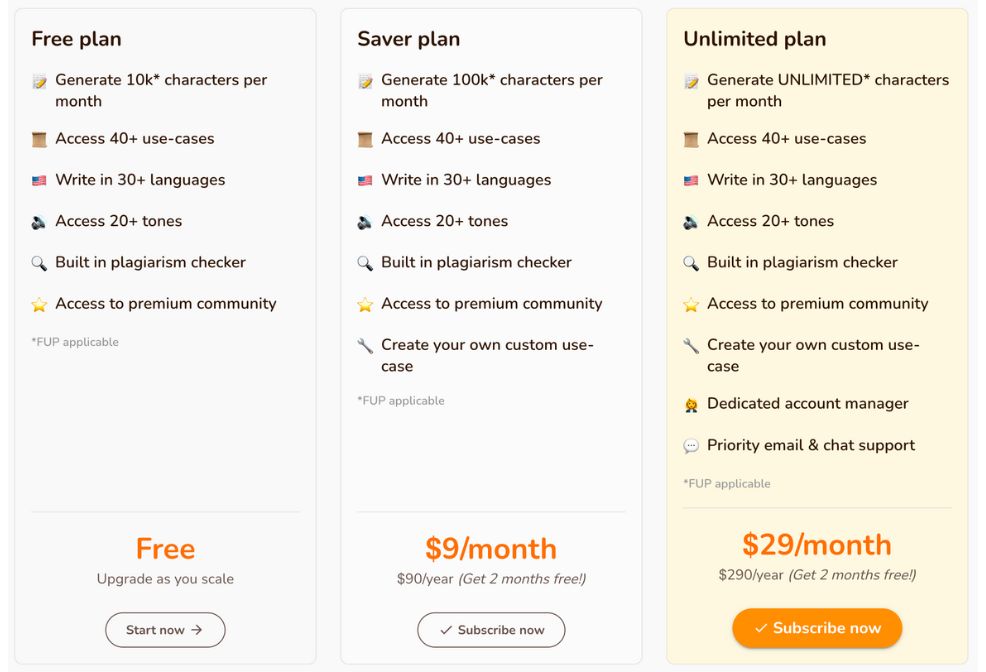 The Free Plan
Saver plan- $9/month
Unlimited Plan- $29/month
The free plan and saver plan are almost similar except that while you can only generate 5000 characters per month in the free plan, you have 50,000 in the saver plan.
You don't have access to choose your custom use-case in the free plan as well. This is present in saver.
The Unlimited plan grants you access to everything in the saver plan including a designated account manager for you.
Rytr is more affordable than Closerscopy.
#2. Lifetime Deal
With a lifetime deal, you would not have to bother about payment expiration or any form of monthly and annual renewal.
It means that you pay once for that tool or platform and that is all for life. It is a one-time life deal.
Rytr does not offer lifetime deals but you have access to that in Closerscopy.
Rather than opt for the monthly or yearly plans of Closerscopy, each of those plans are also available as a lifetime deal.
The good part about the lifetime deal in Closerscopy is that you can also pay in instalments for 3 months.
After that, you are forever locked in that price- no extra charges.
#3. Chrome Extension
A chrome Extension is also known as the Saas (Software as a Service) feature. It means that you can sign in to your account on the web using any device.
This is a type of software that is web-hosted.
Closerscopy does not have this feature while Rytr has. It also means that with Rytr, you do not have to go through the rigour of installation, configuration and licensing.
It does not matter what platform you are working on- Facebook, Gmail or WordPress, the chrome extension works perfectly for it.
Also, the Saas feature is automatically upgraded, unlike the installed software that you have to manually upgrade intermittently.
Most importantly, you might not have to bother about the software getting infected by a virus.
Therefore, in terms of ease of usage and on-the-go operations, Rytr has an upper hand.
#4. Free Trial
The Free trial is almost similar to a money-back guarantee. The only difference here is that you will not make any payment initially.
You will be allowed to use the platform for free for a stipulated number of times after which you can then proceed to make the payment or lose access to using the tool.
Closerscopy does not have a free trial. Rytr does not also have a free trial on each of its pricing plans but it has an entirely free plan.
You can do most of the tasks of the other pricing plans on the free plan. The major limitation is its number of characters.
If you want to check out how the platform works, you can start with the free plan.
Rytr has an upper hand here.
Final Thought on ClosersCopy vs Rytr
After reading through this detailed comparison, you will agree with me that it was a keen competition between both tools.
It is almost as if one tool is what the other tool is not. That is, what you can find in Closerscopy, you might not get in Rytr and vice versa.
By now you would have probably discovered which of Closerscopy or Rytr suits your needs more.
In terms of user-friendly features, Rytr performed better.
However, one major advantage that Closerscopy has over Rytr is the fact that Rytr is better suited for Shortform content. It is not reliable for long content.
Therefore, if you are a blogger or a copywriter who writes sales letters, Closerscopy will be a better option.
Though, you could use Rytr to generate the headlines and outlines.
This is largely because Rytr makes use of character count while Closerscopy makes use of Word count.
Generally, if you are new to the world of AI copywriting tools and not planning to invest much yet, Rytr comes in handy.
But, Closerscopy is preferable if you are already versed with these tools and you only need an advanced tool.
What will your choice be?
or
That's it on ClosersCopy vs Rytr, lets me know what you think using the comment section.