Closerscopy Vs Scalenut: Best AI Copy Tool?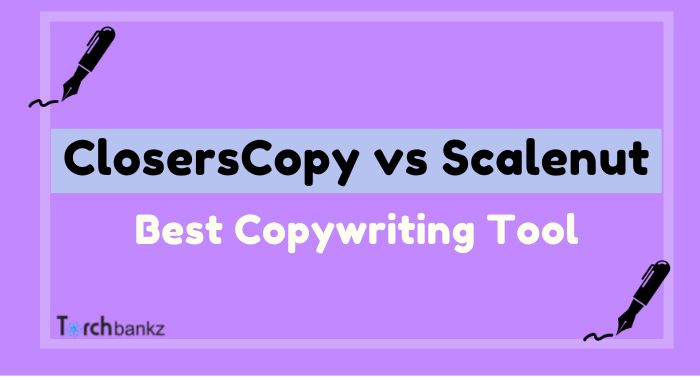 Today, we will be comparing (Closerscopy Vs Scalenut) two of the most popular AI writing tools in the market.
These tools have some of the best features you can ever want in an AI writing assistant.
That is why choosing either of the two can be a hard nut to crack. Most especially if you do not have deep analytics about the tools.
The latter is the reason for this review. We will begin by considering what each tool is about and its features.
Then, we will compare head to head, so that you can know which of the tools is ideal for you.
What is Scalenut?
Scalenut is AI software that helps you create high-quality content for your business and customers.
It is an intelligent content-research tool that is suitable for creating unique and original content that serves its exact needs.
Scalenut searches different platforms such as Reddit and Quora to check out what people are asking questions about.
This will get you informed on the type of content you should share.
This AI tool works for both long-form and short-form content. You can use it for blog posts, product descriptions, Emails, Marketing Ad copy, Social Media Content and a lot more.
With Scalenut, you can never run out of ideas. There is no such thing as Writer's block when you work with this tool.
Not only does Scalenut create quality content, but it also creates SEO-focused content. It analyses your content for relevant keywords, Meta tags, images and all other ingredients that will help improve the SEO of the content.
This will help your content rank on Google and other search engines.
Scalenut is human-conscious and as such helps you write in different tones that can resonate with your audience.
It also suggests creative words that can spice up your content and make it appealing to your readers.
Scalenut is suitable for SEO Writers, Bloggers, Business owners, Content strategists and any category of people working with words.
Features of Scalenut
Below are some of the features of Scalenut that make it stand out from other types of copywriting tools.
#1. Cruise Mode
The cruise mode feature brings together in one place, everything you need to create your content.
It will create the content from the scratch and also optimize it for rankings. The cruise mode has a 5-step content creation guide.
Enter the topic you want to write about.
This is where you will be required to write a brief description of what the content should be about. The longer your description, the better the content generated.
Give it a catchy title.
If you have been conversant with the web, you will realize that the title is the gateway to the content.
No matter how valuable any content might be, once the title is unappealing and weak, it will not capture the attention of your readers.
That is why the title is as important as the content. Under the cruise mode, it suggests some AI-generated titles that you might want to go for.
It would also suggest some high-ranking websites that you can draw inspiration from.
Set the Structure.
At this point, Cruise mode suggests some top-ranked outlines and FAQs that you can input into your writing.
It brings suggestions from platforms like Quora and Reddit. When your blog post answers these questions, it makes the blog rank on the platforms as well.
As part of setting the structure is to also select the right keywords and AI H-tags. In all, this stage covers everything about the content outline.
Time to write.
By now, Scalenut would have assembled all the information in the previous steps. It then creates different writing points from the structure.
You will pick the best arrangement that suits your need. If you still need to edit them, you can. After this, you create.
Your Content is ready
Scalenut generates your content. You can read through to add a few lines or make some manual corrections. On the other hand, you can export it to the AI Editor.
There you have it! Cruise Mode makes your task a piece of cake.
#2. LongForm Content
Scaleout is one of the few tools that support LongForm content. It is also another tool that bloggers enjoy using.
The long-form content works with the tool's SEO Intelligence to create detailed content of high quality.
It is not just enough to write lengthy content, the quality of such content is much more important.
To use the Longform AI, you go to the dashboard and select SEO assistant. The SEO assistant puts everything you need together to create long-form content.
It asks necessary questions like content description and number of words. Thereafter, your content will be created in a few seconds.
#3. High-Quality Content
Scalenut produces content that is of high quality. There are no filler words and the content is unique to you.
In as much as it produces the content within a short time, it still ensures that the content comes out with good quality.
Scalenut's high-quality content is a result of the real-time writing being done. The real-time feature provides feedback on the quality of every writing done.
It provides reports such as NLP terms, keyword frequency, readability of the content and plagiarism level.
One other feature that makes its content high-quality is the SEO-focused content it creates.
Scalenut suggests content that is on top search in search engines. It also suggests answers to these queries so that you can include them in your content.
As the content outline is being structured, it displays different target keywords and the competition's keywords at the side of the panel.
It will help you compete favourably.
#4. User-friendly Interface
Scalenut has an intuitive easy-to-use interface that makes operation easy. The different features can be easily located and navigated.
It is a tool that is suited for any calibre of writer- the expert and the beginner. Writing with the software is quite easy.
It is also easy to copy and paste between different editors of your choice.
#5. Professional Guide
Scalenut makes provision of a professional guide for you to assist you in the writing journey.
The professional guide is a professional content creator who has a wealth of experience in the writing industry.
Therefore, if you have no prior knowledge about the use of Scalenut or even any AI copywriting, the professional guide is there to put you through.
What is ClosersCopy?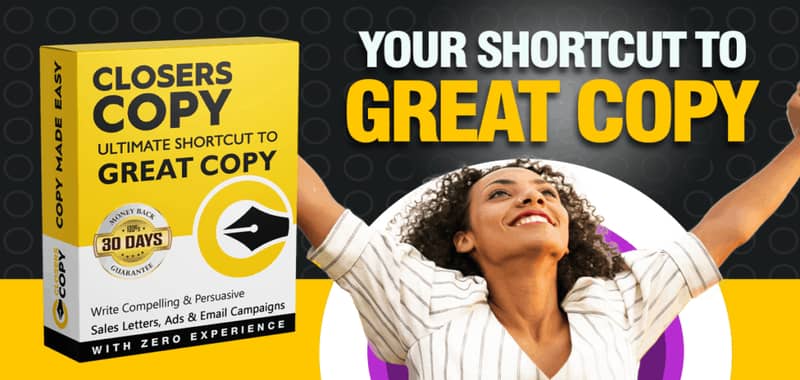 ClosersCopy stands out as a sales copywriting tool that is powered by artificial intelligence.
Unlike other content generator software, this one is more geared towards sales page writing and that makes it perfect for marketers.
This includes eCommerce store owners, digital ads agencies, and many other online businesses that can benefit from feature-packed marketing and writing software.
It is one of the easiest platforms to use when you need content.
The dashboard provides you with tools that you can use to create folders and then generate articles whilst saving them in these folders.
For a content creator that appreciates an organized design, you will love ClosersCopy layout and ease of use.
Here is our in-depth Closerscopy review in case you'd like to learn more.
Features of ClosersCopy
Below are the outstanding features of ClosersCopy and what to expect while using the platform to generate content.
#1. Compete
Just from what the name suggests this is a feature that allows you to compete with other high-ranking websites and blogs.
This newly introduced feature researches keywords and provides you with top-ranking websites. You can then extract the outline on that post and use it on your document.
Using this feature, you shouldn't struggle much with getting Google algorithms to notice your new post.
#2. Compose
This is another feature, though useful, it has received mixed reactions amongst content creators.
Using the compose feature, you can type in a keyword and it will give you heading suggestions.
At times, this feature may not give you headings that suit your context and this in some way, limits your control.
#3. Longform
Bloggers love this feature the most as it generates long posts for them. To get the most out of ClosersCopy long-form assistant, you will have to enter the article description and let it generate the content for you.
At times, the content isn't usually flawless, and you may have to direct the AI by adding more lines.
#4. Marketing Communication Frameworks
To ensure content is convincing, ClosersCopy uses frameworks such as BAB, PAS, and AIDA.
#5. Multi-Language Support
ClosersCopy also allows you to write or translate copies fluently in Swedish, Spanish, Russian, Italian, French, and German amongst others.
#6. Wizard Tool
Because not everyone is conversant with writing sales copies, ClosersCopy gives you access to a step-by-step wizard that guides you through the entire process.
#7. Content Sentiment Analysis Tool
At the end of writing and editing an article, it should have a tone that suits your potential readers.
Using ClosersCopy content sentiment analysis, you can know whether the copy sounds friendly, passionate, professional, or funny.
This will determine the type of emotion that post will evoke amongst your readers.
Closerscopy vs Scalenut (Similarities)
Seeing that both Closerscopy and Scalenut are widely used copywriting tools, they have a few similarities.
Here are some of the features common with both tools –
#1. Search Engine Optimization (SEO)
Both ClosersCopy and Scalenut allow you to write SEO content.
Even though they don't use the same SEO tools, they do at least help with the optimization of content for search engine result pages.
ClosersCopy offers you content analysis tools and Scalenut has an SEO Hub that assists you with keeping your content SEO-focused.
With both these tools, you can make your content friendlier to search engines and this can boost your rankings on Google and other search engines.
The tools also help in restructuring old content to make it Search Engine Optimized.
Therefore, if you are looking for a tool that will assist you with SEO, any of these tools is recommended.
#2. LongForm Content
Closerscopy and scalenut are one of the few article generators that offer long-form content.
They are both examples of AI writing tools that can be used to write long blog posts irrespective of the number of words.
You could also use it to write scripts.
In each of these platforms, you can access an AI long-form assistant that gives you control in writing long blog posts that can help convert readers into buyers or you can push for a certain agenda.
The long-form content produced is of high quality.
If you are a blogger or a writer who writes long content, Closerscopy and Scalenut are good options to select from.
#3. Tutorials
If you have never used any AI copywriting tool, it might not be easy navigating your way through them.
Even if you have prior knowledge of using some of these tools, you might not know the extra benefits embedded in each platform if there is no manual to tell you about them.
That is why both Scalenut and Closerscopy make provisions for tutorials.
The tutorials show you how their platforms work, how you can use the different writing tools and who the platform is recommended for.
Scalenut went a step higher by providing a professional guide for each user.
The guide, who is an expert content creator, assists you in making the best use of the platform.
Therefore, you can rest assured that both platforms will be a walk in the park for you.
Closerscopy Vs Scalenut (Differences)
Now that we have seen the similarities between Closerscopy and Scalenut, does that mean they are both the same tools?
We will now look at the differences between both tools.
#1. Plagiarism Checker
Scalenut and Closerscopy generate content in a matter of seconds and one might begin to worry if the content created would be unique.
While Closerscopy has its content analysis tool which checks the authenticity of the content, Scalenut does not have that feature.
After using Scalenut to generate your content, you might need to use a third-party plagiarism checker to analyse it.
This means that asides from purchasing Scalenut, you would need to also purchase a plagiarism checker along with it which might incur more costs.
With this, if you are very concerned about how to check the authenticity of your content, Closerscopy will be a better option.
#2. Money-Back Guarantee
Having a money-back guarantee on a platform you are signing up on; builds more trust and eases out any worries.
This is because you know that if the tool does not proffer the required service, you can easily have your money back.
Closerscopy offers a 14-day money-back guarantee. If you are not satisfied with the tool, your money will be refunded as soon as you lodge your complaints.
Scalenut on the other hand does not offer this. It believes that with the free trial, you would have been able to make your decision.
Therefore, if you want a copywriting tool that you can get your money back if you are not satisfied, Closerscopy is your best bet.
#3. Pricing
Closerscopy has got three pricing plans just like Scalenut.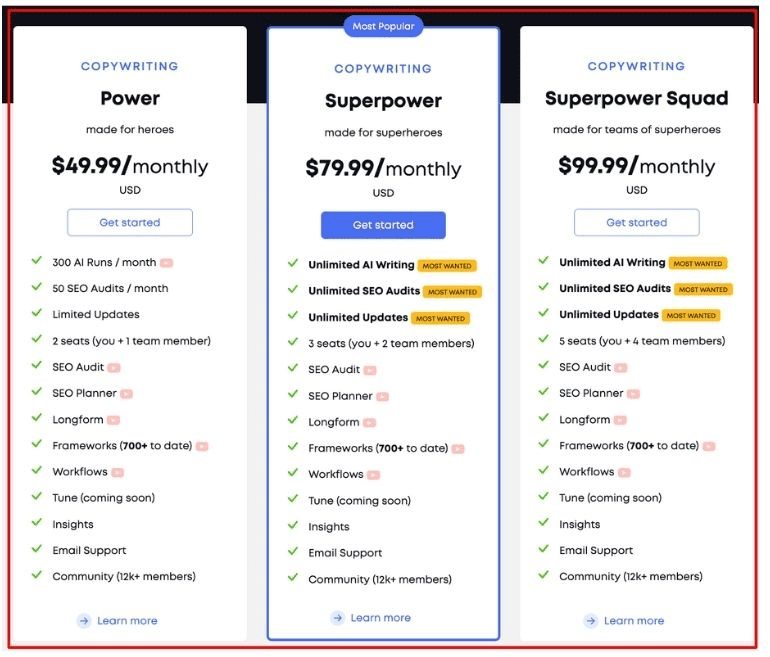 The Pricing plans for Closerscopy include;
Copywriting Power- $49.99 monthly
Copywriting Superpower- $79.99 monthly
Copywriting Superpower squad – $99.99 monthly
The Copywriting Power gives you access to the template library, AI editor, more than 18,000 copy examples, drag-and-drop copy builder, and a limit of 50 SEO audits in a month.
In the Superpower package, you get features such as a 200,000-character limit, a template library, and an AI editor.
While in the ClosersCopy superpower plan that goes for $99.99, all the features of the other plans are present.
The only difference is the unlimited word count.
Scalenut pricing plans include;
Individual – $12/month
Growth- $32/month
Pro- $60/month
The individual plan grants you access to 100,000 words, 5 SEO reports and over 40 AI tools.
In the Growth plan, you have an unlimited number of words, 30 SEO reports, and 30 topic clusters with the cruise mode feature as well.
The pro plan has everything in the Growth Plan. Only that it has an unlimited number of SEO reports and 100 topic clusters.
Considering the amount and the features available in each pricing plan, Scalenut is more affordable than Closerscopy.
#4. Life Time Deal
A lifetime deal on a payment plan means that you pay once for that tool or platform and that is all for life.
You would not have to bother about payment expiration or any form of monthly and annual renewal. It is a one-time life deal.
Scalenut does not offer lifetime deals but you have access to that in Closerscopy.
Rather than opt for the monthly or yearly plans of Closerscopy, each of those plans are also available as a lifetime deal.
The good part about the lifetime deal in Closerscopy is that you can also pay in instalments for 3 months.
After that, you are forever locked in that price- no extra charges.
#5. Chrome Extension
A chrome extension feature means you can sign in to your account on the web using any device.
This is also known as the Saas (Software as a Service) feature. This is a type of software that is web-hosted.
Closerscopy does not have this feature while Scalenut has. It also means that with Scalenut, you do not have to go through the rigour of installation, configuration and licensing.
Also, the saas feature is automatically upgraded, unlike the installed software that you have to manually upgrade intermittently.
Most importantly, you might not have to bother about the software getting infected by a virus.
Therefore, in terms of ease of usage and on-the-go operations, Scalenut has an upper hand.
#6. Free Trial
The Free trial is almost similar to a money-back guarantee. The only difference here is that you will not make any payment initially.
You will be allowed to use the platform for free for a stipulated number of times after which you can then proceed to make the payment or lose access to using the tool.
Scalenut has a 7-day free trial on all its pricing plans while Closerscopy does not.
To begin with the free trial on Scalenut, you do not need to enter your credit card details.
Scalenut won the race here.
Conclusion
After reading through this detailed comparison, you will agree with me that it was a keen competition between both tools. It is almost as if one tool is what the other tool is not.
That is, what you can find in Closerscopy, you might not get in Scalenut and vice versa.
By now you would have probably discovered which of Closerscopy or Scalenut suits your needs more.
One of the major edges that Closerscopy has over Scalenut is the presence of the Plagiarism checker.
However, if you already have an external plagiarism checker yourself, it might not be much of a big deal.
On a critical analysis, Scalenut is better suited for businesses.
It has a more detailed SEO feature and the price is quite favourable, especially for SMEs. Scalenut is more user-oriented as well.
If you are an advanced business owner or writer who already has sound knowledge about the nitty-gritty of writing, Closerscopy will serve you better.
Generally, I think I will give Scalenut a higher rating over Closerscopy.
It's time to opt for your tool of choice.
That's it on ClosersCopy vs Scalenut, do let us know what you think by using the comment section.