ClosersCopy vs Wordhero: AI Copywriting Tool [Compared]
In this post, we will compare (Closerscopy vs Wordhero) two of the most popular AI writing tools in the market.
When it comes to having a writing assistant, these tools have proven to be the best you can have.
The more reason it can be a little confusing having to choose from either of the two.
The only way to have a clear decision on which of the AI copywriting tools to go for is to perform a detailed analysis of the two.
This is why this review is being discussed. We will look at each of the copywriting tools and their features.
Thereafter, compare them so that you can decide on which of them to pick.
What is ClosersCopy?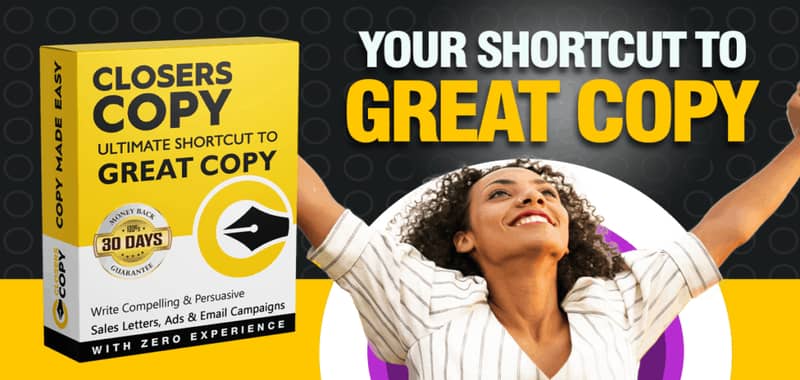 ClosersCopy is a sales copywriting tool that is powered by artificial intelligence. Closerscopy works with the help of GPT-3 Al.
It features an archive of templates that you can use to develop content for sales information, industry blogs, promotions, social platforms, and email marketing.
This Al software helps copywriters and marketers to create content that converts their audience.
The tool is more geared towards sales writing. This is why it is often referred to as a sales copywriting tool.
With the help of this tool, you can create highly engaging copy for your ads campaigns such as Facebook ads, Youtube Ads and others.
Closerscopy is one of the copywriting tools that support long-form content. You can use it to write sales pages, landing pages and squeeze pages.
It has a huge library of templates.
Therefore, if you have no idea on how to begin with Closerscopy, you can easily start by using the templates.
Features of Closerscopy
Here are some of the features of Closerscopy that make it stand out among other copywriting tools.
#1. Compete
This feature is one of the latest additions to Closerscopy. With it, you can research keywords that are ranking high in your niche.
You already know how important keywords can be to web content. You will easily rank on search engines such as Google.
Not only does this tool research keywords, but it also researches top-ranking websites.
That will help you to look through their websites and see how well-structured the content is.
You can copy their styles and apply them to your posts. With this tool, you can paste the website's URL into the search box and all the data from it will be extracted.
Having this information will help you to favourably compete with other top-ranking websites and blogs.
#2. Compose
With the "compose" feature, you can type in a keyword and it gives you different headline suggestions.
You can either go with any of the suggestions or tweak it to suit your purpose.
Although, there has been a bit of controversy on this feature in that it most often does not compose headlines that align with your content.
However, even if it does not, it can give you ideas on how you can craft your headlines.
To use this feature, you enter the keyword, choose your preferred language and then hit the search icon. The different suggested headlines will be displayed.
#3. Longform
Closerscopy supports Longform content and this is why it is one of the favourite tools for Bloggers.
To use this feature, you will need to enter some details about the article like a description or a content brief.
This will help Closerscopy understand better what your content is about.
Thereafter, you will select the total number of words you want the Al software to generate.
Once you enter all this information, you click on Write. The content will be generated and you can go through it to make any corrections or adjustments where necessary.
#4. Marketing Communication Framework
Closerscopy makes use of different marketing communication frameworks to generate its content.
The frameworks give your copy a better structure and make it more SEO-focused. Some of these frameworks include; AIDA, PAS and BAB.
These frameworks also make your marketing copy more authentic and convincing.
#5. Multi-Language Support
Closerscopy allows you to translate your copy easily into about 24 languages. Some of which are; French, Italian, Russian, Spanish, Sweden and others.
The diversity in language will help you to write a copy that is addressed to any nationality or region.
#6. Wizard Tool
The wizard tool is a step-by-step guide on the entire process of using the Closerscopy.
Even if you have no prior knowledge of how to use the tool, the wizard guide will take you through on how to use it effectively.
The wizard tool also comes with different templates that you can use in creating different any type of copy or article.
Once you click on any of the templates, it replaces what was previously there with your new content.
#7. Content Sentiment Analysis Tool
The Closerscopy content sentiment analysis is a feature that helps you determine if the tone of the content is suitable for your target readers.
Using the right tone in your copy will help to evoke emotions in your readers. This is a necessary ingredient to make your sales copy efficient.
With the content sentiment analysis tool, you can determine if the copy sounds friendly, passionate, professional or funny.
What is WordHero?
Wordhero is a revolutionary artificial intelligence tool that is powered by GPT-3.
It helps you to write high-quality blog posts, sales copy, social media captions, SEO descriptions and so much more in a few seconds.
Wordhero can be used to develop content ideas for marketing and even for poetry or song lyrics.
This AI software is designed to create content that easily resonates with the target audience.
It comes with a plagiarism checker that helps you confirm any form of plagiarism in your content.
Therefore, Wordhero is a tool that is widely known for its prowess in generating original content.
Also noteworthy is the fact that it has unlimited ideas. Therefore, the probability of repeating content is zero.
It comes with over 60 tools that can help you create any type of content you wish. The AI tool is good for content that requires deep research.
Wordhero is suitable for copywriters, freelancers, agencies, business owners, social media managers and anyone who requires any form of writing.
Features of WordHero
Here are some of the features of wordhero that make it stand out among other AI copywriting tools;
#1. Generator Mode
With this feature, you can create different content such as blog posts, emails, and social media content within a few seconds.
It can help you pull out different ideas for your businesses or campaign ads such as Facebook ads, Google Ads and Email ads.
Wordhero does not necessarily require that you enter a lengthy content description before it generates a quality copy.
All you have to do is to input relevant keywords to your content and Wordhero generates the content in a matter of seconds.
It has about 48 tools that you can choose from to generate any content of your choice.
#2. Editor Mode
The Editor mode helps you curate content. With this feature, you can restructure old content to make it better than it used to be.
You could also use it to edit errors and mistakes from content. The editor mode also helps you to customize your content and also refine it.
It could add more sentences to your content to make it more descriptive.
This feature has a Grammar corrector where you can paste your incorrect texts and then they are corrected.
Though the grammar corrector has a limitation which is that it can only edit 200 words at a time.
#3. Keyword Assistant
Keywords are a crucial part of content, especially web content. The right keywords make your content rank better on search engines.
You may have no idea about suitable keywords for your content.
The Keyword Assistant in Wordhero assists you in researching relevant and high-ranking keywords.
You can decide to create a headline from the keyword by yourself or still allow Wordhero to carry out that task for you.
In other words, if you have the keywords and want to add them to already generated content, the keyword assistant is there to help with the process.
#4. Easy-to-use Interface
Wordhero has an intuitive easy-to-use interface that makes operation easy. The different features can be easily located and navigated.
It is a tool that is suited for any calibre of writer- the expert and the beginner. Writing with the software is quite easy.
#5. Multiple Languages
Wordhero writes in multiple languages. It allows you to translate your copy easily into about 100 languages.
Some of which are; French, Italian, Russian, Spanish, Sweden and others.
The diversity in language will help you to write a copy that is addressed to any nationality or region.
This is very helpful for those who write ads that are targeted to different countries.
You could also convert content that is already written in English into any of the languages Wordhero supports.
ClosersCopy vs Wordhero (Similarities)
Seeing that both Closerscopy and Wordhero are widely used copywriting tools, they have a few similarities.
Here are some of the features common with both tools –
#1. Search Engine Optimization (SEO)
Both ClosersCopy and Wordhero allow you to write SEO content.
Even though they don't use the same SEO tools, they do at least help with the optimization of content for search engine result pages.
ClosersCopy offers you content analysis tools and Wordhero integrates Surfer SEO.
With both these tools, you can make your content friendlier to search engines and this can boost your rankings on Google and other search engines.
The tools also help in restructuring old content to make it Search Engine Optimized.
#2. AI Software (GPT-3)
Closerscopy and Wordhero make use of the GPT-3 language. According to MIT Technology Review, GPT-3 is the only language that can create exceptional human-like text.
And if you have used any software that features this language model, then you will be able to testify to the claims published in Technology Review.
Both Wordhero and ClosersCopy run on Open AI's language generator known as GPT-3.
On the two platforms, these AI's have been trained to understand commands and create content that looks just like that of a human.
#3. LongForm content
Closerscopy and Wordhero are one of the few article generators that offer long-form content.
They are both examples of AI writing tools that can be used to write long blog posts. You could also use it to write scripts.
In each of these platforms, you can access an AI long-form assistant that gives you control in writing long blog posts that can help convert readers into buyers or you can push for a certain agenda.
The LongForm content produced is of high quality.
ClosersCopy vs Wordhero (Differences)
Now that we have seen the similarities between Closerscopy and Wordhero, does that mean they are the same tools?
We will now look at the differences between both tools.
#1. Pricing
ClosersCopy has got three pricing plans.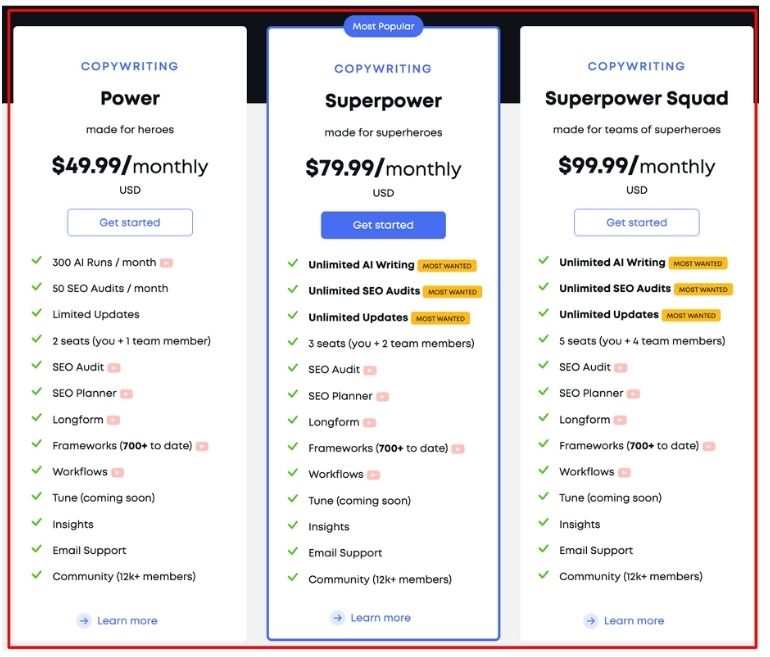 The Pricing plans for Closerscopy include;
Copywriting Power- $49.99 monthly
Copywriting Superpower- $79.99 monthly
Copywriting Superpower squad – $99.99 monthly
The Copywriting Power gives you access to the template library, AI editor, more than 18,000 copy examples, drag-and-drop copy builder, and a limit of 50 SEO audits in a month.
In the Superpower package, you get features such as a 200,000-character limit, a template library, and an AI editor.
While in the ClosersCopy superpower plan that goes for $99.99, all the features of the other plans are present.
The only difference is the unlimited word count.
Wordhero has only one pricing plan.
You could make yours as a monthly payment of $49 or an annual payment of $348. Opting for the annual payment plan saves you $240.
With this pricing plan, you have access to unlimited content, longform content, keyword assistant and multiple languages.
There are no other hidden charges after the one-time annual payment.
Depending on what you want in a copywriting tool and your budget, Wordhero might be more affordable than Closerscopy.
#2. Multilingual Copies
Closerscopy supports generating content in about 24 languages. On the other hand, Wordhero supports over 100 languages.
With Wordhero, you can write to address the audience in different parts of the continent.
Closerscopy supports languages that are spoken by a larger population. It doesn't cover the languages of some unpopular regions.
#3. Plagiarism Checker
Wordhero and Closerscopy generate content in a matter of seconds and one might begin to worry if the content created would be unique.
While Closerscopy has its content analysis tool which checks the authenticity of the content, Wordhero does not have that feature.
After using Wordhero to generate your content, you might need to use a third-party plagiarism checker to analyse it.
#4. Team Collaboration
The team collaboration feature makes it possible for different users to make use of the tool at once.
This feature is only present in Closerscopy. You and your team members can work on different projects at the same time.
In Wordhero, this is not so. It allows only one user at a time.
If a user has signed in on a particular device and another user tries to sign in somewhere else, Wordhero will sign the first account out.
Therefore, if you have a team that works on different writing projects, Wordhero might not be able to cater for that.
Closerscopy would be preferable.
#5. Money-back Guarantee
Having a money-back guarantee on a platform you are signing up on; builds more trust and eases out any worries.
This is because you know that if the tool does not proffer the required service, you can easily have your money back.
Closerscopy offers a 14-day money-back guarantee. If you are not satisfied with the tool, your money will be refunded as soon as you lodge your complaints.
Wordhero on the other hand does not offer this.
#6. Lifetime Deal
A lifetime deal on a payment plan means that you pay once for that tool or platform and that is all for life.
You would not have to bother about payment expiration or any form of monthly and annual renewal.
It is a one-time life deal.
Wordhero does not offer lifetime deals but you have access to that in Closerscopy.
Conclusion
We have been able to juxtapose Closerscopy and Wordhero.
You would agree with me that if the analysis is not carried out, it could be a hard nut to crack trying to figure out which of the tools suits you or your business better.
After the critical analysis, I think it is safe to say that Closerscopy has a better edge over Wordhero.
Though, Wordhero might have an advantage over Closerscopy in its pricing and Multilingual copies.
However, if you have to work with a team, Wordhero's pricing plan and offers would be more expensive than Closerscopy.
This is because you would have to purchase an account for each of the members.
If your audience is diversified and you need to write in lots of languages, Wordhero will serve you better in that.
Wordhero also seems to be more user-oriented because of the templates and intuitive interface.
However, when it comes to different writing features and uniqueness, Closerscopy won.
Now, it's time to make your choice.
or
That's it on ClosersCopy vs WordHero, do lets us know what you think using the comment section.