Jasper AI vs Writesonic: Best Copywriting Tool?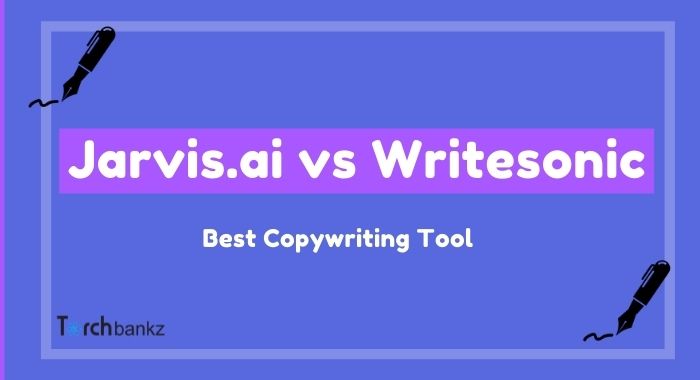 In today's post, we'll be looking at Conversion ai vs Writersonic by reviewing both copywriting tool to really know what they offer compared to each other.
In your quest to find the best AI writing assistant, I'm sure you must stumble across these tools. Writesonic and Jasper AI. From a general point of view, these two AI article generators can seem to be almost the same because they both generate content.
However, when you dig deeper into what each software can offer, you will realize that they are quite different.
If you are struggling with which Automated copywriting generator software to choose, in our Conversion AI vs Writesonic review below, we are going to compare and contrast the features of each tool.
And at the end, we are going to give our expert recommendation on which content generator is better.
What is Jasper AI?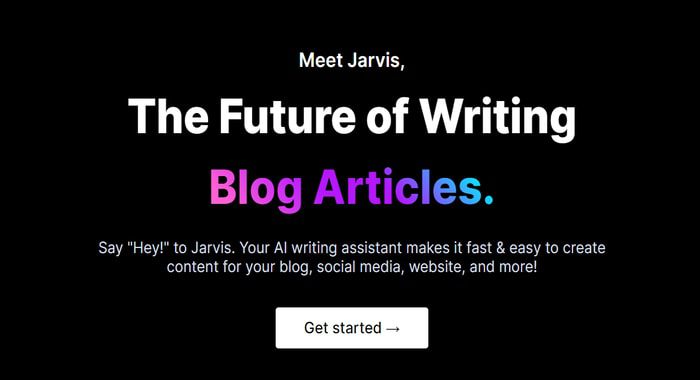 Everyone who is in the content creation industry knows about Jasper. Even if you may not be fully aware of this Ai's capabilities, you must have heard of Jasper.ai, especially in the last couple of months.
Previously known as Jarvis.ai, Jasper is an AI copywriting tool that has made a name for itself amongst content creators.
Having the ability to create content from more than 50 templates, this tool is the perfect assistant for anyone who needs content.
Other than providing users with various types of content, Jasper is programmed to provide quality and SEO-friendly content.
The content produced is also plagiarism free and you will be amazed at how fast it can generate articles.
The Jasper AI is constantly being developed to make it a more useful writing assistant.
This means that when you choose it to be your AI writing assistant, you are assured of frequent upgrades that will make your experience even better.
A good example of their most recent update is the introduction of the Boss Mode feature where the AI will create unique content for you, two times faster than for those users who have subscribed in the Pro Package.
With Jasper, you can forget about writer's block, procrastination, and the many challenges of writing content by yourself or outsourcing such services.
Features of Jasper AI
Access to many copywriting templates – Jasper is the only AI that has got more than 40 copywriting skills. As a content creator, what this means for you is that you will be able to create all types of articles under one roof. Whether you want a blog post, a social media ad, a landing page, or even a product description, Jasper will be able to write that for you.
Jasper provides you with unique original content – Understandably, a lot of content creators are afraid of using AIs because they are afraid of getting copied content. But Jasper does the exact opposite, it provides you with quality and plagiarism-free articles.
Long-form assistance – This feature makes the process of generating articles simple. You just have to give Jasper some commands and it will take care of the rest.
The new Boss Mode feature – For content creators that need an easier way of getting articles generated, the Boss Mode feature is perfect for you. Not only does it make your work even easier, but it also produces content twice as fast.
Bloggers get to enjoy the integration of Surfer SEO – The biggest concern for many bloggers is whether their content is search engine friendly. Jasper relieves this worry by integrating Surfer SEO, a tool that analyses content and informs you of the changes you need to make for the post to rank higher.
Jasper supports 25 languages including Spanish and German.
The interface is quite simple and easily navigable.
For those working on multiple projects at once, Jasper allows you to organize documents in different folders.
What is Writesonic?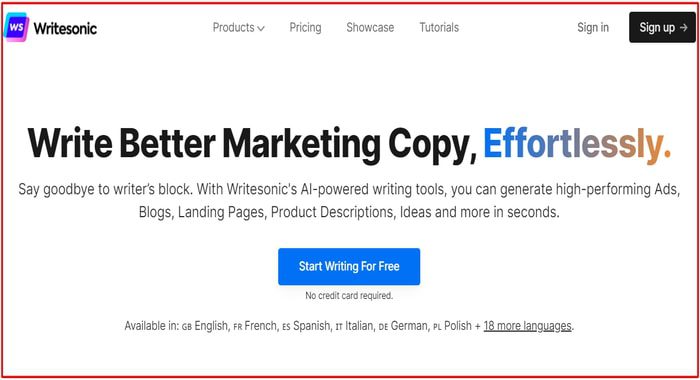 Incorporating GPT-3 Technology, Writesonic is a writing tool that can provide you with different types of content in an exceptionally short duration of time.
Some of the content this software can help you create include product descriptions, landing pages, and ads.
This AI is trained by a team of skilled content creators and you can be assured that it will generate quality content for you.
With tons of positive reviews on various platforms, Writesonic has emerged to become a recognized AI writing assistant in the content creation industry.
It's very easy to use, supports several languages, and generates plagiarism-free content.
Using Writesonic to generate articles isn't only fast and convenient, but it is also more affordable than outsourcing these services to marketing agencies or freelance experts.
It is available throughout the day and night, all year long. It never gets tired and you can be assured of consistent quality. And that's why it's such a great AI writing tool.
Features of Writesonic
It is capable of generating a human-like article in seconds.
Writesonic incorporates natural language processing technology that assists in producing quality pieces.
The AI provides an advanced search tool that can be used to search for the text one is interested in generating.
Users can be assured of original and authentic copies.
You can use the software to create a wide range of copies such as digital ads, website copies, blog posts, and eCommerce content.
Writesonic supports more than 8 languages. It's therefore the ideal AI tool for a content creator who has got plans to venture into international search engines.
Jasper AI vs Writesonic [Comparison]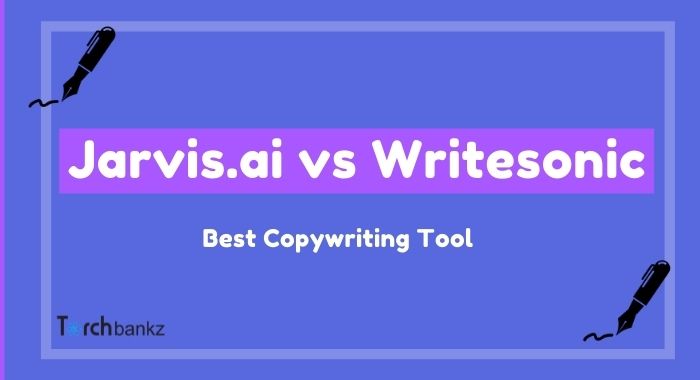 This is probably the part that you have been waiting for. And let's dive straight into the key differences between these two AI writing tools.
Understanding the differences is key as you will be able to identify which features appeal most to your content creation needs.
Both Jasper and Writesonic use GPT-3 tools for copywriting. Known in full as a generative pre-trained transformer, GPT-3 is an upgrade of GPT-2 and it's currently the most complex language model.
Having more than 175 billion parameters, it doesn't come as a surprise that many applications such as Jasper and Writesonic are using this technology to generate content.
One of the things that make GPT-3 so impressive is how it can generate content that reads as if it has been written by a human.
Compared to Writesonic, Jasper is the most popular GPT-3 copywriting tool.
Their AI has been developed to provide a wide range of article templates that can be generated into original articles within seconds. It's popular for producing long copies and many other types of articles.
On the other hand, we have Writesonic GPT-3 writing tool.
Previously, when it was known as Magic Flow, it had very few capabilities. However, when it was rebranded, the tool added more templates. But not as many as Jasper AI GPT-3 writing tool.
When it comes to languages you can generate content with, it is essential that you choose a tool that supports multiple languages.
The benefit of this is that should the time come when you want to reach out to a bigger audience, on an international level, you will still be able to communicate.
The Jasper AI is trained to generate quality articles in English. However, it has been integrated with DeepL to support more than 20 languages.
This feature is free in the Beta version. And if you want to translate text using the AI, you should navigate to the account settings page and select the language options for both input and output.
Writesonic, at the moment, supports just 10 languages which include Italian, French, and German amongst others.
So, with both these AI writing tools, you can translate content into different types of languages.
The problem with both these article generators is that they do not have an in-built plagiarism checker which you can use to check whether the article is 100% unique.
Therefore, if you do decide to choose either, you will have to use a premium plagiarism checker tool to ensure your articles are unique.
While we are still on the issue of plagiarism. There have been reports of some articles generated by Writesonic having some slight plagiarism.
This isn't because the Writesonic AI has copied the content but at times, some of the sentences produced are too common that a good plagiarism checker will flag them as copied.
Such issues haven't been reported against Jasper AI.
This is mostly because their AI has access to a huge database of words and phrases.
Jasper AI and Writesonic both can create long-form content. However, they have different approaches when it comes to long content and secondly, Jarvis AI can write more long content than Writesonic.
Let's start with the Writesonic long-form content option.
The main advantage of this AI is that they do include this feature in their lower plans. Unlike Jasper that only premium plans give you access to the long-form assistant.
Writesonic has got a long-form content wizard that takes you through the various steps. The process is simple and fast.
Moving on to Jasper's long-form assistant, it is more powerful and can write longer posts.
Available as a premium tool, Jasper.ai long-form assistant is designed to generate SEO-optimized blog posts.
The assistant guides you through the process.
And all you need is an idea. Jasper will do the rest. Jasper long-form assistant comes with many tools such as the rephrasing tool, grammar fixer, and explain to a child tool which ensure you get quality copies.
When choosing an article generator, one of the most important things, is how easily navigable the software is.
Yes, it may be fast and can give you quality articles. But, if you struggle with using it then there is a good chance that it will always take you longer to generate content, edit and use the available tools and features.
Both Jasper AI and Writesonic have an easy learning curve. And the longer you use both AIs, the sooner you understand how they all work.
Jasper has got more tutorials than its counterpart and this makes it easier for you to learn how to use Jasper sooner.
You can find a user community for both Jasper and Writesonic. In these communities, you can get help from other members, share input and advice.
And also network with fellow content creators. If the size of a User community matters to you, then you will be better off with the Jasper user community.
On Facebook, they currently have 35k members. This isn't shocking news because Jasper happens to be more popular and therefore, they ought to have a bigger community.
Jasper AI vs Writesonic [Pricing]
Let's start with the pricing plan for Jasper;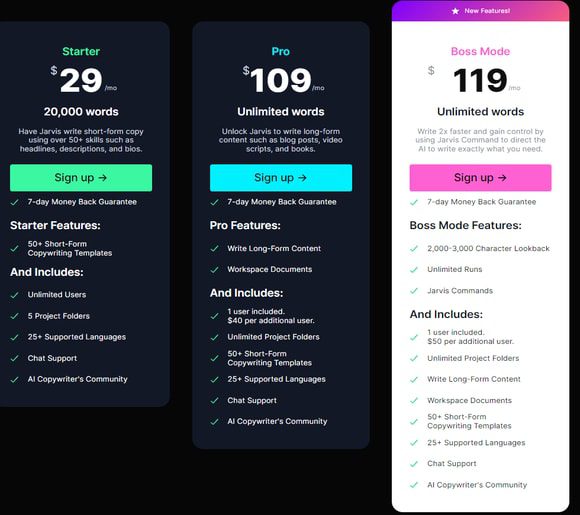 Starter $29 – This package is inclusive of access to 50 short-form copywriting templates, supports 25 languages, and provision of chat support and 5 project folders.
Pro Package $109/mo – This unlocks the long-form assistant feature and you get unlimited project folders. You get everything else in the starter as well.
Boss Mode $119/mo – You get all the above features plus unlimited runs, up to 3,000 character look back and Jasper commands.
Here is Writesonic's pricing plan;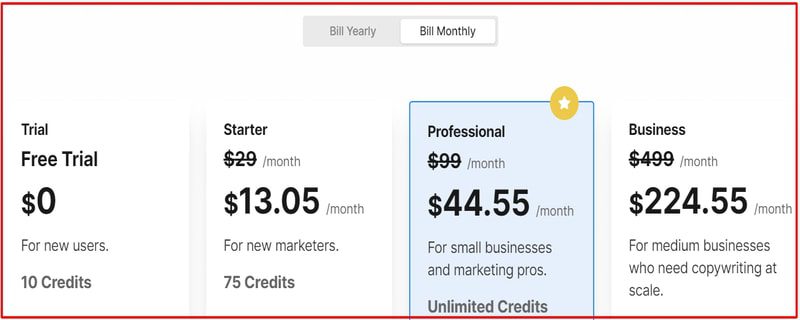 There is a free trial that comes with 10 credits that can be used on advanced features like landing pages and digital ads. This package is exclusive of priority customer support.
The starter plan is currently going for $11.25/month – It comes with 75 credits that can be used to generate content using the AI article writer.
Professional plan – It's worth $40 and gives you unlimited credits and priority customer support.
Business package $202.05 – This is for marketing agencies and huge businesses that need tons of content. You also get unlimited credits that are limited to 1200 credits in a month.
When we compare these two pricing plans, Writesonic is slightly cheaper, but the features are limited.
There is also the issue of credits, with Writesonic's lower plans, there are limits on the number of credits you get in a month.
This can be quite inconveniencing when you suddenly need more content.
Jasper has got more features and when you compare the Boss Mode to the Writesonic business plan, you get more tools with Jarvis AI.
Conclusion
From the above, it is very clear that Jasper AI  has got more features than Writesonic. Jasper AI software is better trained and can write more than 50 templates, unlike Writesonic which is only limited to 20+ templates.
The second thing, it's more ideal for content creators that need long blog posts. And we can't also fail to acknowledge its support for more languages and their wide user community.
Writesonic is a good AI writing tool, but Jasper AI is better.
That's it on Conversion ai vs Writesonic. What's your thought about these two tools or which one do you prefer the best in our Conversion ai vs Writesonic comparison?