List of BEST Copy AI Alternatives For Copywriting [2023]
Chatting with you here can mean you're looking for Copy AI alternatives for copywriting or for your writing business.
Copy AI is an amazing copywriting tool that helps you generate content through the help of GPT-3 AI.
However, they all come with one shortcoming or the other, which is enough reason to look out for some better alternatives to Copy AI.
We have several AI Copywriting tools popping up here and there, and if care is not taking you might fall in the wrong hands.
But not to worry, we've taken up the task ourselves to look out for the best Copy Al alternatives out there.
Copy AI Alternatives
Below, we have reviewed and ranked them according to their rating respectively from the first on the list. Let check them out, shall we?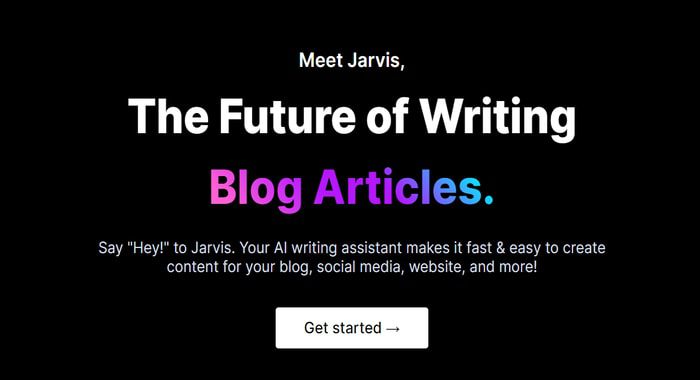 Jasper, previously known as Jarvis.ai was first launched in the AI copywriting software industry, it hit the market by storm. Users can use it to write engaging copies for their social media and websites.
Using this tool, you can define the content you want, the personality that your audience is looking for, and the right words to use that your audience will relate to.
There are many reasons why you should use Jarvis. The first one is that it allows you to generate high-quality content in the shortest time frames.
Being a top-notch software, this AI doesn't make grammatical mistakes when generating content and it is 100% reliable.
With Jarvis, you can increase revenue by using it to craft engaging blogs, web pages, and advertisements.
It is one of the few automated copywriting generators software that creates unique and persuasive content.
Using the software might be confusing at first but there are tons of tutorials that will help you understand the software's interface.
Jasper AI Key Features
Jarvis allows team member access. Therefore, if you work as a group of bloggers or you own an agency, with Jarvis, you can utilize the team member feature. In this option, all the members of your team can have access to various contents and folders so that you can work on multiple projects.
It contains a grammar checker that ensures the articles are readable and easily understandable. The software is also designed to create plagiarism-free articles.
This article generator can translate content perfectly into 11 different languages. The developers of Jarvis picked languages that they considered as commonly used all over the world.
There is a feature known as the sentence expander module found in Jarvis. It will lengthen short sentences.
Jarvis AI is programmed to follow the AIDA approach of creating content. Therefore, any content generated will first draw attention, then create interest, evoke desire, and finally, call to action.
In their new update, there is a new feature known as Boss Mode. It simplifies the entire process of using the AI. For instance, you can key in the command; Jarvis, write an article for me. In seconds, you will have unique content displayed on your dashboard.
Jarvis Pricing
Being a reputable copywriting tool, Jarvis gives its users a free trial where you can generate up to 10,000 words of content for free. From there, you can subscribe and they do have a 7-day refund policy.
There is a starter package that goes for $29 a month. It gives you access to all copywriting skills, but the amount of content you can generate in a month is only 20k words. There is a Pro package that costs $109 a month.
There is no limit on the number of words you can generate and you can access the long-form assistant and write long articles.
The final package is the Pro + Boss Mode, it's $119 a month and you get all the Pro package benefits plus the Boss Mode feature.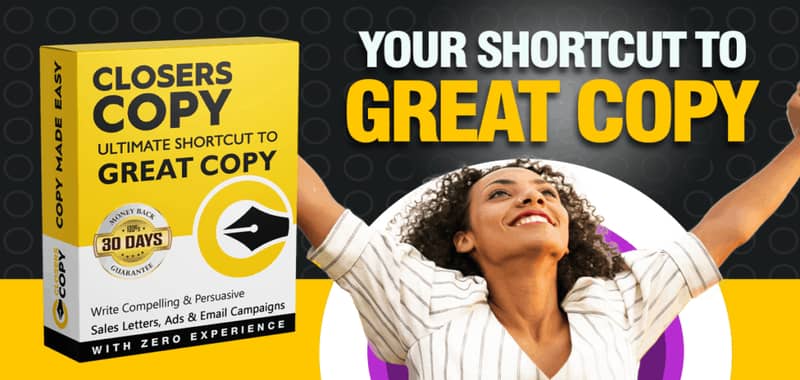 When it comes to generating AI content, Closers Copy is an incredible copywriting software that lets you do that with eases. Unlike other Copy AI alternatives on the list, this one is really SEO optimized and lets you write content that Google really loves and would like to rank.
It is a multi-purpose tool and is suitable for inexperienced users that require to master copywriting.
Closer Copy features an ever-growing copy templates library, which delivers maximum performance. It has more lookup, which expands to avoid repetition of words.
This software comes packaged with other features, like 1000+ power words lookup, step-by-step copy wizard, guidance, & advice.
In case you are a blogger like me, advertising, sales, or digital marketing, you should consider this software to deliver maximum performance. Closers copy also comes with unique features.
CloserCopy Key Features
Closers Copy is an incredible editor that offers full-text editing. It features several proven templates and emotional analyses that help you hit the right tone with your audiences.
Templates use applicable formulas hence you can easily create a persuasive copy.
Closercopy comes with an AI wizard that helps you write a full article in minutes.
Closercopy AI understands 24 languages. This includes Bulgarian, Chinese, Czech, Danish, Dutch, English, Estonian, Finnish, French, German, Greek, Hungarian, Italian, Japanese, Latvian, Lithuanian, Polish, Portuguese, Portuguese (BR), Romanian, Russian, Slovak, Slovenian, Spanish, Swedish
Pricing
Currently, they have three monthly plans on this platform. That is the Starter plan, which goes for $29.99/month, and the Professional one that costs $49.99 per month. Then finally, the unlimited plan goes for $79.99 per month.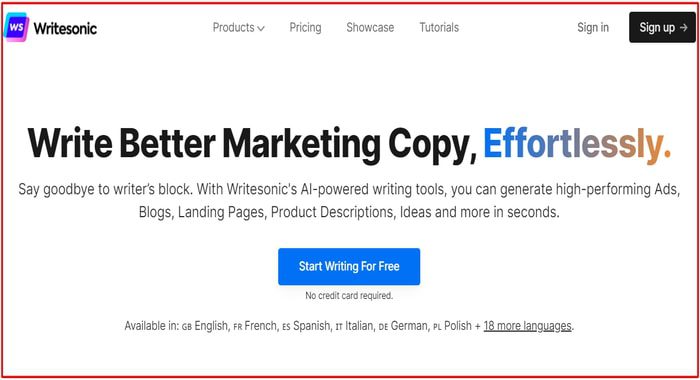 This is yet another Copy AI alternative tool that can help generate copies within seconds. It's used by freelance bloggers, marketing agencies, and even big organizations.
They love it because you can create different types of content ranging from product descriptions to landing pages.
It is very easy to use. Just feed the software a couple of descriptions and it will do the rest.
It features that human touch in its articles. It incorporates AI that works like humans.
Hence users don't need to worry about writing copies manually. Once you key in some information about want you what it to write, it'll do that for you.
Using this tool can save you time, energy, and money. Writersonic takes a short time to generate copies.
After logging in to this site, enter your target topic. You'll then be given ten subject ideas for your copy. Simply choose the most outstanding.
Then proceed to write the intro with a minimum of 100-150 words.
Writersonic will then generate five different intros. Pick one and proceed to outline. With a topic, intro, and customized outline, you can then instruct the AI to generate a copy within seconds.
Note that the copy can be edited for those who want to make some changes to it.
WriteSonic Key Features
It comes equipped with tools such as sentence expander, content rephraser, readability checker, and a grammar fixer which help make your content flawless.
You can create a wide range of content using WriterSonic, examples including sales emails, landing pages, digital ads, product descriptions, and many more.
This software also follows the AIDA approach of content creation and Pain-Agitate Solution. Therefore, all articles this software writes for you will be interesting and create a call to action.
With WriterSonic, running a multilingual blog shouldn't be a hassle because it can create content in at least 20 languages.
It produces summaries, outlines, and blog intros.
WriteSonic Pricing
This software works on the principle of credits. First-time users get 10 credits which they can use as the free trial.
If you love the features of the content generator, you can subscribe to the following packages; Starter that goes for $11.60 and comes with 75 credits to be used alongside advanced and basic features.
There is the Professional option that costs $39.60. You get unlimited access to basic features. However, you only get 150 credits for the advanced features.
Finally, there is the Business Package that costs $199.60. It contains unlimited credits for basic features and advanced features have 1200 credits.
CopySmith was created by Jasmin Wang who created it to help write killer sales copies.
She invented it after struggling to create content for her eCommerce site while still managing other areas of her business.
This tool can be used by entrepreneurs, content writers, and many others to write content for their websites. It's powered by GPT-3, which is among the most powerful Artificial Intelligence models.
You can use CopySmith to create taglines, SE Metatag, content rewriter, product descriptions, blog posts, etc.
After logging in to CopySmith, you'll see various templates to choose from. Select your preferred content template to see your available options.
Choose an option that you like and let this service generate a copy for you. Also, note that one can favorite the option they like by clicking the heart button on that option.
This will then let CopySmith know the tone and structure of the content you like. If you need to write a product description, blog posts, or any other marketing content, you'll find this tool useful.
Key Features
Below are the key features of CopySmith and what to expect when you use the platform.
CopySmith offers more than 20 marketing templates, including LinkedIn, Instagram, and Google templates, among others. You can easily try out these templates even when you don't have experience in marketing or copywriting.
Users can use CopySmith to generate interesting blog posts. Just by inputting a little information about the content you want, this tool generates the requested copy.
With copysmith, you can be rest assured about the article generated for your blog. The service generates your copy word for word. As such, their content is original and passes plagiarism checkers like Copyscape.
You can download copysmith chrome extension that allows users to log in to CopySmith quickly and conveniently from any webpage using any device. And as such, you can easily share your generated copy on the sites you want.
Pricing Plans
There are various pricing packages on this site covering all budget sizes.
You can choose the starter plan, which goes for $19 per month, or the professional plan, the early adopter plan, or the enterprise plan that cost $59, and $499 per month, respectively.
Note that you get a discount on all these plans if you're paying annually.
The starter plan is best for those writing short content. You're given 50 credits per month. With a professional plan, your credits per month increase up to 250.
It is best for all types of content and comes with prioritized customer service and input on the roadmap of a new product.
The early adopter plan includes everything on the professional plan only that credits are increased to 1000 every month.
Those who opt for an enterprise plan get 1000 credits each month and a custom domain that allows them to share the content output.
You're also offered an account manager and prioritized customer service.
Shortly AI is not very popular amongst content creators but for the few who use it, they love every feature of this software. And this makes it one of the best Copy AI alternatives in the industry. 
As a writing assistant, Shortly AI helps you create content fast and easily. With this software, writer's block remains to be a thing of the past and you will no longer have to fear the dreaded cursor.
To come up with content, you just have to key in a couple of keywords and wait for unique articles to be generated.
Shortly AI Key Features
One of the key features of this software is the list of powerful commands that you can use to create content. They are; rewrite, expand and shorten. As a writer, you have probably come across instances where you want to do either of the following three things. But fatigue and writer's block can come in between you and your creativity. Shortly Ai makes the above tasks simple and easy.
This software uses Open AI GPT-3 which is a powerful language model that has been trained to write quality content.
It generates original content.
Coming up with content has never been this fast and easy as long as you use Shortly AI.
The software features no limits on the number of words you can generate. This is a feature that makes it a favorite.
Shortly AI Pricing
Shortly AI's pricing plans are quite straightforward. There is the monthly plan that goes for $79 a month and the annual plan that will cost you $65 a month.
Both packages give you access to regular updates, article generation services, and access to powerful commands that will improve your writing speed.
The only difference is that the annual package has a $14 discount.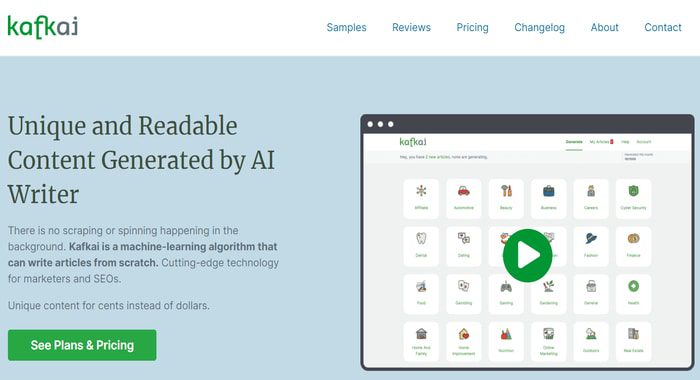 To date, it remains to be a mystery how most people underestimate Kafkai. Could it be because of its funny name?
Did you know that Kafkai was based on Elon Musk's Open AI project? Yes, this software is attributed to Elon's brilliant mind.
Kafkai can generate unique and human-like articles in just a few seconds. It uses GPT-2 machine learning model to create engaging and interesting posts.
This software is perfect for all online entrepreneurs as it is easy to use and fast. Kafkai unique features and pricing plan makes it a close competitor with Copy AI. 
And this also makes it one of the best copy ai alternatives too. 
Kafkai Key Features
There is one interesting feature about this software and that is the three modules it offers its clients. There is one untrained module that can be used to write general content. This module is ideal if you want to experiment and customize how the AI produces content. The other modules are designed to generate niche articles. These don't provide a lot of wiggle room but they are well-trained.
It supports and generates content in six different languages.
The software has got a WordPress plugin that you can install and streamline your publishing abilities.
Kafkai only generates unique and original articles.
The number of niches in which Kafkai can write for you is more than 20. Therefore whether you want an article on marketing, travel, health, or technology, this software has got you covered.
Kafkai Pricing
Using its free trial that is available for three days, you can instruct Kafkai to write 25 articles for you.
From there, you can choose from the following; writer package that lets you write 10 articles a day for $29 per month.
Newsroom option that generates 25 articles a day for $49 per month. There is the printing press package that allows 100 articles in a day for $129 in a month.
The final package is Industrial Printer that gives you the freedom to generate 500 articles per day for $199 per month.
In these packages, there are monthly limits on the number of articles you can generate, for instance, Printing Press is limited to a thousand articles per month, and Writer is limited to only a hundred articles per month.
Snazzy.ai is a new ai article generator software powered by GPT-3, just like Copy AI. It is primarily used to create content for ads, landing pages, product descriptions, etc.
Businesses and websites can use it to generate ideas quickly. Simply by providing your business's name, some keywords, target audience, and description of your product or service, this tool can create a compelling copy for you.
Its descriptions, paragraphs, and content are said to be accurate. But, you can still modify before using them directly on your website.
Key Features
Let's have a look at the features of Snazzy.ai
Created by OpenAi which uses smart language to produces human-like content using deep machine learning. It is accurate and free of errors.
Snazzy gives users customized, professional, and relatable content using this smart technology.
The platform includes various templates for creating product descriptions, blog ideas, headers, selling points, ads, and taglines, among others. Templates will create content depending on the information you provide when onboarding. It uses information like keywords and descriptions to generate a copy for you.
Snazzy AI comes with extra tools added to the platform for a better user experience. Content Extender turns simple sentences or bullet points into complex creative content.
Pricing Plans
The company offers very competitive pricing. You can try generating a maximum of 5 templates per day with the free version.
If you are a casual user, that should be enough. However, if you need more templates, you'll pay $49 per month to be upgraded.
The paid plan also includes access to new features and same-day support. Let us outline these plans further.
Which is the Best Copy AI Alternative?
With the above list of best Copy AI alternatives, you'd understand that Copy AI isn't the only copywriting tool out there.
Although it write amazing copy, but it has its own set of limitation which is why you'll find the above list handy.
So looking for the perfect Copy AI alternatives might not totally be a bad thing.
However, based on my research, I found
The majority of these tools like Copy.ai all come with a free trial, so you can use that to your advantage and see what works and what don't.
So that's it on Copy AI alternatives, let me know which one works best for you using the comment section below.
Related Content