Copysmith vs Jasper AI: Best Copywriting Tool?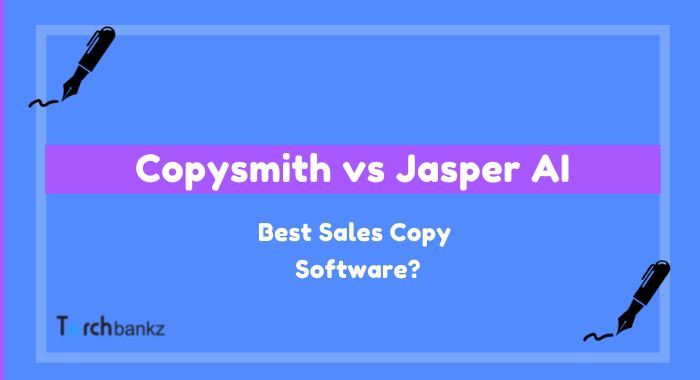 In today's post, we're going to be comparing Copysmith vs Jasper AI. we'll look at Copysmith from a holistic view and at the same time compare it with one of the most popular AI copywriting tools.
Content marketing has now been simplified thanks to the various tools available today.
Hence our copysmith vs Jasper!
These tools happen to be among the best ai copywriting software that generates unique copy any copywriter can use.
Copysmith itself make the whole copywriting journey easy as it can easily be used to generate any content around a different niche.
We'll be looking at its features, usability, pricing plan and every other thing you can expect from the tool.
At the end, you should be able to deduce if Copysmith.ai is the right tool for your kind of works or better still look into other Copysmith.ai alternatives.
In a bit to really evaluate Copysmith.ai, we also bring alongside a unique copywriting tool and we'll be comparing them alongside.
We'll be comparing their features, user's experience, pricing and every other thing worth looking into.
With this, you'll have a better understanding as to how they work and what's better for your business.
Let's go through this, shall we?
What Is Copysmith?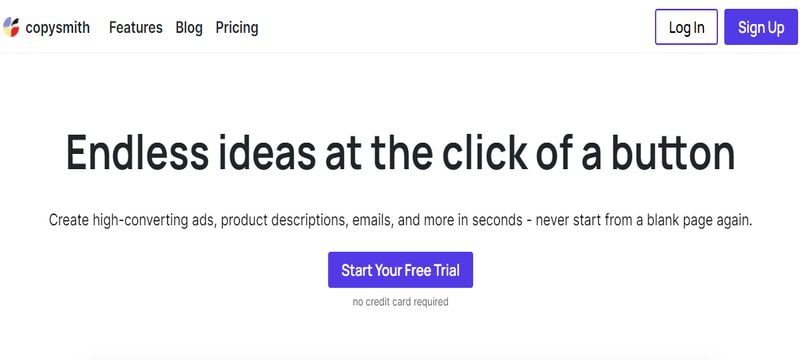 CopySmith helps individuals solve the copywriting problem by generating high-quality copies for Google Ads, Facebook Ads, Instagram Ads, sales emails, product descriptions, etc.
It uses a machine-learning language to help individuals create compelling copies within seconds. If you always find yourself brainstorming for ideas before writing, you'll find this tool useful.
It'll simplify things for you, manage, generate and evaluate a copy all under one roof.
How Does CopySmith work?
Well, when you log in to the platform, you provide information about the name of your company, address, brand, and keywords.
Then the service will generate 3-15 different text snippets, where you can choose one that is appealing to you.
It uses Generative Pre-Trained Transformer GPT-3, which is a powerful machine learning technology as we shall see later.
Content is generated within seconds, and one can export it as CSV, plus you can put it on 85% auto mode as it has a high percentage of linguistic accuracy.
What makes this app unique is that you can integrate it with Gmail, WordPress, and Shopify. If you are already familiar with Google Ads, you'll find this app very helpful.
But, even if you are not, you can also maximize its benefits. In short CopySmith:
Generates content automatically for your Facebook ads, Google ads, product descriptions, etc. Therefore, you'll have ads for your different platforms with just a few clicks.
Allows one to edit their copy as they see how it'll appear on Google, Facebook, and Instagram.
Allows sharing your copy with your family or friends to let you know how they think about it.
One can export their content as CSV.
Allows you to manage your campaigns on different platforms like Google and Facebook in one place.
Who's behind Copysmith.ai?
CopySmith was founded by Jasmine Wang, a marketer and entrepreneur. While she studied computer science in college, she later ventured into the e-commerce industry.
She designed this platform in 2020 when she saw how difficult it was for entrepreneurs to do copywriting for their businesses.
The options she got were either expensive or not fulfilling. She had to hire a freelance copywriter or an agency to perform the task for her.
Therefore, after going through these struggles, Jasmine thought of creating a tool that will help entrepreneurs fulfil their marketing campaigns.
So she designed CopySmith using Natural Language Processing (NFL). As she had some knowledge about AI research, NLP, and GPT-3, she combined these technologies to come up with this copywriting tool.
Copysmith.ai Review: Features
CopySmith may be a young company, but they continue to add more features and polish the existing ones. Features include;
Various marketing templates to choose from, including SEO meta tags, ads for Google, Facebook, LinkedIn, and Instagram.
An easy-to-use platform even for people who don't have experience in copywriting/marketing.
The service creates accurate copies.
Includes a blog post generator that allows you to generate the blog posts just by putting little information.
Plagiarism-free content.
Google Chrome Extension allows you to access this service quickly from different web pages on different devices.
Uses Google Firebase to protect user's data. Also, you can sign in with Google. Thus you don't need to create another username or password.
Copysmith.ai Pricing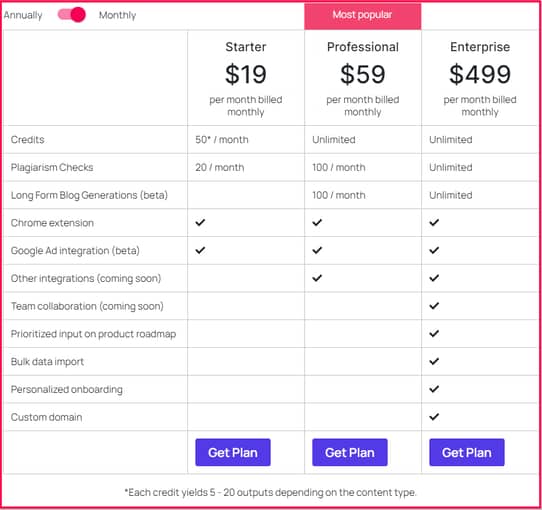 There are three different versions on this platform, that is, Starter, Professional, and Enterprise.
While these plans have different pricing and features, you can generate unlimited AI copies in all of them and you can buy each either monthly or yearly.
If you want to save, opt for the annual subscription. But, if you're using this service for a short while, then a monthly subscription for the months you'll use it will be best.
The starter plan is $19 per month and is best for small and medium companies. It comes with all CopySmith's marketing templates except the blog post generator.
It also includes 50 credits/month, which is about 500 pieces of your original content. If you want short content types, it'll be a great plan for you.
The early adopter features all content type, customer service, and prioritized input on the product roadmap. It features 100 credits per month, meaning you get 10000 pieces of the original content. It goes for $59/month.
There's also the professional plan, costing $59 per month. It includes priority customer service and input on the product roadmap.
It also has all content types and offers 250 credits each month, which is 2500 of your original content.
Lastly, there's the enterprise version that features everything of the professional plan and includes an account manager and personalized onboarding.
Additionally, credits are increased to 2000 per month, making 20000 pieces of the original content. Again, it offers high-quality copies for all users. It doesn't include a fixed price.
Therefore, you'll have to contact CopySmith for the pricing information.
Also, note that they have a seven-day free trial and lifetime access to the starter plan that is $228.
Copysmith vs Jasper AI
Writing copies is generally an integral part of your business. A sales copy can bring a whole lot of difference between a product that sells and one that doesn't.
Thankfully, there are many copywriting tools today that can be used by all individual's even those who don't have experience in writing copies.
CopySmith and Jasper.ai are examples of such tools. They are designed to help users create high-quality content that leads to a high conversion rate, which ultimately increases your revenue.
Both use GPT-3 artificial intelligence to generate unique compelling copies that are free of plagiarism. They both include many templates to choose from and are available in different languages.
These popular tools can generate copies within seconds and only require you to give little information about your brand and product/service.
Both of them have a wide user base. However, as they have their pros and cons, deciding which one is best for you depends on your needs, preferences, and budget.
What is Jasper AI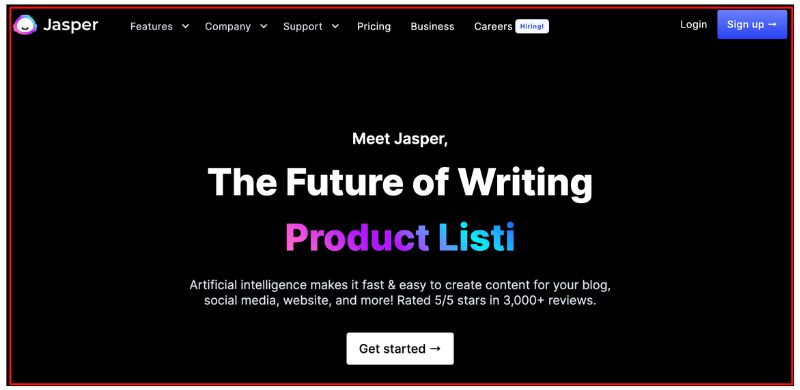 Like Copysmith, this is a copywriting tool that still uses artificial intelligence to generate copies with a high conversation rate.
Jasper creates unique content using machine learning. It can generate converting copies and persuasive marketing messages within seconds.
While it can generate ideas for a new copy, you can also use it to improve existing content and make it more interesting and engaging.
This service was created by the UseProof company. It's designed for those who want to increase leads, sales, and conversion rates on their website.
Once you are logged in, choose your skill from the available templates, then give a brief description of your business name, and allow the service to generate a copy for you.
Conversation.ai can help you create catchy email subject lines, Attention, Interest, and Desire framework, SEO blog posts, including the title and meta descriptions, product description, blog topic ideas, etc.
Learn more about JasperAI features and pricing here
Copysmith vs Jasper AI – Features Compared
Here is an outline of their features:
User experience: Jasper.ai has a better user experience compared to CopySmith.
Number of Modules: CopySmith features 34 modules, while Jasper.ai has 39.
Chrome Extension: CopySmith has a Chrome extension that can be downloaded on the Chrome Web Store while Jasper.ai doesn't support this.
They both offer long-form content and are content editors.
Both save a user's history, which means you can retrieve your projects.
#1. AI Platform
Jasper.ai and CopySmith are both AI copywriters, meaning that they use Artificial Intelligence to write copies.
Therefore, they generate unique high-quality content for users. These AI writing tools use machine learning language offered by GPT-3 to create creative posts that are SEO-related.
Let us learn more about GPT-3 technology
It is the latest release from OpenAI that addresses the shortcomings of GPT-2. It weighs 175 billion parameters, thus the largest Natural Language Processing transformer today.
GPT-3 is the most trusted tool for comprehensive writing as it features accuracy and efficiency.
As such, individuals can't differentiate a copy that's written using this technology and one that is written by a human.
It's why several copywriting services have integrated this technology into their platform to help write catchy headlines, persuasive ad copies, compelling product descriptions among others.
If you are a content marketer and you're interested in using GPT-3 on your writing, you can use both Jasper.ai and CopySmith to help you generate different content.
These tools use the available data in the public domain to generate text using Artificial Intelligence that allows them to do so quickly.
#2. Languages
When it comes to languages, CopySmith.ai beats Jasper.ai as it supports many languages.
It includes more than 100 languages while Jasper.ai only has 11, which are English, Polish Dutch, French, German, Spanish, Portuguese, Italian, etc.
But CopySmith says on their site that while they support different languages, the best outputs are in English.
However, you can still make a language request on this site.
#3. Plagiarism Check
Copysmith offers plagiarism checks depending on your subscription. For the starter plan, you'll get 20 checks per month, while the professional includes 100 checks per month.
The Enterprise plan offers unlimited plagiarism checks. Unfortunately, Conversation.ai doesn't offer these checks.
However, the content generated is still unique since the site uses artificial intelligence that generates copies word for word.
But, if you like, you can still use third-party plagiarism checkers like Copyscape to be sure.
#4. Long-Form Content
Jasper.ai is one of the tools that support long-form content. But, you must have a paid version as well as a pro account to use this.
In copysmith.ai, long-form is still in beta form, which means that the quality is not that good. A long-form assistant helps you write long content for your blog posts, sales pages, landing pages, etc.
#5. SEO Tool Integration
Jasper.ai integrates with SURFER SEO. Therefore, allowing users to do search engine optimization on the content they are writing even before they publish it.
You can use the tool to write catchy titles and meta descriptions by just keying in some keywords and basic information.
Unfortunately, there's no SEO tool available in copysmith.ai.
#6. Content Template
CopySmith has more than thirty templates to choose from, and they are constantly adding new ones. These include:
Facebook ads
Google ads
Product description
Content rewriter
Blog outline
Content expander
And many more. You can use these templates to create ads, taglines, headlines, SEO metatags, and other content types.
Note that every template looks slightly different, so if you need help, click" See Examples" to get an idea.
Conversation.ai also has many templates, including;
AIDA framework
Content rewriter
Blog outlines, topic, and introduction
Facebook ad headlines and primary text
Google ads headline and description
The list is wide. And you can be sure to find a template that you want to work with no matter the business you are running.
#7. Pricing
The standard pricing on CopySmith's page includes three plans that cost 19/month, 59/month, and $499/month for the starter, professional, and enterprise plans, respectively.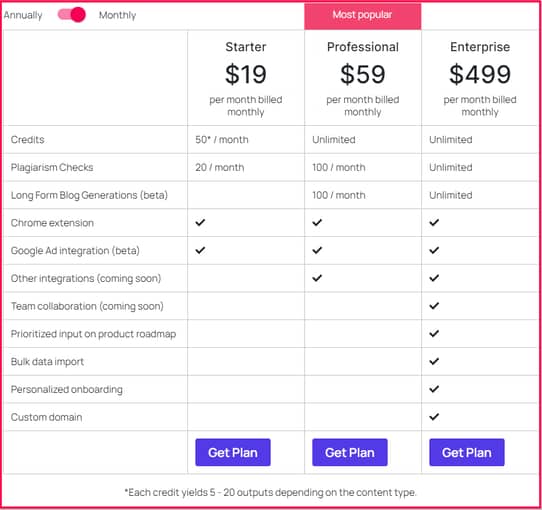 They also offer a free trial that doesn't need a credit card. You can also opt for their annual subscription.
Conversation.ai, on the other hand, has straightforward pricing. You get 20,000 words for a price of $29. But, the more your number of words are, the more you pay.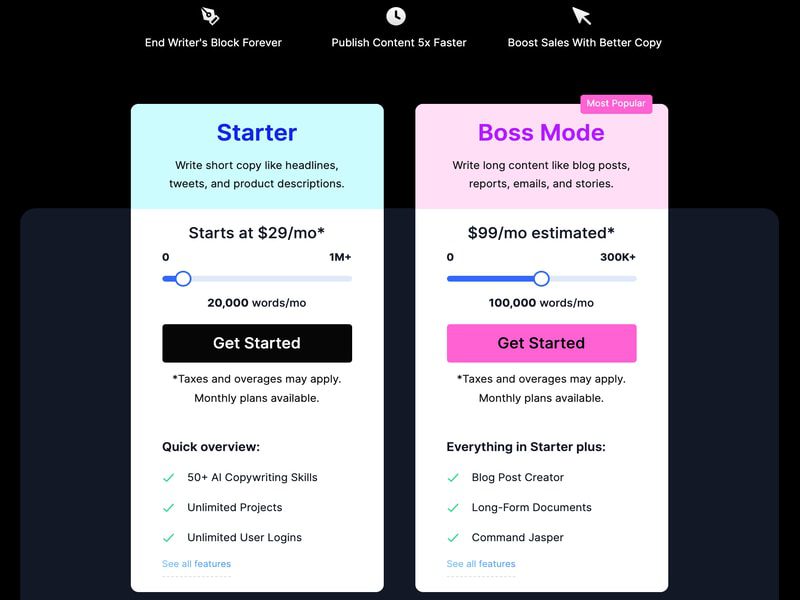 Higher plans include:
$29/month for 20000 words
$99/month for 10000 words
You can also get 5000 more words on your plan at an additional cost of $10.
There is also the pro unlimited plan that comes with an unlimited number of credits. Plus, it supports three team members.
#8. User Interface and Ease of Use
While both have an easy-to-use interface, Conversation.ai beats Copysmith. Its interface is beautiful with all the information you need on the dashboard.
Templates are well laid out, and they are also categorized under marketing tags. Therefore, it's easy to find the template that you want.
Its onboarding process is simple, and you only answer a few questions on your type of industry and why you want to use the platform. Is it for personal, agency, or own business use? Then you add your account and domain, and that is.
#9. User Community
Both the platforms have a user community on Facebook. But, conversation.ai has a large community where users talk about their experience in using Jasper for copywriting.
This helps those new to this service to get some ideas and inspiration on how to use the platform to enjoy its maximum potential.
Also, the founders and customer support team are very active in this group to answer any questions you have and offer product updates.
Quality of Support
CopySmith.ai reviews say that the company offers great customer support via Facebook, Instagram, Twitter, LinkedIn, and email.
They respond within 24 hours, plus they have blogs, tutorials, and FAQs. Additionally, they have an active Features Request page where customers can request new or improved features.
Conversation.ai also features excellent customer support. They have a live chat on their dashboard where you can contact their team. Their response time is fairly quick.
Learning & Training Portal
Training is available in person, live online, and documentation on CopySmith. But with Jasper.ai, they only offer training via documentation where they have a training academy with training videos.
However, they do conduct webinars to demonstrate how you can use Jasper.ai on your content. These webinars are also recorded for those who want to listen later.
Copysmith vs Jasper AI: Conclusion
Writing great content is not enough to achieve your desire result, you need to put into consideration the cost, and time of producing the content.
While hiring copywriters might be an expensive choice, using AI might as well save you the cost and time of getting it done.
Copysmith.ai and Jasper.ai are both great tools when it comes to writing great copy for your business but choosing one of them totally depends on what you want.
I discovered Jasper AI is actually affordable and saves more cost compared to Copysmith.ai. However, Copysmith on the other hand comes with outstanding features not available on Jasper.ai. like plagiarism check and 100 languages output.
The best part? They both come with a free trial to check them out. As a plus bonus for Jasper.ai, it comes with a 7days money-back guarantee.
So if after your trial, you decide to join the platform and you later discover it's not right for you, there's 7 days window to request a refund.
There you have it, Copysmith.ai review with Jasper.ai comparison. Let me know what you think about the tools.
Which one is it going to be?

or
Learn More: