How To Create a Drop Servicing Website [Step by Step]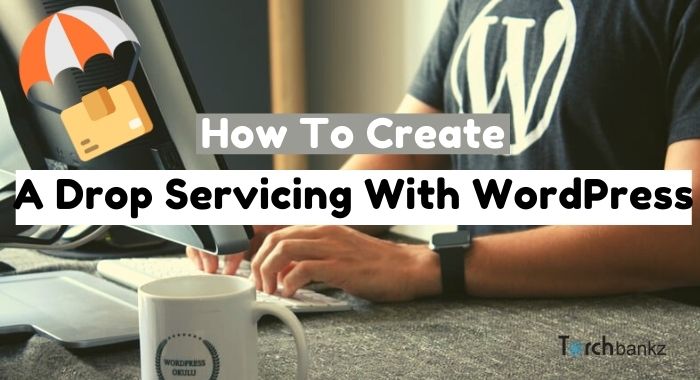 In this tutorial, I'll show you how to create a drop servicing website with WordPress within a few hours. 
Its true drop servicing business is one of the best ways to make serious money online, but as the popular saying goes; Rome is not built in a day. 
And the same thing applies to running a drop servicing business. There are so many factors you need to put into consideration before starting one. Like drop servicing tools you need,  product Niches and how to drive traffic, etc. 
However, building a standard drop servicing website TOP the entire list. 
Once you have an up to date standard website where your clients and potential clients can conveniently place an order, then you are a step ahead of your peaks.
If you're using WordPress, your only cost here will be the cost of creating the website which is pretty much affordable if you're using a web hosting provider like BlueHost. 
Drop servicing itself is a business model that requires less work from your end. Since all you'll be doing is selling services and having other people do the actual work (Mostly like dropshipping).
Your profit, however, will be the difference in how much your client pays you to get the job done minus how much you pay the freelancer that did the job on your behalf.
Pretty sleek isn't it? 
Since you understood the nature of the job I believe you should place more emphasis on creating a standard website.  This is because your website is going to be the first impression your clients are going to have noticed about you. 
And you definitely don't want to turn them off with a lame website, would you? So it's important you take your time while creating one. 
As I said, I'll walk you through a step-by-step guide on how to create a drop servicing website with WordPress.
But before we start, let me quickly warm you up with some of the benefits of creating your own drop servicing website. 
Advantages of Creating Your Drop Servicing Website
Below are a few of the reasons why you should definitely have or create your own drop servicing website. 
#1: Cost
You're going to be saving yourself a whole lot of funds if you're creating your drop servicing website yourself.
Normally, if you're to use website builders like Go High Level, you'll be parting away 100 bucks per month, to say the least. 
If you're also particular about outsourcing the website creation, having a standard drop servicing created on Fiverr by some of the Giggs creators can cost up to $700.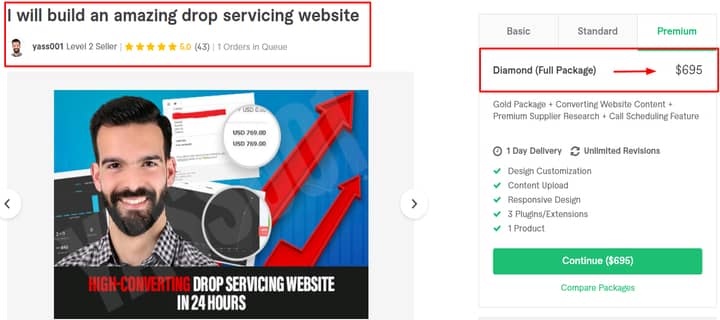 Perhaps creating one yourself with a hosting provider like Bluehost will practically cost less than $200 with an additional premium page builder you'll use like Elementor. 
I should probably tell you too, this is going to require an average WordPress skill and lots of customization to create your standard website with WordPress.
But with software like Go High Level, everything is completely easy with the use of drag and drop features, and it also comes with additional features needed to run your business automatically.
Go High level is an all-in-one marketing platform that includes everything you need to sell under one roof. It includes:
Website Hosting
Email Autoresponder
Sales funnel
Drag and Drop landing page software
Video Hosting
Payment Gateways
Membership sites
CRM
Funnel Building
SMS Marketing
Call Tracking
Pipeline Management
Calendar Booking

Survey Builder

Call Recording

Drop Servicing Agency

Business Automation

Client Retention Tool

White Label Software

Client Acquisition 

Lead Automation 

Saas Builder 

Revenue Tracking 

Reputation Management 

Client Fulfilment software 

And Much More…
I recommend Go High Level for building your website if you have low WordPress development skills.
It is an easy-to-use drag-and-drop page builder that any newbie can easily use.
Here's a sample of drop servicing website example or template you can build with GoHighLevel Drag and Drop Features.
You can read my Go High Level Review to learn more about the page builder and how it works.
#2: Website Customization
Having your website gives you the privilege and access to many customizations with WordPress and WooCommerce. You can install any themes for the sleekness and looks of your website or add any plugin for additional functionality you want. 
You can also customize your payment gateways with several currencies or change the entire looks of your website based on the themes and plugins you're using.
#3: Profit Margin
Firstly, having your website gives your business a standard look which invariably justifies the price of services you're selling compared to drop servicing on marketplaces like Fiverr or Upwork. 
You can also process as many orders as you want on your website without having to bother about payment processors or paying a commission on every sale you made. 
Having your own drop servicing website lets you sell high ticket services that can drastically improve your profitability
How To Create a Drop Servicing Website
In this guide, I'll focus on how to create a drop servicing website with WordPress using the Elementor page builder. 
Elementor is a page builder for WordPress with lots and lots of templates you can choose to create any type of website. 
It comes with a template library where you can choose a design similar to the website you want to create then download and edit the test to yours. More on this later… 
So, I'll walk you through the entire step from installing WordPress to creating your site pages. 
Let's get started! 
Step 1. Buying Domain & Hosting your website
To successfully create your website you're going to need the following:
A Domain Name
SSL Certificate
Web Hosting
A couple of hours to set it up
Domain Name:
Thus is your unique website address. For example, torchbankz.com . This is very important to your website because:
It defines your business brand
And it gives people an idea of what your business is all about
So, it's always important to take time while choosing your domain name because it's going to go a long way with the branding of your business.
I'll recommend you go for a catchy and easy to remember domain name that goes well with your business name.
Most importantly, keep it simple and easy to pronounce.
Web Hosting:
Web hosting on the other hand, is your website home, and where all your files will be stored. Think of it as the actual house while your domain name is the address to that house.
Your web host is actually the most important part because you can't have a website with just a domain name. You'll need a hosting platform to make it visible on the internet.
For this, I can gladly recommend one of the best for you, which is… BlueHost! This is a wonderful platform with great customer service; you can always expect great service in return for your money.
Plus you'll be getting a free domain name, SSL Certificate without paying a penny and a huge discount on the hosting price.
So,Why Do I Recommend BlueHost?
Bluehost is currently hosting over 2million websites across the globe and they have a 99.9% uptime guarantee.
This simply means you can rest assured that your website is not going down any time soon.
I believe using Bluehost is going save you whole lots of stress and save you lots of money in the long run. Below are the highlights of why they are considered one of the best web hosting providers.
It crazily loads fast
Comes with a Pre-installed WordPress
Free SSL certificate
You'll also get a free domain name
30 days money-back guarantee
Officially recommended by WordPress.org
Well established web hosting company
Easy to use Cpanel
Free technical support and many others
I've changed my web hosting provider for three times and I can gladly recommend Bluehost for any of my blog readers.
This will save you from the kind of ordeal I went through while using a wrong hosting provider for my website.
Since that's out of the way… now, we need to go and purchase the web hosting then get our domain name for free!
What you need to do now is visit the Bluehost website and opens it on another tab.  You can then continue with this tutorial to create your website.
Click on the "Get Started Now" button to continue.
At the next page, you will be asked to choose a pricing plan for your web host. Since you're just getting started, you can start with the Basic plan and later upgrade if need be.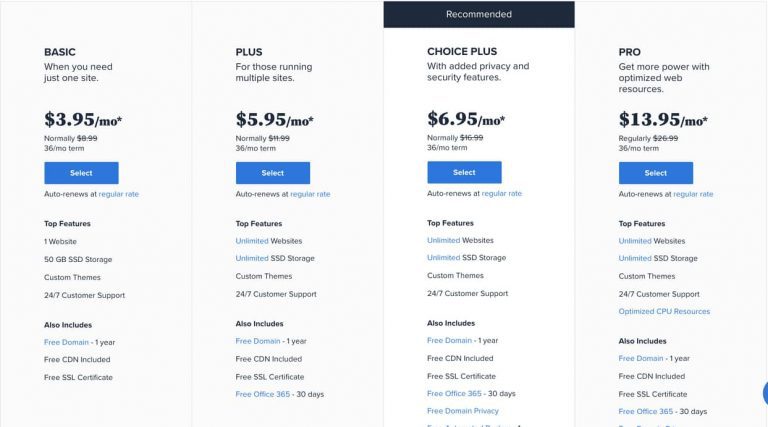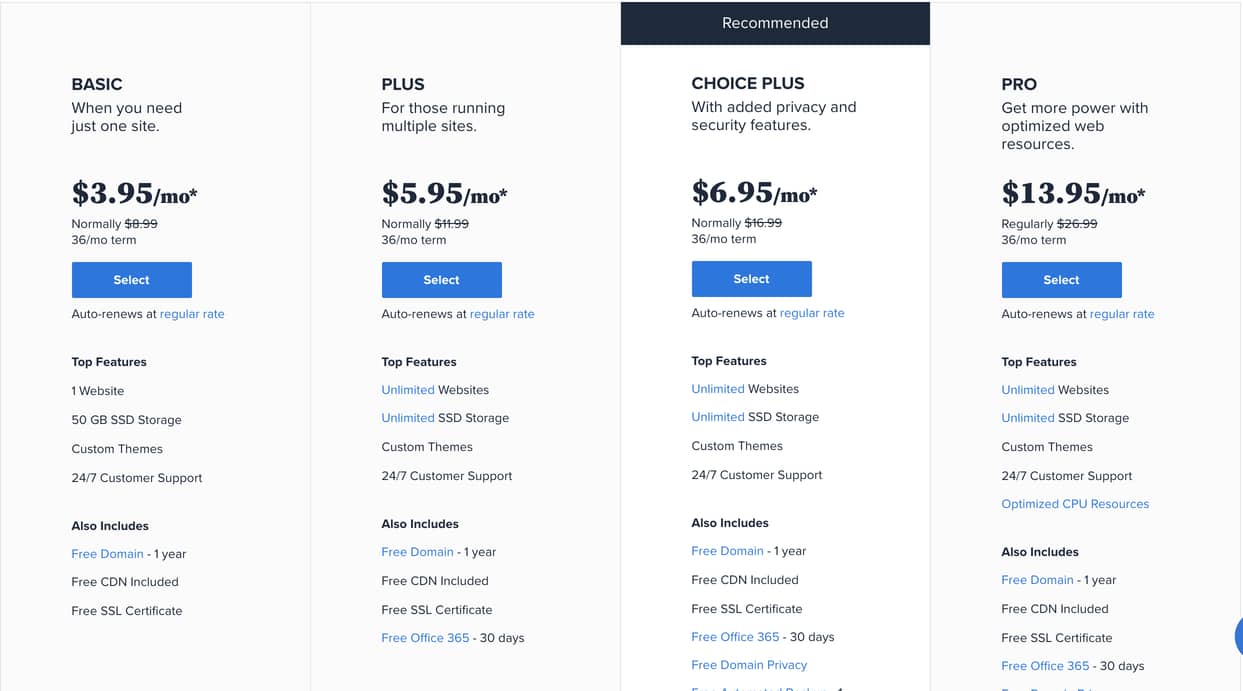 Simple click on the "Select" button as showed on the image to choose your plan and move to the next step.
Next, you'll be asked to choose your domain name for your website and if you have one already, you just have to enter it in the next box at the right-hand side.

Note: If you decided to use another domain name from a different provider you'll need to point to Bluehost nameservers.
ns1.bluehost.com
ns2.bluehost.com
After getting your domain name, you'll need to enter your contact information in other to create an account with Bluehost for you automatically.
Meanwhile, the next page will ask you to choose your package plan. You'll have the option to choose from 12, 36 or 60-month straight subscription.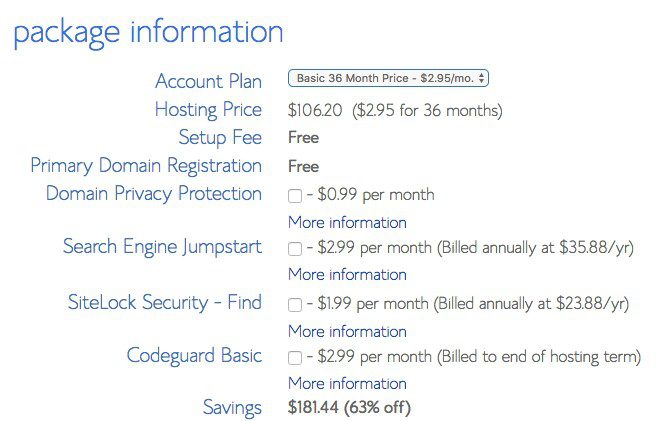 The price will be brought down based on the month's package you choose. Also, note that you don't need to tick any of the additional boxes except for "Domain Privacy Protection"
Finally, on the next page, you need to enter your credit cards details to check out. After that scroll down and tick the "Terms of Service" to agree then finally click the submit button.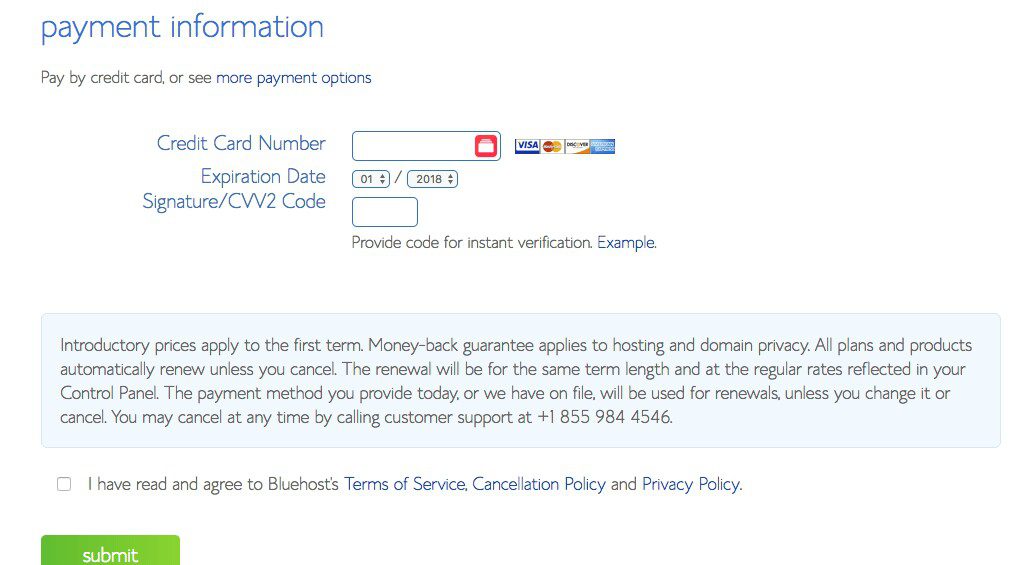 Nice!
Your website is almost ready now!
After this, you'll be asked to create a password that will be used to login to your Bluehost account and once it's done you can now have access to your Cpanel and also log in to your website from Bluehost if you want.
Step 3: Setting Up your Website by Installing WordPress
After purchasing your hosting plan, your account information must have been sent to your signed up email address.
Immediately after that, Bluehost will prompt you to choose a theme for your website. You can decide to choose anyone because you can always change it any time you want.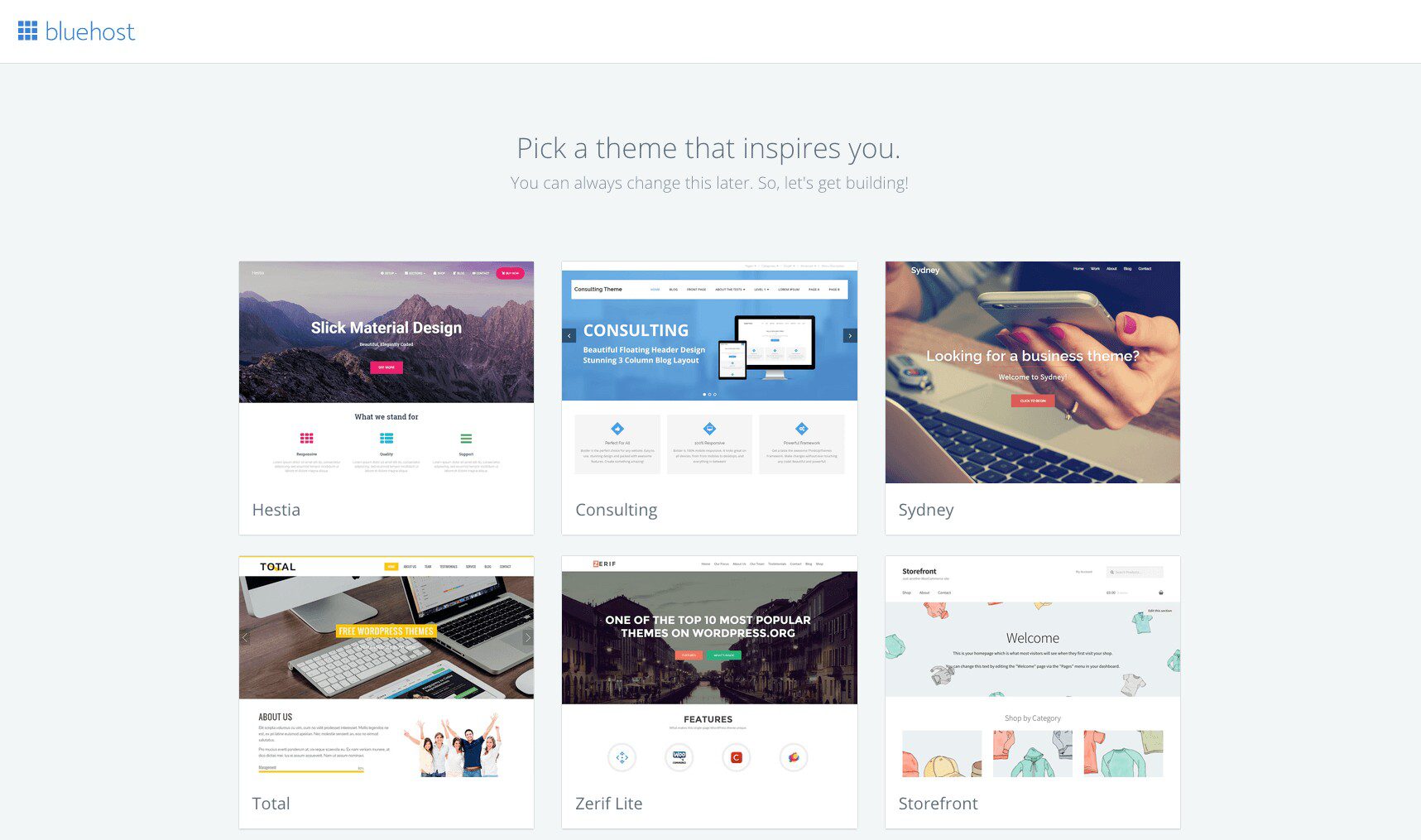 From the account information sent to your email address, there'll be a link to create a new password for you to log in to your account.
Once you've chosen your password, you can log in to your Bluehost control panel.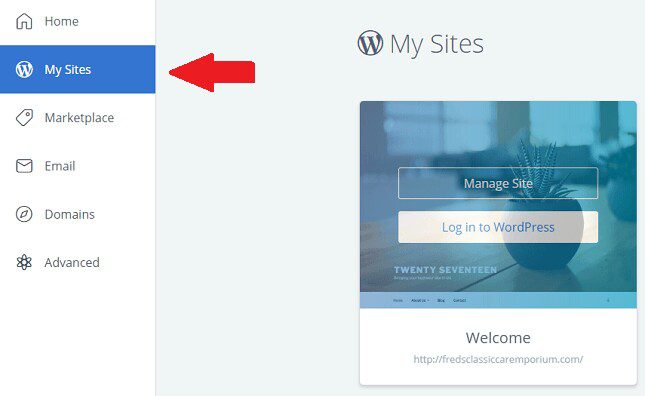 Remember I told you that Bluehost has WordPress pre-install so you don't have to worry about installing it again. Next, you'll need to login into your WordPress admin dashboard to start customizing your website.
You can either login directly from your Bluehost control panel by clicking the "Login to WordPress" button.
Or log in through your WordPress by visiting your "www.yourdomain.com/wp-admin or www.yourdomain.com/login
Once in your WordPress admin dashboard, the interface should look like this…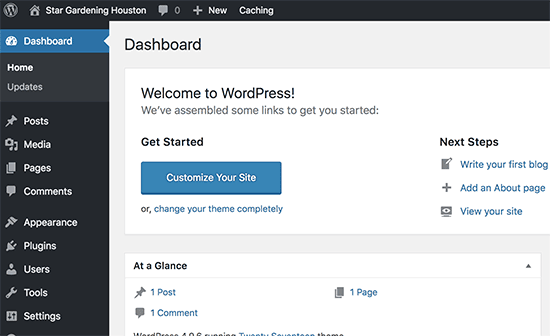 From your WordPress admin area, you can change your settings, create several pages about your business and manage the entire site.
Step 5. Install Elementor Plugin
Now that you've completed the WordPress installation and also Log in to your WordPress Admin backend. The next thing to do now is to install the Elementor plugin for designing your website.
But before we go ahead let's have a clear understanding of what the Elementor plugin is and what it does so you can know the exact effect it's going to have on your website.
What Is Elementor?
Elementor is the easiest to use and free WordPress page builder that let you easily design or create a beautiful WordPress website from scratch without learning any code.
It's an easy drag and drop page builder that offers limitless design possibilities. It also comes with an amazing library of pre-designed templates.
This means you can easily search for templates that are similar to the website you want to create and have it edited to your perfect taste.
Do I still need to remind you that you don't need to know any coding skills? All you simply need to do is edit the template using the drag and drop format.
Is Elementor Free?

The core plugin (Basic Elementor) is free. But if limited in terms of functionality but can still get few things done.

However, For Elementor Pro, the pricing starts at $49 per year for 1 site, then $99 per year for 3 sites, and $199 per year for unlimited sites.
Now that we fully understand what elementor does, let's proceed to the installation process.
To do this, simply go to the left-hand-side area of your WordPress admin dashboard and hover your mouse on the plugin as you can see in the image below.
After that click on "Add New"

On the next page that opens, enter "Elementor Page Builder" in the search box and press the enter key to search for the plugin.
The next result is going to bring out the Elementor plugin. Once you've seen this, Ignore the rest of the result entries and only click on the install tab beside the "Elementor Page Builder."
After the installation is complete, the tab menu will automatically change to activate, click on it to activate the plugin. Now you have your Elementor plugin fully installed!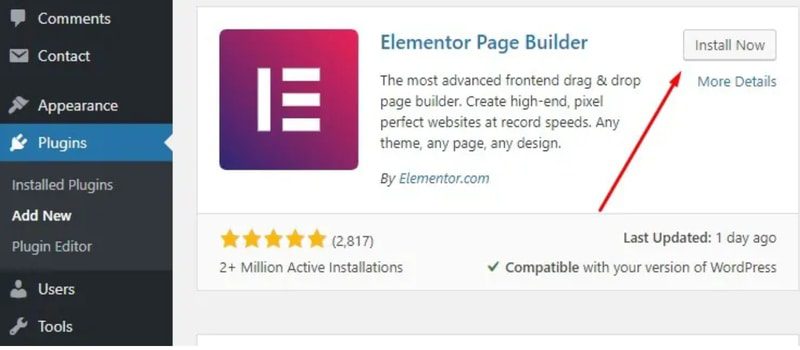 Or simply watch this video for clear understanding…
Once everything is in place the next thing we will do is to start creating our website pages.
Step 4. Adding Your Website Pages
After installing WordPress your website is now live! However, you'll need to create some important pages to add your business information.
Business websites are not loaded with a pile of content, you just need the essential ones. So, for this, you need to create a simple page with your business information and for other users.
To create a new page, you'll need to login to your WordPress admin area, then go to Pages >> Add New.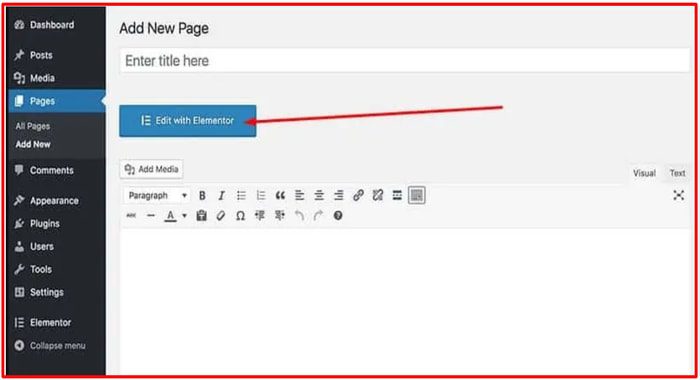 So far you have the Elementor plugin installed, immediately you click on 'add new page', you will see the "edit with Elementor" button under the title area.
By clicking on it you'll be able to customize the page you're creating with the Elementor page builder without editing any code.
Below are some of the most common pages used for business layout:
Homepage –
the "Homepage" is the welcome page of your website. That is, this is the first page every visitor visiting your website is going to see.
At the home page, you can add your business name with a 'call to action' to your products/services or to your contact us page.
Add a brief description of what your business is all about and why your customers should patronize you.
About Us –
this is the page where potential customers can go to know more about the people behind a business before they can make their final decision.
Your "About Us" page should tell users or potential customers who you are, what are your business values and your relevant experience in your chosen industry and why people should patronize your business.
Contact Us –
the "Contact Us" page is where your users/potential customers will be able to reach or contact you.
For this, you need to install a contact form plugin in other to do this or simply add your phone number or your business physical address.
Products/Services –
this page should contain your various products/services you're offering.
Try as much as possible to add a heading for each product/service and provide a brief description. You could also add pricing or simply ask them to contact you for a quote.
Finally, you can create as many relevant pages as you need. Just make sure you add the proper title of the page you're creating.
Editing Your Pages With Elementor
Once you have one (Pro or Free) of the Elementor plugins, you can start creating your website pages. However, you should know you'll need both if you're going for the pro plugin. You can easily download it here.
For creating and editing your page we're going to use the home page as an example and the same procedure can be used for any of the pages you want to create.
Creating Your Homepage
To create your page, from your WordPress admin dashboard go to (Pages -> Add New) and edit it with Elementor. Give this page a name like "homepage", or "front page".


After that, Set the page layout by clicking the gear icon on the bottom-left corner on the left panel. Set the page layout to Elementor Full Width or Elementor Canva.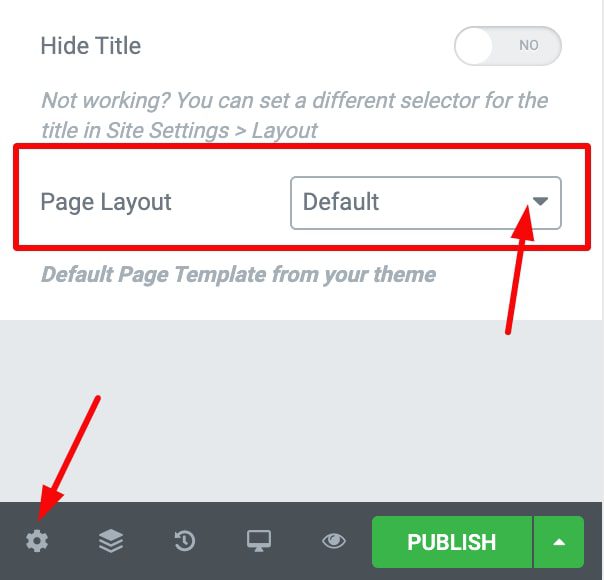 As I said earlier, one of the unique feature of the Elementor plugin is that you can choose from their wide variety of templates to create your website.
Depending on the kind of website you want to create, you can find a similar template close to what you have in mind and edit it.
To choose the template for designing your website, all you need to simply do is click the folder icon on the canvas area to import the homepage template you'd like for your website.

Once you've clicked on the folder like icon on the right from the image above, it's going to open up templates and blocks of some pre-done website template you can use to customize yours.
Browse through the templates and preview anyone you like or similar to the website brand you want to create. Once you've seen it, click insert on top of the page and everything will be imported to your website.
From your website, you can now start editing the page one after the other. Better still watch the video below to have a better and clear understanding on how to create a page and edit it.
After creating your home page, the next to do now is to go to setting in your WordPress admin dashboard,  then go to  -> Reading.
Once there, set the homepage display to a 'Static Page' and select the homepage you have just created from the dropdown menu and click the Save Changes button.
Once this is done, you can now visit your website address to check out the design you've just created.
Drop Servicing Website Designs and Samples
Below are samples of pages or basically the most important pages you should include in your drop servicing website to make it easy for potential clients to know what you're offering and how to find their way around your website.
#1: Your Product Page
The image below is a drop servicing website example you can replicate.  (Podcast Cover Maker Drop Service Website)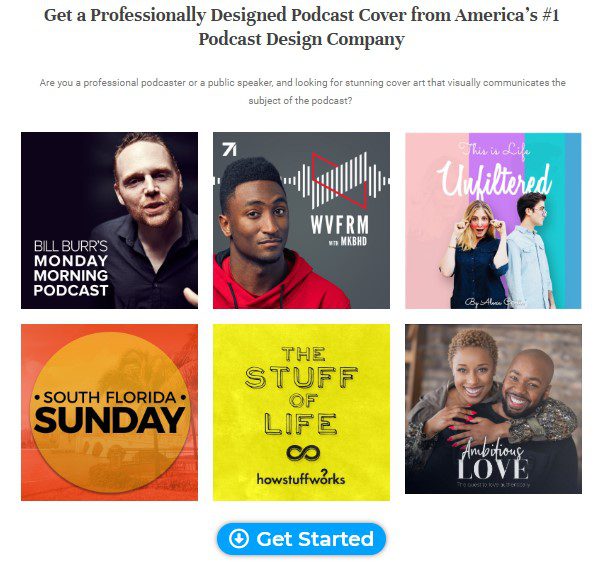 #2: How It Works Page
This should include the process your client is going to take from the moment they place an order on your website and how their project will be delivered.
See the image below to see how it works…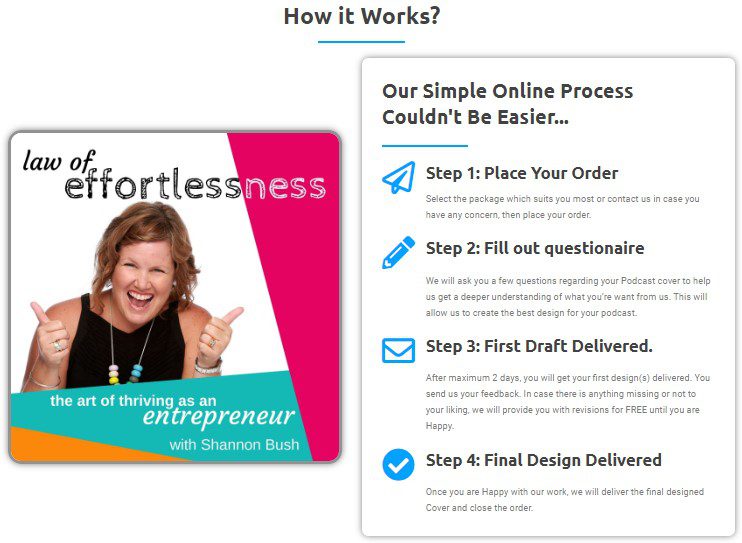 #3: Social Proof (Testimonials) Page
This should include testimonials of previous clients in other to convenience your potential client to patronize your company.

#4: Services Package (Call To Action)
This section will include your service package and where they make the order for your services. After checkout, they will be directed to the page where they will fill the Questionaire or form to explain in detail how they want their service.
Receiving Payments on Your Website
After all, is done, the next thing to do now is to set up your payment gateways. This is the means by which you can receive payments from your customer. 
Popular among these is PayPal and Stripe, and you can as well have both installed on your website giving your customer more chances and options to buy your services. 
However, to set up your payment Gateway, you're going to need the WooCommerce plugin. Having installed it you'll now be able to easily receive payments from your customers. 
So let's get started, 
Installing WooCommerce
Here's a short video to walk you through the steps of installing the WooCommerce plugin on your website.
Having installed the WooCommerce plugin on your website the following pages will be created automatically:
Cart Page 

Checkout Page 

My Account Page

Shop Page 
The next thing you want to do now is going over to your WooCommerce settings and click on 'product'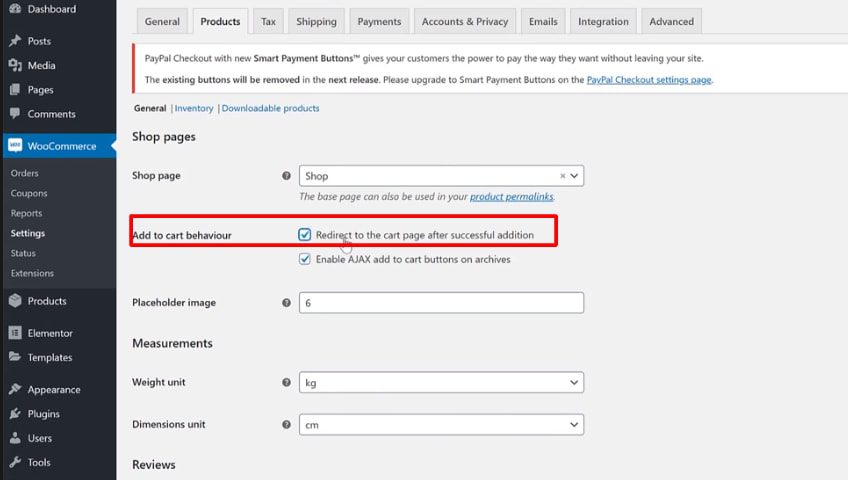 So whenever your customer clicks on your  'Buy button' on your product page they will be redirected to the Cart page that was automatically created by WooCommerce. 
From there, they can successfully make payments on your website and you'll get paid by the payment gateway you used.
Conclusion: Creating a Drop Serving Website In Summary
As you can see, creating a drop serving website with WordPress and Elementor isn't as difficult as it seems. Although, at first it might seem like a serious task, going through it a step at a time makes the whole process super easy.
Here is the breakdown:
Get a free domain name and free SSL Certificate then sign up for web hosting and install/activate  WordPress on your site. After that, install the Elementor page builder plugin for WordPress.
Once installed, create your pages and choose your page templates from the Elementor library.
For receiving payments, you'll need to install the WooCommerce plugin on your website and activate the payment gateways you'll like to receive payments on your website.
Learn More: