Digital Course Secrets Review: Kevin David's Blueprint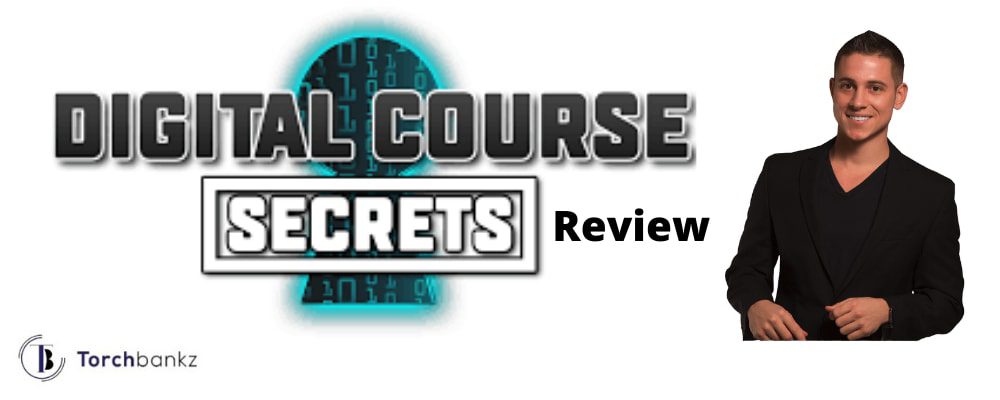 I'll do the Kevin David Digital Course Secrets Review and every single detail you need to know about the course the GOOD and the BAD!
How would you feel making 6 – 7 figure passive income selling a digital course online? I believe I know the answer to that!
But do you think it's doable?
Personally, I think it is!
I've had a few success selling informational products online and what I think is the major limitation of most people is not knowing where to start.
Most people have this perception that they are not ready or qualify or even don't have what it takes to create a perfect course for people to learn from.
While some simply don't how to start!
Well, if you're feeling this way I'll suggest you watch this free webinar by Kevin David on digital course making and probably see it from another angle.
I've seen several success stories of people making huge passive income selling digital courses about most anything.
The beauty of this is that you can create your course about anything. It could be about dating, learning languages, piano learning and most importantly your area of expertise.
So, if you're that kind of person that has the passion to impact lives and equally make passive income while doing so, then I strongly advise you watch the free digital course webinar by Kevin David.
The webinar is just a prelude to the course about how you yourself can start impacting lives of people on the internet through your course and most importantly make money in the process.
But if you feel the need to gain access to the course (Digital Course Secret) already, or even check it out you can do that here! 
Kevin David's Digital Course Secrets Review


That been out of the way, now let's go into the proper review of the digital course secret. Let's see if it's worth the hype and of course the price tag attached to it.
$1,997, but is it worth it?
These and more are what we'll be looking at in this in-depth review and before I proceed, these are what I'll be covering:
Digital Course Secret Overview
Who Is Kevin David
The Course Content (Digital Course Secret)
Bonus Packages
Who is Digital Course Secret For?
Pros of digital Course Secret
What's Not Cool About Digital Course Secret
Final Thoughts
And with that out of the way, let's get into the real content!
Digital Course Secrets Overview
The Digital Course Secret is a platform where Kevin David shared his experience on how he has been able to help people get free from the 9-5 syndrome.
This course includes the blueprint he used to earn the 2comma club award by Clickfunnels, which was as a result of generating over 7figures with just a single sales funnel.
The course is a step by step guide on how to build your money pulling course and most importantly impart lives of your students.
Kevin said the most success is when you're actually impacting the lives of people that went through your course. That is, your course must serve the value and actually change people lives.
If you have a skill that you believe can actually HELP the people then the digital course secret is the right thing for you.
You'll also understand from the course that you don't have to be an expert in a choosing niche before you're able to create a course in that area.
However, you do need to know and understand what you're about to sell out as a course so as to allow your student to gain more value for their money.
You'll also learn how to pull the right traffic and generate tons of followers raking to get your course and most importantly make money doing it.
Now, before we proceed let's know a little about Kevin David who's is actually the coach and author of the course.
Who Is Kevin David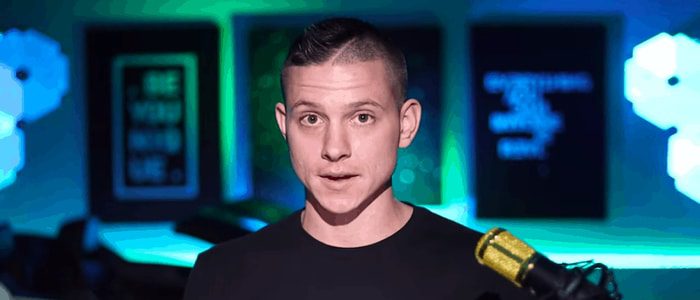 Kevin David is one of the top successful internet marketers who went from rag to riches like most people. He is an American born in Eugene, Oregon in 1989.
Kevin, after quitting his Facebook job went to start an Amazon FBA business and Shopify dropshipping that made him successful and allow him to teach others about his success via his YouTube Channel.
He has ever since then dedicated himself to helping others achieve success online while he also makes money in the process too.
Kevin has won several entrepreneurs award and prominent among them is the 2Comma Club award and the 2Comma Club X award by Clickfunnels.
The first was given as a result of making 1million USD from one sale funnel and the other being the 2Comma Club X award as a result of making over 10million USD from a single sales funnel.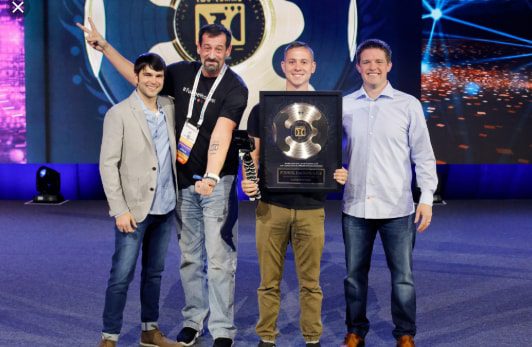 Interesting isn't it?
Now imagine gaining access to his step by step guide on how he's been able to generate over 10million USD from a single sale funnel selling digital course!
If you ask me, I'll say he's the right guy for the digital course training.
Let's now take a look at the course content and summarize each of the course content!
The Course Content (Digital Course Secrets)
The digital course secret comes in 6 different module designs to turn you into a pro in a matter of weeks. This includes everything you'll ever need plus several bonuses to juice your knowledge.
The modules highlight includes the following:
How to choose your course niche
Building your tribe
Validating your course idea
Organizing, pricing and outlining your course
Building your course technology
And finally, the marketing mastery
Here's the summary of what to expect in each module: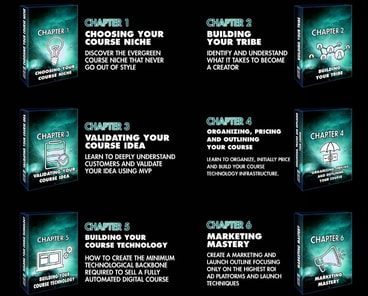 Module 1: Choosing Your Course Niche
This module focuses majorly on how you can choose and narrow down a niche that is bound to make you money.
You'll also discover how to create course even when you're not an authority in that niche and how to focus on beginners that need it.
In this same module, you'll discover how to tap into pain and pleasure of people around your niche while selling your course to them as an exact solution to what they need.
Kevin analyzes over 500 successful courses on a platform like:
Clickbank
Udemy
Clickfunnels etc.
This is to allow you to understand the kind and nature of courses that actually works so you won't make the same mistake most people do.
Finally, you'll learn the kind of mindset you're supposed to have and how to avoid the shiny object syndrome like most people fail to do.
He'll walk you through how you can build your brand and have your loyal follower ever loyal to your brand!
Module 2: Building Your Tribe
This module comprises of 11 videos while the previous module consists of 13. At this module which is the second module, you learn how to grow your brand to acquiring your first buyer.
Kevin talks about how you can use social media to your advantage most especially Facebook group and YouTube.
He also made mention how you can go about acquiring email leads for email marketing and make tons of money through your list.
Here, you discover how to place yourself as a point of attracting while others see you as an expert in a chosen field. And it doesn't even matter about your previous experience.
You'll see yourself building a large following just like Kevin did and make enough money in the process without ripping yourself apart.
Module 3: Validating Your Course Idea
This module is very important because Kevin talks about how you can validate your course before going ahead to create it.
Here, you know how to understand a course that people are going to love and willing to buy with their money. There's a bunch of high quality and affordable courses on Udemy with little to no student enrolling.
Why?
Because most of them are not validated!
You have to know the kind of people that are interested in your course and if the set of people will be willing to pay to acquire the course.
Or how important do you think what you're offering is going to be to them? This and more are the importance of course validation and Kevin really does justice to it.
Module 4: Organizing, Pricing and Outlining Your Course
In module four, you'll learn how to set the right price for your course instead of over pricing or underpricing it.
You'll also learn how to use existing content to further breakdown or butter your content, so, as to pass more value to your buyers.
Finally, you'll discover the pricing system designed to explode your sales with more buyers within you niche market.
Module 5: Technological Evolution
This module includes all the technical aspect of creating your course, from hosting your video to sales pages.
You'll discover how to create sales funnel for your course and how to walk your customers through the entire funnel process. And most importantly, how to automate the entire process!
Kevin will also walk you through how to insert all the necessary code needed for adverts to retarget visitors that didn't take action initially.
You'll also learn how to use the existing sales copies that are already working rather than creating a new one for your email marketing campaign.
Finally, how to automate the entire process with Stripe payment and also set up your product in Stripe and send automatic fulfilment emails.
Module 6: Marketing Mastery
Module six of the digital course secret is all about marketing your course to the right audience. This includes people that are willing and ready to buy irrespective of the price of the product.
Kevin will show you the step by step guide on how to use the right channel and platform to market your course and explode your sales in no time.
You'll discover how to take advantage of Facebook groups, YouTube and most importantly email marketing.
Trust me, there's no better person to walk you through all this than someone who has pulled over 10 million dollar sales on digital marketing!
Digital Course Case Studies
The digital course case studies are where Kevin David featured some of his student that are already implementing what you're about to learn.
He featured Mia and also Tanner who is already making half a million dollars from selling digital courses online and another student making 100k per month.
These are all to let you know that the digital course secret is working and people are seeing result.
Bonus Packages
Let's take a look at what you'll be getting as bonuses alongside the digital course secret. The bonus package includes:
#1: Recruiting Your Affiliates
This includes everything you need to know about leveraging affiliate marketers to promote your products while they earn a commission on every sale.
Kevin explain how you can easily let you students and any other affiliate interested in your course promote it on your behalf without spending additional money on adverts.
#2: ManyChat Bots (Facebook Messenger)
The Manychat bot is an automated chatbot system that can reply to your customer automatically on your behalf.
You'll discover how you can integrate this and link it to your sales page and also use it to retarget customers that didn't sign up for your course initially.
An additional bonus to skyrocket digital course sales!
#3: Automated Million Dollar Webinar Funnel
You'll gain access to how you can also use your automated webinar funnel that can convert your potential customers on autopilot.
Kevin will show how you can set this up and use it for as long as you want. It's a completely automated webinar funnel with Clickfunnels that works 24/7.
Who is the Digital Course Secrets For?
The digital course secret is for anyone that wants to earn big in the digital marketing industry and at the same time impact the lives of their audience.
Do you have an idea of how to set up the whole course but you don't know to exponentially boost your sale?
Or probably you're worried about the technical set up, like creating your sales funnel and also have affiliate promote your product.
If you resonate with any of the above then I think the digital marketing secret is made for you. However, I'll suggest you go through this FREE webinar to help inform your decision.
#1: For Those That Want Passive Income
For starters, we all know selling digital course is a smart way to make passive income for a very long time. Once you set-up the course and you have traffic pulling in, then you're on your way to millions already.
Kevin will hold you by hands on this one and walk you through the whole steps without holding anything back.
#2: If You Want To Sell on a Large Scale
You probably have a basic idea on how everything is done already but do you know how to scale your sales to millions of dollars?
Who can rather teach this than someone who has a pull a total of 10million dollars selling digital courses with just a single sales funnel?
If this is what you want then you might as well SIGN-UP for the digital course secret and let Kevin hold you by hand through the entire process.
#3: For Those That Need a Successful Mentor
There's no better person to coach you through the whole process than someone who's impacting lives already.
Kevin once said it's not about the money but the lives of people you're touching! The real money comes after you're making more people successful through the value you're passing across!
Kevin will teach you how to focus on the value people will gain from your course and how to get testimonials from them to remarket the course and exponentially blew your sales number!
Pros of Digital Course Secrets
Let's have a look at some of the pro's of the Kevin David digital course secrets
#1: 30Days Refund
As part of the benefit of digital course secret as compared to other courses, you can request for refund if for one reason or the other it's not what you expect.
However, terms and condition are applied!
The refund can only be effective within 30Days and you must have not gone over 40% of the course before you can request for refunds.
But looking on the Brightside I doubt you'll ever feel the need to seek for a refund because the course is fully loaded!
#2: Private Facebook Mastermind Group
Alongside your access to the group, you'll also be given a lifetime access to the private Facebook mastermind group.
This is where you can rob mind directly with Kevin David and other successful students and authorities currently using the templates.
#3: Highly Comprehensive
#4: Monthly Question and Answers
What's Not Cool about Digital Course Secrets?
By now, you must have been thinking if there are any shortcomings attached to getting the digital course secret! Well, let me warn you ahead.
#1: It Can Be Overwhelming
You have to prepare your mind because the course can be a bit overwhelming because of the information you'll be gaining access to.
The good part is, more information is still better than none.
However, for beginners, I'll suggest you prepare yourself and don't get overwhelmed with the course content.
#2: The Cost of Buying the Course
$1997 is actually high for beginners with low budget looking to make money online via digital course selling. This makes it limited to only people with extra bucks and more importantly those willing and ready to invest.
However, $1997 is actually low to the returns you're expected to get which boil down to the fact that it only for people that are ready to invest!
Final Thoughts
The value provided by Kevin David in the digital course secrets is actually worth more the actual price. Kevin includes everything you'll need to successfully monetize your existing skills.
If you're a total beginner you'll also discover how to locate the right niche to generate tons of money after you create the course.
To me, I believe the course is worth your time and every investment!
If you're ready to take action, I'll suggest you go watch the WEBINAR first or skipped that and go register straight away for the Digital Course Secret.
That's it on the course secrets review by Kevin David let me know what you think about this review and the digital course secret!
Do you think it's Worth It?
Learn More: