Doodly Review: Best Animation Software – [Worth It?]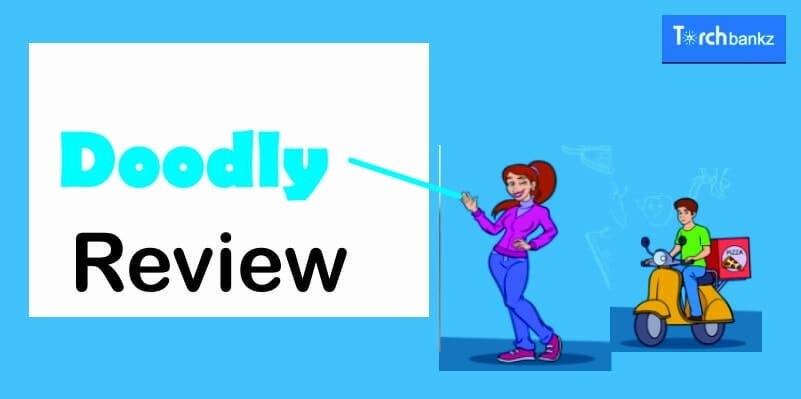 Today, I'll provide you with the most in-depth Doodly review on the internet by letting you know exactly what you'll be getting when you choose to go with the Doodly software.
Without a doubt, Doodly is one of the highly celebrated animated video creation software that comes with lots of beautiful and easy-to-use features.
Doodly lets you create cartoon explainer videos. These are videos where a hand holding a marker or pen sketches stunning characters of different attributes on the whiteboard, blackboard, or glass board.
With the recent technology boom in almost every facet of life, Doodly is not left out as it enables people of like minds to use words and visuals to present their thinking in a more attractive form.
Regardless of your business endeavor, the Doodly explainer animation video lets you convey your ideas effectively.
Incorporating hand sketch animation videos in your business gives you adequate attention and more conversion than you envisaged. Such is one of the realities of using animated video creation software.
Does this sound too good to be true? Here's a complete Doodly review that goes over its features, pricing, pros, and cons.
Let's get started, shall we?.
What Is Doodly?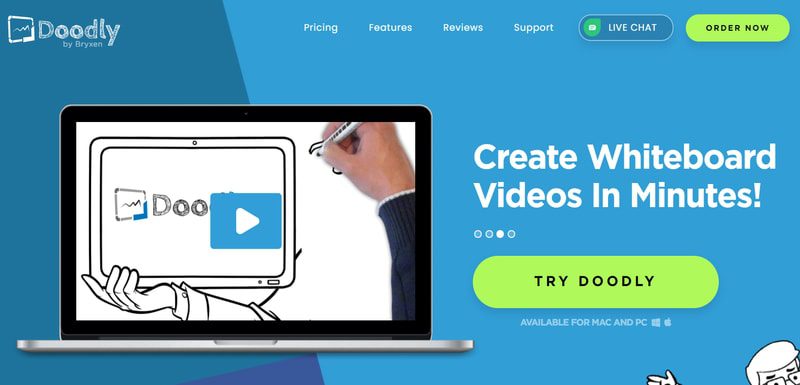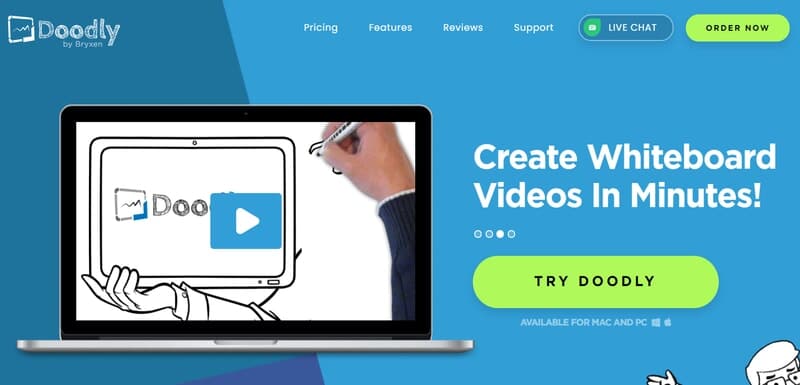 Doodly is a software solution that allows its users to create explainer, animated, and hand sketch videos using virtual blackboard, whiteboard, or glass board to realize the doodle. It is very simple to use and it requires no scripts or coding.
The Doodly software is a desktop whiteboard animation solution. It is not a SaaS or cloud-based technology but it is very easy to use as it makes use of the Drag and Drops button in creating stunning sketches.
Doodly has one thousand images that are royalty-free in its library. It enables animators to choose any image of their choice, drop it on canvas, and the software solution will brilliantly sketch it for you.
Besides, if you can't find any image of your choice on its image library or you want custom or personalized images to sketch, Doodly allows you to upload your desired images for such a purpose.
This hand sketching animation video creation tool also allows users to add sound or music tracks to their video directly from its library without any surcharges.
You can equally create explainer videos with a Doodly library of pre-made templates, objects as well as music tracks. You can even upload your desired track for any purpose best known to you.
Similarly, with Doodly, users can easily export and save their videos with just a click. In terms of flexibility too, Doodly is compatible with PCs and Macs as well and your created videos can be uploaded anywhere be it on Youtube, Instagram, Facebook, etc.
White Board Animation Explained
Still don't understand what a whiteboard animation is? In a simpler term, Whiteboard animation is the process of explaining or telling a story with images getting drawn on a virtual whiteboard or something similar to a blackboard or glass board.
It can equally be explained as the process of creating animated videos using hand sketching images or scribbling words on a virtual whiteboard or its equivalent to explain, describe or promote a particular business or service.
Accordingly, it's important to note that whiteboard videos have over recent years become a popular marketing software adopted by many. Thanks to the effectiveness of the tool for always giving a higher conversion rate.
That is to say, whiteboard animation videos are eye-catching, engaging, simple to use, not cloud-based, and to the point. It's such a wonderful and easy way to canvass points, explain concepts and core ideas to prospects.
Here's a whiteboard animation video for a better understanding:
Who Is The Brain Behind Doodly?
This won't be a complete Doodly review if we left out the brain box behind video animation tool. Brad Callen who happened to be the founder and CEO of Bryxen is the creator of Doodly.
While he is not alone in the creation of Doodly, Jimmy Kim is saddled with software research and development and as such, he has been regarded as a co-owner.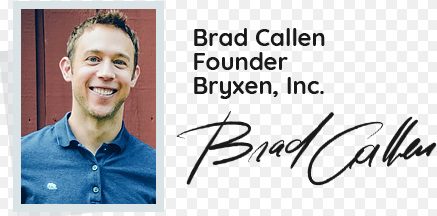 Brad has been plying his tech-trade online dated back to 2002, and he is largely known for his vast knowledge of SEO. Being an online entrepreneur guru, Brad also owns a writing job board known as iWriter.com, with over 250,000 professional writers across the globe.
Doodly Review: Features
Doodly as a whiteboard animations video creation tool can be used by different people for different purposes.
For instance, it can be used for lead generation by internet marketers, and it can serve educational purposes for various schools and colleges. The following are, however, the realistic features of Doodly editing software.
Easy to Use
Create Pro Level Videos
Doodly Library
Record Voice Over
Royalty-Free Music Track
Doodly Video Training
#1. Easy to use
This particular feature is one of the very few characteristics that animators liked most in Doodly; it is very easy to use and its learning curve for beginners is very short.
All it requires new users to do is to click-open the user interface, and all necessary tools needed to create a hand sketching or whiteboard video will be shown.
As easy as Doodly is in terms of operating, it doesn't require any experience or technical expertise in video animation making before you will be able to judiciously make use of it.
#2. Create Pro Level Videos
One of the missions of Brad Callen, the brain behind Doodle is to build a doodle video software that will enhance aspiring video animation creators to create hand sketch videos like a professional.
Such a mission is well inculcated in the cause of developing the software. With Doodly, you can create engaging videos like a professional with little or no background knowledge of any editing tool.
#3. Doodly Library
Doodly has a library full of professional templates that are specifically designed for the consumption of the subscribers. The software has over 1,000 stunning and amazing templates and some of them can even be customized or used pre-made.
#4. Record a voice over
It is possible to add a voice-over recording directly to the animation video created with Doodly. That is to say, adding narrations to any contents on Doodly ever possible.
In the course of recording, you can preview the hand sketching animation video or even play to get the timings right.
Equally, you can adjust the audio such as removing the beginning or parts as well as that of the middle and the end. You can use the tool to introduce some fade-in or fade-out effects.
In the same vein, you can on your own will import audio files if you don't want to record a voice-over in the case of the whiteboard video making.
#5. Royalty-free music tracks.
Other than voice-over recording, you can add sound to your animation video or hand sketch video explainer with the Doodly software solution. The tool provides users with 2 distinct royalty-free soundtrack slots.
One of the slots is for background music while the other slot is for voice-over recording opportunities. Until you jam a perfect blend of track or record, you can mess around with the two slots without any issue.
That is, you can add many different sound clips to your video so far you trim them to your desired length, it doesn't matter. Take background music, for instance, the number of tracks you can use depends on the kind of subscription plan you are on.
The same goes for voiceover in a bid to make your video look authentic. However, Doodly lacks the functionality tool to do this itself, you will need an alternative software solution to do that after which you can import the MP3 directly back to your Doodly video content.
Doodly Review: How Does It Work?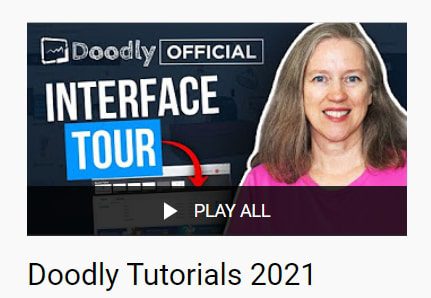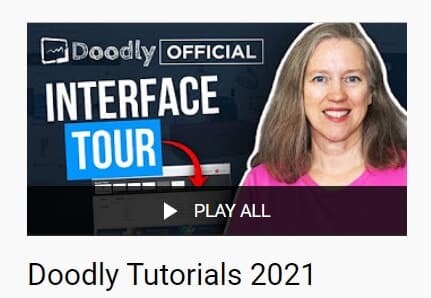 At this juncture, there is no need to explain, again, what Doodly is all about. Much has been said about it being a whiteboard animation video creation as well as a hand sketching animation video explainer tool.
However, to make this doodly review in-depth and as a newbie animator or aspiring video editor, you may want to know how Doodly works in creating or editing animation videos exactly. Well, the tool is very intuitive to use so do consider the following explanation:
To get started with the Doodly software solution, you will have to select a particular canvas you will like to use for your work;
After that, you will also have to select a particular image from the Doodly pool of in-built images library for the content. And you can easily import one in if you please;
At this juncture, you can customize your video using any customization tools or templates on Doodly;
What is next is for you to drag and drop your desired images, wordings, and audio on the same page;
If you like, you can import a music track or record a voice-over straight into the video content, Doodle will automatically do all other things for you; and then
Save, export, and start sharing your animation video around with your beloved, close circles and target audience.
Here's a video tutorial on how to use Doodly from the purchase to your first whiteboard video.
(You can bookmark this page as a resource to use after purchase).
What Can You Use Doodly for?
The first and only hand sketching or whiteboard animation software solution to allow animators and video editors to create realistic, professional whiteboard video content in a few minutes regardless of technical or any previous design skills is Doodly.
Hence, this magnificent video animation tool can be used for all of the following:
YouTube Videos
Online Presentation
Facebook Advertising
Video Sales Letter
Fun Videos
Social Media Videos
#1. YouTube videos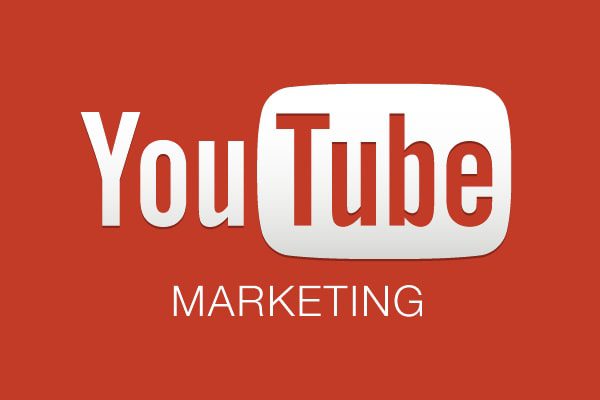 As a YouTuber, whether professional or newbie, Doodly can be used in so many ways to increase your video watch time and engagement and thereby having a positive impact on your ranking.
Engagement signals like shares, likes, and average watch time are, without doubt, the biggest ranking factors on YouTube. This, Doodle animated sketch videos are said to have 20x more engagement than a normal video.
So with Doodly, you can simply add a short doodle intro video, and watch closely as users will start engaging with your published videos and such, improving your Youtube ranking.
Besides, there are successful channels that create video content as whiteboard animation. So, there's an endless opportunity for youtubers using Doodly.
#2. Online presentation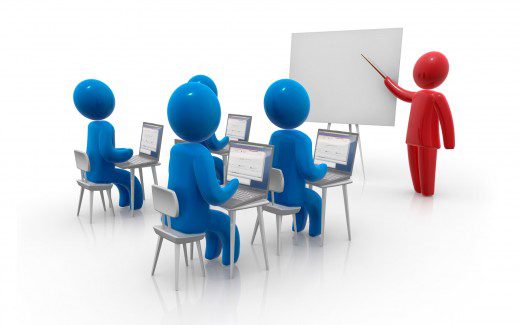 Doodly animation videos can be used to create a visual representation of what you will be teaching or to make an online presentation of your ideas in the course of business pitching or analysis by way of a doodle sketch video.
Using this tool to deliver your presentation will divert the attention of your target prospects to what you are presenting and as such, they are likely going to retain 95% of what you presented or taught them.
What this means is that your audience will not only listen and read what you are presenting but they will also learn to watch the whiteboard animation video presentation.
So, therefore, your idea to use all the available 3 modalities of teaching or presenting all at once, means exponentially results that are better for both the presenter and the listeners.
#3. Facebook advertising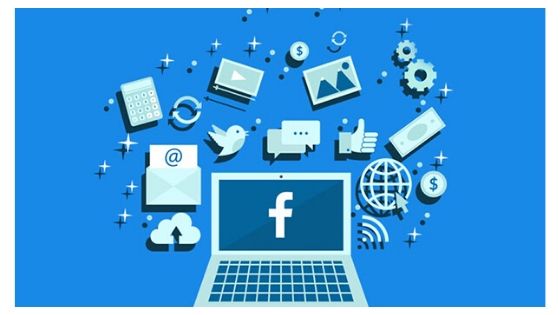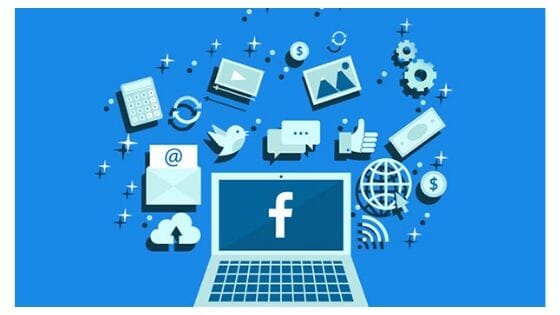 Facebook is the most used social media channel across the globe and it is equally the best social outlet to generate massive leads by way of adverts to a particular business.
So if you will be creating a Facebook ad any time soon, endeavor to use Doodly whiteboard animation if you care to stop anyone from scrolling away to pay adequate attention to your ads.
Fortunately enough, Doodle hand-sketched videos are said to be a key engaging signal to any ads created using animation video. People love watching other people's drawings, nobody can't take this advantage away from Doodly.
#4. Video sales Letter
The highest converting video ads available are ones made using the Doodly software solution and such is one of the reasons why professional digital ads marketers do demand thousands of dollars for just a whiteboard animation video.
As a digital marketer using the Doodly tool eases your work and makes video creation faster.
So Doodly works perfectly well if you will be selling any digital product like an ebook, online course, software product, membership website, etc., you will be able to use it to explain your products and as such, have a huge conversion rate as a result of it.
#5. Fun videos
Doodly can equally be used to make doodles and fun videos. So if you will be creating a doodle video to inspire your audience or loved ones to take an action by donating to a very important cause, you can create a hand sketch animation to pass the message across to them.
More so, if any of your loved ones is marking his birthday and you will like to design a birthday video for him, or on a neutral ground you feel like impressing them with a beautiful hand-drawn doodle sketch when you can't even draw a pen, Doodly will get you covered.
#6. Social media video
You can use Doodly to create an explainer or whiteboard video and post it on your social media page; most especially Instagram and Facebook for any reason known to you.
You can do that as a way of telling your friends that you are into animation video creation or to create awareness for your new digital agency. Whatever the case may be, Doodly can serve the purpose.
Doodly Pricing – How Much Does It Cost?
From inception, a lot has been said about Doodly that it's not a cloud-based editing tool, so enjoy all the beauties that lie in this software, there are two distinct plans available for willing subscribers, and they are:
Standard pricing
Enterprise pricing
The standard price: will cost a willing subscriber the sum of $39 for a monthly plan. This plan has over 1,000 unique character images, 1,000+ prop images, 20 video templates, 35 fonts, 150 royalty-free music, etc. that you can use as your own in the cause of creating whiteboard videos.
The Enterprise pricing: on the other hand will cost a willing subscriber the sum of $69 per month. The plan also has close to 4,000 unique character images, 3,000+ prop images, and more than 200 royalty-free music, 40 video templates, 84 scenes, 70 fonts, and a host of other amazing features.
Doodly Review: Pros and Cons
Below are the good sides and bad sides of Doodly, we'll take a look at the pros first then go through its cons after, making this a thorough doodly review.
Doodly Pros
Below are what's cool about the Doodly video animated software and what to expect when you gain access to it.
Easy Video Editing
Has a large Library of characters
Varieties of hands
Excellent Customer Support
Regular Updates
Money-back Guarantee
1. Easy video editing
You can't take the softness and flexibility of Doodly away when it comes to video editing even though it is the most complex aspect of animation video creation. Doodly being a whiteboard animation tool, therefore, give room for easy video editing.
With this tool, you can easily edit the video timeline by duplicating, reordering, adjusting the duration, or deleting scenes. In the same vein, the hand drawing of your video can be changed as well as your chosen video's style too.
2. Large Image library
What makes animation video editing software solutions great is their pool of royalty-free images. This feature is not lacking on Doodly. One of the elements that give this software its beauty and reputation for greatness.
There are over one thousand images on the Doodly image library and the editing tool is still magnanimous enough to allow the importation of more in case you can't find your desired choice in its web of images.
3. Varieties of hands
To suit your clients' taste, you are obliged to carefully personalize your videos, and as such, there is no other way to do it in a hand-sketching video than to choose the perfect kind of hand.
So Doodly offers its users folds of hands in different sizes, colors, and sex i.e. male and female. Subscribers have the luxury to select their choice.
4. Customer Support
In case of emergency or trouble using the editing software, Doodly customer support service is always there to cover your back. You can submit a support ticket for a well-detailed explanation of what you want, and you can equally talk to their representative via the Live Chat option on its official website page.
5. Regular updates.
The Doodly team is continuously updating the editing tool with bigger and better functionalities and features. Unlike their counterparts that rarely update their tool, Doodly releases a big software update every week with new and cool features. Thus, every single user of the software gets every update with the new features absolutely for free.
6. Money-back guarantee.
All new users and subscribers of Doodly are backed with a month (30 days) money-back guarantee. This means if you subscribe to any of its plans and after 30 days of using it, you're not satisfied with the service renders, you can have your full refund.
Doodly Cons
As you might have guessed not all is sunshine and rainbows when it comes to Doodly. It has a few shortcomings and I'll be highlighting them below.
No Free Trial
Long Export Process
Colour Limitation In Standard Version…
1. No free trial
Although Doodly offers a 30-day money-back guarantee service, sadly, the software has no free trial feature. This means you can't enjoy a bit of this software unless you pay for it.
2. Long export process.
Doodly needs to work on this area too. Although the tool is very easy to use and all the in-built features are great too except the fact that it takes time before you can export the video content you created.
3. Colour limitations in the standard version.
Another aspect of this editing software that needs to be adjusted is the color limitations placed on the basic version of the tool. The basic plan comes with white and black doodles.
Users have to purchase the Rainbow add-on if they want to enjoy several colors. Although the purchase (one-time) fee is said to cover the feature's future development cost.
FAQs About Doodly
I have made a list of some of the Frequently Asked Questions (FAQs) about Doodly. They include;
Is Doodly free?
The answer to this is NO, Doodly is an amazing video software and as such you need to choose one of their pricing plans before you can gain access to the software.
Is Doodly worth buying?
Yes, Doodly is worth buying. It's a unique and easy-to-use drag-and-drop software that makes it easy to create amazing sketches for your animation. Doodly also stands out among its peer because it's extremely easy to use even for beginners with little or no experience before
Which is better Toonly vs Doodly?
Well, Toonly is another amazing video animator software that can be used to create awesome cartoons and it was also created by the same author. However, both tools have their strength and weakness. So the better tool is based on why you want to use it in the first place.
Can I use Doodly on my IPAD?
Yes, Doodly software works great on IOS devices like Apple IPAD. So yes you have nothing to worry about if that's what you want to be using
Is Doodly Easy to Use?
Yes, Doodly is very easy to use even for beginners and this is one of the reasons why it stands out among its competition. Doodly features thousands of images and a huge library to choose images from. Its Drag and Drop features make it extremely easy to use
Doodly Review: Final Thoughts
Having gone through the doodly review, it's clear that you can't go wrong with Doodly. Doodly has lots to offer compared to many of its alternatives.
It has a huge library of images to use for your animation videos. It's multi-versatile and can be used for both academic and business purposes.
Pricing isn't an issue. Its pricing is in accordance with other animation tools in the industry so it's not a deal-breaker at all.
At this point, you can bet, I recommend Doodly for animation videos.
So what do you think about the Doodly review? Let me hear your thoughts in the comment section.
Learn More: