Doodly vs Videoscribe: Best Whiteboard Animation Software?
If you're finding it difficult to choose between Doodly vs Videoscribe, then worry no more because you are on the right page.
In this article, I aim at giving you a comprehensive review of both so you'll be able to make the right decision.
Creating whiteboard video animation for personal or commercial purposes has been made easy through the use of software like Doodly and Videoscribe.
Unlike in the past where you had to pay professionals a huge amount of money to create it for you, now you can create them all on your own.
All you need is a device that has internet access.
Doodly and Videoscribe are the most used software because of their simplicity in usage.
You must have heard of both software but you're having a little bit of a problem choosing amongst which to use since they both have certain things in common and few things made them different.
The reason for not being able to pick is because you have little knowledge about both and I aim to load you up with all the information you need regarding both software.
I'll be covering the entire details including their prices and mode of operation in this review article.
Let's get started.
What is Doodly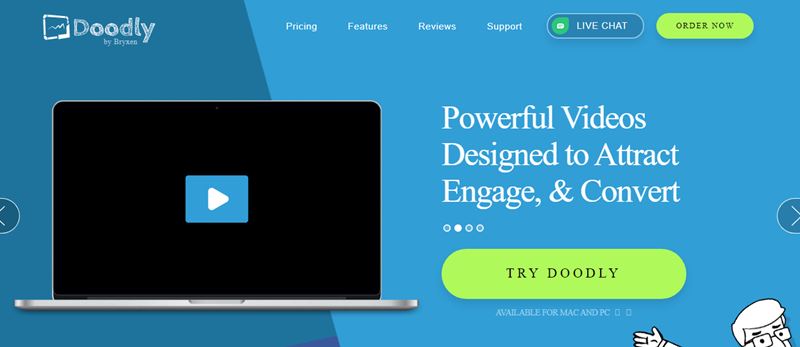 Doodly is a software that makes it easy to create whiteboard animation videos using its personalized tools.
This software was established by Brad Callen in the year 2002 with the vision of making the art of creating doodle videos easy for everyone including non-tech.
I believe you have seen a small video where there's a hand constantly writing along with the voice talking known as the narrator in the video.
That's a doodle video and it's known as a whiteboard animation video created for academic purposes.
Brad Callen (Author of Doodly) claims to make the art of creating doodle videos very easy with some non-tech and newbie features integrated into doodly.
The idea to establish Doodly came from the working principle of his other platform – Bryxen software.
This software was established in 2003 with the sole purpose of making professional, awesome, unbelievable animated sale videos.
You can rightly assume that Doodly software is the same way as Bryxen.
The difference between both is that Doodly software is for educational and illustrational purposes while Bryxen software is for marketing.
What is Videoscribe?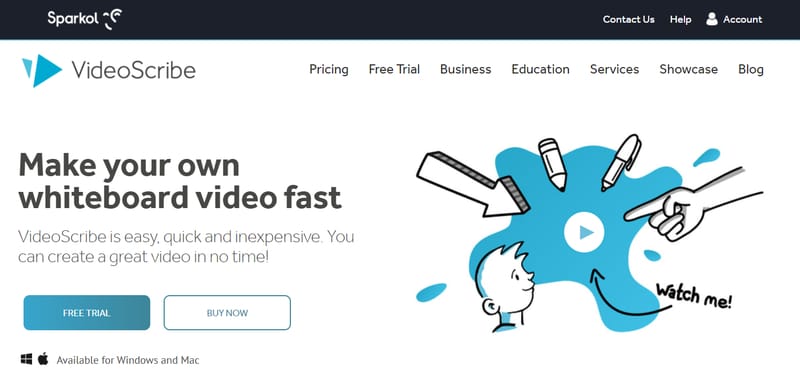 Videoscribe is a multifunctional software for creating explanation videos and whiteboard videos.
This software belongs to a UK leading software company that was launched in 2012 – Sparkol.
The launching of Videoscribe was to help two different niches. This software Just like Doodly helps create whiteboard animation for education.
It also helps create explanation videos for marketing.
You can make a video look like it is being hand-drawn even though you don't have any knowledge and experience in animation creation.
It is being used by over 300,000 persons and has its population of users from 135 registered countries.
This software was created with Adobe software and that is why it creates most videos the same way Adobe does.
An example is the flash video Adobe is known for creating.
It was first available in a web form and has been used to create business videos. It had been used by a popular company in the UK to create a sales video- Mashable Company.
Videoscribe is now available in mobile and desktop applications but the desktop application is better because you are offered the most functionality and features aimed at making your experience and task of creating a videographer easy and wonderful.
In 2013, the iPad version of this software won the award for best B2B application.
Heck, both tools are whiteboard animation software and if you still don't have an idea of that, let's take a look at it.
What is Whiteboard Animation Software?
Whiteboard animation software helps you simplify the task of making videos for explanation or education popularly known as a Doodle.
Whiteboard animation or doodle is the process where an author draws and records an illustration story using a whiteboard or boardlike and a writing device like a pen or marker.
The animation is supported with audio whose aim is to give the animation a better and clearer meaning for easy and deeper understanding.
The simplicity and ease at which it fosters deeper understanding is a basic advantage of whiteboard animation software.
You can make use of it to analyze and give a clear picture of what your brand is all about, what you want to teach.
The way it's been drawn along with the audio narrating the diagram, your audience will find it easy to understand.
Here's a whiteboard animation video:
Features of Whiteboard Animation Software
Aside from the features and benefits of any whiteboard animation software, certain features should greatly influence your decision.
You should constantly look out for such features if you want to go for the best Whiteboard Animation Software.
These features will determine if a software is worth buying or using depending on your reason for deciding to use whiteboard animation software.
They are Ease of use, Voice-over support, and customization. You have to put these three features into consideration before settling for any software.
These features, their importance, and how they affect your choice are properly explained below.
Ease of Use: It's important to get a tool that's easy to use for beginners.
The software should be easy to use, the simplicity of any software should matter greatly to you.
Customization: Along with the simplicity, it should have a broad scope of customization options.
It should not only be limited to video and colors, it should also include transition, characters, voice, and many more.
The larger the customization options, the easier it will be for you to create a doodle.
Voice over Support: Most software doesn't have voice-over support. Choose one that has.
Doodly Vs VideoScribe: (Features)
Doodly and Videoscribe are listed among the best whiteboard animation software.
Choosing between the two requires you to have a good overview of both software. This will enable you to pick one.
The overview of both software will be explained as features of both software and I'll start from Doodly.
Doodly Features
Below are the features of Doodly and what make it standout among it competition. Let's find out how unique the feature is against VideoScribe.
#1. Background:
Doodly has only 5 backgrounds that you can use when creating a doodle.
These backgrounds are bare white, chalk, cream, glass, and custom background. You can use any background of your choice depending on the type of doodle you are working on.
The custom background is just a fancy name that refers to color or image background.
When using the custom background, you can decide to make use of colors only without a solid background.
You can also decide to make use of your imagination. It's all part of what the custom background entails.
#2. Hand Styles:
Depending on the background you decide to use, Doodly has several styles for each. In total Doodly has over 62 different real hands, 59 2D cartoon hand, and 12 3D cartoon hand Styles.
Each of the styles greatly depends on the background you select and the type of doodle you aim at creating. The hand Style is customizable. You can change the color and the position of the hand Style from left to right. The hand style can easily be located when you want to create a doodle.
#3. Image Library:
Doodly has its library of images to use when creating your doodle. The library size in Doodle largely depends on the price plan you choose.
In the standard plan, you have 1,164 characters and props of 1,620 making 2,784 images available in this plan.
In the exclusive plan, you have 3,459 characters and 3,341 props Available making it a total of 7,300 images available in this Price plan.
Doodly images are always in black and white, no other colors.
To get it in color form, you have to download a color palette known as a rainbow add-on from the add-on option available on the platform.
#4. Free Music:
Doodly offers you 100 to 150 different music you can add to the background. When producing a doodle, you might decide to add a song to the doodle to keep it lively.
Doodle offers you free songs with different soundtrack effects depending on the price package you wish to buy.
You also have the option of uploading your customized music and effects. The songs are customizable, you can shorten the length of the song and fix it to a particular event on your doodle.
#5. Fonts:
Creating a doodle that has the option of displaying the explanation from the narrator in the form of words gives your work a dose of professionalism.
It also helps to Foster deeper understanding because no part of the illustration will be missed. Doodly has some fonts that are largely dependent on the price package bought.
The standard package has 35 different fonts and the other price package has 70 real human fonts.
With a large number of fonts, you will be able to give more meaning and understanding to your doodle. If you don't like any of the available fonts you can also download and upload the font.
#6. Video Rendering:
This feature of Doodly is one of the reasons it is widely used. After creating your doodle for either commercial or personal use, the next step is to download it from the software and use it.
Doodle offers you the option of downloading your video in MP4, MPV, DGG, and WebM file format.
You can also download the video in 360p, 480p, 720p, 1080p, social media resolution, Instagram, Twitter…).
If none of the file formats and resolutions suits you, you can create your file format and resolution.
The option to create your file format and resolution is tagged as Custom in the options given when rendering your doodle.
VideoScribe Features
Below are the features of VideoScribe, let's see how it also fared againt the other tool Doodly.
#1. Background:
Videoscribe unlike Doodly has only 9 different textures. In Videoscribe it's not referred to as background as it has only one solid background.
The look and feel Is the texture of the video you want to create. Depending on the video, you have a wide range of textures starting from the animal skin texture to choose from.
All the textures are designed to suit a particular type of video and you ought to understand the doodle video you want to create.
Most times Videoscribe suggests the type of texture to use in creating a particular doodle video. The textures are customizable because you can reduce the intensity of the texture on the background.
#2. Fonts:
Videoscribe has 60 Google fonts. When creating a doodle with this software, you can decide to display the words from the narrator Alongside the explanation and diagram that will be drawn.
Videoscribe offers you Google fonts. These fonts can be displayed in different languages and styles.
The only downside here is that you cannot edit the fonts and you don't have the option of uploading any downloaded fonts. So you might have to manage the available fonts.
#3.Hand Styles:
Unlike Doodly, Videoscribe uses people. It has a total of 312 styles available depending on the people. The range and width of each person are different.
You can choose to use a person with a specific style, range, and width depending on the type of doodle you want to create.
Each person with a unique style feature is customizable and you might end up adding up other features to create a unique person.
It offers you the option of creating a unique person and features from the available tools or you import your character with its unique features.
#4. Royalty (Free Music):
Unlike Doodly, Videoscribe has only 190 songs. When creating your doodle, you can decide to include a song in the background to keep it entertaining.
Videoscribe has only 190 songs to choose from and the type of song is not limited to the plan you choose.
You only have the option of using the songs inside the software. There's a means or add-on that allows you to upload your song.
Aside from you not being able to upload your song, you cannot edit or customize the song and the audio present in the software has no sound effect.
#5. Image Library:
Just like Doodly, Videoscribe also has its image repository that contains few usable and adjustable image designs.
Unlike Doodly the images are already colored and you don't have to install any other plugin or add-on on this software.
The images are also customizable to suit your taste. You can decide to make it tall, Short, or bent to one side depending on the doodle video you want to create.
You can also change the color to suit your taste and the doodle video you're creating.
Videoscribe has over 7,300 customizable images to use.
You can also import and customize your image. Images are included as standard in Videoscribe.
#6. Video Rendering:
You're done creating your doodle video. The next step is downloading it and using it for either commercial or personal purposes.
This software gives you the option of rendering the doodle in WMW, MOV, AVI, or PNG file format.
You can also download your doodle video in 360P, 640P, 720P, 1080P file resolution.
This software has no option of rendering your video in MP4 and no custom option where you define and create your resolution and file format.
Doodly Vs VideoScribe: Pricing
After going through the features of both, the next and most important thing that comes to mind is the price of both. Which is typical for an in-depth review between Doodly vs VideoScribe.
Knowing about the price structure of both will help you determine which will be good for you depending on your financial capacity at that moment.
The price of both is structured in a way to favor small starting businesses and established ones.
Doodly Pricing
Doodly offers you two different price categories.
The price categories are spread out to two different duration monthly and yearly each having different price packages and discount offers.
Standard: This plan costs $39/month if you're going to pay monthly.
This plan also costs $20/month if you're going to pay once for 12 months.
The discount price here is the reduction in the total amount paid per year if you're going to pay once – $228.
Enterprise: The pricing package for this plan is structured the same way as that for Standard.
$40 per month if you're going to pay once in a year and $69 per month if you're going to pay monthly.
The Standard plan is good if you're just starting out. The downside here is that you won't have all the customization options.
The Enterprise plan is the best because you are offered all the customization options to fit your taste. It is favorable for established businesses.
VideoScribe Pricing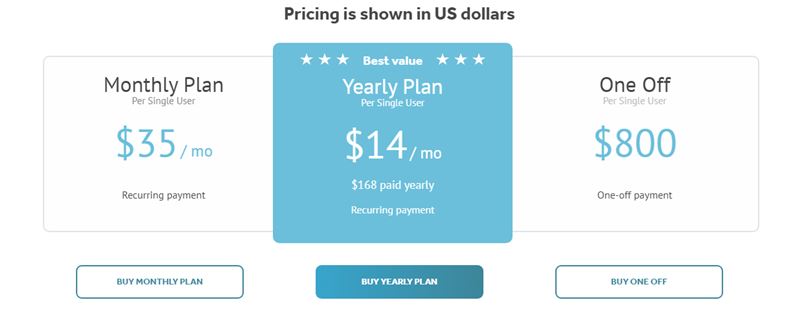 The package plan of this software is designed with duration. You have the monthly, yearly, and one-off payment which happens to be the lifetime offer.
Monthly: $35
Yearly: $14 per month
One-off: $800
The best package plan here is the one-off. It is suitable for you if you wish to use this software for a long time.
Before opting for the plaid plan, this software offers you a 7 days trial.
After the trial period and you enjoyed this software, you then proceed to the paid version.
Doodly Vs VideoScribe: Final Thought
Critically analyzing the features of both software (Doodly vs VideoScribe), I will definitely suggest you make use of Doodly Whiteboard animation software.
This software has a lot of customization options and it is easy to use. However, the final decision depends on you and how you perceive both software.
With the complete unbiased analysis of both software, I believe you'll be able to make the perfect decision. So that's it on Doodly vs VideoScribe, let me know what you think about both tools.
Learn More: