Drop Servicing Vs Dropshipping: Which Is better? [Pros & Cons]
Drop servicing and dropshipping are both unique business that cost little to nothing to get started with.
In today's post, however, we shall be exploring the two business model comparing them side by side in terms of strength and weakness.
Perhaps you've been confused as to the difference or similarities between drop servicing and dropshipping?
I'm sure by the end of this post you'll have the full understanding of how they both works.
Let's get to it.
Drop Servicing Vs Dropshipping
Drop servicing and dropshipping work via the same business process, the only difference between the two is that one involves physical products and logistic while the other is purely digital.
What is Drop Serving?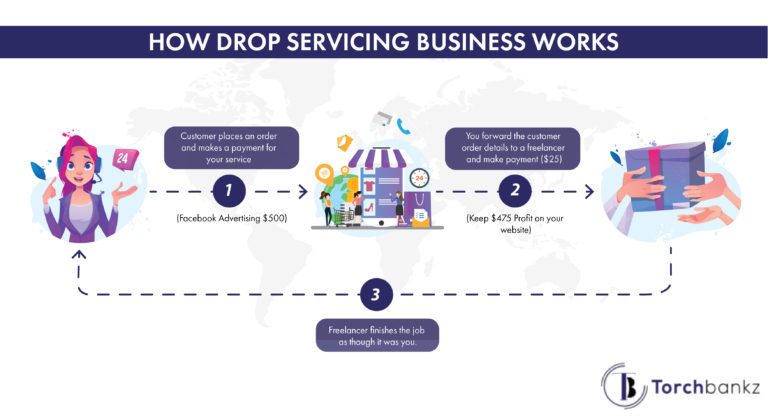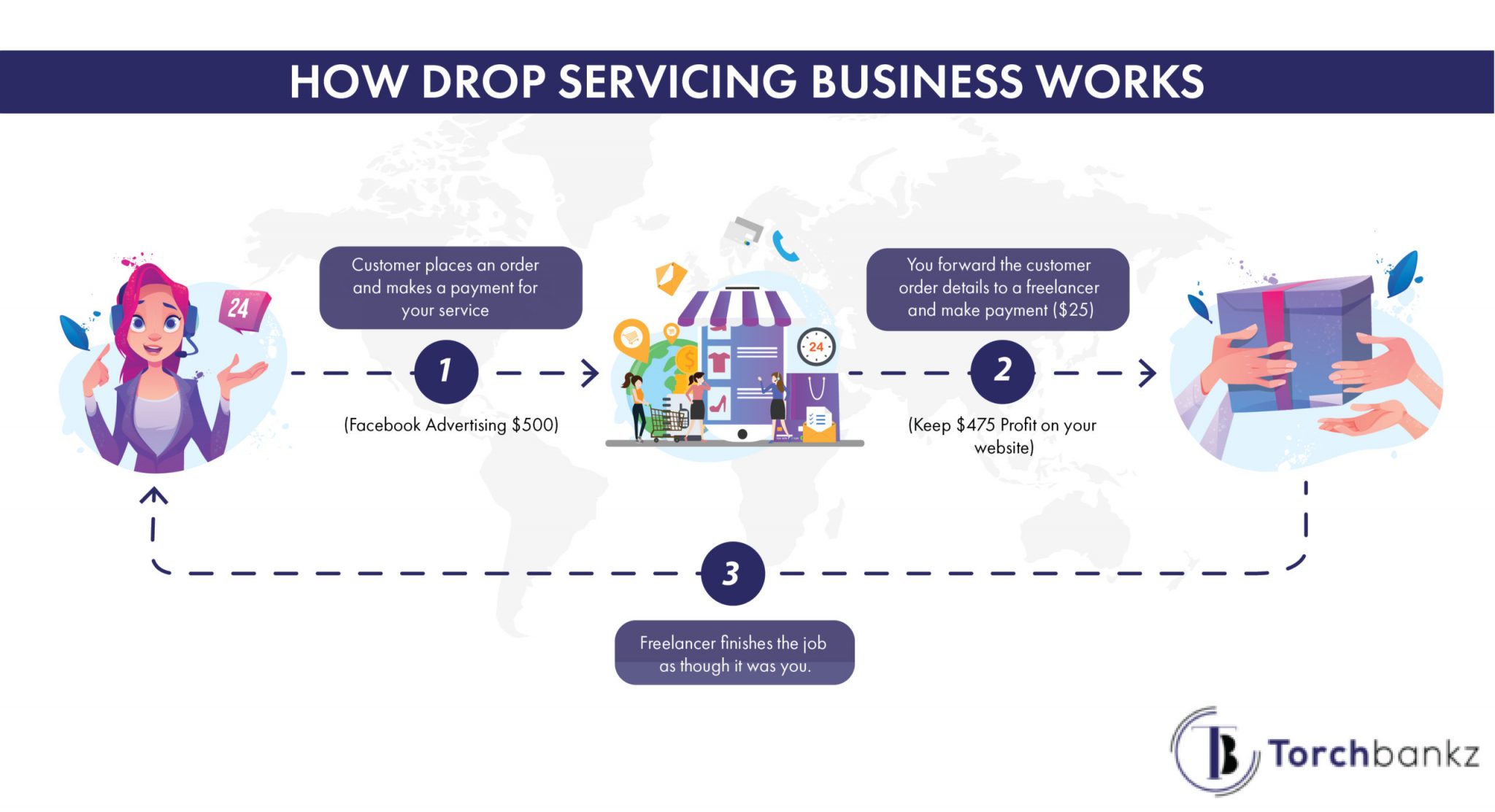 Drop servicing is service arbitrage, which simply means you can sell service to other people by having it done by a third party.
Take for example; you're promoting an advertising agency for small businesses. For each of the small business owners that want your service will have to pay you directly.
Now, after receiving payment from these business owners, you can then from the payment pay another freelancer to have the job done on your behalf.
Sleek isn't it?
The best part is you can buy these services at a relatively cheap price compared to how much you're charging your clients.
So basically a client pays you for a service and you pay another freelancer to get the job done for you.
Your profit, however, will be the price your client pays you minus how much you pay the freelancer who gets the job done for you.
Pros of Drop Servicing
Let's take a look at some of the benefits of starting your own drop servicing business if it's worth it.
You don't have to invest in any service skills; everything can be outsourced to a third-party service provider that can get the job done easily.
Your only start-up cost should be for creating your single-page website where you display the service you're providing.
This is one of the beauties of starting a drop servicing business. One single sale can make you $2000 total profits.
While compared to dropshipping you'll have to sell hundreds of products to make that single sale.
No need for a new office, warehouse or even new employee. You can basically start and run the business model from any part of the world.
All you need is a comfy little space with your laptop, mobile device and access to an internet connection.
Another interesting part about this business is the recurring income you get to make on a monthly basis with no additional cost.
Some client can decide to place you on a monthly payroll for providing a certain service for them.
And all you do is outsourced it to a third party and get paid every month while doing the same thing over and over again.
You're practically doing nothing in this business because every single process can be outsourced and completely automated.
You don't even have to talk to clients yourself; you can outsource that to someone else.
With drop servicing, you won't have to bother about shipping and logistic because your business is completely a digital one.
It also removes the hazard of long time shipping of products and also the cost of shipping products because no physical products are involved.
Cons of Drop Servicing
Not all is sunshine and rainbows when it comes to drop servicing. It also comes with its own set-backs, which is normal for every business.
Your freelancer could have pending works on ground that needed to be done when you have an urgent service to be rendered.
The best way to avoid this is by having more than one good freelancer that can do the work for you.
Also, make you sure you've tested these freelancers or go through their reviews in other to be sure of who you're outsourcing your work to.
Your clients cannot know you're outsourcing the job… so it's very important you deliver TOP quality service.
Who Is Drop Servicing For?
Drop servicing is a great business model for first-time beginners testing the waters of online business world.
It's very attractive to novices because it's a low risk and low investment way of starting your own business.
There are few types of people that the drop servicing business model will work well for. Let's have a look at some of them:
#1: Validating Entrepreneurs
Drop servicing can be a way to test new online business niches without having to invest heavily into the business start-up in case it does not boom.
So, with drop servicing, you can test new business models and know which is working best without investing so much.
#2: Low Budget Entrepreneurs
Drop servicing is best for you if you're tight on budget. You can basically start for free and get your first client for free if you have the time.
Unlike other business, it's a little less time consuming because you won't be providing the service. Everything is outsourced to a third party freelancer.
#3: First Timer Entrepreneurs
Drop servicing is also a good business for newbies just starting their online business. The truth is, starting a new online business is not easy.
You'll have to drive traffics and convert them into buyers which may take some certain skills.
However, because of the low cost associated with drop servicing, it allows newbies to learn the ropes of starting their business from scratch and scaling it.
What Do You Need to Get Started?
The first step to get started is choosing a service you can dropship and find a list of freelancers who can provide the service on your behalf.
Take, for example, you're selling a writing service, what you'll need to do is find some good freelancer writers that can write for you.
This way, when one is busy with other projects the remaining others will be able to fill in the gap without you disappointing your client.
Next, you'll need to set-up a website either on WordPress using WooCommerce set-up or simply using a page builder like Kartra.
Kartra however, is way easier to use compared to WordPress but somewhat expensive in terms of cost.
It includes everything you need to get started under one roof whereas, with WordPress, you'll have to use third-party tools and integration for a complete set-up.
You can read my Kartra review to learn more and for more understanding on how the platform works.
Once your website is in place, you can stand as the middle man while your client don't have to know you're drop servicing.
Relationship between Drop Servicing and Dropshipping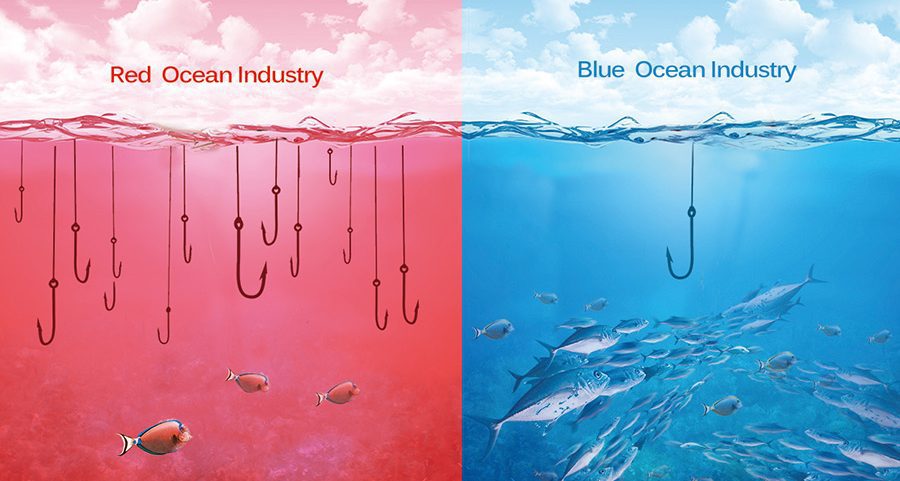 I'd like to describe both business models using the picture illustration below, while dropshipping is the Red Ocean Industry and drop servicing as the Blue Ocean Industry.
Dropshipping comes with so many attractive features that could get you started right away and starts selling immediately.
However, because of the easy set-up process and low-cost barrier entry, the competition for dropshipping as greatly increased.
Imagine you started your dropshipping business way back 2016 compared to starting now? You'll be likened to the blue ocean industry.
But right now the competition has greatly increased and which is why drop servicing is likened to the blue ocean with less competition.
Dropshipping
Dropshipping is a business model where you can sell physical products to your customers without holding inventory.
A customer simply purchases an item from your store at the retail price. You then forward the customer order to your supplier who you pay at the wholesale price.
Once your order is processed by your supplier after receiving your payment, he or she then ships the product directly to your customer under your brand or business name.
So your profit in this business model is how much you retail the product and how much you pay the supplier.
Quite simple isn't it?
All you have to do is create a dropshipping website, pull customers to your online store and handle customer support.
The rest of the hard work is handled by your supplier.
Pros of Dropshipping
let's have a look at some of the benefit of running a dropshipping business…
It usually requires a lot of capital to stock a warehouse while trying to start a brand new e-commerce business.
However, with dropshipping, instead of stocking a warehouse with products hoping that it sells, you can start a dropshipping business with zero inventories.
Order fulfilment usually requires you to organizes, label, package, track and ship your product to your customers.
But with dropshipping, everything is handled by your third-party supplier. You just have to forward your customer orders to them.
In 2017 Alone, 23% of All Online Sales Globally Were Fulfilled Through The Dropshipping Model, Which is Equal To Roughly $85 Billion Dollars Per Year
Just like drop servicing, you don't have to be involved with warehousing of products and you can basically control your business from any part of the world.
You just need a standard dropshipping website with a reliable supplier, a laptop and good internet connection.
Varieties of Products to Sell
The sky is your limit when it comes to products to sell while running your dropshipping business.
AliExpress has recently developed a dropshipping platform on AliExpress with access to best-selling products on the website.
You can basically get started almost immediately with this kind of products. This is because they've proven to be the best of the best with several data to back it up.
Dropshipping like any other business doesn't require major technical know-how. All you need a winning product, e-commerce store and a reliable supplier.
Other important dropshipping tools include payment gateways etc. and other optimization tools for scaling the business.
Dropshipping can be quite profitable if you know how to play your cards well. The truth is, there are so many factors attached to its profitability.
Factors like your ads skill, your chosen product and your target audience all contribute to your success in the business.
Cons of Dropshipping
Below are a few of the disadvantages of running a dropshipping business:
Highly competitive
Low-Profit Margin
No control over product quality
Very challenging to build brand loyalty
Unusual logistic issues
You'll be completely responsible to your customers when something goes wrong
What Do You Need to Get Started with Dropshipping?
This is quite simple using one of this dropshipping software. You can have a semi-automated store that's linked to the supplier website.
Or simply buy a ready-made dropshipping website that's making sales already.
I mean, what's the point of starting from scratch when you can easily access what's working already.
Here's a review on one of the done-for-you dropshipping website. You can read to learn more about the store package.
Which One Is Better; Drop Servicing Vs Dropshipping?
Well…
Drop servicing may be the next big thing because it's a relatively new business model with less competition compared to dropshipping.
But is dropshipping really dead? Very far from it!
The reason been that most products that these winning dropshipping stores are selling are products of impulse.
And trust me; there will always be an impulse buyer which means dropshipping is here to stay.
You just need to find a good winning product and polish your ads skills to stand out if you really want to make some bucks with dropshipping.
You could also scale up by selling with sales funnels and triple your profits per products!
So that's it on drop servicing vs dropshipping.
Let's hear your thought on this. Which among the two business model is your best pick and why do you think it's the best choice?
Learn More