20+ Dropshipping Statistics & Facts 2023 [Full Analysis Report]
Keeping up with the latest dropshipping statistics and trends can be difficult. Plus, there are always changes in the dropshipping industry year in year out.
But you would agree with me that data is a weapon. And through it, we can verify and ascertain our ideas and strategies.
But without it, we'll be doing guesswork, which is dangerous.
So in this post, I've curated the latest dropshipping statistics in the dropshipping online business industry for you.
While there are a lot of statistics dated as far back as 2014 flying around Google, I've invested a lot of time to uncover some of the latest drop-shipping statistics for you.
To start with, the dropshipping industry is expected to reach a market valuation of $557.9 billion before 2025, registering a CAGR of 28.8%.
Aside from that, many other statistics would interest and also educate you on the status of dropshipping stores.
And if you're anything like my friend that hates reading figures, I have also added an explanation below each of the statistics.
Read on to find out the latest drop-shipping statistics.
General Dropshipping & E-commerce Statistics
Drop-shipping is an eCommerce business model, except that you're selling products you don't have in-store.
Instead, as a drop shipper, you take orders and send them to either the manufacturer or a supplier who now handle order fulfillment on your behalf. (more like a business partnership with your supplier)
Your work as the middleman is therefore reduced to choosing your target market, product ideas (high quality), market research, customer service, expected sales, shipping costs, shipped orders etc.
While your dropshipping or wholesale suppliers handle most of the hard work, like inventory costs, shipping products, international shipments etc.
So the state of dropshipping is also affected by the state of eCommerce. And in that case, going through some e-commerce statistics is the best place to start.
Here are some of the latest statistics:
There Are 2.14 Billion Global Digital Buyers in 2021
Let's start with this first. The more people buy online, the more potential you have to be a successful dropshipper.
And as of 2014, 1.32 billion online shoppers were recorded, which stepped up to 1.66 billion in 2016 and from this to 1.79 billion in 2018 and finally to 2.14 billion online buyers in 2021.
A look at the metrics shows that the global E-commerce chain has been enjoying quite a good number of increases with no reduction.
So it's expected that the number of online shopping will keep enjoying the increase for a long time because more and more people are getting comfortable with online shopping.
In 2022, eCommerce Sales Account for 19.7% of Retail Sales Worldwide
Source: Oberlo
Global retail sales, both online and physical stores, are valued at a whopping sum of $26.074 trillion. Mark the word "global" so it typically includes everywhere in the world.
And this retail value also includes the biggest physical retail company (Walmart) too.
However, e-commerce now owns 16.1% of global retail sales.
While statistics show that the present figure of online buyers is 2.05 billion, which accounts for 16.1 percent of global retail sales (which also saw an increase from the 10.4 percent recorded in 2017).
And the 16.1 percent of retail sales represents $4.206 trillion dollars of the $26.074 trillion dollars of retail sales.
So it's easy to conclude that the e-commerce retail industry is booming. And so is the dropshipping industry.
Around 27% of Online Retailers Have Adopted Dropshipping
Source: Ecommerce-platforms
Quite similar to the stat above.
An estimated 27% of online retailers now see the dropshipping model as an easier path to tread as a retailer.
And the reason is not far-fetched, you don't have to worry about the inventory, and you don't have to worry about having a global customer base; your dropshipping company will take care of that.
Not only are online retailers enjoying the dropshipping business model, but manufacturers and suppliers have also recorded an increase made by the dropshipping model on their revenue.
And according to a new statistic, dropshipping is the fulfillment model of nearly 33% of online stores, which is higher than the 27% of dropshipping fulfillment previously recorded.
In 2017 Alone, 23% of all online sales globally were fulfilled through the dropshipping model, which was equal to roughly $85 Billion among other fulfillment models.
Pretty safe to assume a larger increase because more and more businesses are choosing the dropshipping model because they get to see a higher conversion rate and net profit.
And on the other side, e-commerce is said to grow by 17% yearly, which also means growth for dropshipping.
In 2023, the US eCommerce market share is forecast at 16.4%, 17.8%, and 19.4% in 2024 and 2025, respectively.
Source: Shopify
A large chunk of the rapid eCommerce growth can be attributed to 2020 during the pandemic outbreak. Ever since then, the US eCommerce market share has been on the rise.
15% of the US market share was expected in 2022, with a total of $1 trillion in e-commerce sales. However, this is still predicted to be on the rise to 19.4% in the year 2025 and 21.2% in 2026, bringing the total retail eCommerce to $1.7 trillion.
Suppliers Earn 18.33% More Profit if They Sell To Dropshippers Compared To Making Their Own Sales From Their Online Stores.
When it comes to e-commerce, shipping to customers has always been a problem that manufacturers face when they try to sell online.
And not just them alone, even e-commerce stores and retailers also still consider it a problem especially when the majority of your customers are in third world countries.
When you try selling through your online store, you have to market the product and the store in order to get orders. And upon getting orders, you need to fulfil the orders.
In the end, you'll discover you have spent a lot on marketing the product alongside fulfilling the orders.
And that's why business owners are getting more comfortable with the dropshipping business idea.
Instead of them finding sales, they get a lot of dropshippers to work with them and the result is in multiples.
The dropshippers will generate orders and direct the orders to them. And by so doing, you are indirectly getting some work done for you at no extra cost.
For manufacturers, they wouldn't need to sell to a wholesaler that would need a big cut back.
But instead, a lot of businesses and suppliers prefer to cut the chain by selling directly to indirect consumers (dropshippers) without having to handle the marketing.
The dropshippers do the marketing and collect orders for them and all they do is fulfil the order.
And most times, suppliers, and manufacturers have minimal marketing expenses.
But the profit margin is larger, 18.33% more profit when they sell via dropshipping than when they sell via their online stores.
However, dropshippers too are not left out of the scene too.
Dropshippers Can Earn More Than 50% More Profit Than Those Who Keep Their Own Stock Inventory.
While suppliers have recorded a profit increase after choosing the dropshipping business models, statistics also say that dropshippers earn 50% more profit than those who keep their own inventory.
So instead of incurring inventory costs and fulfilling orders from your store, you can make 50% more profit when you drop ship your inventories.
And that pretty much explains why dropshipping is still a good idea because you would be inviting more expenses when you decide to go the other way by getting your own inventories.
84% of eCommerce Retailers Cite The Initial Stages of Finding And Securing a Good Supplier To Be The Biggest Obstacle To Getting Their Business Going
When starting a dropshipping business, the first and most important thing is choosing a niche and finding a good supplier that can meet up with your demands.
A good supplier must be able to scale with you when your dropshipping business grows.
As the demands for your inventories grow, the supplier must be able to support the different scales of order.
And most importantly, when starting a dropshipping business, you need a supplier that can also support small scale orders.
And according to statistics, the majority of dropshippers find it as a challenge in their early stage of the business.
So, a lesson from this is to do an in-depth research when finding a suitable supplier.
66% of Online Shoppers Will Buy From Your Competition if They Offer More Shipping Options
Just another criteria when looking for a good supplier.
When considering a supplier, you need to opt for a supplier with flexible shipping options.
Online shoppers are expecting more flexibility in shopping online and would not hesitate to leave your store if you don't provide that.
By offering multiple and flexible shipping options and payment options, you can secure more customers.
And that can only be possible if your suppliers offer flexible payment and shipping options.
So as part of your checklist in choosing the right supplier, choose a supplier that offers flexible shipping options and can also scale along with you when your business starts getting more orders.
TikTok Statistics For Dropshippers
TikTok was initially an application as back as 2014 called Musical.ly. The app, however, was acquired in 2017 and turned into the present popular TikTok.
Before long, TikTok turned out to be increasingly well-known.
In 2018, TikTok outperformed Facebook, Instagram, Snapchat, and YouTube in month-to-month downloads.
Right now, the TikTok app has over one billion global monthly active users and counting. However, in the US alone, TikTok has been downloaded more than 200 million times.
According to Statista, over 75% of TikTok users in the US alone are aged 20 years and above, which is contrary to what most people assumed. In general, people assume that TikTok is dominated by younger people below the age of 18.
A recent news article shows how much TikTok users love the app. According to the report, users on TikTok watch the app for an average of 89 minutes daily!
Finally, a recent publication announced in their news article that TikTok users love the app so much that they average 89 minutes watch time per day.
With this, TikTok is a relatively green zone for drop shippers looking for social media to run ads for their dropshipping products.
AliDropship Statistics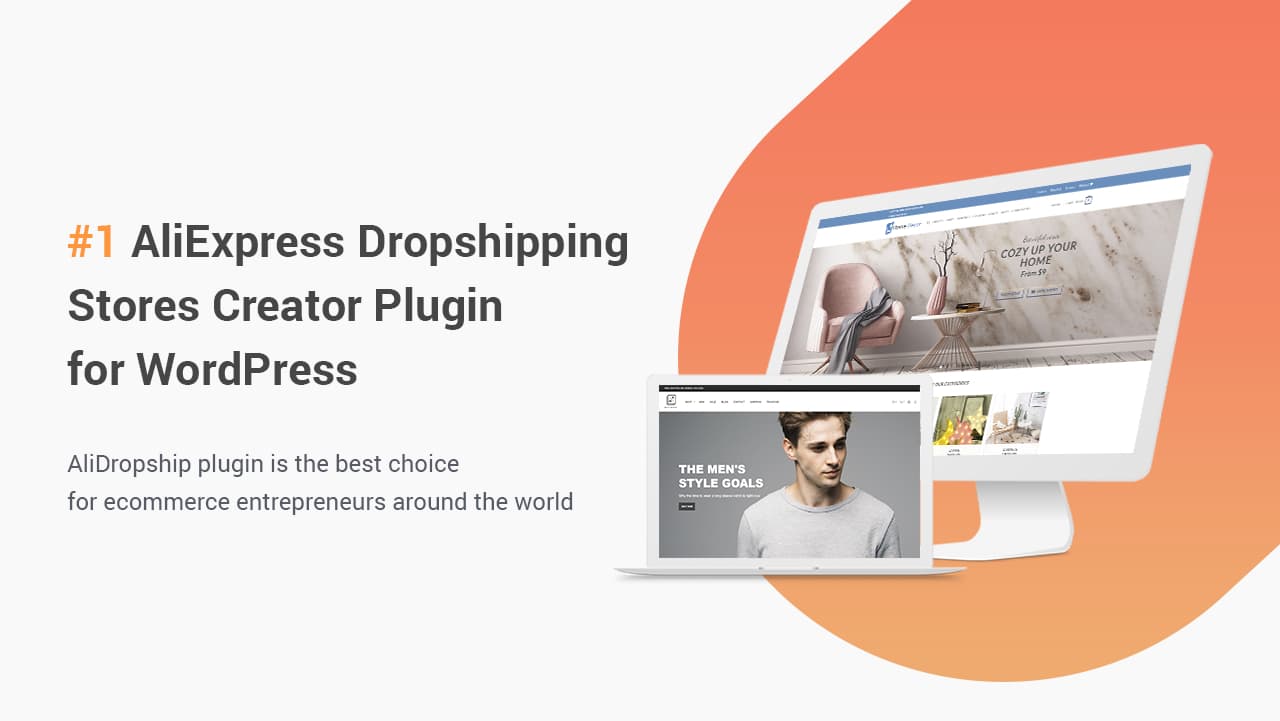 AliDropship is a popular WordPress dropshipping plugin that facilitates easy dropshipping from (AliExpress) and sometimes the United States.
What AliDropship does is to save you of the stress of manually placing your Customers' orders. AliDropship automatically places an order with your supplier on AliExpress whenever anyone orders your product.
Typically one of the essential things you need as a dropshipper.
And among all places to get dropshipping stats from, AliDropship is one of the most trusted and best places to source data from.
Here are some statistics from AliDropship and I'm sure they would be a great addition here.
Let's dive in.
86% of Dropshippers Using AliDropship Prefer Niche Stores
Quite interesting that even in dropshipping, the rule of sticking to a niche also exists.
Being a generalist and wanting to do everything has not always been a welcomed idea in business.
The rule has always been to choose a specific niche and face that niche, don't go beyond the scope and also beneath it.
And now in dropshipping, over 86% of dropshippers registered on AliDropship prefer a niche store to a general store.
So it's only 14% of the dropshippers that are general niche store owners.
18.5% of Dropshippers on AliDropship are in the Gadgets, Devices, and Accessories Niche
Among all the different niche that dropshippers deal in, the most crowded niche is the gadget and devices niche.
And the reasons are not far-fetched, a lot of youths and millennials enjoy changing their mobile phones and gadgets frequently as a symbol of fashion.
And as new gadgets are released, especially phones, millennials are always in a hurry to get them.
After the gadget niche, the next niche that has quite a good number of dropshippers is the baby & children product niches.
A lot of toys merchandise sell like crazy because they have a larger customer base. Same thing with gadgets and devices.
However, going into a niche like this isn't without the saying that it's competitive because of how lucrative it is.
But the lesson is to pick a niche that's profitable and the perfect way of doing that is by analyzing statistics.
Here's a look at the split of the popular niches you can go into when considering dropshipping.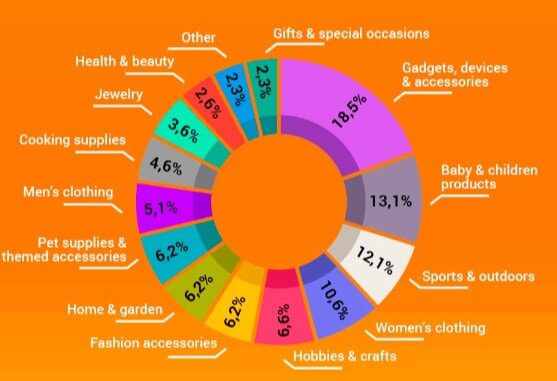 Top 5 Countries Buying The AliDropship Custom Store
While this is a statistics mainly related to Alidropship. It's the number of the top countries buying their custom store package.
And the countries could be interpreted as the countries where dropshippers are on the rise.
The countries include;
The United States
United Kingdom
Canada
Malaysia
And Australia.
India is also one of the top countries using AliDropship, although the majority of them are buying AliDropship plugins.
Let's now have a look at some Amazon dropshipping statistics
Amazon Dropshipping Statistics
Amazon is the largest e-commerce marketplace with a revenue of $280.5 billion in 2019.
Offering different business models, Amazon also has a large number of dropshippers buying and selling products in their marketplace.
Here are some statistics obtained from Amazon that can give you an insight of the online retail world and most especially the dropshipping business model.
Amazon Has More Than 5 Million Active Sellers Currently Selling in The Marketplace
Amazon has one of the largest numbers of sellers and to be exact, the number of sellers has climbed up from 2.5 million to 3.3 million in 2018. And now it has hit 5 million sellers.
As it stands, the figure shows how much third-party sellers (and dropshippers) are influencing Amazon revenue.
And statistics show that the number of sellers on Amazon are increasing every year by nearly 3718 new sellers every day.
If you're of the idea that the drop shipping industry is filled up, then think again. The drop shipping industry is still very profitable and fast-growing.
Around 50% of All Sales on Amazon Marketplace Come From Third-party sellers
You read that right. Third-party sellers control half of the sales recorded by Amazon on all their marketplaces.
And that means that the dropshipping industry is still working.
Although not all the sellers are dropshippers but a higher percentage of them are.
And the 50% sales third-party sellers account for is a whopping $140,000 dollars in 2019.
34% of Amazon Sales Are Fulfilled By Dropshippers Who Posted Their Products There.
Here's the proof. Amazon reports that over 50% of their total orders are from third-party sellers.
And more than half of the third-party sellers are dropshippers. And to be exact, 16% of the 50% third-party sellers are not dropshippers.
So it only means that 34% of 50% are dropshippers.
And that's valued at $95.37 billion dollars in 2019.
While
On Average, Small And Medium-sized Businesses (SMBs) Located in The US Sell More Than 4000 Items Per Minute (Amazon, 2019)
This reads so interesting to be real. But that's the figure reported by Amazon in 2019.
And if the average US small business and medium-sized businesses sell more than 4000 per minute, it only tells you how profitable e-commerce is.
The 4000 per minute is way more than what some individual e-commerce store owners make through their store.
And the fact that e-Commerce grows roughly by 17% year on year, and this includes sales revenue from the dropshipping model, is good news for dropshippers.
Another eCommerce store worth the mention here is, eBay.
Let's have a look at some of eBay dropshipping statistics too.
eBay Dropshipping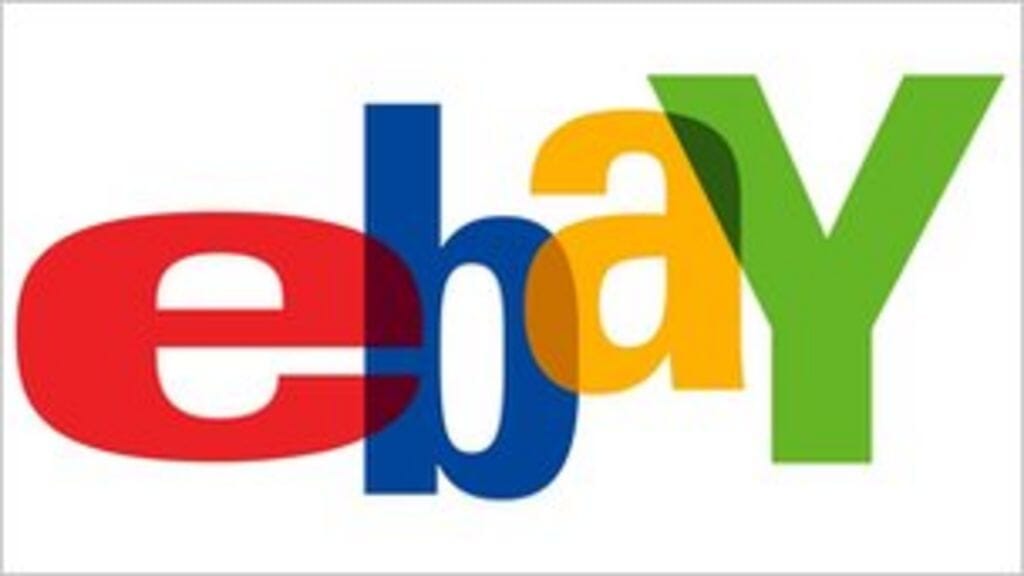 eBay is a popular e-commerce store that facilitates drop shipping because of its C2C and B2C business model.
The majority of the sellers on eBay are dropshippers, buying products from AliExpress and Amazon, then selling it at a higher price on the eBay platform.
Therefore, eBay statistics could also give an accurate insight into the trends and state of dropshipping.
Here are some of the latest eBay dropshipping statistics to derive insights from.
The Top 10% of eBay Dropshippers Make on Average $7,731/Month Profit – That's a Whopping $92,772/Year.
Quite interesting that the top 10% of eBay dropshippers make an average of $7,731 per month and nearly a six-figure business per year.
Considering that most of the eBay dropshippers do it as a side business, it's highly profitable and still a reasonable revenue from a side business.
A Quarter of eBay Dropshippers Are Making More Than $1,000 Profit/Month
While the average amount made by the top 10% is awesome, a good number of their dropshippers still make a modest profit monthly.
25% eBay dropshippers making $1000 per month isn't bad enough, since most of them do it as a side business.
The Average eBay Dropshipper is Making $2.67 Profit on Every Sale
According to statistics, the average eBay dropshippers make $2.67 profit for each sales order they fulfil.
And for the top 10% eBay dropshippers, they make an average $3.64 profit on each sale.
Likewise also, the least and bottom 10% are making a loss of $2.53 on each sale too.
On average, statistics say that an average eBay dropshipper processes 969 orders per month.
And that results in a profit of over 2500 dollars per month for the average eBay dropshipper. And this is fair enough from a side hustle.
The Total Dropshipping Transactions on eBay Grew By 146% From 2016-2018
Quite interesting to see that the number of drop shipping transactions as witnessed an increase from 2016 to 2018, grew by 146%.
And the more dropshipping transactions, the more profitable the dropshipping industry is.
The increase is only because it's a profitable business model and nothing more.
According To Statistics, eBay Dropshippers Are Making An Average of $693/month in Cashback Profit
You probably must have heard of cashback. And if you haven't, here's what cashback means.
Cashbacks are the amount you are credited every time you make a purchase with a credit card. It's more like an incentive that credit card companies pay you in order to make you keep using their credit cards.
So for any purchase you make, you get a percentage of the spending returned back to you. While some credit card companies pay you annually, there are some that pay you monthly.
And a dropshipper, the more order you get, the more orders you place with your credit card, which means the more money you make from cashback.
And according to the statistics from above, eBay dropshippers make an average of $693 per month from cashback. Which isn't bad at all.
The Average eBay Dropshipper Processes 969 Orders/Month, Whereas The Top 10% Are Handling 4,759 Orders
The average dropshipper on eBay processes an average of 969 orders per month and on each sale, they make an average of $2.67 and that amounts to $2587 per month in profit.
And for the top 10% dropshippers on eBay, they make an average of $12,706 per month.
eBay Dropshippers Handled 7% More Transactions in January 2019 Than in December 2018
eBay dropshippers have recorded more sales in January than in December. A lot of people go on eBay after the festive period to find cheaper goods.
However, the total value of those sales was only 1% higher than the sales made in December.
eBay Dropshipping Has Lower Profit Margins Than Other Forms of E-commerce
Source: Storegrowers
According to statistics, eBay offers the lowest profit margin when compared to other forms of dropshipping. To be exact, eBay dropshipping offers a 6% profit margin while the average for other e-commerce is around 30-40%.
Also, eBay dropshippers spend more on their eBay fees and PayPal fees. To be certain, an average eBay dropshipper spends $1078 in eBay fees and $479 in PayPal fees.
However, that doesn't have anything to relate to the global state of dropshipping. eBay just happens to be one of the platforms for dropshipping.
There are many other platforms that you can use to drop ship your product and also make a better profit off it.
Final Conclusion – Dropshipping is Still Profitable
After going through the above statistics, it's definitely clear how profitable dropshipping is and what the future holds for the dropshipping industry.
Absolutely, the industry will keep booming as predicted by Grand view Research ( a $557.9 billion dollars market size projection).
And there is no sign of dropping in market size. However, when starting a dropshipping business, you still need to look at the niche you're venturing into and also find a suitable supplier.
Data are for nothing but our consumption, so go ahead and make the best use of these statistics. Luckily for you, we've rounded up the best dropshipping Software to give you a head start.
Dropshipping Statistics Infographic

Learn More: