List of Best Dropshipping Suppliers in New York
Are you looking for the best dropshipping suppliers in New York for your eCommerce store? If yes, then you are in the right place.
If you want high-quality products in your store, you must pay attention to the dropshipping suppliers you order from.
It boosts your reputation with customers and they will readily trust products that come from your store.  NYC is one of the cities that has a large number of dropshipping suppliers. Therefore, it might not be easy to figure out which of them you should go for.
That is why I have done some research and put together a list of dropshipping suppliers in NYC that have proven to be the best over the years.
I will show you the benefits of working with each of them as well as how you can locate them.
Best Dropshipping Suppliers in New York City
Oemexperts
Gooten
2Decorate
Petdropshipper
Logic Broker
Albany Distributing
Sellvia
Doba
#1. Oemexperts.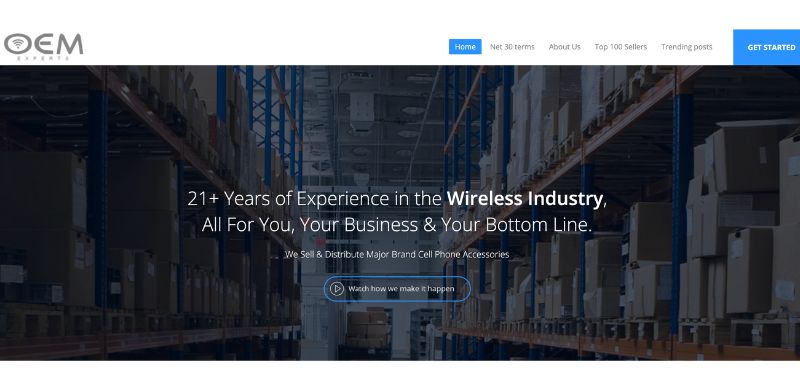 Oemexperts is a popular brand in the Wireless Industry. When it comes to dropshipping suppliers in NYC in terms of sales and distribution of cell phone accessories, they have proven to be a reliable brand.
They have been in operation for over 25 years in NYC. This has helped them to build a strong relationship with many of the largest wireless carriers, popular manufacturers, OEM distributors and retailers in the wireless industry.
It has also helped their inventory challenges into practical but most importantly, profitable opportunities for retailers like you.
They market their product by drop shipping, light bulk, pallet or truckload. They are located at 1020 East Street, Brooklyn, NY 11203 USA.
Pros
You get exactly what you want and paid for.
Their products are tested according to the strict specialized manufacturer's testing standards
Products are cost-effective compared to other brands.
Efficient customer service.
Cons
High minimum order quantity requirements.
The listing process is manually done
Oemexperts Review
On google, Oemexpert has an average rating of 4.7 stars out of about 143 reviews, it is safe to recommend this brand as the best dropshipping supplier in New York when it comes to the wireless industry.
#2. Gooten
Gooten is well-known for its business solutions in NYC. They help business owners-most especially eCommerce stores scale up and grow in their dropshipping business.
They have partnered with thousands of stores and retail outlets and partners to provide them with high level of growth and expansion.
Most of the brand they worked with has gone ahead to rank as some of the best dropshipping suppliers in New York and other places.
They are consistent in the manufacturing of quality products with the help of a single platform through their sophisticated API.
With more than 70% production in the U.S, they have chosen a few globally distributed networks of producing partners that supply more than 70 locations the headquarter is located in the United States, New York, 142 W 57th St. HQ.
Pros
Efficiency in shipping orders to whichever manufacturing location is nearest to the final customer.
Gooten has a team of hardworking, dedicated and competent accounts managers and service reps.
There is proper documentation of trends reports so that more goals can be accomplished.
Production error rate of less than 2%.
Con
Their high-level tier might be unaffordable for those who are just starting up their online store.
The interface is not very easy to navigate.
Gooten Reviews
From the over 397 reviews gotten for Gooten, it has an average rating of 4.2 stars. Therefore, if you are looking for one of the best dropshipping suppliers in NYC that can help you scale your business, Gooten stands out. 
#3. 2decorate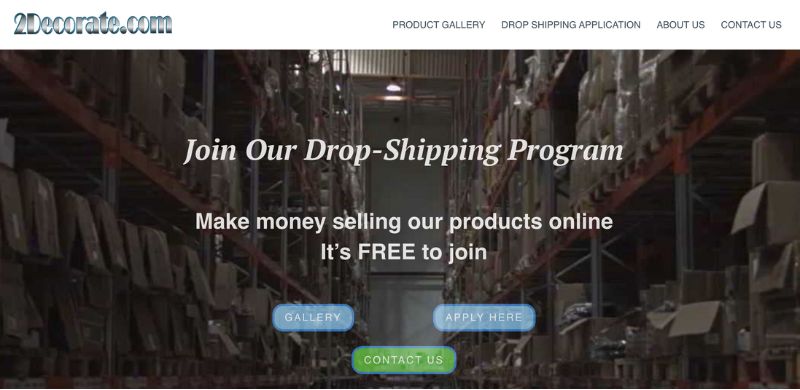 2decorate is a dropshipping supplier brand in NYC that is into the sales of home décor. They were founded in the year 2006 and they are currently the largest independent supplier of these products.
Some of the products they sell include; high-quality duvet cover sets, curtains, decorative ceramic vases, metal planters and drapes. Their bedding materials are 100% cotton with a high durability level.
If you are looking for the best dropshipping supplier in New York that is into home decor, 2decorate is your best bet.
They have gone ahead to give themselves a trademark name known as Dolce Mela. Therefore, wherever you see that name, it is also the 2decorate company that is being referred to.
They are currently located at 4694 Bedford Avenue, Brooklyn, NY 11235
Pros
They manufacture high-quality products.
They have a large collection of home décor that you can include in your online store gallery.
2decorate has strong and reliable logistics. Therefore, you would not need to worry about getting your order delivered in NYC and any other cities.
Their product packaging is not heavy which will minimize shipping costs.
Cons
They only sell in bulk.
The customer service is not entirely excellent.
2Decorate Review
With an average rating of 5.0 stars, 2decorate has proven to be the best dropshipping supplier in NYC when it comes to home decor.
#4. Petdropshipper
Petdropshipper is one of the best dropshipping suppliers of Pets accessories and feeds in NYC. They have currently been in existence for over 10 years and have been patronized by over 200 brands.
Some of the pets they cater for include Dogs, cats, birds, aquatic animals, reptiles and other small animals.
They sell pets' products ranging from their cages to feeds, to their toys to their grooming and health kits. Petdropshipper also have over 14000 products that you can dropship from.
They are quite reliable such that if there is an error on your product order, it will be rectified as soon as the complaint is lodged.
Their headquarter is in NYC and they are located at 1275 Bloomfield Avenue #1B, Fairfield, NJ 07004
Pros
Order inventories are automatically filled.
They have an ultimate shortcut to product listings.
They offer a wide range of products which you can also list all in your store.
Shipping with major carriers like USPS, UPS or FedEx earns you a 15-30% discount on the shipping price either within NYC or any other country.
Cons
They do not cover all international locations. The list of locations they ship to is in their order form.
Just like most dropshipping businesses, once they are out of stock, you are also out of stock.
Petdropshipper Review
Petdropshipper has an average consumer rating of 4.7 stars which has made it a reliable and one of the best dropshipping suppliers in New York as regards the pet dropshipping industry.
#5. Logic Broker
Logicbroker is a flexible platform that assists businesses in launching successful digital dropshipping and marketplace strategies. This is also a brand that has helped a lot of dropshippers become the best dropshipping suppliers in New York.
They operate an effective platform that engages vendors, marketplaces, and suppliers at record speed, equipping them to sell enough products, widen buyers' scope, and retain their advantage in a fast-growing e-commerce world.
Thousands of organizations that hope to increase their diversity and generate extra income by drop shipping have depended on the Logicbroker platform to trade millions of deals.
Logicbroker product outlines are Dropshipping, EDI, and Supply Chain Business Networks.
It was established in the year 2010 and the headquarters is located at 31 Balsam Cir Shelton, Connecticut, 06484-5243 United States.
Pros
The community is coordinated and supportive despite everyone pushing at a rapid rate and under the tension of quick expansion.
They are fast and straightforward to work with. Also, the expense is satisfactorily worth the period and effort devoted.
The Client experience committee is always ready and glad to help customers with any problems that may arise.
The interface is user-friendly and the uploading of products is straightforward.
Cons
The rapid rate and desire to be dominant can be tough, not for everyone though.
Lack of chat or call assistance. Email address isn't enough.
Provides a few customizable selections.
Logicbroker Reviews
Logicbroker has a consumer rating of 4.1 stars from 26 reviews indicating that most customers are generally satisfied with their purchases. Consumers satisfied with Logicbroker most frequently mention their coordination, ease and straightforwardness in uploading products, and customer service
#6. Albany Distributing
Are you looking for the best dropshipping supplier in New York that deals in consumer electronics and transmission products? Albany Distributing is one.
They have demonstrated a continuous sales expansion rate and have fast evolved into a well-identified company in the drop shipping industry.
Albany Distributing also provides headset remedies for residences and small and average companies.
They have a legal resale ticket and Federal Tax Identification digit.
Some of the Products they resell Include:
Rice Cooker Steamer.
Ninja Foodi Smart Indoor Grill.
Black & Decker 400W Rapid Juice Extractor.
Endless Summer Black Finish Wood Burning Outdoor Fire Pit.
Albany distributing has its headquarter in NYC and is located at 30 Old Karner Rd, Colonie, NY 12205, USA. It was founded in 2004.
Pros
Fast and credible order completion with "five-star" customer assistance.
Offers some of the nicest wholesale costs and offers good quality products.
Good customer service.
Has a friendly setting to work in. Management is willing to render help and often rewards the workers.
Cons
Inability to refund the payment after customer's request.
Does not send a confirmation email after making payment for the opening of a drop shipping account.
The employees that do some heavy lifting are underpaid.
Albany distributing Reviews
Albany Distributing has a consume rating of 3.29 stars from 7 reviews indicating that most customers are generally satisfied with their purchases.
#7. Sellvia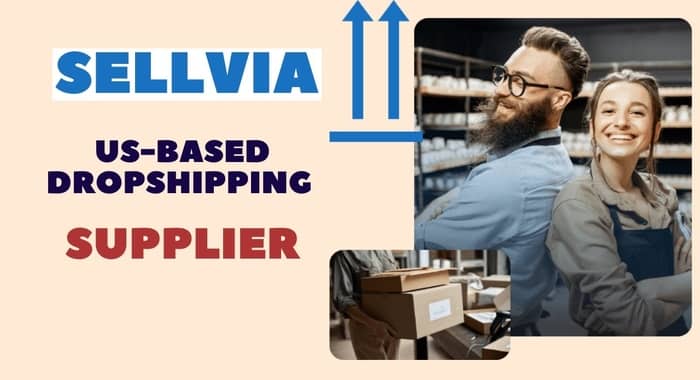 Sellvia is a credible dropshipping company that was established by a crew of entrepreneurs and software designers in NYC. Their many years of mastery in dropshipping assist them in providing wholesalers with unique business vacancies.
Sellvia deals with the dropshipping procedure from fulfilment to delivery, therefore, users of the product only need to direct on increasing new customers. Also, they provide buyers with an impressive shopping experience.
They aim at providing mainly products that are fast selling and trending too at the period. These smart business tactics has helped them become one of the best dropshipping suppliers in New York.
Sellvia was founded in 2017 and is located in Irvine, California 14460 MyFord Rd, Irvine CA 92606.
Pros
Expert assistance with your store's advertising.
Products have good quality and are inexpensive.
Rapid and sure delivery of all orders to the buyers.
Subscription to the platform comes with benefits like permission to access some free courses on dropshipping.
Cons
Does not operate a global dropshipping store.
Products are limited.
No open access to suppliers so one can't negotiate with the suppliers for a cheaper payment.
Reviews
Sellvia has an average rating of 4.9 stars from 206 reviews indicating that most customers are generally satisfied with their purchases. Consumers satisfied with Sellvia most frequently mention customer service, online store, and support team. Sellvia ranks 7th among Ecommerce Tools sites.
#8. Doba

Doba is a dropshipping company in NYC that provides a marketplace that engages wholesalers and vendors by automating the digital supply chain through real stock supervision and simple product fulfillment.
The services assist a wholesaler to develop, allocate and supervise retail channels creatively. They have helped built the businesses of several dropshipping suppliers in NYC.
Doba specializes in B2B Commerce, Product Sourcing, Virtual Inventory Management, Retail Channels, Retailer Management, and Drop Shipping. Doba functions as a middleman, engaging dropshipping wholesalers with intended vendors.
Also, they furnish their users with the technology to categorize and sell products on a span of e-commerce channels. It was founded in 2002, and the location is at 3401 North Thanksgiving Way, Suite 150 Lehi, Utah 84043, US.
Pros
The interface is user-friendly and straightforward to use.
Includes dropshipping assistance and business methods.
You can handily customize your supplies for fast reference.
Straightforward to upload the product data shortly onto digital marketplaces like Amazon, or personal online shop.
Contains several shopping cart selections to pick from.
Cons
Membership subscriptions are expensive.
Products are costly to buy.
The general online impression is not satisfactory.
A money return guarantee is tough to claim if you are not satisfied with the product.
 Doba Review
Doba has a consumer rating of 1.2 stars from 56 reviews on Trustpilot which indicates that most customers are generally dissatisfied with their purchases. Consumers complaining about Doba most frequently mention customer service, credit card, and free trial problems.
Conclusion
There you have it – my pick of the best dropshipping suppliers in NYC to find and secure your verified supplier.
While some of the platforms are free and some are paid, I advise you seek the best. If you're still finding it hard to make a decision, then:
Has my recommendations and backings.