List of BEST Dropshipping Suppliers in USA [Wholesale Companies]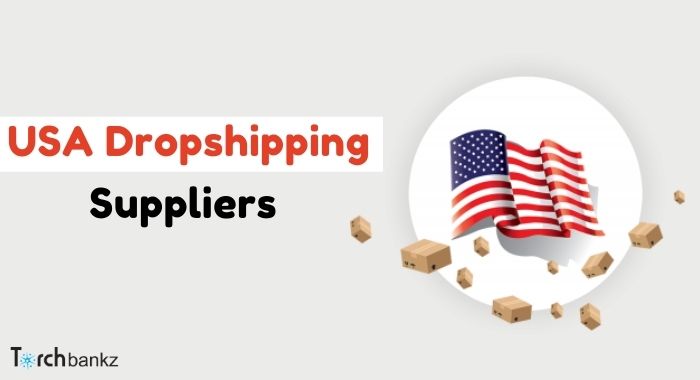 You're looking for the best dropshipping suppliers in US, right? No worries, I've got you covered with the best list.
Not only will I show you the top dropshipping suppliers in USA, I'll also show you what to look for in suppliers.
Or better still, how to spot the right suppliers for your dropshipping business.
You'd agreed with me 'Shipping and Suppliers' plays the most significant role in dropshipping, and as such, without the two there won't be a successful dropshipping business.
So, it's highly important that you work with the best dropshipping supplier in the US and also increase your shipping time.
With this in place, not only will you increase your sales but also make your customer happy by selling quality products and also delivering the products in time to them.
To this effect, I've come up with the right guide on how to choose the best dropshipping suppliers in USA and as well as the list of the TOP suppliers.
That been said, let's get started, shall we?
Spotting The Best Dropshipping Suppliers In USA
Before choosing a supplier for your Dropshipping business you should try and assess the high-risk approach involved when the product fails to get to the customers.
And as a result, you want to carefully look over the suppliers before settling down with one because your decision will definitely affect the overall success of your business.
On this note, this part of the post will assist you to get some answers to your questions on what to look out for in the top dropshipping suppliers in Europe.
In order to maintain a high profile of product reviews, suppliers with high-quality products must be looked out for.
This helps to reduce market returns and broadcast the name since that is the priority set before dropshipping is taken into consideration.
And of it all, it enables you to make more profit on every demand made on the product. If your dropshipping supplier ticks the rest of the criteria but not this, then it's of no use.
What's the point of delivering a bad product on time at an affordable fee? Or perhaps having a supplier with years of experience but with bad products?
In essence, you can't remove quality products from the criteria for choosing a good supplier.
Wholesale suppliers will charge you a product order fee on your orders. The charge makes good business sense for you and the supplier.
The supplier provides shipping and fulfillment services for your products, using its resources to ensure your customers get the best of services. The fee is the charge for these services.
All wholesale suppliers charge this fee. Some incorporate it into the cost of the product you are ordering while some separate it as a stand-alone cost.
While the fee is the standard industry practice, some suppliers will want to take advantage of this to exploit the buyers.
There is no standard for the product order fee. Different suppliers charge different rates. Some charge ridiculously high costs, some charge moderately, and some offer low prices.
To know if the wholesale supplier is charging you high fees, you can compare several options for a rough idea of what the average price is.
To know if the product order fee is costly for you, check how it eats into your product margin. If the cost reduces your profit margin to below what is satisfactory or profitable for you, it's a sign that the product order fee is high.
In situations like this, the temptation is to increase the selling price of the product. There's a limit to how you can raise your price, especially if your competitors are offering lower prices. Instead of doing this, just choose a cheaper supplier!
This is a serious and broad concept that can not be underestimated when checking out for the best suppliers in dropshipping.
It entails professional relationships during which several terms and conditions must be reached and upheld.
This relationship includes continuity and consistency in manufacturing products that suit you and your customer's expectations.
And the other part of this is the years of experience your supplier has. Choosing a supplier that has only been in business for a month or six months could be a really risky thing to do.
And in order to protect yourself from scammers, you need to look into a supplier that has long-existed alongside good reviews.
But it isn't without an exemption. If you're going to work with a new supplier, you need to do your own assignment.
And don't only do a test order once, do it continuously in the middle of the business.
You should order your products in order to know what your supplier sells to your customers. This is very important and you shouldn't wait till you get lots of product returns.
If you get into problems with the wholesale supplier, does it have available customer care to respond to you and help the problem?
How active is the customer care line? How long before you get a response? It's essential to consider this when choosing among several wholesale options.
Problems occur, which is the reason why you have to consider the availability of customer care when selecting wholesale suppliers. So before choosing any suppliers you should ask yourself these questions: Is customer service reliable?
Will they be helpful if there's a need to make inquiries? Are they capable of handling minor issues? How do they prioritize customers?
However, sometimes the customer service might not be able to provide answers to inquiries right away. It's paramount that they are willing to find answers and get back to you afterward.
If a wholesale supplier does not have functional customer care, it's a sure sign that the supplier is unprofessional.
The ideal customer care is one that you can easily contact and receive solutions quickly.
When it comes to e-commerce, good logistics cannot be underestimated or overemphasized. A lot of customers tend to buy products from eCommerce stores with flexible shipping methods.
And talking of good logistics, fast delivery cannot be exempted too. Another concept to look out for in dropshipping suppliers is the fee charged whenever an order is placed on a product.
Knowing fully well that this is often essential to put into consideration, as high fees will affect the margin of profit of the merchandise.
As a result, dropshipping supplier with a flexible and not outrageous fee should be considered.
Additionally, you also want to consider how fast can the supplier ship the product to your customer.
You want the service of a supplier that can ship goods to your customers in a quick time frame, not exceeding 24 hours from the time of the order of the products.
In exceptional cases, 48 to 72 hours is acceptable due to the constraint of distance. Anything more than that, and the customer is unhappy except if it's an international shipping
Customers want to receive their goods quickly. The slightest delay causes them to feel uncomfortable.
They are impatient by nature, and can quickly switch from using your service to using the assistance of a faster alternative if they are not pleased with your service.
Best Dropshipping Suppliers In USA
By now, I do believe you now have the full understanding of the subject matter, Dropshipping, and its potential as starting an online business.
But before you agree down with a specific supplier, it is necessary you read this to the end.
While a number of them handle a particular product, others have a large collection of products that could just be the right tools you are checking out for.
In order not to waste your time, I have curated the top best dropshipping suppliers in US to assist and improve your dropshipping business.
Let's get started, shall we?
#1. Spocket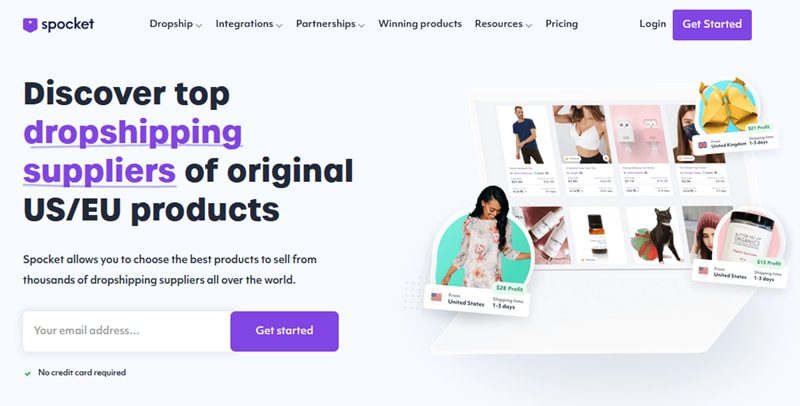 Spocket is a dropshipping platform that helps you to find products from different suppliers in US, then ship your products to your customers. Having a large database of suppliers from the US, Spocket allows you to dropship US products to customers all over the world and very fast within USA.
Spocket was Founded in 2017, been one of the latecomers in the dropshipping industry, and since then Spocket has grown to be one of the major suppliers from the United States, Europe, United Kingdom, Germany, and many others.
They literally ship their products all over the world and this qualifies Spocket as a global dropshipping platform.
Here's the best part. Spocket doesn't just help you find a supplier, it makes it easy to automate your store using Spocket and the Shopify platform.
On Shopify, Spocket has a rating of 4.5 from over 1700 reviews. Needless to say, that's an excellent performance. Having their own suppliers directory, you don't need Aliexpress to source products from suppliers.
Offering four pricing plans (starter, pro, empire, and unicorn plan), its least pricing plan costs $24per month while the most expensive plan goes for $99 per month).
Features of Spocket
To begin with, Spocket offers an advanced solution to dropshipping. You can do more than just finding a supplier, this tool allows you to set up a store and automatically sync your store with your suppliers using the Spocket market place.
In that case, you don't have to manually place your products on your dropshipping store. It allows you to automatically forward your product listing on their platform to your own dropshipping website.
Below are the key features of Spocket:
Unlike the usual long time delivery with AliExpress, Spocket allows you to enjoy much faster delivery of your product between 3 – 5days.
Since most of the suppliers are based in Europe and the US, this makes it easy for them to ship the product faster to your customer.
This feature allows you to brand the product you're selling. You could have a customize logo and even send a personalized note to your customers.
With this, you can easily build trust and customer loyalty within a short period of time by enhancing your customer's shopping experience.
If there's one thing Spocket is good at, it's customer support. They offer a reliable customer support service via mobile phone, live chat and email address.
Sign-Up Here
#2. Inventory Source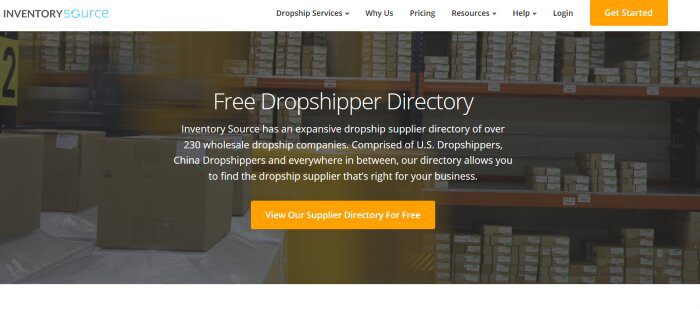 Inventory source is one of the top players when it comes to dropshipping suppliers in the US with a database of over 230 suppliers currently providing various kinds of products. As well as delivering them to the final customer.
What's interesting about this platform is that it comes with automation software built for dropshipping. The tool provides a free suppliers' directory where you can get supplies from.
And aside from that, InventorySource makes it possible to sync suppliers' products directly to virtually all eCommerce platforms.
In that respect, you can easily integrate InventorySource with:
Shopify,
BigCommerce,
WooCommerce,
Amazon,
eBay, and many other eCommerce platforms.
Although InventorySource has a small database of suppliers (over 230), they allow you to manually add your own supplier to their database.
This means you can import or integrate product data from other websites and use the Inventory Source automation tool for your dropshipping business.
Needless to say, InventorySource is powerful, and it's simple to use for beginners.
They offer three plans. They offer a free plan for their directory. The Inventory automation plan costs $99 per month and the full automation plan that costs $150 per month.
Sign-Up Here
#3. WorldWide Brands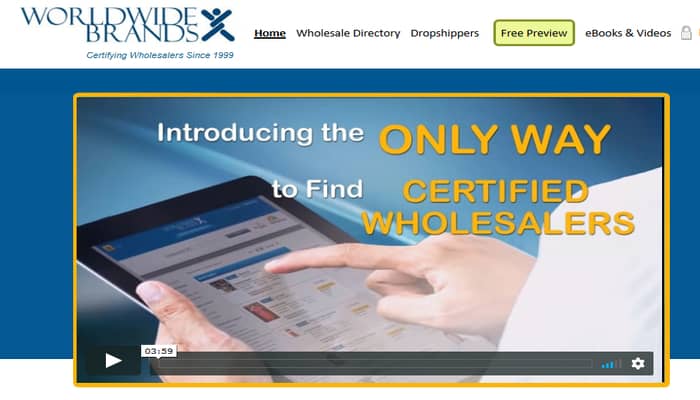 Worldwide Brand is one of the oldest wholesaler directory listings, dating as far back as 1999.
The directory boasts of manually vetted wholesalers and suppliers offering millions of products. You can easily search the directory by using the product name, brand name, and business location.
Plus, Worldwide Brand offers a mobile app to search and find suppliers for your products. There is a mobile app for both android and iOS. And needless to say, this makes the process of finding a wholesaler simpler.
Most of the suppliers and wholesalers on the platform are verified businesses in the USA. Only a small percentage of their suppliers are non-US based.
Their product offerings are basically in thousands of categories.
And the best part is that you don't need to pay a recurring subscription fee like most other dropshipping supplier directories.
All they charge is a one-time fee of $299 for unlimited access to their directory and products. However, this can be expensive at first, but over time it appears to be way cheaper than their competitors.
But the tool isn't without glitches too. Their website is outdated looking very old-fashioned, making it look like their directory has not been updated for a long time, while it has.
While its' best for Amazon and eBay dropshipping, it isn't good for individual eCommerce store platforms.
And not the best for beginners, Worldwide Brand only goes as far as getting you a supplier alongside handling all the essential details you need to know about the supplier.
In essence, you would be working directly with the supplier. While this would give you some reasonable discount, you would need prior experience of dropshipping in order to go this route.
Also, the ability to import products from a supplier directly to your store doesn't work here.
Sign-Up Here
#4. Wholesale2B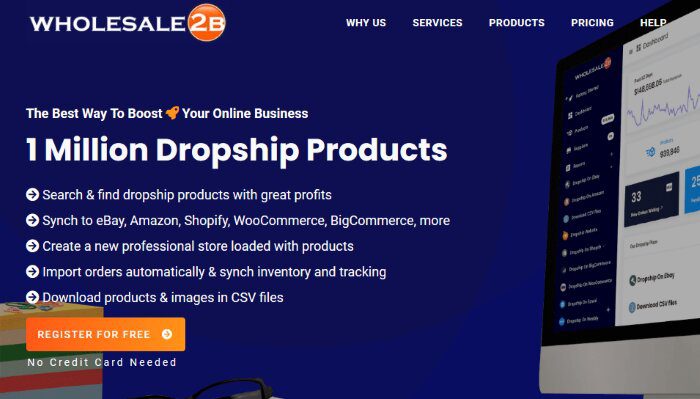 Wholesale2B can be regarded as an all-in-one solution to dropshipping. Offering different dropshipping services, the software allows you to search for profitable products from their database.
Finding a suitable supplier from their directory of suppliers is quite easy. Their suppliers are vetted by appropriate standards to ensure you're getting the best.
But where the tool beat the competition is the ability to integrate with many eCommerce platforms.
To be exact, Wholesale2B integrates with:
Shopify
BigCommerce
WooCommerce
eBay
Amazon
Weebly
Ecwid
And many other eCommerce solutions.
Plus, if you want to sell through your own custom eCommerce store, you can do so using Wholesale2B. And the best part is that Wholesale2B builds you an eCommerce store at a lower cost.
As expected, Wholesale2B offers different pricing plans for its solution. The pricing plan for Shopify, Bigcommerce, and woo-commerce stores costs $30 per month.
While Amazon and eBay dropshipping stores come at $38 per month.
However, you won't be charged any drop shipping fee aside from the payment processing fee and the monthly subscription based on your plan.
Without a doubt, Wholesale2B has its shortcomings too. Their contact support is lacking. There's no phone number listed, you have to go through the support ticket system.
Absolutely, they're still one of the best in the market because of their wide range of dropshipping solutions and flexible pricing plans.
Sign-Up Here
#5. SaleHoo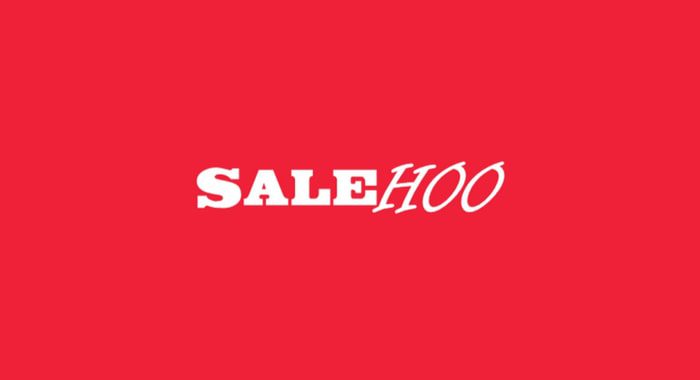 Salehoo prides itself on being the most widely used dropshipping supplier in the United States. It has a powerful feature that enables the supply of a large inventory list.
The strong supply capability is enhanced by the millions of products inserted in its directory. Thus, there's nothing you'll not find in the SaleHoo directory.
SaleHoo was actually founded in New Zealand in the year 2005 but ever since then, they've grown to be one of the biggest wholesale dropshipping directories in the entire world.
The whole idea behind SaleHoo was birthed by the Co-founder Simon Slade who himself was an online seller. He came about SaleHoo after his frustration of not being able to find suppliers to cater to his online business.
Fast forward, they now boast of over 8,000 trusted dropshipping suppliers and they offer over 1.6million products you can sell to your direct customers as compete with their alternatives.
Best of all, SaleHoo is a fantastic platform for beginners as it allows you to sort suppliers through minimum orders. With this, you can source from suppliers with even a zero minimum order.
Sign-Up Here
#6. US Direct
The dropshipping company claims that it has over 200000 products, which it provides at wholesale prices. Besides, the company prides itself on its ability to supply anywhere within the U.S. in three to five days. The US Direct partners with 15 other dropship suppliers offer different product varieties like organic food, wholesale clothing, and toys.
Although the US Direct is a separate entity, it is usually a part of the Inventory Source Umbrella.
When customizing the US Direct Products, you'll be required to use the Inventory Source manager. You may also use the free inventory source integration if you want to access the US Direct Suppliers. The cost order is $2, but you have the option of buying a membership if you'd like to reduce the charges on the order fee.
Sign-Up Here
#7. National Dropshippers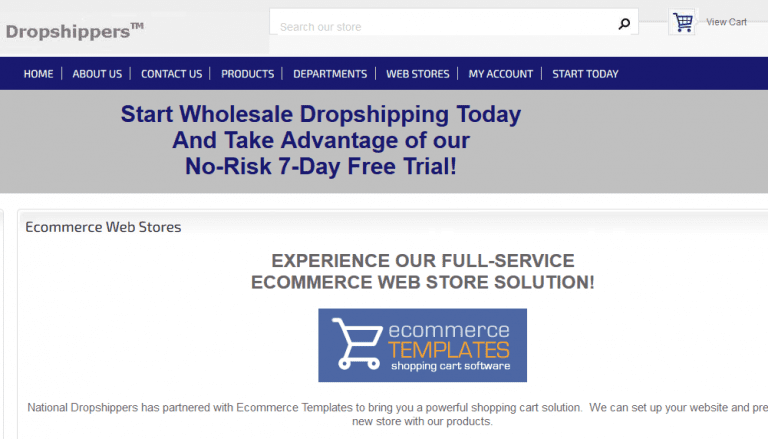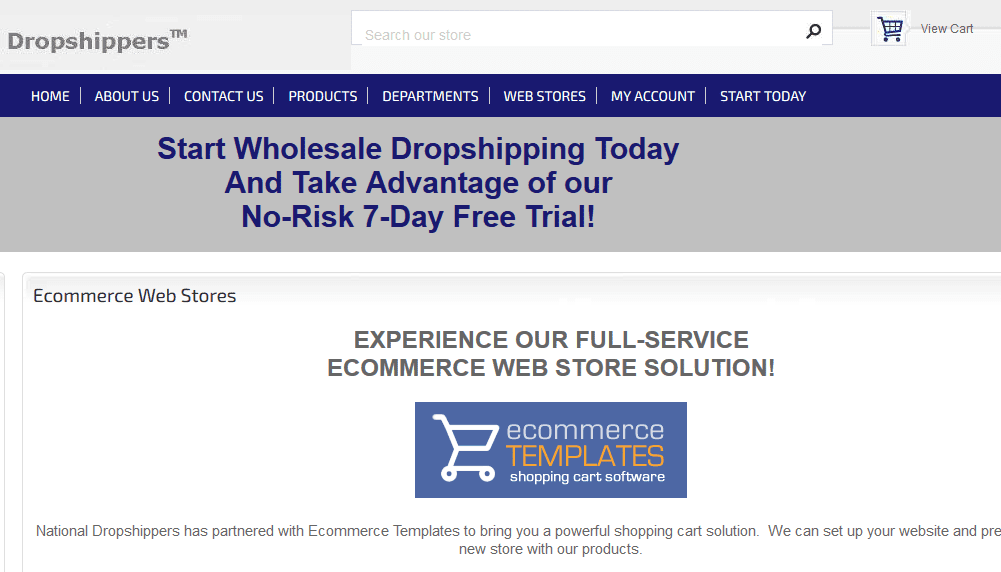 National Dropshippers is also another dropshipping software that has been in existence since the early 2000s.
Founded in 2002 by Joe J Khoury, National dropshippers have been one of the earliest dropshipping software.
More like it pairs, National Dropshippers has a clunky old-fashioned interface that makes the site look outdated.
And there has not been any major improvement on the platform. The site still uses old technology to connect suppliers to dropshippers.
You have to take the orders on your store and then manually place the order on National Dropshippers. Absolutely, this is the old and tiring way of doing dropshipping.
And using National Dropshippers restricts your business from scaling. Because you'll need to always manually place the orders.
Whenever there's a change in the product price, National Dropshippers may or may not alert you or send you a notice.
However, National Dropshippers provide tracking details for you to forward to your customers in order for them to know the progress of their goods.
So far, that's the most attractive feature of National Dropshippers.
Sign-Up Here
#8. Doba

Doba Is a huge marketplace for USA dropshipping suppliers. Currently, they have over 2 million products on the platform for you to try out on your Shopify store. And they've partnered with hundreds of suppliers from several categories, including automotive, books, apparel, electronics, etc.
Unlike other platforms, Doba offers 30 days free trial to test-run their platform and after that, their four membership plan start from $29/month.
What's also interesting about Doba is that it allows you to integrate with all major e-commerce platforms like:
Shopify
Volusion
3DC
Amazon
eBay
Bigcommerce
And a few others.
Finally, Doba claims shipping of products usually takes within 5 – 7 business days in delivering products at any part of the world.
Sign-Up Here
#9. Sunrise Wholesale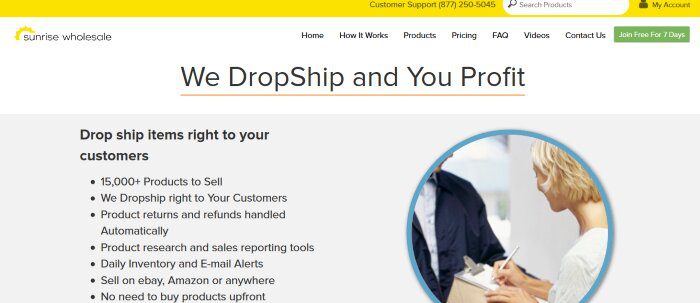 Sunrise Wholesale is one of the best product directories for dropshipping stores. Unlike many others on this list, Sunrise Wholesale isn't a directory for suppliers.
They are the supplier and they house over 15,000 products that are available for dropshipping on different eCommerce platforms including BigCommerce, Shopify, Amazon, eBay, and many other stores.
The catch here is that you do not have the flexibility of bargaining with different suppliers in order to know which is best for your business.
Also, the profit margin can be low because you're dealing with a single wholesaler that has to cover everything. Plus, they only support a few countries.
However, using Sunrise Wholesale provides you a secured means of sourcing your products. And they also offer some built-in tools to facilitate the selection of products.
Their pricing starts from $49 per month.
Sign-Up Here
#10. Pet USA Store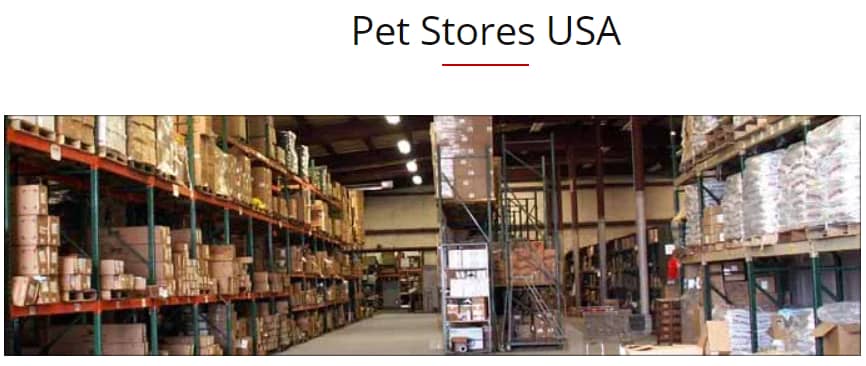 Pet USA Store is an Ohio-based dropshipping company that has been in operation since 1965. The company specializes in the dropshipping services of pet supplies.
The dropshipping service provider offers everything, ranging from collars and crates to birdbaths and beds. In the Cincinnati warehouse, the company houses about 2500 different pet products.
Pet USA is the most useful for you if you are running any pet products business. You don't have to worry if you specialize in a specific pet supply or just a general pet supplies vendor.
Conduct a search of the store's desired items to get the products meeting your needs.
Sign-Up Here
#11. Buy2Bee

This is a California-based dropshipping company that has been in operation since 2010. The company prides itself on offering high-end brands, including Hugo Boss and Ugg.
You can join Buy2Bee if you seek accessories and clothing for both men and women. They are mostly best for the startups, but the established businesses find help from the Buy2Bee.
At Buy2Bee, you're only required to place an order using the company's dropship service. The company will ship the product directly to your customer. Access to their product catalog requires you to only sign up on their website.
Sign-Up Here
#12. AZ Importer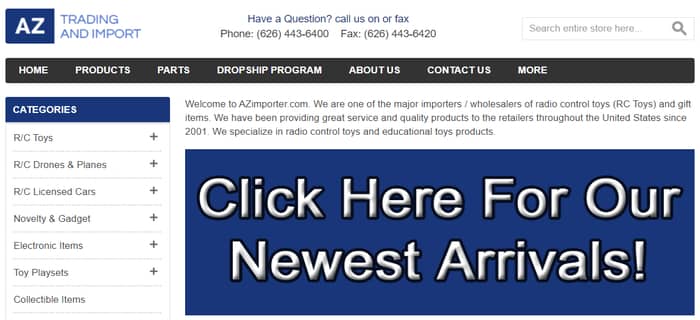 This is an importer and a trading company based in the US. The company is popular for supplying dropshipping and wholesale for all R/C toys.
Anyone in the market doing the R/C toys or the drone supplier should consider this as their supplier of choice. The supplier will offer you a straightforward dropshipping model.
This saves you from investing in any toys beforehand. You're only needed to sign up for a dropshipping program so that you can get started to sell these exciting drones, R/C toys, and the available massaging equipment in your store.
Sign-Up Here
Conclusion
These USA dropshipping suppliers will allow you to receive efficiency, time-saving, and convenience while sending your products to your final customers.
Since you're using a local US dropshipping supplier, you can rest assured that you'll enjoy 1-5 days shipping deliveries for your products, since the products are sourced locally.
This provides limitless benefits for upcoming businesses and established ventures. I should also note that working with these US dropshipping suppliers will save you from the risks associated with stocking an inventory.
There are several other dropshipping suppliers in US, but I have picked among the best in the USA. And remember that some are specialists, but others venture into almost all the products you'd be looking to buy.
Still not sure, where to start from? Why not start with Spocket? And do let us know what you think about them.
Related Post: