[Peter Pru] eCommerce Empire Builder Review: Is It Legit?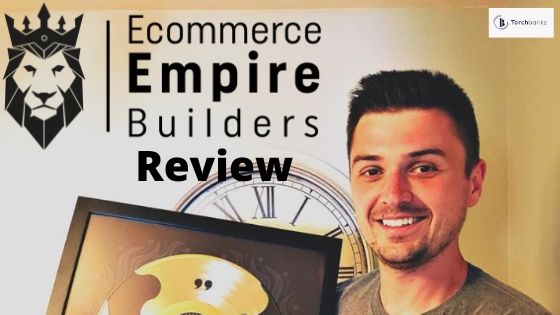 Checking out Peter Pru e-commerce empire builder review means you've known Peter Pru from YouTube or saw some of his ads.
Or perhaps, this is your first time of having contact with the eCommerce empire builder course and you've decided to check out the course review if it's worth buying or not.
The truth is; dropshipping business is getting tougher by the day and if you want to have a slice of the profit cake, you'll need to sit tight and run your biz like a pro.
Trust me…
There no better way to get ahead in this kind of business except following a working blueprint. Or get mentored by someone who's generating results already.
But how do you know the real ones, when the internet is filled with FLY by NIGHT internet GURUs rubbing their success stories on your face.
All in the name of wanting you to buy a course or a product!
Can we say the same thing for Peter Pru…? "Is he any different?"
More on that later…
Ecommerce Empire Builder Review
In today's post (Ecommerce Empire Builder Review), I'll be walking you through the inside out of the course, Pros and Cons, the FINE and the UGLY truth.
And most importantly, whether it's worth buying or not, plus everything you need to know about the course and the author of the course (Peter Pru)
What is E-commerce Empire Builder?
The eCom Empire Builder is a masterclass by Peter Pru designed to inform and educate any passionate individual who wants to make 5 – 6figures doing e-commerce dropshipping.
Peter has seen and understood the opportunity behind dropshipping after being successful at it and decided to share it with his student.
This was formerly referred to as six-figure funnels before he finally renamed it to e-commerce empire builder.
The concept behind this Masterclass is simple; it's not the everyday kind of dropshipping business model.
The usual dropshipping business will require you to set up a store on Shopify or WordPress and import products to your websites and run promotions.
Well…
There's certainly nothing wrong with this kind of dropshipping!
In fact, over 80% of everybody run their dropshipping business this way. But the question should be how many of them are successful?
Shouldn't everybody doing dropshipping be successful by now?
Perhaps, there's something the successful ones know that the average person doing dropshipping don't know?
This is exactly what led us to the e-commerce empire builder!
Which is a masterclass on how to start a successful dropshipping business using a sales funnel.
I also have a comprehensive guide on Sales Funnel Dropshipping with AliExpress. You can as well check it out to have a pre-informed knowledge on what to expect with the course.
So basically, the e-commerce empire builder is a mastermind set up by Peter Pru to replicate his own success with sales funnels dropshipping with any interested student.
He has a free masterclass where he talked about how you can start the funnel dropshipping business and grow your ways to multiple zeros.
About The Author (Who Is Peter Pru)?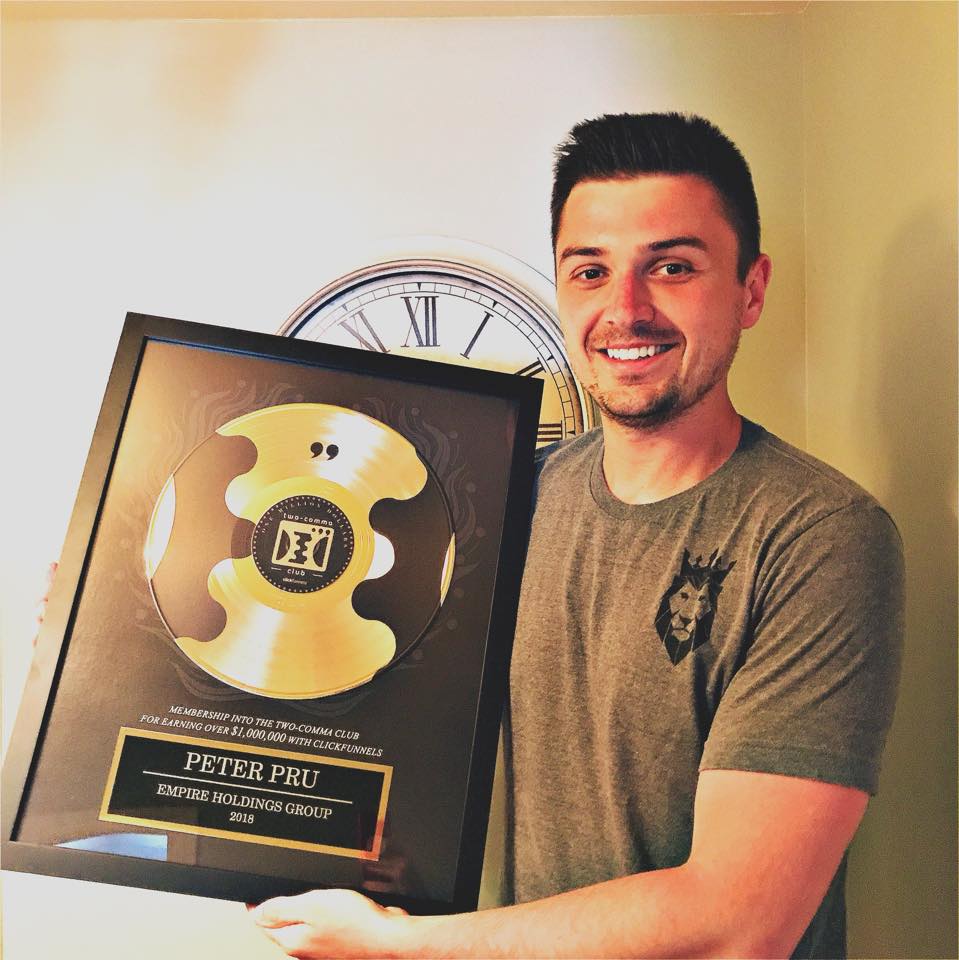 Now that we understood the concept behind the masterclass, I think it's only proper to know the brain behind the concept.
I know the questions behind our mind could be "is Peter Pru a scam" perhaps he's using his success stories to brag and sell his course?
Don't be in haste; this and more are what I'll be discussing with you now!
So really, who is Peter Pru?
Peter is actually a successful e-commerce entrepreneur who has been able to replicate his success and made others successful too.
But he didn't start out all successful.
Peter had over 10years experience in e-commerce and he started way back when he was just 18 years old.
Just like every other successful entrepreneur, he had his ups and downs and he told the story of his humble beginning on his YouTube channel.
Sign-up For The Free Masterclass
Peter Pru started out with Amazon FBA; which is a business model whereby you shipped products down to amazon warehouse and they fulfil orders on your behalf.
When Peter started, business was very good…
Very good to an extent he was selling over 80k per month with Amazon until suddenly his business was banned and short down.
According to Peter, the lesson here was that Amazon FBA isn't a business owned by you 100%. Instead, sellers were only building business for Amazon.
This gave him a drastic hit over a year until he learnt about the dropshipping business model and later about Clickfunnel; which serve as the sales funnel platform for selling all of his e-commerce products!
Fast forward…
Peter Pru is now a 2comma award winner; an award given by Clickfunnels for users that have processed over 1 million dollars ($1,000,000) with just a single funnel.
All this serves as template and inspiration behind his community and he's ready to replicate for any individual that cares to learn.
Peter Pru YouTube channel is also a loaded channel where you can learn valuable content about e-commerce for free.
Who Should Join The Ecommerce Empire Builder Community?
The e-commerce empire builder is a course for anyone who wants a piece out of the billion-dollar e-commerce industry.
Are you worried about the technicalities involved in creating a sales funnel to sell your products, creating upsell and downsell?
Perhaps you've always wanted to start dropshipping business and make lots of money but you have no idea on how to drive traffic and run converting ads?
If any of this resonates with what you want, then I think the course is right for you! But don't be too quick in buying the course…
I'll suggest, you first of all register for the FREE Masterclass on how to start the business yourself using Clickfunnels.
Learn the basic yourself and see if it's something you can pull through!
So basically it's for the following people:
#1: Those That Want To Make Money with Dropshipping
There's actually a lot of ways to make money online and dropshipping has proven to be one of the best because of the low-risk barrier entry.
You don't have to invest in-stock inventory and there's no fear of having your business shut down because you're in total control.
Peter Pru will teach you the ins and outs of this business model and also give you access to several working funnels.
#2: For Those That Wants To Scale Higher
Maybe you've been into dropshipping already and your results aren't what you expect them to be.
Perhaps you're doing something wrong?
However, getting mentored from someone who has done over $2,000,000 in dropshipping might just not be a bad idea.
After gaining access, you'll learn how to run your dropshipping business on auto-pilot and how you can sell more than you can imagine with just a single product in the front end.
#3: Those That Want Traffic and More Sales
The truth is, a beautiful website is not enough to make money. You'll need serious traffic to make that kind of money you've always wanted to make.
And to make that happen you'll have to spend time running Facebook adverts. This on its own is another school entirely.
You need to master Facebook ads if you don't want to waste money on adverts that do not convert.
There's so many angle to this, most especially when you're using sales funnel.
It's actually not that difficult but newbies do need to take their time and understand how it works.
This and more are what Peter Pru will be putting you through from the inside of the e-commerce empire builder academy.
Who The Course is not for?
You probably shouldn't waste your money if you happen to fall within this set of people (People that should not get the course).
Whether you like it or not this isn't for everyone!
The internet market space is wide and there's just about anything you could do online to make you money.
So, first even before you think about going for the e-commerce empire builder academy, you need to set your mindset RIGHT!
There's has to be a WHY!
Why dropshipping, why Peter Pru, why sales funnel?
There are some people making millions of dollar via blogging, and others as a consultant or even as an agency!
What's the point here?
There has to be a burning passion (desire) inside of you for dropshipping before you can even think of getting this course.
If you're only doing this because of the FIGURES, get-rich-quick opportunities, then sorry, you're just about to waste you money.
Because there no business that won't FRUSTRATE you, and when you get to that point of frustration is your desire and passion that will get you through!
So basically, you shouldn't get it if:
You don't want to use sales funnel
Not ready to put in the right energy and amount of work to generate result.
You're not ready to use a platform like Clickfunnels, Kartra and not ready to learn more about it
Only interested in "get rich quick" opportunity
And so many other reasons
Course Content – What you'll learn
The course is basically about dropshipping and using sales funnel to skyrocket your sales. It comes in a 6 different module with several videos inside each module.
The modules include:
Foundation
Funnels
Email Marketing
Influencer Marketing
Facebook Adverts
Scaling To 7 Figures
Monthly Hacks
Let's go over the modules and see what to expect which modules!
Module 1: Foundation
The Foundation being the introduction is simply going to warm you up for the rest of the course which is pretty common with online courses.
However, Peter was actually impressive on this one as he talks about preparing your mindset about the course and business.
It actually necessary because our mindset set the pace for anything we do in life.
So module 1 is basically to fire you up and prepare you for the rest of the journey ahead and have a positive mindset towards your business.
Module 2: Funnels
The module set the pace for the beginning of the actual course because he introduced the funnels that will be used for selling your products.
Perhaps some of us don't really know how the concept sales funnel works? In case you don't, let have a quick rundown on it!
What is Sales Funnel?
Sales funnel is simply the process a visitor visiting your product page take on the way to buy your products or services.
Some of these visitors will never leave the top of your Sales Funnel while some walks all the way to the very end buying all your products.
However, you do have an influence over as many people that you want at the end of your funnel.
Let's imagine you're selling a product with Sales Funnel, and your products happened to be a pet transparent carrier.
You then run a nice Facebook ad that drives targeted traffic to your landing page. On your page, what you'll want to do is ask your prospect to sign up to your email list in exchange for an irresistible offer.
After that, for the next few days or weeks, you can start sending out contents via email to educate your subscribers about the products.
This content could be on how to use the product or the benefit of having the products and in the end, you offer a discount to get the product.
And BOOM!
Your leads start turning to buyers from 1 to 10 and the figure keeps increasing. After this, you can introduce another product and you start all over again!
This is just a basic understanding of how sales funnel works, in module 2 (Funnel) of the e-commerce empire builder, you'll learn how peter does his and generate millions from a single funnel.
Module 3: Email Marketing
Email marketing is one of the most vital forces when it comes to sales funnel most especially when you want it to covert really well!
So, basically, module 3 is all about email marketing and how you can set it up from scratch or integrate another email platform.
Peter is going to hold you by hands and walk you through how to set up your email sequence and how to retarget your customers via email.
Clickfunnels comes included with the email marketing feature at the $299 plan.
However, if it's expensive you can always use the GetResponse autofunnel and integrate with your Clickfunnels account.
Everything you need to know about email marketing is included in this module and pretty straight forward.
I'm sure you won't need to go over any other course on email marketing again!
Module 4: Influencer Marketing
Influencer marketing is basically about using social media icon to your business advantage.
So, instead of taking your products to different people via marketing, what you'll do is take it to the influencer and he or she does the marketing for you.
They'll influence their followers to buy your product because they know their audience much better than you do.
This module covers everything you need to know about influencer marketing, both YouTube and Instagram which happens to be a strong network.
You'll discover how to locate them with ease and most importantly discuss price rate with them and get them to do your work perfectly.
Module 5: Facebook Ads
As you know, the course will be meaningless if it doesn't come with a good Facebook ad tutorial. This is because Facebook ads are very important in the success of any online business.
If you want your business really scaling then you need to learn Facebook ads and master the act of running adverts that converts.
Peter Pru also makes this basic enough even for a complete beginner. With his Facebook ads, you can go from zero to thousands of sales running Facebook ads.
Module 6: Scaling To the MOON
Module six is about scaling your business to 7 figures. It includes all the hacks and tips on how peter himself was able to sell millions of dropshipping products with sales funnels.
He also happens to be 2comma club award winner with Clickfunnels for making over 1million dollars with just a single funnel.
You'd agree with me that the best coach is someone who has been there before, starting from scratch and was still able to pull through and even scale higher.
Module 6 includes everything about scaling and how you can make money like the big dudes killing it with eCom.
Sign-up For The Free Masterclass
Monthly Funnel Hacks
This is a simple process that Peter Pru does every month. He looks for highly successful funnels by the big guru and walks you through the replication.
It's a nice idea because it lets you know what's working and how you yourself can replicate for your business. Like the popular saying "there is no need to re-invent the wheels"
How Much Does It Cost?
The e-commerce empire builders cost $997 and it also comes in two instalment payment plans of $597 and $200.
However, the course comes with a standard 30days refund policy that gives you your complete money for wasting your time.
You do, however, needs to meet the terms and condition to be qualified for the refund policy. This is to protect them from people that might want to access the course download and requested for a refund.
You need to show efforts towards the course and complete some assignment and if after you still don't feel it, you can then request for your full refund.
Final Thoughts
The eCommerce empire builder course by Peter Pru is really precise and a thorough course that teaches you the right content to succeed.
Countless of others have gone through the same course and have seen astonishing results.
Even looking through the screenshot of previous students should help you know the course actually generate result if you run by it.
However, I'll suggest you watch this FREE Masterclass by Peter Pru first before you make any decision.
That's it on Peter Pru's Course, let me know what's your thought using the comment box.
Sign-up For The Free Masterclass
Learn More