eSources vs WholesaleDeals: Best Dropshipping Directories?
Are you stuck choosing between eSources vs WholesaleDeals? If you are, then I might just be able to help you with that in this post.
WholesaleDeals and eSources are one of the best dropshipping suppliers' directories to find a supplier for your winning product.
However, choosing the perfect suppliers' directory might be overwhelming, with a lot of options at your tip.
But it doesn't have to be so. In this post, I'll be putting eSources and WholesaleDeals to the test by reviewing their features and pricing plans.
Let's dive right in.
What's eSources and WholesaleDeals?
eSources and WholesaleDeals are two of the UK's largest verified online directories for finding suppliers, manufacturers, wholesalers, and distributors.
They both provide the same services; they connect buyers with wholesale and dropshippers.
Traders enjoy access to cheaper goods at a lower cost compared to when they get it from other eCommerce sites such as Amazon and eBay.
suppliers on these websites pass through a thorough verification process to ascertain their claims, reliability, product quality, and authenticity.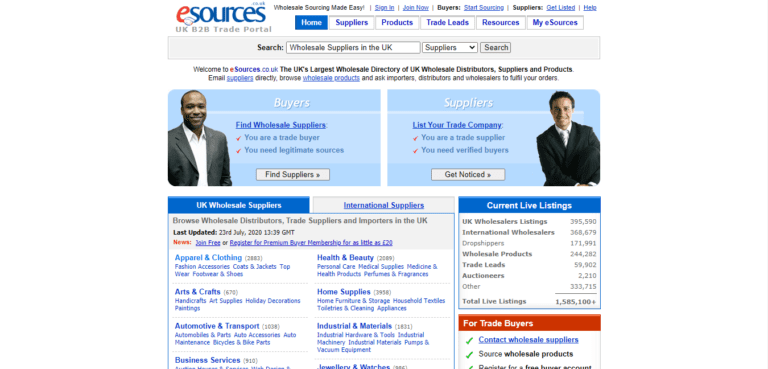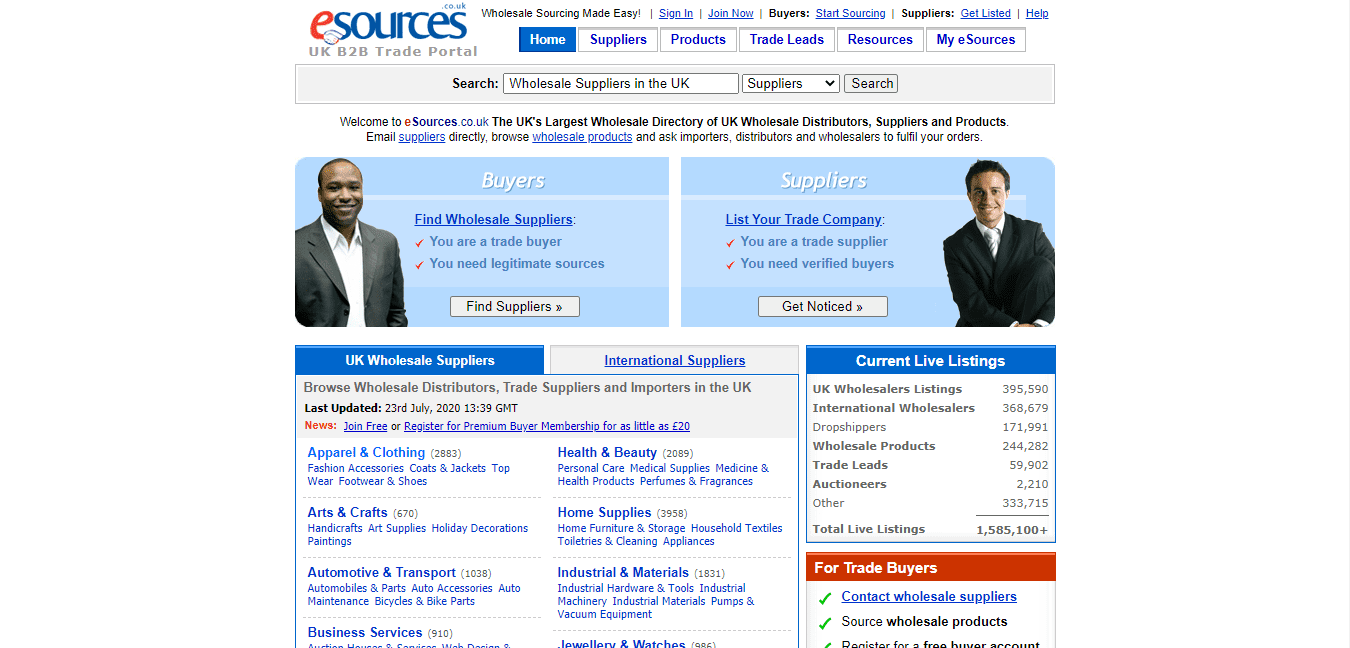 eSources is an authoritative online directory of dropshippers, distributors, and wholesalers.
Regarded as the United Kingdom's most extensive online marketplace for verified sellers with over 1,585,100 plus live listings, it connects thousands of buyers and suppliers.
The directory is famous for its extensive catalogue of products and the value of its premium service, which offers buyers much value at no cost.
You can read our complete eSource Review to learn more
In contrast, WholesaleDeals is one of the UK's most trusted online platforms for finding wholesalers.
The website boasts of over 350 thousand verified wholesale and dropshipping suppliers! Its verification process for suppliers is every bit as thorough as the eSources process.
WholesaleDeals is an ideal platform for traders to find quality goods at meager prices, and sell for a considerable profit margin. It has been in operation since 2004.
Here's our complete WholesaleDeals Review
eSources vs. WholesaleDeals – Features
Both eSources and Wholesealdeals have a wealth of excellent features that make them one of the UK's best online directories for finding wholesalers and dropshippers.
In many regards, these two platforms are similar, but there are other areas in which they differ.
#1: Supplier Database
Both directories boast hundreds of thousands of suppliers on its database.
It is the chief reason why they appeal to thousands of buyers and suppliers who want to gain access to the vast database.
eSources
The eSources supplier database comprises of the following subdivisions:
UK Wholesalers – 395,590
International Wholesalers – 368,679
Dropshippers – 171,991
eSources has 936,260 suppliers in its database.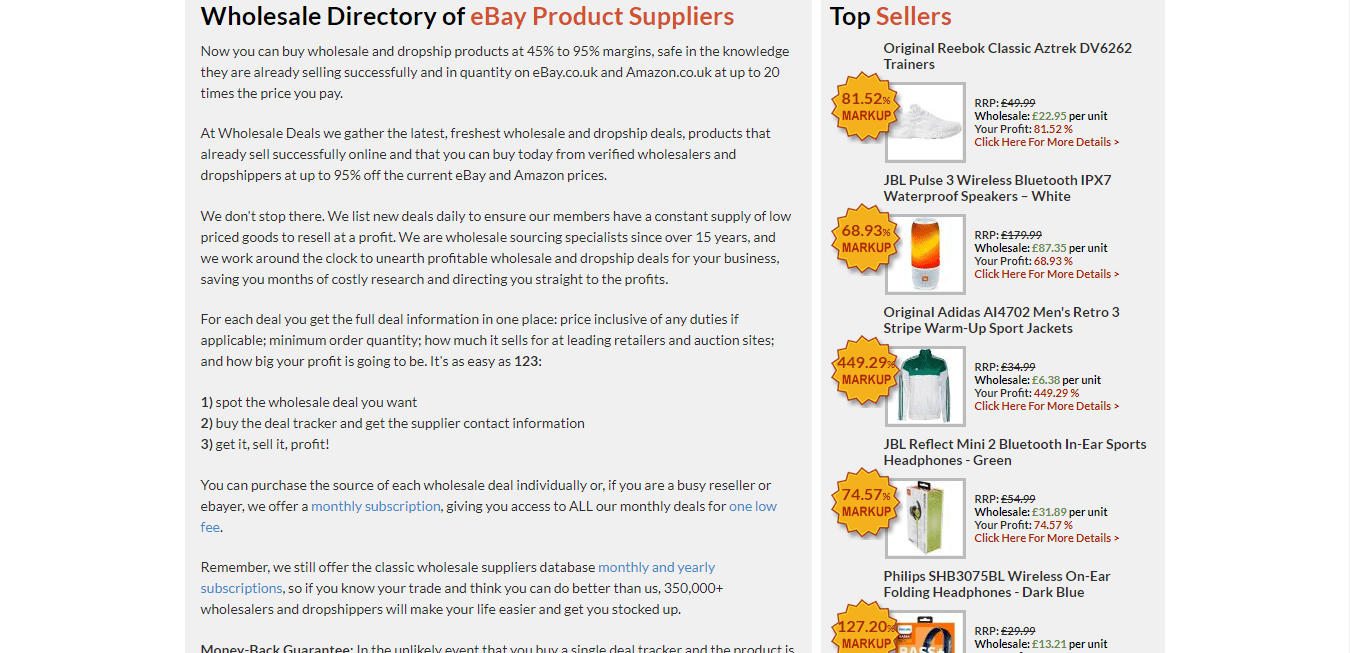 WholesaleDeals
On the other hand, WholesaleDeals has a suppliers' database of 358,544 dropshippers and wholesalers.
The database is widespread and covers the United Kingdom, the European Union, the United States, and worldwide suppliers.
As you can see both are chiefly domiciled in the United Kingdom and have a network of international suppliers.
However, eSources edges out WholesaleDeals here based on its larger suppliers' database.
#2: Product Categories
Both eSources and WholesaleDeals have extensive and diverse product categories. These categories cover popular items and have subcategories under them.
eSources
eSources has 26 main product categories. The product categories on eSources include
Apparel & clothing
Arts & crafts
Automotive & transport
Business services
Business supplies
Computer & software
Construction & DIY
Dropshippers & dropshipping
Electrical & lighting
Electronics & photo.
Some others include; Floral & garden, food & beverages, gifts & giftware, health & beauty, home supplies, industrial & materials, jewelry & watches, promotional merchandise, publishing & print.
Security & protection, sports & leisure, surplus & stocklots, telecom & mobiles, textiles & fabrics, toys & games and travel & outdoors.

WholesaleDeals
WholesaleDeals has 14 main product categories and these include
Baby products
Clothing & fashion
Computing,
Consumer electronics,
Health and beauty
Home and garden.
Some others include; Jewelry and watches, leisure and entertainment, mobile and home phones, office and business, police auctions and auction houses, sports, and fitness, surplus, and stock lots and toys and games.
Here, eSources edges out WholesaleDeals due to its more comprehensive range of product categories.
eSources with 26 product categories are superior based on the number of product categories when compared with WholesaleDeals 14 product categories.
#3: Appearance/ Interface
The appearance of both websites wears a good look. The interface is easy to navigate and user-friendly.
It's easy to find a product on both sites with the use of the search box. Just type in the product, and the website will load results based on the keyword.
The websites are both compatible with both mobile and desktop viewing.
eSources
The website wears a simple and old-fashioned look. The design is straightforward and doesn't experiment with more elaborative options.
It probably contributes to the website's fast loading time.
The style of the design, though, is not quite modern, it wears that old but modified look from the early internet years. It makes use of safe colors – blue, black, white, and red.
On the sides, there are large white spaces that serve no purpose. All the information on the website is centralized.
The lack of sidebars is a deliberate design action by the company. eSources make it easier for you to find the information you are looking for on its database with its search tool. You will find a search box at the top of the website.
You can modify the search by the following categories – suppliers, products, buy leads, sell leads, and international.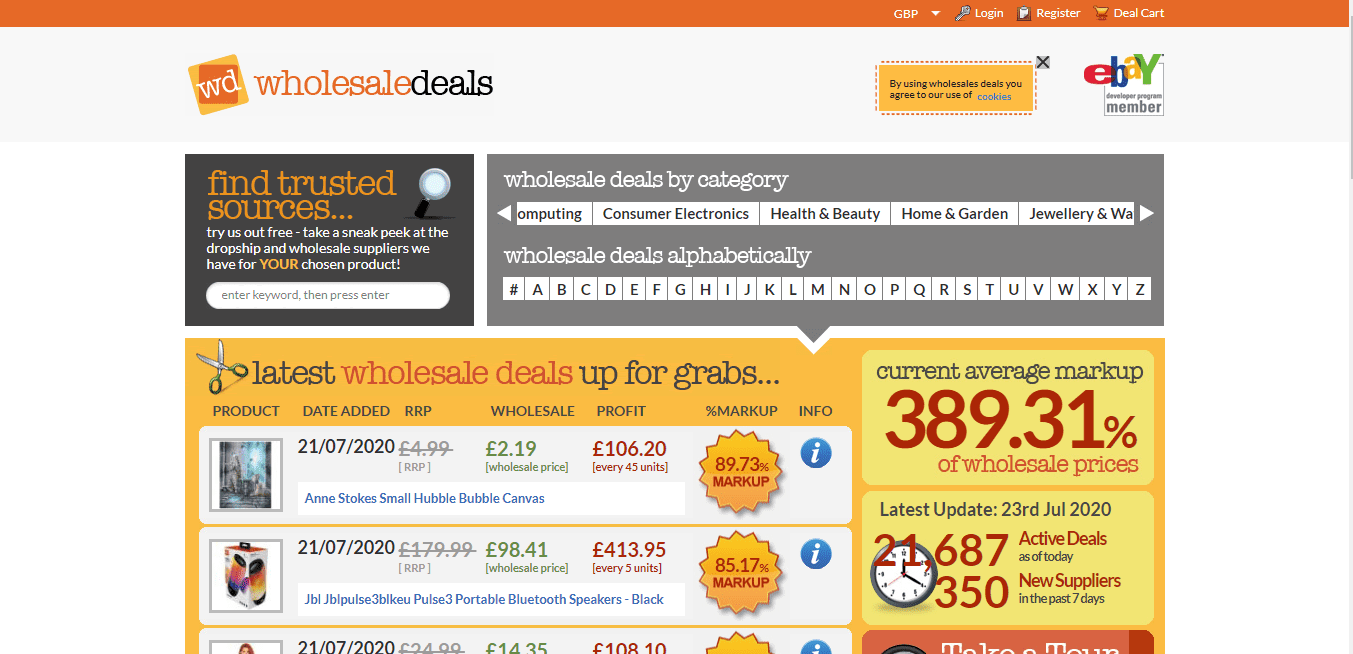 WholesaleDeals
The design of the website wears a moderate and attractive look, at least better than eSources. It experiments with different designs which it got right.
No design looks out of sort; they all play a role to make the website appealing to visitors. Colors such as orange, red, blue, white, and black dominate the site.
The interface of the website is user-friendly. The site has a fast loading time and is easy to navigate. There is a search box at the top left side of the website.
Unfortunately, it does not allow you to sort your search with categories, you have to type in the keyword, and the site will display the relevant information based on the keyword.
#4: Customer Support
The customer support of both websites is responsive to customers' complaints and issues.
It takes under 24 hours for the customer support to respond to your inquiry/complaints.
The 'Contact Us' page is the platform dedicated to receiving customer's inquiries and claims for both online directories.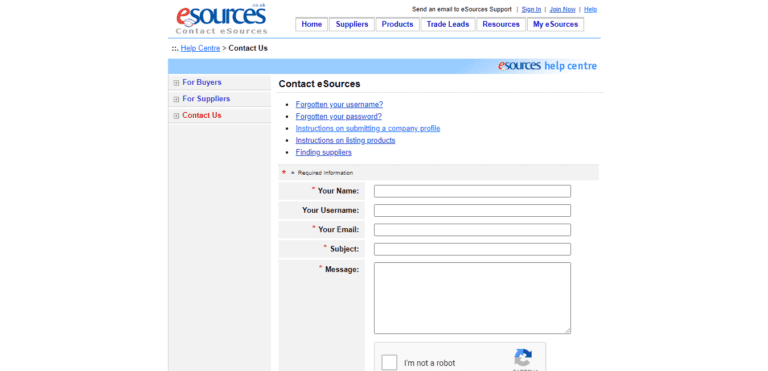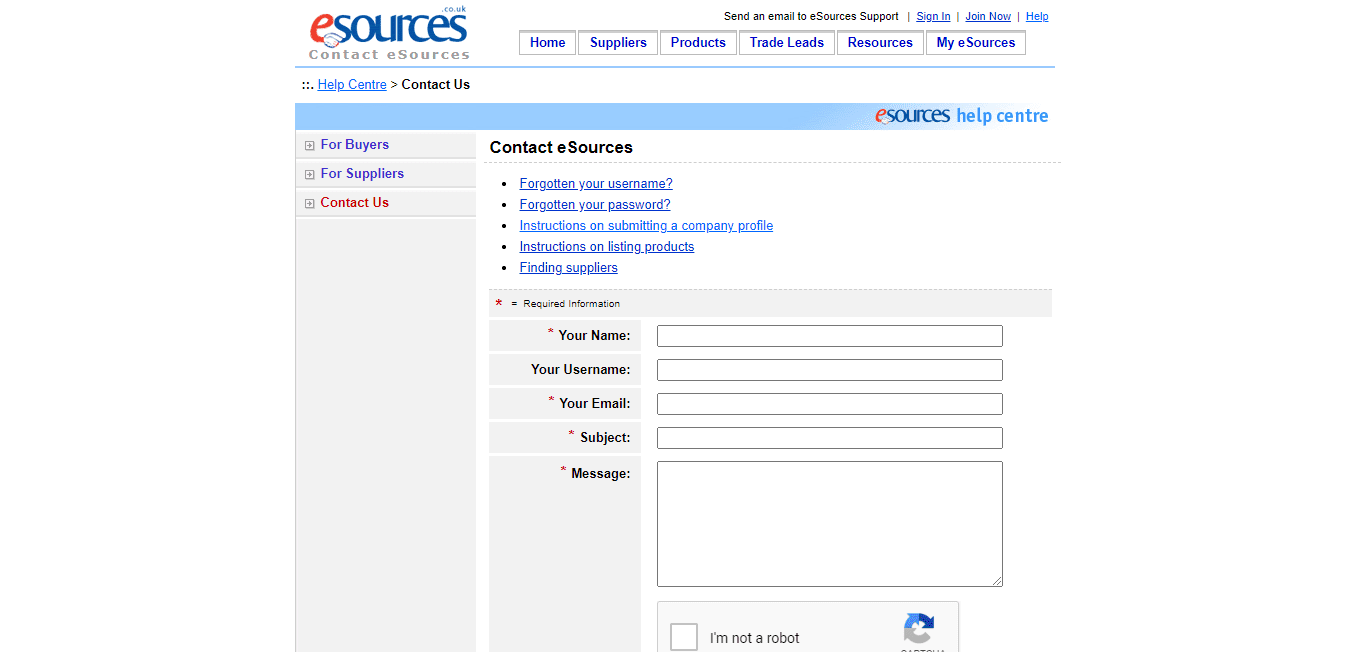 eSources
The Contact Us page is the medium through which you can swiftly reach out to the customer support and get a quick response.
To inquire, you need to fill out the following information – your name, your username on the website, your email, the subject, and the message.
You also have to ascertain that you are not a robot by running a small test through reCAPTCHA.
WholesaleDeals
WholesaleDeals has a 'Contact Us' page through which users can use to access their customer support.
You have to fill a contact form to make inquiries. There are two types of queries – the support query and the listing query. You have to choose one before proceeding further.
Fill out your name, your username on the website, your email address, the subject, and type your message and send it.
The customer support will receive your response and send you a detailed reply.
There is also the option of sending a letter to WholesaleDeals.co.uk address at 27 Old Gloucester Street, London – WC1N 3AX.
Both eSources and WholesaleDeals offer excellent customer support services. None has a clear advantage here over the other.
#5: Automation
Both offer fantastic automation services that handle tasks for users to grant them free time for other jobs.
eSources
It offers impressive dropshipping automation services such as multiple currency options, product search, and sorting, easy importation and exportation of product lists, auto-generating email order invoices, and unlimited eCommerce website with free hosting.
WholesaleDeals
One crucial automated tool it offers that eSources does not is the price comparison tool. It allows for a comparison between the dropshipping deals price and the price of the same product on established eBay and Amazon.
eSources offer a wider range of automation options than WholesaleDeals, which makes it the clear winner in this comparison.
However, if you are into the dropshipping business and looking to buy products at a cheap rate for your target market, the price comparison offered by WholesaleDeals is the best for you.
The tool shows you top products with amazing discounts and compares it with the retail prices on Amazon and eBay to help you make a faster decision. You can earn 45%-95% profit margin with this tool.
#6: Focus market
The focus market of eSources and WholesaleDeals is the United Kingdom.
Although both sites' databases contain sellers from Europe, the United States, and other countries around the world, they chiefly target the United Kingdom.
#7: Product Quality
The products on both sites are quality. WholesaleDeals and eSources have a system of verifying suppliers before they join their database and continuously monitor them for quality.
This standard ensures that the products on display are quality and in good condition.
eSources vs. WholesaleDeals – Pricing Plans
The price plans for eSources and WholesaleDeals vary. eSources has freemium and premium subscriptions while WholesaleDeals only has premium subscriptions.
eSources Pricing Plans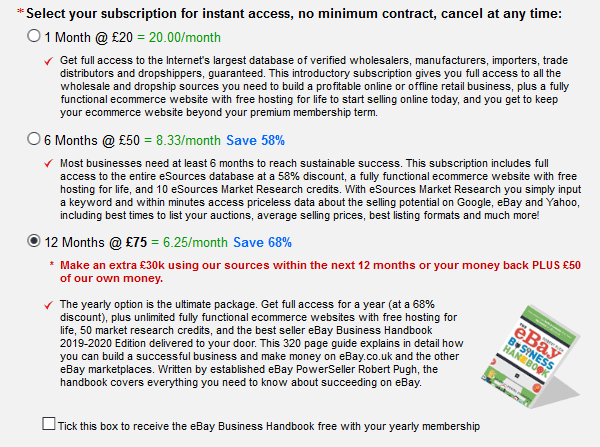 eSources offers four different pricing plans; free plan, premium buyers plan, premium suppliers plan, and international suppliers plan.
Since this post is for dropshippers and retailers, I will restrict the pricing plans to the two plans meant for buyers.
Here's a breakdown of the cost and features of the two buyers' plans.
#1: Free Buyer Plan
Contact TradePass Suppliers
Discover the Latest Wholesale & Dropship Offers
Subscribe to Free Training eCourses
Learn about the latest trading deals
#2: Premium Buyer (Price: £20.00)
Internet's Largest Verified Wholesalers Database
Internet's Largest Verified Dropshippers Database
Unlimited Custom Sourcing Reports (Guaranteed to find the suppliers you need)
Unlimited eCommerce Websites with Free Hosting
Over 1,500,000 Wholesale & Dropship Listings
You get to know about New Deals and View Prices first
Contact Suppliers Directly or in Bulk using Buy Requests
Subscribe to Startup and Advanced Training
Market Research Reports – Know What Sells
Access to Exclusive UK & International Wholesale Sources
Higher Credibility, Receive More and Better Quotes
eBay Business Handbook: How to Succeed on eBay
Case Studies: Replicate the Success of Million Dollar Businesses
Daily Updates by the dedicated editorial team
WholesaleDeal Pricing Plan
To begin with, WholesaleDeals offers three different pricing plans; Deals database, Combo database, and suppliers database.
Below is a breakdown of the price and features of each plan:
#1: Deals Database
Access to 21 thousand plus live wholesale and dropship deals
Ability to sell on eBay and Amazon at a profit with wholesale best prices
200-300% average mark-ups
Access to authentic designer brands only (top quality and no inferior products)
Access to exclusive member discounts.
The cost of the deals database subscription plan is £14.99 monthly. You save £54.95 if you pay £34.99 on a six months basis. You save £134.89 when you pay £44.99 annually.
#2: Suppliers Database
This provides access to over 40 thousand verified wholesalers, UK manufacturers, importers, and distributors in the UK – largest UK dropshippers database
Access to 35 thousand plus EU verified wholesalers – the largest EU dropshippers database
It also provides access to 45 thousand plus the US verified wholesalers – the largest US dropshippers database
Access to 25 thousand plus worldwide wholesalers.
The cost of the suppliers' database subscription plan is £20.00 monthly. You save £80.00 if you pay £40.00 on a six months basis. You save £180.00 when you pay £60.00 annually.
The Combo Database subscription is a combination of both the deals database and the suppliers' database plans. It is the most comprehensive plan and offers unlimited access to all the benefits of the wholesale deals website.
#3: Combo Database
Access to all suppliers and deals database benefits
Access to 357 thousand plus wholesale and dropship sources
100% uptime guarantee, newsletter updates, multiple updates daily about products, and fast premium support.
The cost of the combo database subscription plan is £24.99 monthly. You save £99.95 if you pay £49.99 on a six months basis. You save £229.89 when you pay £69.99 annually.
Pros and Cons of eSources and WholesaleDeals
Both sites have their respective pros and cons.
Pros of eSources
Access to over 936,260 suppliers.
Fast customer access.
Access to the UK and international suppliers.
Unlimited eCommerce websites with free hosting
Access to a wide range of automation tools
You also get Access to free training eCourses
Access to 26 main product categories and many other subcategories under it.
Cons of eSources
It does not offer the price comparison tool or any tool that compares prices on the website to retail prices on eCommerce giants like Amazon and eBay.
Pros of WholesaleDeals
Access to 357 thousand plus wholesale and dropship suppliers.
Fast customer support.
Access to verified 40 thousand UK, 35 thousand EU, 45 thousand US, and 25 thousand plus worldwide dropshippers and wholesalers.
Money-back guarantees when you purchase a product at a discount price, and the product either becomes unavailable or the prices change.
Access to top-selling products on Amazon and eBay for as low as 20 times the selling price.
Access to high-profit margins in the range of 45 percent to 95 percent.
Free wholesale deals newsletters that contain updates on trade news and best wholesale and dropship prices.
The Deal Tracker feature allows you to get the best deals on products from wholesalers.
Cons of WholesaleDeals
High subscription cost.
It does not offer enough automation tools.
Final Verdict – Which is Best?
eSources offers more benefits – more product categories, more automation tools, more wholesale and dropship suppliers in its database.
Additionally, it's pricing is the cheaper of the two. It's the best based on the above reasons.
However, the price comparison tool makes WholesaleDeals an attractive option for business owners looking to make a bargain from sales. The tool calculates your profit margin for you by comparing the retail prices on Amazon and eBay to the wholesale price.
So what's it going to be between eSources vs WholesaleDeals? Is it
or
Drop a comment below. And if you've tried either of the two before I would love to hear about your experience.
Read More: