BEST Funnel Scripts Alternatives for Copywriting 2023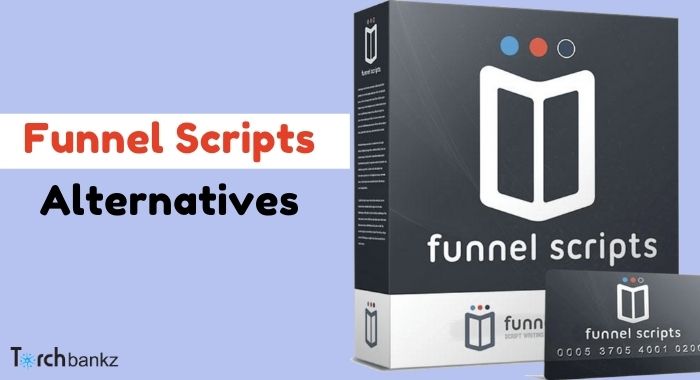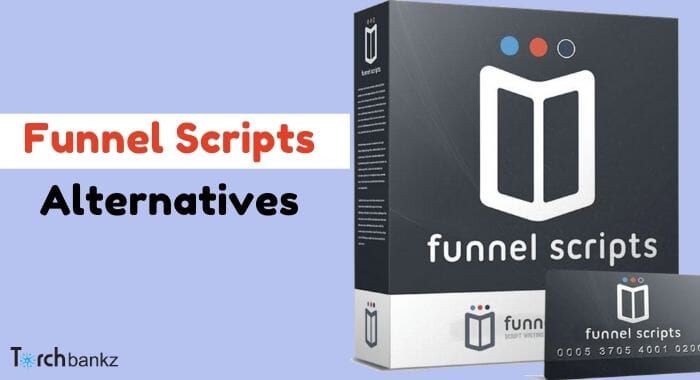 Looking for the best Funnel scripts alternatives? Trust me I've got you covered.
I understand that for one reason or the other funnel scripts might not be the right tool for you, either in deliverability or pricing plan.
And even if you're not sure about funnel scripts and simply want to check out similar tools like it, you're still at the right place.
A good copy in digital marketing cannot be overemphasize. This is something you definitely want to invest in.
And truth be told, it's not something that comes easy too. It requires skill and years of practicing.
Crafting the perfect content for your potential customers is going to take time most especially when you're not an expert yourself.
However, does that mean you should ignore or embark on a journey of grooming yourself in writing sales copy that converts while potential customers are waiting?
It's not totally necessary for the latter when we have tools like funnel scripts and its alternatives.
Writing good copies these days with the advent of tools like funnel scripts alternative and itself only take a few clicks.
However, having more than one of these tools on the market makes it come with different option and features to explore.
And they all work quite differently. While some is a bit costlier the others are quite affordable too.
So in today's post, I'll be listing the best funnel script alternatives you can use for your copywriting and increase your sales and conversion.
I'll also later give a brief explanation of funnel scripts and highlight few features for those that are not sure if it's the perfect tool for their copywriting.
Let's get started, shall we?
Quick Overview of Best Funnel Scripts Alternatives
Perhaps you don't have the time to read the whole blog post, you can have a look at the comparison:
List of BEST Funnel Scripts Alternatives for Copywriting that CONVERT
Still with me? Now let's explore the best Funnel Scripts alternatives out there for better sales copy that convert and increase your customer's sales.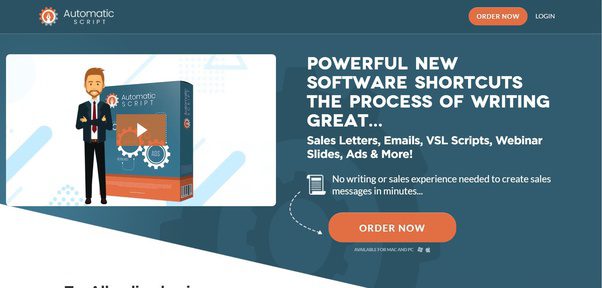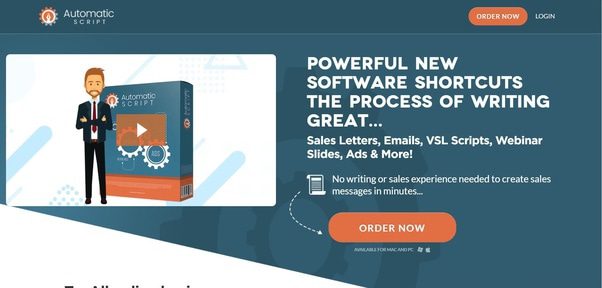 Automatic Script is by far the best Funnel scripts alternative and our number 1 pick. This Copywriting tool automates the process of creating your sales letter.
This software was started by Brad Callen, a famous marketer known for creating business tools like Doodly and Toonly with his company Bryxen.
Using Automatic Script, you can take advantage of sales writing formulas that have been developed by the greatest copywriters of all time to create;
Headlines
Letters
Full-blown email series
Facebook Ads
Video sales
Call to Actions,
Email subject lines,
Testimonials, etc.
What makes this software unique is that it can be used by all businesses regardless of their niche, products, or services they are selling.
Even if you're giving something away for free and you want help getting someone to take an action, this software tool can work for you.
Automatic Script, like the name suggests, automates the writing process, giving you action-driving sales copy that would have otherwise cost you a lot of money and time in trial-and-error.
You no longer have to stare at blank pages wondering what to write with this tool.
Instead, users get access to many copywriting scripts that have been developed on this platform without wasting time or spending too much money.
By helping businesses create impressive sales letters, this software helps them make more sales on their digital and/or physical products.
Plus, it is simple to use. Therefore, even non-tech savvy individuals can easily navigate through it and create the best sales copy for their products.
Thus, whether you write sales letters occasionally or regularly, you can benefit from the incredible features offered on this platform.
How Automatic Scripts Works
Automatic Script uses modern technology to help individuals create effective sales copies and other content by making a few button clicks. But how does it works, you may ask.
Immediately you gain access to the software, choosing what you want to create, this will allow the software to generate in your choosen business niche.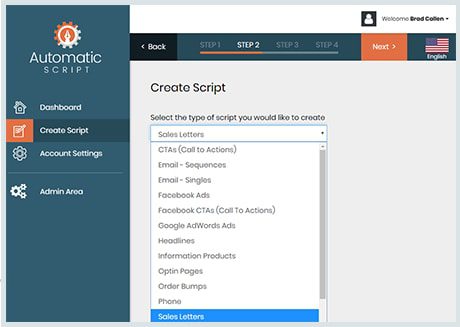 Individuals need to first choose the type of script they want to create. You should decide whether you want to create a headline, an email series, a long-form sales letter, etc.
After that, you need to choose the formula you want to use for the copy you want to create. There are several formulas you can choose from on the platform.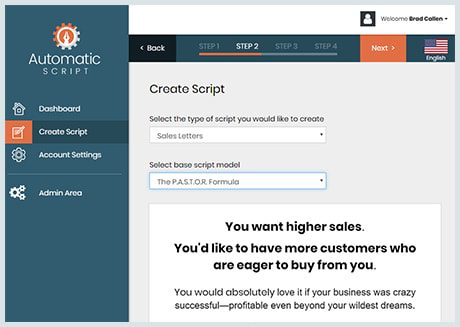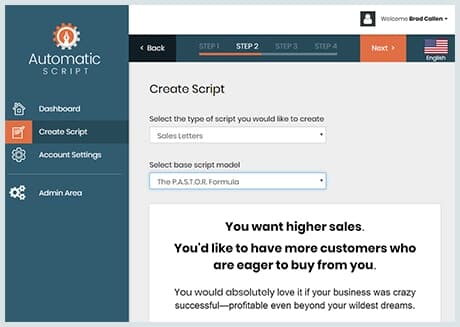 Here you need to decide what formula you'll be using on your script. We advise that you opt for formulas that have been developed after years of trial-and-error with legends.
For instance, you can choose Michel Fortin's formula, which's known for writing the first sales letter that made a revenue of 1 million dollars in one day.
After that, the next step is to fill in series of questions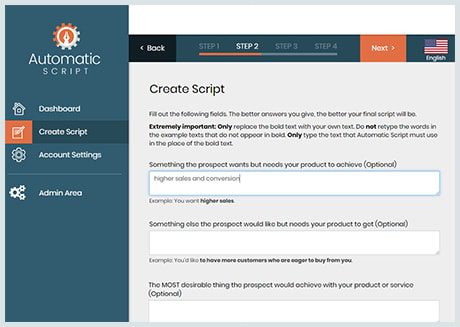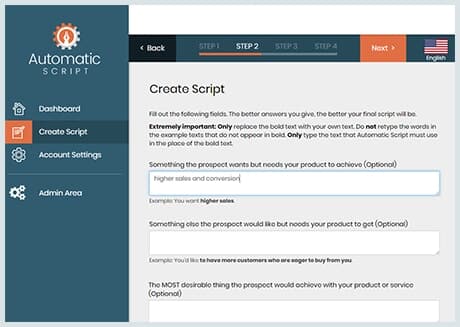 Automatic Script will then take you through a series of questions that require you to fill the blanks.
Some of the things you'll answer include the name of your product, its price, the age of your target customer, etc.
Don't worry as these are straightforward questions that don't need any special knowledge to answer.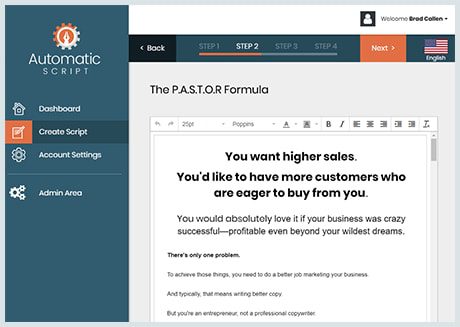 This is the final step that only requires that you click a button and your script will pop-out. You can then edit and review the script generated or choose to download it immediately to your device.
The copy generated is downloadable in three different formats; PDF, PowerPoint, or Word document. You can choose any of the formats to get the job done.
Let's have a look at the key features of Automatic scripts and see how they fare compared to the rest of the sales copywriting tools
The platform features quality and classic scripts from established marketers. If you're not an expert copywriter, getting access to these varieties of copywriting content will help you get on track.
Automatic Scripts feature a wide range of inbuilt copywriting templates. Therefore, you can easily find one that your business needs. Some of the scripts available include Facebook Ads, headlines, Email sequences, etc.
Template Builder- this recent addition allows users to make their own script templates. Therefore, you can still make an effective sales copy with a script that's outside the Automatic Scripts platform.
Pros
Several helpful guides
Easy to use
Suitable for many people
Pricing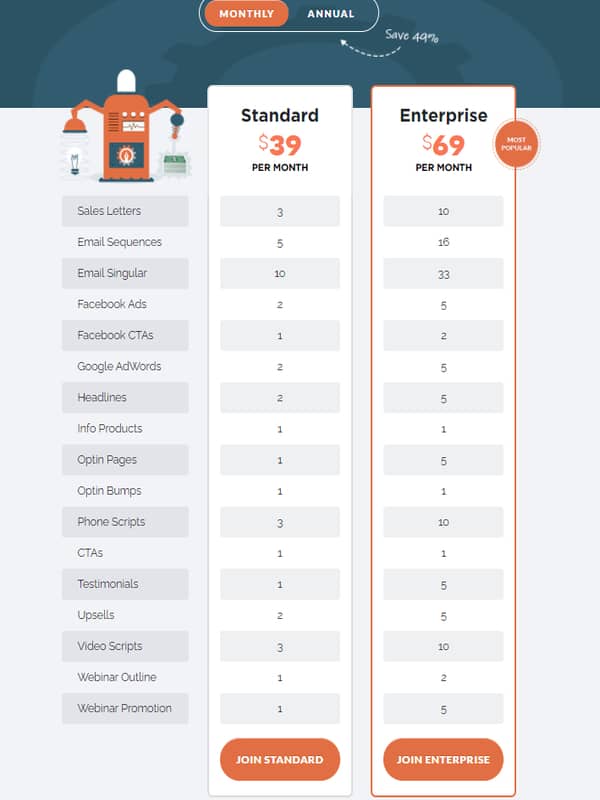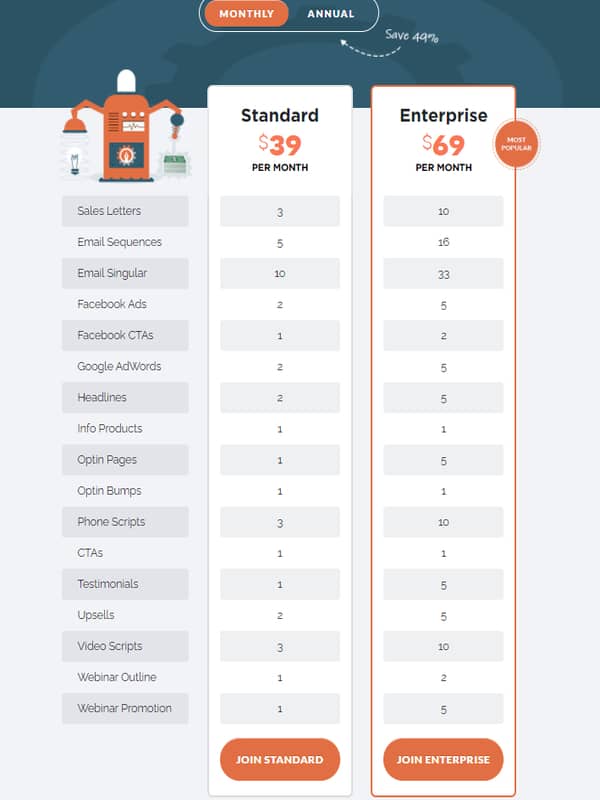 There are two versions on this platform; the Standard version that cost $39/month or $20/month if you're paying annually, and the Enterprise version, which costs $69 monthly and $40 for those paying annually. The difference is in the number of scripts you'll be allowed on each version.
Automatic Script vs Funnel Scripts
As you can see from the pricing above – Automatic Scripts comes with two pricing plans. The Standard plan costs $39 per month while the Enterprise plan costs $69 per month.
But if you choose to pay annually the $39 per month will be reduced to $20 per month and $40 per month respectively.
However, comparing Automatic script with Funnel Scripts, paying a one-time fee of $797 can be extremely costly but still cheaper in the long run with additional bonuses that come with it.
If you have the funds you can go ahead but if you don't then go with Automatic Script.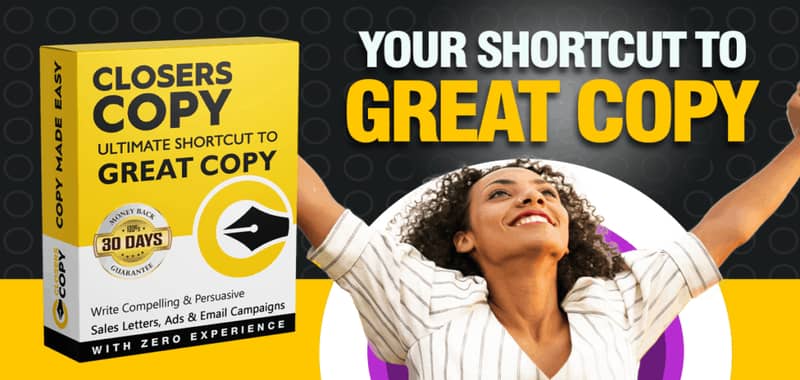 Closers Copy is an incredible copywriting software that lets you create unique sales copies. Unlike other copywriting software on the list, this one doesn't let you fill a long-form of questions only to generate a robotic copy.
This tool falls among the best Funnel Scripts alternatives because of its uniqueness. It is a multi-purpose tool and is suitable for inexperienced users that require to master copywriting.
Closer Copy features an ever-growing copy templates library, which delivers maximum performance. It has more lookup, which expands to avoid repetition of words.
This software comes packaged with other features, like 1000+ power words lookup, step-by-step copy wizard, guidance, & advice.
In case you are in advertising, sales, or business, you should consider this software to deliver maximum performance. Closers copy also comes with its unique features.
Let's have a look and see how it fair with the rest of the copywriting generator tools.
Closers Copy is an incredible editor that offers full-text editing. It features several proven templates and emotional analysis that help you hit the right tone with your audiences.
Templates use applicable formulas hence you can easily create a persuasive copy.
one problem that many businesses face is that customers regard their emails as spam. However, this feature on Closers Copy reduces the chances of your messages going into spam hence increasing your readership.
Pros
30-day money-back guarantee
Generous discounts on annual plans
Various predesigned emails and scripts
Pricing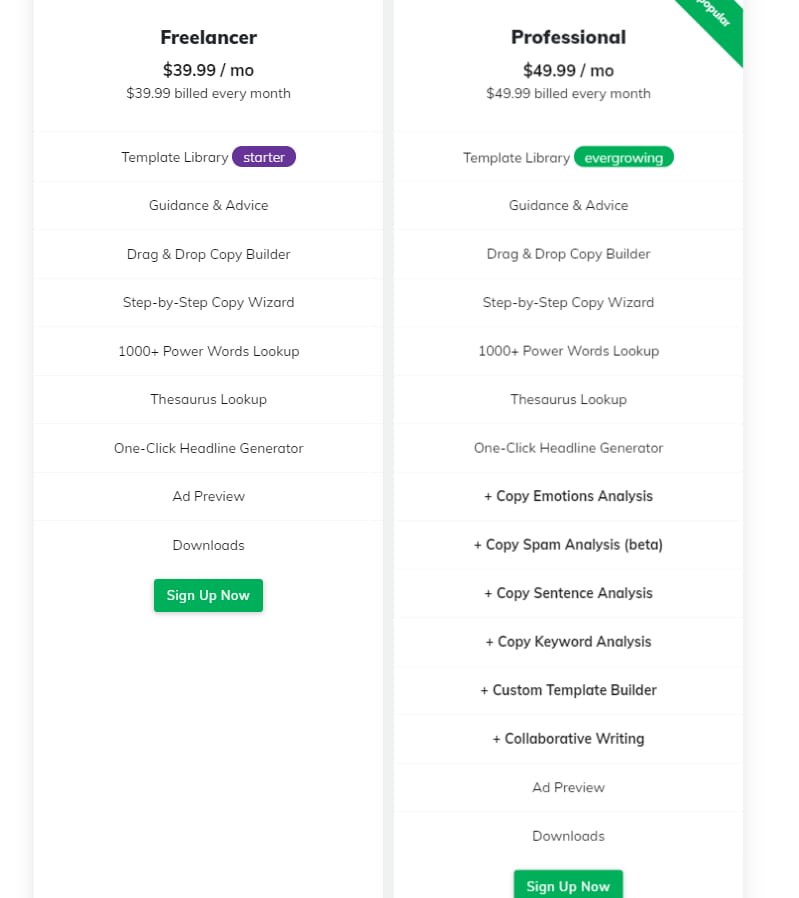 Currently, there are two monthly plans on this platform. That is the Freelancer, which goes for $39.99/month, and the Professional one that costs $49.99 per month.
Closer Copy vs Funnel Scripts
Just like the previous tools Closer Copy is pretty much affordable as a beginner compared to paying the high fee of purchasing funnel scripts for $797. The best part is that they also offer a one-time fee to get lifetime access to the platform just like funnel scripts.
But this time around at a more affordable price.
You could try out Closer Copy at that affordable to try out the platform and if you don't like the platform works, you can then opt-in for another software.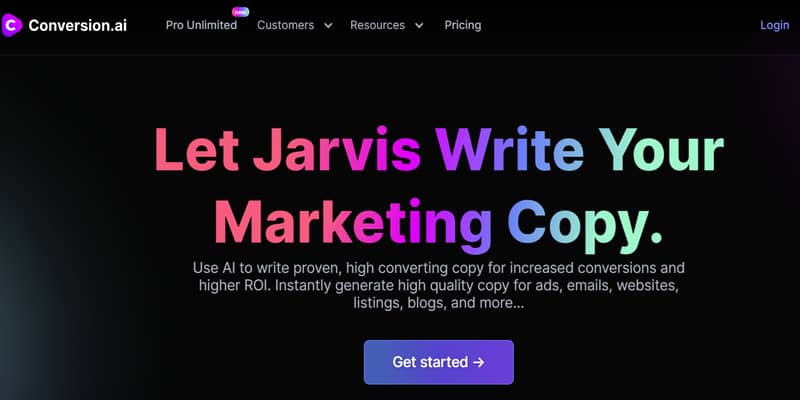 Jasper AI is another perfect and up-to-date Funnel Scripts alternatives you might want to check out when exploring the market for your copywriting tool.
The truth is when you hear about AI writing, it's normal to think that the copy will not sound natural. However, this is quite the opposite on conversion.ai platform.
It can generate a high converting copy that'll help you scale your business to the next level.
If it is not easy for you to figure out which words need to be in your campaign ads, worry less by allowing the conversion AI copywriting software to help you out.
Now, this software is perfect for agencies, marketers, and entrepreneurs who want to exponentially take their marketing campaign to another level entirely with crazy results.
Furthermore, it also has the maximum potential to translate your entire content into many languages, and it's very simple to use.
It offers you the best grammar, relevant headlines and makes adjustments to your brand's voice tone.
Therefore, if you have contents that is eating you up and have no idea which software to use, you can opt for Conversion AI; it has almost zero disappointments.
Just like the rest, conversion.ai also has its own unique features and we're going to be checking it below and see how it fair compared to the rest.
For a Full in-depth breakdown, Read my complete conversion.ai review here.
this tool lets you translate messages to multiple languages. All you do is paste your content on the platform and choose the language you want it to be translated to. As such, you can write emails, posts, or ads in a language that's perfect for your audience.
Adjusting the Tone Is Easy
sure, a business should identify its tone and stick to that. However, there are some instances where this may not work.
In such cases, you can use this tool to give your content more flavor. One can make their copy sound intelligent, funny, friendly, professional, etc. with this software.
Conversion.ai can generate several relevant headlines. You just need to produce a short description of your product, and the platform will instantly generate captivating headlines.
Pros
7-day money-back guarantee
Suitable for entrepreneurs, agencies, and marketers
It's simple to use
Pricing
The pricing starts at $29/month for 20,000 words. But higher plans cost cheaper per word. Also, note that they don't offer a free version, but they have a free trial.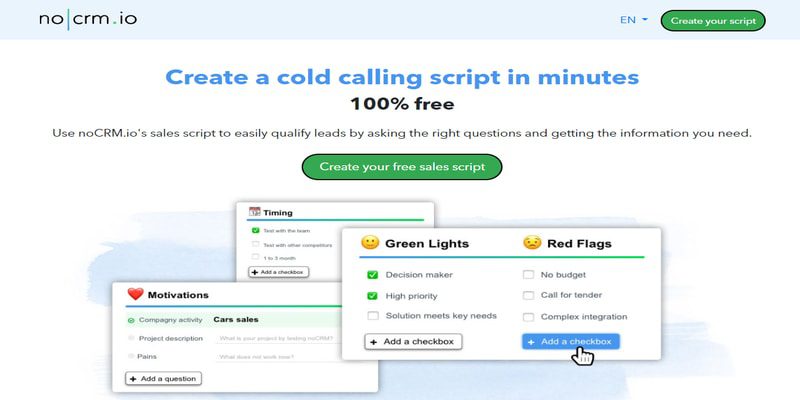 You can use this platform to build an ultimate sales copy quickly. With just a few drag and drops, you'll have your persuasive copy ready.
The site helps you to create engaging content that'll ultimately increase your sales. This website allows you to qualify for leads by helping you ask the right questions and getting relevant information.
With this Sale Script Generator, you can easily come up with free sales script. And besides, when you have numerous leads to call every day, achieving your set goals will come with lots of pressures.
Therefore, this software comes in handy to help since it is easy to use and does not leave any given information.
Additionally, it ensures that your entire calls are structured correctly. In case you require the good sales copywriting tools, Sales Script Generator by noCRM.io is also not left out.
Pros
Training and documentation available
Free trial
Mobile and online support
Pricing
It offers competitive pricing between $12-$22 per month. You can also choose to be billed yearly, which gives you two months for free.
#5. Zyro Content Generator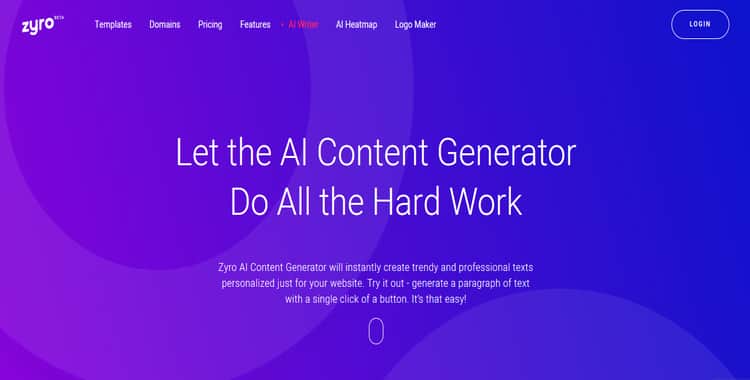 This is a website builder featuring AI branding powers. You can use it to create a business page, a blog, and an online store with the drag and drop feature.
The Zyro AI content generator is slightly different from the rest of the copywriting generator software This copy tool focuses on generating content for the new website you're building.
Be it an eCommerce website or business site, with the power of AI, you can generate content for your pages and the homepage of your newly built website without having to rack your brain trying to come up with the right words.
How Zyro Content Generator Works
After gaining access, you'll need to choose a category that matches or similar to your business niche. And if you seem not to find your business niche, don't worry.
All you need to do is choose 'Go Wild'. Then come up with few sentences that perfectly describe your brand product or services.
After that, click continue to generate text in a couple of minutes or click generate again to get more content option for your website.
The AI bot reads a lot of text in the various business niche then train itself to write something better or very similar to it in other to serve you appropriately.
Below are the unique features of Zyro content generator tool and what to expect if you choose to use it for generating content fast for your newly built site.
Generate Content by Category
Zyro allows you to generate content for different niches, including Art & Design, Restaurants & Foods, Events & Weddings, etc.
Instant Generation of Text
if you're not a great copywriter or you don't have the time to write, this platform can generate the text for you. It is easy, quick, and saves you time.
each piece is personalized on this platform based on the user's subject and specifications. Therefore, the text generated will be unique.
Plus, it also produces an SEO-friendly copy, which will improve your rankings on search engines. Within few days, you should expect your website ranking for your business brand as a result of the unique contents.
Pros
Affordable core software
Auto generates website copies
Covers various niches
Pricing
This tool comes with premium pricing plans for building a website. There is the basic plan that goes for $2.49/per month, the Unleashed plan that costs $3.29/month, the Ecommerce for $9.99, and the Ecommerce Plus for $14.99/month.
These pricing plans give you different storage spaces, domains, and products.
What is Funnel Scripts- Worth Buying?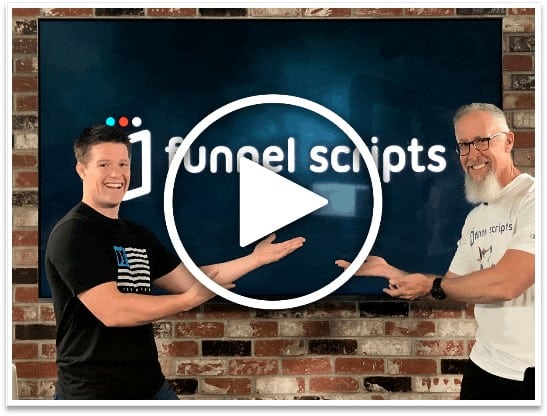 For those still not sure about Funnel scripts and how it works, we've written an extensive review on it that you can check out.  This software is a sales copy or copywriting software that handles your entire copies for you without having to hire any copywriter.
With funnel scripts, you can practically come up with any copy to target any business niche within 10 minutes.
It provides you with sales copy to market any product or services you can ever think of. This includes scripts for:
Email Sequence
Sales Pages
Webinars
Ecommerce
The scripts, however, can be used to create the following:
Sales copies
Ad copies
CTA copies
Blog post title
Facebook ad copies
Product description
Email headlines
And various others
Funnel Scripts is a perfect tool for both experienced and inexperienced copywriter to step up their game when it comes to writing winning copies that convert.
Here's a Quick Highlight of What You'll Get Inside Funnel Scripts
DotCom Secrets Scripts

Call to Action Scripts
Lead Capture Scripts
Live Event Invitation
Magic Bullet Scripts
Order Bump Scripts
Amazon/Ecom Script

Expert Secret Scripts

Hooks Curiosity Scripts
Ask Campaign Scripts
Epiphany Bridge Scripts
Short Epiphany Bridge Scripts
Title Scripts
Big Domino Scripts
And few other scripts…

Webinar Scripts
Order bump
Special Offer Scripts
Sales Opener Question Scripts
Sales Copy & Video Scripts

Titles & Headline Scripts

Email Subject Line Scripts
Dirty Little Secrets Scripts
Killer Headlines
Million Dollar Sales headlines
Profitable Title Scripts
Short Headline Scripts
Timeless Classic Headline Scripts

Email Scripts

Auto Email Follow-Up Scripts
Fast Teaser and Tweet Scripts
Free Info Request Email Sequence
Onboarding Email Message Funnel Sequence
Webinar Follow Up Scripts

Content Creation Scripts

About Me Scripts
Decision Tree Scripts
Free Report Scripts
Seinfeld Email Topic Idea Scripts
Story Idea Brainstorming Scripts

And Many More…
Funnel Scripts Pros and Cons
Let's take a look at why funnel scripts are considered and favored compared to copywriters zapping your funds and some of the benefits you'll enjoy as a user of the software.
Pros of using Funnel Scripts
Walkthrough Video for All Scripts
Easy to Use
Unlimited Access for a One-time fee
Several Scripts types and category for numerous business niches
Auto Generate Scripts
Save time, Money, and Stress
Downloaded Wizards for Users Computers
Additional Bonus
Multiple Training on Copywriting
Money-Back Guarantee
Cons of Using Funnel Scripts
It could be expensive for small business owners
The Wizard setup takes time in setting up. As you'll be required to answer tons of questions
Conclusion
You can get started with any of the funnel scripts alternative if you feel 'Funnel Scripts' is a bit on the high side. However, its features surpass all of the highlighted competitors.
If you'd ask my opinion, I'd say Automatic Scripts and Closers Copy still has an upper hand among the list of Funnel Script alternatives we've listed above. The best part is that it comes with a 30 days free trial.
And if at the end of the trial, you're still not satisfied with the value provided, then you can request your full refund. So that's it on our list of best Funnel Scripts alternatives. Let me know what you think about the tools in the comment section.
You May Also Like: