How To Get FAST Shipping on AliExpress [Best Way]
In today's article, we'll be looking at ways to decrease the long AliExpress shipping time for your dropshipping business.
The place of fast shipping when it comes to dropshipping or any e-commerce business cannot be over-emphasized. Everybody wants it fast.
In fact, based on current stats on dropshipping, 66% of online shoppers will buy from your competition if they offer more shipping options!
You want your customers to get their products fast and you want the money to roll in fast too. Having it this way makes everybody go home win-win.
But we all know AliExpress shipping time takes too long and people are looking for an alternative faster shipping than AliExpress.
Meanwhile, if you're thinking of adding the shipping price to the products price for a faster delivery it's going to kill the business. Which makes it a no go area.
Is all hope gone you may ask? Well, there are few ways around that and I'm going to be sharing it with you.
I'm going to be sharing with you how you can tweak the shipping time directly on AliExpress.
Whereby you can have 2 – 5 shipping days on AliExpress and as well as other options and alternatives to AliExpress altogether.
But before that let me quickly answer the common question asked by the majority of the people in case you don't know it already.
How long does it usually take for AliExpress to deliver?

AliExpress shipping time mostly takes 15-45 days worldwide while some other countries take about 20-45 days to have it delivered to thier country.
This has made the majority of people worried over time, but we'll be doing justice to that today!
Let's get started
How To Have A Faster AliExpress Shipping Time
Below are few of the ways you can use in finding fast dropship suppliers and invariably have a faster delivery of your products.
#1. Ship From United State On AliExpress Website
The first option is to tweak AliExpress itself to get faster delivery. But mind you, this is only going to work for those that are selling to the United State.
There are US suppliers on AliExpress that have their warehouse located in the US. So, using this is going to be a domestic shipping and equally a faster delivery system.
To do this, simply go to the AliExpress search tab and enter the product you're looking for. From the result page, you should see a box with a "ship from".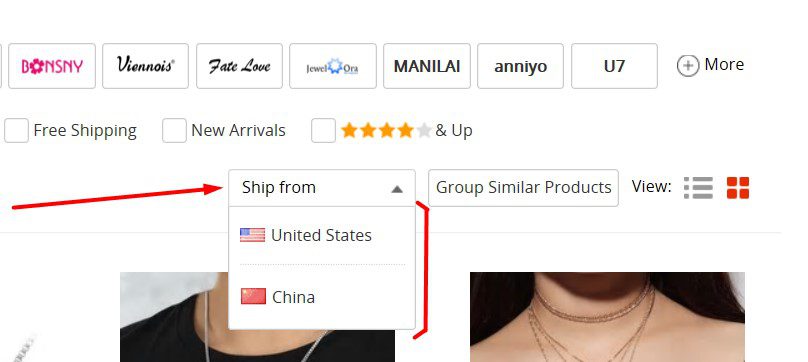 Click the drop-down button and choose the United State. The next page is going to bring several similar products having a warehouse in the United States.
Once you see the one that interests you, check the estimated delivery time because they vary from each other.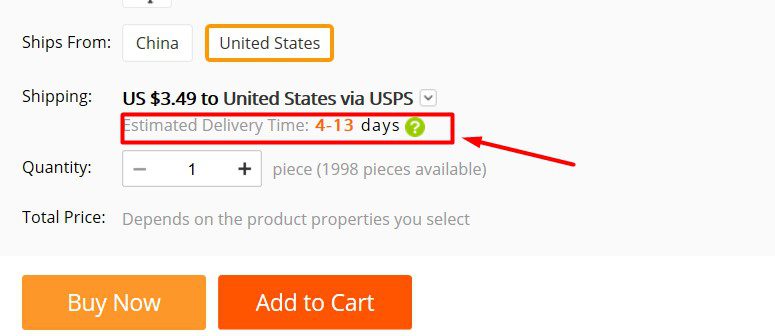 The downside is that the products usually cost around 2-$5 which is actually not bad. This can still be added to the product price and yet still make your profits.
Another downside to this is that there are limited product choices because not all seller on AliExpress has a warehouse in the US. So the kind of product you can find is going to be limited.
Finally, as you know already it only works in the US. So, this might not be the best option for you if you want to sell to other countries.
Other than that, if you have the AliDropship plugin for dropshipping, you can easily use the product filter option to source out product in the US and have them ship to your customers in the US too.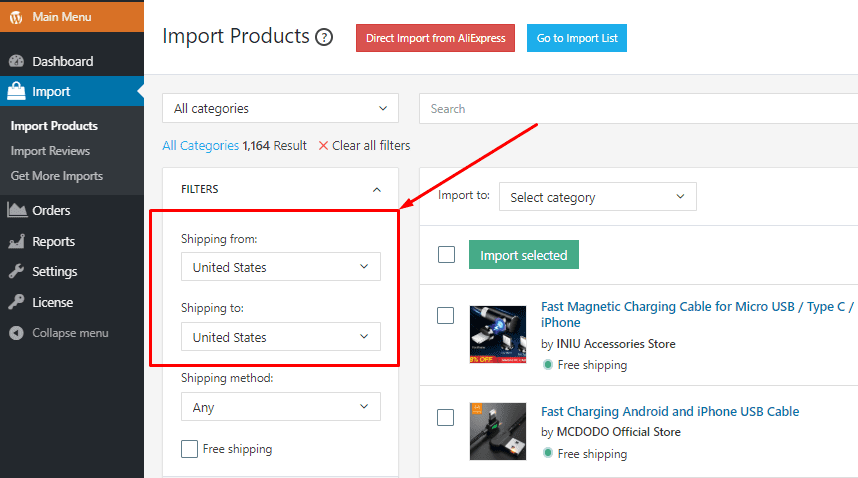 The option on the AliDropship plugin is not limited to the US as you can see from the image above. Simply click on the dropdown arrow and you'll see all the available option.
#2. ePacket Shipping Option
ePacket is a shipping option offered by Chinese merchants. It allows merchant in China and Hong Kong to provide a fast and affordable shipping option for light packages.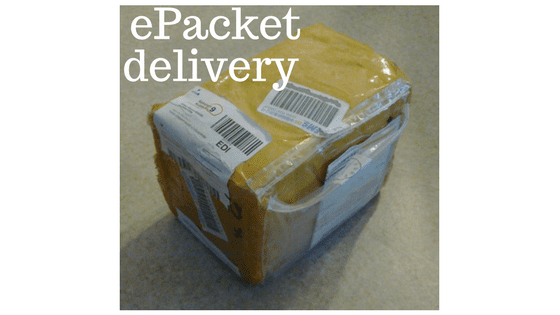 With the help of ePacket delivery options it takes about 7 – 10 days for shipment from China to reach country like US, Canada, UK, Australia etc. While drop shipping to country countries like Nigeria, Ghana, Kenya, Uganda etc might not support ePacket delivery at the moment but merchant should expect delivery time of 21- 45 and most of the time before 30days.
ePacket delivery allows customers to track their product at no additional cost. It also allow then to easily monitor and locate their products on websites such as EMS and USPS.
ePacket Requirments
The maximum length of the package can only be 24' [60cm]. The total length, height, and thickness should not be more than 36' [90cm]
In addition to this, the package cannot exceed $400 in value and should not weigh more than [2 kg] to qualify for ePacket delivery.
As of August 2017, you can drop ship to the following country using China Post's ePacket service. The list can be updated at any time because they are working really hard to increase the numbers.
Austria
Australia
Belgium
Canada
Denmark
Finland
France
Germany
Greece
Hong Kong
Hong Kong
Hungary
Ireland
Israel
Italy
Japan
Korea
Luxembourg
Malaysia
Mexico
Netherlands
New Zealand
Norway
Poland
Portugal
Russia
Saudi Arabia
Singapore
Spain
Sweden
Switzerland
Thailand
Turkey
Ukraine
Uk
US
If you're targeting any of the above countries using ePacket delivery can help scale up your business.
This is mostly because all supported countries can receive their products within 7 – 10 business days.
#3. Use Spocket Suppliers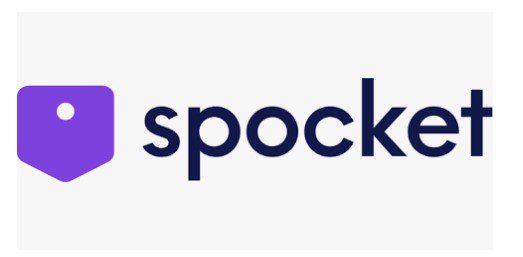 Spocket is a complete alternative to AliExpress dropshipping for Shopify and WooCommerce users. It's a huge marketplace for drop shippers for sourcing high quality and discounted goods.
There are tens of thousands of products on Spocket at a huge discounted price ready to be sold on your Shopify store with fast shipping of 2-5days deliveries.
If you're looking for a faster alternative to AliExpress, you might as well check out Spocket. Spocket is known for fast deliveries and you'll also enjoy a higher markup on the products you're dropshipping.
Equally, using Spocket gives you the opportunity to entirely automate the dropshipping process for your online store.
Few of the advantage of using Spocket includes:
Enjoy 2-5days faster shipping of your products
Enjoy access to several suppliers from different countries
Automate the entire process
Access to tens of thousands of products with a different niche.
Import products directly to your Shopify store.
None of the above is helpful to me, what should I do?
Well, dropshipping with AliExpress shipping time have over time brought about complaints as regards the delivery time and delays.
However, it should be noted that Aliexpress has improved over the years and currently still working on it by working with major local and international postal service companies.
But not to worry, even with the below outline you can still work something out.
Dropshipping cheap products
A not too expensive product is worth the wait. This is because cheap products on Aliexpress come with free shipping and most customers are willing to wait for it.
You can source cheap products on Aliexpress and be careful not to dropship inferior products.
Dropshipping hot items
Your customer won't mind the delivery time once your product is unique. This is why it's very important to take time while choosing your products. Be sure the products you are dropshipping cannot be easily sourced for from the bricks and mortar traditional stores.
No Emergence products
The whole idea of dropshipping business is to generate impulse purchases driven by emotions and not dropshipping life-critical products.
If you want to sell prime necessity products like medicines which your customers have an urgent need for, then you should provide your own means of reaching your customer need and not through a supplier.
Once your customer knows they are not buying out of urgency or a burning desire but because they like your products. Then they can afford the wait.
Disclaimer Notice
This is very important when it comes to dropshipping with Aliexpress. Because most customers get restless when they notice their products are getting longer to deliver.
This is totally going to be different when you write the shipping information very visible in your store for your customer convenience – and for your own safety too.
You can write on the product description that -Please Note: The average shipping time is 60 days and the customer will know what to expect from their purchase.
Customer Support
Using your customer support to your own advantage can go a long way in your dropshipping business.
It's impossible not to have upset clients that will call and message when they think their item is missing.
But not to worry, you can patiently handle it in the following ways:
Include the shipping time once again when you send the confirmation email to your customers. It's appropriate to remind them of the expected delivery period because not all of them will be attentive to read this in the product description. You can either do this manually or for your convenience, do it automatically with Alidropship Plugin. It will automatically notify your customers
Again, immediately you receive the tracking code from your supplier, send the code to the buyer. Then explain how to use the information to know about the current location of the package. You can also install the Alidropship plugin to do this automatically.
Finally, make the refund policy very clear. This will increase your customer trust when the return policy is clearly stated on the product page. If it's 30 – 45 days or 60 days, kindly explain that you will make 100% refunds if the product is not delivered within this period of time.
If this is clearly written, your buyers will only get their refund if the product did not reach its location on the 46th or 61st day!
Conclusion
Have your business registered in the US if it isn't already. This will allow you to be able to use Stripe payment to process orders on your website.
Having it this way will allow you to sell directly to the US market irrespective of your country. I've written an article on how to register your business and use Stripe payment on your website.
Learn More