Go High Level Free Trial [+ 17% Discount]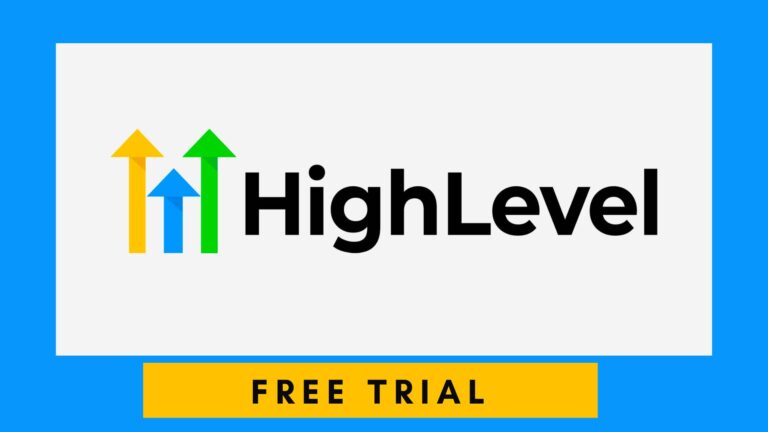 Go High Level free trial is available if you're thinking of getting the software for your agency or online business.
What's even more interesting is that I'll show you how to get an additional discount on whichever of the high level pricing plan you choose.
Learn More About Go High Level
Getting the Go High Level 14day free trial is a risk-free way to experience the High Level software before you buy.
While looking out for you, I've decided to create this guide on how to get a free trial on Go High Level to help you jump-start your online business with this powerful program.
| | | | |
| --- | --- | --- | --- |
| Software: | Go High Level | | |
| Price: | From $97 – $497 | | |
| Discount | Up to 17% OFF For Annual Plans | | |
| Trial: | 14 Day | | |
Go High Level Free Trial Table
How To Get Go High Level Free Trial
Click on the "14 DAY FREE TRIAL" button
Choose your pricing plan
Fill in your account details
Finally click the "Start Your 14 Day Free Trial!"
Congrats! You've just launched your Go High Level Free Trial.
Below is the image description of how to get it done.
Step #1: Provide Your Business Info
Once you've clicked on the Go High Level 14 Day Free Trial Link…
You're going to have to fill in your details.
Enter your preferred "Company Name", your "Full Name, your "Email Address" and finally your phone number.
Once you've done that, click on the big red button that says "Go To Step #2".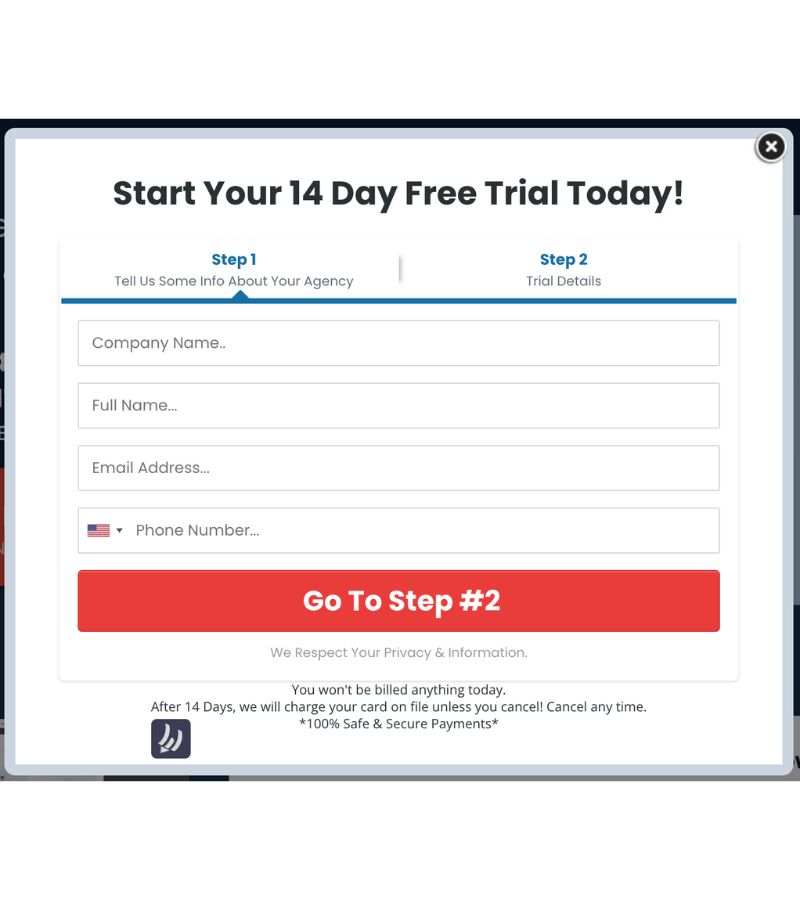 Step #2: Choose Your Trial Details
The next thing you want to do now is to enter your trial details.
Choose either the "$97 Agency Starter Plan" or the "$297 Agency Unlimited Plan" to start your Go High Level 14 Day Free Trial.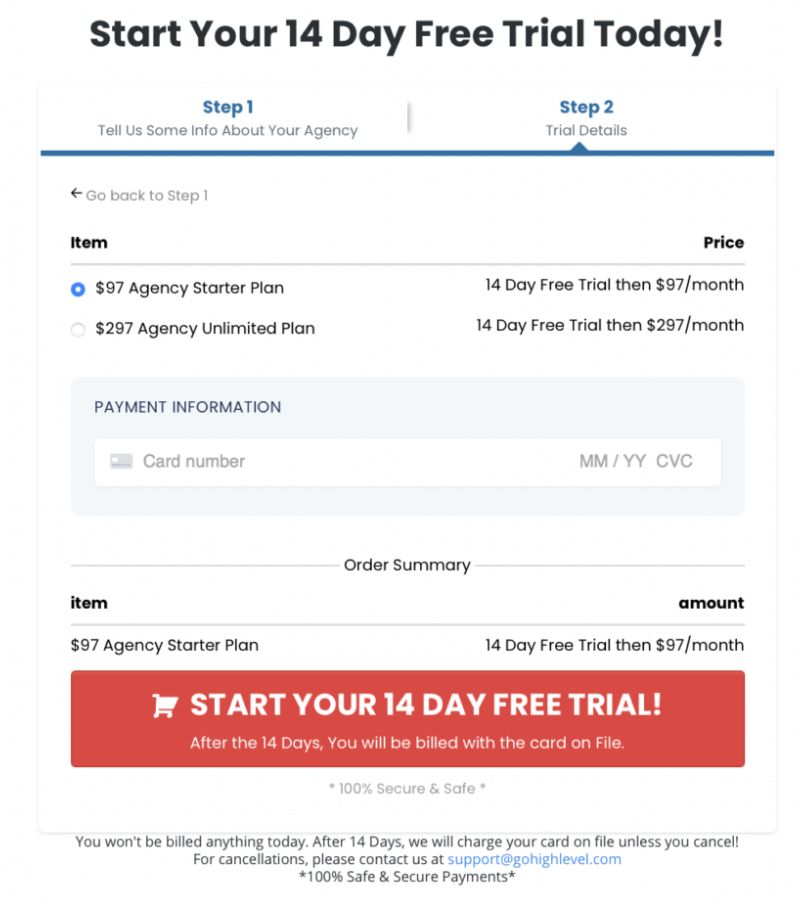 Get Annual Discount After Your Go High Level Free Trial
High Level also provides an annual pricing discount for those that will like to pay yearly instead of the monthly fee.
This is what the basic pricing looks like:
Agency Starter: $97/Month
Agency Freelancer: $297/Month
Agency Pro: $497/Month
If you decide to switch the plan to annual instead of monthly, you'll get around a 17% discount instead of the normal monthly price.
| Plans | Monthly Price | Savings | Discount Price | Discounted Link |
| --- | --- | --- | --- | --- |
| Starter Plan | $97/Month | $192/Year | $81/Month | Get Discount |
| Freelancer | $297/Month | $588/year | $248/Month | Get Discount |
| Agency Pro | $497/Month | $996/year | $414/Month | Get Discount |
| | | | | |
High Level Discount Table
Step #1: Check the Discount
To get the 17% annual discount, the first thing you want to do is login your Go high level 14 Day free trial account and click on "Upgrade".
This is located at the middle-end of your GoHighLevel dashboard.
Once you've seen it, click on it to upgrade your account. After this, the pricing page will Pop-up as you can see from the image below
From there, you will be able to toggle between the monthly price and the annual price.
Normally without the discount, this is the price you'll have to pay if you decide to pay monthly…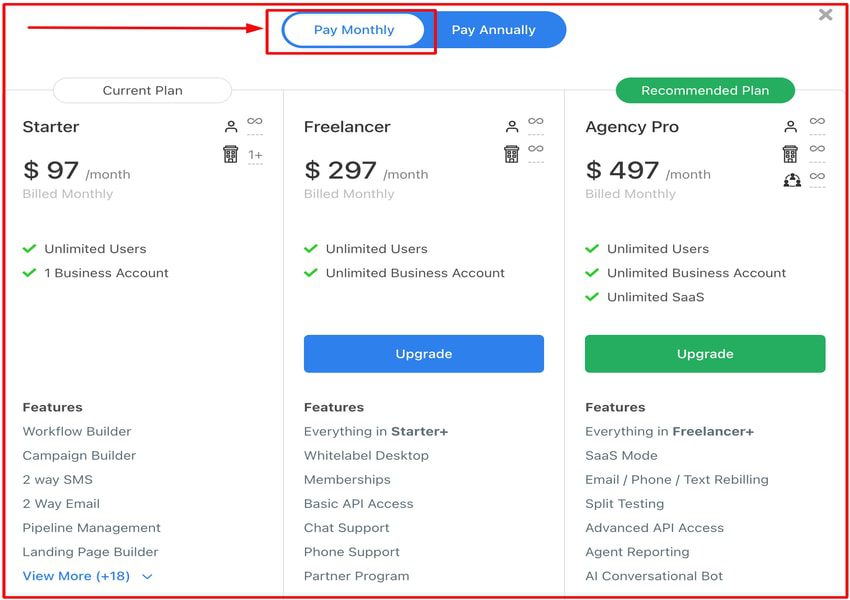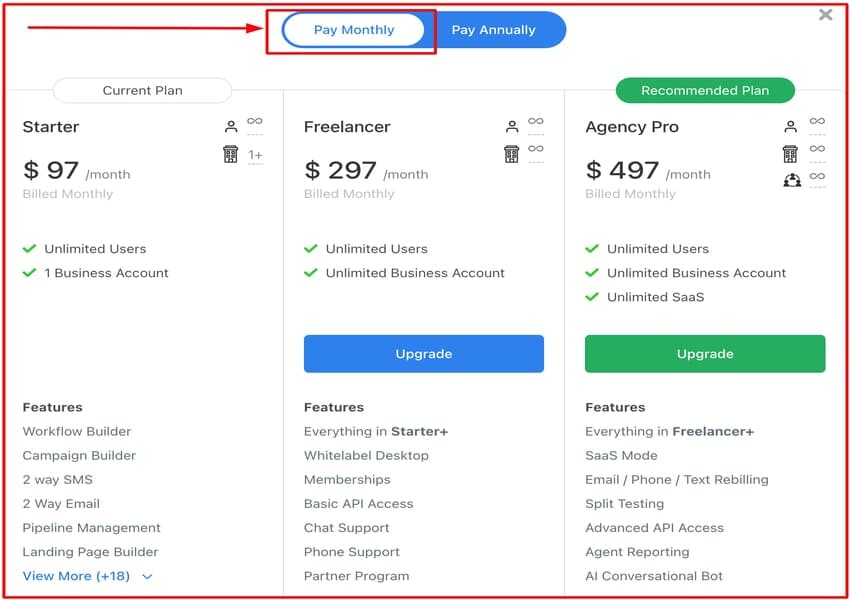 Step #2: Toggle To Annual Plan
Now to actually get the annual discount, If you'll like the see how much you'll be saving, all you simply need to do is click on the "Pay Annually" Tab to toggle around the pricing plan.
After doing that the pricing will update and from the updated price, you'll be getting a 17% discount on any of the plans you decide to go with annually.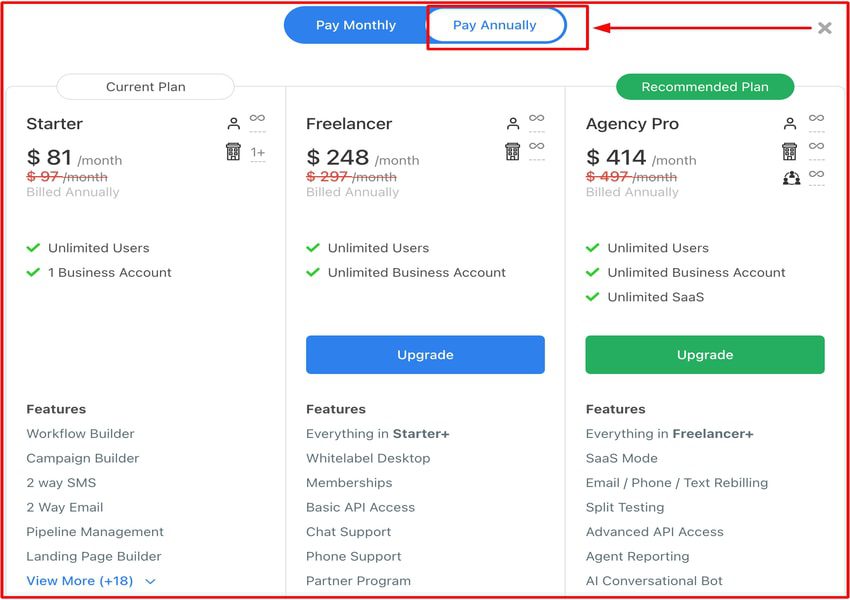 How To Cancel Your Go High Level Free Trial
After your High Level 14 Day free trial, if you decide you don't want to continue with the platform, here's how you can cancel your free trial.
The free trial cancelling is not as straightforward as other platforms might be. This requires some steps which I will walk you through step by step here.
So sign in to your High level account and go to the billing page in the settings
STEP 1: Go To Billing Page
Once you've log in to your account, the first thing you want to do is proceed to the billing page.
On the billing page, you will see your account type image.
Below it, there is the text showing information about the expiry date of your current plan.
As you can see from the image below, all you simply need to do is click the text area that says "Click Here`'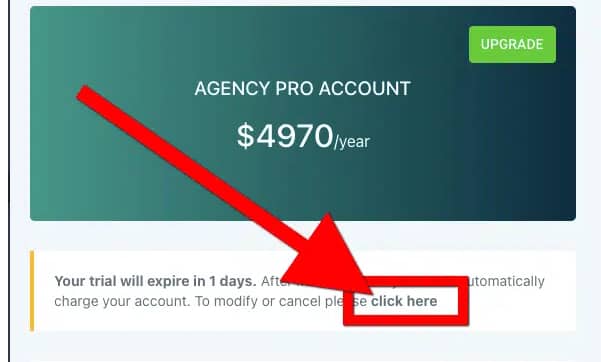 STEP 2: Cancel Your Subscription
After clicking on that, it will take you to the subscription modification page. There, you will see the Cancel the Subscription button.
It's the big red button with the "Cancel" text on it. Click on the button to proceed to the next page.
At the next page, as you can see from the image below.
GoHighLevel will request to know your reason for cancelling. You will see options, but if none matches your reason, you can simply click on others.
All you simply need to do is click the "Cancel Now" button.
Immediately you click on it, you'll be redirected to a form that you will fill out. After filling it, click on Confirm Cancellation
Thereafter, you will see a confirmation message and how long it will take for the cancellation to be effected.
Though the message will read 72 hours, within 24 hours, a notice of subscription cancellation will be received in your email.
Go High level 14 Day Free Trial: Conclusion
Thinking about it, getting the GoHighLevel 14 Days free trial is so easy that I think every business or agency owner should get it.
It takes using the actual software to see how it can really jumpstart and help your online business.
Since it cost nothing, you lose nothing!
The good part is that is that, I've also included how you can successfully cancel your subscription if you've made up your mind that the tool is not for you.
If you ask me, it's absolutely risk free, plus you'll be able to understand the platform before you're fully engaged in it.
Perhaps you have a question about this, simply use the comment section and I'll get back to you on time.
You May Also Like: