Go High Level vs Pipedrive: Which is Better? (Full Comparison)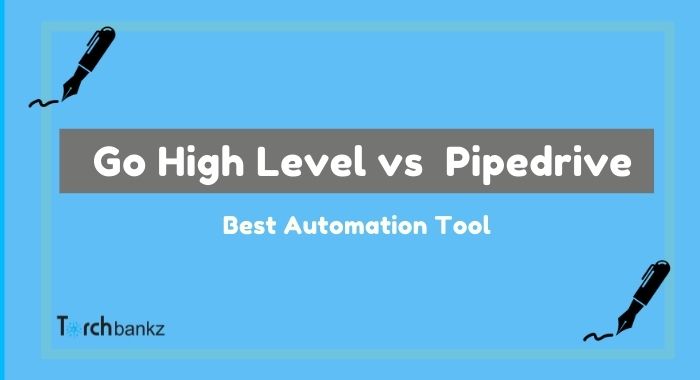 Perhaps you've come across GoHighLevel and Pipedrive in a bid to optimize your marketing structure or automate your entire business.
Whichever is it, we'll be comparing Go High Level vs Pipedrive to present to you how both tools fair against each other.
Pipedrive is a sales and customer management software that can help you run your business more effectively. Go High Level is also another tool that can be used to manage the business and grow the business.
If the two platforms offer a suite of tools that allows you to manage customer relationships and nurture your digital marketing process, which of them should you then go for?
In this article, I am going to show you a detailed comparison of GoHighLevel vs Pipedrive.
I will show you the main features, its major differences and its pros and cons. With this, you will have a better idea as to which one might be right for your business.
What is Pipedrive?
Pipedrive is an easy-to-use, all-in-one sales platform for businesses. It is a pipeline management solution that helps businesses plan all sales activities and monitors every process involved in converting a lead into a customer.
With Pipedrive, you can organize calls and emails which can improve efficiency and help you focus on important deals first.
Pipedrive has smart contact data that helps you gather every information needed about your contacts. You will see those that are already customers, those that are leads and those that are still prospects.
It will help you determine the right follow-up message to send to them.
This is most suitable for small and medium-sized businesses and that makes it easy to use. The software is designed to help businesses grow quickly. The good part of it is that you can assign tasks to your team members right on the platform.
Features of Pipedrive
Below are some of the features of Pipedrive that make it a suitable sales and marketing platform.
#1. Pipeline Management
The pipeline management feature helps to monitor all the stages of sales. It helps to track sales from when a prospective client comes into the system to when they become leads to when you eventually convert them.
This feature also provides you with relevant statistics and methods that can help you increase your conversion rate.
It has an intuitive dashboard that helps you see the current stage you are in the lead generation and also suggests the next step.
#2. Integration
This feature helps you to send emails directly from Pipedrive. The emails you send from the platform are synced with your external business email.
With the email integration, you get to know the status of each of your prospects so that you can determine the type of offer to present to them.
More importantly, you receive notifications whenever the prospects open any of the emails or click on your links.
It will help you know which of the offers interest them and then you can follow up on that.
#3. Lead Generation
Pipedrive offers an amazing lead generation feature. First, it helps you capture leads from your website. The moment a visitor visits your website, it collects information about them.
After which it directs those leads to your best sales representative where your sales packages are shown to them. It comes with a bot that helps automate all these processes.
The bots help you schedule calls and meetings as well.
#4. CRM
This is the Customer Relationship Management feature that helps you interact with customers.
This feature helps to keep you on the right track to avoid errors and mistakes like wrong communication and missing information. All your sales processes are managed.
#5. Sales Forecasting
As a growing business or even a large business, you do not have the luxury of time to waste on fruitless ventures.
The sales forecasting tool helps you to predict which prospect(s) to channel your energy on.
You will know which marketing tactics to use in closing certain deals. You also know which of your packages is thriving better so that you will be able to pay more attention to it.
Pros and Cons of Pipedrive
Below are some of the unique pros and cons of Pipedrive.
Pros of Pipedrive
It has an easy-to-use interface which makes it easy to navigate
It is suitable for Small and Medium-sized businesses
It has a readily available, 24/7 support
It is one of the best CRM software that provides real-time insight into all the activities in your business, including what you should expect.
It has solid integration with other mobile apps such as Email, and Google calendar (you can synchronize all your to-do lists with it)
It provides insights into the performance of your sales team members. You see the ones that are performing well and the ones that are still below the bar.
Cons of Pipedrive
The features might not be able to cater for Very large businesses
It merges all clients. It does not automatically separate new leads from the rest contact
It is not integrated with other social networks
What Is Go High Level?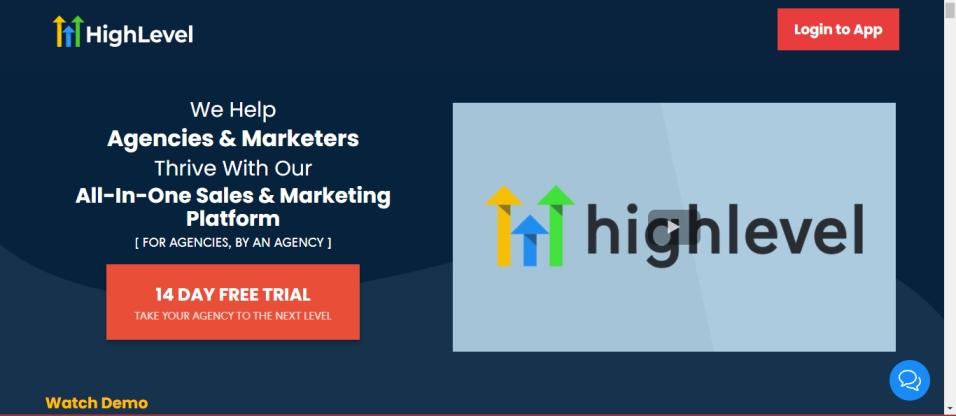 GoHighLevel or High Level is a marketing automation platform that combines the most useful marketing tools in one place. You can use GoHighLevel to create emails, newsletters, forms, and contacts for your business or service. 
With GoHighLevel, you get a CRM, a funnel builder, email and SMS marketing automation, an appointment and booking system, a membership site (for course creators), and more.
Your company or agency might want to replace most of the existing marketing tools with this one. 
Go High Level lets you manage your campaigns from one dashboard. And you won't need to log in to different dashboards and sign up for different software.
Plus Go High Level integrates with lots of applications like Zapier, MailChimp, Twilio etc, giving you the freedom and accessibility to your favorite software 
Cool, huh?
The applications are designed to help sales teams achieve greater productivity and increase their revenue by providing you with all the tools you need to effectively engage with customers, track their interactions, and close more deals in real-time.
Go High Level Features
GoHighLevel CRM comes with all of the features you need to grow your business:
#1. CRM and Pipeline Management
High level has a robust CRM tool that helps in managing all your company's relationships and interactions with customers and potential customers.
It helps improves your business relation with your clients and help grow your business.
GoHighLevel CRM and Pipeline Management work in the following way:
It's an integrated platform. GoHighLevel integrates with Salesforce, Pipedrive, and other platforms to give you a complete view of your pipeline across all your accounts.

It's mobile-friendly. GoHighLevel is available on mobile devices to track leads and manage accounts no matter where you are or what device you're using at any given moment. And it has a responsive design, so it looks great on every device, from phones to tablets to desktop computers. You'll never miss another opportunity just because someone couldn't reach their laptop.

It provides data insights for better decision-making on the fly!
This feature provides useful information so that sales reps can see how their efforts are paying off in real-time without having to wait until after close for an invoice update before making decisions about pricing or which deals should move forward next week versus those slated for later down the road (or even into next quarter).
#2. GoHighLevel Snapshots and Templates
With GoHighLevel Snapshot, you can share not just funnels but funnel campaigns, workflows, settings, triggers, workflows, emails, and SMS campaigns from one High Level account to another.
As a GoHighLevel user, you will get customized snapshots for multiple industries. And you can set up any of the Snapshots with just a few clicks.
With this feature, you can explore any industry you want. And your sales funnels and marketing campaigns will be set up and running in no time, so you can start generating leads and sales right away.
Marketers can use a client's account as a template to set up accounts for other clients. With this approach, you can scale without having to start all over again with each new client.
#3. Funnel Builder
Go High Level's Drag and drop funnel builder option helps you easily customize and build actionable landing pages, forms, funnels, and surveys optimized for desktops and mobiles.
Despite being cheaper than other sales funnel software, Go High level has more features.
To give you a better understanding of Go Highlevel's funnel builder, let's take a look at how you can use it to create sales funnels that work.
Because it's a drag-and-drop interface, it's similar to using ClickFunnels.
There's a bunch of funnel templates on Highlevel that you can use to start your funnel quickly. You can customize the templates with the drag-and-drop editor.
With the same builder, you can make a simple site with navigation. You can make it more impressive by adding your own domain.
#4. Detailed Client Dashboard
As an agency owner, you can provide your clients with a detailed dashboard reporting data on campaign progress and lead conversion. It also displays up-to-date tasks for your sales team to monitor old and new clients' interactions. Get a clear view of what is going on with your client's sales.
With Go High Level dashboard you can:
Opportunities: See how many leads you won, lost, or still have open.

Pipeline: An overview of how much money was won, lost, and is still pending

CONVERSION: Check your close rate and monitor your performance.

 VISUAL: Get a complete picture of your business – sales, traffic, reviews, and more…the ultimate business command center.
#5. Built-in Calendar
Stay updated and organize your appointment and daily schedule with the built-in calendar. 
It allows your clients to schedule appointments. This feature also serves as a real-time notification system, so you don't miss out on important events, meetings and tasks.
Go HighLevel's calendar makes it easy to capture leads because it's integrated. Plus, it works with Google Calendar to keep you truly connected.  You can Use High Level native calendar  on:
Your site

link to it in your emails

funnel

and include it in your email signature
#6. Reputation management
Use High Level to manage your business reputation. High level allows you to take control of your brand's reputation.
The software lets you send a "Review Request" to your clients so they can leave you a review on your chosen platform.
You can link your "Google My Business" account with High level to make the process of requesting reviews and managing them faster.
If you have a business page on Google, you can add a link to your Google My Business page in your email to ask clients to review it.
Then, from your dashboard, you can pick the clients' contacts. Then, click the Check-in Client button to select the contacts you want to send the reviews to.
Read our detailed Go High Level Pro and Cons here
Go High Level vs Pipedrive: Pricing
Let's explore some of the most noticeable differences between the two platforms.
Pipedrive Pricing
Pipedrive comes in four pricing plans- Essential, Advanced, Professional and Enterprise. Let's analyse each of them.
Pipedrive Essential – $11.90/month
This pricing plan grants you access to the following features;
Two users
3000 open deal limits per company
30 custom field limits per company
Customizable Pipelines. You can customize each of the pipelines to suit the different categories of your customers.
Lead and deal management
CRM
24/7 phone support
Data Import/export. The data analysis can be exported into an Xls file.
AI Sales assistant. An artificial Intelligence sales assistant is assigned to you automatically pitch your sales package to a lead. Once a visitor comes into the website, he is automatically directed to your sales representative who helps in converting that lead to a client.
Deal and Activity report. You can generate a report for all the activities carried out and deals closed per time.
API access
Email integration and sync
This pricing plan is mainly suitable for a new or small business.
Pipedrive Advanced – $24.90/month
This pricing plan comes with a lot more automation than the Essential Plan. It consists of all the features in Pipedrive essential including;
Two users
Two-way email sync. Here, you can send email messages to customers and also receive their responses right on the platform.
Create 100 custom fields per company
10,000 open deal limits per company
Customizable email signature and templates. The email templates can be customized to give them a more personal outlook. You can also include a signature which is automatically reflected in every mail you send.
30 workflow automation
30 report limits per user
Email tracking. This plan enables you to note when any of your contacts opens any of the emails and which of the emails was opened. You also know when they click on any of the links. A notification pops up each time any of those activities are carried out.
Group Emailing. You can classify all your contacts according to certain groups and send them an email at once. There is a particular email address that will be created such that when an email is sent to that address, everyone in that group receives the message.
Email Scheduling. You can schedule different emails at different times and for different reasons. Even if you do not remember, the emails are delivered as and when due.
Web-to-mobile calls. From your Pipedrive platform, you can make a call outside to your contact in as much as you have the mobile app of the software.
Video call scheduling
Contacts can be synchronized with Google and Microsoft
Security and two-factor authentication. Nobody can successfully get into your platform without your permission.
Pipedrive Professional- $49.90/month
This pricing plan consists of everything in Pipedrive Advance including;
Three users
Create 1000 custom fields per company
100,000 open deal limits per company
Unlimited Document opening tracking
60 workflow automation
Supports PDF format, Google slides and Google sheets
60 report limits per user
Sales and Revenue forecasts
Access to customized eSignatures
Pipedrive Enterprise – $74.90/month
It consists of all the features in Pipedrive Professional including;
Unlimited Users and user permissions
100 workflow automation
Unlimited report limits per user
Go High Level Pricing
HighLevel has dedicated payment plans, including:
Agency Started Account  –  $97 /Month

Agency Unlimited Account –  $297 /Month

White-Label Mobile App + Custom Zap Upgrade   –   $497
Each of these payment options has a slightly different offering from its predecessor.
Go High Level is a software platform that helps digital marketing agencies manage all of their agency clients.
Using a pricing plan starting as low as $97 gives you one account to manage your Agency and one other account to manage your Agency's client.
Choose another pricing plan if you have more than one client so you can manage them all.
Agencies with plans to minimize budgets might be tempted to go for the most affordable $97 plan, but that only works if you've got just one client and don't have plans to take on more.
Agency Starter Account –  $97 /Month
CRM and Pipeline Management
Unlimited Sales Funnels
Website builder
Surveys and forms
Email marketing
2-way SMS Marketing
Booking and Appointments
Workflow automation
Courses/products
Call tracking
Reputation management
Tracking analytics
Gray-labeled mobile app
White labeled mobile app
Agency Unlimited Account —  $297 /Month
Includes everything in the agency starter account.

Gives you unlimited sub-accounts: Create as Many Accounts for Clients or Other businesses.

Branded Desktop App: Ability to use own Domain and customize the look and feel of the platform.

Comes with a 14 day free trial
White-Label Mobile App + Custom Zap Upgrade  –  $497
Includes everything in the Agency, unlimited account, and features
Mobile App

Zapier Requirements

Unlike the other go highlevel plans, the Custom Zap upgrade does not come with a 14 day free trial.
Go High Level vs Pipedrive: Differences
Let's analyse some of the notable differences between the two tools based on the following differences.
#1. Pricing plan
Which of the tools is more cost-effective?
GoHighLevel has three pricing plans. They are;
Agency Starter Account – $97/month
The Agency Unlimited Account – $297/month
Agency Pro + White Label Mobile App- $497/month
On the other hand, Pipedrive has 4 pricing plans
Pipedrive Essential – $11.90/month
The Pipedrive Advanced – $24.90/month
Pipedrive Professional- $49.90/month
Lastly, Pipedrive Enterprise – $74.90/month
The three pricing plans of GoHighLevel come with Unlimited Users and Unlimited Accounts. In Pipedrive, it is only the Pipedrive Enterprise that comes with unlimited users.
The Pipedrive Enterprise and Advanced grants access to two users while the Pipedrive Professional allows three users.
Pipedrive seems to be quite more affordable than Go High Level. You can upgrade as your demand increases.
However, there might still be some features you will not find in Pipedrive that are present in Go High Level.
To be able to use some of those features in Pipedrive, it will require that you bring in some integrations which will cost you additional money on the long run.
Both Go High Level and the Pipedrive come with a 14-day free trial (except the Agency Pro/White Label upgrade).
This will help you check out the platforms to see if it meets your business demands.
#2. White Labelling
This is a feature that gives your account personal branding. When you white label software, you remove the featured brand name or logo and replace it with yours.
GoHighLevel allows you to resell the software as your own but Pipedrive does not. Though this feature in GoHighLevel is only available in the Agency Unlimited and Agency Pro plans.
The account becomes yours and your clients do not have to know what platform you obtained the license from. It only displays your brand name and the accompanying URL.
You remember that GoHighLevel grants you access to create unlimited accounts. Therefore, you can create more accounts and resell them without violating any law.
This is not a feature that is present in Keap.
#3. Reputation Management
Customers' review is a marketing medium on their own. It influences the perception of new customers about your business. After seeing the offers promised on your page, they want to see what other customers think about you.
With GoHighLevel, you can request reviews from your customers. Once a few clients provide their reviews, it will spur others to also contribute theirs.
Allowing customers to give reviews show that you are confident about what you offer.
If they feel excellent about your offer, they would give an excellent remark. If on the other hand, they experience any lapses, they would suggest better ways to go about it.
You can leverage these suggestions to improve your services.
Also, when a customer is allowed to give a review, he/she feels important and is a part of the business. The customer could as a result of that refer others to your brand.
Pipedrive does not make provision for all of these.
#4. Sales Forecasting
Sales forecasting is available in Pipedrive but not in GoHighLevel. One of the benefits of this feature is that it helps you save time and resources. You can choose which prospect to follow that would be worth it.
This is because it provides you with all information including the status of your prospects. Sales forecasting helps you to predict or estimate the total number of sales and revenue that will be generated within a stipulated time.
This will help you plan your budget, allocate necessary resources to each sector and also determine which risk is worth the time.
If there is any process that might go wrong, a sales forecast will help to see and identify the signals.
There are some underlying metrics in this feature that helps to see a near-accurate sales forecast.
The past sales made, the target deals vs the deals closed, and the resources available for sales will help to forecast what the next set of sales would look like.
The sales forecast will also provide information about your highest-paying package so that you can channel more resources to that end.
Go High Level vs Pipedrive: Final Thought
Both marketing tools are great for marketing services. However, due to the features of the two like user interface and pricing, GoHighLevel might not be suitable for someone who is just starting a business.
The interface for Pipedrive is more user-friendly than that of GoHighLevel.
Since the two platforms also come with a 14-day free trial, you could explore the two platforms and see which one meets your business demands.
However, if you are in a haste to make just one decision, I would say;
If your business is a new start-up, you could go for Pipedrive.
It is more cost-effective and using it would not be overwhelming.  But if you have been in the market already and you are seeking growth for the business, Go High Level is a better choice because of its robust features.
Perhaps try Go High Level Free for 14days Then Cancel if you don't like?
You Also Like: