Go High Level vs Pipeline Pro: Which Is Better? [Comparison]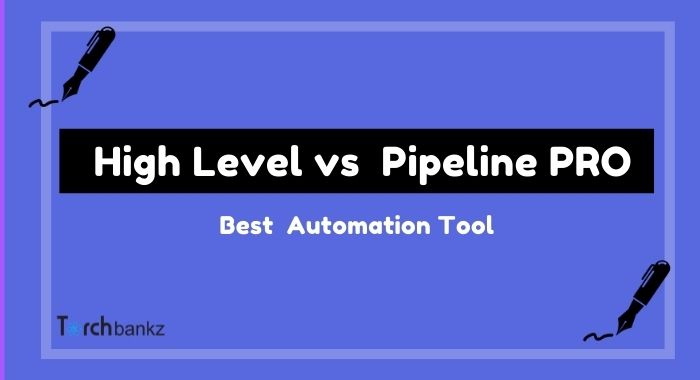 Today we're going to be comparing Go High Level vs Pipeline Pro to see which one is worth investing into.
It takes a lot to run a business online, from email marketing to pipeline management, building sales funnels, scheduling, analytics, and so on.
Businesses looking for a better way of doing business and gaining a competitive edge need marketing automation and CRM(Customer Relationship Management) tools.
This is where business management and automation tools like Pipeline Pro and Go High Level come in.
These tools are designed to help business owners close deals and make sales.
I have used both tools, and I'm here to give you an overview of their features, prices, and differences so you can decide which is best for your business.
Let's dive in.
What Is Go High Level?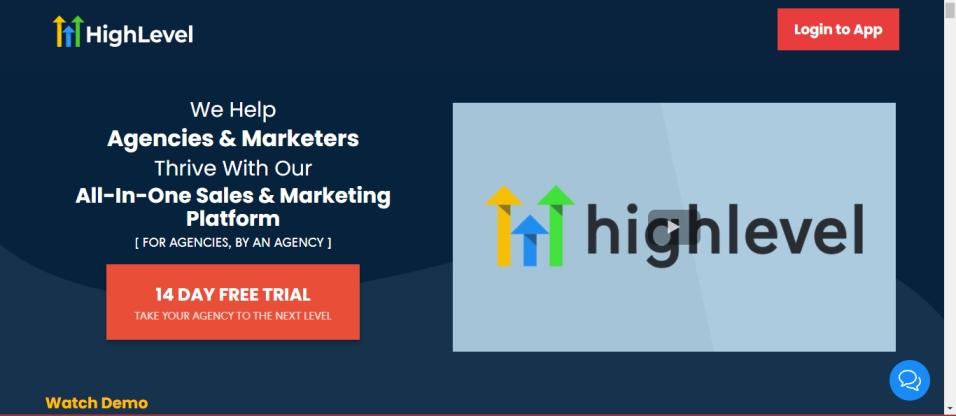 GoHighLevel or High Level is a marketing automation platform that combines the most useful marketing tools in one place. You can use GoHighLevel to create emails, newsletters, forms, and contacts for your business or service. 
With GoHighLevel, you get a CRM, a funnel builder, email and SMS marketing automation, an appointment and booking system, a membership site (for course creators), and more.
Your company or agency might want to replace most of the existing marketing tools with this one. 
Go High Level lets you manage your campaigns from one dashboard. And you won't need to log in to different dashboards and sign up for different software.
Plus Go High Level integrates with lots of applications like Zapier, MailChimp, Twilio etc, giving you the freedom and accessibility to your favorite software 
Cool, huh?
The applications are designed to help sales teams achieve greater productivity and increase their revenue by providing you with all the tools you need to effectively engage with customers, track their interactions, and close more deals in real-time.
You can read our full review of Go High Level Here…
Go High-Level Features
GoHighLevel CRM comes with all of the features you need to grow your business:
#1. High Level Mobile Application
You can use GoHighLevel's mobile app on the go to:
See how your opportunities, pipelines, and conversion rates look on a dashboard.
View, reply, and manage all your messages (emails, text messages, Facebook messages, and Google My Business messages) on the go.
Make Calls
Add, edit, delete, and manage all your contacts right from the app.
Request reviews and manage them.
Easily access your calendar and appointment dashboard.
Manage your calendar and add, edit, and delete appointments.
Since I can use GoHighLevel's mobile application even when I am away from my desktop computer, I can reply to leads who use my desktop chat widget. It also allows me to make phone calls.
#2. GoHighLevel Snapshots and Templates
With GoHighLevel Snapshot, you can share not just funnels but funnel campaigns, workflows, settings, triggers, workflows, emails, and SMS campaigns from one High Level account to another.
As a GoHighLevel user, you will get customized snapshots for multiple industries. And you can set up any of the Snapshots with just a few clicks.
With this feature, you can explore any industry you want. And your sales funnels and marketing campaigns will be set up and running in no time, so you can start generating leads and sales right away.
Marketers can use a client's account as a template to set up accounts for other clients. With this approach, you can scale without having to start all over again with each new client.
#3. Funnel Builder
Go High Level's Drag and drop funnel builder option helps you easily customize and build actionable landing pages, forms, funnels, and surveys optimized for desktops and mobiles.
Despite being cheaper than other sales funnel software, Go High level has more features.
To give you a better understanding of Go Highlevel's funnel builder, let's take a look at how you can use it to create sales funnels that work.
Because it's a drag-and-drop interface, it's similar to using ClickFunnels.
There's a bunch of funnel templates on Highlevel that you can use to start your funnel quickly. You can customize the templates with the drag-and-drop editor.
With the same builder, you can make a simple site with navigation. You can make it more impressive by adding your own domain.
#4. Detailed Client Dashboard
As an agency owner, you can provide your clients with a detailed dashboard reporting data on campaign progress and lead conversion. It also displays up-to-date tasks for your sales team to monitor old and new clients' interactions. Get a clear view of what is going on with your client's sales.
With Go High Level dashboard you can:
Opportunities: See how many leads you won, lost, or still have open.

Pipeline: An overview of how much money was won, lost, and is still pending

CONVERSION: Check your close rate and monitor your performance.

 VISUAL: Get a complete picture of your business – sales, traffic, reviews, and more…the ultimate business command center.
#5. Built-in Calendar
Stay updated and organize your appointment and daily schedule with the built-in calendar. 
It allows your clients to schedule appointments. This feature also serves as a real-time notification system, so you don't miss out on important events, meetings and tasks.
Go HighLevel's calendar makes it easy to capture leads because it's integrated. Plus, it works with Google Calendar to keep you truly connected.  You can Use High Level native calendar  on:
Your site

link to it in your emails

funnel

and include it in your email signature
#6. Reputation management
Use High Level to manage your business reputation. High level allows you to take control of your brand's reputation.
The software lets you send a "Review Request" to your clients so they can leave you a review on your chosen platform.
You can link your "Google My Business" account with High level to make the process of requesting reviews and managing them faster.
If you have a business page on Google, you can add a link to your Google My Business page in your email to ask clients to review it. Then, from your dashboard, you can pick the clients' contacts. Then, click the Check-in Client button to select the contacts you want to send the reviews to.
Other features include:
Membership sites: Users have access to subscription sites for creating online courses.
Feedback System: Send automated review requests to your client's customers, boosting their brand's ranking and search efficiency.
Integrations: Go HighLevel offers traditional integrations to your website forms, landing pages, Facebook ads, and internet surveys. As a result, you can customize your website Add-ons and displays.
Customer List: you can Import lead contact lists into HighLevel, or choose to export the customer lists you built within HighLevel to optimize them on other platforms.
Broadcast Messaging: More than automated messages, sending broadcast messages is the next best thing because you can send promotional updates to your contacts all at once or to a group of clients.
What Is Pipeline Pro?
Pipeline Pro is an easy-to-use cloud-based program that manages, tracks, organizes, and contacts leads.
It provides all the tools and insight you need to have an efficient sales conversion and a real-time update on the progress and status of your sales funnel and more.
Designed by salespeople, for salespeople.
Pipeline Pro is a sales platform that's easy to set up, seamless to integrate, and intuitive to use. The PipelinePRO app gives you everything you need to stay on top of clients, sales, revenue, and reports.
You can contact them directly from my account via email, text, and phone.
The sales software and CRM keeps you connected to all your favorite applications like Twillio, Mailgun, Paypal through its seamless integration.
Some of its most popular features are its autoresponder, CRM and  unlimited funnels, analytics, contact manager, sales manager and pipelines.
Pricing starts at $37 and goes up depending on your plan and requirements.
Pipeline Pro Features
Here are some of Pipeline Pro's popular features.
#1. Unlimited Pipelines
Pipeline pro allows you to create as many pipelines as you need with no additional cost. For example, you can have one pipeline for a product, a service, or a venture.
Also, you can run different products, services, and ventures within one agency with this feature. You can take advantage of every opportunity and turn leads into customers
In the PipelinePRO dashboard. You have a clear picture of all leads and sources. With the opportunities dashboard, you can track prospects and leads as they move through the pipeline. 
There is a tab for each lead or prospect. Your opportunity dashboard lets you add prospects and new opportunities manually.
You can also upadate the staus of your leads as they move up and down the funnel.
#2. Auto-Responder
An autoresponder is a script that sends responses automatically. The script runs when a user does something on a website or sends an email directly to another email address that has an autoresponder set up.
Autoresponders are most commonly used for confirmation emails, but they're useful for so much more.
You can use Pipeline Pro autoresponder to automate your email replies.
New leads always have questions about how your products and services work.
A standby auto-responding system can help you answer these questions. Pipeline pro-auto-responding features make it easier to communicate and inform new users about the services and products you offer.
#3. Analytics
Analyze the market, your competitors, and your customers with Pipeline Pro. You'll be able to make better decisions faster, and your marketing and outreach strategies will improve.
Next-level analytics dashboards give you the insight you need to target customers effectively.
You can see who's coming to your site, what they're doing on it, and how long they stay. You can see how well your team works, what needs improvement, and what's working. 
Finally, you get detailed reports and thorough info about your Facebook Ads, Google Ads, and website traffic from all sources including social media, mobile, and desktop.
#4. Contacts Manager
By organizing contact info according to their engagement activities, you can get a better idea of what any group of clients needs. It makes meeting those needs easier.
Contact Manager makes it easy to handle a large group of leads or customers.
You can add tags to different contacts. You can do so in several ways, including:
Contacts can be grouped into smart lists using tags

Using tags as triggers will create a workflow

Keep track of the contact's actions by using the reminder tag
#5. Sales Manager
Your Pipeline gives you a sense of your clients' development. Sales pipelines are the most popular type of Pipeline because they give you a basic idea of where your lead is in the buying process.
It can help you communicate effectively and convince your lead to buy.
With sales manager, you can interact, create relationships, monitor, engage, and ultimately convince a lead to purchase your product.
Every sales stage has its own requirements, and each has a different correlation with the next. You can sort and customize the management for each stage of the sale.
You can create as many Stages as you want on the PipelinePRO dashboard so you'll always know where your leads are in the sales cycle.
Go High Level vs Pipeline Pro: Differences
Let's explore some of the most noticeable differences between the two platforms.
#1. Functionality
If you are looking for a sales machine with the basics, implying that you'd have a good understanding of the campaign and conversion strategy, then the Pipeline Pro is a safe bet.
But, when you've got to deal with prospects directly, Go High Level is your best bet.
#2. Ease-of-use
Both tools have a learning curve but do not require any special skills. Go High Level's dashboard gives you quick access to all your marketing tools. Pipeline Pro also offers a simple overlay.
With features that help you track conversion rate, opportunities, pipeline value, and an overview of your leads.
#3. Messaging
Pipeline Pro's auto-responder function serves as on-site self-help for leads needing more info about your products.
Go High Level has a force call and automated messaging feature, which, in addition to helping you send bulk messages, also allows you to speak with prospective leads stuck in a certain level of your sales funnel.
Go High Level also allows email outreach, a feature you wouldn't find in Pipeline Pro.
#4. Mobile App
The Go High Level mobile app lets you and your clients access all Go High Level features on the move. 
With Go High Level mobile app, you can:
View campaigns, 

Start new projects from your phone.

Import existing leads from MailChimp or Hubspot, or accounts.

Interact with new and existing leads. 
#5. White Label Software
By white labelling, you remove an app's branding and sell it under your own brand – just like your own app. Then your clients won't be able to tell that you're actually buying the license yourself.
Only Go High Level lets you white label desktop and mobile apps.
White labelling high level is a feature of the two higher-tier pricing plans: the Freelancer (aka Agency Unlimited Account) and Agency Pro. 
The HighLevel mobile app can be white-labelled with a plan upgrade called White Label Mobile App + Custom Zap Upgrade.
#6. Survey and Form
Unlike Pipeline Pro, Go High Level allows you to create forms you can embed on your website with an iframe code or can integrate right into web pages you have built-in Go High Level.
High Level Form Builder lets you change the layout of your form, add custom fields and custom CSS, and add any other features you need to collect the information you need.
Go High Level Survey Builder allows you to customize the user experience and drive conversion. Allowing you to capture important details and qualify leads.
Go High Level vs Pipeline Pro: Pricing Plan
It's important to understand what either of these CRMs offers you business. But most importantly, what it would cost you.
Pipeline Pro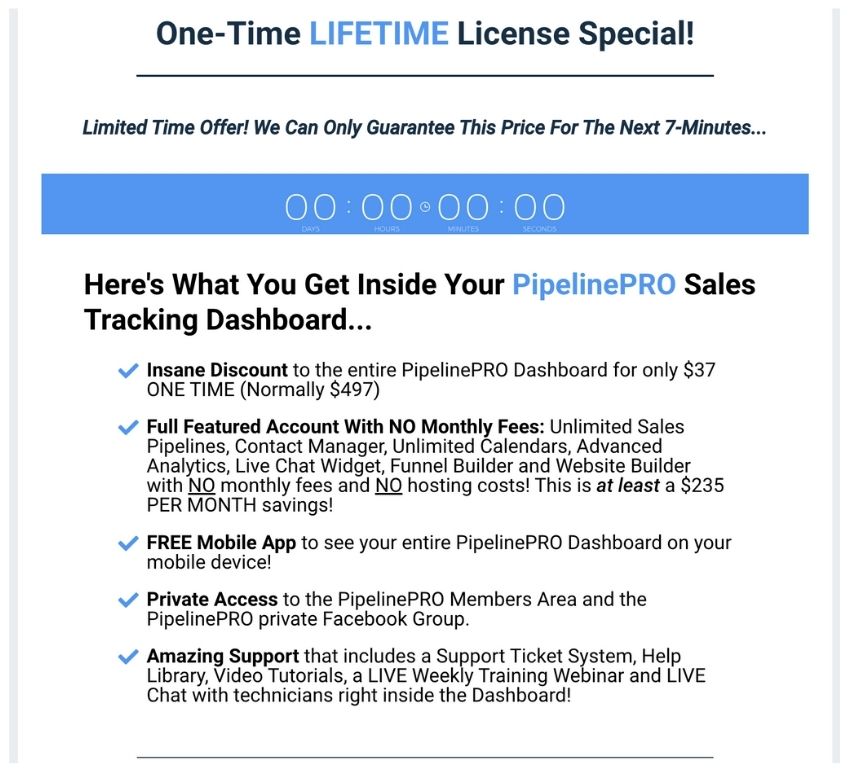 Pipeline pro provides a lifetime offer of $37, giving you access to the basic dashboard feature for analytics and insight into your sales funnel.
However, there are limitations to what you can do.
With the $37 lifetime offer, you can't create a new campaign or create forms that allow you to build an email list unless you upgrade to a $97/month package.
This allows you to create forms but with the exclusion of membership sites which cost an additional $47/month and a one payment integration with no customization.
If you intend to use more than one payment integration, then it's advisable to integrate ZAPIER, which means more cost for integration.
Go High Level
HighLevel has dedicated payment plans, including:
Agency Started Account  –  $97 /Month

Agency Unlimited Account –  $297 /Month

WHITE-LABEL MOBILE APP + CUSTOM ZAP UPGRADE   –   $497
Each of these payment options has a slightly different offering from its predecessor.
Go High Level is a software platform that helps digital marketing agencies manage all of their agency clients.
Using a pricing plan starting as low as $97 gives you one account to manage your Agency and one other account to manage your Agency's client.
Choose another pricing plan if you have more than one client so you can manage them all.
Agencies with plans to minimize budgets might be tempted to go for the most affordable $97 plan, but that only works if you've got just one client and don't have plans to take on more.
AGENCY STARTER ACCOUNT –  $97 /Month
Twilio – Enter API to enable 2-way texting

Mailgun – Enter your API for Unlimited Sending

Single Account – Setup 1 Client or Use for your Agency
AGENCY UNLIMITED ACCOUNT —  $297 /Month
Includes everything in the agency starter account.

Gives you unlimited sub-accounts: Create as Many Accounts for Clients or Other businesses.

Branded Desktop App: Ability to use own Domain and customize the look and feel of the platform.

Comes with a 14-day free trial
WHITE LABEL MOBILE APP + CUSTOM ZAP UPGRADE   –  $497 Additional Per Month
Includes everything in the Agency, unlimited account, and features
Mobile App

Zapier Requirements
Unlike the other go highlevel plans, the Custom Zap upgrade does not come with a 14-day free trial.
Go High Level vs Pipeline Pro: Final Thought 
Both High Level and Pipeline Pro are amazing CRM software to help improve your conversion rate and properly optimize your sales funnel. However,
Pipeline Pro is a great tool for getting a pipeline going and keeping track of your leads, but GoHighlevel is a much better tool for managing your entire sales process.
GoHighlevel has many more features than Pipeline Pro and is easier to use.
It also has some cool features like automated lead scoring, making it much easier to get accurate reports on your leads.
Pipeline Pro may look cheaper, but connecting and integrating other tools will increase the cost in the long run.
Why Not Try High Level For 14 Days and cancel if it's not worth it?
You May Also Like: