Go High Level Vs Kajabi: Which is Better? [Full Comparison]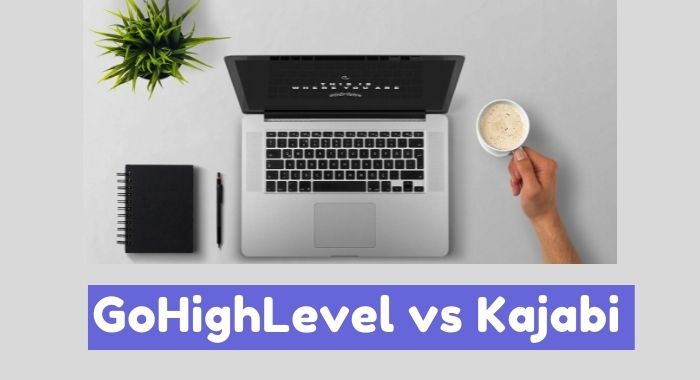 In this article, we will be looking at Go High Level vs Kajabi by taking a detailed tour of both business tools to see which of the two is better.
Nothing beats having software that can ease your business activities and marketing strategies.
If you want to have good results as an entrepreneur or a business owner, you need a platform that can help you market your products/ services and also generate leads.
You also want to consider features such as the cost of purchase, ease of learning and effectiveness in going for the right tool.
In a bid to search for such platforms, you must have come across these two platforms- GoHighLevel and Kajabi.
Both platforms are all-in-one marketing and sales platform that can help scale your business up.
If you desire to know which of the two platforms is better, then you are in the right place.
This article is an unbiased comparison between GoHighLevel and Kajabi.
I'll go over their:
Main features
Pros and Cons
How they compare
Price Comparisons
And every other thing you need to know to be able to make an informed decision.
Let's get right into it.
What is GoHighLevel?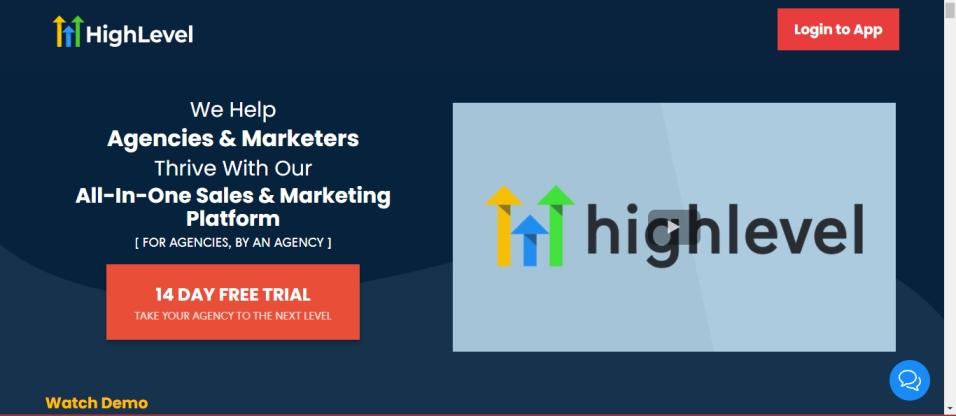 Go High Level is not just a learning platform, it's an all-in-one software solution designed to help you manage your business, automate your sales processes and boost your lead generation efforts with CRM all inside a single platform.
Considering the number of tools stacked up together inside the Go High Level, using the software will probably save you cost compared to getting each third-party tool separately
This single software comprises different sales and marketing features to help you automate all your sales processes and increase your lead generation.
Sometimes you need an extra set of hands (or, in this case, brains) to get things done, and that's where CRM tools like Go High Level come in.
But this time around, you won't be juggling platforms, everything you need is made available inside one platform. Just think of it as the complete tool kit needed to market and promote your digital product.
Features of Go High Level
Below are some of the key features of Go High Level and why the software is widely talked about. Heck, you could also see how it can affect your business with some of them listed below.
#1. Membership Sites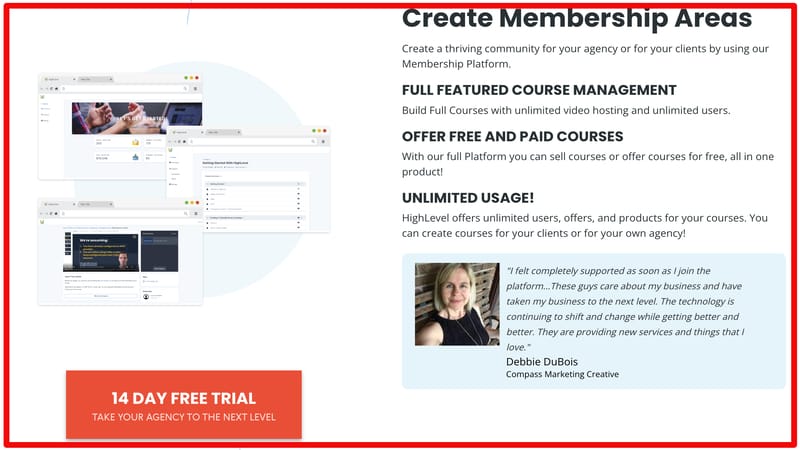 Just like every other learning platform, with Gohighlevel, you can build membership sites to sell your premium products. You can also move your membership site to Gohighlevel if you're a course creator.
The dashboard looks pretty basic, but the results were pretty similar to what you get from Teachable and the likes. You can add your own domain to your membership site. There's a visual editor to edit your course outline too.
Also, you can customize the design of your membership site landing page. You can even upload video course content. You can include a snippet of an image and your course outline title.
There's a whole lot to what you can do when it comes to using Go High Level to host your membership website or showcase your online course to your audience.
#2. Landing Pages and Funnel Builder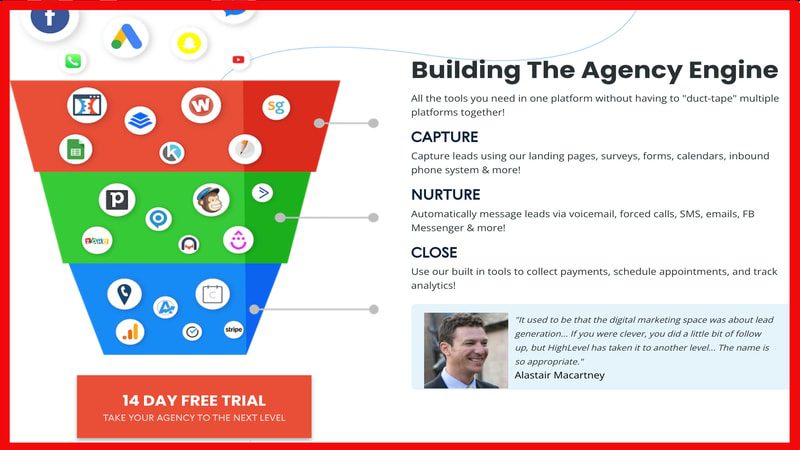 The Landing Pages and funnel builder allows you to create beautiful landing pages using one-click templates or your own custom designs. You can also create multiple funnels and send traffic to them directly from the dashboard.
You can make converting sales funnels with Go Highlevel's funnel builder. High level has funnel templates you can choose from and get started in minutes.
You can create a basic website and add navigation with the same builder. Using Highlevel, you can get a custom domain and dress up your funnel and website.
Since it's drag and drop, it's like using a premium funnel builder like ClickFunnels. But compared to Clickfunnels, High Level lacks some features.
Clickfunnels, for instance, lets you share funnels with others. You can't do that with GoHighlevel. 
Keep reading for a detailed comparison of ClickFunnels and GoHigh Level.
#3. Al Conversational Bot
The GoHighLevel Agency pro account provides you with an Artificial Intelligence and Machine Learning feature to help automate some processes. Most especially, to handle conversations.
The AI bot holds conversations either as spoken or typed words.
This conversational AI feature uses natural NLP (Natural Language Processing) alongside traditional software like Chatbots, Voice assistants and an interactive voice recognition system to help customers through either spoken or typed interface.
So whether you're interested in a conversational growth strategy to market and grow your sales online or want to focus on customer support, this feature is the tool for that.
Finally, this tool also help when your potential customer go inactive. It helps by bringing them back to live on your website. It's a necessary feature need for boosting your landing page conversation rate.
#4. Marketing Automation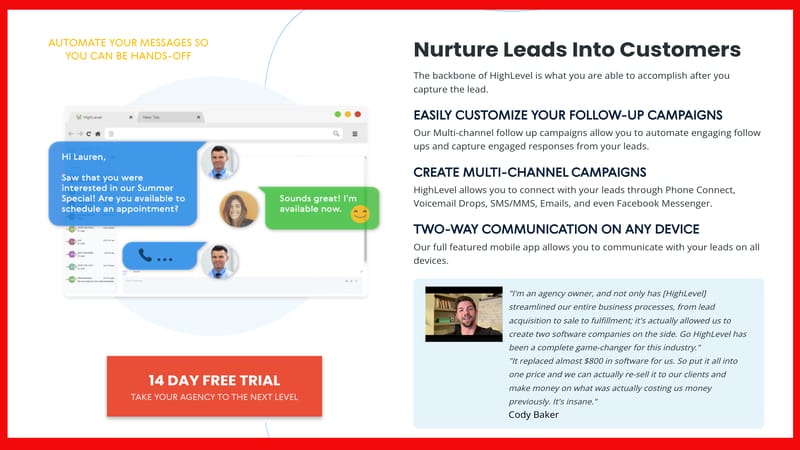 GoHighLevel helps to automate your marketing processes and workflows such as email automation, landing page tracking, and social media marketing automation.
By using GoHighLevel Marketing Automation, you can increase your product sales by following an organized process of collecting data on the customer's journey towards making a purchase.
Each automation step can be customized with your own design elements, making it easy for you to build the perfect campaign for your audience.
Example: Welcome Email > Product Demo Request > Product Demo Download > Product Sales Page> Checkout.
Each workflow has its own tracking parameters, so you know what worked best for each stage of the funnel.
Other features include:
Reporting and Analytics. GoHighLevel makes available analytics from your campaigns such as the Google Ads campaigns, Facebook Ads campaigns, analytics from website traffic and other details.
CRM Management. With this GoHighLevel feature, you can manage customers' requests and reviews. It allows you to maintain a good relationship with customers.
Agent Reporting– The GoHighLevel Agency Reporting helps you to monitor call reporting- such as answered calls, first-time calls, missed calls, scheduled calls and the average duration of each call. It can also record your calls. It is very important if you have people working under you as a salesperson. You will be able to see how they follow and convert leads.
Customized White Label Desktop. With this feature, you will be able to give your platform the outlook and interface you desire. Your clients will get to see your business name and URL rather than that of the platform.
Email Marketing
SMS Marketing
Call Tracking
Pipeline Management
Calendar Booking

Survey Builder

Call Recording

Client Retention Tool

Client Acquisition 

Lead Automation 

Saas Builder 

Revenue Tracking 

Reputation Management 

Client Fulfilment software 

And Much More…
Learn more about Go High Level Here… 
What is Kajabi?
Kajabi is an all-in-one marketing system that provides individuals and small business owners with a platform to market and sells their product content.
One of the strengths of Kajabi is its ability to create digital content such as training portals, online courses and membership sites without any hassle.
This platform has helped content creators around the world build life-changing brands and provided an avenue to create an online presence for themselves.
With Kajabi, you can store all your created products in your ready-made library. There, customers and users can easily access your products with ease.
Features of kajabi
Let's take a look at some of the features of Kajabi and see how unique they are and how they compared with their competition.
#1. Product Creation
This is one of the Unique features of Kajabi. With this tool, you can create your products from the scratch. Not only will you be able to create the products, but you can also host them on your already-built domain.
You will also be able to classify the products into different categories to aid easy access. This feature comes with an automated publishing tool that helps automate the process of creating the products.
Examples of products that can be created with Kajabi include;
Online Courses
Virtual Yoga retreat
Ebooks and Pdfs
Membership site
Podcasts
Workshop series
Coaching programs
Virtual Summit
#2. Video Streaming
Kajabi comes with a fully integrated solution that allows flawless video live streams. You can upload videos faster.
It also allows you to secure a video hosting licence. With the Zapier access, you would have connected Kajabi with video platforms like Zoom or Youtube before starting the video streams.
During your live streams, you can allow your sales page to pop up at the point of mentioning it. Kajabi Video Stream feature makes the settings easier to accomplish.
You could also schedule live webinars as well.
#3. Blog Creation
In Kajabi, you have a section for blog creations. A blog is a critical part of any business one can have these days. With a blog, you create content that positions you as an authority in your chosen niche.
Rather than having to purchase a new domain hosting on WordPress or other blogging sites, Kajabi allows you to do that right on the platform.
With this feature, you can create blog posts, edit them, add tags and add meta descriptions. You can as well schedule your posts for future publishing and monitor the traffic on the blog.
#4. Email Marketing
This is one of the most efficient mediums of marketing. Kajabi has made provision for several Email marketing templates that can guide you even if you have no prior knowledge of email marketing.
It also comes with several email marketing tools that can help you automate the process such as automated email sequence, automated email broadcasts, customer database and contact management.
Apart from this, you can create different email lists. With this, you will be able to send emails that address the needs of each customer.
The good part of this is that Kajabi provides access to unlimited Marketing mails on the three pricing plans.
#5. Landing Pages
Having a landing page is crucial to your marketing strategy. It helps to effectively capture leads, collect data and drive sales. Each landing page also comes with a specific call-to-action and promotes a single offer.
Kajabi helps you to create different landing pages. It could be a product description page, a click-through page, or a lead capture page among several others. T
Irrespective of the pricing plan you sign up for, you have access to unlimited landing pages.
There are different landing page templates that you can choose from or create a unique landing page from scratch.
1-click upsell. You don't have to go through several processes to make purchases on Kajabi. With just one click, sales are made. This encourages customers to buy more.
E-commerce Management. The platform easily supports eCommerce business
Customer Database. Kajabi has a large customer database where you can categorize them according to their needs.
Unique templates. It has templates that are professional, trendy and current. It is very good for developing SEO-friendly pages.
Host Management. Kajabi is a hosted platform. There is a dedicated team that sees to the background running such as updating the platform with relevant plugins, keeping the platforms from crashing and other management activities.
Shopping Cart. People can add any of your products to their cart to come back later to make payment.
GoHighLevel vs Kajabi: Differences
GoHighLevel and Kajabi work in almost the same way but being two different platforms, there would be a few differences between the two.
Some of these are:
GoHighLevel is a platform that accommodates and works well for different marketing agencies and business setups. On the other hand, Kajabi is excellently known for its content-based products. High level can do more!
Kajabi caters more for the creation, marketing and sales of products. For GoHighLevel, it is both a marketing platform and a Customer Relationship Management (CRM) platform.
Kajabi can be used to create different online products such as coaching programs, online courses, eBooks etc. GoHighLevel cannot be used to create all these  products and more.
With GoHighLevel, your marketing and email processes can be automated; whereas in Kajabi, there is no marketing automation.
Kajabi does not support Social Media Integration while it is supported in GoHighLevel and not only is social media integrated, its marketing processes can be automated.
GoHighLevel grants access to the use of API but Kajabi does not. Rather than use API, it integrates between other third-party applications and systems using Zapier.
Kajabi's email function can be integrated perfectly with different third-party platforms whereas GoHighLevel can only be integrated with SMTP (Simple Mail Transfer protocol)
The user interface of Kajabi is much easier to navigate than that of GoHighLevel. High might seem overwhelming at first because of its robust features.
With Kajabi, you cannot conduct split or A/B testing on your websites. GoHighLevel offers that feature.
Kajabi offers a larger volume of emails to be sent per month compared to GoHighLevel. This is because of Kajabi's easy integration with other email platforms such as Mailchimp
GoHighLevel has an Artificial Intelligence bot that can help keep up with chats with your customers. Kajabi does not offer such a feature.
Go High Level vs Kajabi: Pricing
Below is the pricing breakdown of GoHighLevel and Kajabi
GoHighLevel Pricing
Agency Starter Account – $97/month
Although limited to one account, the Go High Level CRM Starter Account is a great way to start your CRM and get your Agency off the ground.
It includes all the essentials you need to manage clients, projects, and tasks while keeping track of important documents and files.
Unlimited users
1 business account
Workflow builder
Landing page builder
Campaign page builder
Pipeline management
2-way SMS
2-way Email
Agency Unlimited Account- $297/month
The Agency Unlimited Account has all the features of the CRM Starter account plus some additional benefits.  This plan lets you connect unlimited clients and employees and create unlimited projects and tasks.
Unlimited users
Unlimited business accounts
WhiteLabel desktop
Membership support and partnership program
API access
Agency Pro -$497/month
This plan is best for marketing agencies with six and seven figures. The Whitelabel mobile app can be fully customized to carry your company name and let clients track marketing campaign results.
Similar to this feature of the Whitelabel app is a no-code app builder Passion.io app that does the same thing that Kajabi does but in form of an app
Unlimited users
Unlimited business accounts
Unlimited SaaS mode
Split testing
Agent reporting
I've a detailed pricing guide for Go High Level and how you can get a discount on all of the plans.
Kajabi Pricing
Let's check out the pricing structure for Kajabi and see how it compared with Go High Level pricing plan.
Basic- $149/Month
1 site and 1 admin user. You can only set up 1 site to create, sell and market your products.
Unlimited marketing emails. The platform allows you to send as many marketing emails as you desire.
Unlimited Landing pages
3 products. With this plan, you can only create, market and sell 3 different products.
3 pipelines. You can create 3 sales funnels in this plan.
1000 active members. Active members are users that have logged into their accounts on your site and completed an activity within the last 30 days. This pricing plan can only accommodate 1000 such users.
10,000 contacts. Contacts are those people that have come into your platform either those that have subscribed, those that have not or those that have not bought anything on your platform.
Ready to use templates
Webinars and Events
Chat support
Assessments
Growth – $199/Month
10 admin users and 1 site
75000 marketing emails per month
15 products
10,000 active members
15 pipelines
Unlimited Landing Pages
Unlimited Marketing Emails
25,000 contacts
10,000 active members
Assessments
Chat Support
Ability to remove the Kajabi Branding. Removing the branding logo helps to customize your page and give it a personal touch. Once you upgrade to this pricing plan, you go to settings on the dashboard and check out the section that shows "Display Powered by Kajabi" and turn it off. Thereafter save the changes.
Affiliate Program. With the Kajabi affiliate program, you earn a 30% commission on every new customer that signs up through your affiliate link.
With this feature, you can automate your email campaigns, pipelines, events and forms.
Premium – $399/Month
25 admin users and 3 sites
150,000 marketing emails per month
100 products
Unlimited users
Unlimited pipelines
2,000,000 marketing Emails
100,000 contacts
20,000 active members
Theme Editor. With the theme editor, you can select premium themes that you can use to brand your products unique and differentiate them from other products.
Affiliate Program
Ability to remove the Kajabi Branding
Automation
The Pricing Plans for GoHighLevel are still very much more affordable for users than Kajabi.
Payment Options for GoHighLevel and Kajabi
Go High Level Vs Kajabi: Limitations
Limitations of Kajabi
There is no two-way communication. Your customers cannot get back to you if they have any complaints or feedback.
The email deliverability rate is quite low. It has a high number of bounces and emails from Kajabi that easily go to the spam folder.
The form fields are limited. It only has about 100 form fields. This means that if a particular form has 10 fields to be filled, you only have 90 form fields left to be spread across other forms. This can be a limitation especially if you have a large customer base and needs to create different segments for them.
It is not a full marketing automation platform. It works better with eCommerce
It does not have detailed analytics reports.
As a platform that provides a medium for online courses, it has no provision for offering certificates.
The pricing plans might not be easily affordable by new business owners.
Limitations of Go High Level
It does not work well with eCommerce.
It has a complex learning curve. It takes some time to fully understand how the platform works.
The cancellation process of a GoHighLevel subscription is long.
No lead scoring. With GoHighLevel you cannot predict a prospective customer's eventual response to your campaigns. Most CRM software offers this feature.
Final Thoughts on Go High Level Vs Kajabi
As we conclude on GoHighLevel Vs Kajabi, one thing is clear.
Both Platforms have unique features that differentiate them from each other. Even though GoHighLevel seems to proffer solutions to more needs than Kajabi, Kajabi also has some features that GoHighLevel does not have.
An average company wants a platform that can help them drive traffic to their websites and generate more sales in which GoHighLevel excels perfectly at that.
In all, considering all the features of both platforms and their pricing plans, GoHighLevel would be a better bet than Kajabi.
It would save you the time and money that would have been used in purchasing the different solutions on other platforms. You have everything in just one platform.
You May Also Like: