Jasper [Formely Jarvis] Vs Headlime: Review and Comparison
In this Headlime review, we will look at its features, benefits and compare it to Conversation.ai.
Writing great content is quite hard, not only does this requires great reasoning, it also occupy large chunk of your time and energy.
So trust me, it quite understandable, when most business owner or company don't have the time or resources to craft content, sales messages, and direct responses for their brand.
As important as these types of content are in today's market, entrepreneurs have to find ways on how to generate sales copy that will appeal to their customers or audiences.
And this is exactly what tools like Headlime does and other AI copywriting software that you can use to generate amazing copies for your business.
So, in this article, we'll be looking at its features, usability, pricing plan and every other thing you can expect from the tool.
At the end, you should be able to deduce if Headlime is the right tool for your kind of works or better still look into other automated sales copy generator tools.
In a bit to really evaluate Headlime, we also bring alongside a unique copywriting tool and we'll be comparing them alongside.
We'll be comparing their features, user's experience, pricing and every other thing worth looking into. With this, you'll have a better understanding of how they work and what's better for your business.
Let's go through this shall we?
What Is Headlime?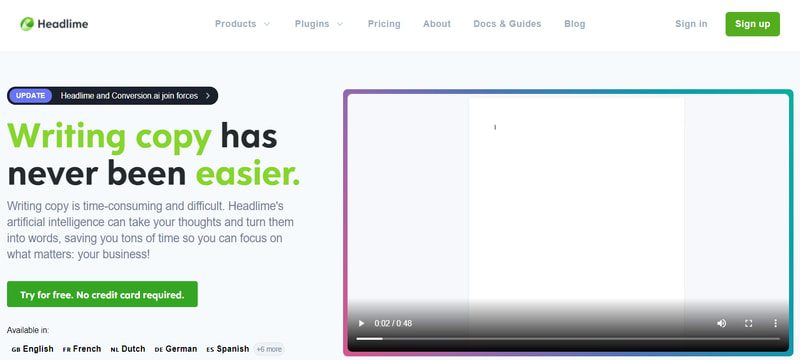 Headlime is a copywriting tool that uses Artificial Intelligence to help users generate high-quality content.
Headlime was designed to help users write persuasive marketing copies. Many people often find themselves staring at the screen wondering what or how to write for their blog, product, or adverts.
But a tool like Headlime can help you figure what to write and how to write it creatively.
Note that your writing needs to be excellent to encourage, persuade, and convince customers to engage with your business.
Good content helps brands establish trust and connection with their target customers while setting them apart.
It's why Headlime AI is an essential tool for your website. It removes brainstorming and helps you write effective marketing copies for your products/services.
In other words, Headlime;
Makes it easy for marketers to write sales copy
Features more than 1700 templates to help improve your writing
Saves user's money that they could have used to hire a freelance copywriter
Allows content to be downloaded to CSV, TXT, and Word formats
Is available in many languages for users from different parts of the world
So How Does Headlime Works?
Well, first you log in to the platform. Then you'll see several choices, including your target audience, name of your product, language, the tone of the copy, and description of your product.
You should give clear information about these aspects for better results.
You can then choose among the various templates offered, then once you are done, click the "Generate" button, and this software will do the rest.
Who's Behind Headlime?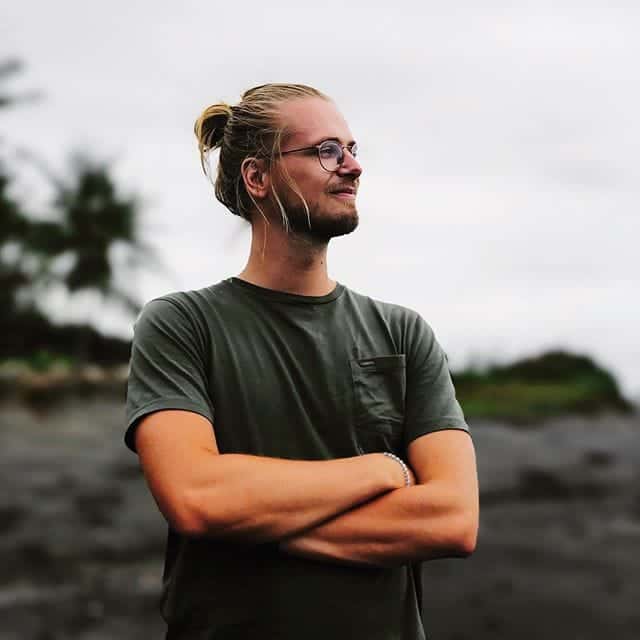 This service was founded by Danny Postma, an entrepreneur, in 2020. Initially, he used it as a Google Spreadsheet to do his projects.
Danny was struggling to write perfect headlines that would catch the attention of his audience.
So, after spending too much time brainstorming and researching, he decided to add copywriting features to this tool.
He tested those features with various clients and realized that their conversion rates had increased after using Headlime.
Tyler Rozema is also a copywriter who works at Headlime. He's skilled in website analysis, optimization of conversion rates, and online marketing.
He's responsible for the creative thinking of this company.
Headlime Review: Features
Below are the key features of Headlime and what to expect while you the software to generate content for your business.
#1. AI Blog Assistant
Writer's block is a real thing. But, Headlime can help you with that. The service can write unique engaging blocks for you within a short time.
Therefore, you'll never miss a deadline, and you don't have to worry about the uniqueness of the content.
This feature can also help you write in different languages, and the article will be free of grammatical errors.
#2. AI Copywriter
Headlime uses artificial intelligence to write unique copies within seconds. It is powered by Generative Pre-trained Language (GPT-3), which generates human-like copies.
You don't need to understand how GPT-3 works.
What's essential to know is that Headlime can automatically generate a persuasive marketing copy in seconds using this tool.
#3. AI Page Builder
Landing pages are where your conversions begin. Therefore, they are a crucial part of your marketing strategy.
But, it's not easy to write, design, or code a great landing page that attracts your audience. However, not to worry since you can rely on Headlime's AI page builder to do that for you.
#4. Copy Generator
A good marketing copy is imperative if you want to make more profits and your business to grow. It describes your target audience and how your business can benefit them.
Headlime has many pre-made professional copy templates. Therefore, it simplifies the process of copywriting compared to other traditional methods.
Using these copies, one can create an engaging copy for their product, service, or business. You only need to provide some basic information, and this service will customize a copy for you.
Additionally, there's also a personal database where one can store their marketing copy and retrieve it anytime they want.
#5. Document Generator
Headlime is also used to generate documents. Using the templates, you can automate the process of document generation.
You can also replace the variables if you want and store your information to make it easy to create many documents.
For instance, if you are sending documents to your clients, you can key in their name and personal information like address, phone number, etc., and the information will fill in automatically.
Also, note that several document formats can be stored in a CSV file to enable easy access. As such, you can quickly generate documents like invoices, emails, letterheads, etc.
#6. Copy Inspiration
There are inspiration features for those who want to see examples of how to write a great copy.
Once you are logged in, you'll see various examples, and the company continues to add new ones every week.
These examples are placed into specific categories. Therefore, you can search for the one you need.
#7. Headlime for Teams
A company can quickly grow if individuals work together as a team.
Thankfully, Headlime allows teamwork, which means that the project can benefit from the ideas and input of different team members.
Headlime allows different users that make a team to create projects and templates that can be used by other team members.
There's no big difference in using Headlime individually and as a team. However, in the latter, your team members can see your edits and continue working with them.
Headlime Pricing
Headlime features three different pricing:
Pro-which goes for $29 per month. Here, individuals can access unlimited templates, do unlimited projects, and are offered 500 credits per month. It also includes a landing page builder, and users can add variables as well as templates.
Business- it costs $49 per month and includes all features of the pro version only that the credits are increased to 1250 per month. It is best for marketing professionals and businesses that are still growing.
Agency- for $89/month users get 3000 credits every month and allows up to five team members. However, you can add other members for a fee of $15. This plan is suitable for marketing agencies that serve various clients.
If you are wondering what credits are, they are simply what is used to generate content on this AI-powered software.
Each credit offers unique AI content. If you've used all your credits, you can purchase additional ones. We should also mention that Headlime offers a free trial, which requires no credit card.
However, this version only features 20 credits that aren't enough to try all Headlime's templates and features.
It's why they allow the option of upgrading to 7 days on your free account. This will give you more credits.
The company also offers a 14-day money-back guarantee for those who aren't satisfied with the service. There are also other additional discounts that you can check on their website.
Headlime VS Conversion.ai
Headlime and Convesion.ai are both AI copywriting services that use GPT- 3 technology. Note that artificial intelligence helps simplify your job.
Therefore, it allows you more time to focus on selling your products quickly and easily. It's why many software tools in the copywriting industry are using AI-powered technology.
Thus, if you need to write an effective copy for your advert, product description, or your blog, you can take advantage of these tools.
Now, while they are both popular, some reasons can make you favor one over the other. These include pricing, features, and ease of use.
So let's compare these software tools to help you decide the best one for you.
What is Conversion.ai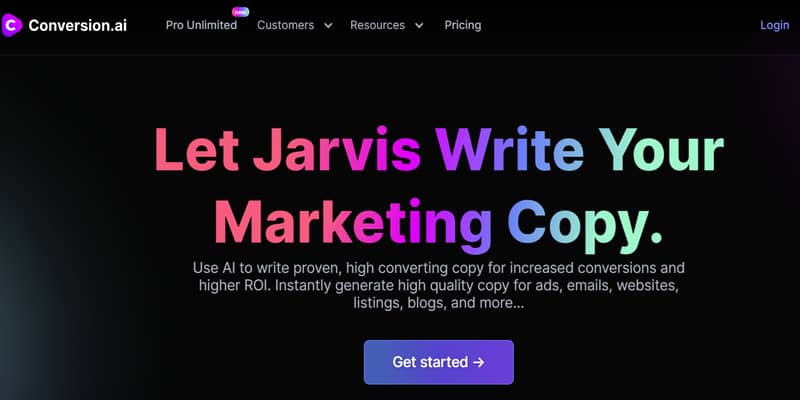 Like Headlime, Conversion.ai is a copywriting tool that still uses artificial intelligence to generate copies with a high conversation rate.
Conversion.ai creates unique content using machine learning. It can generate converting copies and persuasive marketing messages within seconds.
While it can generate ideas for a new copy, you can also use it to improve existing content and make it more interesting and engaging.
This service was created by the UseProof company. It's designed for those who want to increase leads, sales, and conversion rates on their website.
Conversation.ai can help you create catchy email subject lines, Attention, Interest, and Desire framework, SEO blog posts, including the title and meta descriptions, product description, blog topic ideas, etc.
Let us now see what Conversion.ai has to offer;
Intuitive platform- the website is designed to give users an incredible experience. You'll find many tools on the interface hence you don't have to navigate to different pages.
Several copy options- Jarvis provides many options for individuals to choose the tone they want for their content. Therefore, you don't have to pick an option only because it's the one available. One can even favorite an output of their liking, to let the service know the content type that they like.
Great copies- Conversion.ai allows users to choose the tone they want. This thus allows them to create quality copies that their target audience relates to. Readers will not even suspect whether or not you wrote the content as words are carefully selected to match the tone of your business.
Sorting content- most users generate various copies using Conversion.ai. This is where the content tab comes in place. It allows you to pick those you like and delete those you don't.
Headlime VS Conversion.ai – Features Compared
Now that we've already talked about Headlime's features and what makes it unique. Let's compare it with conversion.ai and see what stands out.
SEO Tool Integration
SURFER SEO is integrated on Conversation.ai. As such, it simplifies the process of writing content and helps you create a more optimized copy for your audience.
Headlime is not integrated with any SEO tool, unfortunately.
Content Templates
Both platforms include a wide range of templates to choose from.
Convesion.ai has named templates, including Attention, Interest, and Action (AIDA) framework, stories, blog posts, SEO metatags, blog intros, etc.
On the other hand, headlime has many pre-made templates for writing landing page content, blogs, marketing copies, document generators, etc.
You can evaluate these websites individually to check which one has the template you need.
Headlime vs Conversion.ai: Pricing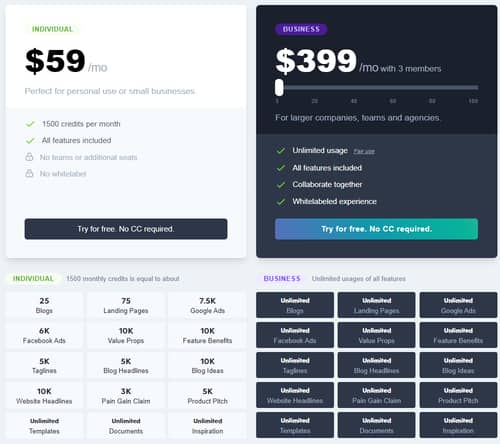 Headlime offers various pricing tiers, the lowest starting at $59/month while the business package starts at $399 as we have already mentioned above.
However, while the starting price is still $29/month, subscriptions depend on the number of words generated in Conversion.ai.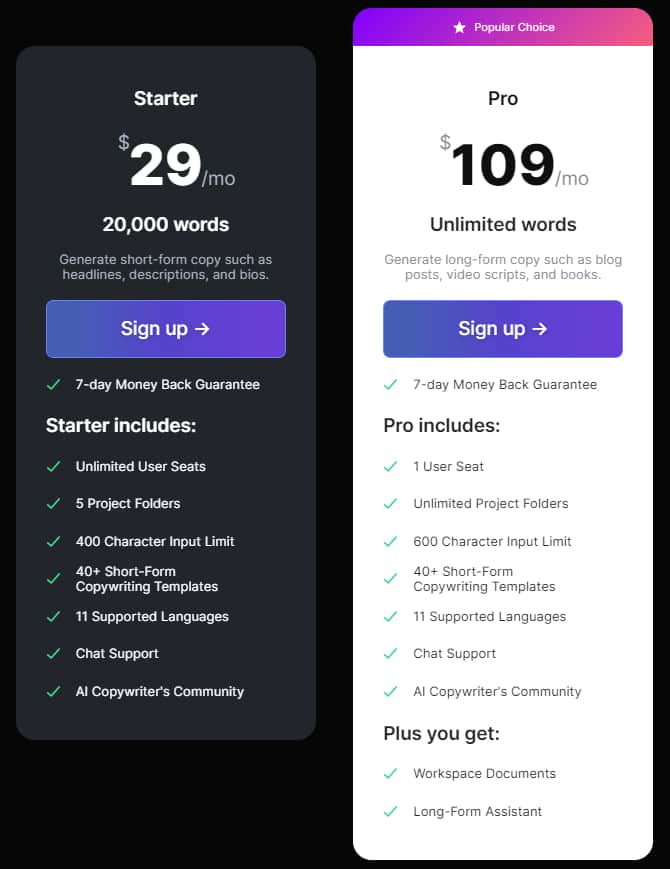 The software counts the words a user generates in monthly quotas.
For instance, if one generates 300 words per day, that will be their basic plan, whether or not they reach this monthly limit.
But those who generate more words, pay more money. Also, note that you can decide to increase your word count at an extra fee of $10 for 5000 words.
User Interface and Ease of Use
The interface of both platforms is well-designed to offer a better user experience. All of them have an organized dashboard that has all the necessary information.
However, comparing the two, we feel that Conversion.ai has a better user interface.
The dashboard is neatly arranged with templates that are clearly named. Also, these templates are grouped into various categories, depending on their marketing list.
Therefore, one can easily search and find the type they want. We also should mention that it is user-friendly.
As long as you have an idea of the copy you want to create, you only need to choose the template to do that.
User Community [Facebook Group]
Conversion.ai has a large user community on Facebook. Here you'll interact with other people who also use this platform.
They share their experience in using the software, thus giving you an idea of how you can use it on your content.
Also, the founders of this platform are active on this group to help answer questions from clients and launch new products.
Headlime doesn't have this community. Thus, you'll have to rely on their customer support team if you encounter any problems.
Quality of Support
Headlime offers excellent customer support where clients can contact their team in several ways. You can get in touch with a customer support professional using the support chat during the day.
Or you can send them an email indicating your queries or concerns via support@headlime.com. They'll respond as soon as possible.
Conversion.ai is a product managed by the UseProof Company, which has been known to offer exceptional customer service.
Therefore, one can also expect better support using Conversion.ai. On the dashboard, you'll see a live support chat that you can get in touch with their customer support team.
Their response time is also quick like Headlime's.
Learning & Training Portal
Conversion.ai offers training through documentation. They host various webinars to demonstrate how businesses can use this service.
Additionally, these webinars are recorded, meaning you can access them later on. There's also a training academy that has many short videos explaining how to use this service.
They also have text documentation that shares many articles, FAQs, tips, and tricks.
Headlime offers video training on their site. Once you access the website, you'll see a video demo on how to use Headlime to create an excellent copy for yourself.
There are also many articles written explaining how to use this service on your content, available on the official website.
Conclusion
As pointed out already, writing great content is not enough to achieve your desire result, you need to put in consideration the cost, and time of producing the content.
While hiring copywriters might be an expensive choice, using AI copywriting software might as well save you the cost and time of getting it done.
Headlime and Conversion.ai are both great tools when it comes to writing great copy for your business but choosing one of them totally depends on what you want.
I discovered conversion.ai is actually more affordable and saves more cost compared to Copypro.ai and it also comes with more unique features.
There you have it, Headlime review with conversion.ai comparison. Let me know what you think about the tools.
So which one is it going to be?

or
Learn More: