High Ticket Dropshipping [The Ultimate Guide For 2023]
Guessed you've heard about High Ticket Dropshipping and you've decided to check it out, right?
If that's the case you certainly need not to worry as we'll be doing justice to it in a few minutes now.
Trust me, if you really want to make money dropshipping, then high ticket dropshipping is something you should look into.
I'm not saying it's overly easy, but with the right guide and information you'll be able to set up the business for success in no time.
With how trending the eCommerce industry is fast becoming, there are several alternative methods you can explore to run a profitable business. And High-ticket dropshipping is top of the list.
Maybe you've heard it mentioned once or twice before by your colleagues. Especially now, the dropshipping industry is experiencing growing demand and increasing competition.
But if you can set yourself up properly, high-ticket dropshipping can bring even higher profits.
This is because the business model itself saves you some cost because as a seller, you don't have to worry about keeping inventory of those high ticket products.
Instead, you promote them online and when you make a sale, you forward the order to your supplier, who in turn forward the high ticket product to your customer.
Your profit, however, is going to be the difference in the cost of the product and how much your customer pays you for the products.
So as you can see, the risk involved is minimal
So in this ultimate guide, you'll understand what it takes to engage in high-ticket dropshipping and be profitable about it.
But before that, let's quickly go through the basics and what to expect while planning to start your high ticket dropshipping business.
What is High Ticket Dropshipping?
If your product costs more than a thousand dollars, you can consider your item to be a high-ticket item. However, this doesn't mean that high-ticket dropshipping is only for items over the thousand-dollar mark.
You can use this concept for other items as well, especially those with a higher profit margin.
The actual cost of your product isn't the primary criterion.
The idea behind high-ticket dropshipping is selling more expensive products to gain a larger profit margin. The greater your cut, the more money you make on each sale.
Imagine selling an item worth $10 and you get 30% out of it. For every item that you sell, you only gain $3 per item sold.
If you sell a product worth $400 and you get 30% out of it, your profit would be $120 for every item that you sell.
However, use caution when pricing your product. You will need to consider other factors that can affect the marketability of your product; factors requiring you to take a higher-level approach towards marketing your product.
Pros & Cons of High-Ticket Dropshipping
With a significant profit margin, you have more freedom to adjust the price of your product than you do when selling cheaper products.
But aside from having a better profit margin built into your products, there are other pros and cons involved in high-ticket dropshipping.
We will discuss these points in greater detail in this section of the article. First, let's look at the benefits of dropshipping high-ticket products.
The Advantages
Below are the Pros or Benefits while you should start looking into High Ticketing Dropshipping Business now.
If your business dropships, then you probably must have followed the trends and shipped those items that sold the most.
After the hype (and the inevitable market saturation that follows), you move on to the next trendy product on the market.
This business model will change when you do high-ticket dropshipping. You would focus more on selling less trendy products, but at a premium price.
For example, instead of selling cell phone cases, you could sell an e-bike (a less trendy product) for a larger margin of profit.
Swap out your old products for something that will bring you higher profit margins. This is where advanced marketing strategies will come into play.
This will also reduce the number of external factors that can affect your sales.
Business trends won't be a problem for you because you're selling a product that's consistent across the market.
You will face less competition in the market, lending more sustainability to your business.
High-ticket dropshipping eliminates other overhead costs that are usually incurred in running a fully operational business.
For example, you won't need a warehouse or stockroom for large amounts of inventory.
Hiring employees should also be less of a hassle for you. You likely won't need as many employees as other businesses.
You will only need a few trusted employees to assist you in the job, or you may even choose to run high-ticket dropshipping yourself.
Engaging in high-ticket dropshipping allows you a lot of wiggle room. For one thing, you won't need a local storefront.
With high-ticket dropshipping, you can sit back and manage your business while still earning a lot of money from your sales.
And you're not limited to a single product. You can sell multiple high-ticket items as long as you have the capital.
With high-ticket dropshipping, you have a lot of choices. A lower volume of customers will translate to more time for what matters–and without sacrificing profit.
Compared with selling a cheaper product, only a certain niche can afford higher-priced products.
Your customers will probably fit a finite, particular demographic, thus decreasing the incidence of customer support tickets received on a monthly (or even daily) basis.
You'll be able to improve your service and focus on one customer support ticket at a time, allowing you to remedy each complaint.
You'll receive more positive customer feedback, contributing favorably to the overall health of your business.
The Disadvantages
Well as you may have noticed not all is sunshine and rainbows when it comes to High Ticket Dropshipping.
Below are some of the Cons or Challenges associated with high tickt dropshipping.
While you will spend less on overhead expenditures, you will still need a large cash reserve for unexpected orders.
Although possible, it can be a challenge for startups planning to shift their business model to high-ticket dropshipping.
Your startup will lack the regular customers of an established dropshipping business.
It can take time to build a customer following, and until you do, it will be harder for you to sell your products and grow your business.
In high-ticket dropshipping, the market favors seasoned eCommerce marketers over newbies. Marketing and selling their products is less of a challenge for veteran marketers.
If you are new in the eCommerce industry, then you will need to know something about advertising, marketing, branding, and sales funneling.
These areas of competency separate experienced eCommerce marketers from the newbies.
Thus, it is ill-advised to embark upon high-ticket dropshipping if you're not versed in these areas. You'll just get stomped and left behind by other, more competitive businesses.
How To Start High Ticket Dropshipping From Scratch
The dropshipping business model itself is very straightforward. The only stress with starting one is importing your products to your website and creating your online store to sell your high ticket products.
Be it as it may, this can be achieved in two ways using either the popular Shopify platform or WordPress for dropshipping.
With the help of these platforms creating a website can be done within a few clicks installation process.
The good thing is I already created an article on how to set up a dropshipping website with WordPress/WooCommerce from scratch.
Click and open the link on another tab and read once you're done and ready to create your dropshipping website.
For Shopify lovers, I've also included a Shopify Guide on how to set up your Shopify store to start selling products online.
Requirement For Starting Your High Ticket Dropshipping Business
For starters, you'll need a self-hosted website which entails a branded domain name and a web hosting account. (For WordPress)
Or a Shopify account with branded domain name with products ready to be added. (For Shopify Platform)
In summary, you'll need the following:
Domain Name (The name of your website)
Web hosting account (WordPress)
SSL certificate (WordPress)
Dropshipping Plugin (WordPress)
Shopify Dropshipping App (Shopify)
A Website Theme (Shopify & WordPress)
High Ticket Products
Reliable Supplier
Payment Gateway
Everything listed above can be categorized into TWO things which is the WordPress Platform and the Shopify Platform you'll be using.
#1: WordPress/WooCommerce Platform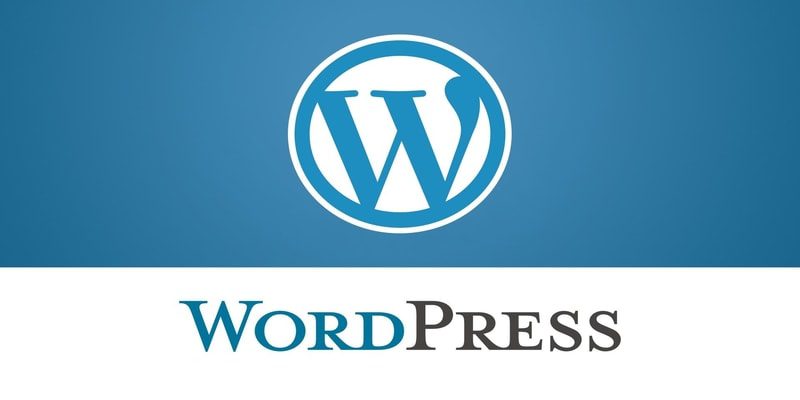 For this, you'll need the following which are;
A domain name
Web hosting account
And SSL certificate to set up your website on WordPress.
For more details, check my article on how to install WooCommerce on your website
Luckily for you, you can get both domain name and SSL certificate for free when you buy web hosting with Bluehost.
The Domain name usually costs around $12 upward and SSL certificate around $20 upward. But both are free when you buy your web hosting account with Bluehost which is usually less than $3 per month.
Why Bluehost?
Well, Bluehost is a large reputable hosting company that has been in business since 2003 and they are currently hosting over 4 million websites across the world.
They also have a special package with WordPress.org and WooCommerce which makes their one-click installation very seamless.
Bluehost has a 99.9% uptime guarantee, which means you can forget about your website slowing down.
Using Bluehost is going to save you time, money and a whole lot of stress. Below is the list of other reasons you should consider Bluehost as your hosting company:
Great customer support 24/7
Established hosting company
Officially recommended by WordPress.org
Free Domain name
Pre-installed WordPress
Free SSL certificate
30 days money-back guarantee
Now that we have that out of the way, the next step is to set up your domain name and web hosting account with Bluehost.
Then use the one-click installation button to install WordPress on your site before we process to the next step.
For more details, check my article on how to set up your domain name, web hosting & install WooCommerce on your website
#2. Shopify Platform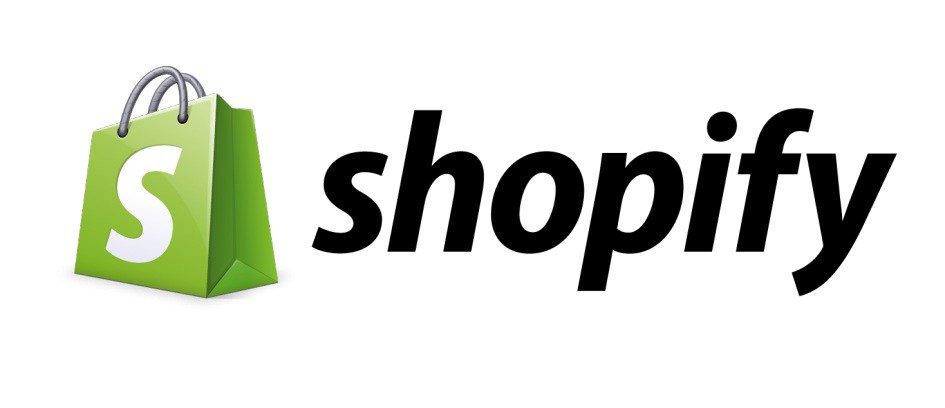 Shopify powers over 500,000 online stores. A large percentage of e-commerce stores are powered by Shopify.
With Shopify, you can automate your dropshipping and grow multiple stores to profitability and beyond.
The large percentage of successful stores powered by Shopify is proof that Shopify is a great asset for e-commerce and dropshipping store owners.
And the reasons for that aren't far-fetched.
Shopify has a lot of features and tools
It integrates well with a lot of third-party apps and tools
Gives more flexibility and you can tweak the designs perfectly to your taste
If you're just starting as a dropshipper or a Professional, Shopify dropshipping is a good platform and offers a lot of resources you can utilize for your growth.
Ready to set up your store with Shopify? Then check out my guide on how to create a Shopify store.
Sourcing For High-Ticket Dropshipping Products
For your high-ticket dropshipping business to work wonders, you'll have to think smart and stay ahead of the game.
You'll need an exceptional source and effective marketing. You also have to consider if your product is worth buying for the price that you will set.
Where To Find High Ticket Dropshipping Products
As a high-ticket dropshipper, it's important to find the perfect supplier. Most of these suppliers are based in China which can cause problems such as long shipping times and lower quality goods.
If you want your customers to be happy with their purchase then make sure they get what they paid for fast!
Or ask yourself, would you wait for 4weeks for a $500+ item? I certainly think not!
There are dropshippers out there that use local suppliers and offer competitive rates. If you're looking into high ticket items like these then be sure to check the supplier's shipping times before buying!
Below are platforms for sourcing high ticket dropshipping products
#1. Spocket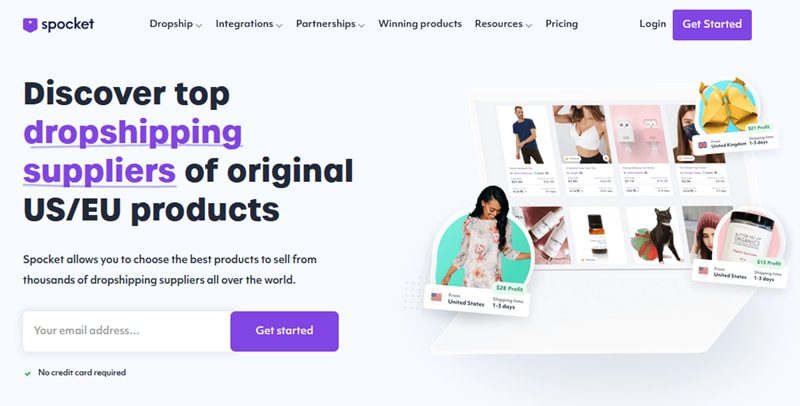 Spocket is a dropshipping platform that helps you to find products from different suppliers in the United States and Europe, then ship your goods to your customers.
With their large database of US vendors, Spocket allows you to make money by simply allowing them to do all the work for you.
As you may have noticed, Spocket isn't exclusively created for high-ticket dropshipping products. Most people use it as a regular dropshipping marketplace to source for any kind of product.
However, they do offer a lot of products above the $100 price tag.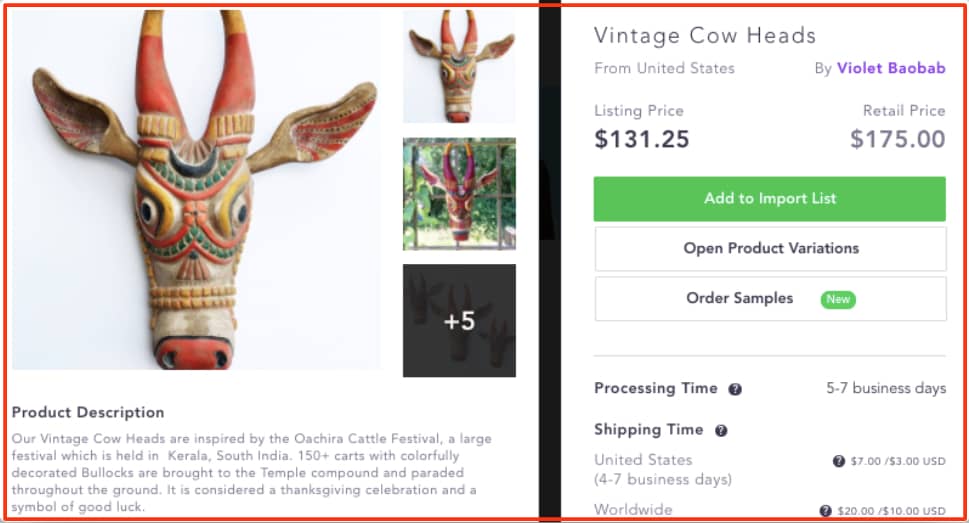 So theoretically, Spocket is one of the best platforms out there for high ticket dropshipping. Here's a detailed review on Spocket to learn more about the platform.
Best part, Spocket is actually free to start with. You can create a free account right now and browse through the list of high ticket product catalog.
#2. SaleHoo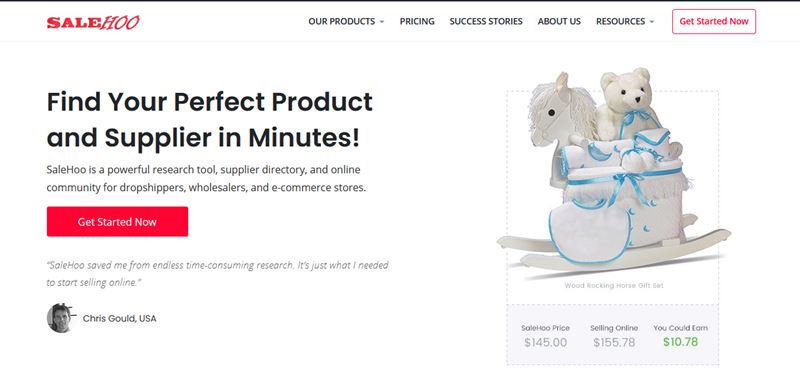 SaleHoo is a dropshipping company that offers an online marketplace for entrepreneurs to buy products at wholesale prices and sell them on their own websites or social media pages.
Not only does SaleHoo offer the best deals, but they also provide sellers with 60 days of free marketing credits to make it easier for you to get your business off the ground.
Just like Spocket, SaleHoo also gives you the opportunity to dropship both low ticket and high ticket dropshipping products with over $50 profit on your website.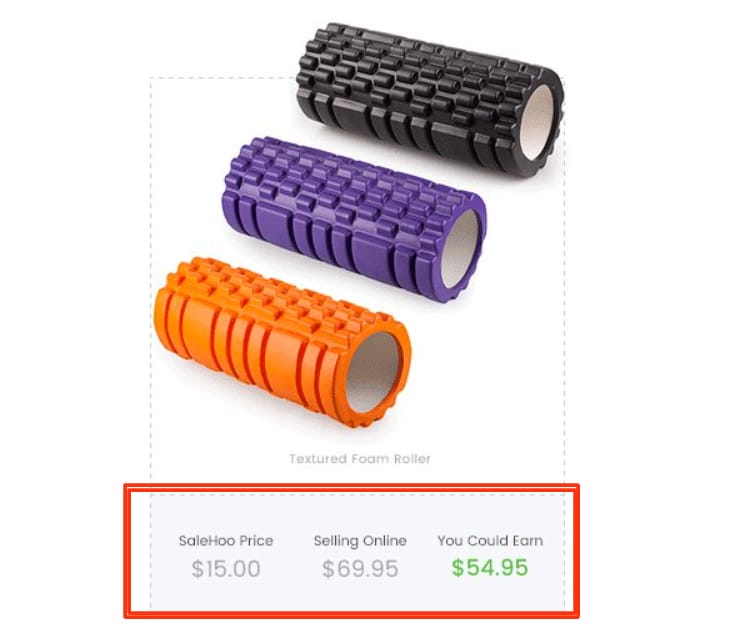 Another interesting part with SaleHoo is that they allow you to filter products based on where you want to ship them to.
Using such a filter option also gives you the ability to sell high ticket products that will be deliver faster to your customers.
Factors To Consider While Sourcing For High Ticket Products
There are a lot of factors to consider when sourcing your high-ticket products. Below are some factors to key in on:
1. Check The Quality of Your Product
The first thing to confirm with a supplier is the quality of the product. For smart buyers out there, they will only pay a premium price for a premium quality product.
So for your business to be successful, your product must meet the highest standards.
Make sure that your products are high quality and your customers are getting value for their money.
And ensuring excellent customer service will offer your customer a premium experience as well as a premium product.
2. Find an Expert, Reliable, & Customer-Friendly Supplier
Since you're sourcing high-ticket products, you can only choose from those suppliers that can produce your products to your specifications.
Thus, it's necessary to find a reliable supplier that provides expert customer support.
It's worth emphasizing that when engaged in high-ticket dropshipping, to some extent you are gambling with great financial exposure.
To mitigate this risk, you must source your products from a reliable supplier.
You need a supplier that is on top of your order from start to finish. Seal your transaction from end to end and have a contingency plan. Always ask for the refund policy of your supplier.
3. Fast & Efficient Delivery Service
Fast delivery will always please your customers. Nowadays, they almost expect to receive their product within days of placing their order!
And it must arrive in perfect condition.
That's why you have to make sure that your delivery service is fast and careful with their cargo.
Remember that your customer is paying a considerable amount of money. They want to receive their order on time!
4. Check the Market for Competitors
In the eCommerce industry, it is a healthy habit to check on the competition regularly.
You can use an online tool, such as SaleSource, to discover top-rated suppliers and analyze your competition.
Check the market and observe how your competition sells their products, even though they are expensive.
Learn what marketing strategies they employ and formulate a better plan to beat them.
An in-depth Shopify market research is essential for success in this line of business.
Combine it with an outstanding marketing strategy and excellent customer service, and you will see your business at the top in no time.
What to Look Out For in Your Supplier?
As mentioned earlier, your high-ticket dropshipping business will rely heavily on your supplier.
Thus, it is paramount to look for a trustworthy and reliable supplier that can deliver when needed.
Here's what to look for when finding a good supplier:
1. Accountability
We're dealing with high-ticket products here. And if even one item is compromised in terms of quality…
And you aren't able to resolve the problem satisfactorily, then your whole dropshipping business could sink like a torpedoed ship.
This is especially true for startup high-ticket dropship businesses.
That's why you have to look out for a supplier that's accountable for the quality of their products.
There's no such thing as a "minor defect" in high-ticket products. Your supplier must be responsible for this and take action as soon as you receive a complaint.
2. Expertise
I've been emphasizing the importance of quality to high-ticket dropshipping success. And this will be a function of your supplier's expertise in making the specified product.
If a supplier claims to be an expert at producing a variety of different products, then you can bet that they are not experts but trade vendors.
You should look for a supplier that has experience in producing and exporting high-ticket products.
An experienced supplier will understand the legal requirements involved in the production and shipping of the product.
An expert supplier should also have a network of "sub-suppliers" that can provide raw materials and other necessary materials for the production of your high-ticket product.
This way, any lack of raw materials won't be an issue in production.
3. Capability To Produce
High-ticket products are usually produced upon receipt of order. And, who knows, maybe you'll receive 10 orders in a single day.
That's why the supplier that you will choose must be capable of producing additional products on short notice.
Any failures in the production process will lead to a delay in shipping the product. This won't be good for the reputation of your dropshipping business.
Ask your supplier for their average production time and lead time requirements. Take only those orders that your supplier can fulfill.
This ensures that your supplier produces your high-ticket product on time and without flaws.
4. Communication
It will be beneficial for all involved if you can communicate well with your supplier!
Thus, you'd want to find a supplier that has an English-speaking staff for direct and open communication.
A good supplier will not hold back any crucial information that can affect the flow of your high-ticket dropshipping business.
If your supplier can't meet the deadline for production, they should inform you immediately instead of waiting until you ask for updates.
This way, you won't deal with negative feedback regarding delays.
Best Niches For High-Ticket Dropshipping
To be successful in high-ticket dropshipping, choose a specific niche to tackle. It will be a lot easier to select a reliable supplier once you have a niche in mind.
Do some research on the manufacturing of your desired product.
One thing to keep in mind when selecting your niche is the fact that not everyone will buy your product simply because it is expensive.
That's why your product should be able to sell itself on its own. You can check trending products on Google Trends.
To make life easier for you, we've compiled the best niches in high-ticket dropshipping. These niches are constantly in demand, even if the prices are higher than usual.
Tech and gadgets
Home appliances
Jewelry or watches
Cars and other automotive equipment
Instruments
Massage chairs and other unique furniture
Lifestyle items
Sports, recreation, and hobbies
The above list of products includes some of the common high-ticket items ordered from dropshipping companies.
Buyers have been more than willing to spend extra dollars on these kinds of items.
High-Ticket and Low-Ticket Product Niches Examples
There are differences between high-ticket and low-ticket niches. Low-ticket niches pride themselves on selling products fast.
On the other hand, high-ticket products are harder to sell because of their price.
Low-ticket niches
If you noticed, low-ticket niches are usually those that people need on a day-to-day basis. These items are frequently in use, making them prone to breakage.
That's why these items sell in a lower price range.
Here are some examples of low-ticket niches:
Kitchen tools
Bluetooth speakers
Cheap clothing
Make-up
Toys
Phone cases
High-ticket niches
High-ticket products are usually luxury items that you don't need, but you have a strong desire to acquire (if you have the budget for it).
Here are some of the high-ticket niches you can explore aside from the ones mentioned earlier:
Blast-Proof safes
Luxury furniture
Kitchen islands and other equipment
King-sized and Queen-sized beds
Garden decor
High Ticket Dropshipping Product Niche Examples
Selling higher-priced goods means less frequent sales but when those big ticket items do sell it's worth the wait! Trust me. Selling a $10 product 50 times a month will make you the same amount when you only sell a $500 ticket product.
#1. Edge Chair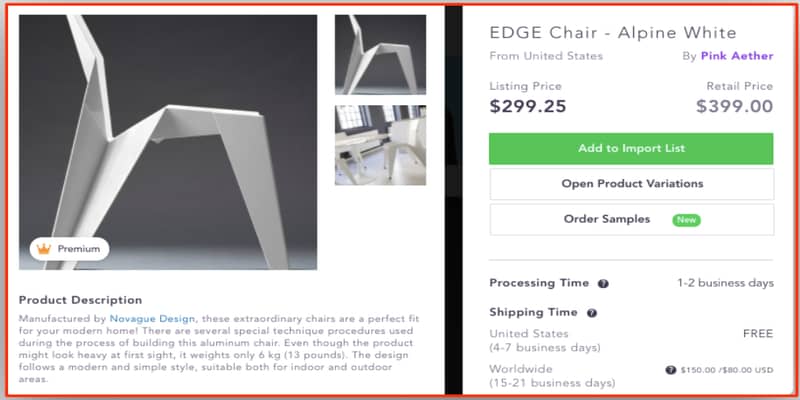 A home is not a house without beautiful furniture. The consumer has caught the "home-improvement bug," and it's here to stay!
With so many options available, you could be the supplier of their dream decor!
For example, this futuristic chair is a one-of-a-kind design that will turn heads with its sleek modern appeal any time people see your clients' homes as they walk in through what was once just a doorway or passageway into another room.
#2. Swing Hammock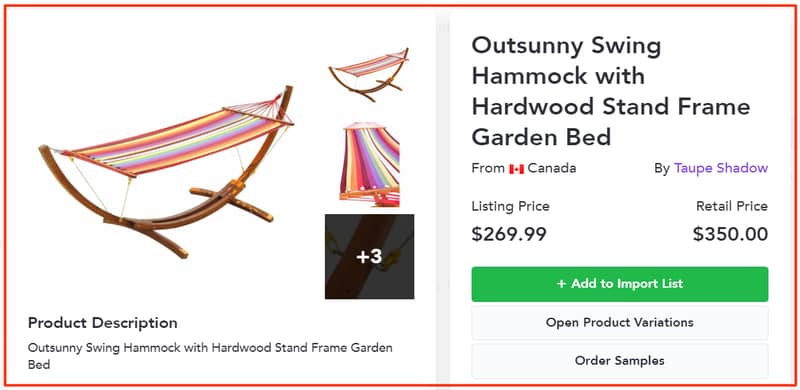 This is the second high ticket drop shipping product on this list. It's offered by a supplier from Canada, which means that it will probably be great to have when you're living there!
In fact, since the weather in Australia can get warm for most of the summer, it would make an excellent addition to your backyard or patio furniture set-up and provide some extra shade during those warmer months.
The hammock itself has been built with larch wood – tough enough to withstand any climates while remaining waterproof and durable as well thanks to its quality construction materials like copper nails (which are also rust-resistant) and rope ties made out of strong polyester fibers.
Not only does all this longevity ensure safety but comfort too!
#3. Vintage Cow Head Sculptures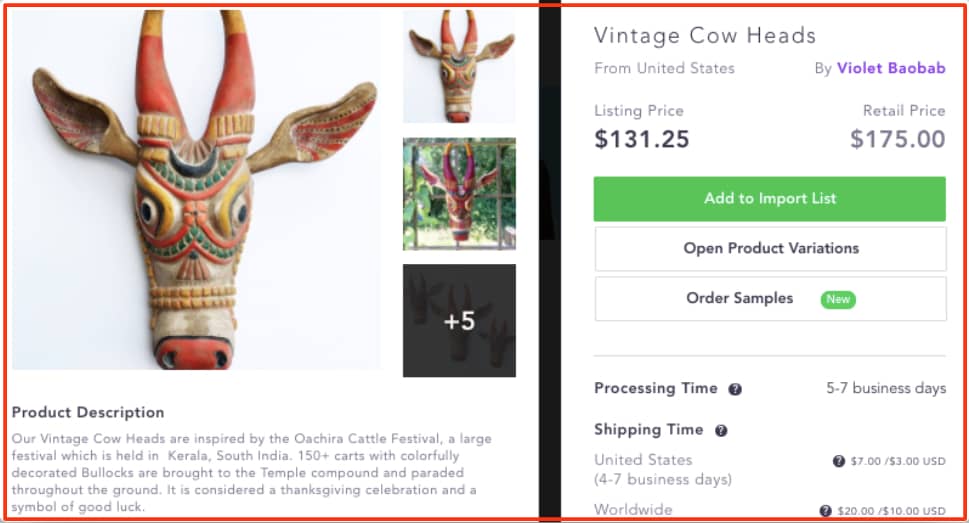 People are always looking for ways to make their homes feel unique and lavish.
In the past, people would buy posters of generic images or statues from home improvement stores in order to adorn their living spaces with something that didn't look too unoriginal.
However these days there is a new trend emerging; customers want pieces they can call truly theirs- not mass-produced art you see all over social media accounts like Pinterest.
They don't just want paintings on the wall anymore but instead sculptures or other design elements that will help create an atmosphere unlike any other room in your house!
Setting-Up Your High-Ticket Dropshipping Website
After a successful installation of your website it's essential to have a fully functional website to make orders and payments easier for both you and your customers.
Before opening your virtual store to your valued customers, here are some steps you'll need to take:
#1. Invest in Web Design
When we say web design, it's not just the visual aspect of the website. It also includes the functionality of the entire website and each part within it.
This will make it easier to establish your brand in the business, even if you're just a novice.
A professional-looking website is more appealing and thus more trustworthy than a poorly designed website.
Your customers need to have enough confidence in your business to trust you with their money.
Included in the web design is the content of your website. Your website should be visually appealing and informational.
Make sure to have enticing product descriptions to increase your overall sales.
#2. Make Sure Your Website is SEO-friendly
Search Engine Optimization (SEO) is a term that is familiar to most in the eCommerce industry.
This involves setting and optimizing your website so it will rank higher on search engines when searching for a keyword.
For example, when looking for a massage chair, the first link that Google will give you is the website for Ogawa.
Well known for selling massage chairs all over the world, it ranks first in Google's organic searches.
#3. Include a Blog on Your Website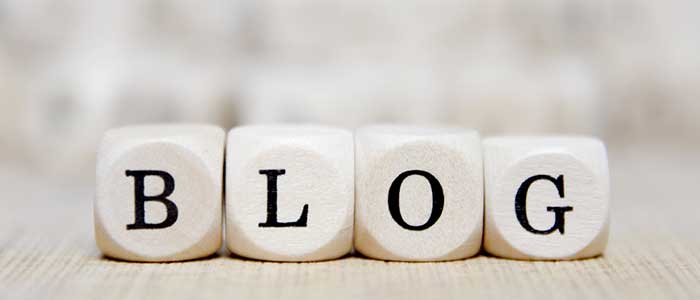 A blog is where you put most of your informative content regarding the latest news, updates, and other trends for your niche.
It's also important for link building. If you gain backlinks from other websites, this will increase your website's authority.
Normally, this takes a lot of time. That's why there are blogger outreach services available to help you establish valuable links with other websites.
This ultimately helps the SEO of your website, which makes your business easier to find on search engines.
#4. Create Content That's Interesting For Your Niche
Content is everything that you can find on a website. It includes texts, headers, photographs, product descriptions, etc.
If people don't find your website's content interesting, they'll leave and go elsewhere.
To utilize your content to its maximum potential, you should know about sales funneling.
It is the entire buying process of your potential customer, from the moment they notice your product, through the actual purchase of your product, and then afterward.
You can use your content to funnel your customers to buy your product.
Stunning photographs and interesting product descriptions can work their magic, but seasoned digital marketers know the vital role content plays.
#5. Include a FAQs section on your website
It's really helpful for a high-ticket dropshipping business to have a Frequently Asked Questions (FAQs) segment on their website.
It helps in increasing your credibility as an established business.
Here are some topics that you can include in your FAQs:
Delivery time
Payment process
Return and refund policies
Privacy policy
Discounts and other promos
Warranty policy
Including the FAQs section on your website will also lessen the number of customer service tickets that your business will receive.
Just imagine the time and hassle it takes to answer the same questions every single day. It would also be easier for your customers if they can find answers to commonly raised questions themselves.
#6. Customer reviews and trust badges
As a customer, the last thing you want when ordering a high-ticket product is to order it from a non-existent store.
That's why this section is very important for your high-ticket dropshipping website.
Customer reviews and trust badges are important for this kind of business because it reflects other customer's experiences with your store.
They verify that your store is trustworthy and capable of handling such high-ticket products.
Marketing Your High Ticket Dropshipping Products
After you must have created your store, the next time you need is traffic and lots of it.
Getting traffic for free is going to take a longer time and the best and easiest way, for now, is to run ads.
I've listed a few of the best way to get started:
#1: Facebook Ads
Setting up a Facebook ads campaign can be challenging, but if you have the right tools and know your budget, it will make things easier.
One of the key factors in deciding how much to spend is understanding what product or service you are selling – for example, expensive products should result in higher budgets.
But here's a good rule: when first creating an ad set on Facebook try out one advert then use data from that test run to figure out how best to optimize future campaigns with more streamlined advertising strategy.
You'll be saving yourself unnecessary costs when you've gathered enough data to scale your advert.
#2: Google's Ads
The difference between Google and Facebook is that the latter places your adverts in front of people who are interested or have an impulse to buy already.
Whereas, with Google ads, it's mainly about being ready to make a purchase for products you're trying to promote.
This can be done by advertising through Adwords where potential customers will see your product keywords as Ads when they search phrases relating closely with what you want them too find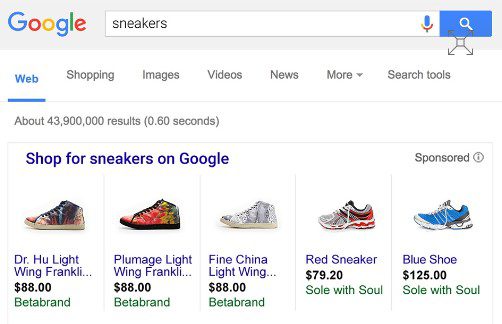 While Google shopping is also similar but this shows the full image of the product alongside the keyword they are searching for.
#3: Pinterest Marketing
Pinterest is a visual search engine and this has been gaining more popularity lately.
You can as well promote your product pins on Pinterest or grow your Pinterest account to the stage where you can enjoy free buyer traffic on a daily basis.
Conclusion
This ultimate guide will help you find the right niche to start your high-ticket dropshipping business.
Remember that your online store is important when starting a high ticket dropshipping business. So be sure to keep it clean and functional and reflective of your business's professionalism.
Basically what you need to be successful with selling high ticket products is to find a unique supplier with unique products. Then a have a unique master plan for adverts and a standard website.
Using a platform like Spocket, you should be able to gain access to suppliers and also create a standard website ready to integrate with either Shopify or WooCommerce.
And when you're ready, say goodbye to your low-ticket products and say hello to high-ticket items for more profit.
So this is basically what you need to know on how to start a high ticket dropshipping business. Do let me know what you think using the comment box below.