HotProducts.io vs Ecomhunt [Review]: Best Winning Product Tool?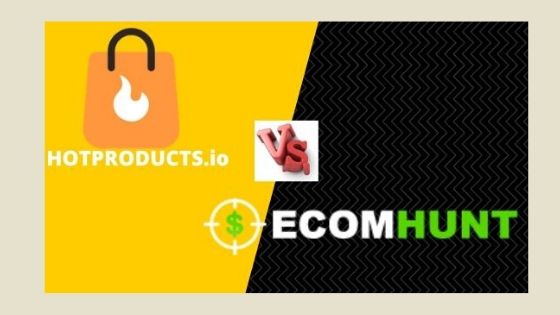 In today's HotProducts.io review and comparison with Ecomhunt, we'll be looking at the best winning product tool and how they fair against each other.
Checking out these tools means you're looking for a winner product to sell on your dropshipping store or e-commerce website.
Trust me, it's very important!
The role of winning products in e-commerce cannot be overemphasis; they actually determine how profitable your business is going to be.
A beautiful and sleek website doesn't mean you're going to be profitable it all depends on your chosen products.
This is the more reason you should place more emphasis on them!
There are quite a few winning product tools out there, while some are up to the task, others are just scraping products from other websites for their users.
However, today we're going to be looking at two of the top winning product tools, Hot Product.io and Ecomhunt.
They are both standard tools no doubt about that!
But at the end of this post, you'll be able to choose one of the tools for your e-commerce business.
Let's get started, shall we?
HotProduct.io vs Ecomhunt
I'll go over the review of both tools pointing out their strength, weakness, the fine and the UGLY truth about both tools.
This will help guide our comparison and equally help you choose the best tool for your business based on your preference.
However, before we get started, here's a summary of what we'll be discussing and a jump link to give you a head start.
HotProducts.io review
Overview of HotProducts.io
Features of HotProducts.io
#hotproducts.io-reviewHotproduct.io Pricing
What is Ecomhunt?
Features of Ecomhunt
Ecomhunt Pricing
Who's the Winner?
Hot Products.io Review
HotProduct.io just like the rest of the winning product tool is a product curator tool that helps you with winning products on a daily basis.
It's a software as a service (SAAS) that simplifies winning products research by providing you with hot and potentially hot products to sell.
Not just that, they also offer interesting feature needed for your e-commerce business, like "engagement calculator, audience building tool etc.
These are all needed tools to explode your dropshipping sales by keeping you in business and most importantly profitable!
They offer you everything needed to be successful by their teams, leaving you with little or nothing to do from your own part.
HotProducts.io also offers rewards for loyal customers. These rewards come in forms of training which include:
Facebook Ad training
Instagram Influencer training
Instagram Storie Ad training and multiple other training classes
Overview of HotProduct.io
HotProducts.io try as much as possible to make finding winning product more of a relaxed work without having to stress yourself.
Basically, they focus on the following:
They curate hot products for their users; these are winner products and high-performance product that triggers customer impulse.
Warm product is considered a potentially hot product. If you're in a really competitive market selling warm products before it goes viral can place you above your competition.
Facebook Video Ads Generator
This a unique tool that helps you create your own nice and unique Facebook ads video. This can help you if you want your Facebook video ads stand-out.
The reward is basically meant to keep its customer from leaving the platform. It comes in the form of course training for their loyal customers.
Features of HotProducts.io
Let's go over the features of HotProduct.io and see if it's really a unique tool worth your time and investment.
#1: Hot Products
Just like the name HotProduct.io, they curate winning products on a daily basis for their members. As a member, you can choose a product of your choice from their sleek user interface.
Majority of the hard work is done for you already. You just need to pick and import to your Shopify store for promotion.
#2: One-Click Import Button
With this feature, you can easily import the hot products into your Shopify store in just 1 click. It also goes with product descriptions to make the process smooth and easy!
This way you won't have to re-write any of the product descriptions which is going to save you lots of time energy.
The 1 click import tool will instantly give you the product title, high converting sales description, recommended retail pricing and images.
#3: Facebook Ads Audience Builder
This is a tool that gives your insight as per your Facebook ads. It helps you with Facebook targeting, audience and demographic etc.
You can't really rely on this if your Facebook ads skill is rusty.
You'll need to make sure you're doing the right thing, most especially when it comes to Facebook marketing.
A nice Facebook ad course might as well set you on the right path.
#4: Product Analytics
This includes every detail of the product from AliExpress, Amazon, eBay etc. it also includes the product stats, engagement score, and links to the supplier.
Also included is the product sales copy, Facebook interest, video ads copy and many others.
#5: Rewards Club
The reward club is for loyal customers and it comes in a form of video training. It includes videos on how to get started with Shopify dropshipping and Facebook marketing.
As I said before, you can't really rely on this, if you know little to nothing on Facebook ads already. Here's Free Facebook ads masterclass I'll suggest you go through.
#6: Facebook Video Ad Generator
No doubt about that, Facebook video ads are killing it. If you want to run a Facebook ad that converts you'll need a nice video.
The Facebook Video Ad tool by HotProduct.io is a nice tool you can use to create a crash video for your Facebook advert.
It going to help in situations whereby you don't want to use the video copy that's already viral, tools like this can you help you create yours and make you stand out.
HotProducts.io Pricing

This winning product tool comes in two pricing plan. However, they have a 7days free trial to test out the platform.
Hotproduct.io pricing plan includes the Pro & Elite Plan which cost $27 and $47 respectively.
Pro Plan $27/month
Included in the HotProduct.io Pro Plan are the following:
7 Day Free Trial
Daily Hot Products
1 Click Store Import
Daily Warm Products
DFY Product Description
Growing UK/US/EU Suppliers
FB Ad Analytics
Facebook Ad Targeting Interests
Engagement Scores
Instant Product Suppliers
Google Trends
Rewards Club Access
Help Center Access
Priority Email Support
Facebook Video Adverts Source
Facebook Audience Builder
Elite Plan $47/month
The HotProduct.io Elite Plan includes everything in the Pro Plan plus:
Instagram Reseach Tool
Facebook Ads Video Generator
Having gone through hotproduct.io review and details let's go over Ecomhunt and see what they offer as compared to their completion.
What is Ecomhunt?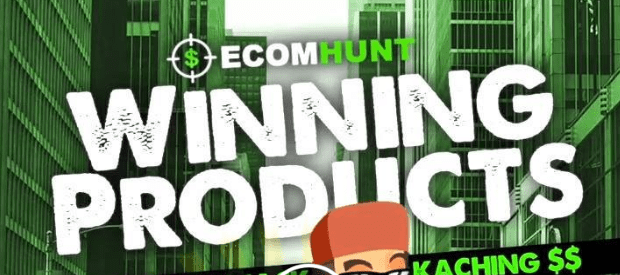 Ecomhunt saves you the stress of searching for winning products, they curate winning product on a daily basis while you can focus on other really important stuff for your business.
EcomHunt updates several products on a daily basis for its users and which of course are specially handpicked by experts. The products updated  include the following data:
Profit
Analytics
Engagement
Links
Facebook Ads
Product Video
Facebook targeting etc.
While having access to the winning products users can virtually sell the product on any e-commerce platform such as Shopify, WooCommerce, eBay, and Amazon etc.
Another interesting thing about Ecomhunt is, once you have links to stores selling these winning products already, you can also from there have access to other trending products or their best selling products that you can add to your online store. With this, you are simply getting more than the intended value.
All product comes with a one-click import button to push products to your Shopify store.
Features of EcomHunt
Let's go over the features of Ecomhunt and see if they stand out as compared to the other tool.
#1: Hot Products
Trust me, the hardest part is finding the products that people actually want to buy, and this part is already done by EcomHunt.
Being a pro member you will access to the winning products and not just that, how you can easily sell them through Facebook marketing.
Using the data that comes with the products, you will be able to set up a Facebook ads campaign that targets the actual audience that wants to buy the products.
#2: Product Analytics
This feature allows you to know the actual price you will be getting the product from AliExpress and as well as the potential profit of the products.
With features like this, you will be able to plan how much you are ready to spend on ads and the potential returns before you add the product to your online store.
Additionally, you will know how well the product is doing on social media. In the sense that you will have access to the total numbers of shares the product is having and as well as total comments and likes.
Lastly, you will also be provided analytics from where the product came from (AliExpress). I particularly like this aspect as it lets me know how good and genuine the product is before dropshipping it.
It will clearly state the numbers of orders, ratings, reviews, and the total votes the products are having. With this, you should know if the product is adding values to the actual buyers.
#3: Facebook Ads & Targeting
This feature gives you access to Facebook ads that are already running. Meanwhile, you also be giving a free product video you can either display on your store or use to run an advertisement for your product.
This part is particularly good if you don't have a prior idea of how to advertise your product. Using the existing ad titles and information will prove to be a good start for you.
About the Facebook targeting, it's more like a done for you research tool. Being a pro member you will have access to Facebook specified targeting.
If you have some experience with Facebook ads yourself this is more like a plus bonus and you could simply modify it to convert even more.
Having no clue about Facebook ads?
Then go with the targeting done for you! But I'll advise you do some Facebook insight on the product yourself. with this, you'll be more enlightening on how to run a specified Facebook ad targeting for any of your future products.
That's if you've Mastered Facebook ads already!
#4: AdHunter Tool
The AdHunter tool is a very interesting tool that allows you to monitor your competitor's ads on Facebook.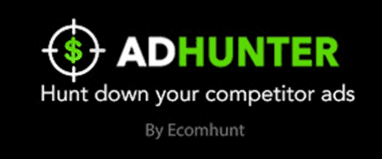 It actually the first chrome extension of this kind. The app will give you the power to hunt down any sponsored ad on Facebook and also allow you to see the performance of the Facebook ad.
You will be able to see the Facebook ad engagements like traffic amount, targeting country, how long the ads have been running and a few other useful data.
Best part?
The app is absolutely free for both free members and Pro members. This means you need to be a member to have access to the app.
#5: Webinar Training for Newbies
Another feature that makes EcomHunt stand out is their free tutorials they offer their members. They provide tutorials and free webinar to get you rooted in the dropshipping business.
The downside to this is that most of the webinar and tutorials are only available to the Pro members. Your access to this will be limited to a free member.
However, these webinars are totally worth it, and as a beginner, you might want to avoid wasting time and mistake along the way by getting access to EcomHunt webinar and Tutorials.
Ecomhunt Pricing Plan
Ecomhunt has just two membership plan; the free membership plan and the Pro membership plan. The free membership access to products is delayed for 3days with very limited data.
The Pro plan, however, enjoys everything offered on the platform.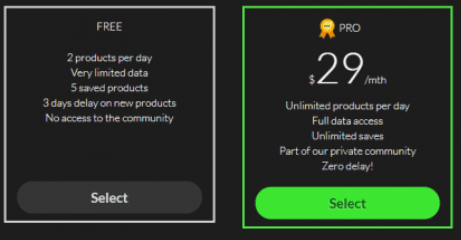 This plan cost $29/month but you can get it at a discounted price of $20/month and that's all.
You'll be provided access to their entire winning products and features without delay and have equal access to the full tutorials and course training.
Interesting isn't it?
Who's the Winner?
After going through the tools, I'm sure you've noticed they are equally awesome but differ in little features.
HotProduct.io Facebook Ad Video Generator is unique and this is a great addition to the tool. It helps you create a video copy of your own.
However, this is only available on the Elite Plan of $47/month which is somewhat pricy!
When it comes to pricing, Ecomhunt is quite friendly compared to HotProduct.io as you only need to pay $20 every month to enjoy full access on the platform.
While HotProduct.io start from $27 to $47/month.
If you ask me they are both wonderful and unique tool. It all depends on your preference and budget for your business.
I mostly use Ecomhunt though, and I enjoy every bit of it and I can equally say HotProduct.io is cool.
So what's it going to be?

or
Let me know what you think about these tools review using the comment section.