How To Use Go HighLevel: [High Level Tutorial For Beginners]
In today's post, we're going to be covering how to use Go High Level or better still walk you through the Go High Level Tutorial in our own way and get the best of the high level software.
Lots of people have written about how amazing GoHighLevel is. But there aren't enough guides or walkthroughs, especially for beginners.
No worries, I've decided to write this guide to help you ace the platform.
But first, let's start with the basics.
Highlevel (GoHighLevel) SaaS is a software-as-a-service (SaaS) platform designed to help agencies get more leads and make more money.
It is an all-in-one sales and marketing platform that makes it easy to manage every aspect of your agency — from new client acquisition, follow-up, and retention to invoicing and reporting.
Go High Level Overview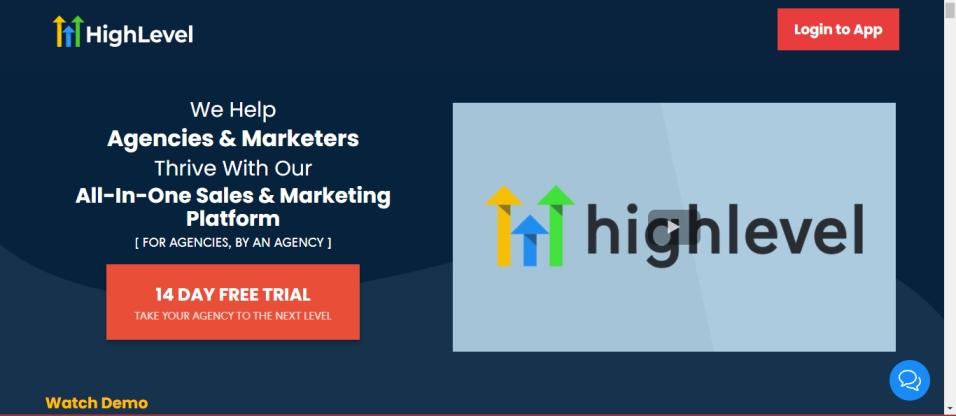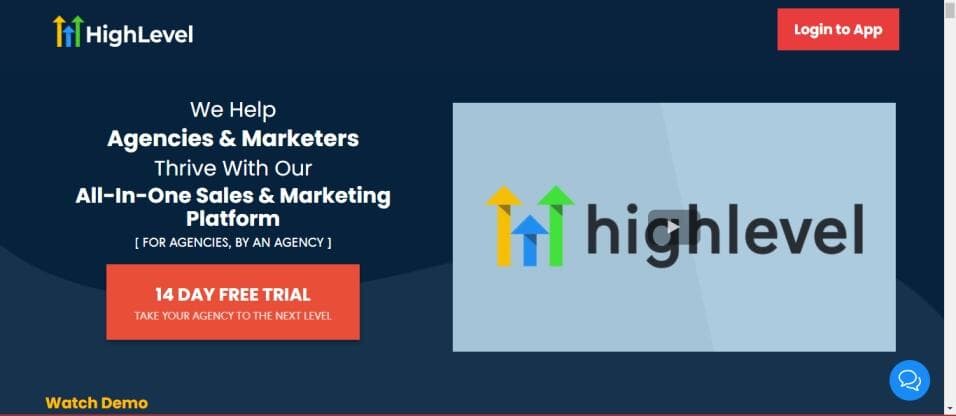 GoHighLevel is an all-in-one marketing automation platform that helps agencies manage their client's marketing campaigns and deliver ROI through data-driven insights.
The platform is highly flexible and can be used for B2B and B2C campaigns.
It has been designed from the ground up with agencies and consultants in mind, so it's easy to use even for those without extensive marketing experience.
This is just an overview of what HighLevel is since we already wrote a detailed review of HighLevel.
GoHighLevel Features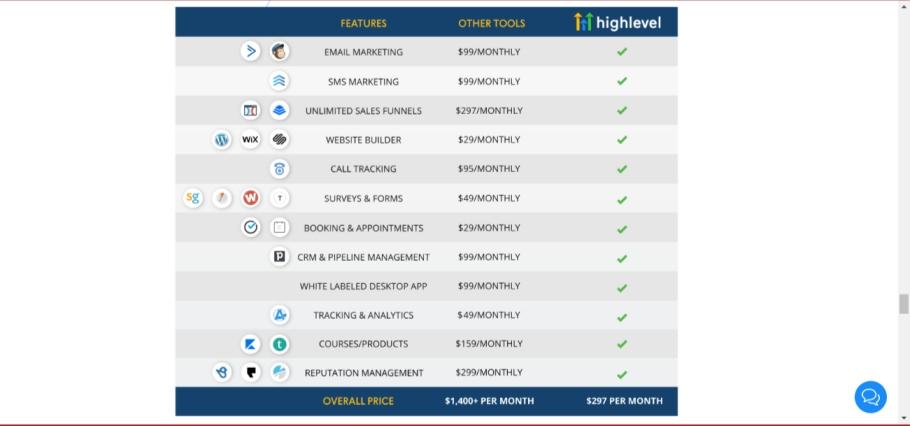 SMS Marketing
Email Marketing
Voicemail Marketing
Appointment Booking
Campaigns and Automation
Managing Membership Sites
Client retention optimization
CRM for agency and client
Reputation management (automated review requests)
Funnel & Landing Page Builder for digital products
Revenue and lead tracking
Increasing ROI on ad spend.
Read our complete Go High Level Review for everything it can do for your business.
Who Is Go HighLevel For?
Highlevel is built specifically for agencies, but the interesting thing is other businesses can use this software to:
Manage client information
Generate reports on their business performance
Create marketing campaigns for new clients. The system is designed for use by agencies, but it's also perfect for freelancers and small businesses. With Highlevel SaaS, users can create project templates, assign tasks to team members, track time against tasks, follow up, and more.
Highlevel SaaS is an excellent resource for any agency looking to take its project management capabilities to the next level.
Manage all your accounts on one platform (no more spreadsheets)
Generate sales and capture leads with the click of a button
Reduce administrative time spent on tasks so you can focus instead on growing your agency
How to Use Go HighLevel: Go High Level Tutorial
Now that we've covered the basics let's get started with the platform.
HighLevel has so many features that it's hard to cover them all in one guide. So we're going to talk about a few key features from the HighLevel collection and how to set them up, configure, and use them.
Marketing Platform
GoHighlevel's marketing system consists of two parts:
Outreach (inbound/outbound)
Inbound Traffic Conversion
The five channels for Inbound/Outbound Outreach are SMS, Email, Voicemail, Messenger, and calls.
You can make GoHighlevel's outbound marketing system do just about anything by combining their "triggers" and "trigger links."
Additionally, you can create a campaign for customers who add to cart but don't buy. You can also set up a campaign based on customer clicks on emails.
Campaigns
The beauty of campaigns is that you can decide when and how things happen.
Let's see how it works.
HighLevel categorizes campaigns under the Marketing section. The first thing you want to do when you start a new campaign is to give it a good name.
Next, you need to add events and actions like an automated SMS or a welcome message sent when something external (like a new signup) triggers a response.
HighLevel lets you choose between different event types:
SMS
Call
Voicemail
Email
Messenger
Wait (the interval between scheduled events)
Manual SMS
Manual Call
Webhook (Webhook sends data (such as contact and appointment info) from HighLevel to other apps)
Add Task (for instance, add a next step action for a contact based on whether they convert or not).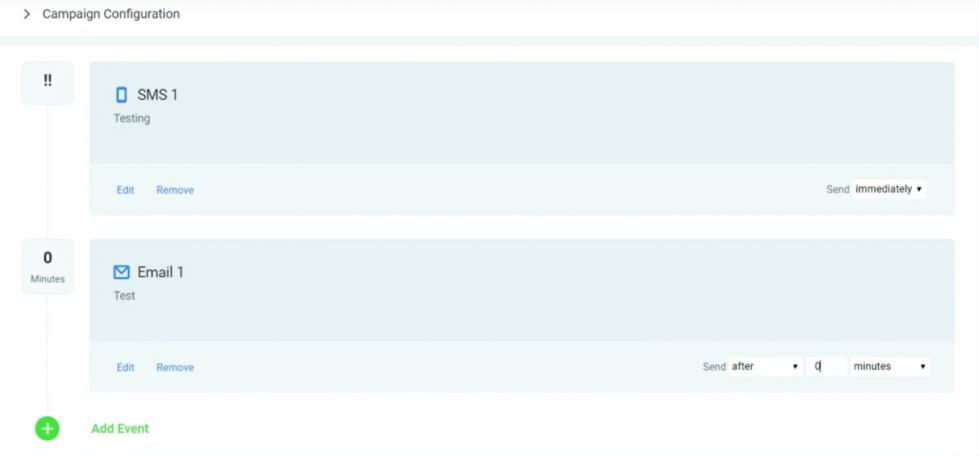 It doesn't just stop at adding events and actions.
You have to set the time when an action happens.
For example, you can set up a call right after the user signs up, another SMS (to remind them) a few minutes before the webinar starts, and an email just after the webinar ends.
Once you set this up, HighLevel takes care of the rest.
It's possible to make custom messaging based on a prospect's stage in the buying cycle.
You can distribute leads to multiple vendors based on the lead's qualifications.
Twilio
Twillio is a cloud communications platform for building SMS, Voice, and Messaging applications.
Twilio is the marketing app in HighLevel, and you need an account.
If you don't have an account, you can get started for free by going to the company's website and signing up for a free trial.
You can also create a Twilio account inside your HighLevel admin panel.
Setting up your account on HighLevel
From HighLevel, go to Settings, find and click Twilio. A new page will open.
Once you've created your Twilio account, come back to HighLevel and confirm that you've signed up and gotten an email with a verification link.
Then sign in with Twilio (by selecting the two checkboxes in the image above).
The last step is to copy the account SID and Auth Token from Twilio's admin dashboard and paste them into your HighLevel account, and you're done.
If you're going to bill your client for Twilio later on, creating sub-accounts makes a lot of sense. It's a great way to make more money.
As a bonus, you can cover your own expenses and earn money simultaneously by rebilling your customers for Twilio.
Twilio sub-accounts are optional, so you aren't required to rebill Twilio or create subaccounts.
As another helpful feature, HighLevel lets you sync your Twilio sub-accounts with your Twilio account, so you get the same information in both apps.
HighLevel also lets you add (buy) Twilio numbers for your client directly into your account, export Twilio numbers into HighLevel, rebill Twilio accounts for HighLevel use, and more.
Note that Twilio's trial mode does not allow you use Twilio on HighLevel because you must leave your credit card information and add credits to your sub-accounts to level up and go out of the trial mode.
Popular Twilio Triggers
Instant SMS from the Twilio API
Creates a webhook in Twilio tied to a phone number and emits events when an SMS is sent to the number.
New Call (instant) from Twilio
Sets up a webhook in Twilio, tied to a phone number, and sends a notification every time a call to that number is made.
New Phone Number from the Twilio API
Creates an event whenever you add a new phone number to your account
New Recording from the Twilio API
Sends an event when a new call recording is created
New Transcription from the Twilio API
Creates an event when a new call transcription is created
The most popular Twilio and GoHighLevel actions
Make a Phone Call with Twilio API
Send SMS and MMS with Twilio API
Delete calls and messages from your account with Twilio API
Download Recording Media with the Twilio API
Sales Funnel and Landing Page builder
The HighLevel platform lets you create lead forms, surveys, landing pages, and sales funnels.
Use a chat widget to engage with visitors, generate leads, and respond to prospects. It's also possible to import your ClickFunnels funnels straight into GoHighLevel.
To get started with HighLevel sales funnel and landing pages-
Head on over to marketing.
Next, click on form builder
Create new form
Fill the form
Customize (add columns, add sections and choose color)
Hit save
Confirm action prompt
Set up thank you page
Mailgun
In the same way Twilio takes care of your texts, voicemail, and calls, Mailgun takes care of your emails.
With HighLevel, you can connect directly to Mailgun. Mailgun is free to use, but you'll need a Mailgun account.
Simply fill in some info, like your credit card info, and you'll get a confirmation email, and it's ready to start.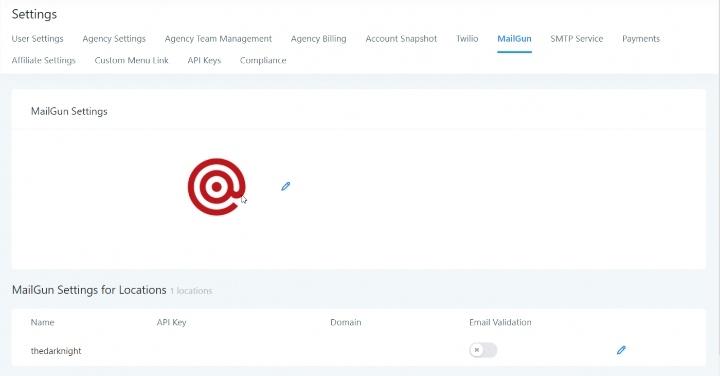 Mailgun is free for up to 5,000 emails per month for the first three months of your subscription. After that, you'll have to upgrade to a paid Mailgun account if you exceed this limit.
HighLevel lets you use Mailgun for free, but there's a catch: starting in 2020, with the free account, you can only send emails, not receive them.
To receive emails directly on Mailgun, you need a paid Mailgun account.
To start sending emails with Mailgun, you need a subdomain of your main domain. Let's say highlevelwhiz.com is the domain.
The subdomain can be something like email.highlevelwhiz.com.
One subdomain for all of your client's sub-accounts is what HighLevel recommends.
Here's why: it's easy to use – all you have to do is set it up once, and it'll work for all your clients. But you can still set up subdomains for each of your clients if you like if that's what you need.
Mailgun's admin dashboard lets you create subdomains. You'll automatically get a few records (TXT, MX, and CNAME) when you register.
Next, head to your DNS provider account (GoDaddy, HostGator, Namecheap, SiteGround, etc.) and add the newly created DNS records from Mailgun.
By adding the DNS records to your main domain, you're connecting your Mailgun subdomain to your main domain.
Suppose you want to connect the Mailgun subdomain with your domain.
In that case, you usually choose your DNS provider's admin dashboard, click "Manage DNS" (or something like that), and update the DNS settings with Mailgun's DNS records.
When you're done with that, you'll have to verify your DNS settings (Verification can take a couple of days).
Next, go to Mailgun, select API keys, copy the private API key and the subdomain you created earlier, and paste it into your HighLevel account.
Content Management
Content marketing is creating and distributing valuable, relevant, and consistent content to a defined audience – to drive profitable customer action.
You can add a fully functioning blog on Go High Level with WordPress
WordPress
At its core, WordPress is a free, open-source website creation platform or one of the most popular tools to create your own website or blog.
WordPress is a content management system (CMS) written in PHP that uses a MySQL database.
In non-geek speak, WordPress is the easiest and most powerful blogging and website builder in existence today.
As a matter of fact, WordPress powers over 40% of all the entire websites on the Internet.
WordPress is an excellent website platform for a variety of websites. From blogging to e-commerce to business and portfolio websites, WordPress is a versatile CMS.
You can integrate High Level funnels with your existing WordPress website and use them to convert more visitors visiting your website.
To learn more about this watch the video above and see how you can do it.
How To Create a Blog Page on HighLevel Using WordPress
Log in to your Go High Level account, click on Funnels and Websites in the sidebar, and select Websites. Then, you can select the website you wish to edit from the drop-down menu.
Click Add New Page in the top right of your website editing view.
Select "Websites" in your high level account, and come up with a name for your new page ("blog" or something).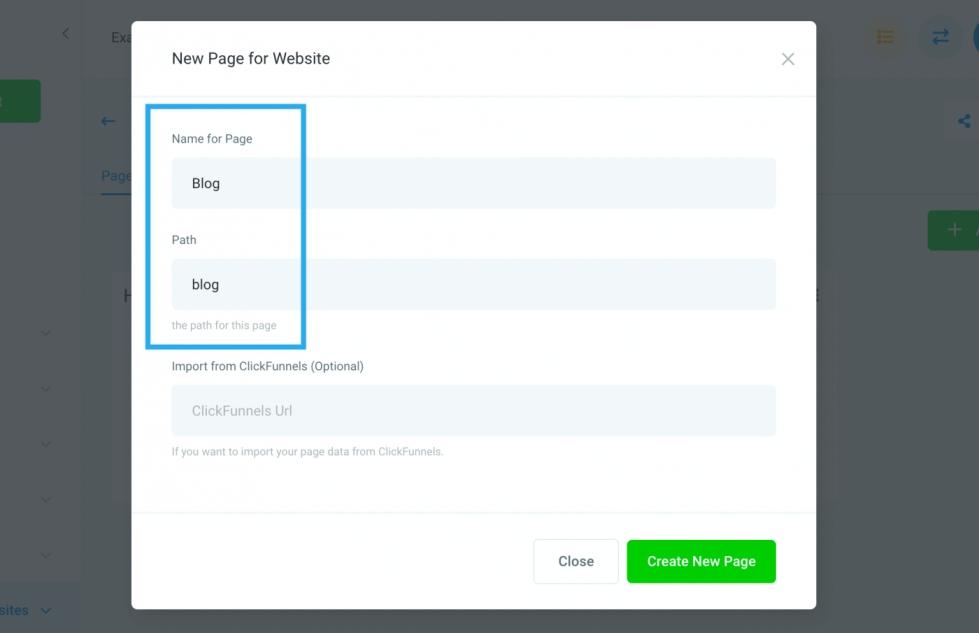 You'll need to note down this path along with the rest of the website URL. After creating your new blog page, you can add and customize it how you see fit.
GoHighLevel leaves new pages blank by default, but you can customize with Sections, Rows, and Elements. Within HighLevel, you can insert website elements into the page to add content.
What we Love About High Level
Below are few of the things we really love about Go high Level that you should be on the lookout for
#1. Integration
Gohighlevel lets you use your favorite apps seamlessly.
With Highlevel, you can connect apps and send data via webhooks.
Some of the applications you can integrate with Highlevel
WIX
Squarespace
WordPress
Paypal
Mailchimp
Pipedrive
Leadpages
Calendly
ActiveCampaign
WUFOO
Call Tracking Metrics
Schedule Once
SurveyGizmo
DropInblog
#2. Functionality
Automating repetitive tasks allows you to spend more time on revenue generating activities.
Here's what you can automate with HighLevel:
Lead nurture sequence (text, SMS, voicemail) – to increase appointment requests
Appointment reminders (text, SMS, voicemail drops) – to cut down on no-shows
Selling process – generates proposals and then reminds clients to sign and pay. Once they do, they're automatically onboarded.
Easy step-by-step automated onboarding process – saving us hours of back-and-forth communication.
Reputation management (Easy automation for testimonials & reviews)
#3. Membership Platform
Another amazing feature of HighLevel is its membership sites. Highlevel offers subscription sites for online course creators.
Gohighlevel allows course creators to run membership sites. So you can build your membership site with Gohighlevel to sell your premium products.
You can add a custom domain to your membership site. You can also edit your course outline with a visual editor.
#4. Highlevel Support Portal
GoHighLevel support is awesome. The team is super responsive and easy to talk to.
There are many "how to" videos in the help center to help you get started or answer any questions you might have.
If you have a problem not covered in the help center, you can book a zoom call.
Go HighLevel Pricing- Monthly and Yearly Cost
HighLevel offers the following pricing plans:
The Agency Starter plan starts at $97 per month
The Freelancer plan starts as $297 per month
The Agency Pro plan is $497 per month.
GoHighLevel offers a free trial, so you can try it out before committing. You get 14 days of free access to the platform and test the full functionality before deciding to pay.
Starter Account (Previously Called The Agency Account) 98$/month
This is the most basic subscription level. It's designed for agencies and small businesses that want to use HighLevel CRM as an internal tool.
You can use this if you're using GoHighLevel for your business and don't need to use any premium upgrades/subscriptions such as HIPAA compliance or White-Label App.
The starter account gives you access to core functionality in HighLevel CRM, including:
CRM with lead management and task tracking (including custom tasks)
Team collaboration tools (including document sharing, inbox, and chat)
Reporting tools (including dashboards and email reports)
Email integrations (including MailChimp, Zendesk, and Salesforce)
The Freelancer Account: $297/ month
The Freelancer Account (formerly Agency Unlimited) is $297 a month.
This is the best account if you need HighLevel for both your agency and clients. You'll also need this account subscription for any premium upgrades.
Freelancer accounts include:
Everything in the agency starter
Unlimited sub accounts – Set up as many sub accounts as you want.
You can use your own domain to customize the platform's look and feel.
The Agency Pro Account: $497/month
The Agency Pro Account (SAAS Mode) is $497 a month.
With this plan, you can resell HighLevel directly to customers using your brand. You can decide which features to include and what prices to charge.
You can even charge your clients for email, phone, and text services. Also included in a Pro Account are split testing, advanced API access, enhanced report functions, and an AI Conversational Bot.
Which GoHighLevel plan is right for you?
The GoHighLevel Starter plan gives you access to all the software's main features.
A big difference is you can only add one sub-account or business account. If you're just starting out, I'd recommend the Starter plan.
The GoHighLevel SaaS Mode/Agency Pro plan is best for you if you have more than one client, or manage a team or marketing agency.
GoHighLevel's SaaS Mode gives you unlimited access to everything GoHighLevel offers, PLUS you can white-label the app and software, resell them to other companies on autopilot, and keep 100% of the profits.
Subscription Upgrades
HighLevel has several subscription upgrades available. HIPAA compliance and white-label mobile apps require at least The Freelancer Account.
It costs an extra $297 monthly for HIPAA, while The White-Label App is an extra $497 monthly.
The White Label Mobile App + Custom Zap Upgrade
This plan adds a white label mobile app to your account so you can customize it with your own version and branding.
It also lets you create custom zaps that run automatically when certain events happen within HighLevel CRM.
For example, you could create a zap that automatically sends an email whenever someone creates a new lead in HighLevel CRM or updates their bio on LinkedIn.
Go High Level FAQs
Below are few of the most frequently asked questions about Go High Level
Is GoHighLevel HIPAA Compliant?
There is a HIPAA Compliance upgrade at GoHighLevel, but it's a paid upgrade. Once purchased, all user data in your location accounts (and all sub-accounts) will be protected and HIPAA compliant. The HIPAA upgrade costs $297 a month.
Does the price include emails, SMS, and voice calls?
They're not included. You need a Twilio account to make voice and SMS calls. To send emails, you need to connect to an SMTP server like MailGun, SendinBlue, Gmail, etc.
Summary
All the tools you need are in one place — no more searching for the right tool and no more relying on multiple providers.
HighLevel is essentially a one-stop solution for your business.
Trying features or new services and feeling stuck in any stage, you can contact HighLevel by email (Starter plan), chat (Freelancer and Agency Pro plans), or phone (Freelancer and Agency Pro plans), or check out its support portal, blog, and Facebook group.
Go High Level customer support is one of the most impressive things about the platform, so no matter what happens, you're in safe hands on high level.