How to Use PiPiAds To Find Winning Dropshipping Products
Ecommerce is indeed a multibillion dollars business. However, it would help if you learned how to use PipiAds to find dropshipping products to position yourself for success in the industry because finding hot selling products will make the business sweeter and more rewarding for you.
While there are different options to promote Dropshipping products, Tiktok advertising remains an invaluable success strategy for marketers.
This post will show you how to find best-selling products using the PiPiAds spying tool.
Once you research and locate unique and hot selling products, you will become an unstoppable eCommerce marketer.
While many dropshippers struggle with getting the product to sell, why not join me to explore the serene island of PipiAds.
We will discuss how you can use this amazing tool to find hot selling products and smile to the bank with consistent sales profits!
What is PipiAds?
PiPiAds is a unique product research tool for TikTok marketers! It gives you access to high-performing products to power your Dropshipping business.
It is a spying tool used by successful marketers to know what new product will make the hot-selling list when listed.
Why waste time and torture your brain to find the best products when you can spy on other marketers? By so doing, you can save yourself valuable time and money.
Although PiPiAds is not about blindly copying other people's products, knowing what others are selling can help you innovate and scale the products to your advantage.
Although PiPiAds is not free to use, you are allowed to try it for a dollar! Or better still read our detailed PiPiads Review for more information about the tool.
If you like what you read and would like to learn How to use PipiAds to find Dropshipping products, I have more to show you.
Come with me…
How Does PiPiAds Works?
As a spying tool, PiPiAds uses some filters to find new adverts. It allows you to search products by region and eCommerce platform, or you can search by specific product URL.
You can find ads from different sources, including social platforms, Etsy, Shopify, and selected references. It allows you to create imaginative ads that will do well when tested.
The PipiAds spying tool lets you keep up with competition as it reveals their latest promotional strategies and stays ahead of the curve competitively.
Here is what PipiAds can do for you:
Find the hot selling products for your Dropshipping business
PipiAds is the largest databank for TikTok ads and allows you to search for hot selling products using innovative filters to narrow down to specific details.
Monitor competition ads and their strategies
It allows you to find up-to-date ads to spy for your Dropshipping business. The globally accessible database comprises intellectual filtering that delivers a broad range of ad searching.
Discover the right niche for your dropshipping business
PipiAds allows you to find high-quality ads for inspiration. You can find hot-selling products tested by other marketers and use them to build your hot-selling list innovatively.
PipiAds amazing features keep you informed of the most recent market changes and trends that will impact your sales tremendously.
No matter what niche you serve, PipiAds will help you find the right product to promote.
PiPiAds Pricing Plan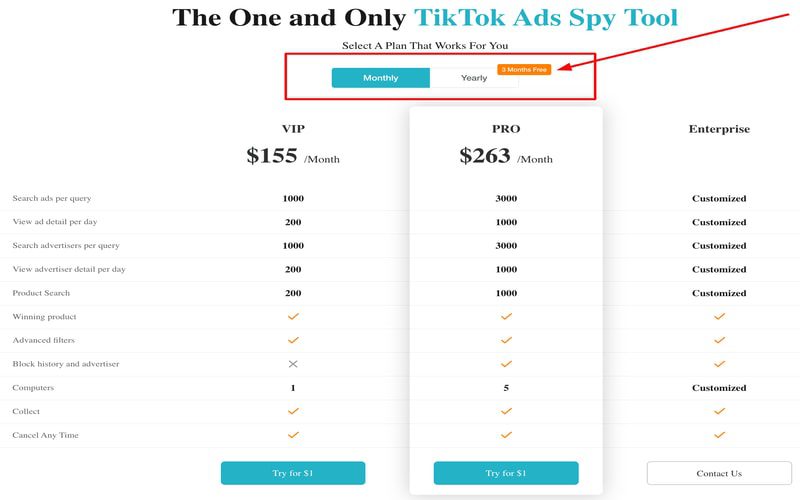 PipiAds is a paid tool, and it's for a good reason. Every informed marketer knows that premium marketing and business tools are a gold mine.
However, PipiAds allow new users to use the product with just one dollar payment.
You can try PipiAds for free if you visit their website now!
As for pricing, you don't get to see how much you are paying until you create an account on the website. PipiAds doesn't advertise the price list. You need to create an account to know!
But not to worry, you can see the price below:
Pipiads pricing has three membership plans:
VIP,
PRO,
and Enterprise!
The VIP plan is $155 per month. The PRO plan costs $263 per month, while the Enterprise plan is customizable.
A single user can subscribe to the VIP plan, while the PRO plan covers five users.
If you have over five people to use PipiAds, it is best to go for the Enterprise plan. You will get three months free if you subscribe for one year on any plans.
However, if you want to test the water before committing to a plan, there is an option to try the product for $1!
How To Use PiPiAds
If you are starting a dropshipping business and want to learn How to use PipiAds to find Dropshipping products, this section will walk you through the process.
I will take you through the process of using PiPiAds in the following steps:
#1. Sign up for PipiAds
The first thing you want to do is create an account with PiPiAds. Once you have registered for PipiAds, you are ready to start using it.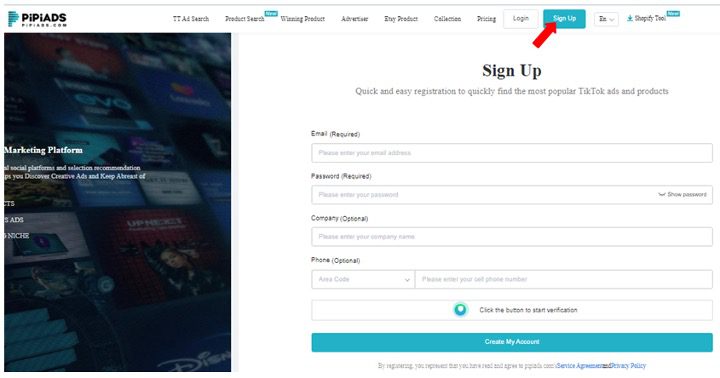 #2. Essential PiPiAds Section for Research Accuracy
After you log into PipiAds, you will arrive at the home page. The top menu contains various sections.
But for this exercise, we are interested in two sections: the Product Search tab marked New and the Shopify Tool, also marked New.

With these PiPiAds tools, you are set to discover amazing hot selling products that will change your Dropshipping sales story for good.
This section shows you all the new products being tested. Please make no mistake; some people are ahead of you in product research, and it's cool to spy on what they are doing that is making them lots of money.
The products you will see under this section are tested but not scaled!
To know if the product found in the search is performing or not, you need the Shopify Tool, another PipiAds feature.
The Shopify tool is a chrome extension research tool that shows you the live sales of other sellers. While product search shows you products being tested, the Shopify tool tells you if the product is selling or not.
Click the Shopify Tool to activate the extension. After that, click Add to Chrome to install the extension.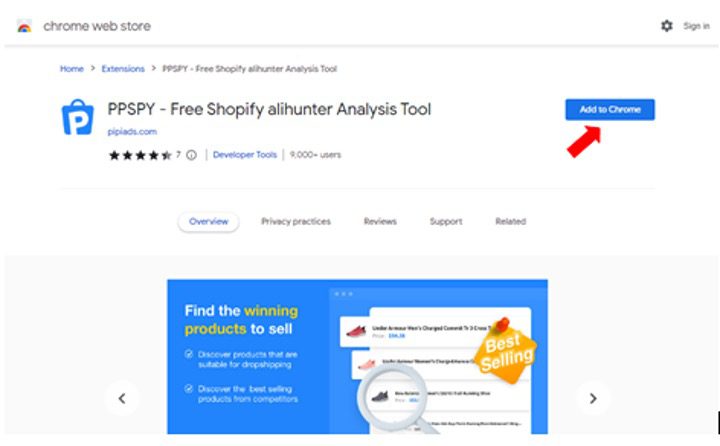 Combining PipiAds' Product Research and Shopify Tools helps provide sufficient data for your research.
Though PipiAds has its data, it's not enough compared to Shopify data. Thus, for accuracy, you need the Shopify tool to give you the right information on the product.
#3. Filter Your Product Search
As a Dropshipping entrepreneur, you ought to know your niche and target market. These are important filters for your research.
PipiAds has several filters with which you can structure your search. The filters include Product Keyword, Country/Region, Category, Ad Impressions, Total Likes, Like Rate, First Ad Date, Last Ad date, Ad, and Price.
We will need a few of the filters to conduct our product research for this exercise. Therefore, we will be using Country/Region and First Ad date; also, we can add Impressions filters.

A good Dropshipping business starts with a winning combination of filters when researching products to promote.
Let's briefly talk about each filter to guide you on how to make your choice for the best results.
Since your mission is to find new products being tested by other marketers, I suggest you leave this filter empty.
I bet you know the importance of the target country/region in advertising and marketing success. But it would be best if you chose the countries you want your search to collect data from. Choose your target countries and let PipiAds spy on sellers from the areas.
And if you are looking to break into a new market, why not choose those countries? Remember, your success in any market depends on your consistency and efforts to make it in such a market.
You may not need the category filter so as not to restrict your search to the selected category.
To save time and get to high-performing products, you may set this filter to 500 impressions.
This filter is not so important unless you want only products with likes.
You can leave this unfiltered because you don't need it to get the information you want.
This filter is necessary to see only adverts for a particular starting date.
You can skip this filter once you have set the First Ad date filter.
To avoid limiting the number of ads to display. I suggest you leave this filter empty.
If your target market is price sensitive and you plan to promote only products of a particular price range, you can set this filter to reflect your preferences.
#4. How to Analyze and Choose Hot Selling Products in PiPiAds Research Results
The search will return an ads page arranged in five columns and multiple rolls per page when filters are set. Each page result listing can be from 20 up to 200 per page.
To pick a hot selling product, you need to look through the results to find your aha kind of ads. However, I have a few suggestions for choosing hot selling ads while analyzing the results.
You should avoid any advert that repeats several times in your search. If an ad is repeated about four to six times, it is saturated.
Open selected ads in a new tab
For proper analysis, open an ad you like in a new tab. This process allows you to monitor how the ad performs and critically analyze it before testing it for promotion.
The Shopify tool allows you to see the live sales performance of an ad.
You can turn on the live sales feature on the product page as outlined below:
Select the ads
On the product page, find the store link on the left side, the lower end of the page.
A new page will open, loom for the PPSPY bar at the bottom of the page and click on Live Sales.
Leave the Live Salespage open to see if more sales are recorded within the lifespan of your analysis.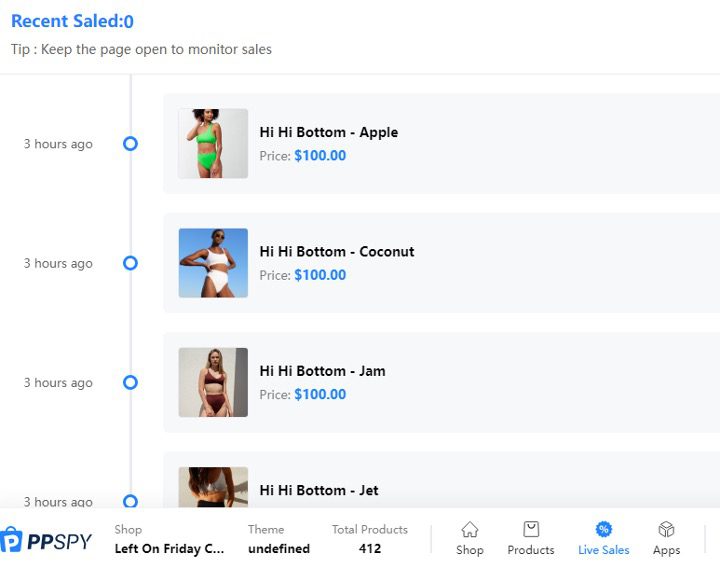 Enter selected ads in a spy sheet
For any ads you find worthy of testing, you can copy the details and store them in your spy sheet for further action.
#5. How to Create a spy sheet
You will need an excel sheet to create a spy sheet. I use Microsoft Excel for this purpose. In the top roll, create the following heading: Product, Aliexpress link, Competition link Tiktok Video Link.
How to fill your spy sheet
Copy the selected product name and enter it in the Product column
Head over to Aliexpress to search for the product, copy the link, and enter it in the Aliexpress link. And with luck, you can find the link on the spied product page.
Copy the competition link from the product page and enter it in the column.
Once done, you are ready to test your new products. Best wishes on your testing!
Conclusion
Learn How to use PipiAds to find Dropshipping products if you want to play big and earn big in your eCommerce business.
The trend marketers are using on TikTok today is to find hot selling products without giving room for mistakes. It is common these days to find dropshippers lamenting about poor sales due to not listing the best product in their adverts.
PiPiAds provides you with the necessary product information to create an effective ad campaign with a high ROI.
What are you waiting for? Sign up today for PiPiAds and try out the platform. If you are looking for price discount, you can also use my discount code OLUSOLA, to get 20% off your cost.