Intelligynce vs EcomHunt:[Review] Best Product Research Tool?
Both tools are popular when it comes to finding winning products which is why I've done a complete Intelligynce review with Ecomhunt.
So if perhaps you're finding it difficult to find the right tool between the two Intelligynce vs Ecomhunt, I'm sure you'll be able to make an informed decision before the end of this post.
The thing is, when it comes to dropshipping, the product you dropship has a lot to do with the success of your store.
And by all means, you would want to select a trending product (as it is called).
But the ability to do so lies on the product research tool you use.
Dropshipping is a big market, and as expected, there's a whole lot of tools in the market; Niche Scraper, Sell The Trend, Dropship Spy and many others dropshipping product research tools.
But in today's Intelligyence review, I'll be putting Intelligynce and EcomHunt to the test.
So let's get started.
Intee
What is Intelligynce?


Intelligynce is a product hunting tool that helps in finding trending and hot products. Intelligynce works best with both Aliexpress, Shopify, and WooCommerce.
Founded in 2016 by two friends; Bobby Walker and Phil Conibere, Intelligynce has constantly updated its features.
The newly added feature to Intelligynce is Ali Inspector which comes with a lot of features and amazing functions.
Ali Inspector is a bonus software you get when you buy an Intelligynce plan. The Ali Inspector is a desktop software that helps you obtain more information from Aliexpress.
Later in this Intelligynce review alongside EcomHunt, I will talk more about the Ali Inspector.
What is EcomHunt?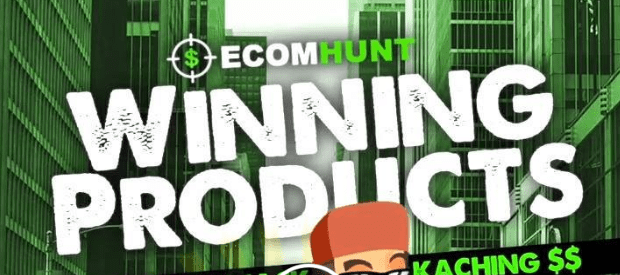 EcomHunt is a product hunting tool that helps you to find winning products to sell on your dropshipping store.
Besides just a research tool, EcomHunt provides a Facebook ads tool that helps you see your competitor's ads.
Plus, EcomHunt helps you to target your ads to the right audience.
EcomHunt 2.0 was launched recently with more added features and flexibility for sellers. Although this comes as a paid plan, the free plan however, is still open to everyone but with limited features.
Read Our Complete Review of Ecomhunt To Learn More About The Tool
Intelligynce Review vs EcomHunt – Differences
Absolutely, both tools do their primary job; hunt trending products. However, you don't want to pay for that feature alone.
Besides, that's not the only thing you need help with when it comes to dropshipping. For instance, you would need to run ads, upload product details on your store, find a better selling price, and many other things.
And definitely, if there's a tool that does it all, it's worth it.
Both Intelligynce and EcomHunt do offer more features and services aside from hunting hot products.
However, there are differences in the quality of service and how they offer it.
Without much fuss, let's look at major differences between EcomHunt and Intelligynce.
User Interface and Ease of Use
First of all, EcomHunt offers a simple user interface. The user interface is very basic and not too techy. However, it seems simple enough to find trending products on the homepage and the main dashboard.
You have the social engagement somewhere below, then the number of stores selling the product on the right-hand side, etc. Although, if it works well, the interface shouldn't mean much, at least for me.
In contrast, Intelligynce offers something simple. The user interface is a modern fashion and using the tool is quite simple too.
You can easily find your way around the tool. However, this doesn't hold for Ali Inspector.
Ali Inspector offers a lot of features and options. And for that reason, it could be overwhelming to use.
Besides, being welcome by 33 columns of data could be more confusing to use.
Trending Products
Intelligynce sure has a long list of trending and high performing products to choose from. As at the time of writing, they have over 2.5 million products in their database.
Also, their database is constantly updated daily to include the trending products on Aliexpress.
Although the software only enlists and crawls the trending products on Aliexpress, the data is also valuable for other stores too.
For EcomHunt, there's no exact data on the number of trending products in their database. But they do have enough to find a winning product for your business.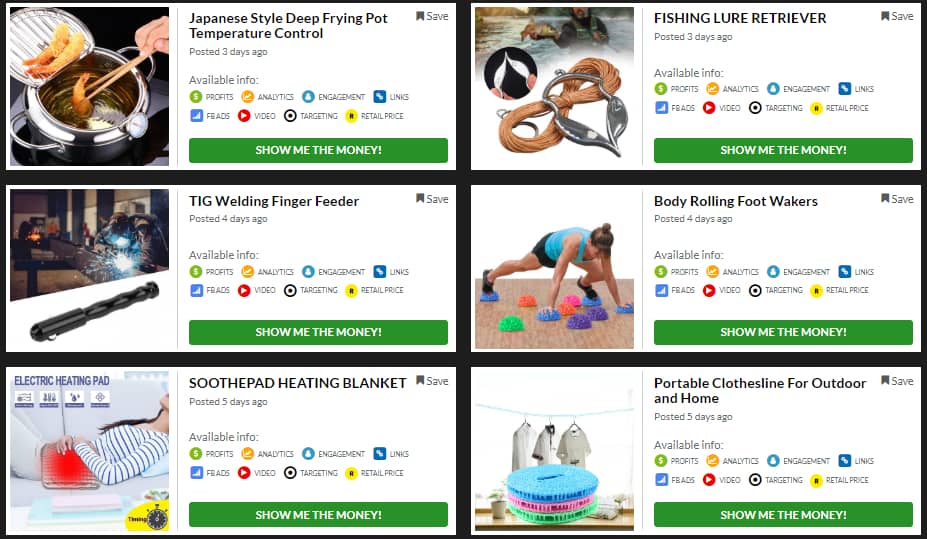 Right from the homepage, you are welcome with some trending products. And logging into your dashboard, you also have a long list of trending products to choose from.
Absolutely, it's a win-win for both Intelligynce and EcomHunt.
Filter Options
To begin with, browsing through 2.5 million products is a mission impossible, except you want to spend the whole year doing that. Definitely not.
And that's where the filters come in. Intelligynce offers a good filter to help you find a trending product in any niche.
The filter options are in four basic categories;
Social filters
Store filters
Sorting
And keywords.
Under the social filter, you have the option of turning "ON" or "OFF" the Facebook pixel. The Facebook pixel allows Intelligynce to list stores that are well optimized for Facebook ads and are already performing well.
Also, you have the option of finding products based on the number of Facebook likes their Facebook page has. Likewise, you can also uncover new products based on the number of followers they have.
Lastly, you can do the same with Instagram.
With the Seller's filter, you can filter stores based on their monthly traffic, currency, minimum price, and maximum price.
For Sorting, you have; monthly traffic and listing order as the two options. Finally, the keyword allows you to find products based on the keyword of the product or store.
EcomHunt also offers a moderate level of search filters to arrive at a better result. First of all, you can find products based on the order they were added; newest order and oldest.

Also, you can find trending products based on their categories. There are a lot of categories to choose from, and they are all arranged in alphabetical order.
In addition, you can sort based on the offer type; free plus shipping, funnel, and retail price.
Besides, the option of limiting the result to offers added within a particular number of days, weeks, or months is also added.
Lastly, you can also search for a product based on keywords.
Comparing the two together, Intelligynce offers more filter options to arrive at a better result.
Automatic Product Import
With Intelligynce, you can easily import unlimited products from Aliexpress into your Shopify store and WooCommerce.
You don't have to do this manually, there's a built-in setup that allows you to import your products easily. This tool also imports the images, texts, sales price, SKU (stock-keeping units), and many others.
For EcomHunt, the case is different. EcomHunt allows you to import your products' details into Shopify, you have to do this via Oberlo.
So if you have a Shopify store, Ecomhunt allows you to automatically import product via Oberlo to your online store. And currently, they only support Shopify, not WooCommerce.
Store Inspector
Store inspector is a perfect addition to Intelligynce. And with this tool, you get to see what your competitors are doing.
As its name goes, this tool inspects Shopify stores giving you access to information about them, social channels, product insights, installed apps, and traffic analysis.
Under store info, you get to see when last the store was updated, store URL, Shopify theme, estimated daily sales, and Shopify username.
Under their social account, you get to see the store's Facebook page and Twitter feed. You can also gather new ideas by looking through their social media account.
And this is a good way of seeing what the leading store in your niche is doing on social media and also replicating that same strategy.
Besides that, the store inspector gives you insight into the products listed in the store. You get to uncover the recently added products, the 5 best selling products, and the number of products added every month.
Also under the store inspector, you have access to apps installed on other Shopify stores. In the sense that, you get to see the Shopify apps installed on that store.
This way, you can also review the apps installed on your own store and incorporate the necessary app to ease your dropshipping process.
This tool, however, is missing on EcomHunt. The closest you get is the Adhunter tool (chrome extension) which helps you to spy on your competitors' ads.
Google Ads, Facebook Ads, and Adhunter
First of all, both tools offer Facebook ads, but in a different manner. And for Google Ads, it is absent on EcomHunt.
On Intelligynce, this is not a standalone tool, it's an inbuilt tool under the store inspector. However, it's usefulness is better than hiding under the store inspector.
With this feature, you can uncover some of the best performing ads of any store just by inspecting the store.
And this way, it is easier to copy and implement in your store. Likewise, you can also do the same for Facebook ads.
By inspecting any Shopify store, you will be able to see their top-performing Facebook ads and also model your ads in that manner.
For EcomHunt, there's a special tool for it.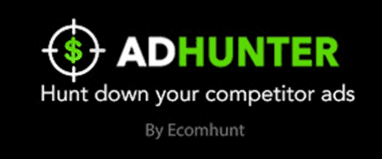 It's called Adhunter (between, it's a chrome extension). And with the Adhunter tool, you can spy on your competitors and also view their performing ads.
However, the Adhunter is only for Facebook ads and does not cover Google ads.
Aside from the Adhunter tool, EcomHunt also offers Facebook ads targeting to simplify the process of setting up your ads. With the ads targeting, you don't need to be an expert to run well-performing ads.
Although EcomHunt is a bit behind with the lack of Google ads feature, you might actually not need to run Google ads because Facebook ads do much better for product stores.
Ali Inspector
Ali Inspector is a newly added feature to Intelligynce. it's a software that helps you research top-selling products on Aliexpress.
And the best part is that Ali Inspector also has built-in tools too. Here are some of the tools on Ali Inspector:
#1: Keyword Generator Tool
Without much hassles, the keyword generator tool automatically generates thousands of keywords just by entering a seed keyword.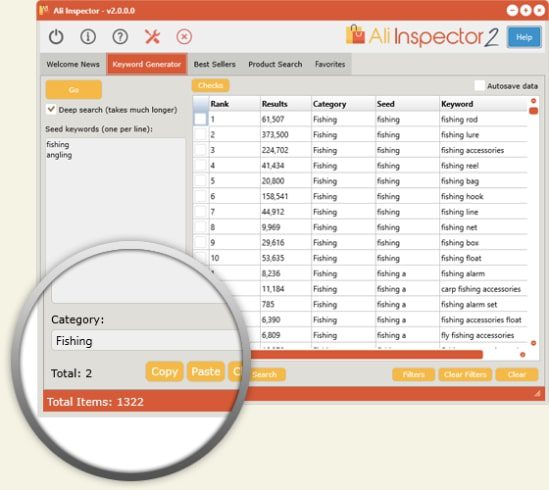 Best for beginners with no idea of a product to sell. With this tool, you will be able to generate thousands of product ideas and keywords you can use when creating your product listing.
#2: Best Sellers tool
With this built-in tool in Ali inspector, you can find the top-selling products in over 380 categories.
Plus, the tool also comes along with some filter options. You can set the country where you want the product to be shipped from and the company you want to ship your products to.
This would help you wield out unnecessary suppliers that would not fit in for your target customers.
#3: Product Research Tool
Similar to the best seller tool, the product research tool helps you to find top products and also extract products from Aliexpress.
However, this tool provides a more detailed and in-depth filter option.
To be exact, this tool provides results in 33 metric columns. And some of the information provided on the result page includes; search phrase, product title, product ID, product video available, ship from (country), ship to (country), cost price, profit price, cashback.
Some others include; the number of product orders, estimated sales per month, estimated revenue per month, free shipping provider, ePacket available, ePacket rate, Unit type, and many others.
#4: Link Scraping Tool
The link scraping tool is an advancement in product research. With this feature, Ali Inspector scrapes all Aliexpress links on a webpage.
And to put it to work, you need to provide a link to a webpage, while the tool does the rest of the work; importing all the Aliexpress links to the sheet.
With this, you can find all the Aliexpress stores selling a particular product.
Similarities Between Intelligynce and EcomHunt
Despite the thorough review of the features offered by both tools, there are still some similarities between them.
Here are some of the notable similarities between both tools.
Estimated Product Sales
While this isn't a common feature on most product hunting tools, it comes with its own added advantage.
Intelligynce gives a nearly accurate figure of the total number of sales of the product on Aliexpress.
It analyzes sales of the product in the past 14 days. And with the estimated sales of the product, you can gauge if the daily sales are rising, dropping, or fluctuating.
EcomHunt is also online with this. It display the estimated sales of the product on Aliexpress alongside other data.
Product Reviews
One of the essential tools in driving more sales on your dropshipping store is reviews. Reviews are very important if you want sales.
But the sad part is that, as a new store, you would start with zero reviews. However, you don't have to follow this path.
Intelligynce allows you to import product details, but it also allows you to import the product reviews from Aliexpress.
In essence, all the reviews on that product listing on Aliexpress will appear on your product listing too.
Likewise EcomHunt, you can also achieve the same result. In short, you can also import product reviews. Besides, you can use a third-party Shopify app to import product reviews from Aliexpress to your Shopify store.
Intelligynce Pricing
To start with, Intelligynce offers three different pricing plans to choose from.
And the pricing model is structured in a way to get you to purchase the premium plan.
To be exact, Intelligynce offers a monthly option, an annual option, and a lifetime option.
The monthly option costs $39 per month.
The annual option costs $79 per year.
Finally, the lifetime option costs $99.
As far as business is concerned, the lifetime option is the best to go for.
EcomHunt Pricing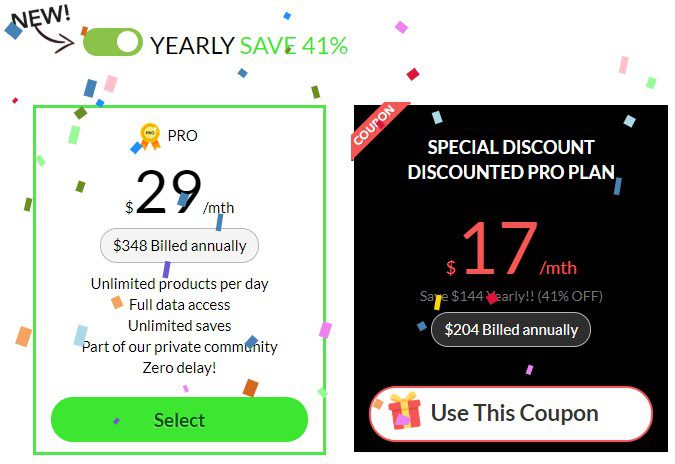 EcomHunt offers two different pricing plans; free plan and pro plan. The free plan is a forever free plan that offers limited features and functions.
You get two new products every day which is delayed for 24 hours. It also allows you to get access to 5 saved products, which is pretty generous if you ask me.
However, you don't get access to the Facebook community which consists of expert dropshippers that can set you on the right part.
The pro plan costs $29 per month. And with a discount, you can get to pay $20 per month. This plan offers unlimited features alongside a Facebook community to interact with other sellers.
Even better is the fact that you can it all the features on Ecomhunt for just $17 if you sub for the annual plan
Intelligynce Pros
It offers more filter options when searching for trending products
Offers a bonus software, Ali Inspector
The store inspector tool allows you to spy on your competitors
It offers a lifetime access plan
Supports both Shopify and Woocommerce
Intelligynce Cons
The lifetime plan can be expensive at the beginning
It doesn't offer the best Facebook ads support
EcomHunt Pros
It allows you to find trending products easily
Offers good Facebook ads support
It offers a moderate filter options
It offers a free plan
Allows additional way to find products on Shopify platform
EcomHunt Cons
It doesn't support the direct importation of products to WooCommerce
Intelligynce Vs. EcomHunt – Which is Best?
Having gone through a detailed head-head comparison of Intelligynce and EcomHunt, Intelligynce may seem really robust which is nice.
EcomHunt on the other hand is cheaper, and straight to the answer. They provide the winning product and provide ads material to promote them compared to intelligynce.
If you have the budget you may go for intelligynce and if not the free plan on Ecomhunt can even take you a few miles before you sub for the pro plan.
Which can be low as $17 per month.
So which should you go for?
Intelligynce is best for you if you're an experienced dropshipper. And that's because the interface could be overwhelming with a lot of features.
On the other hand, if you're a beginner, EcomHunt will be a perfect fit for you, because of its Facebook community and affordability. It's over to you. In the end, the decision is up to you.
So which one will you be going for having gone through the Intelligynce review and Ecomhunt? I would love to hear from you in the comment section below.
Learn More